Art and Design at Grove
This term the following year groups will be exploring and developing their art skills please click on the links below to see what your child is learning this term:
Autumn
Year 4: Following in the footsteps of Quentin Blake and Carl Giles
Year 6: Drawing - Still life drawing
Summer
The Grand Exhibition
This Summer saw the inaugural Arts Event at Grove Primary where pupils showcased their amazing talents. The pupils selected the art work which best illustrated their artistic skills and of which they were very proud. The judges were impressed by the talent on show. Take a look and we are sure you will agree!
EYFS Nursery
Nursery explored the art of Minnie Pwerle, recreating circles and lines in this style. The pupils used coloured chalks in their creations.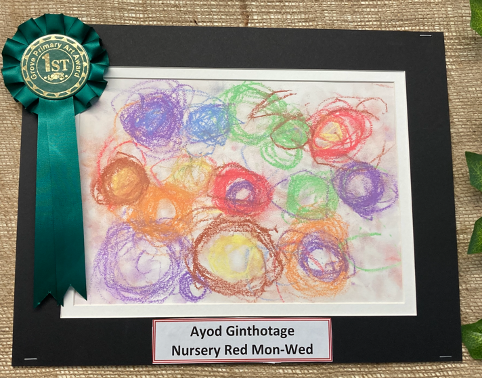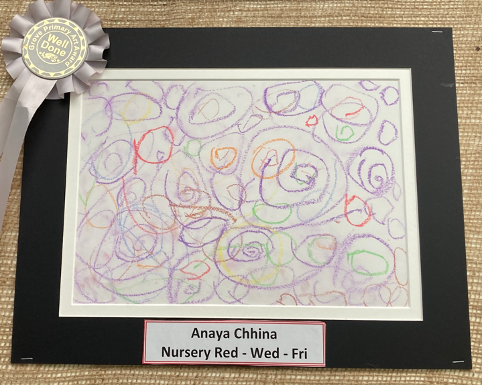 EYFS Reception
Pupils in Reception have been inspired by the art of Wassily Kandinsky and Roland Piche. They considered how the colours made them feel.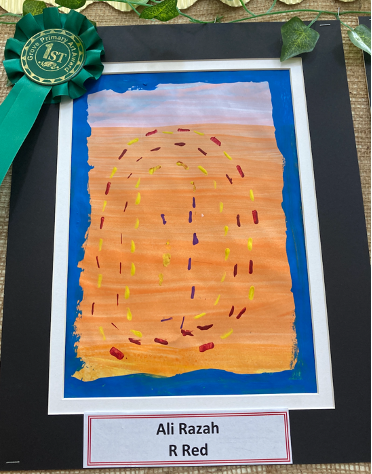 .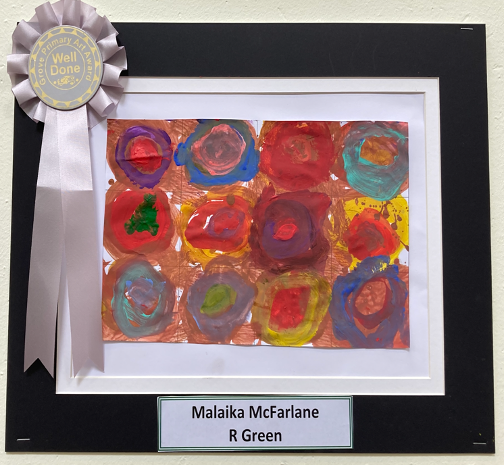 Year 1
Year 1 pupils have been building on their painting and printing skills by adding tints and shades. They have learnt how to make observational sketches using shading.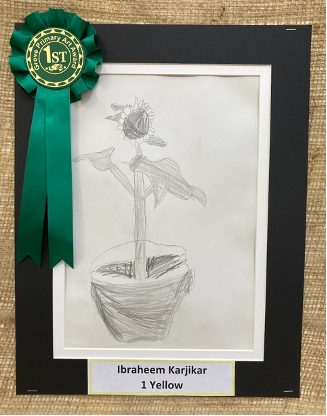 .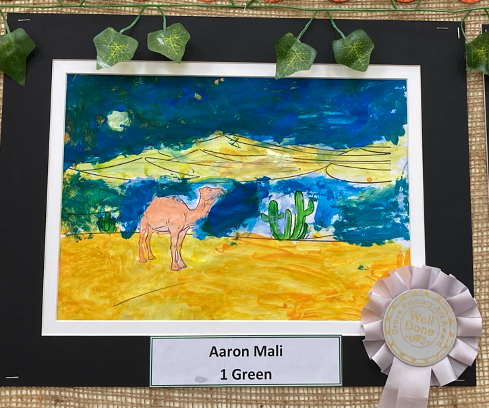 Year 2
Pupils in Year 2 greatly enjoyed their studies of the botanical art of Marianne North. They replicated the stippling and cross-hatching techniques to draw the plants around them.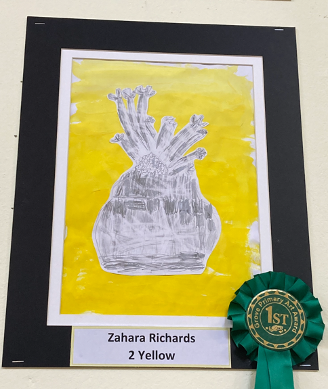 .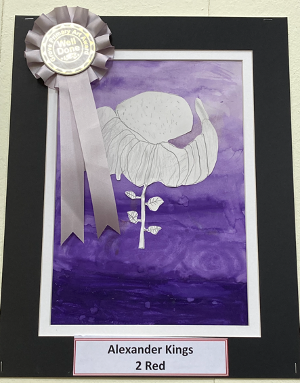 Year 3
Year 3 pupils elected to enter their still life works of art. They continued to develop their drawing techniques, creating shade by hatching and stippling.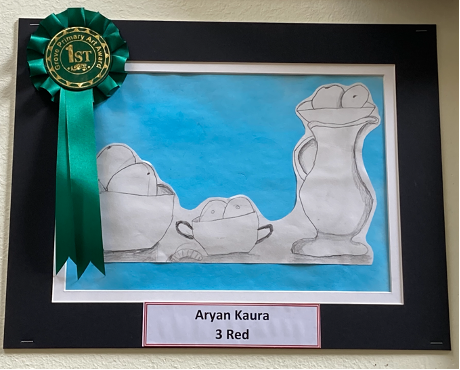 .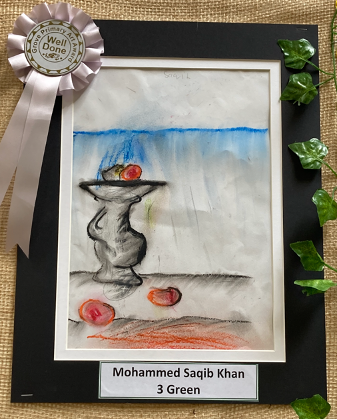 Year 4
After much deliberation the pupils in Year 4 elected to submit their art which displayed their knowledge of brush stroke use. Having studied the art of Paul Cezanne, the pupils use directional brush strokes to create mountain scenes.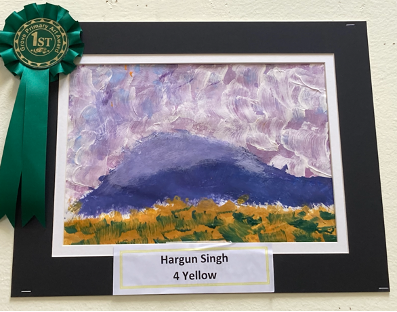 .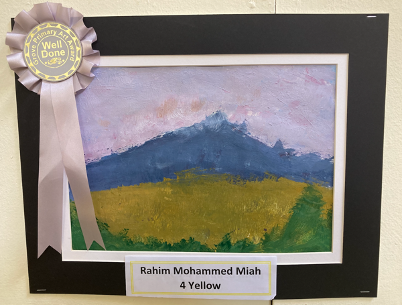 Year 5
Year 5 pupils have elected to showcase both their printing and drawing skills for the exhibition. In their drawing the pupils displayed their understanding of shape, form, tone and proportion to create their still life art. Linocuts were produced by pupils for their printed art, showing how to use cutting and reversed writing.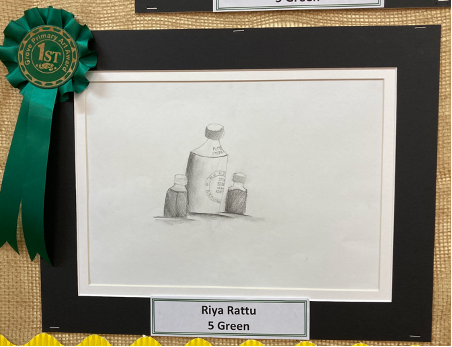 .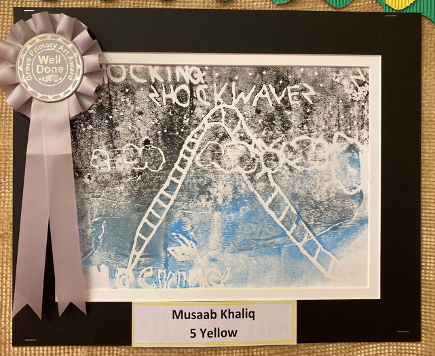 Year 6
Pupils in Year 6 were eager to submit art which depicted their extended knowledge of Claude Monet's River Thames series of paintings. Having recently visited the London and viewed the river, pupils were eager to submit their own depictions. They used acrylic paint in their impressionist art.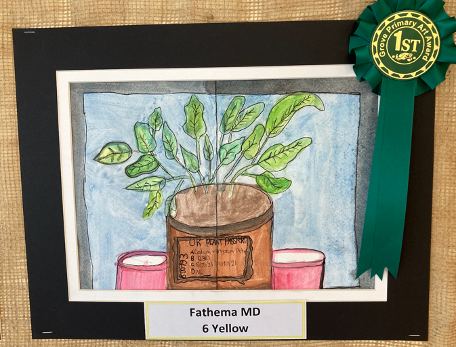 .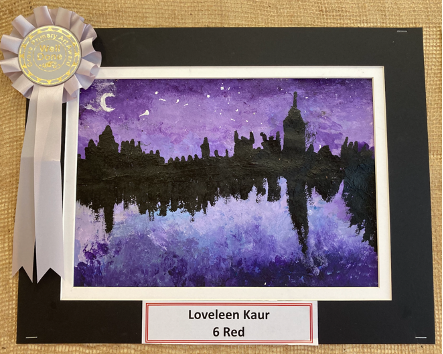 Well done everyone!
Please click on the below links to discover what the children are learning this term.
Summer
Year 2 - Painting: Beside the Sea
Summer
EYFS Nursery
In Summer 1 Nursery pupils have explored the work of artist Minnie Pwerle. Having talked about the art works, 'Bush Melon' and 'Awelye', the pupils greatly enjoyed recreating these works in both the indoor and outdoor environment. The pupils used a range of media including chalk, pastels and wax crayons.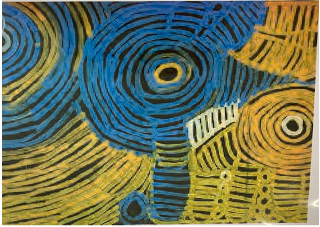 .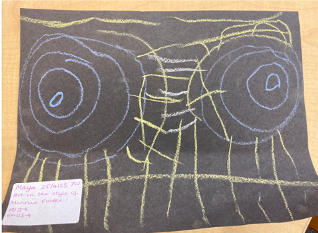 EYFS Reception
Summer 1 has seen the Reception pupils exploring the theme of black and white. They have use paint to create black and white lines, considering what the line is telling them and what does it make them think of. The pupils have extended this learning to create black and white collages. The children progressed to drawing accurate representations of themselves using mirrors to identify the key features.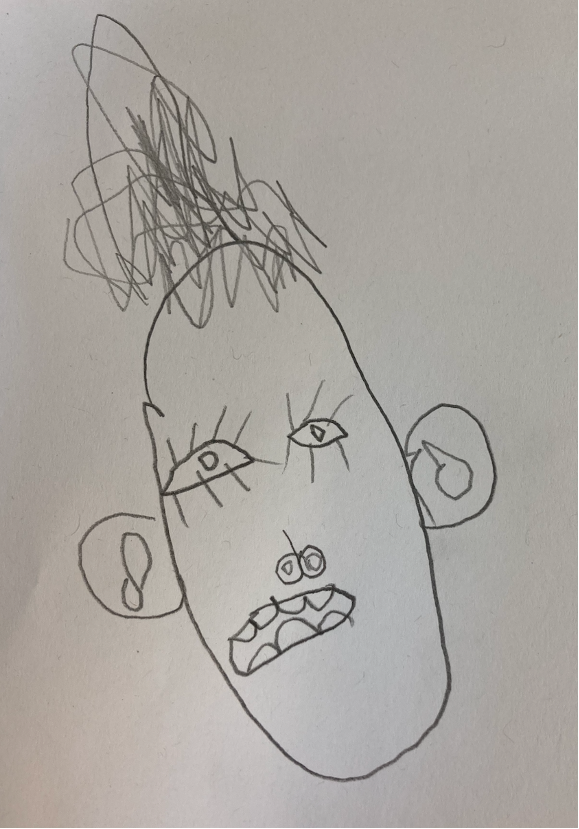 .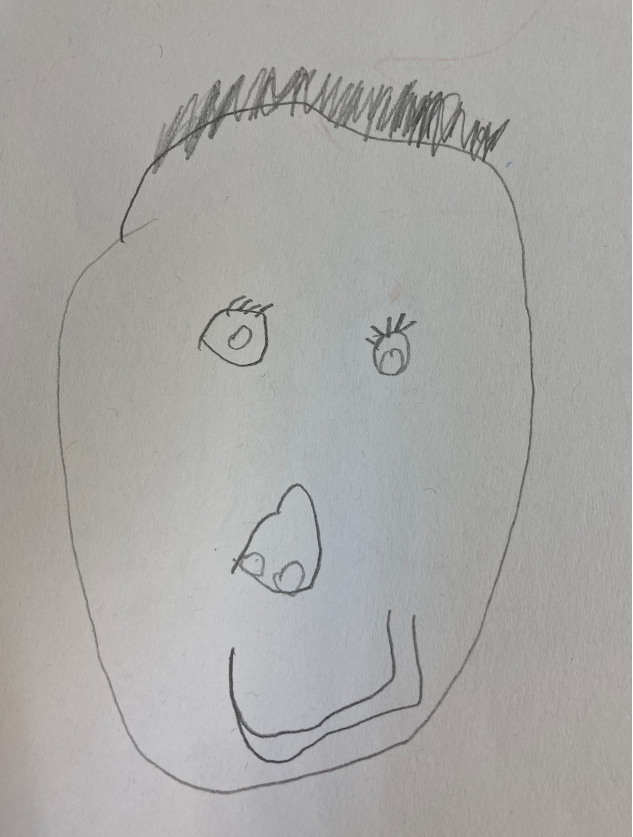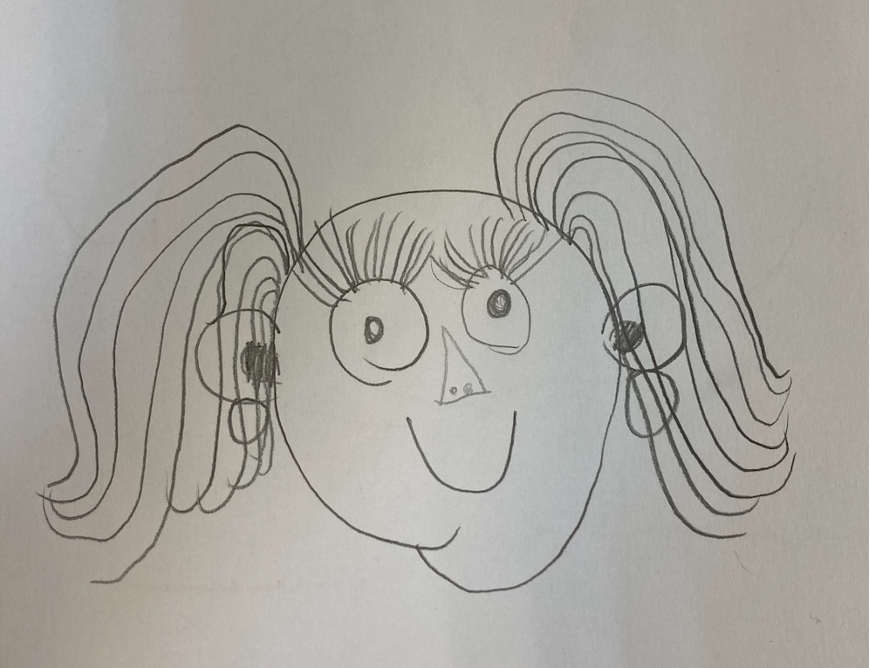 Year 1
Summer 1 saw Year 1 pupils undertake their drawing project, Investigating Line. They studies the art of Henri Matisse. Taking the art work, 'The Snail' as a focus, the pupils explored the use of line and how to use their shoulder, arm, elbow and wrist to create a flowing line. Using nature as their inspiration, the pupils created spirals having observed shells. They added texture using pastels and charcoal and explored how to shade and add tone.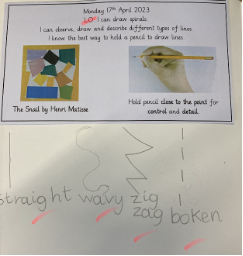 .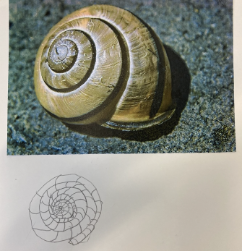 Year 4
Year 4 pupils focused their art studies on painting and the work of artist Paul Cezanne in their project, The Father of Modern Art. They considered Cezanne's colour palette and selecting one of the secondary shades used in the art work, 'Mont Sainte-Victoire'. They explored mixing this colour.
The pupils considered the way in which Cezanne used his paintbrush to create texture. The pupils explored using paintbrushes to create short angular strokes, painting in various directions using both round and flat-headed brushes.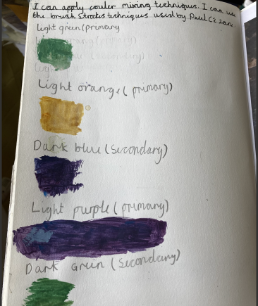 .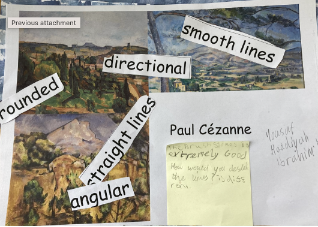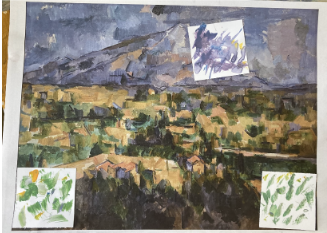 Spring
EYFS Nursery
Expressive Arts and Design
In Spring the nursery focused their art exploration on the work of David Hockney. They created flowers and trees using chalk, wax crayon, and paints. They enjoyed talking about the colours they could see and create by mixing paints. Nursery explored materials found in the outdoor environment to create Spring trees.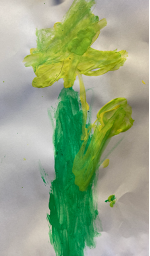 .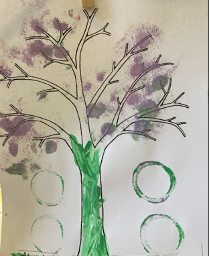 .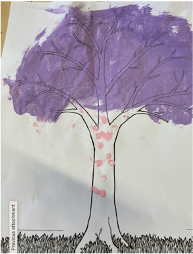 EYFS Reception
Expressive Arts and Design
Spring saw Reception children exploring the outdoor environment for signs of Spring. They undertook observational drawing of trees using mixed media, including wax crayons, coloured pencils and pastels. The children used Van Gogh's 'Almond Blossom' as the inspiration to create their own blossom trees. They used the wax crayons, pastels and pastels to create these.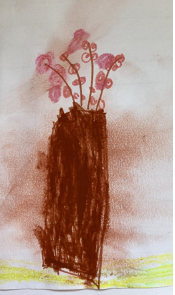 .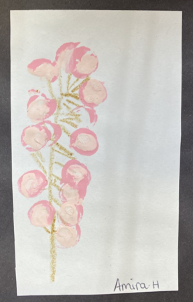 .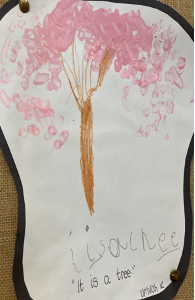 Year 1
Pupils in Year 1 focused on their printing skills in Spring. They explored the use of a range of natural and manmade materials to print on to paper. The pupils recalled their learning of primary and secondary colours, warm and cool colours to recreate art in the style of Bridget Riley, taking Navarre as their inspiration.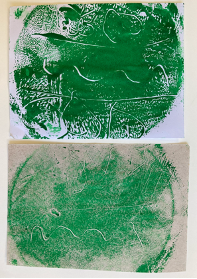 .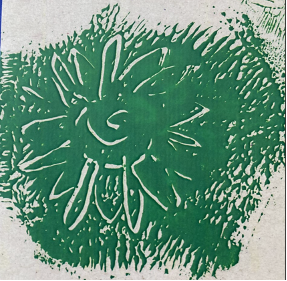 .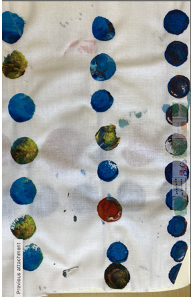 Year 2
In their Spring Art study, Watching Closely, Year 2 explored the works of artist Marianne North. Developing their pencil skills from Year 1 pupils considered the use of contour lines and using a darker or lighter line to add definition. The pupils extended this by shading using different marks. They observed the botanical drawing of North and used colour in their art to add warmth.
.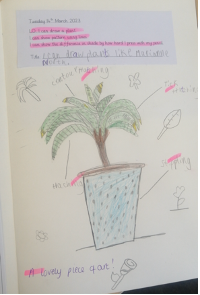 .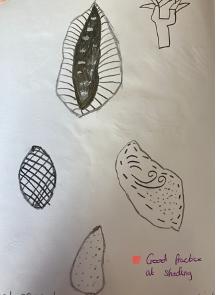 Year 3
In their Art study Year 3 have focused on the art of Andy Warhol. The children have enjoyed developing their printing skills to make incised prints. They took time to evaluate the results and change those elements they felt required improvement. They then went on to consider collagraphy using familiar household objects as their inspiration.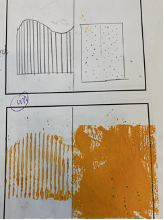 .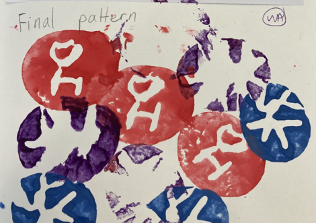 Year 6
Pupils in Year 6 were eager to develop their understanding of sculpture and experimenting with clay. They considered the work of artists, Barbara Hepworth and Magdalene Odundo and their influences. The pupils considered their own family and cultural heritage and used this to inspire their sculptures in which they impressed and engraved in to the clay.
EYFS Nursery
Expressive Arts and Design
In Spring 1 the nursery pupils have explored winter trees. They have enjoyed the challenge of identifying winter trees and photographing them using the tablets. Using mixed media, including chalks, charcoal and paints, the pupils have created winter trees and compared them to the art work of David Hockney. The pupils were eager to talk about the shape and colour.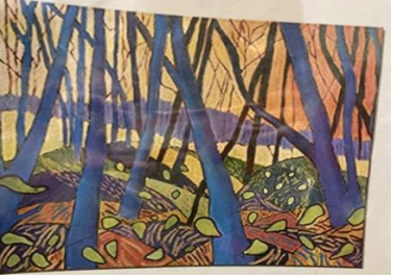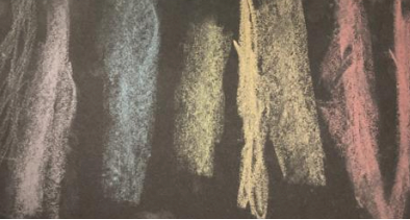 EYFS Reception
Expressive Arts and Design
Spring 1 saw Reception develop the theme of winter trees started by the Nursery. The pupils focused their attentions on wood. Having observed twigs, bark and logs the pupils explored printing with them. The pupils were eager to discuss texture, pattern and appearance as they produced their art. Sculpture enabled the children to use the twigs and wood imaginatively and experiment with shape and form.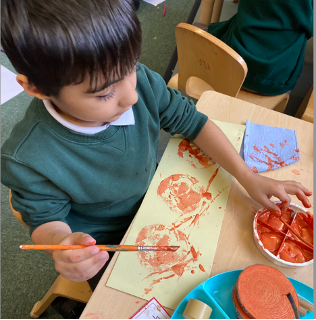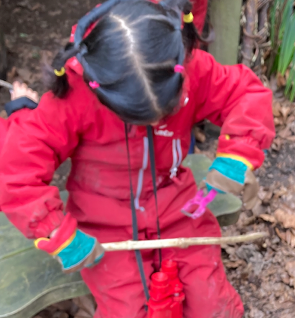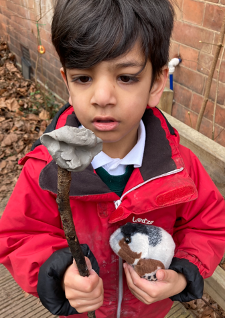 Year 3

In their Art study Year 3 have explored creating shade using 2B, 3B and 4B pencils and hatching, stippling, using circles and using spirals. This is building on previous Y1 knowledge and many pupils could remember doing it previously. They have learned about applying different pressure to create hard and soft lines. Through the study of the still life drawing of the artist Pablo Picasso, the pupils have created their own still life art. They have used their skills to show areas of light and dark, providing 3d form to their art. Pupils are now able to look at their art work from the beginning of the topic to the end and evaluate how much they have improved, referring to their specific skills they have learned. With carefully scaffolded activities, some SEND learners excelled during this topic as you can see from their topic below.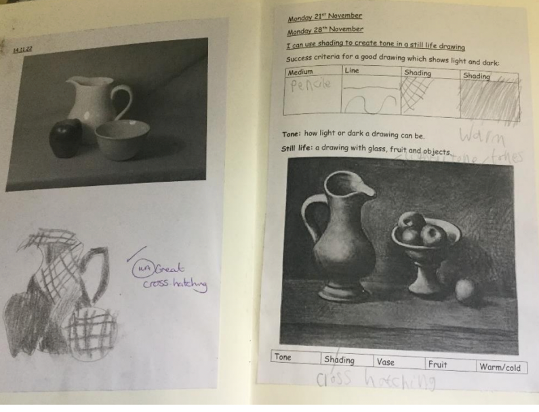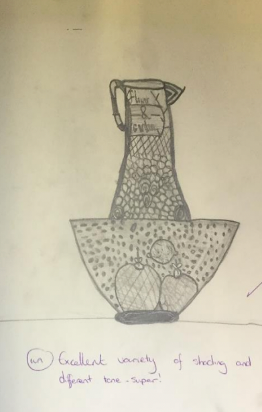 Year 4
Spring 1 saw Year 4 study sculpture. They began by exploring the properties of clay and how to manipulate it in to rolls, twists and braids. They used this knowledge to create a clay slab with defined detail. The pupils learned how to use slip and scoring techniques to attached their coils and braids. The pupils then extended their learning based on the work of Giacometti and modelled clay figures using their newly acquired skills.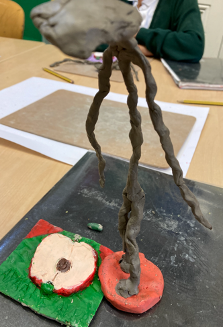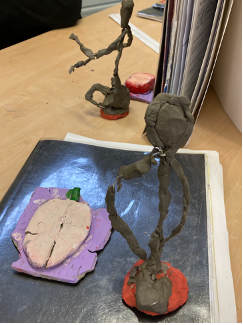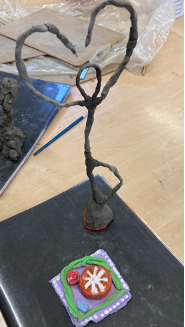 Year 5
Year 5 began their Spring focus of printing. Having recalled previous learning of creating mono prints, the pupils extended their understanding by exploring lino prints. They considered Albrecht Durer's. 'The Rhinoceros' and used this as their inspiration. The pupils then explored screen printing and the art of Henri de Toulouse Lautrec.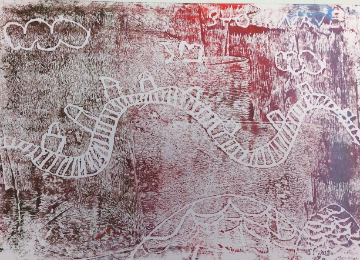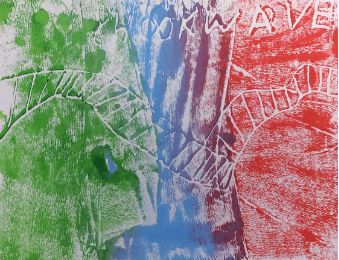 Nursery
Expressive Arts and Design
In Autumn the nursery pupils have explored mark making and painting tools. They have used rollers, sponges and forks to create fire-work paintings. They have taken their learning in to the outdoor environment and made rubbings of the tree trunks, leaves, paths and fences. This provided opportunities to extend their vocabulary as they talked about the marks they had made and compared them. The outdoor environment provided the nursery pupils with natural resources to explore printing. They collected leaves and seeds and used them in their art work.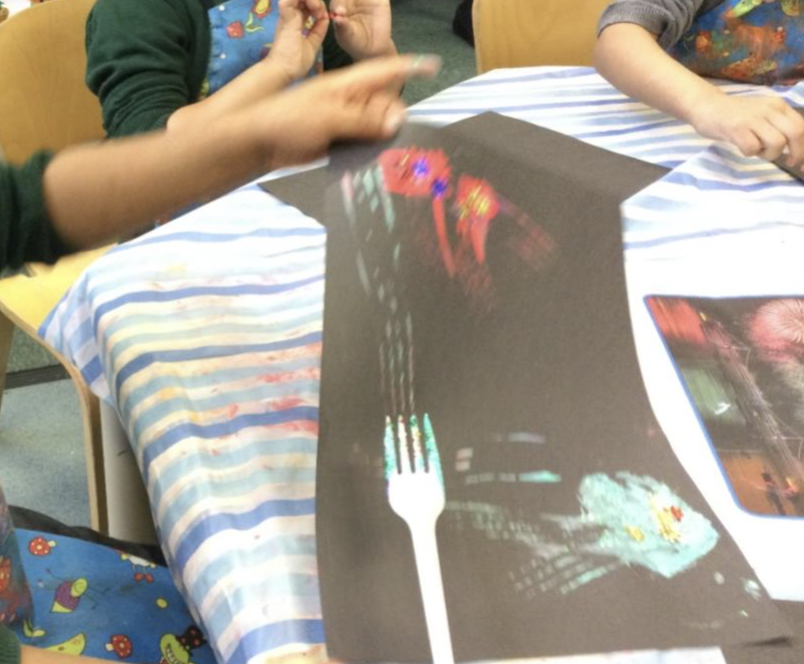 EYFS Reception
Reception have explored the Autumn environment and used natural materials to create prints. They have used sticks, conkers and leaves to print with. The study of the art of Wassily Kandinsky in his work 'Circles' enabled the children to investigate shape and colour mixing. The pupils recreated 'Circles' and identified the Autumn colours they had mixed and how they made them feel, "Brown makes me feel sad. The leaves are falling of the trees and that is sad." The pupils explored materials and thread towards the end of the Autumn term. They learnt how to thread a needle. The pupils were really eager to develop their skills and were able to use a running stitch to create a fabric bookmark.
Year 1
Painting: Mixing it Up!
Year 1 began their study of painting by learning to name the parts of a paintbrush and to identify the purpose of a round headed brush. This enabled the children to explore how to use the different sized round brushes and how the brushes could be used to apply vertical and horizontally in a broad or fine line. The children also developed their understanding of primary colours, mixing these to create secondary colours. Adding white or black paint to the colours they had created enabled the children to learn about tints and shades.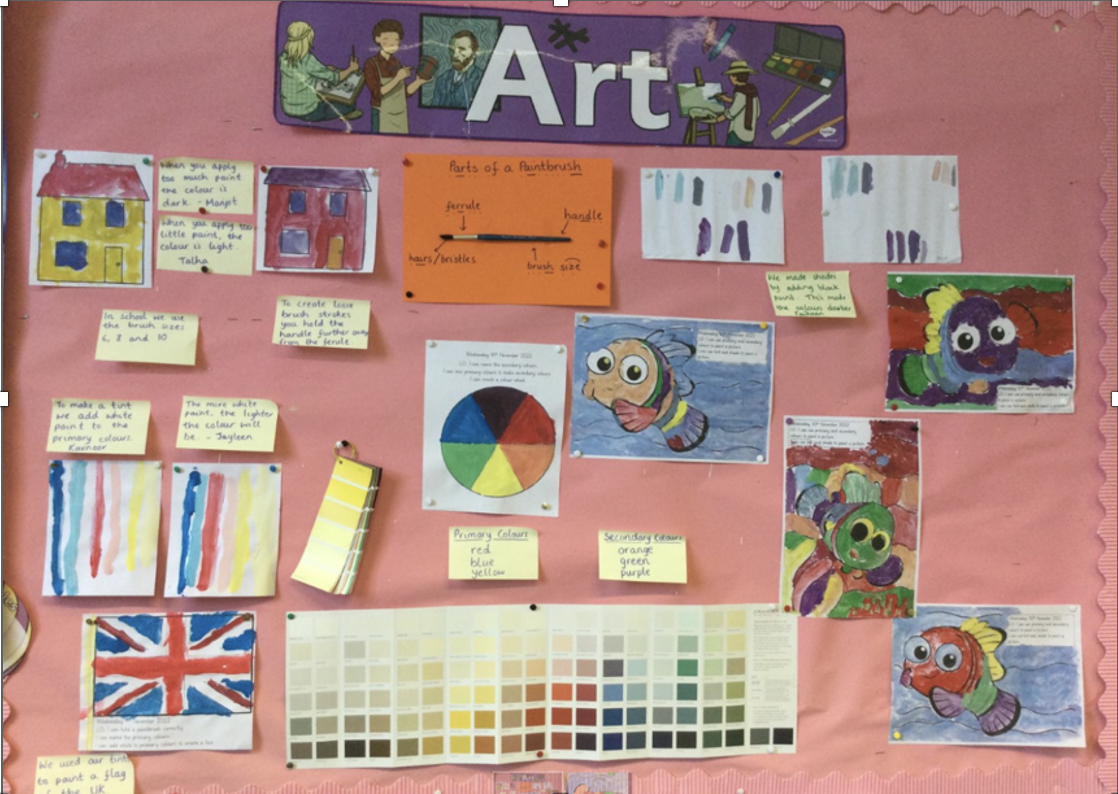 .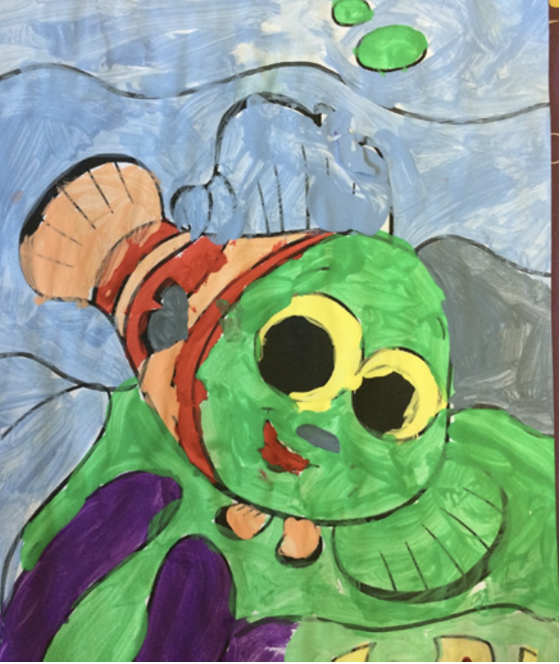 Year 2
Sculpture: Working with Clay
In their study of sculpture, the children learned about clay and its malleable properties. They rolled the clay to produce coils and explored what happens when clay becomes wet and dries out. They progressed to making clay slabs and learning how to attach rolls and coils of clay by scoring and using slip as an adhesive. Using their design and newly learnt techniques they created trees.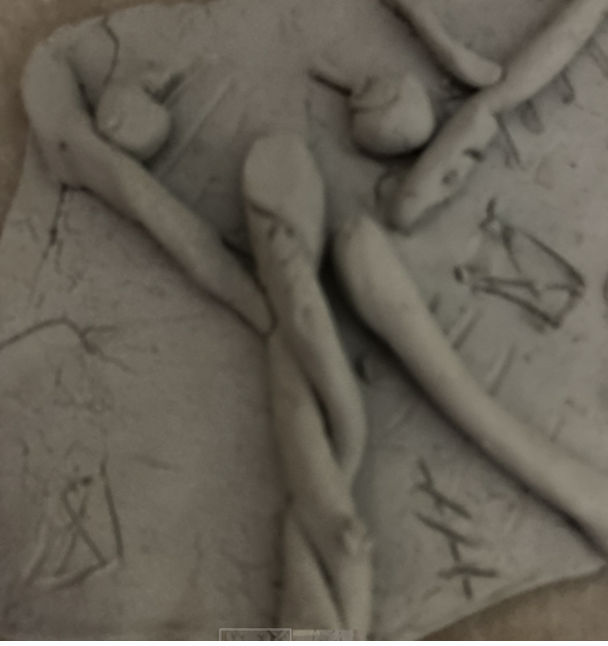 .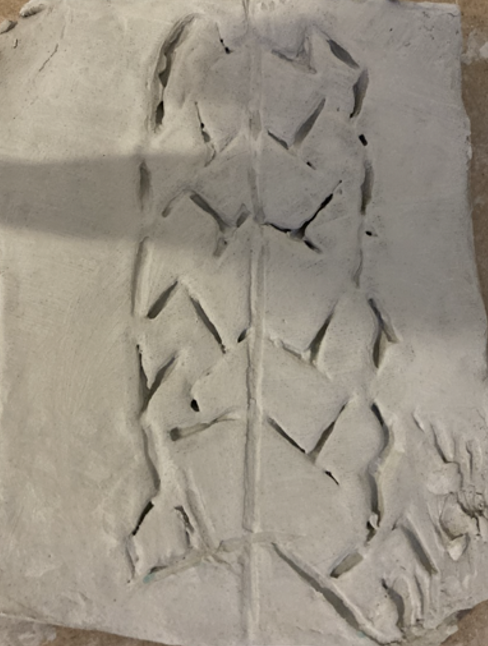 Year 3
Still Life
In their Art study Year 3 have explored creating shade using 2B, 3B and 4B pencils and hatching, stippling, using circles and using spirals. They have learned about applying different pressure to create hard and soft lines. Through the study of the still life drawing of the artist Pablo Picasso, the pupils have created their own still life art. They have used their skills to show areas of light and dark, providing 3d form to their art.
.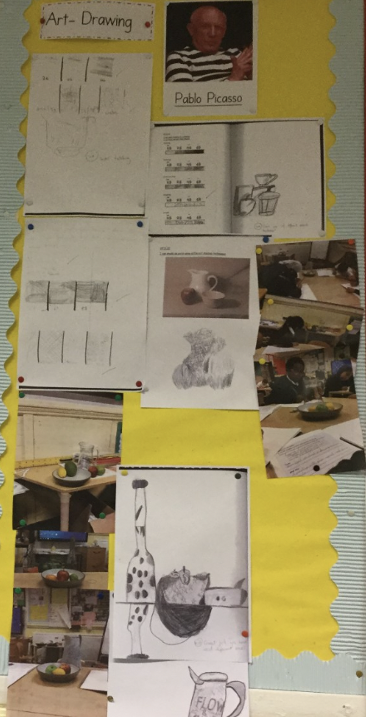 .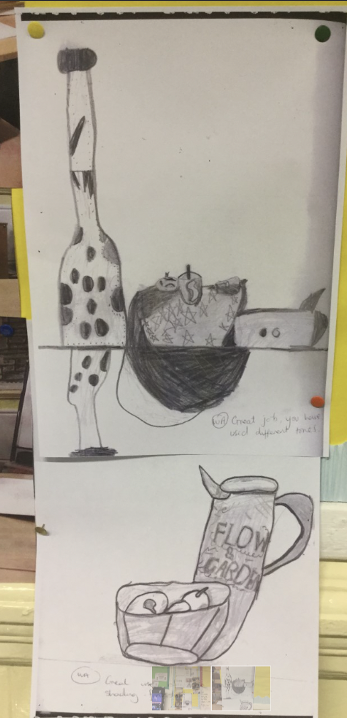 Year 5
Through their study of the art of the artist Georgio Morandi, Year 5 have developed the drawing skills learnt in Year 3. They considered the composition of the objects and used line and tone to create 3D effects. The pupils also used directional shading. Using erasers enabled the pupils to explore adding highlights to their compositions.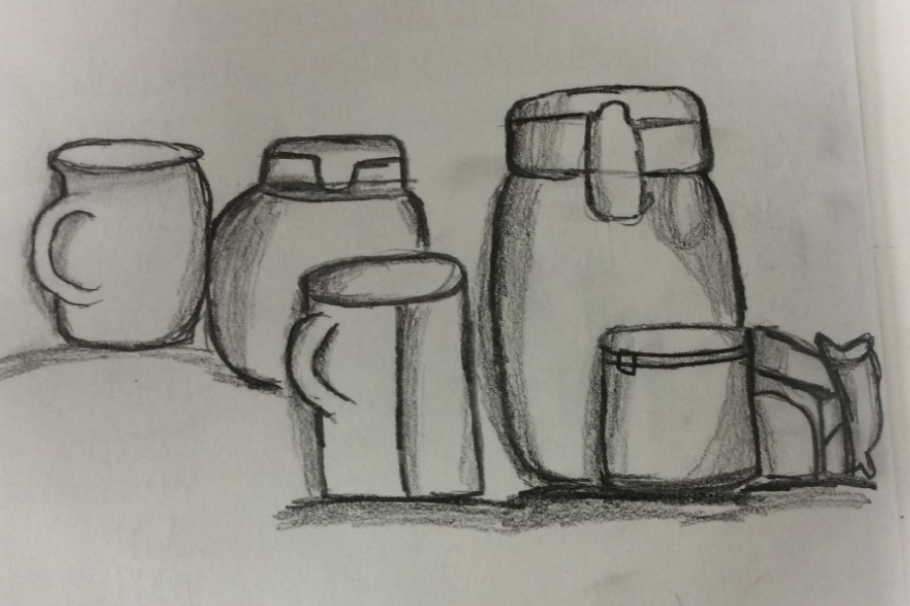 .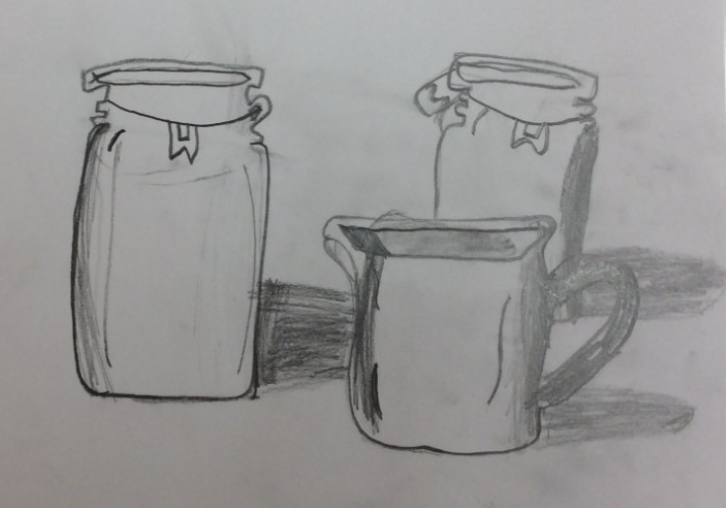 Nursery
Expressive Arts and Design
Nursery have begun their exploration of art by experimenting with a range of mark making tools. A selection of pens, pencils, chalks and crayons have enabled the children to name them and to create different colours and marks. To begin to understand how marks can be changed the children have explored different sized paintbrushes, including rollers and sponge. Using these resources they have created long and short lines and also straight and wavy marks.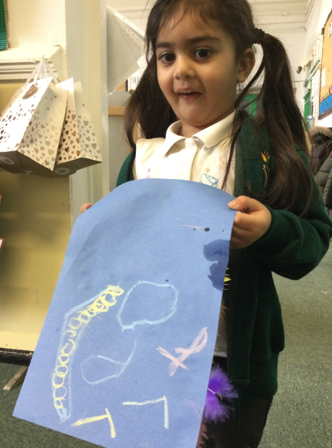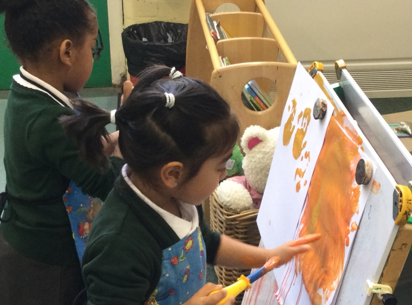 Reception
Expressive Arts and Design
Reception have been busy this half term learning about the four key art skills; drawing, painting, printing and sculpture. The children have based their learning on the work of artist Gary Williams to create family portraits and pictures. Colour mixing was a skill they greatly enjoyed and used to create family portraits. The children developed their expressive vocabulary to describing the clay and mud used to sculpt family faces.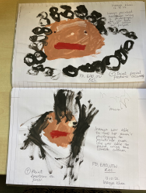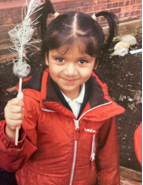 Year 4
Following in the footsteps of Quentin Blake
This half term Year 4 have been studying the illustrations of Quentin Blake. They have considered the techniques used by Blake to exaggerate certain characteristics conveying action or intent. Through the use of continuous, broken, short and curved lines the children have successfully illustrated characters.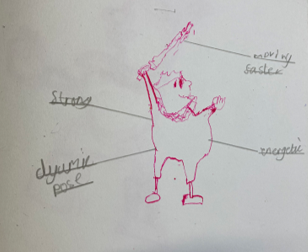 Year 6
Drawing: Still Life Composition
Year 6 children were set the challenge of creating a still life drawing using three objects of their choice. The children studied the work of artists Morandi, Paul Cezanne, Jaromir Funke to develop their understanding of the use of layout, media and form. Drawing pencils, charcoal, erasers and white tac enabled the children to develop the skills of showing light and shadow.