Design Technology at Grove
Please click on the below links to discover what the children are learning this term.
Autumn
Year 1 - To design, make and evaluate a moving story board
Year 2 - To design, make and evaluate a trolley to transport tools in the school garden
Year 3 - To design, make and evaluate a purse or bag for a fossil
Year 5 - To design, make and evaluate a small scale bird hide
Year 1
This term, year 1 have been designing, making and evaluating a healthy sandwich for a picnic. They tasted a variety of breads, spreads and sandwich fillings before choosing their own ingredients. Pupils practiced new skills like grating cheese, slicing tomato and cucumber, cutting lettuce and spreading butter. Have a look at their wonderful creations below: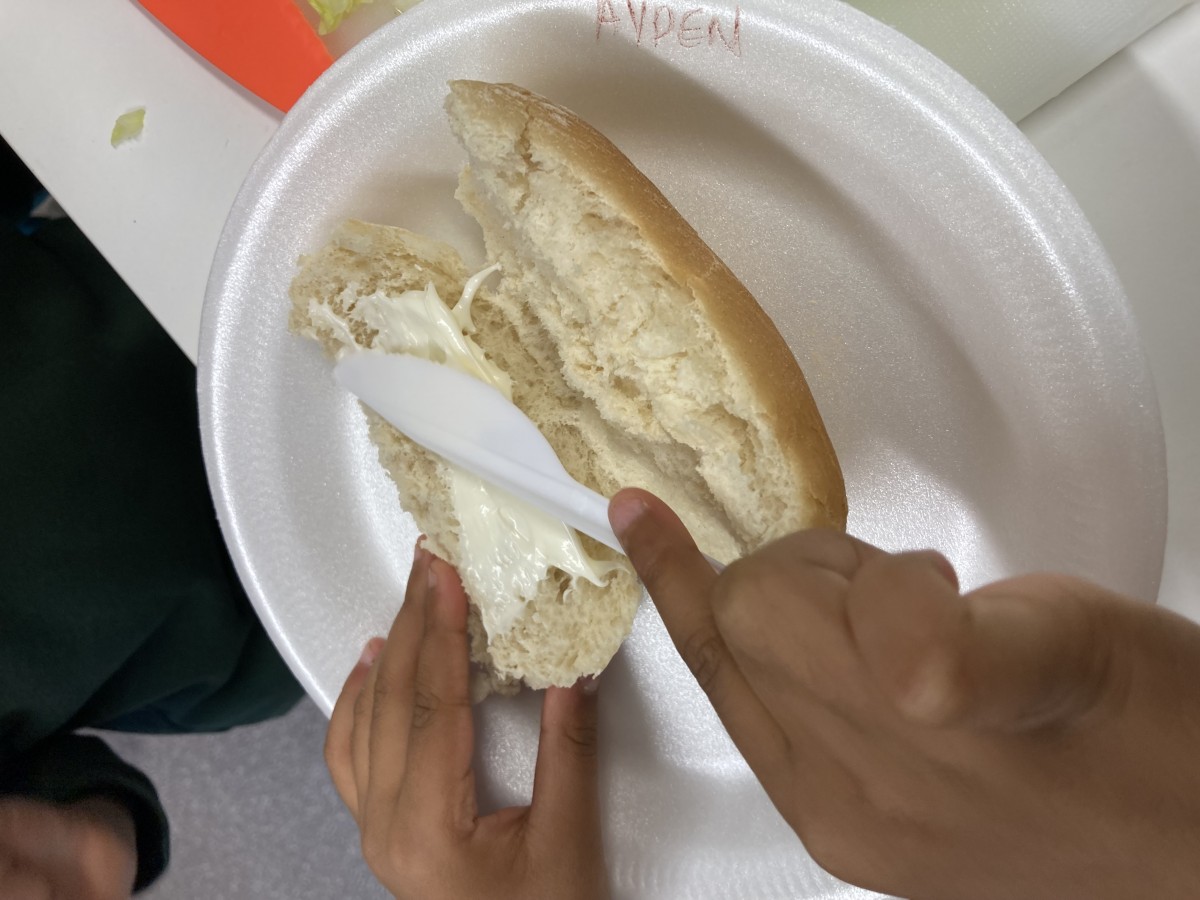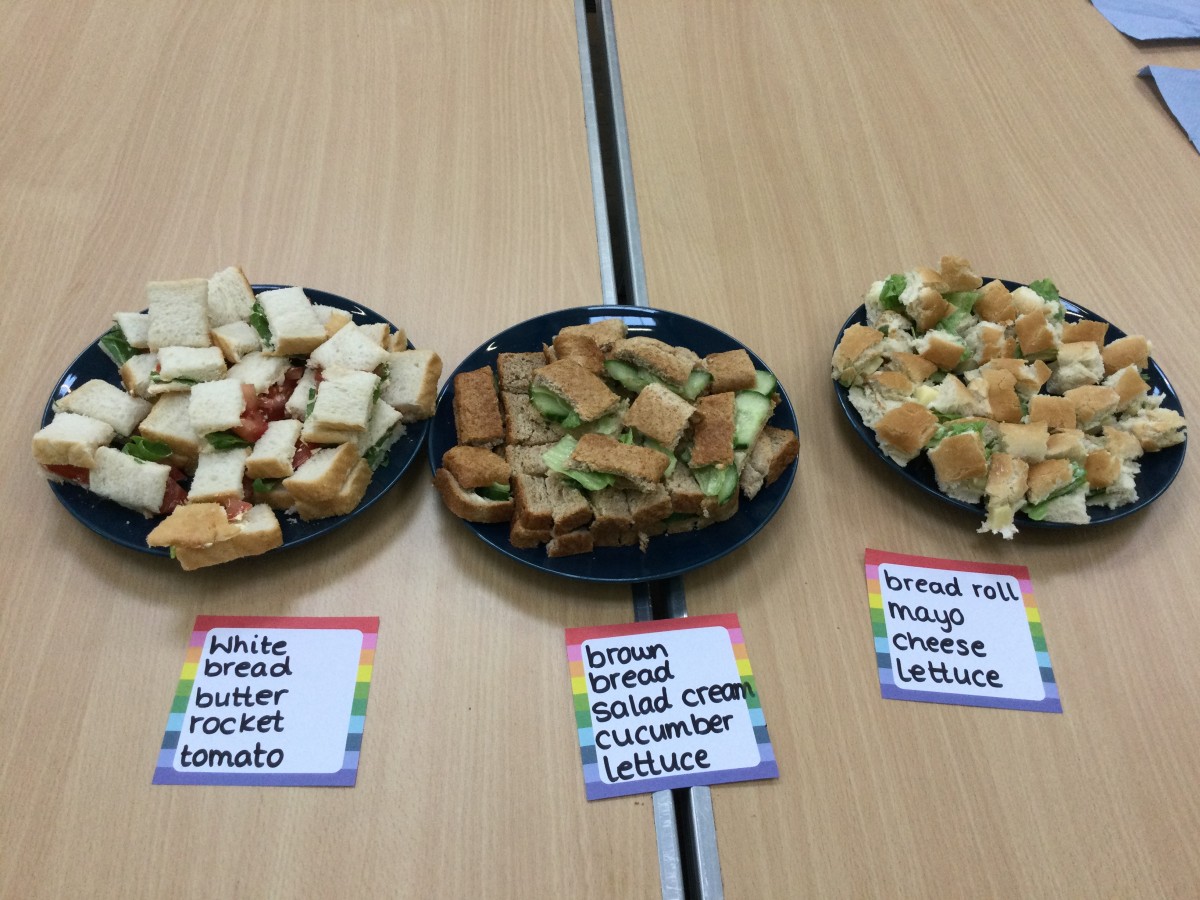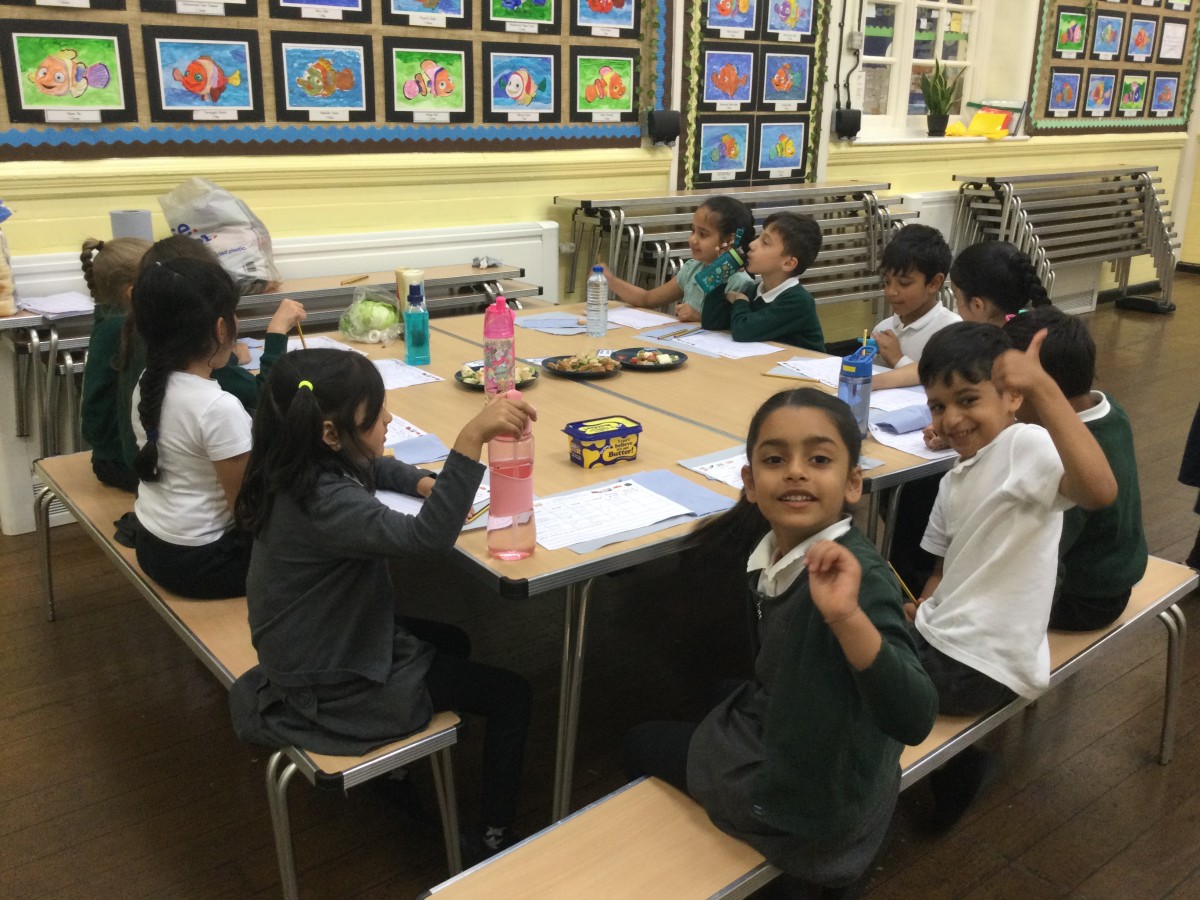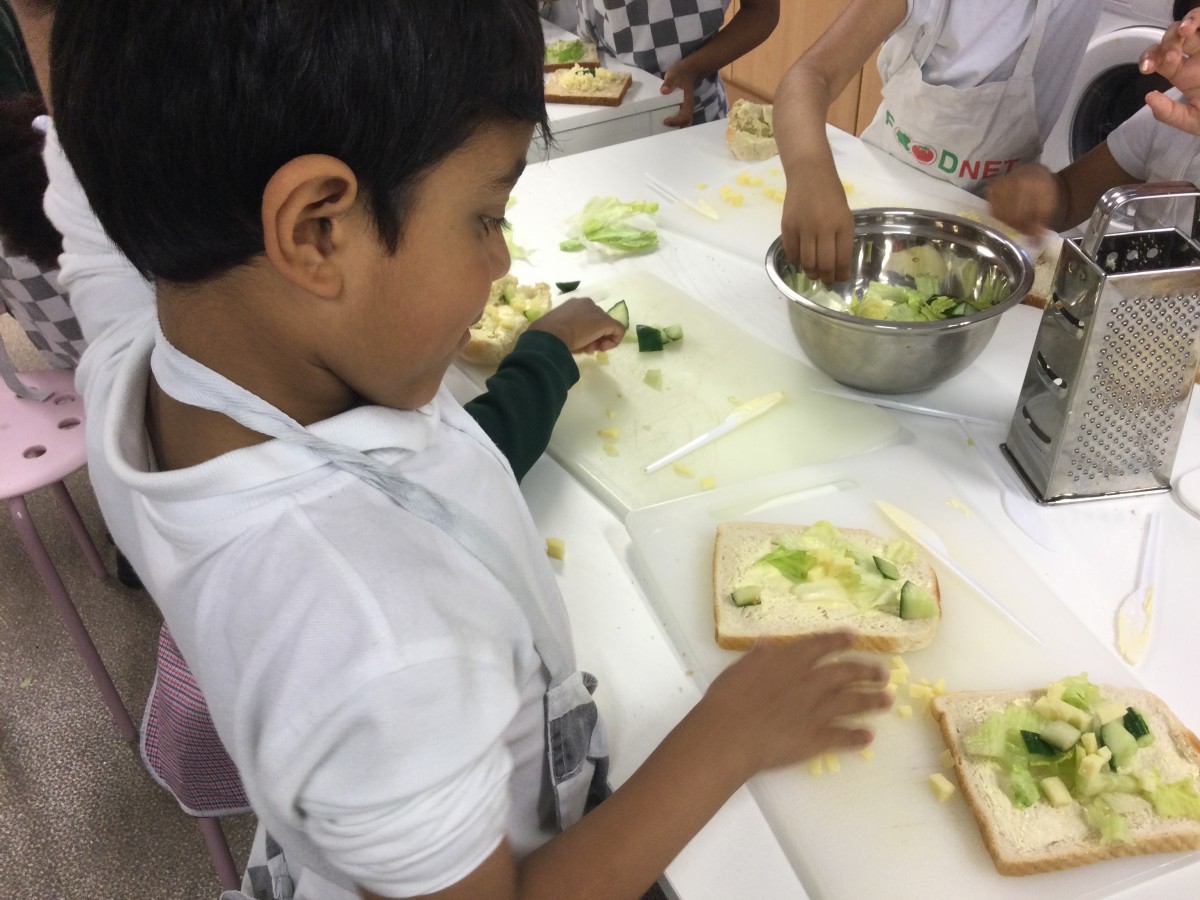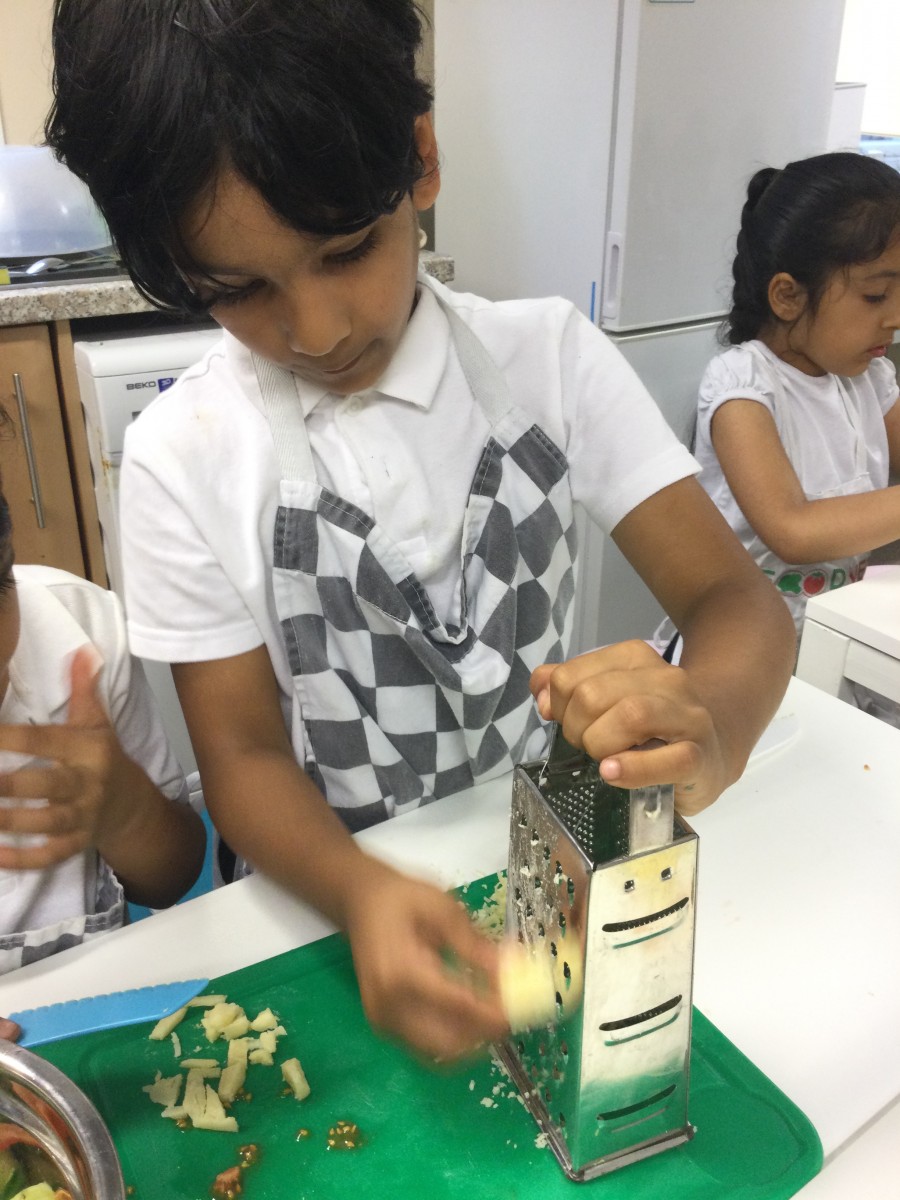 Year 4
This term in year 4, pupils have been making a night light. They looked at existing products before manually controlled simple series circuits with batteries, a switch and bulbs. Pupils thought carefully about their user and made sure it was fit for purpose. you can see some of their finished designs below.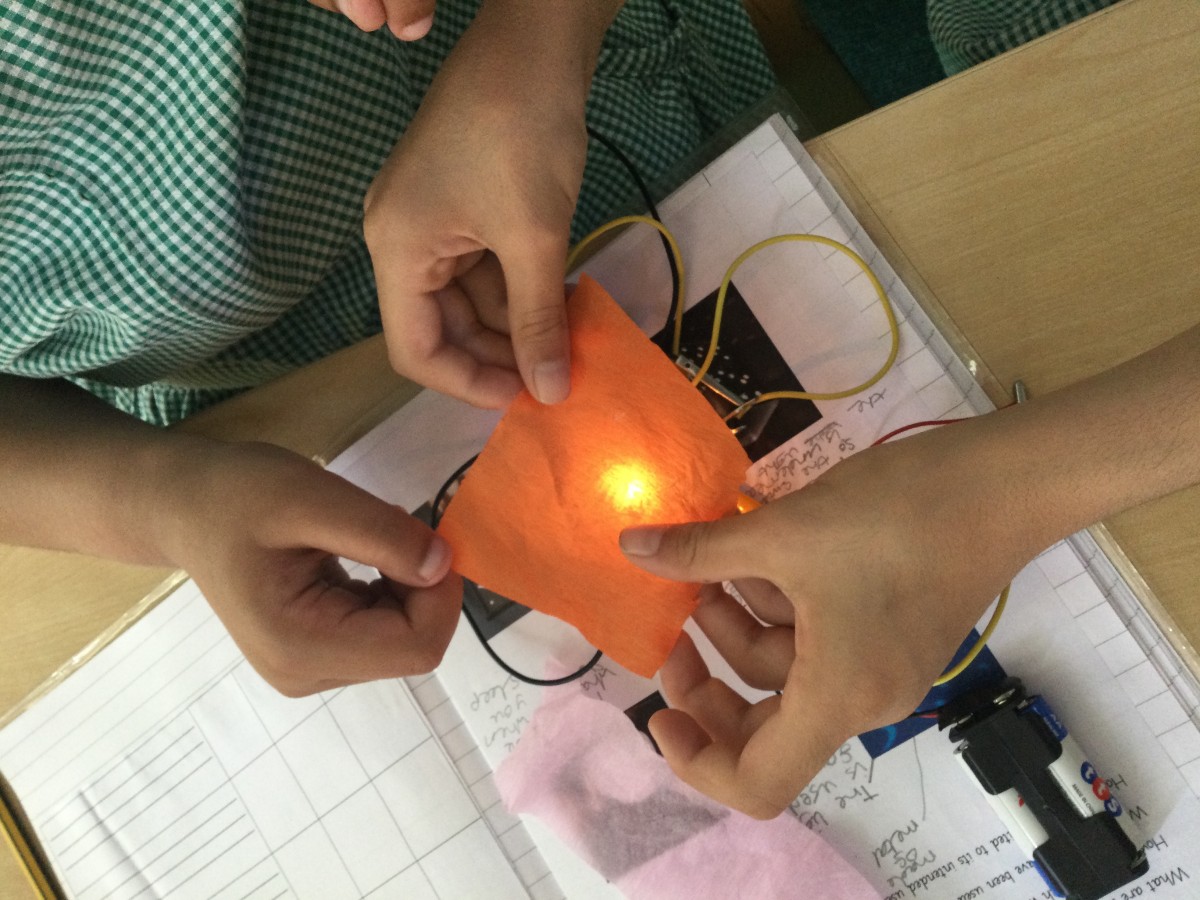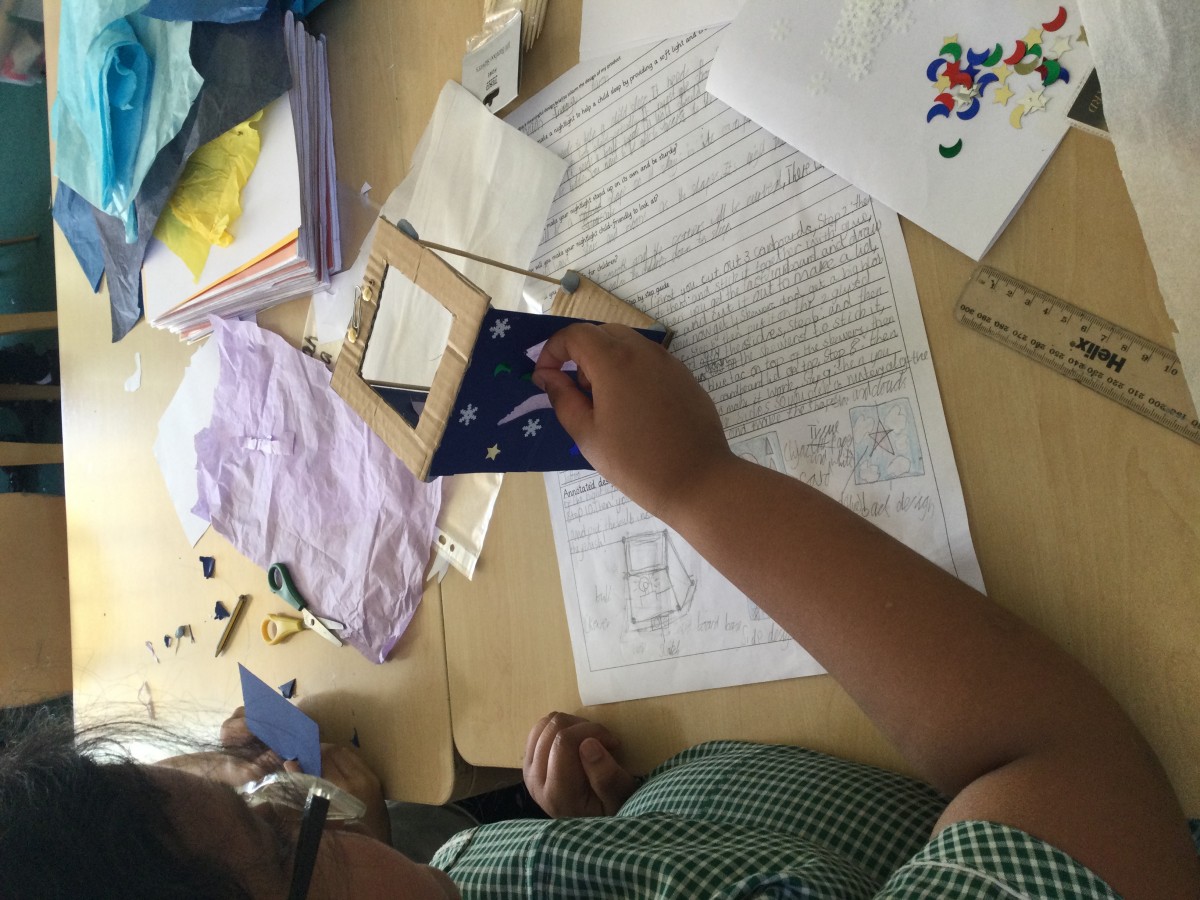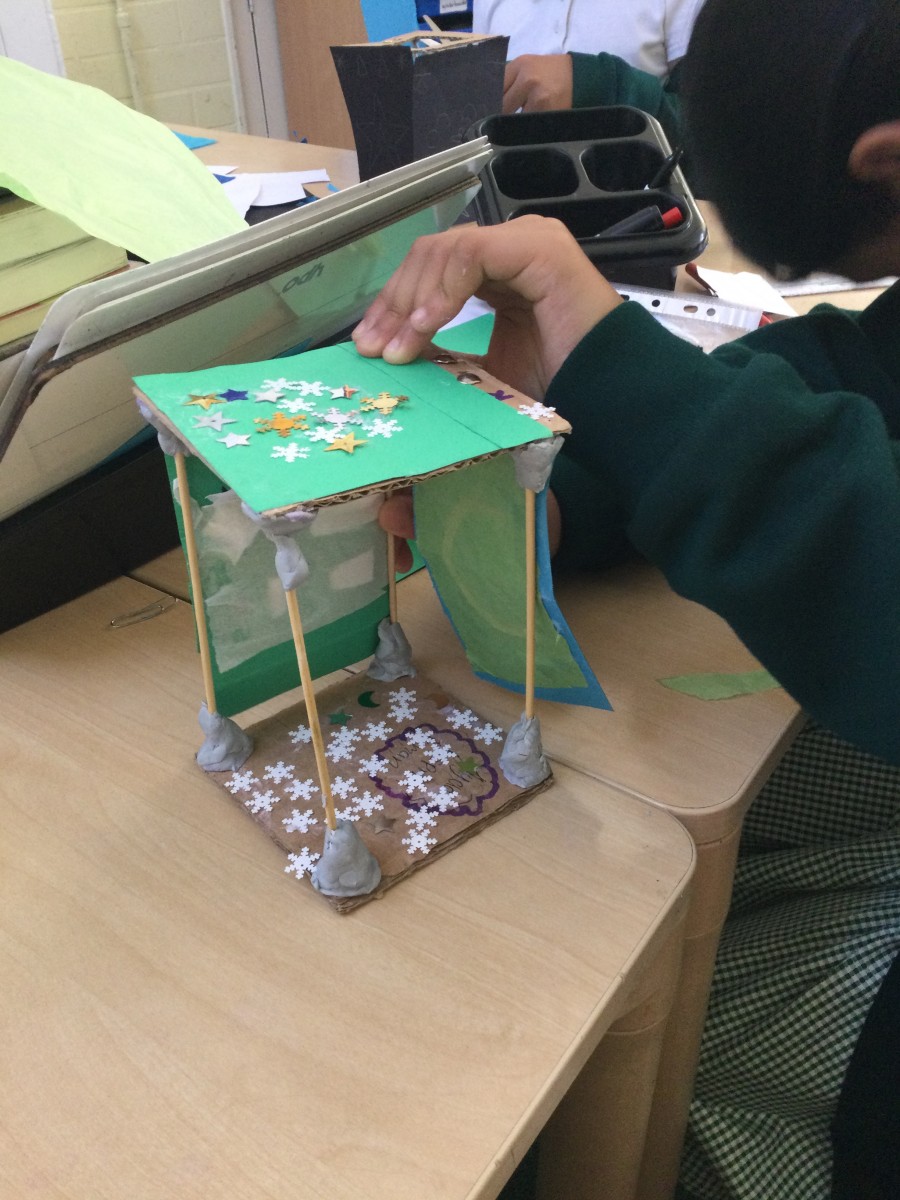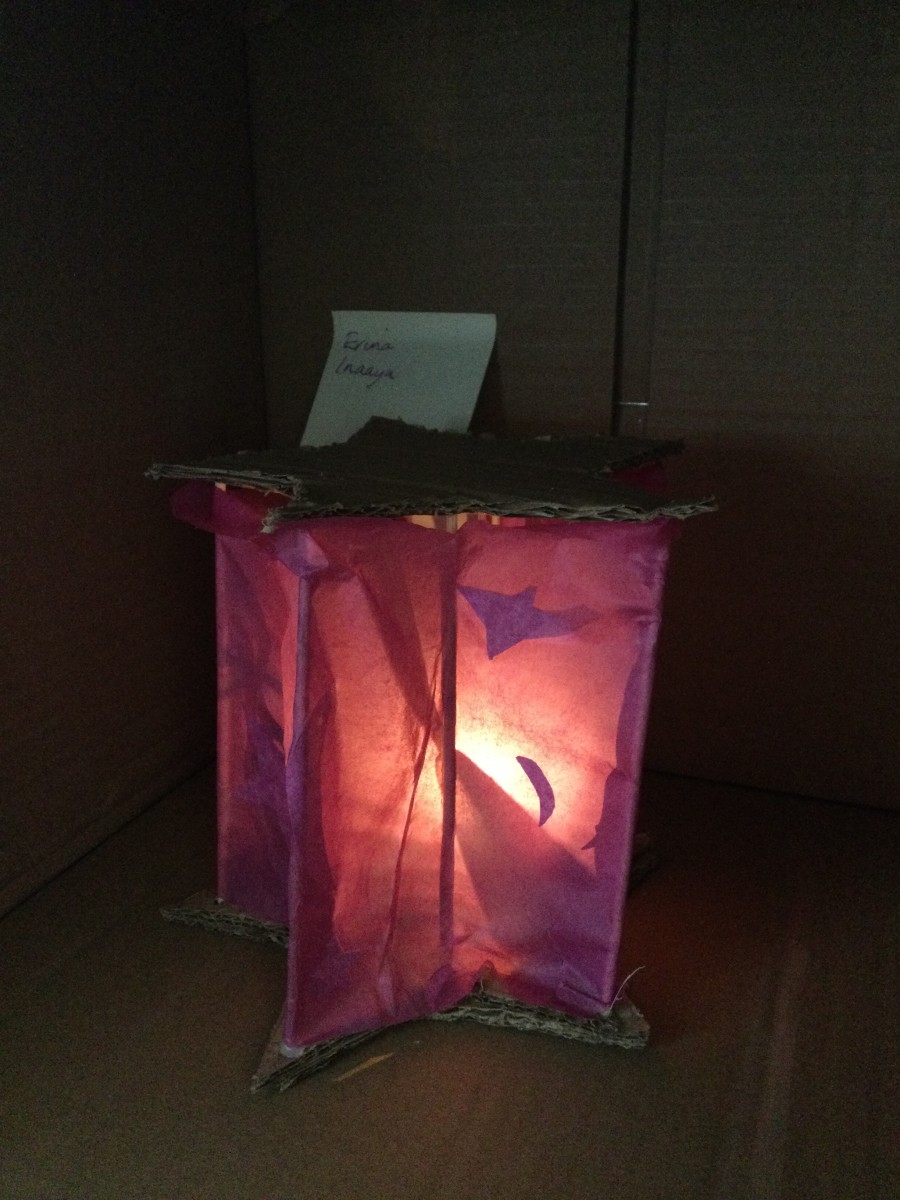 Nursery
In nursery the children have been developing their DT skills to collaboratively make deconstructed role play equipment. They have made a cooker and a sink thinking about how to join the boxes together and what to use to add the finer details. The sink even has 'water' in and working pump action taps.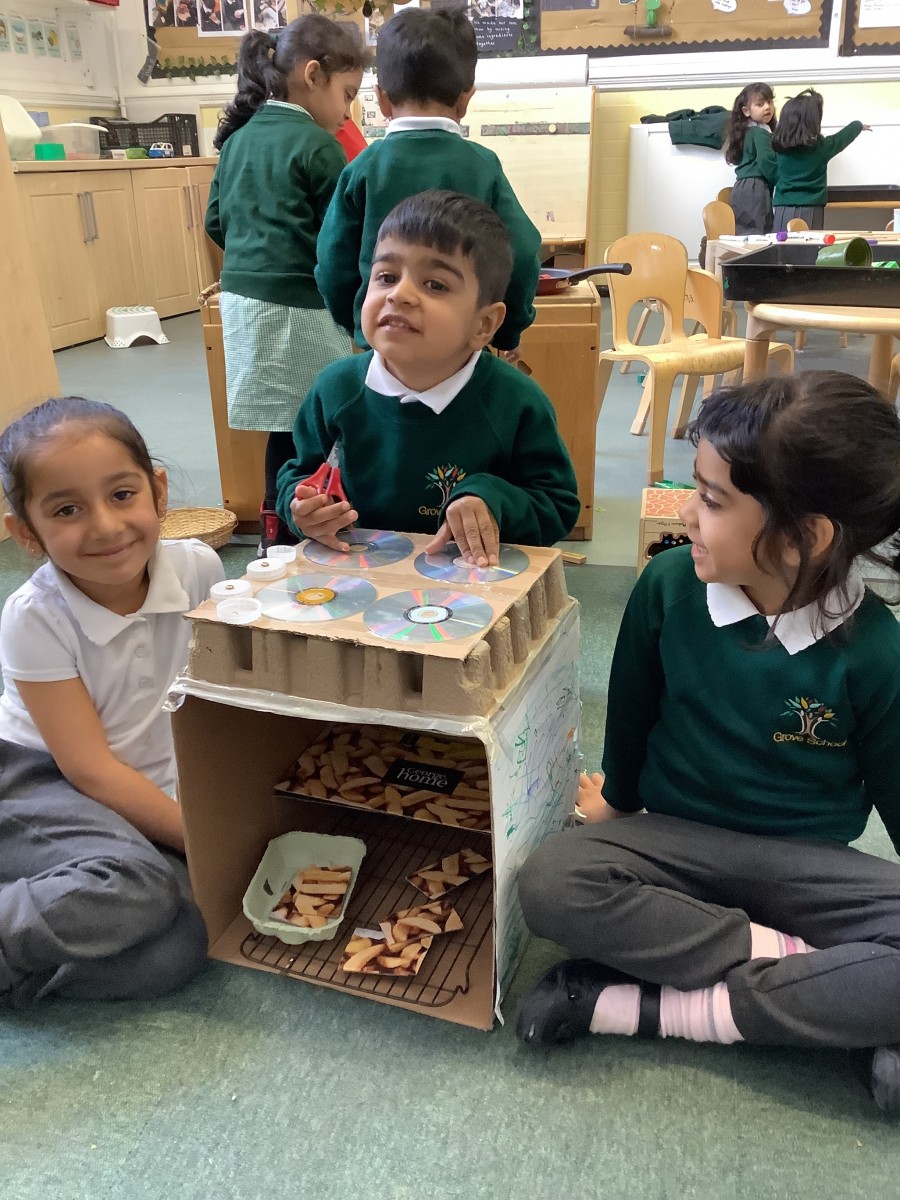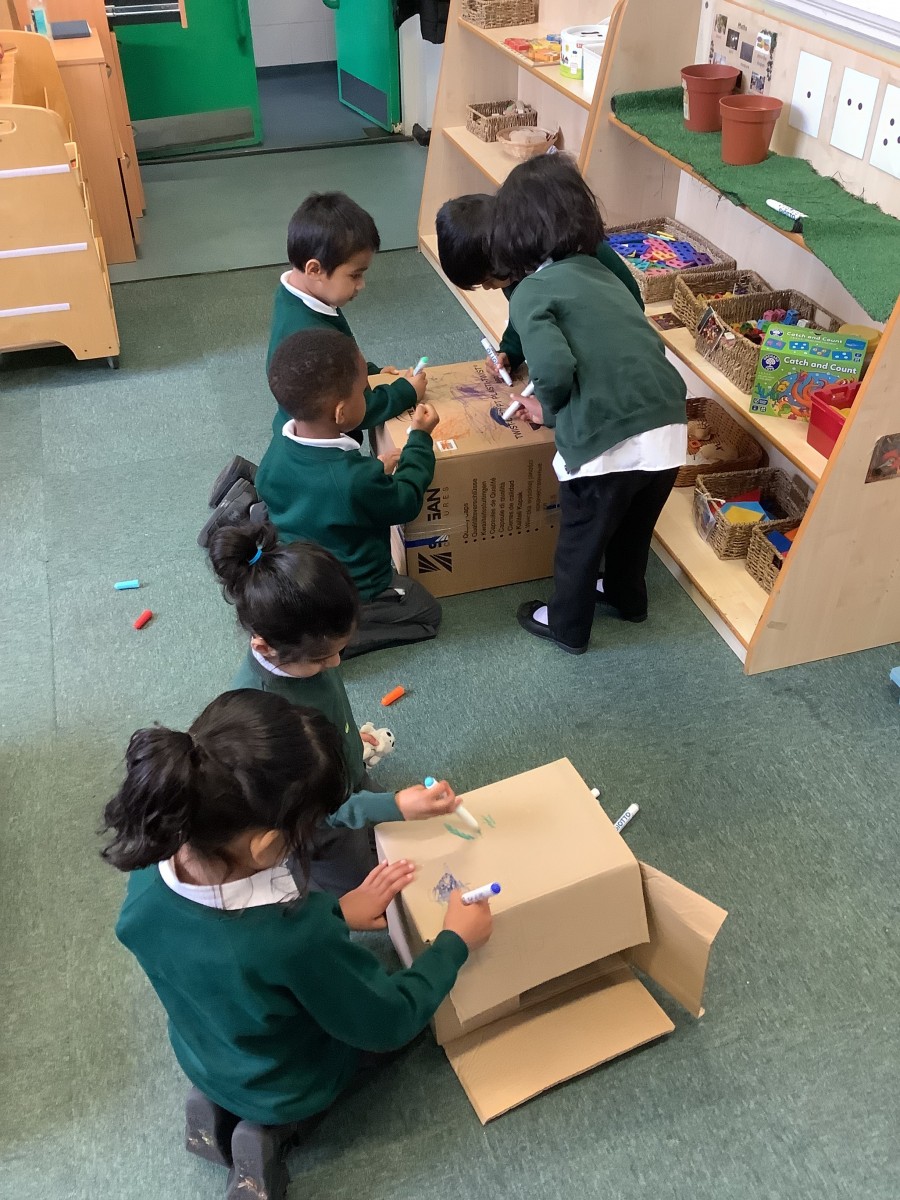 Reception
Reception pupils have explored construction in Summer 1 using a variety of joining techniques such as sticking, slotting and adhesive tape. The pupils linked this to their study of minibeasts and created a minibeast laboratory and homes for minibeasts.
The pupil's enthusiasm led them to use their newly acquired skills to create a range of transport, aeroplanes being a popular choice.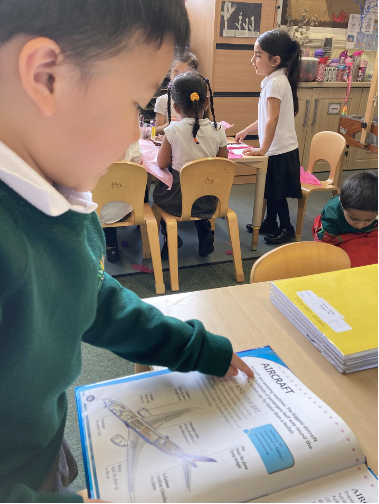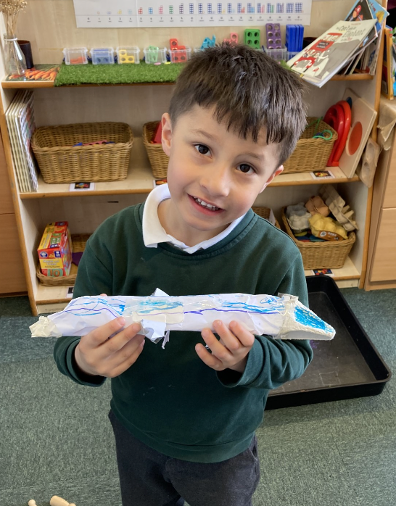 Year 2
Year two rolled up their sleeves this half term to make a cold bean salad and a wholemeal roll. They used scales and measuring jugs to weigh and measure their ingredients, and also learned how to mix, knead, fold and prove a dough before baking. They baked their rolls in the oven to enjoy with their delicious salad. Have a look at our little chefs below.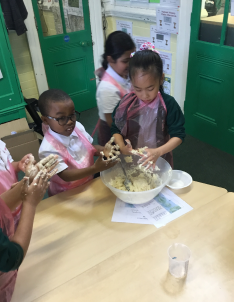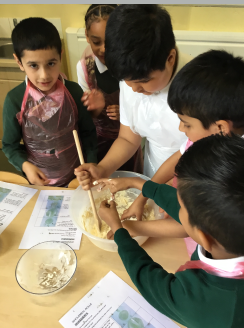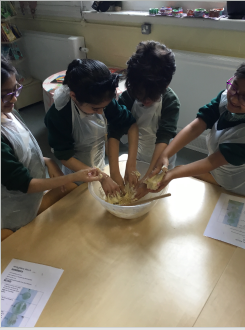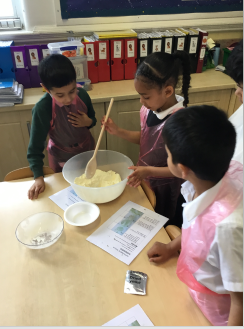 Year 3

Year 3 have been busy in the kitchen this half term making a healthy vegetable soup and cheese scones. They learned how to safely slice and cut vegetables using the bridge and claw techniques. When making their scones they could correctly use rubbing and binding to make a dough. The fried vegetables using the hob and used a hand blender to blend their ingredients into a soup. Have a look at some of their cooking skills below.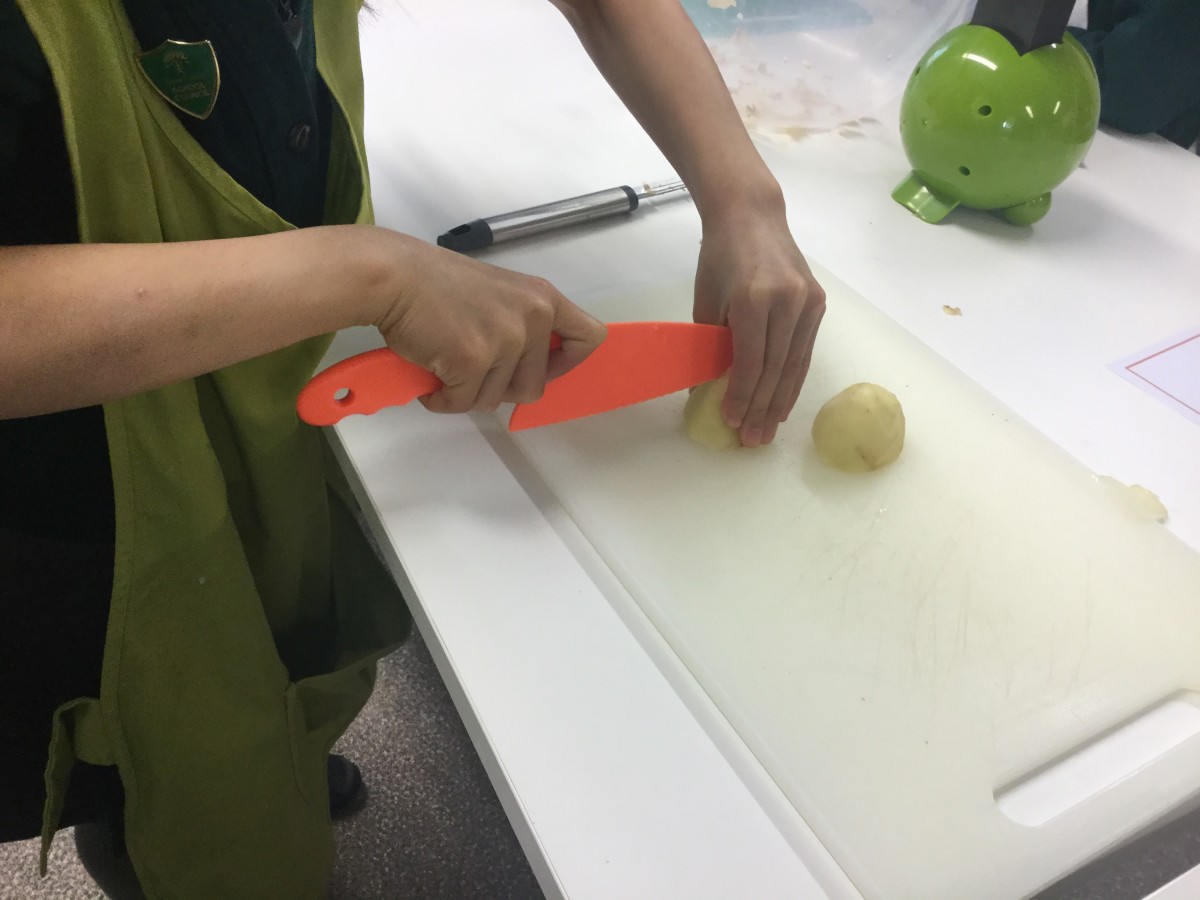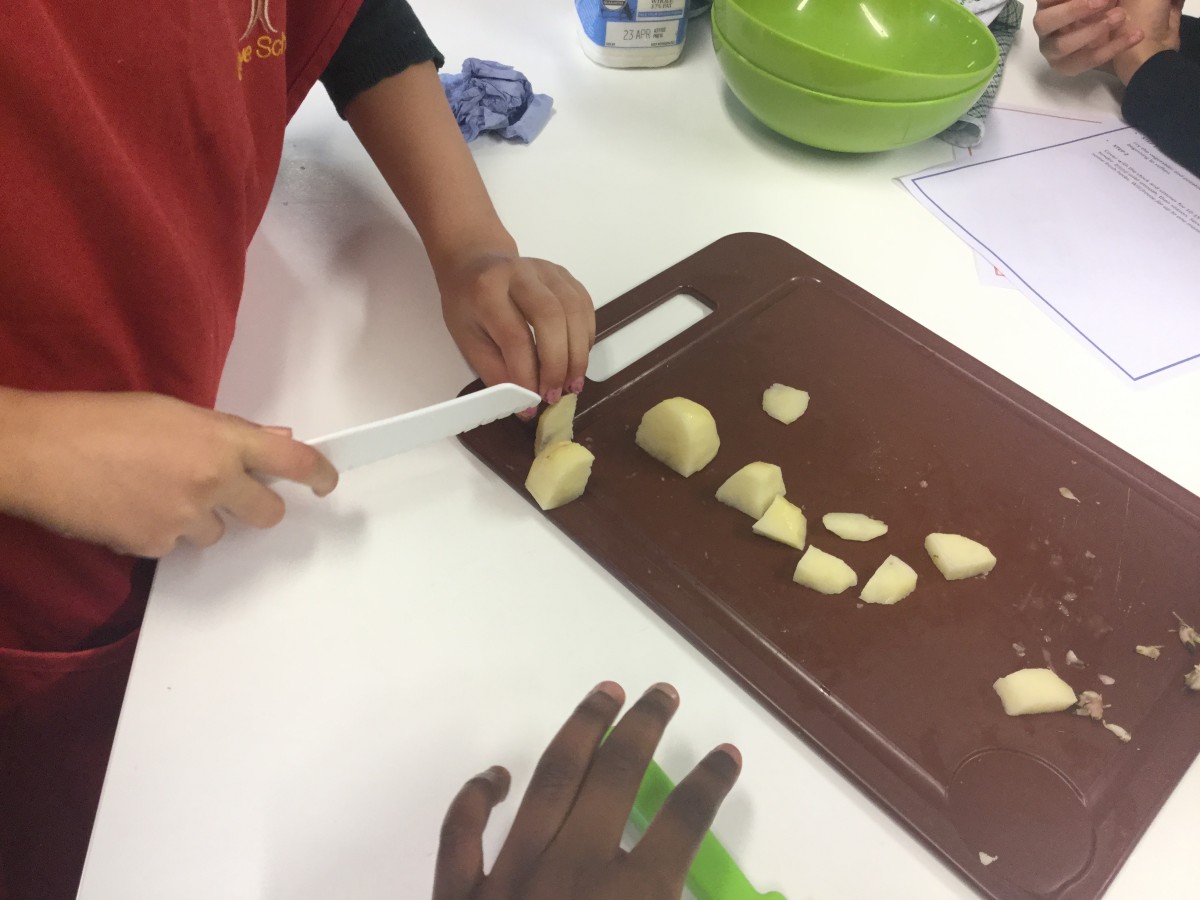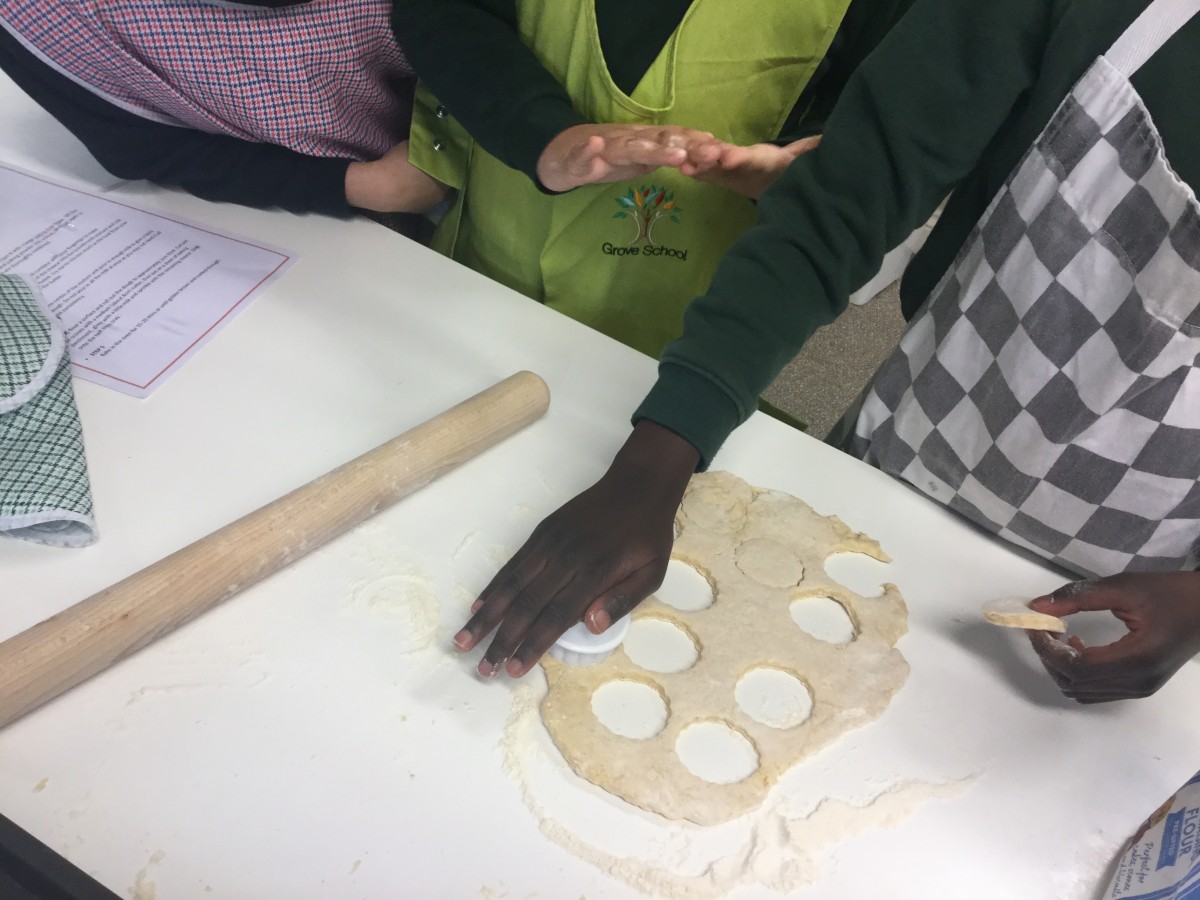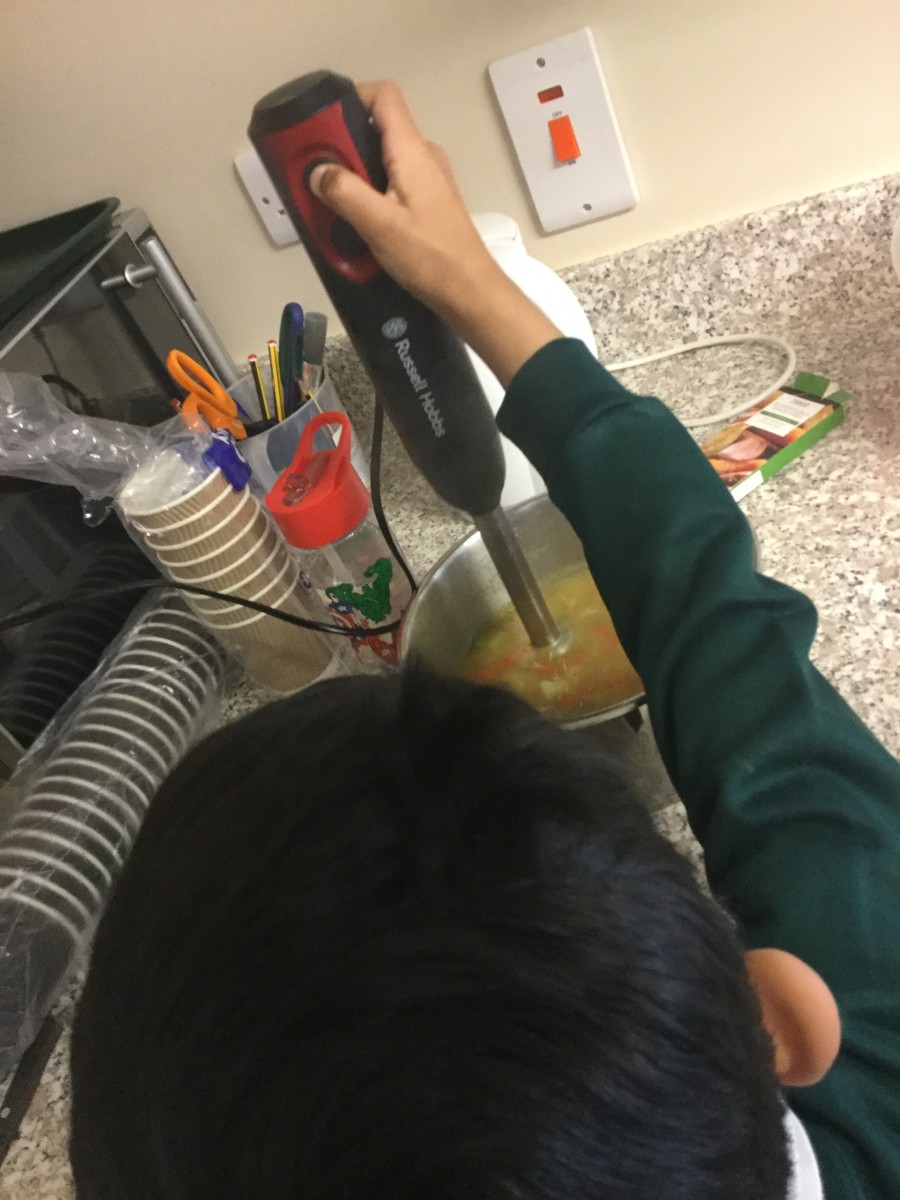 Year 5

Year 5 have been designing, making and evaluating a moving message using a cam mechanism. Pupils looked at different types of motion that can be used with a cam including rotary and oscillating motion and that there are lots of different types of cams. Pupils used a variety of tools such as a hand drill, a junior hacksaw and a g clamp to make the different parts to their message board. Their finished products included a cam mechanism with a slider or lever follower.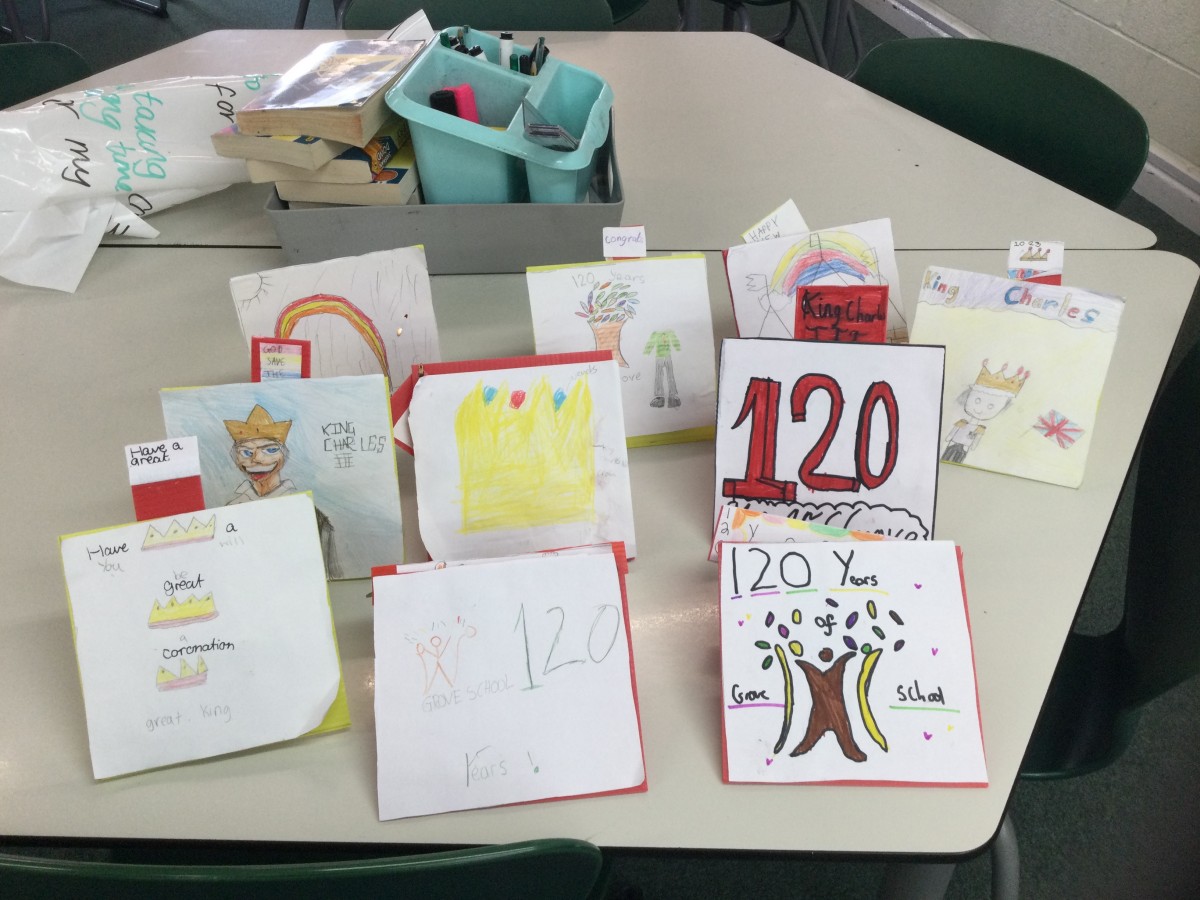 Year 6

This half term year 6 had a great time making a vegetable curry and roti in the kitchen. Pupils applied all their cooking knowledge and were able to safely peel, chop and fry their ingredients. They had to simmer their curry so that it would thicken. Using folding and rolling, pupils made a roti dough which was fried in the pan to co with their curry. Have a look at how much fun we had below.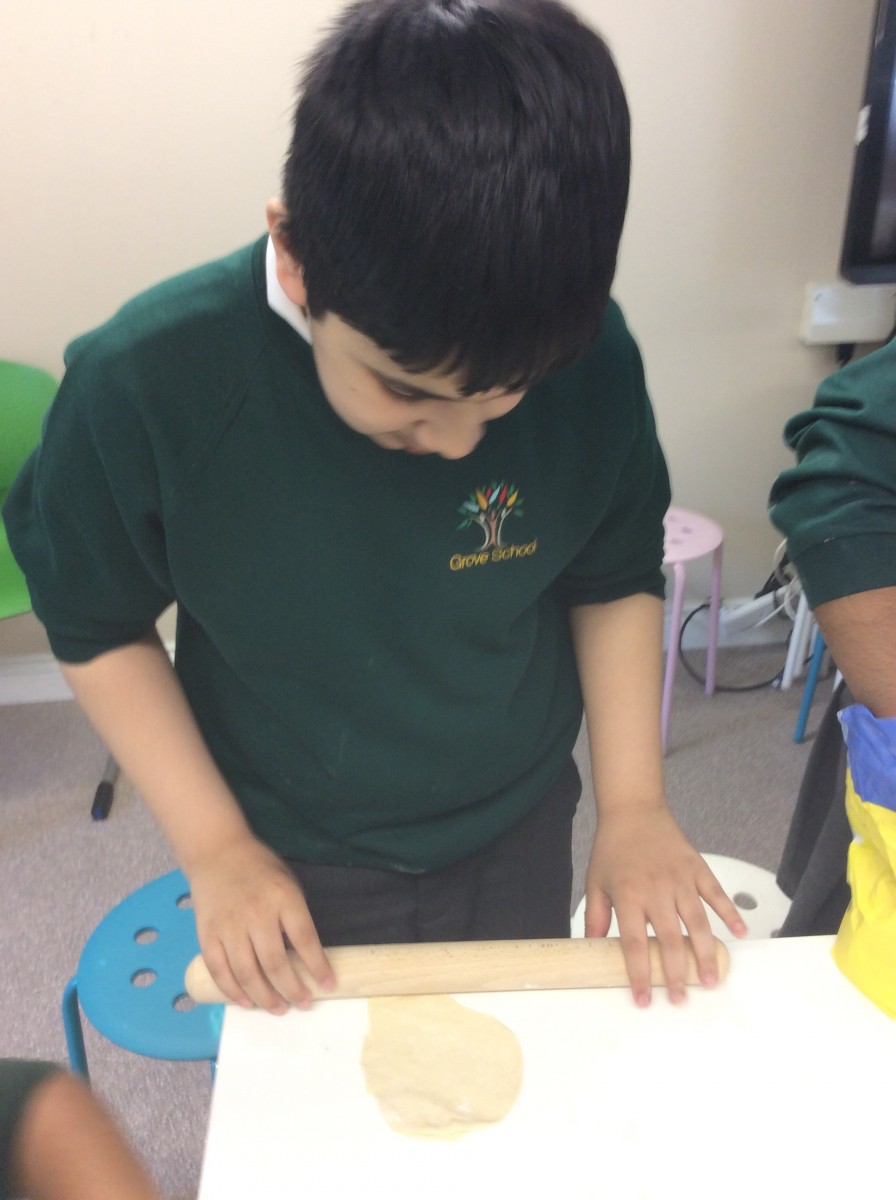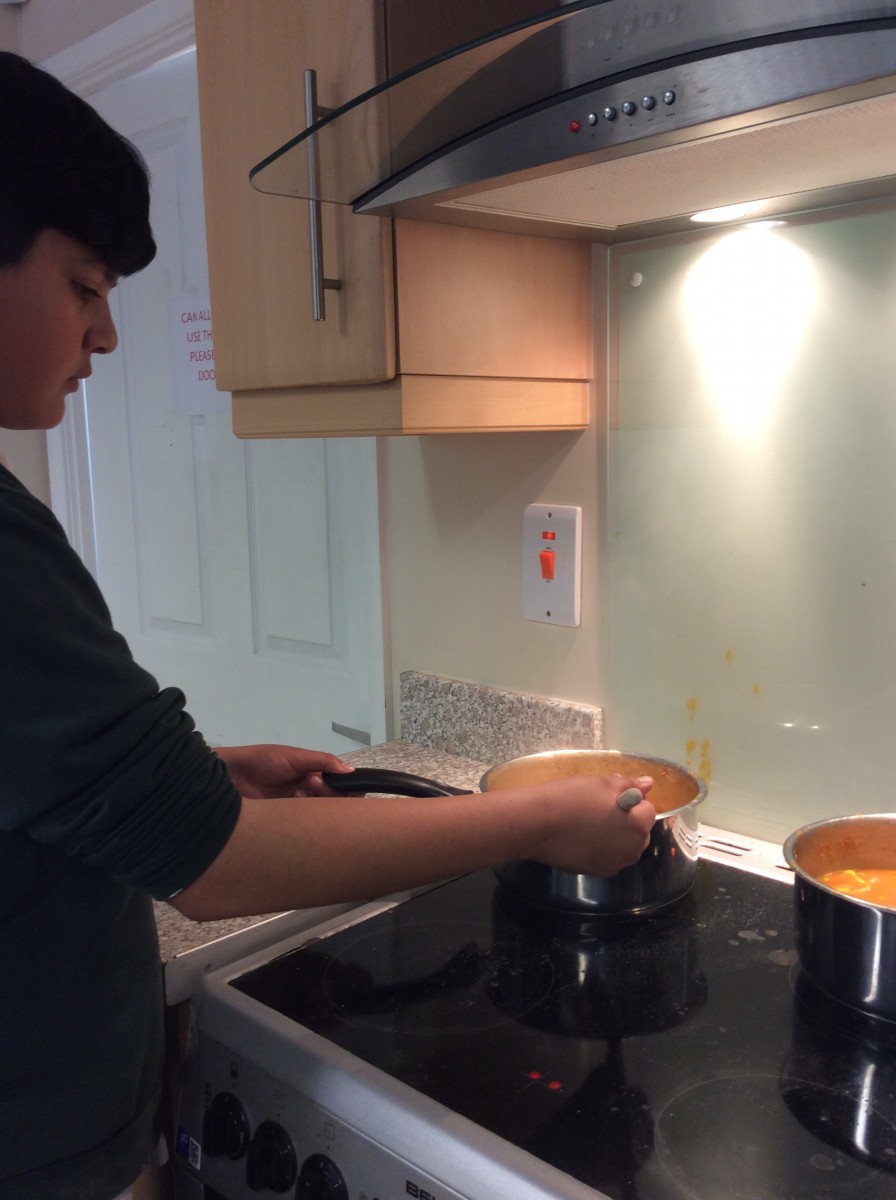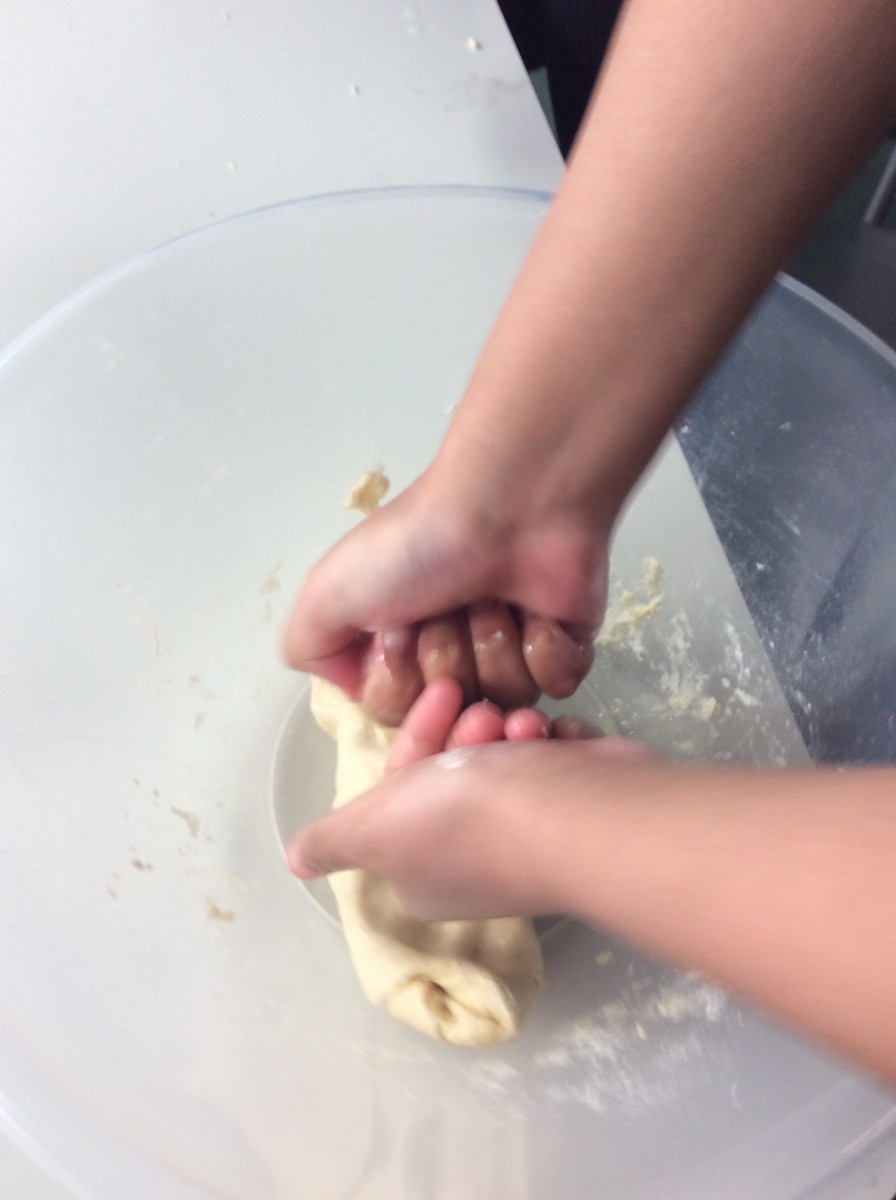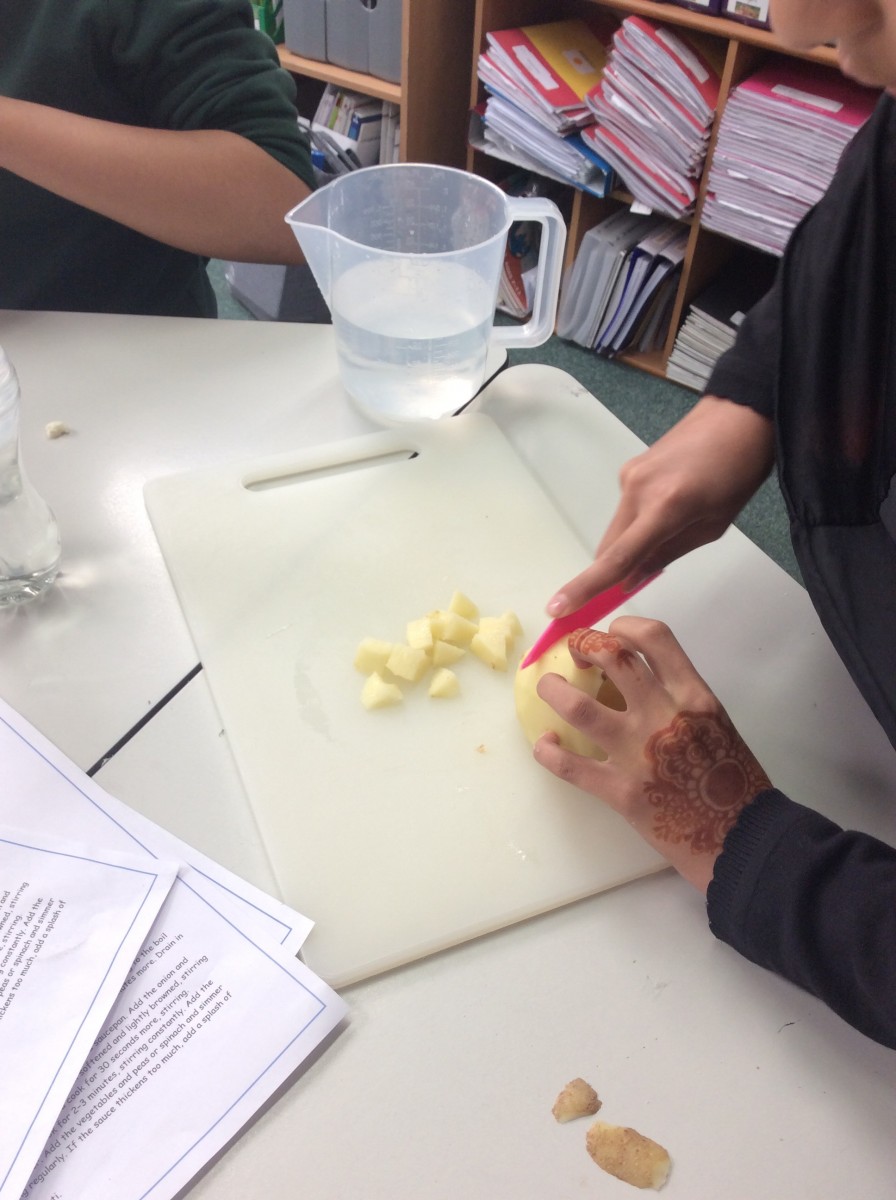 Spring
Nursery
This half term in nursery, the children have been developing their DT skills by learning how to fasten their own coats. They have persevered when it has been a little challenging to fasten zips and buttons with such small fingers! The children are extremely proud of themselves when they have been successful in fastening their own coats. One little girl exclaimed "Mummy I did it myself!" when mummy came to collect her.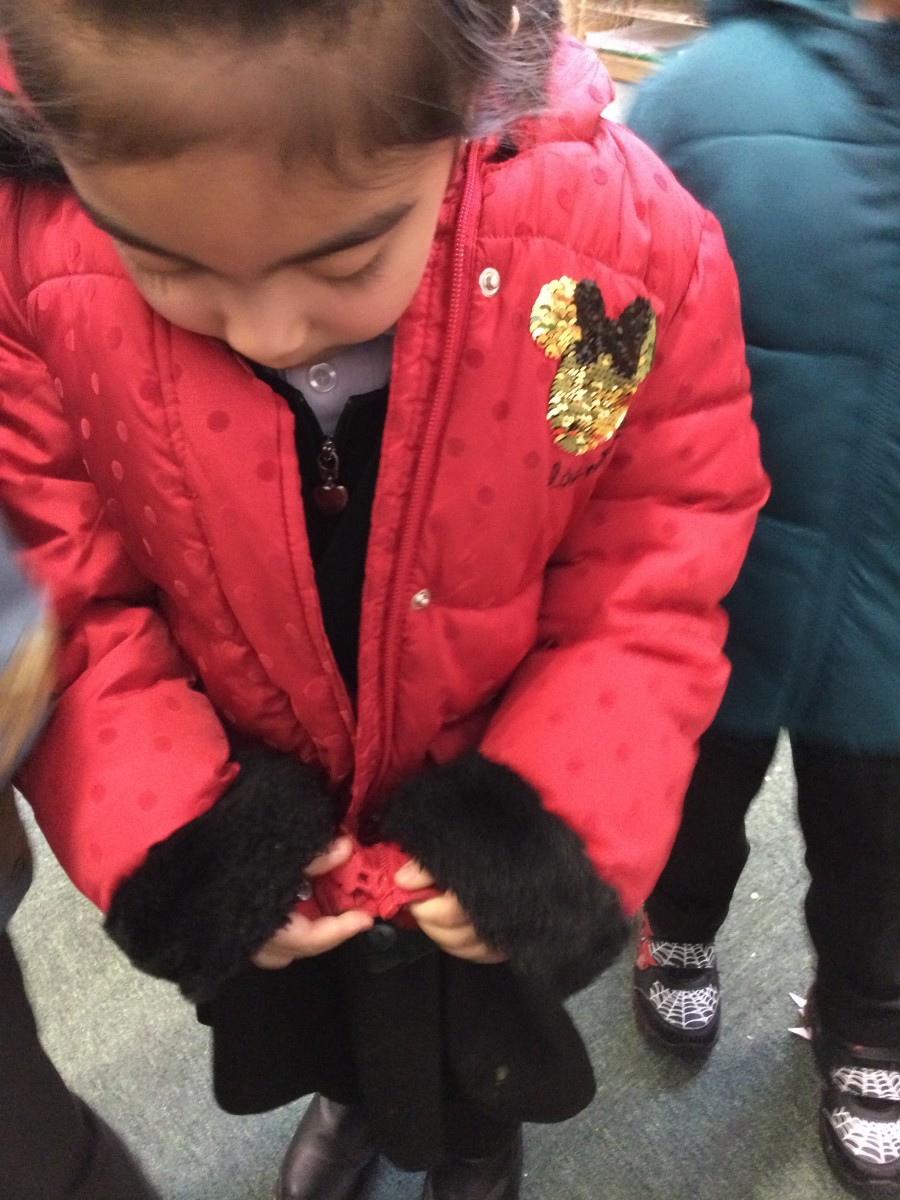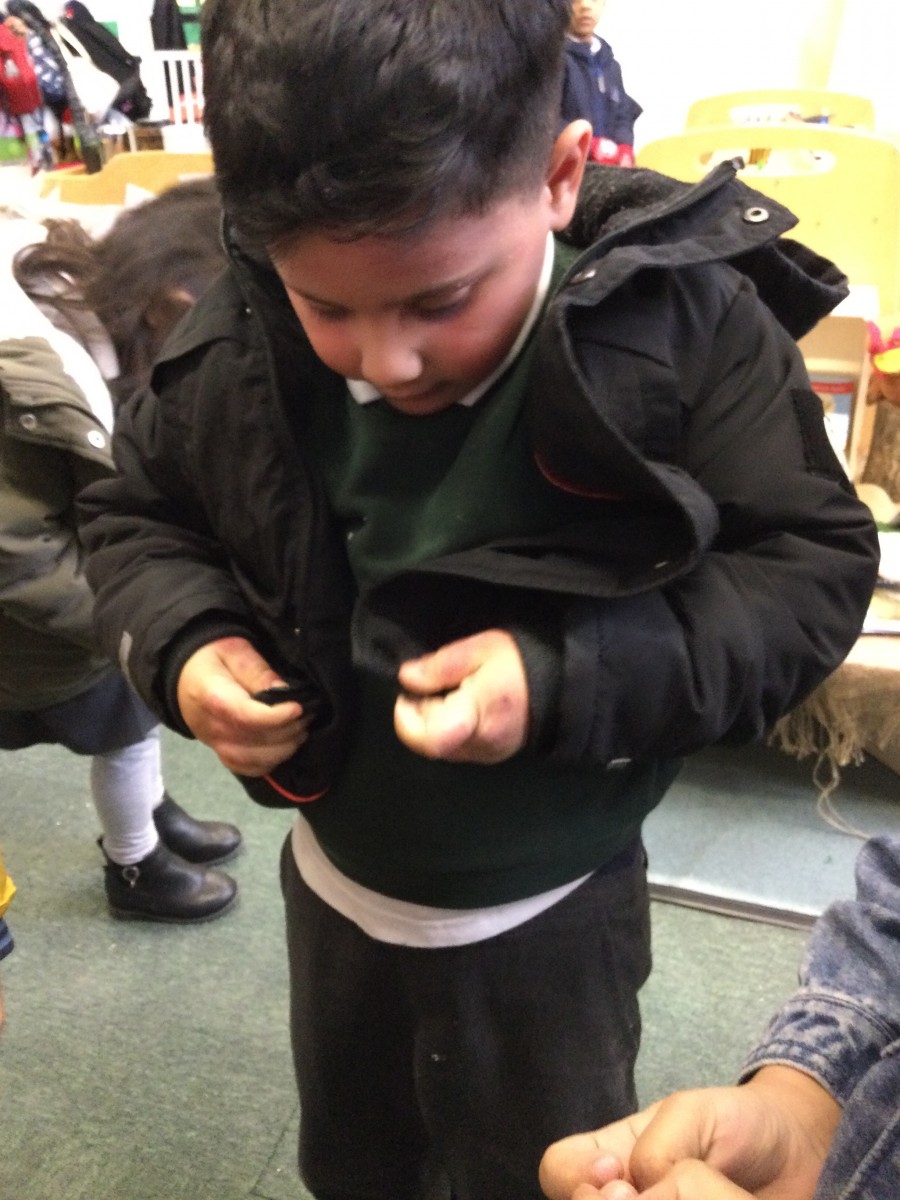 Year 2
Year 2 had a go at designing and making a felt flower brooch. Pupils used a template or pattern and cut their fabric piece to size. They then joined their material using a running stitch. Pupils have also explored other methods of joining materials such as glue, stapling and pinning and they can confidently talk about the advantages and disadvantages of each method. Here are some of their wonderful designs.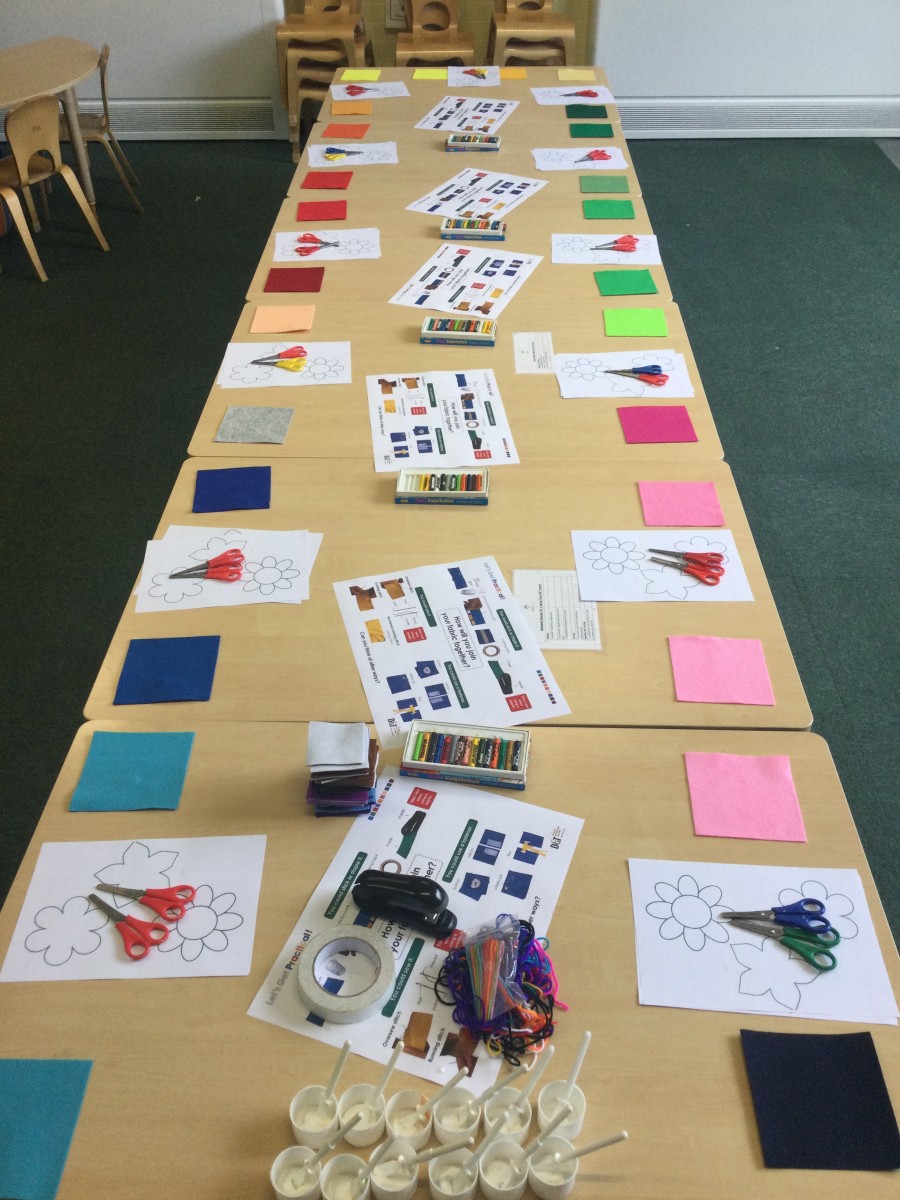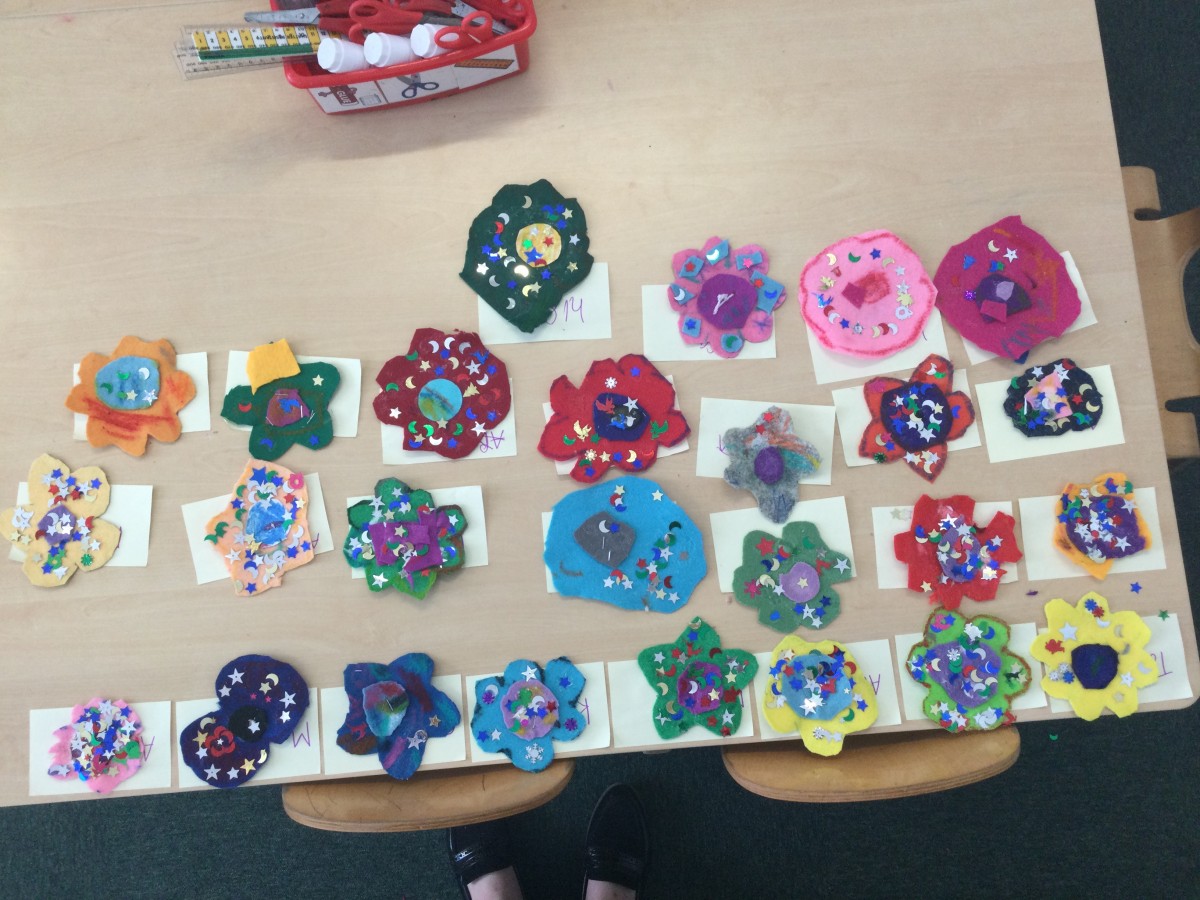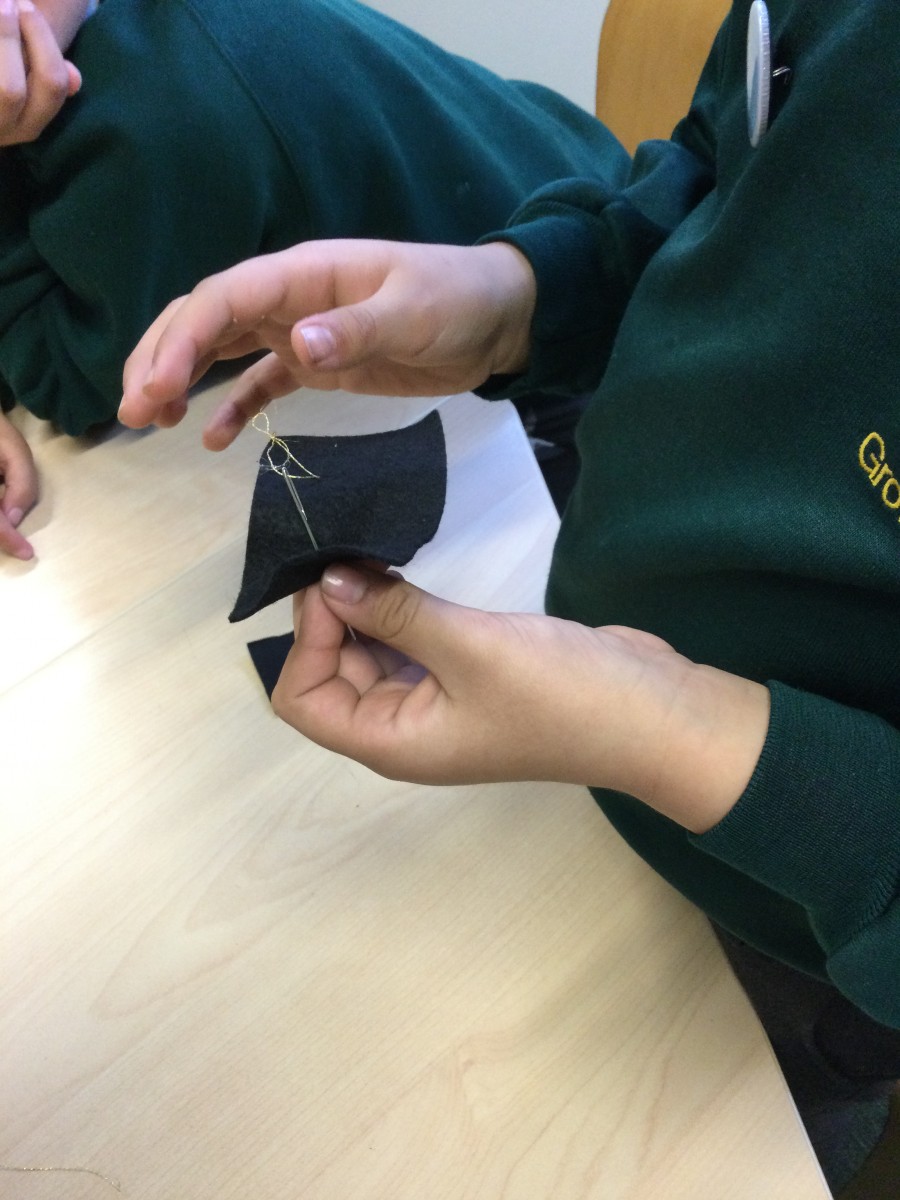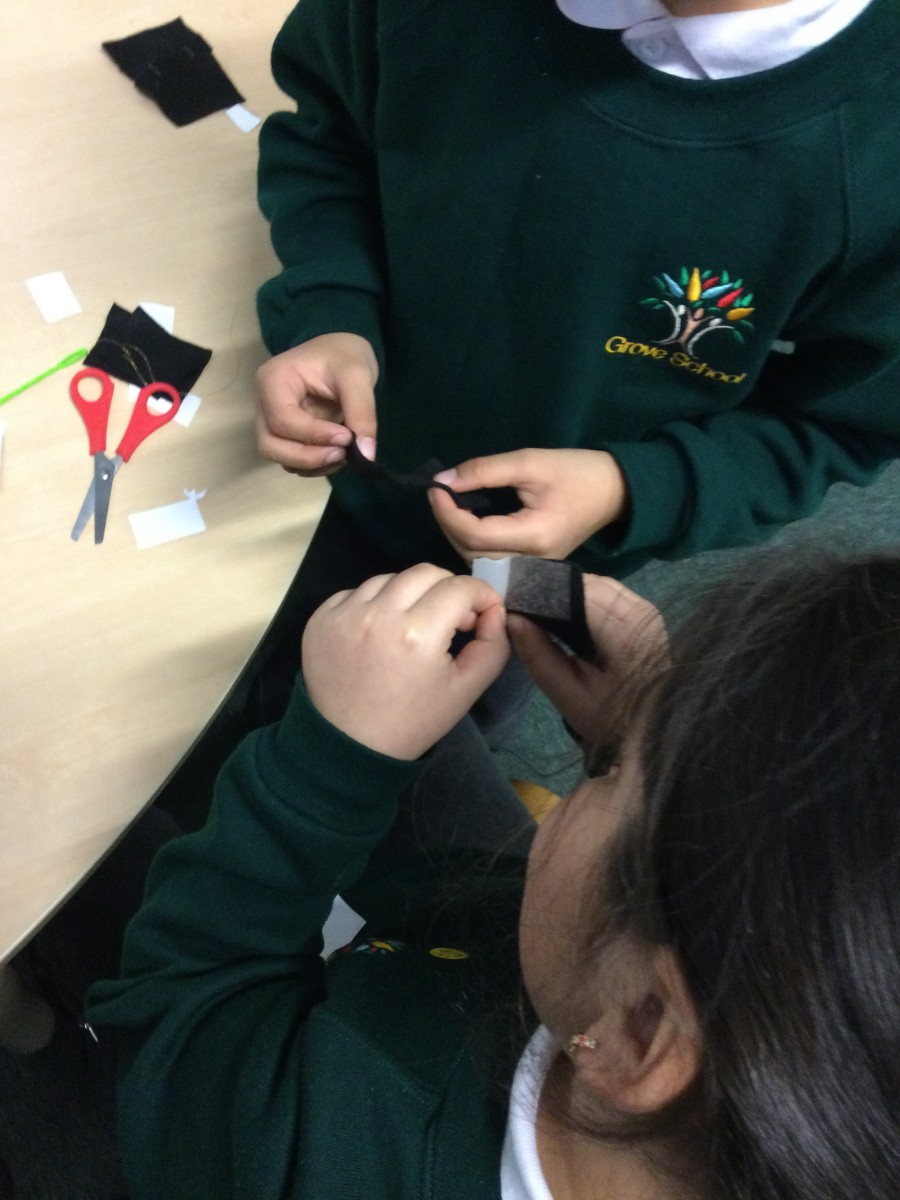 Year 4
Year 4 also had a visit t the kitchen to make pizza with a wholemeal base. Pupils mixed their ingredients together and had to knead their dough before stretching and pressing it to make the pizza base. They learned to sauté vegetables to soften them before adding as toppings to their pizza. Have a look at their delicious recipe below.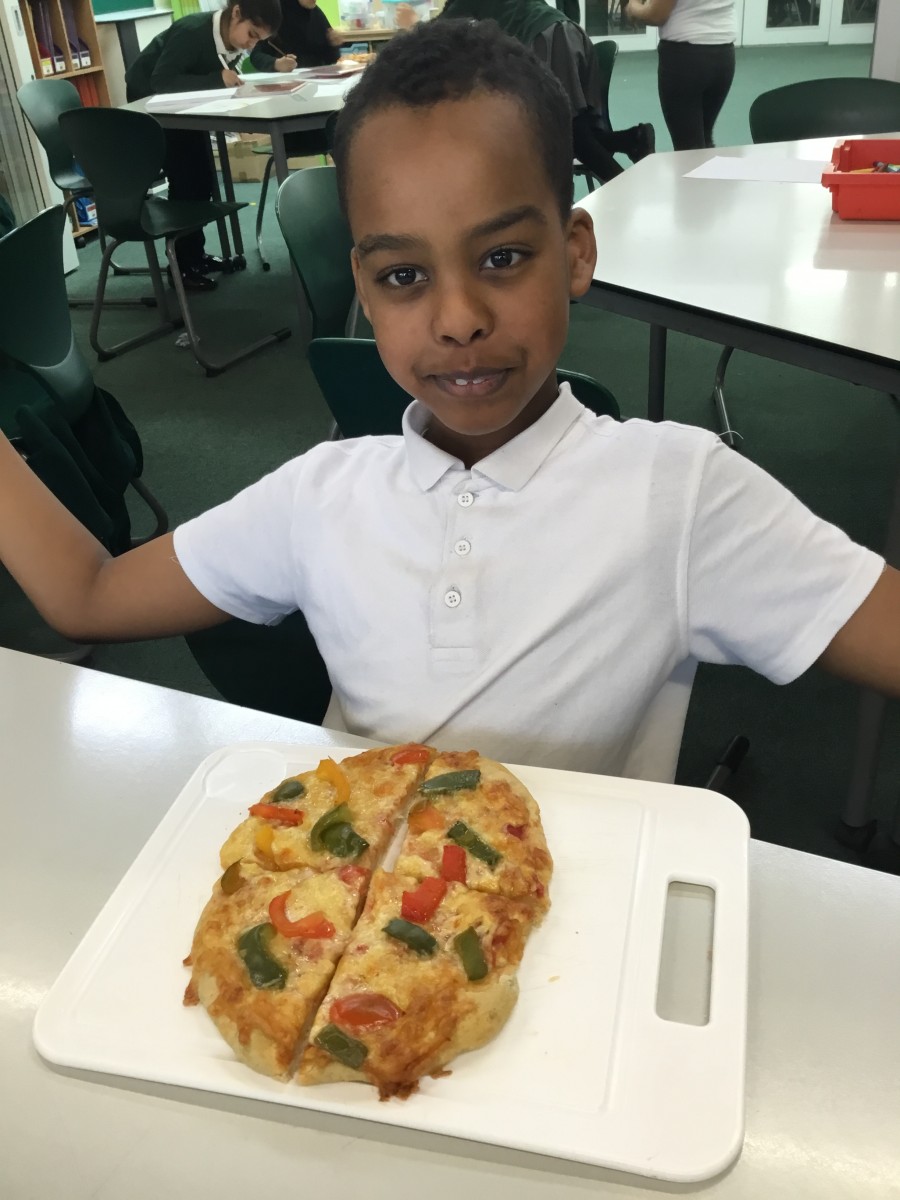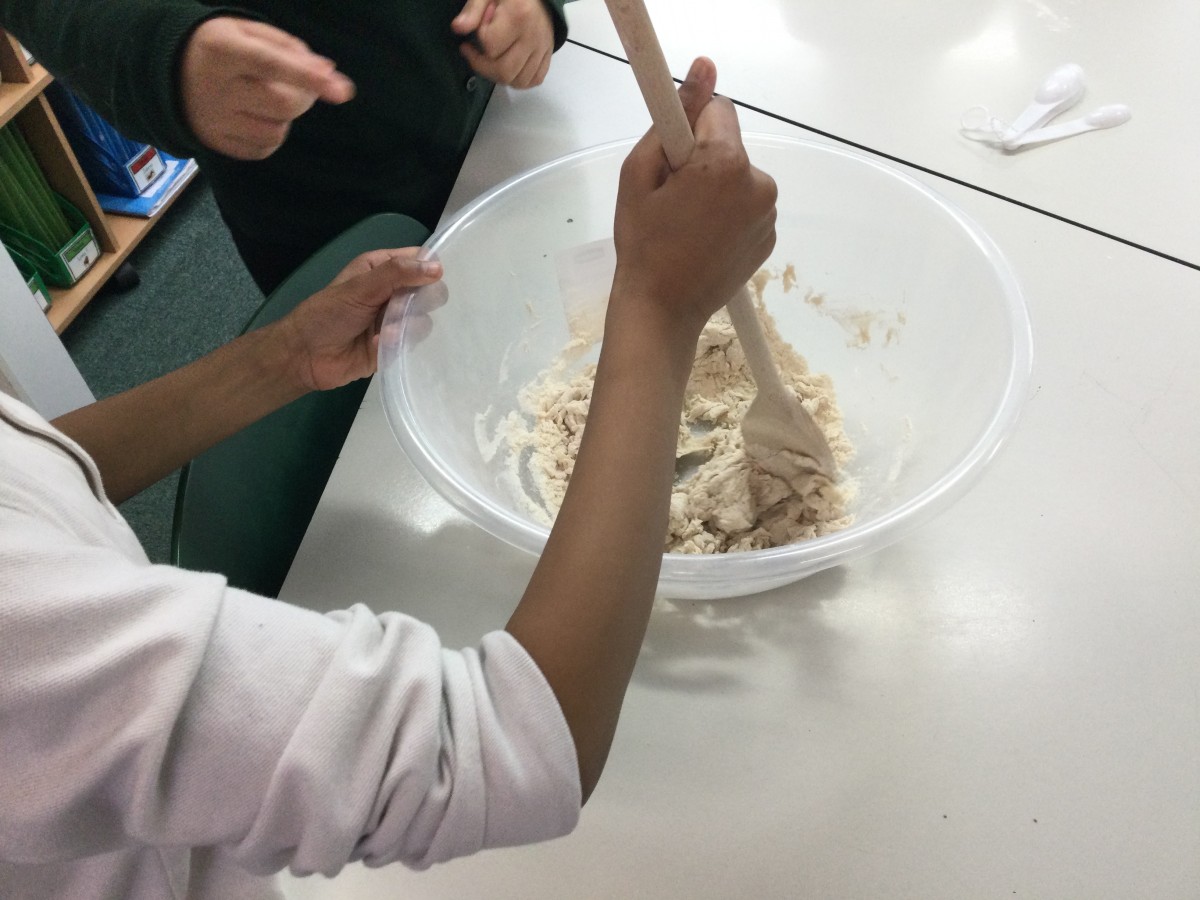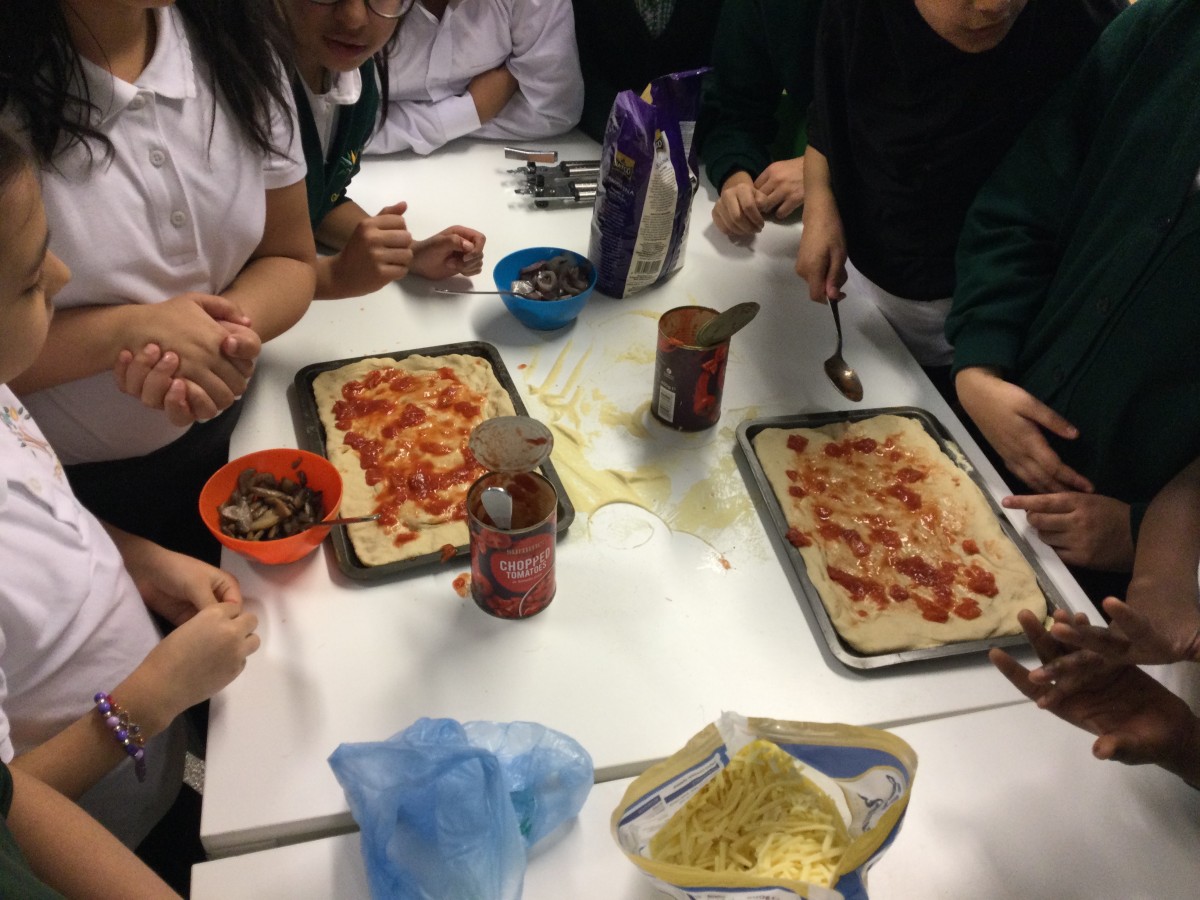 Year 5
This half term, pupils in year 5 go busy in the kitchen making homemade gnocchi. They combined eggs and flour into a dough and using rolling and stretching techniques to shape the dough. Pupils boiled the gnocchi until it was soft and light. They also made a tomato sauce, using their bridge and claw cutting techniques to prepare the vegetables. Have a look at some of their amazing skills below.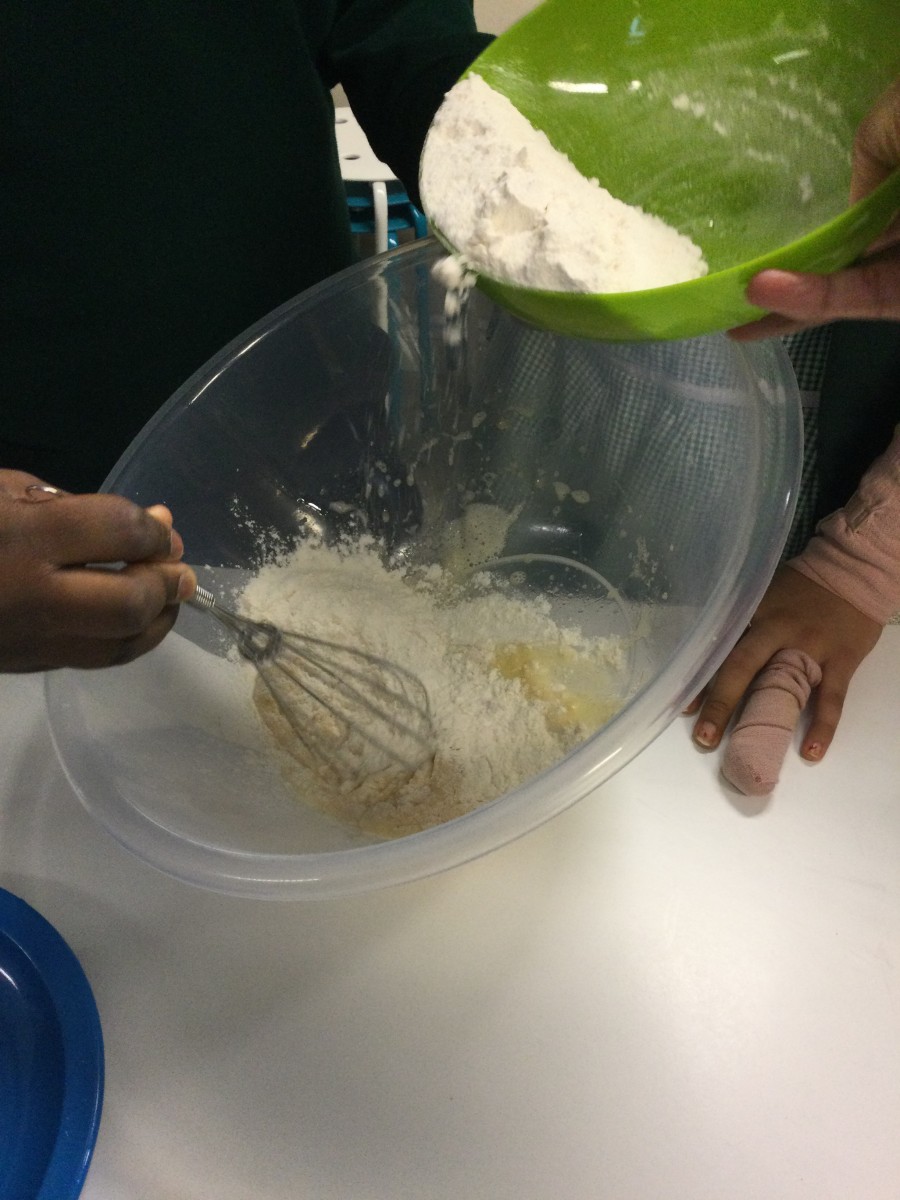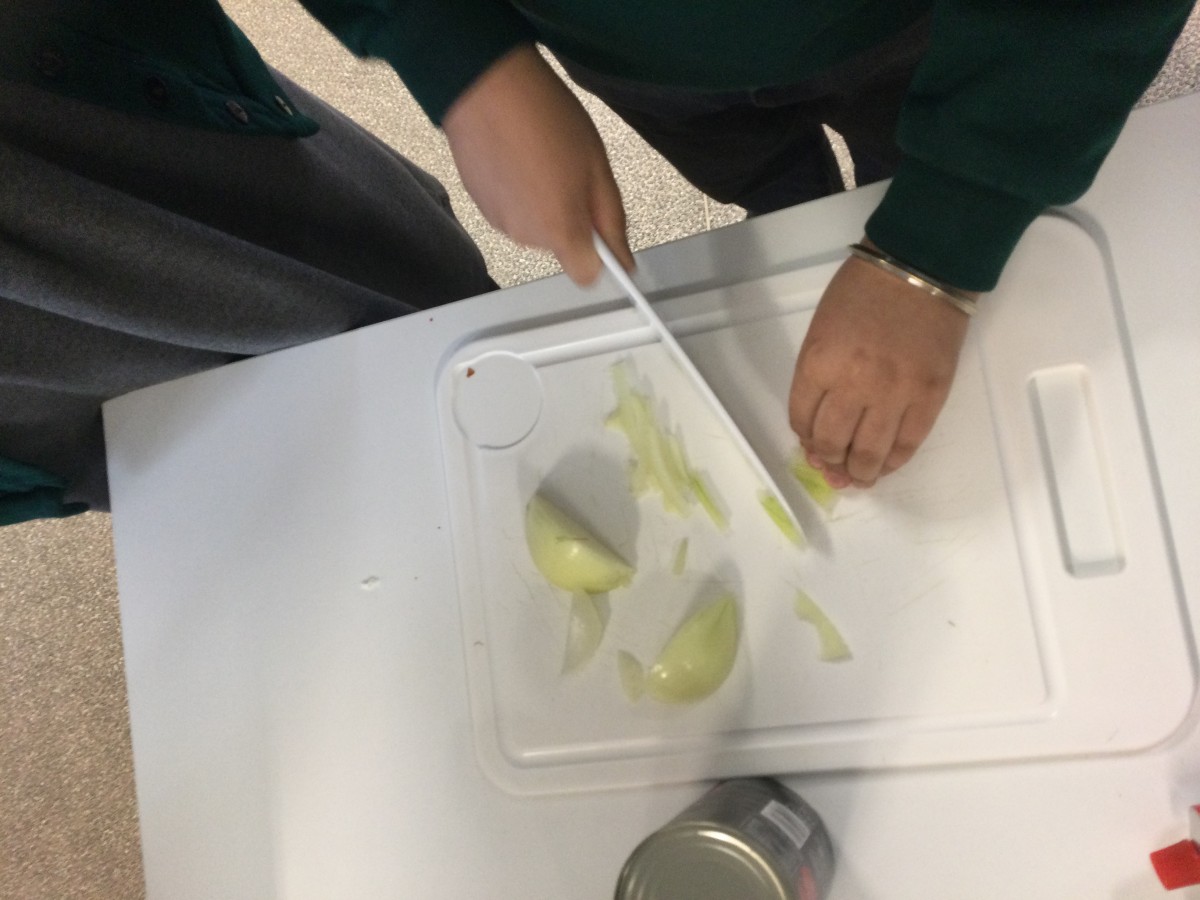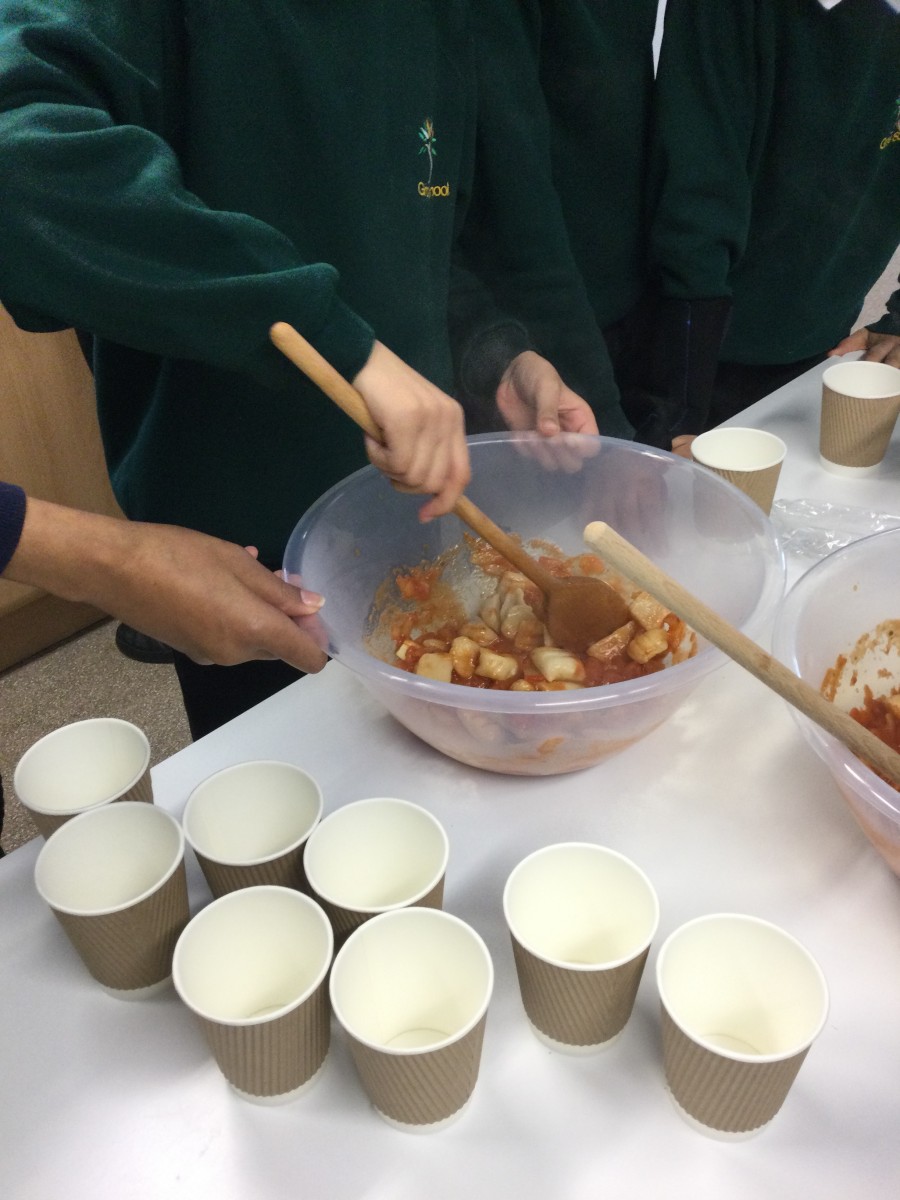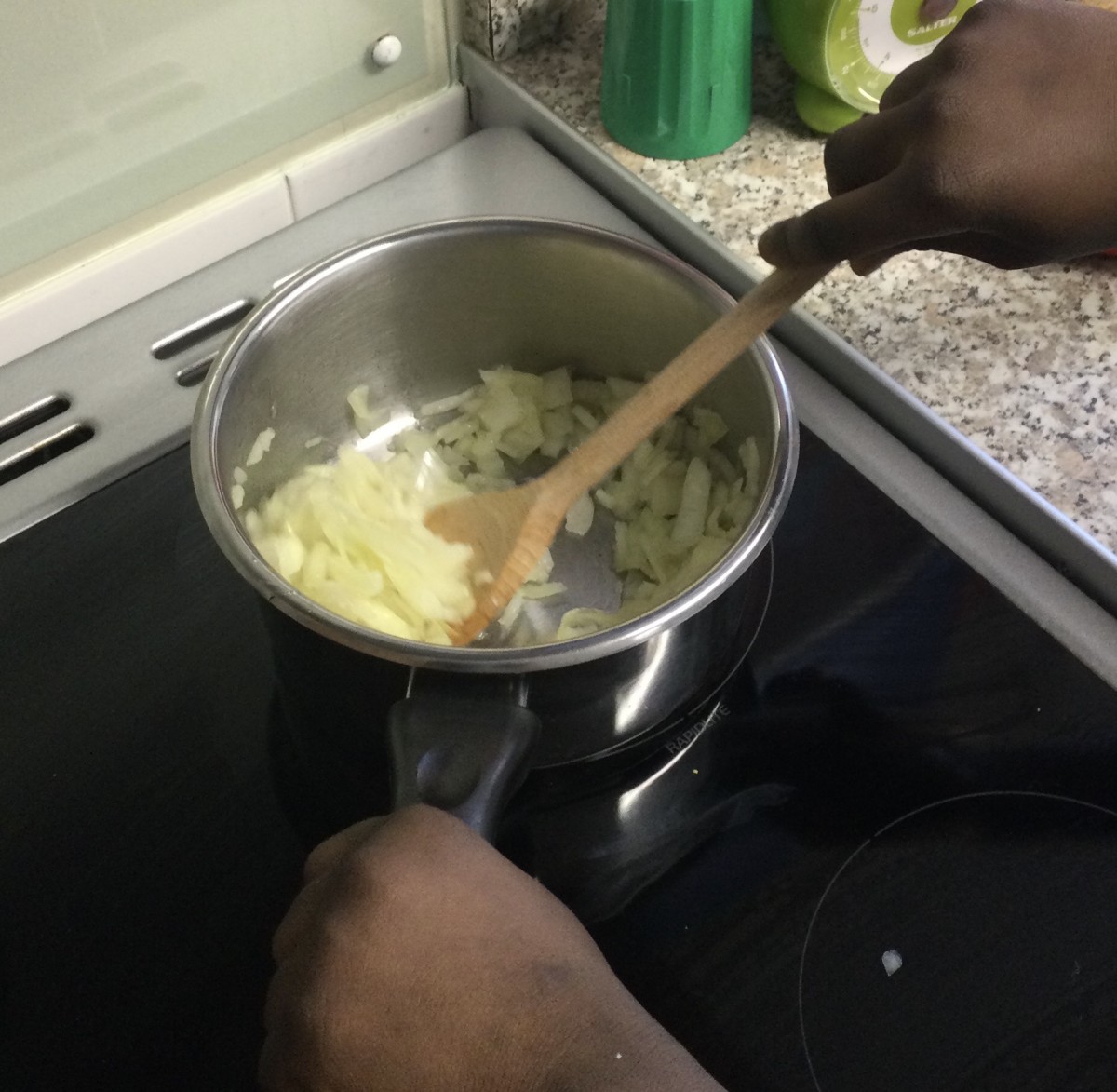 Spring
Nursery
In nursery this term, we have been exploring different materials like sandpaper, rubber and plactic to make a bed for the three bears and a boat for the Gingerbread man. We have joined our materials together using Cellotape and glue. We have also been practising our mixing pouring skills when making our very own gingerbread men. Have a look at how much fun we had below!
Spring
Reception
This term, we have been using our senses to explore different characteristics. Using our small motor skills we used our sense of touch to thread needles and make models using junk materials. We have also been making our own dens in out outdoor area and thinking about how to make them even better. Here are some examples below.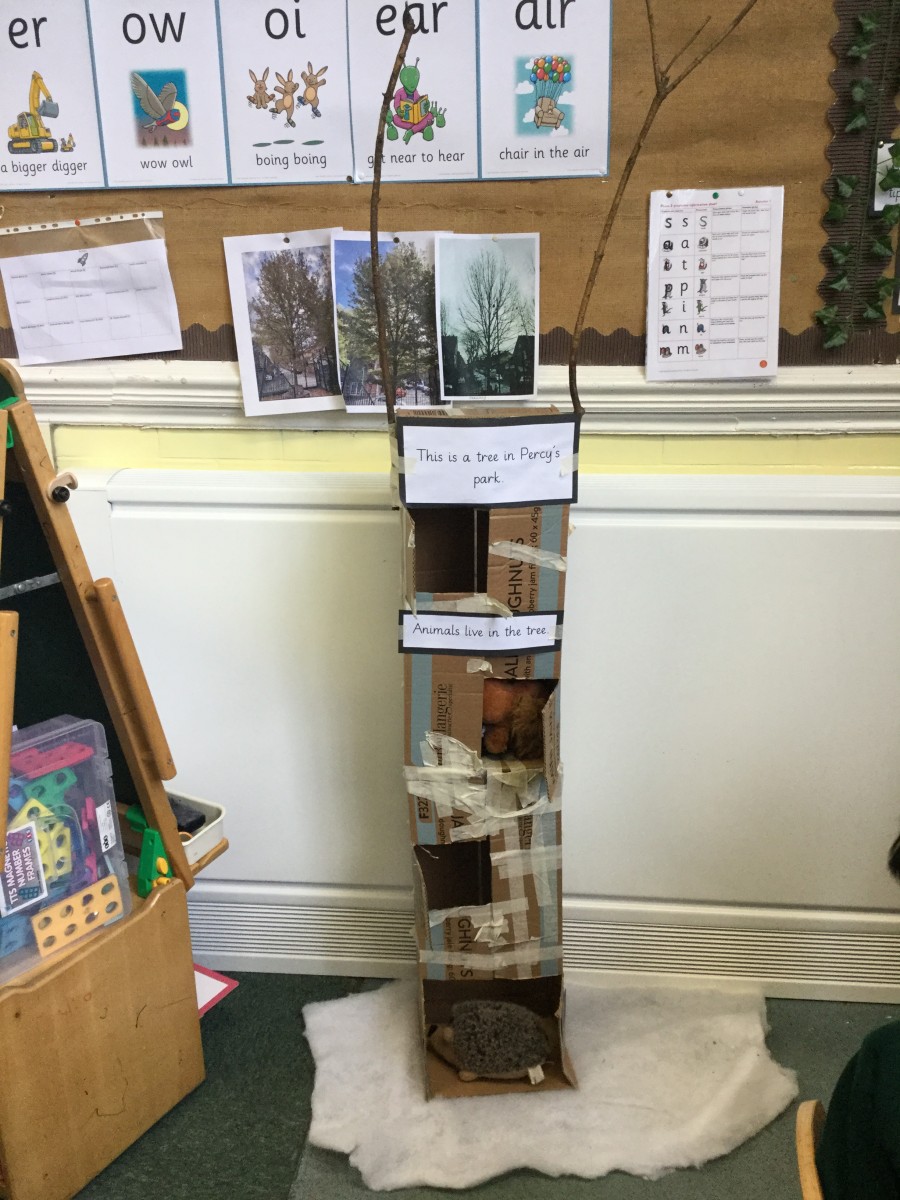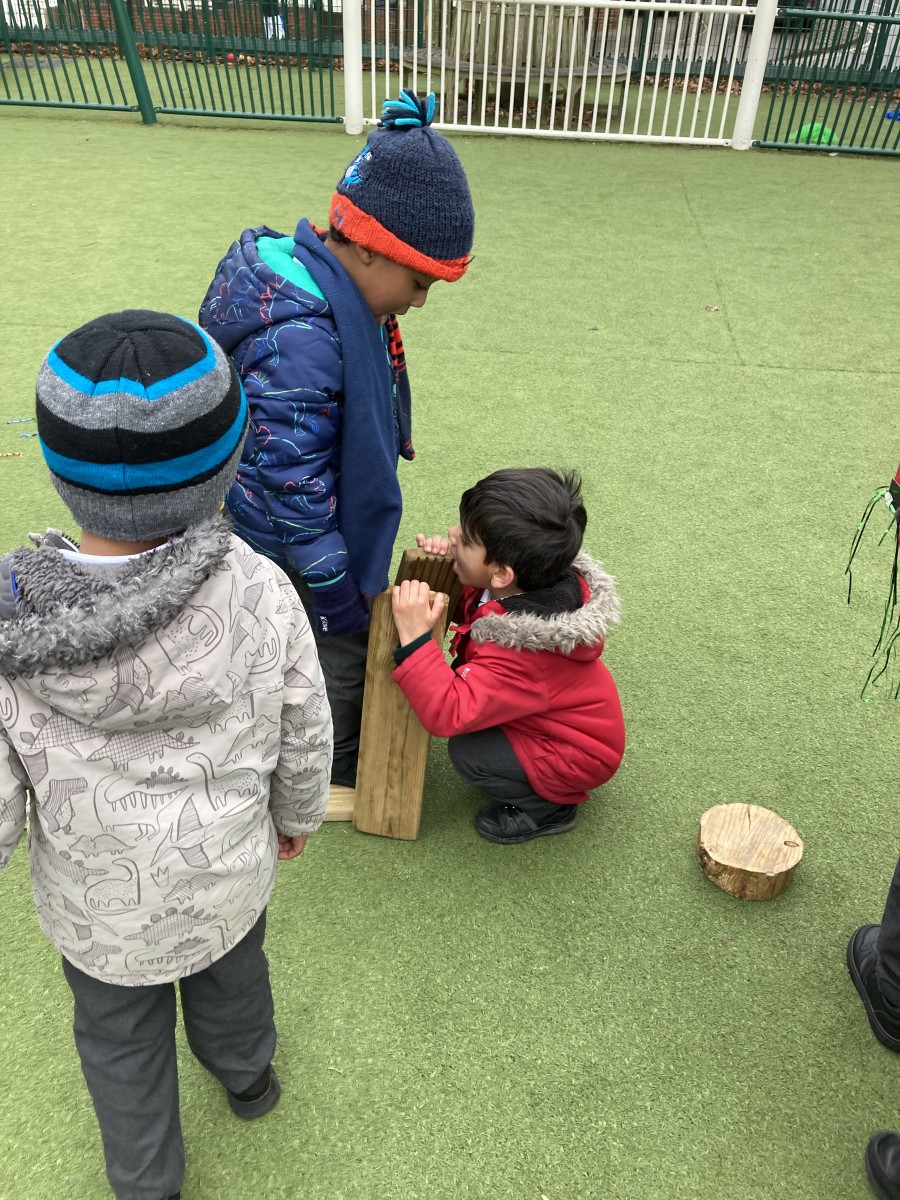 Spring
Year 1
Our class bears needed some strong chairs to sit on so we have been trying very hard to make the perfect one. We looked at some freestanding structures around school to investigate how their parts were joined together. Then we had a go at building out own walls and towers and thinking about how to make them stronger by changing the brick pattern or making the base wider, heavier or by adding buttresses. We used different tapes and glues to join paper and card to make our own freestanding chair for our bear.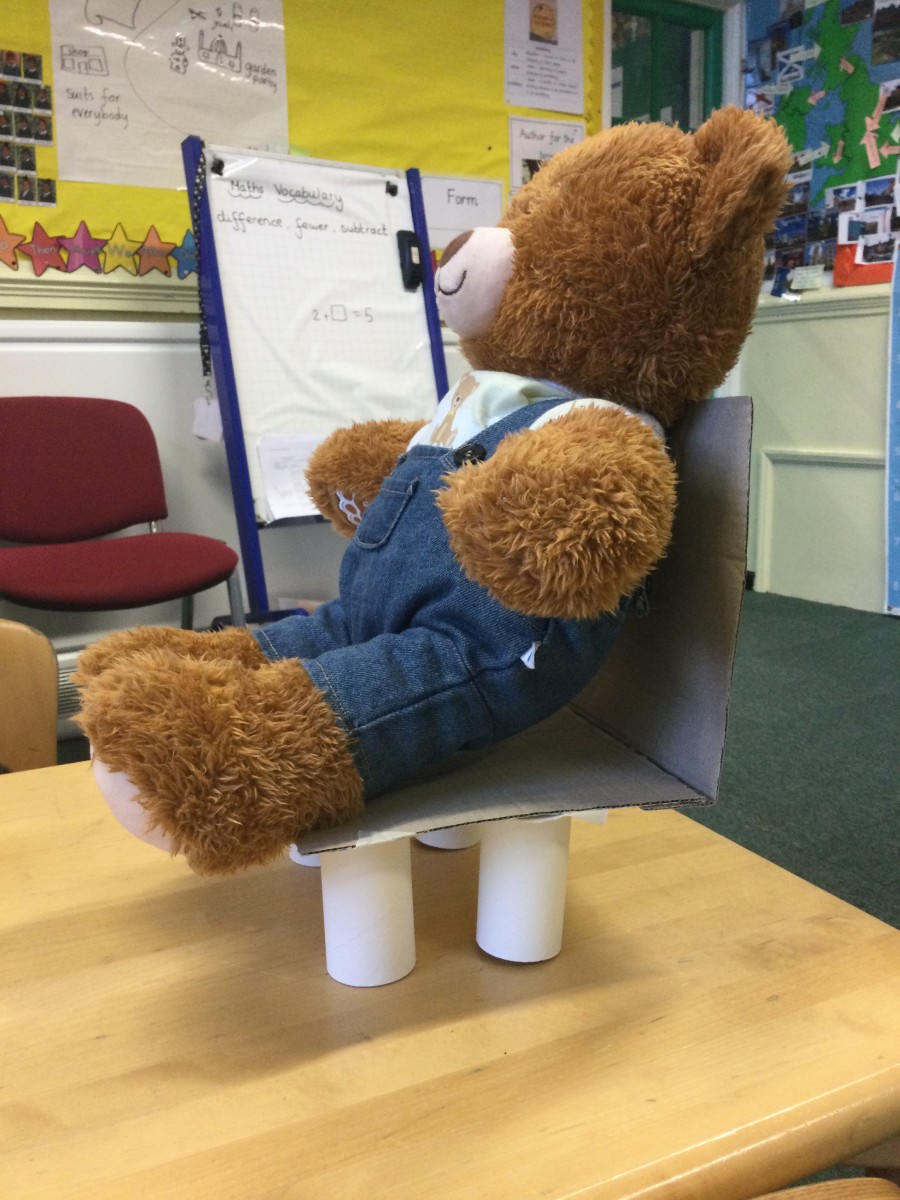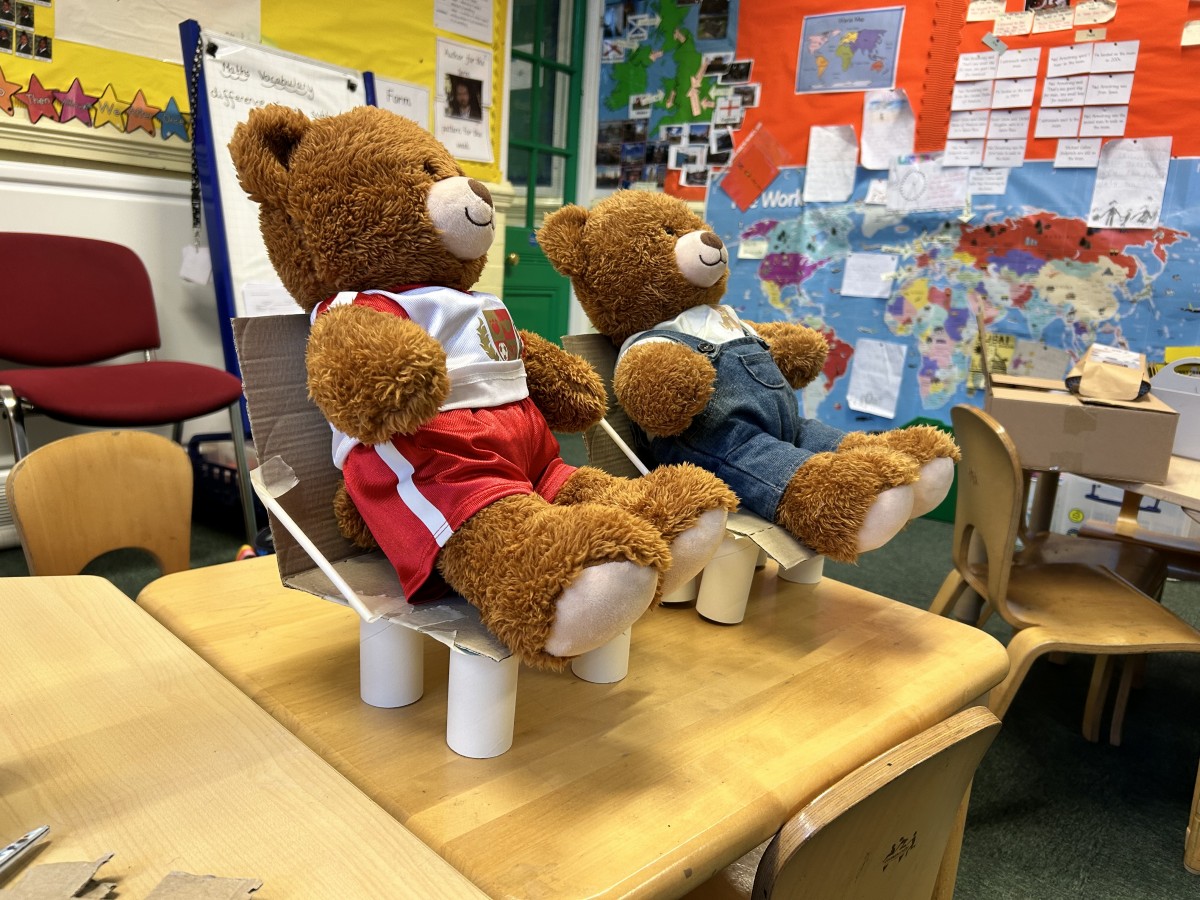 Spring
Year 3
In year 3, we have been making our own greetings cards with moving parts. We have investigated how different lever and linkage systems work. Using fixed and loose pivots, we explored how we can move them to alter the amount of movement on our mechanism. In order to make our greetings cards appealing, we used a variety of finishing materials suitable to our user. You can see our working wall and some examples of finished cards below.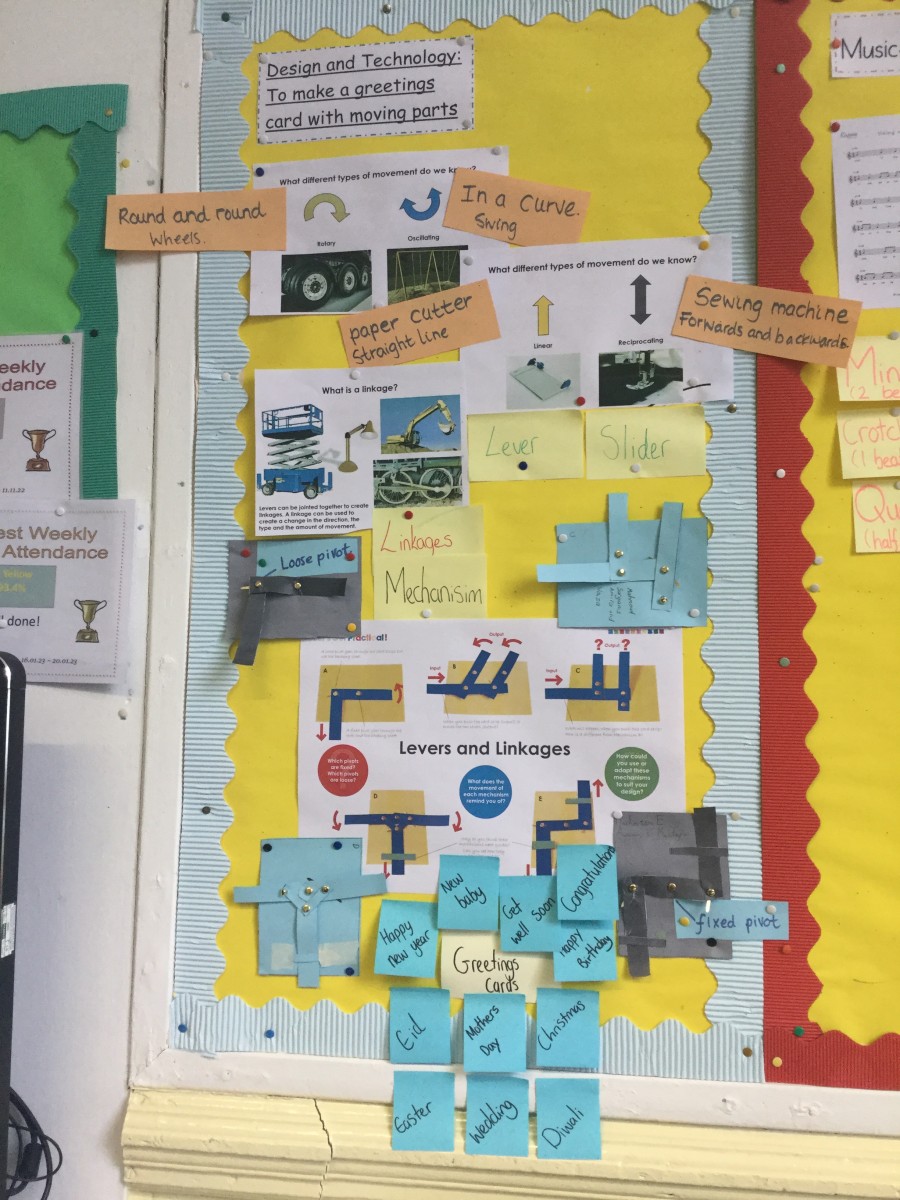 Spring
Year 6
This term in tear 6, we have developed our knowledge of circuits and made an alarm system to protect a vehicle. We explored a variety of switches to understand how the operate before choosing the most suitable for our product. We know that an alarm system has four parts: an input e.g. a switch, pressure or motion sensor; a process or electrical circuit; an output e.g a siren or flashing light and feedback where the siren or flashing light is telling me that something has happened. Our previous knowledge of shell and frame structures helped us to make our vehicle and finally we strengthened our structure using laminating, ribbing, corrugating or triangulation. You can see some of our vehicles and alarm systems below. Scan the QR code to see a working circuit alarm.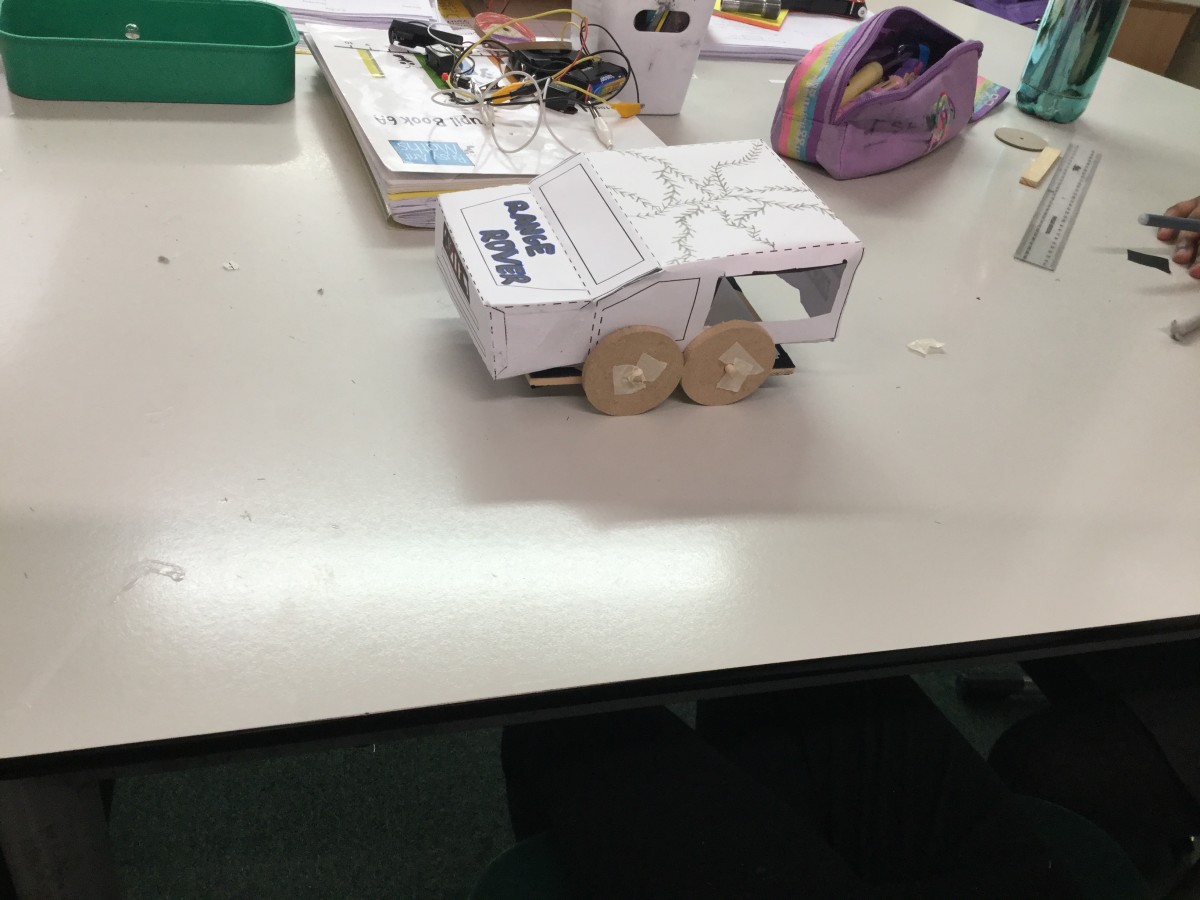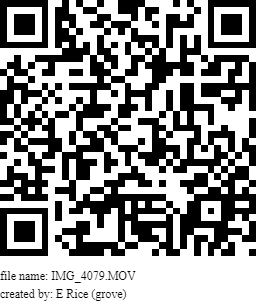 Autumn
Nursery
This term nursery have been exploring design and technology through their deconstructed role play. They have recreated a kitchen and used this to cook delicious meals for their classmates. They have used boxes and bricks to construct their own Christmas scene, complete with a fire place and a Christmas tree. Some pupils had a go at making bird feeders and using these to attract wildlife to our playground. Have a look at their creations below.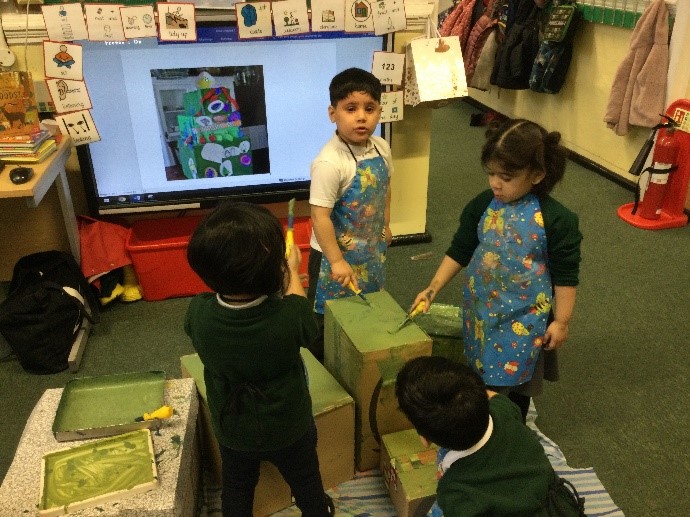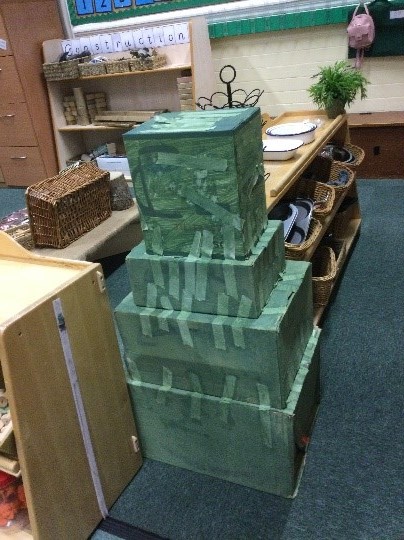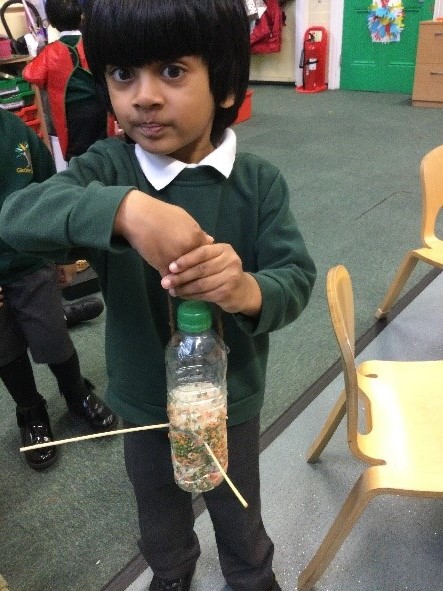 Reception
In reception, pupils have looked at the roles of people around us like the police and post office workers and how they can help us. They have created their own post boxes and vehicles linked to their core text, 'Things That Move'. Pupils were able to talk about which vehicles and toys would be safe for babies to play with. Have a look at some of their fantastic vehicles below.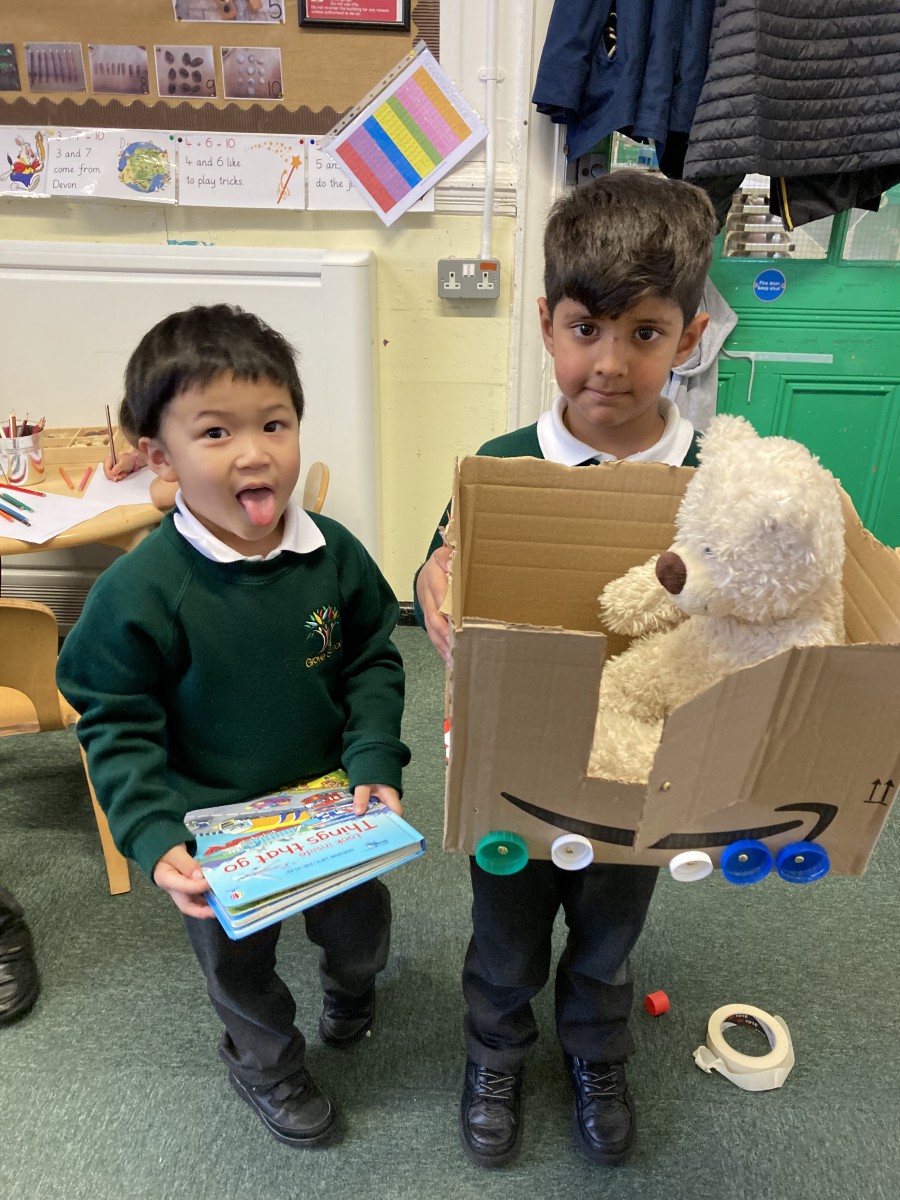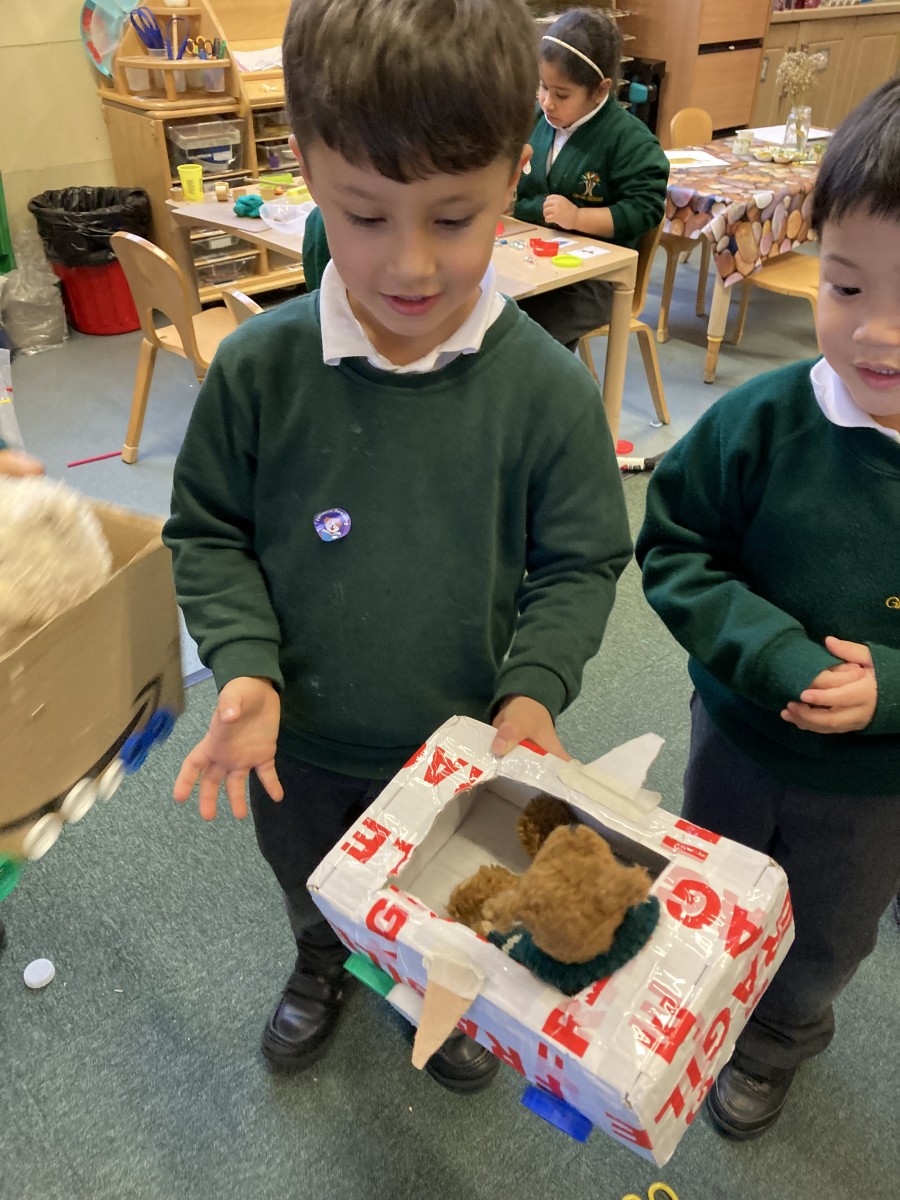 Year 4
This term, year 4 have been learning to design, make and evaluate a box to contain a special keepsake. They have learned to measure, mark and cut out different materials using rotary blades. They used laminating, corrugating and ribbing to stiffen and strengthen sheet materials and successfully turned a 2D net into a 3D product. Have a look at their designing below.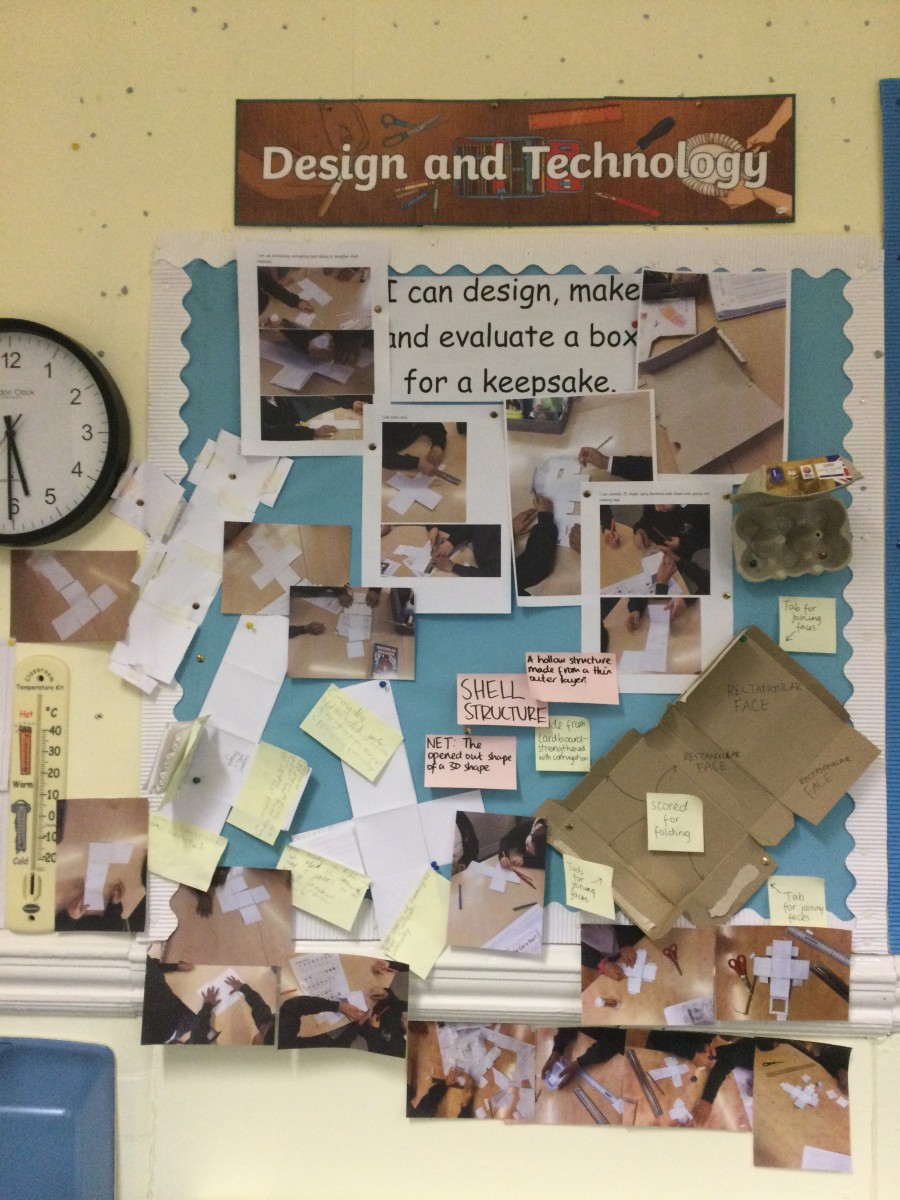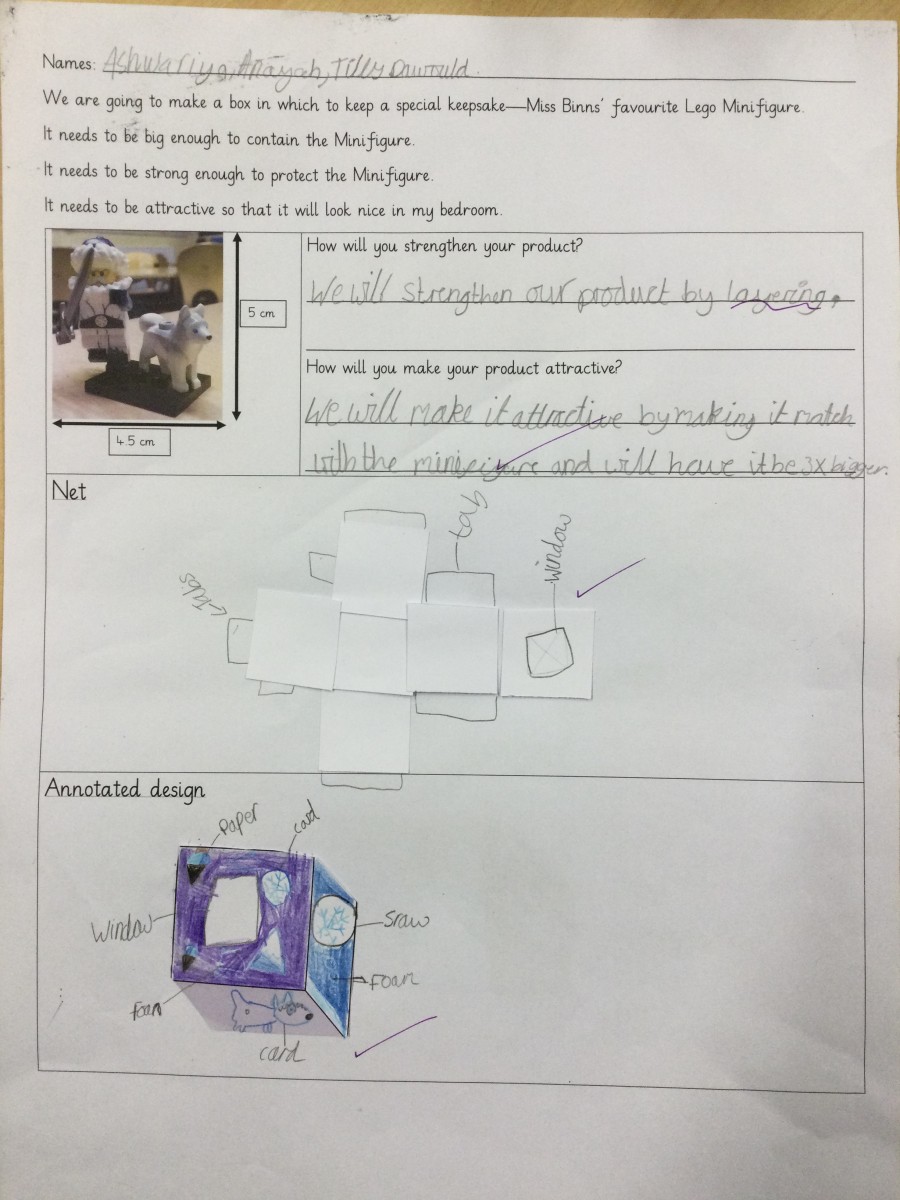 Year 6
Y6 have been working on designing, making and evaluating a fairground ride using gears and pulleys. They have explored a range of switches that they can us in an electrical circuit to power their fairground. They have investigated the effect of different sized pulleys and how this will impact direction and speed of rotation and they understand how the size of the driver gear affects the speed of the follower gear. Here are some of their designs and workings below.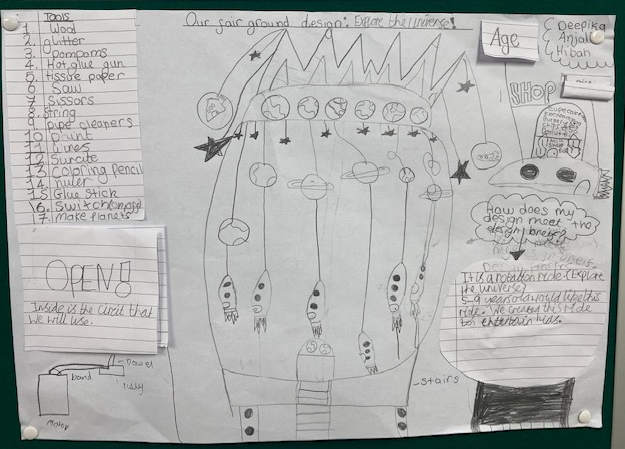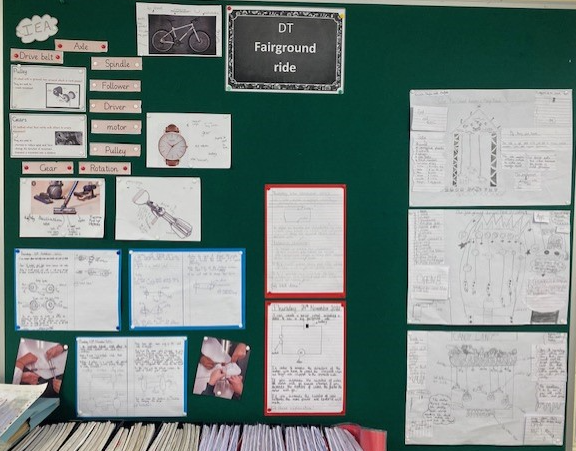 Autumn 1 term
Reception
This term, pupils in reception have been exploring deconstructed role play, using cardboard boxes and exploring them as everyday items such as TVs and ovens.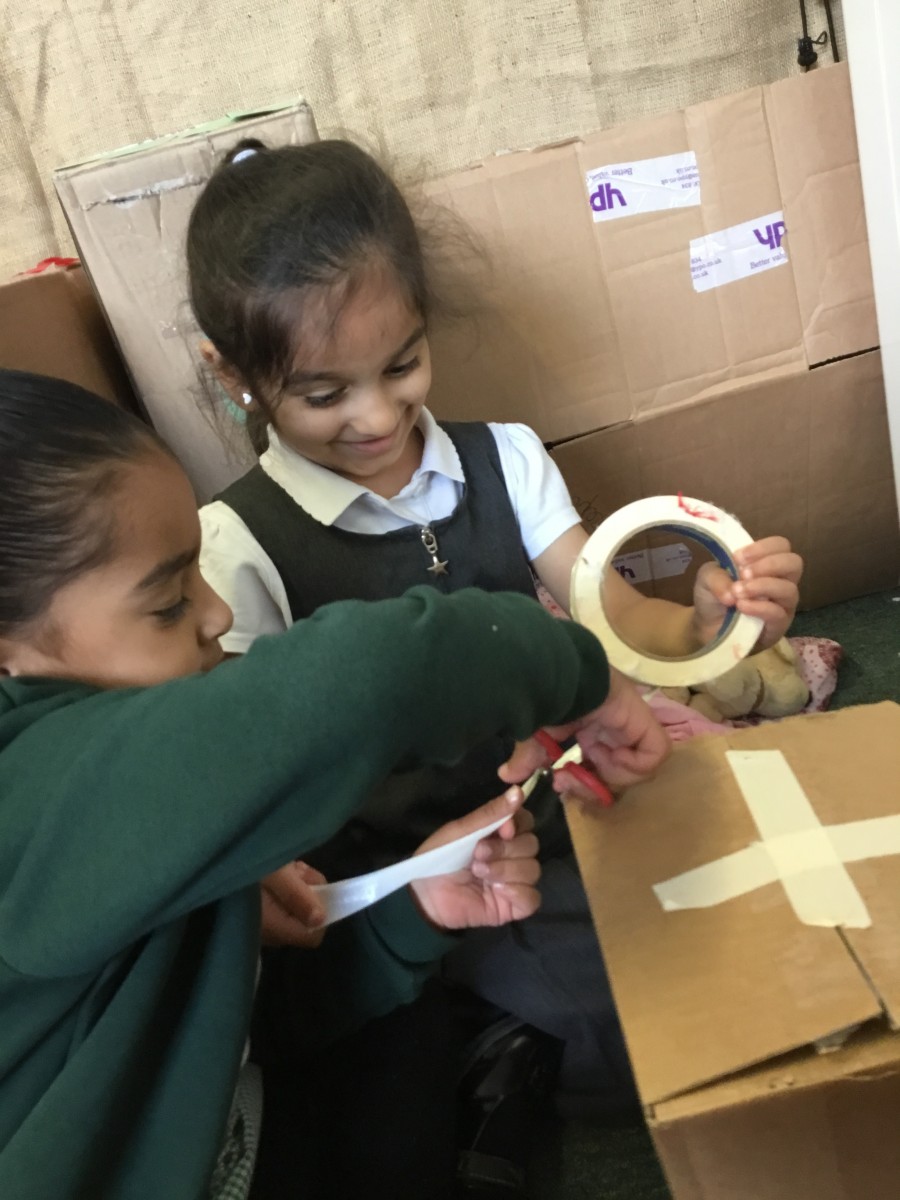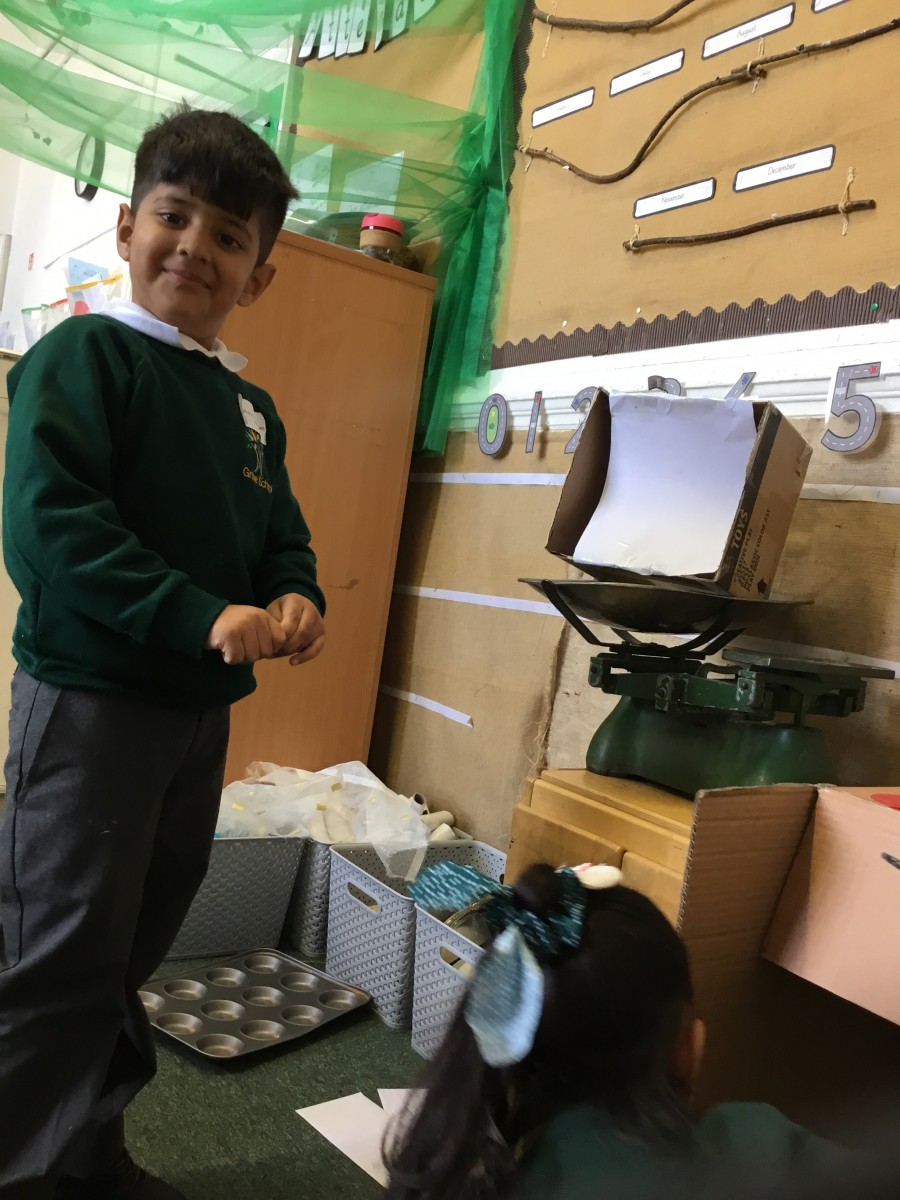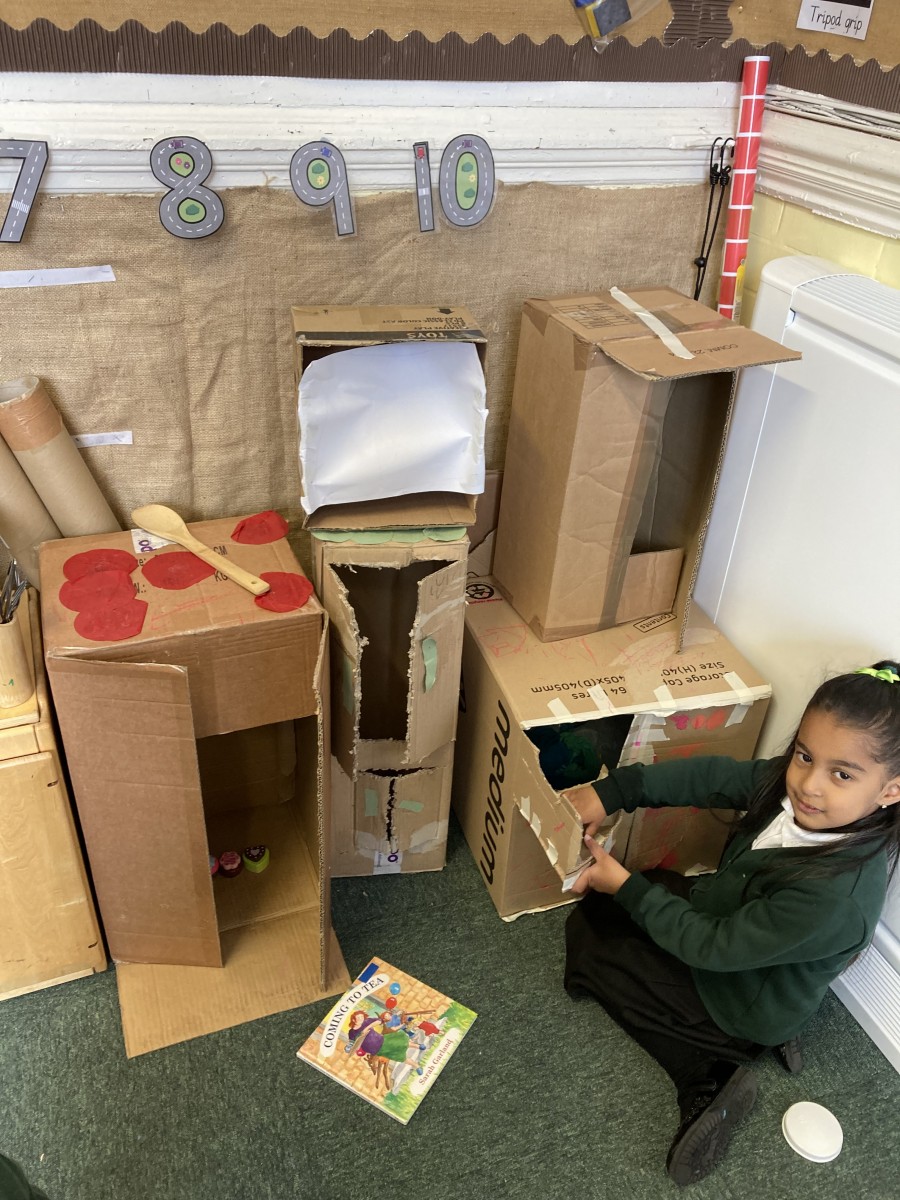 Year 1
Autumn term
To design, make and evaluate a moving story board.
Year 1 have investigated moving parts in existing story books and designed and made their own moving storyboard using levers and sliders. Pupils had a go at making sliders and levers as a focused task and then chose which part of the story they wanted to recreate in their own storyboard.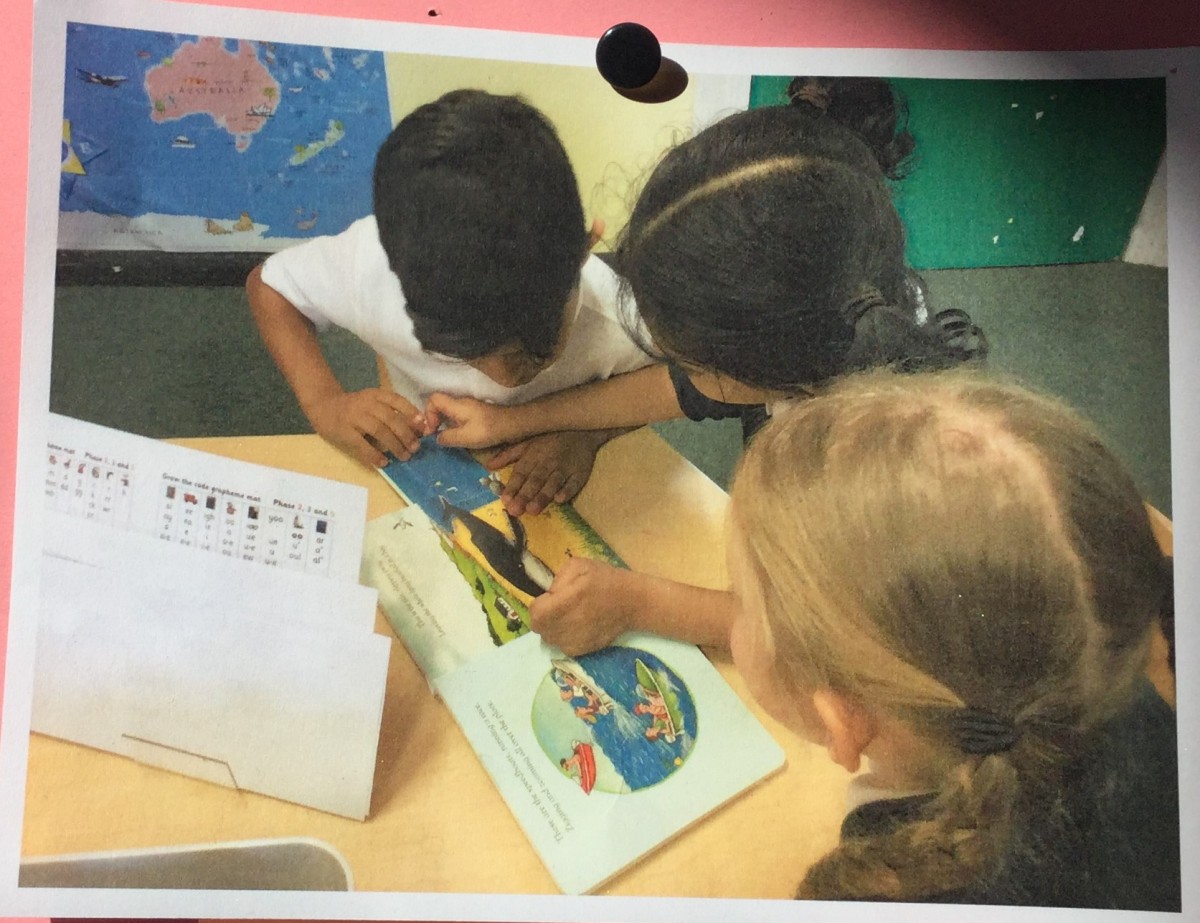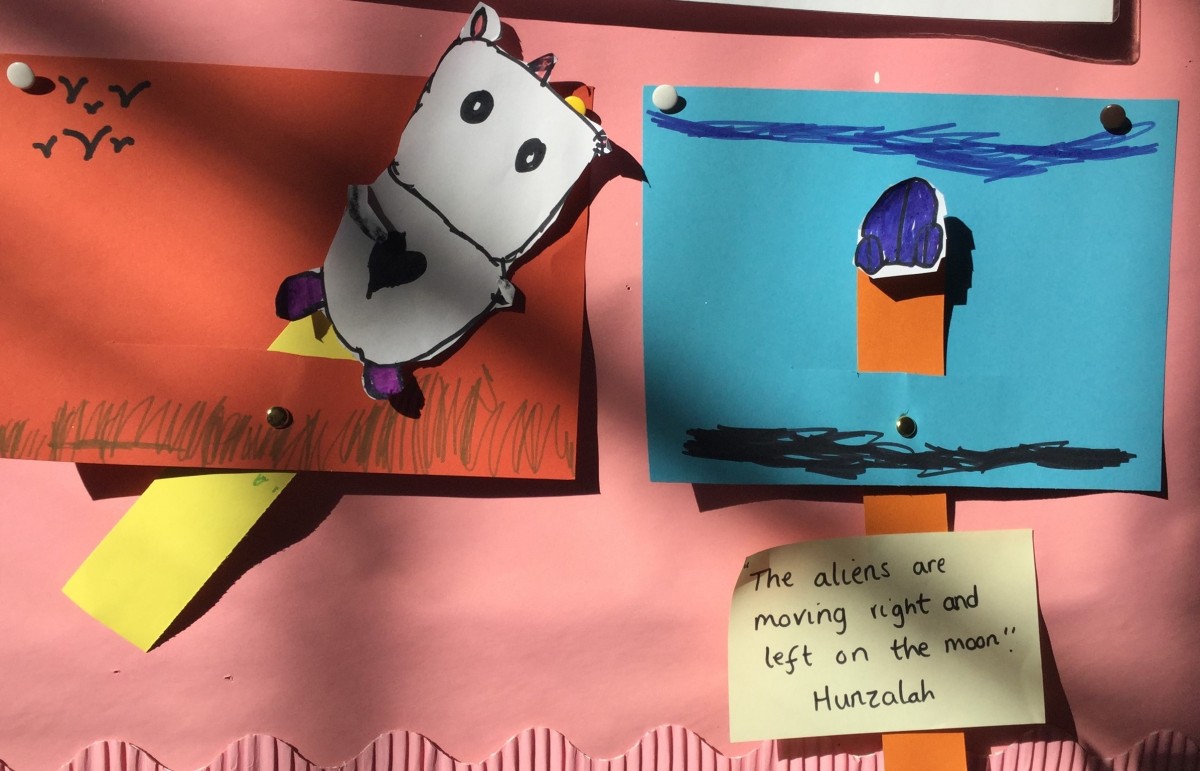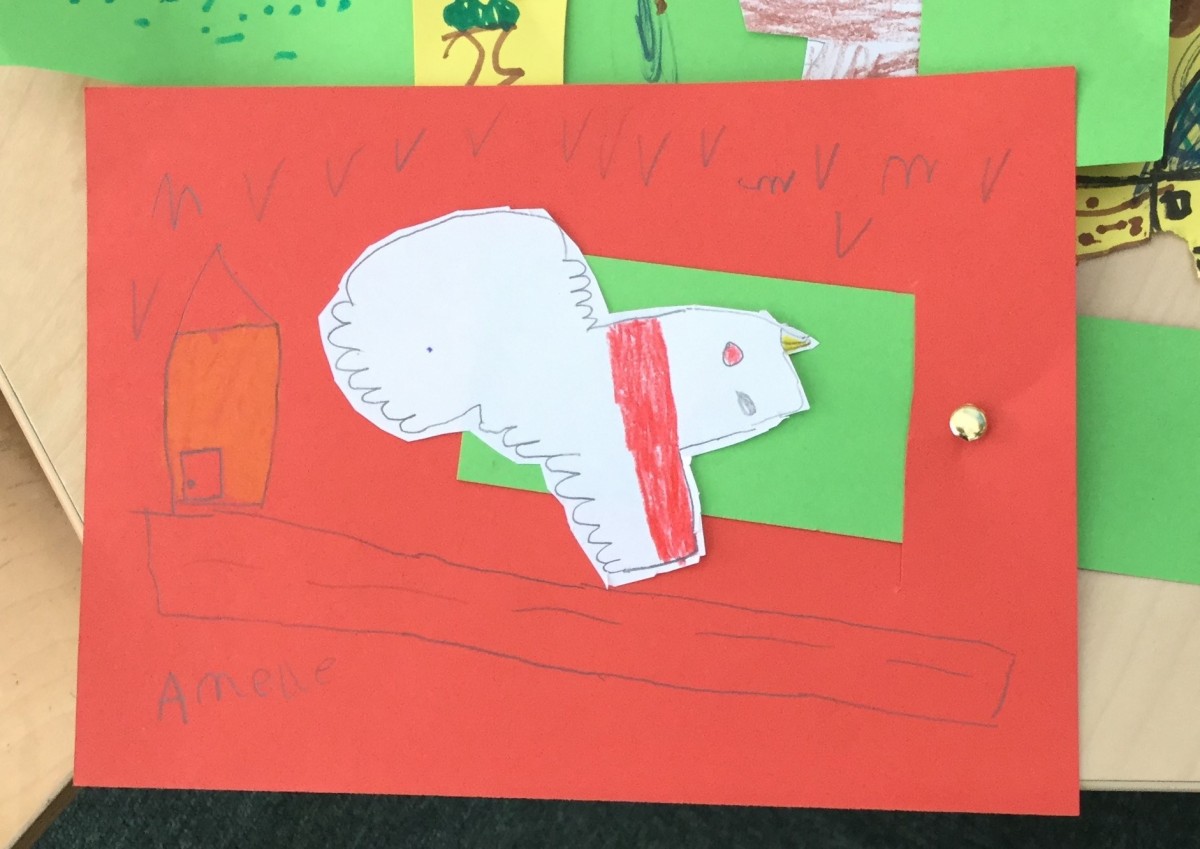 ---
Year 2
Autumn term
Design, make and evaluate a trolley to transport tools.
Year 2 have investigated existing products with wheels and how they were fixed to axels with axel holders. Pupils have designed a trolley to move tools and toys around school. They used materials such as cardboard and dowel and used a variety fo joining materials like glue, masking tape and cellotape.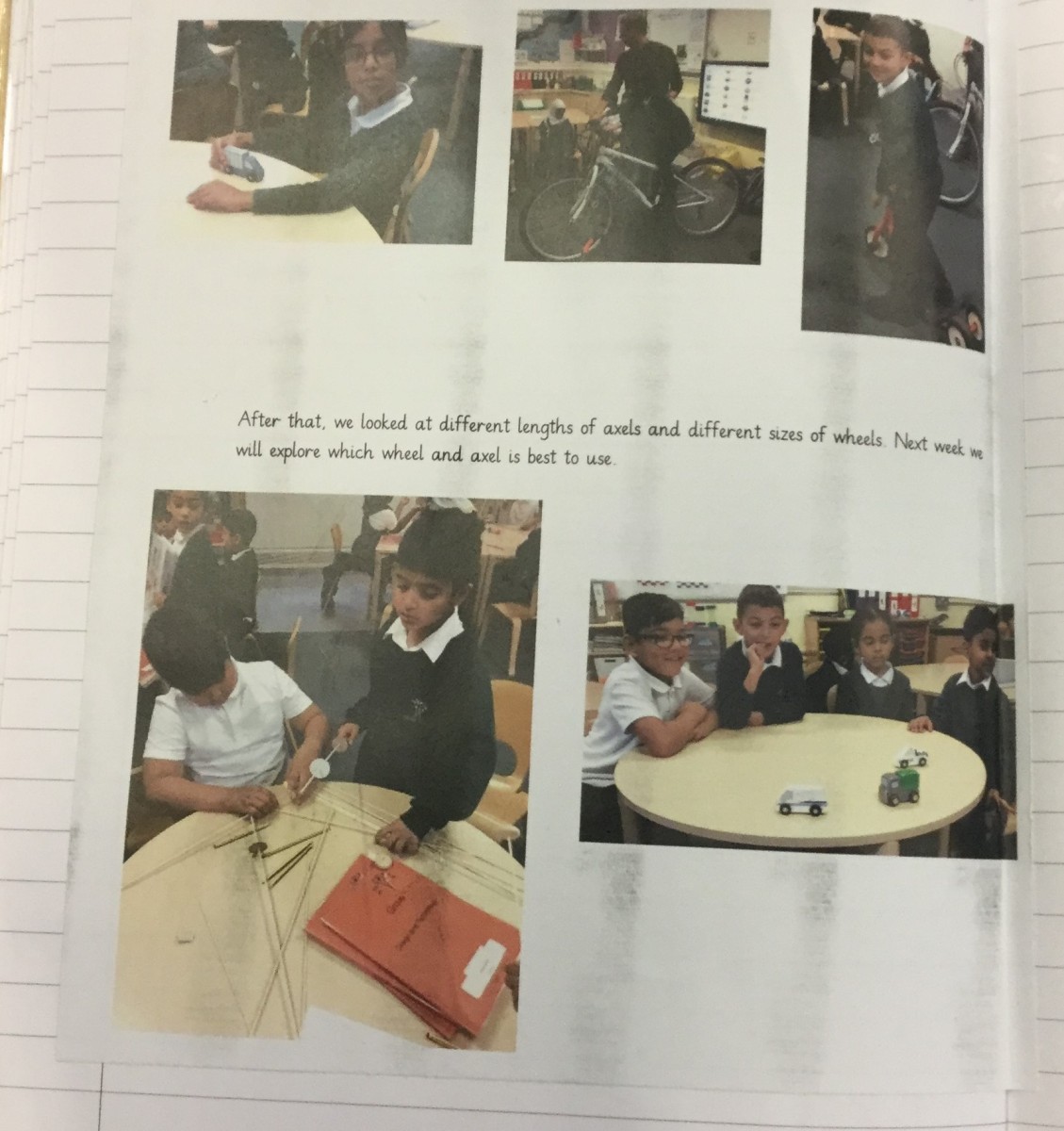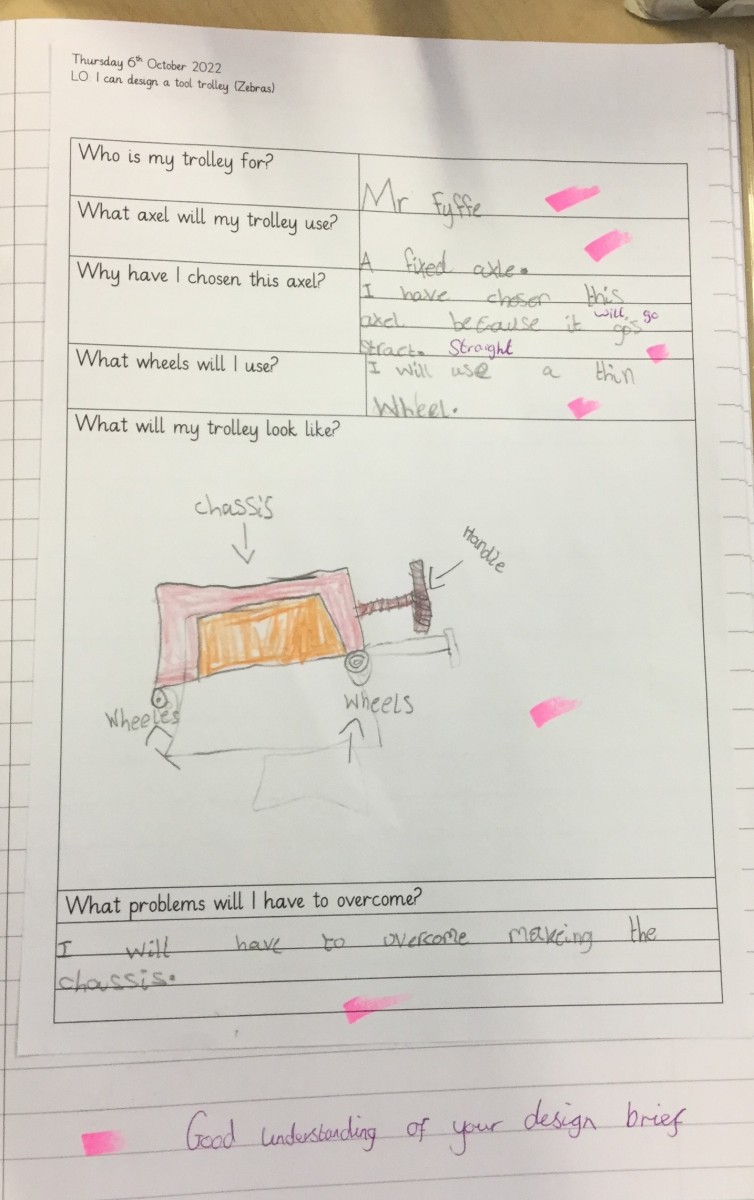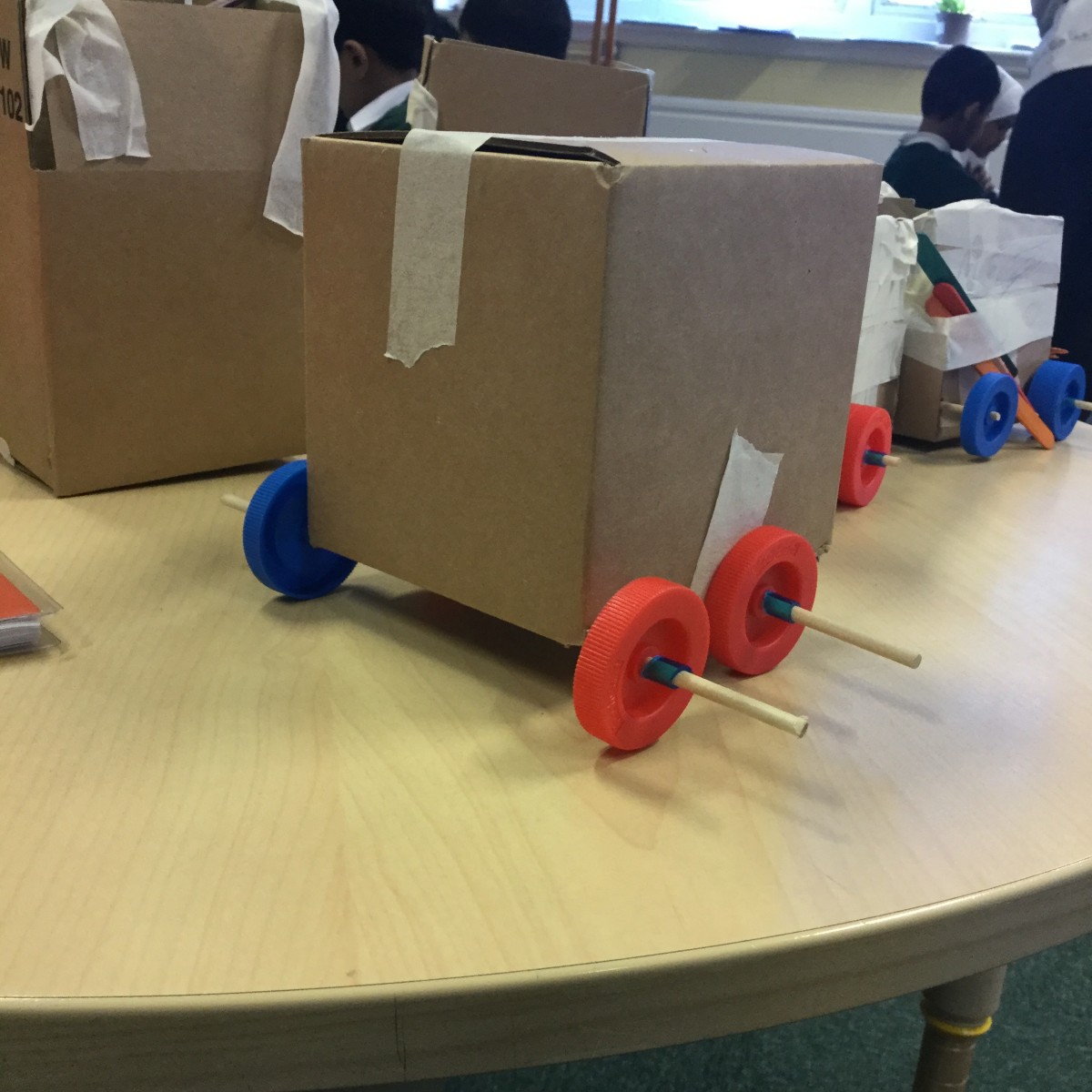 ---
Year 3
Autumn term
To design, make and evaluate a bag to hold a rock or a fossil.
Year 3 have looked at different designs for bags. They have completed focused practical tasks to join two pieces of fabric together using an over-sew stitch. Pupils have then designed and made a bag to carry their rocks, using the same stitching technique.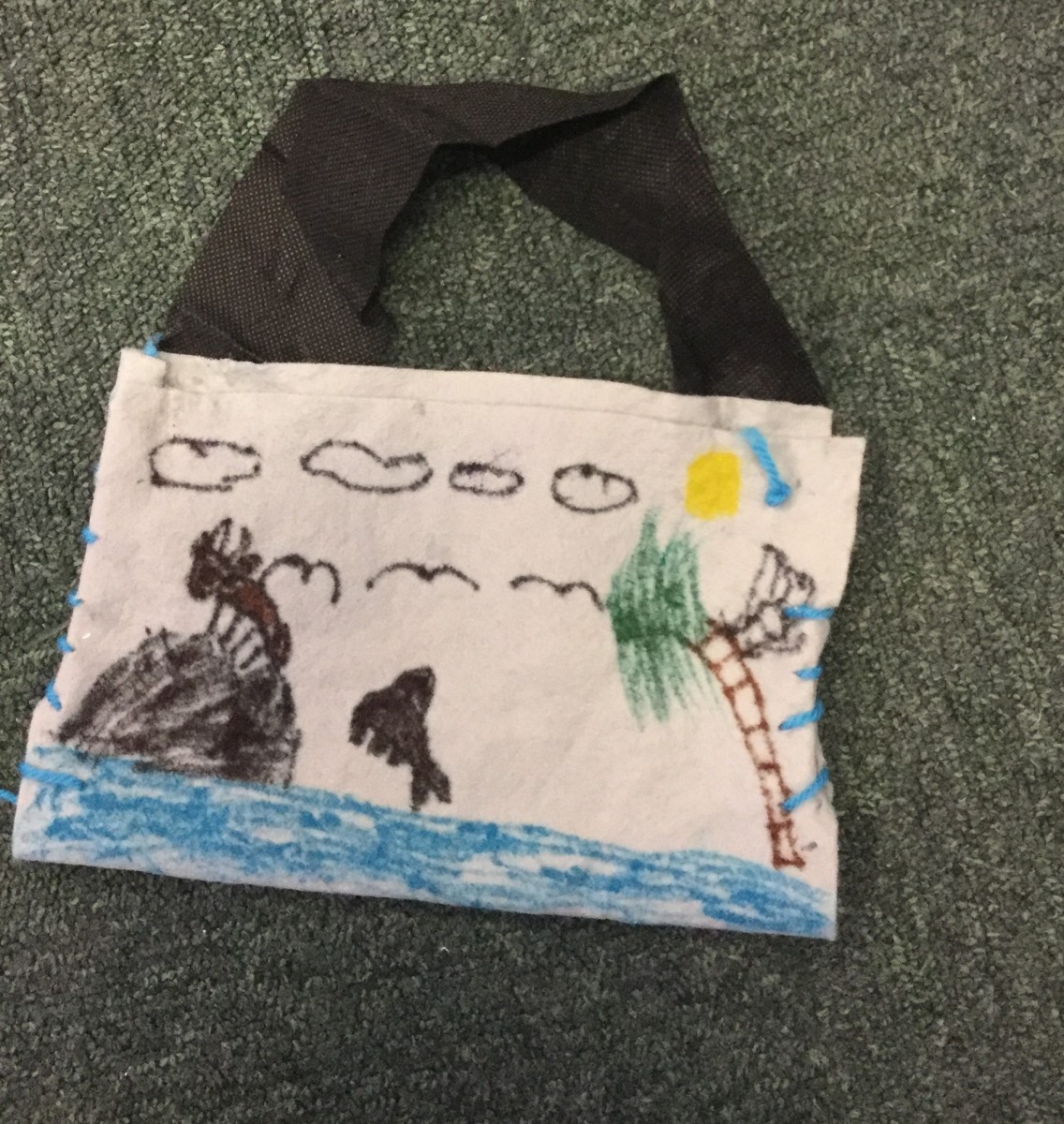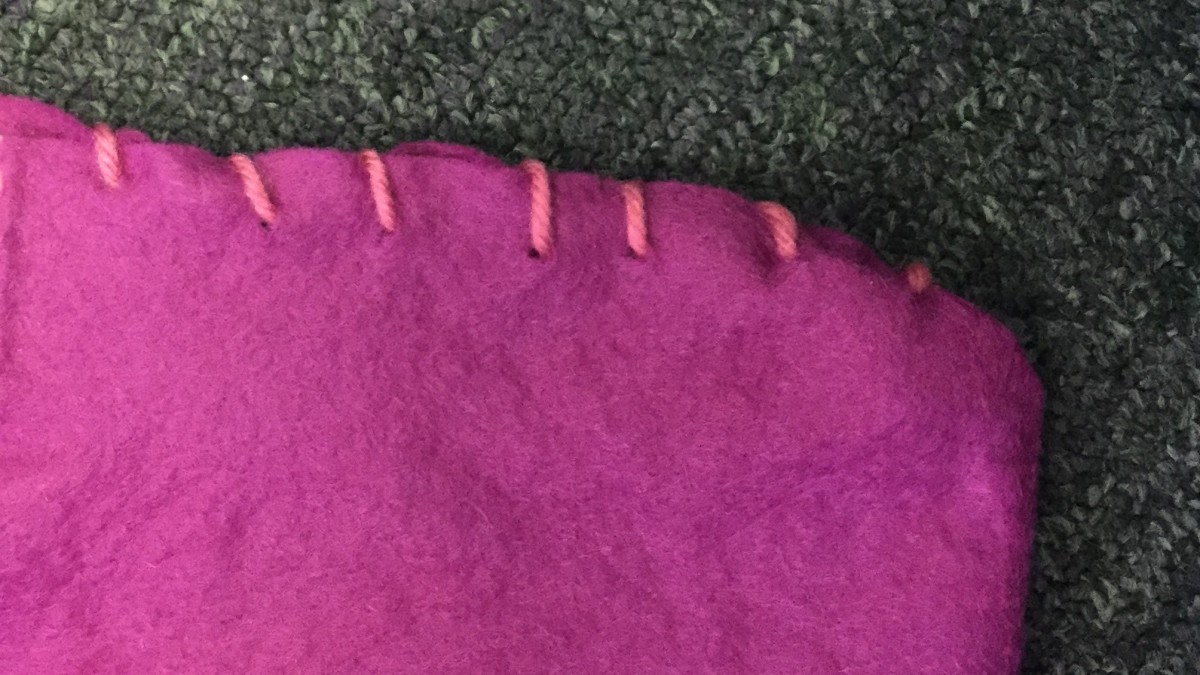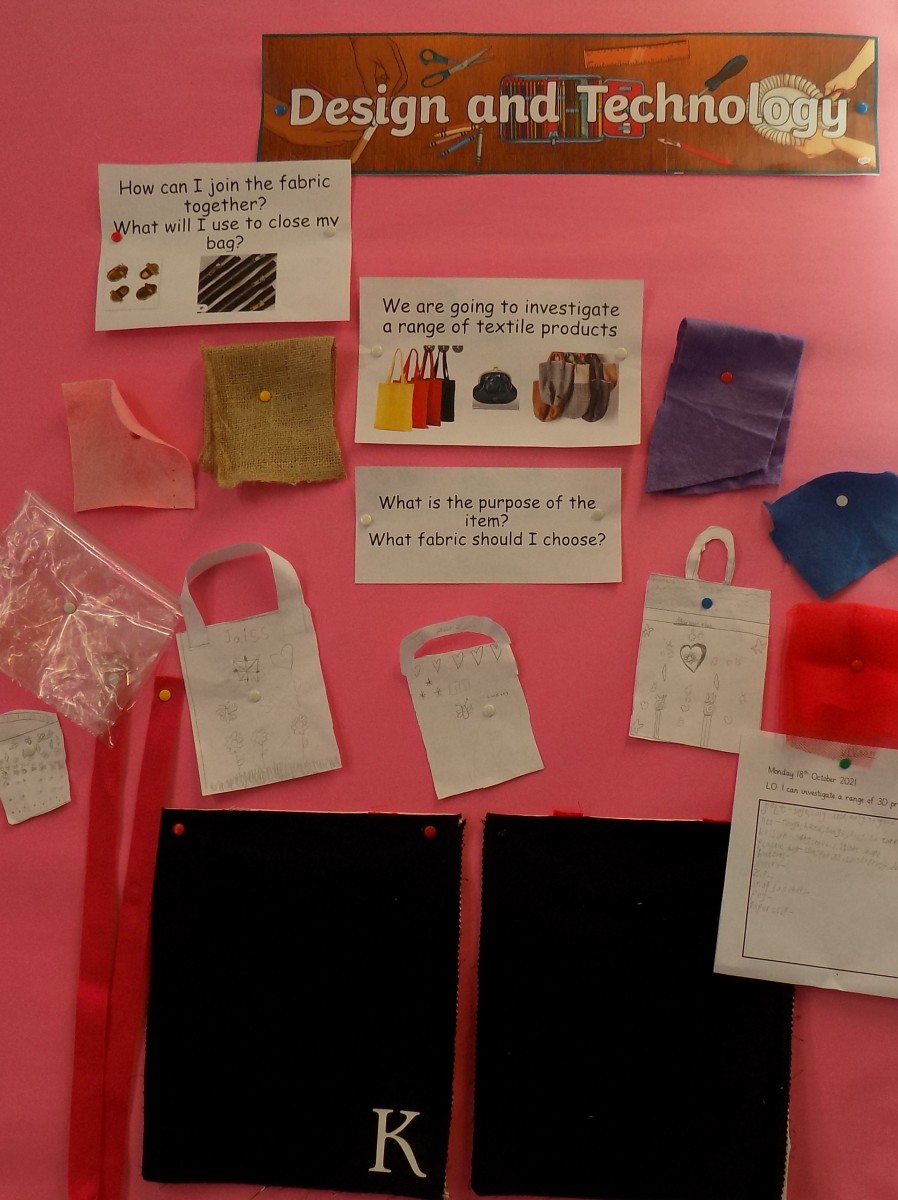 ---
Year 5
Autumn term
To design, make and evaluate a small scale bird hide
The pupils in Year 5 have designed a bird hide. They have designed, made and evaluated their models. They have reinforced a 3D frame using triangulation for rigidity. They have joined straws in a variety of ways to build a frame structure. They have joined thin-sectioned wood to build a frame structure.