Relationships and Health Education at Grove
Please see a review of our RHE work at Grove
Summer
Year 1
Year 1 have been learning about how to stay safe when using technology. They know what to do when they are faced with something uncomfortable online and they know that passwords should stay private. The children have considered the difference between a good password and a bad password.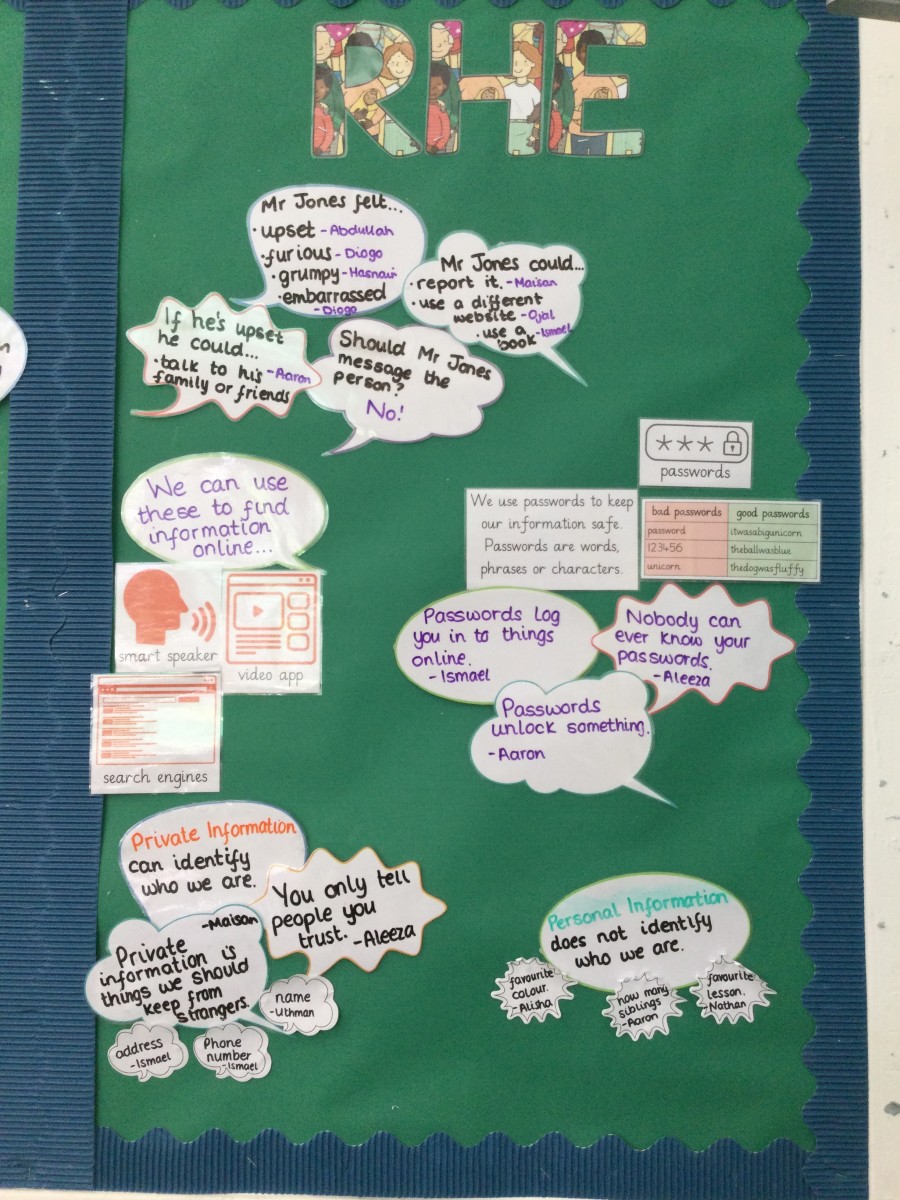 Year 2
This half term year 2 have been thinking about how to stay healthy. They have considered reducing their screen time and have thought carefully about how much sleep they need. In addition to this they have delved into analysing how much sugar is in their diet.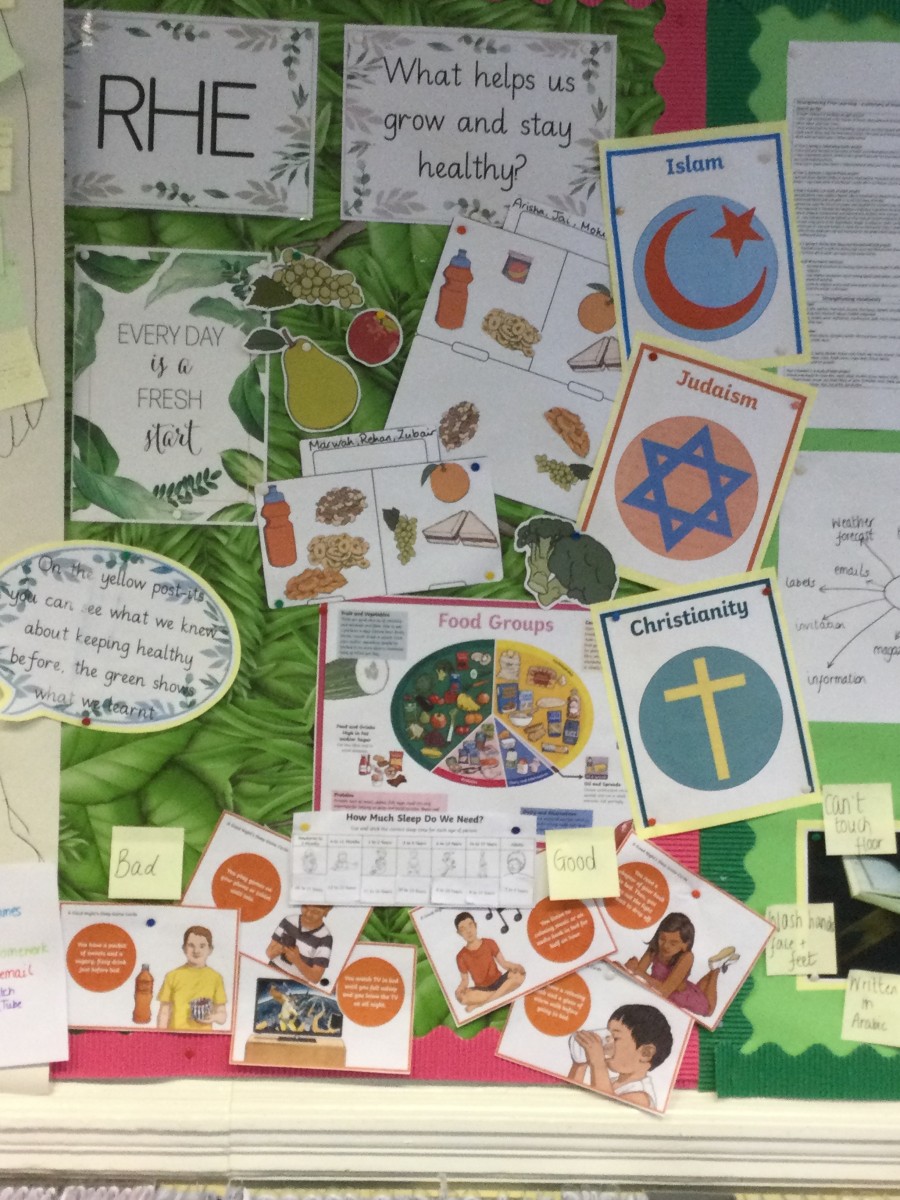 Year 3
Year 3 have been learning how regular physical activity benefits their bodies and their feelings. They have thought about how to make choices about physical activity, including what and who influences their decisions.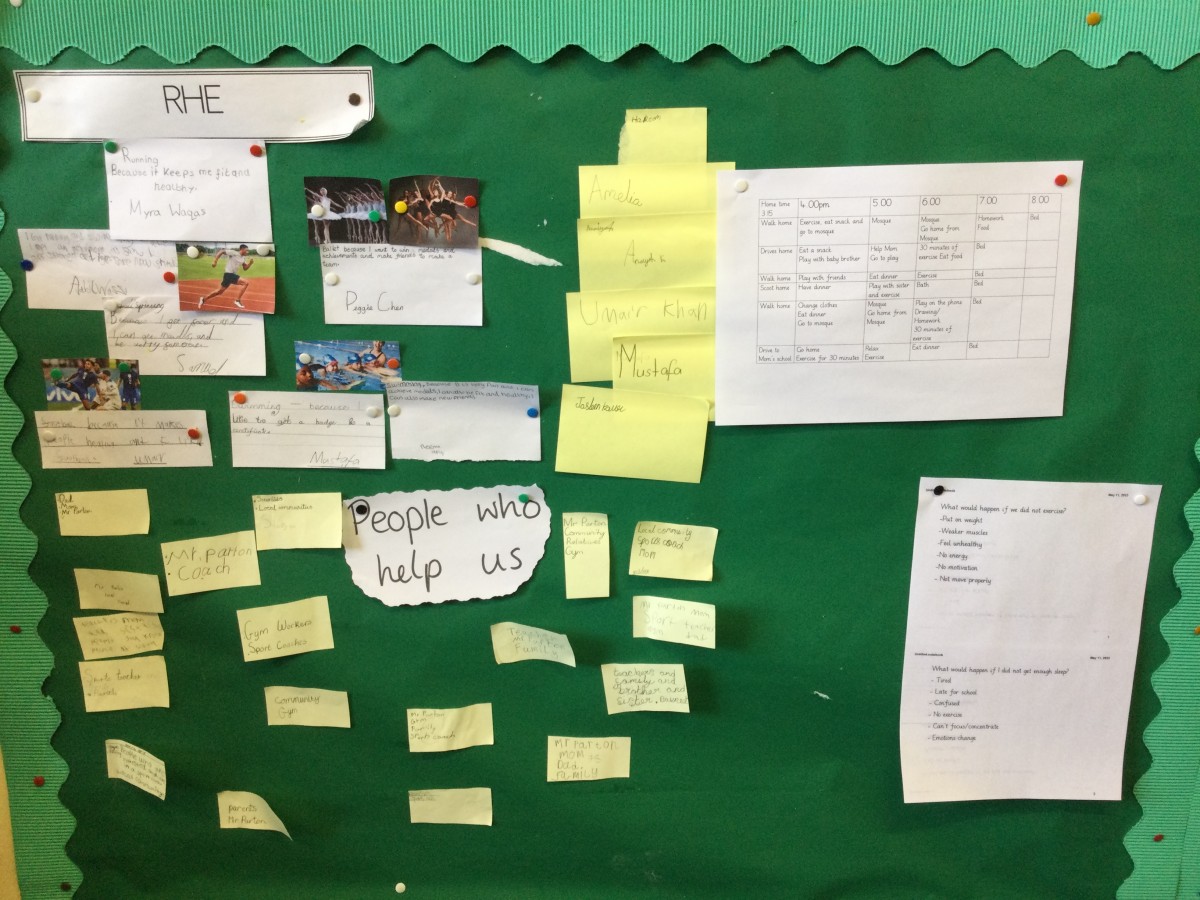 Year 4
In year 4 the children have been considering how people have a shared responsibility to help protect the world around them and how to carry out their personal responsibilities in a caring and compassionate way.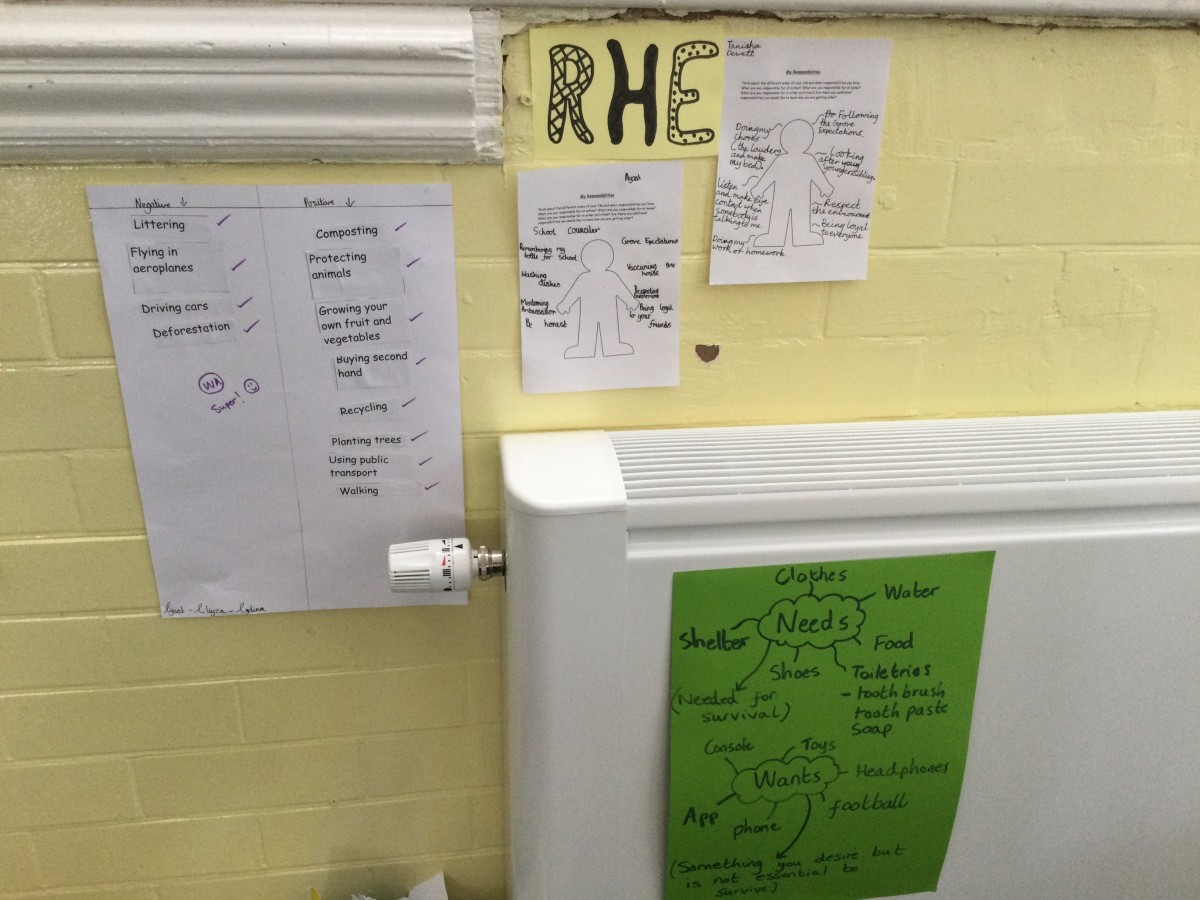 Year 5
This half term year 5 have been learning how fake news may affect someone's emotions and behaviour. They have been evaluating why this may be harmful for them and their friends. They can explain what is meant by a 'hoax' and explain why someone would need to think carefully before they share this content online.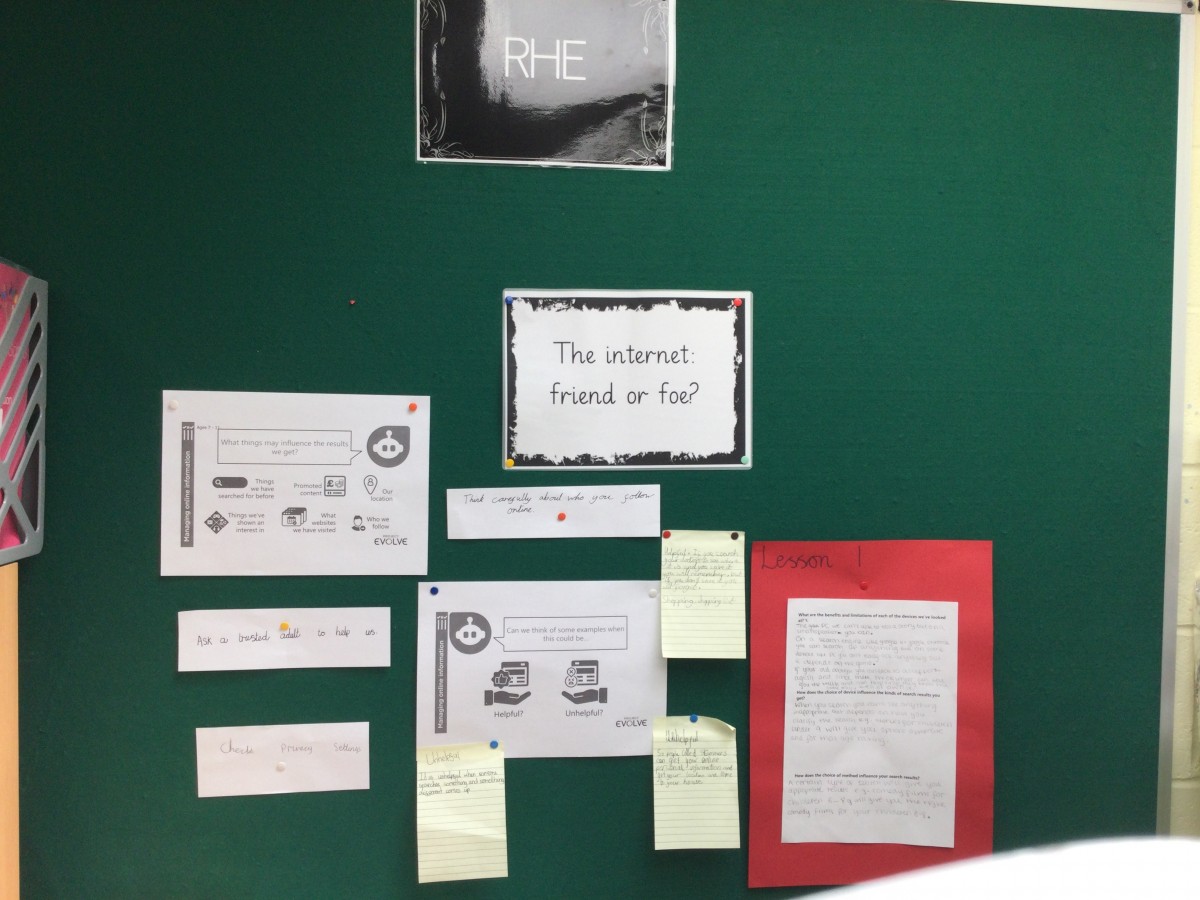 Spring 2
Year 1
This half term Year 1 have been exploring their likes and dislikes, and what they are good at. The children understand that everyone has different strengths, and their differences are what makes them special. In science Year 1 have been looking at their amazing body, they understand that we all have features, like our fingerprints which are unique to each of us. They also learnt about the timeline of a human being, and explored how people change as they grow from young to old.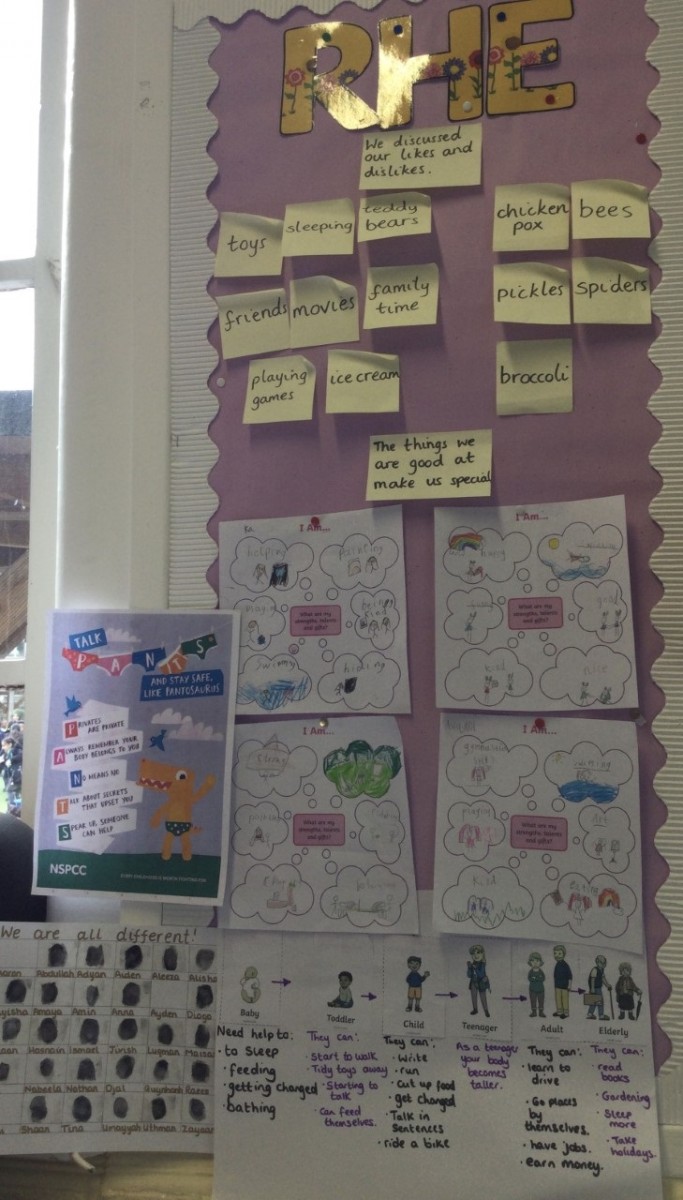 Year 3
Year 3 have been learning about why it is important to eat well and how to look after their teeth. They created their own 'Eat Well' plates and thought about food that could be swapped to make their plate even healthier, particularly looking at foods that protect their teeth. The children also conducted an experiment to see how much sugar was contained in a variety of drinks. The results were eye opening!
Next, the children learned about the role of the dentist and how they are people in the community that contribute to keeping us safe and well.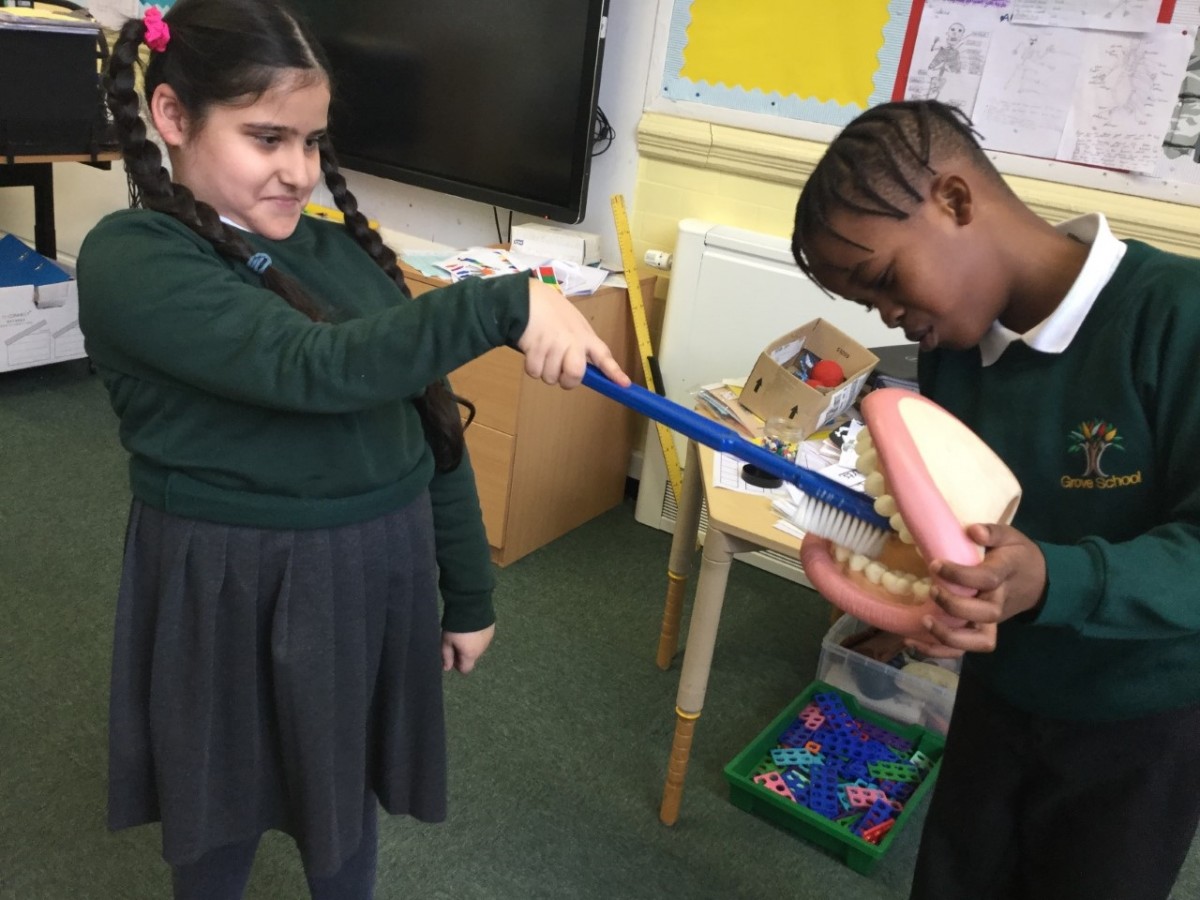 Spring 1
Year 1
The children in Year 1 focussed on keeping themselves and others safe in their RHE lessons this half term. They learnt that people have different roles in the community to help keep them and others safe including doctors, builders and teachers. The children could confidently talk about how these people in the community help others. The children learnt who could help them in different places and situations and how to attract someone's attention or ask for help, including dialling 999 during an emergency. The children could explain how to respond safely to adults who they don't know and what do if they feel unsafe or worried for themselves or others online and offline. During a lesson about online reputation the children recognised that information can stay online and be copied. The children understood that information should not be put online without asking a trusted adult first. They created a trusting hand to name five adults they could trust.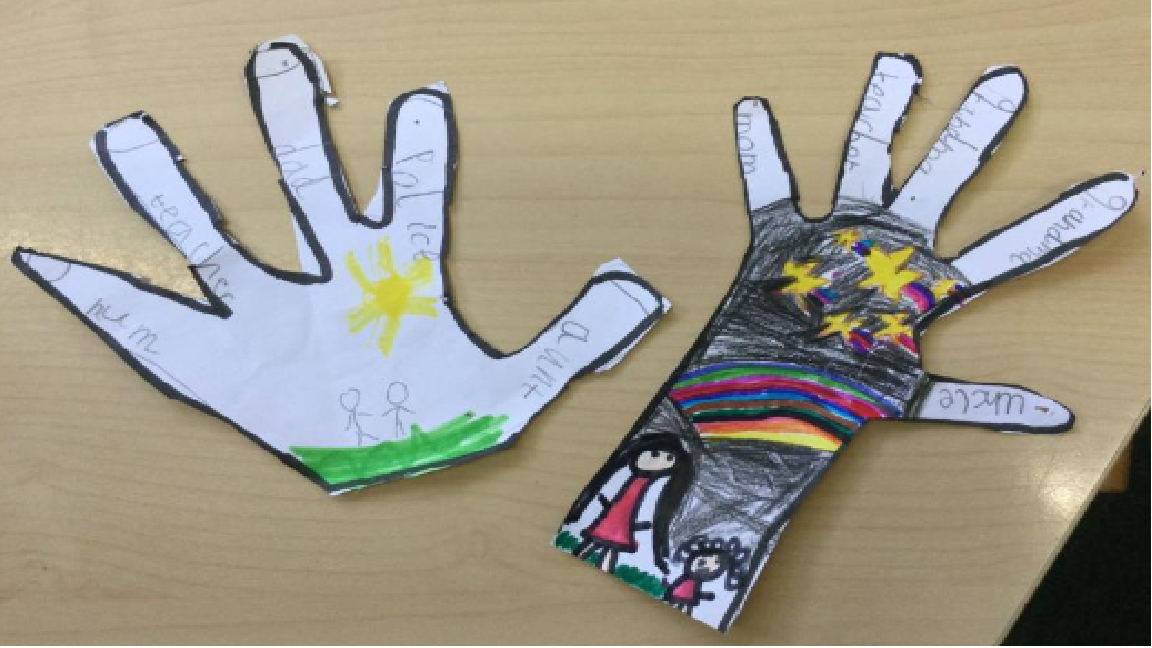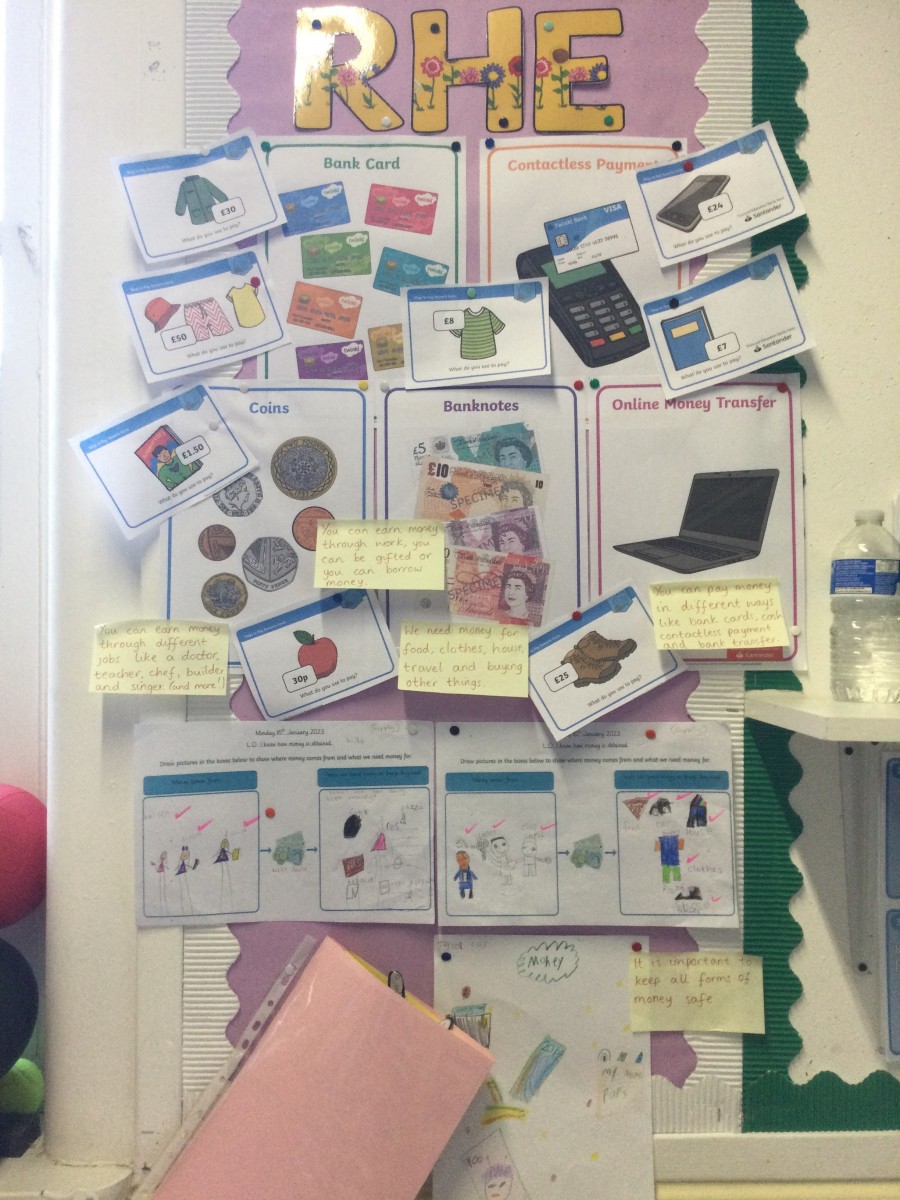 Year 2
The children showed great maturity in their RHE lessons this half term. They explored what bullying is and discussed how words can affect the way a person feels. The children explored how to resolve issues with their friends and learnt that saying sorry can help but it doesn't always fix the problem. The children then looked at how to stay safe online and what to do if they feel uncomfortable. Finally, they learnt about sending pictures online and what happened to them once they press send. The children worked hard using the Grove school twitter page to help their learning.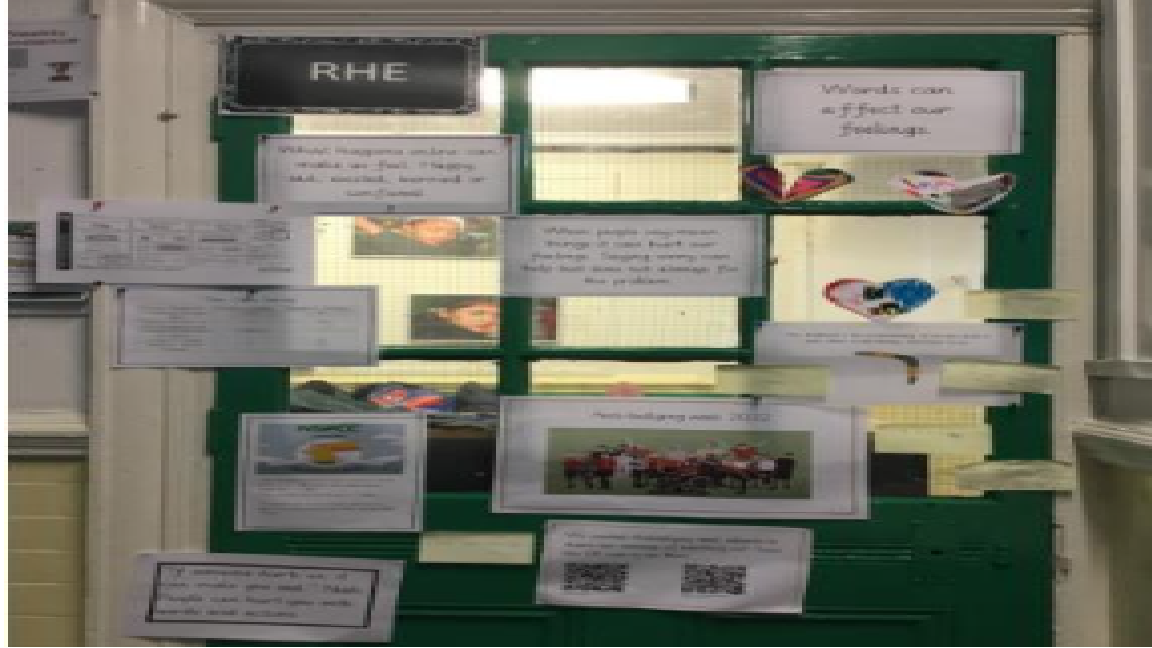 Year 3
Year 3 have been learning about what makes a community. They have looked at the different communities they belong to and how they can be respectful to people who live differently from themselves. The children understand that their community is diverse.
The children also looked at copyright and permissions when putting something online, especially if it is about someone else. They confidently understand what is safe an unsafe personal information to put online.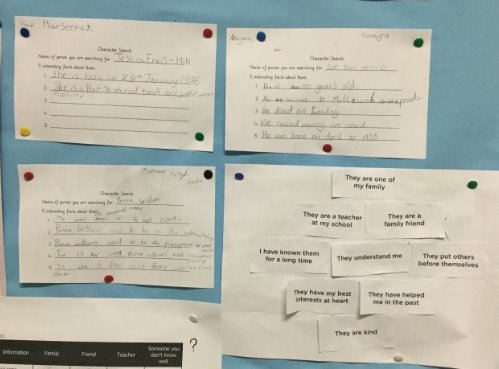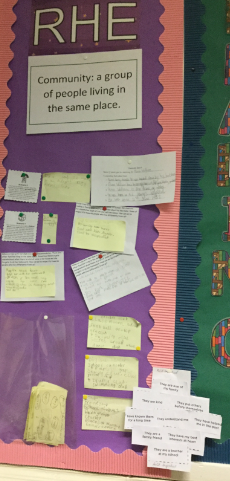 Year 4
In RHE, pupils have explored how to manage their feelings both online and in real life. They are aware that technology can be used positively and negatively as a distraction technique when managing feelings and they are also aware that feelings can change over a period of time and be affected by different levels of intensity. Pupils can name a trusted adult they can speak to about how they are feeling during different scenarios. Their work is displayed proudly on their working wall.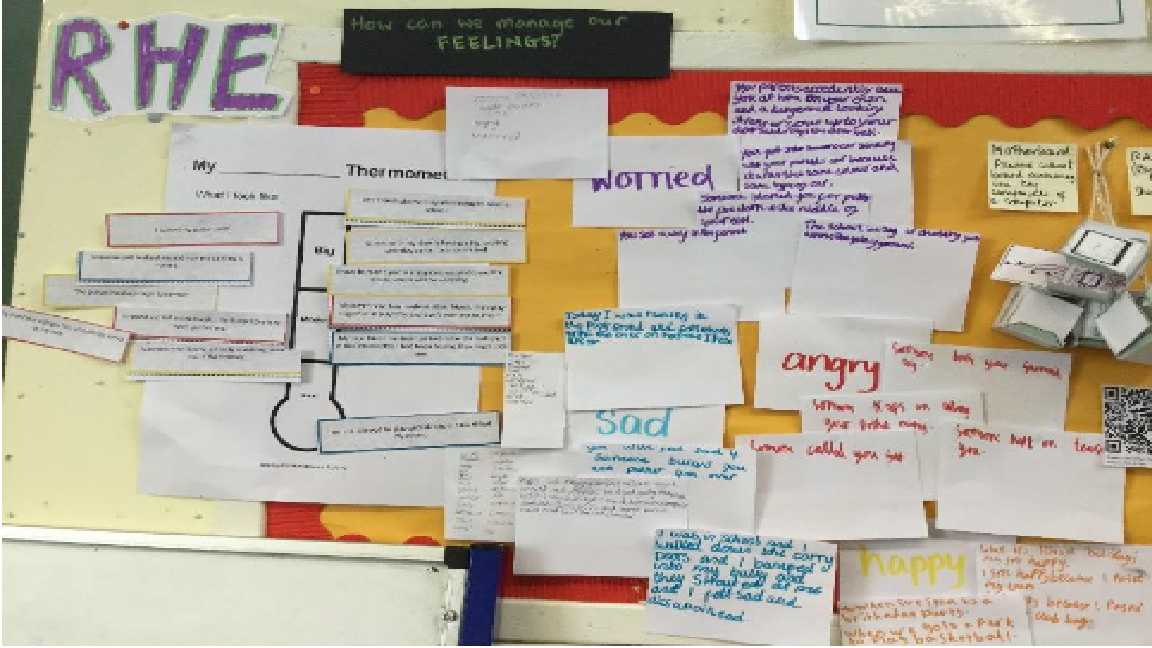 Year 5
This half term Year 5's RHE has been linked to the Just 3 Clicks project. The children have been incredibly engaged with this topic and produced some amazing writing based on it.
They were able to explain the things they have learnt and were able to give clear examples of times they have followed their own moral compass.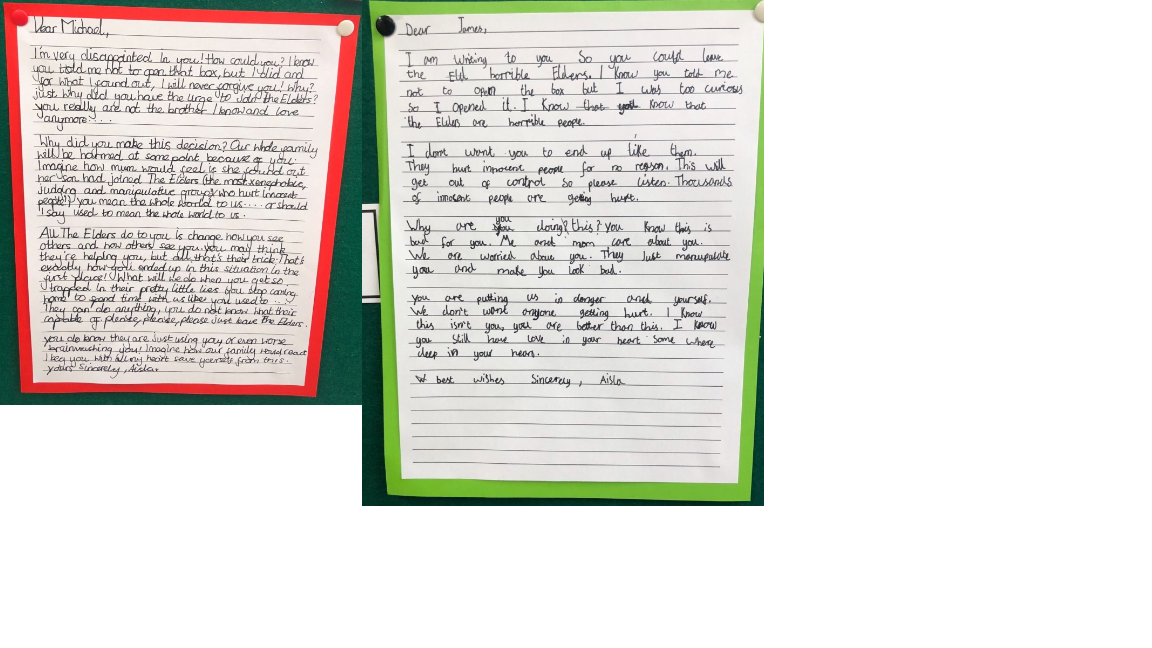 Year 6
Year 6 have been focussing on digital balance and the positive and negative effects technology can have on their bodies. The children came up with ways to reduce their time online and how this will help different factors of their bodies eg sleep and concentration.
They then looked at bullying online and how to capture bullying online. Pupils created top tip posters on how to capture the bullying. For example screen shot, print screen, copy and paste and then the children looked at various scenarios linked to well-known apps online and how they would deal with a bullying incident if it happened to them.
Also, this term, the children completed their MVP (Mentors in Violence Prevention) topic. In this programme, the pupils explored the key character traits required to ensure good behaviour exists within their school and local community. Their work on this intends to allow them to become 'active bystanders'.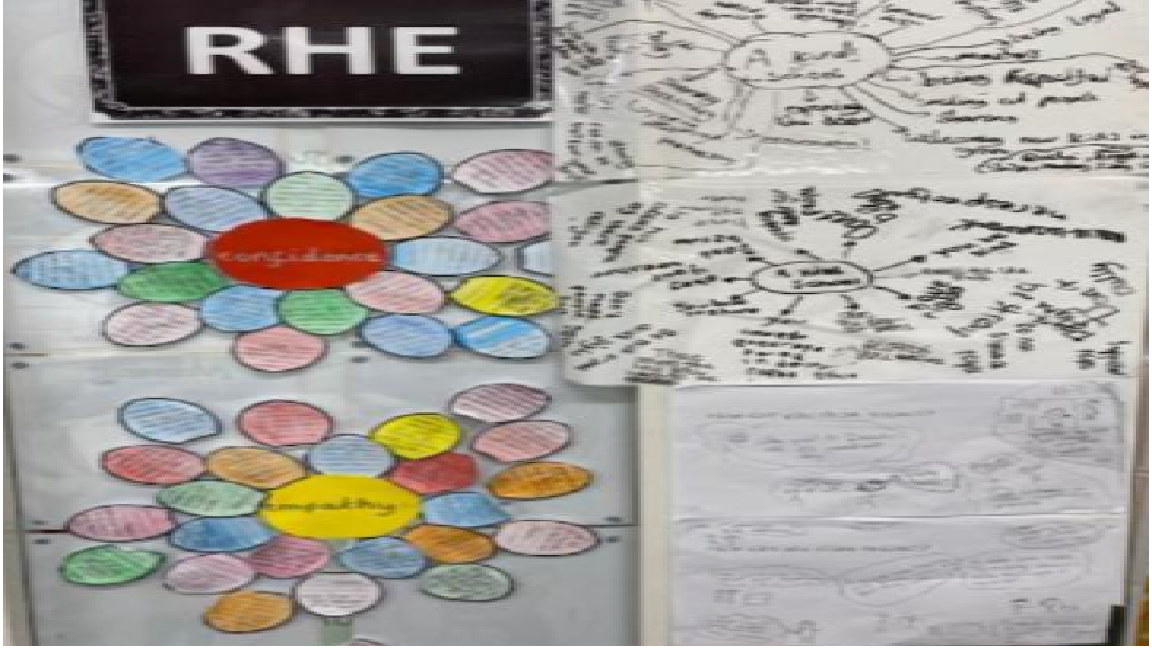 Autumn
Year 1
This half term Year 1 have been learning about safer strangers, safer buildings and people who help us. The children have discussed adults they can trust to help them if they are feeling worried or anxious off or online.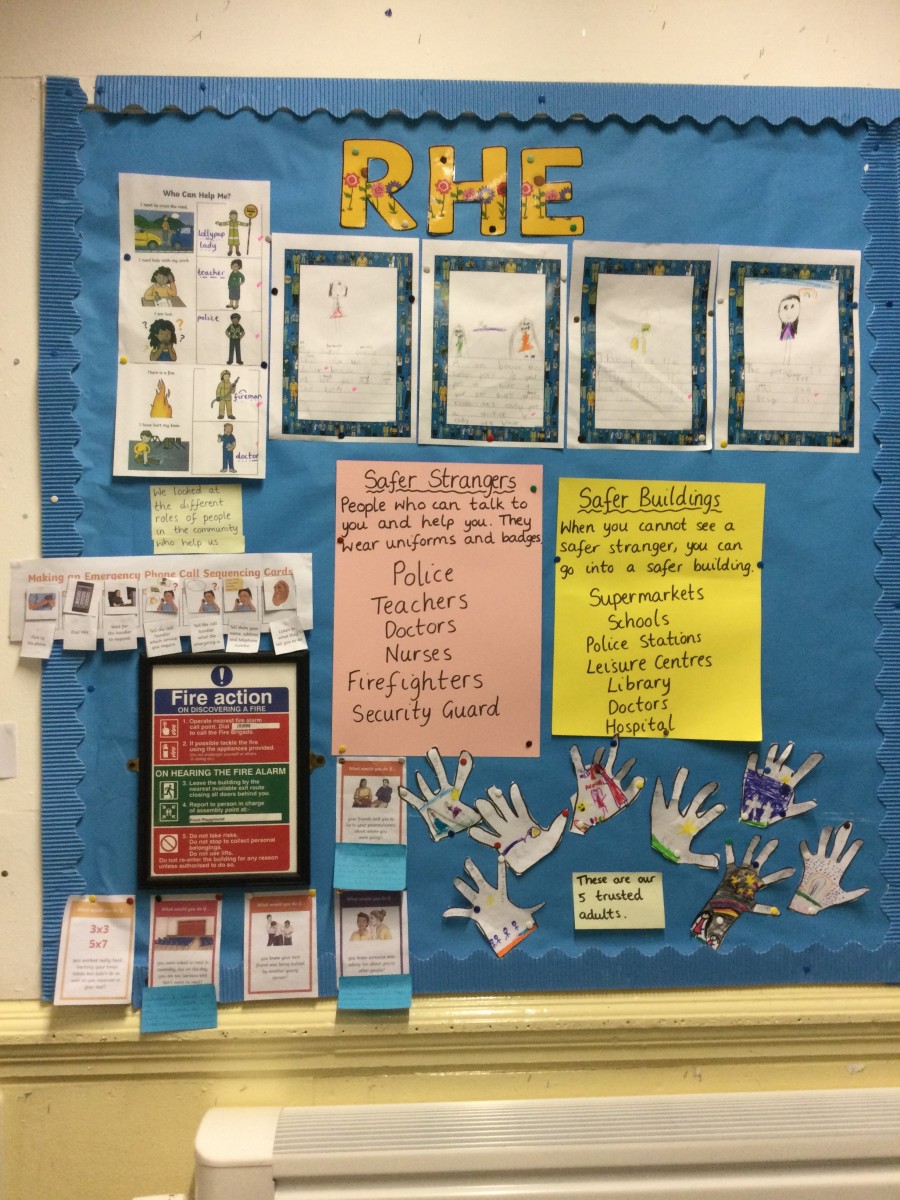 Year 2
In year 2 the children have been learning that words can affect the way a person feels. They have learned that saying sorry can help but it doesn't always fix the problem.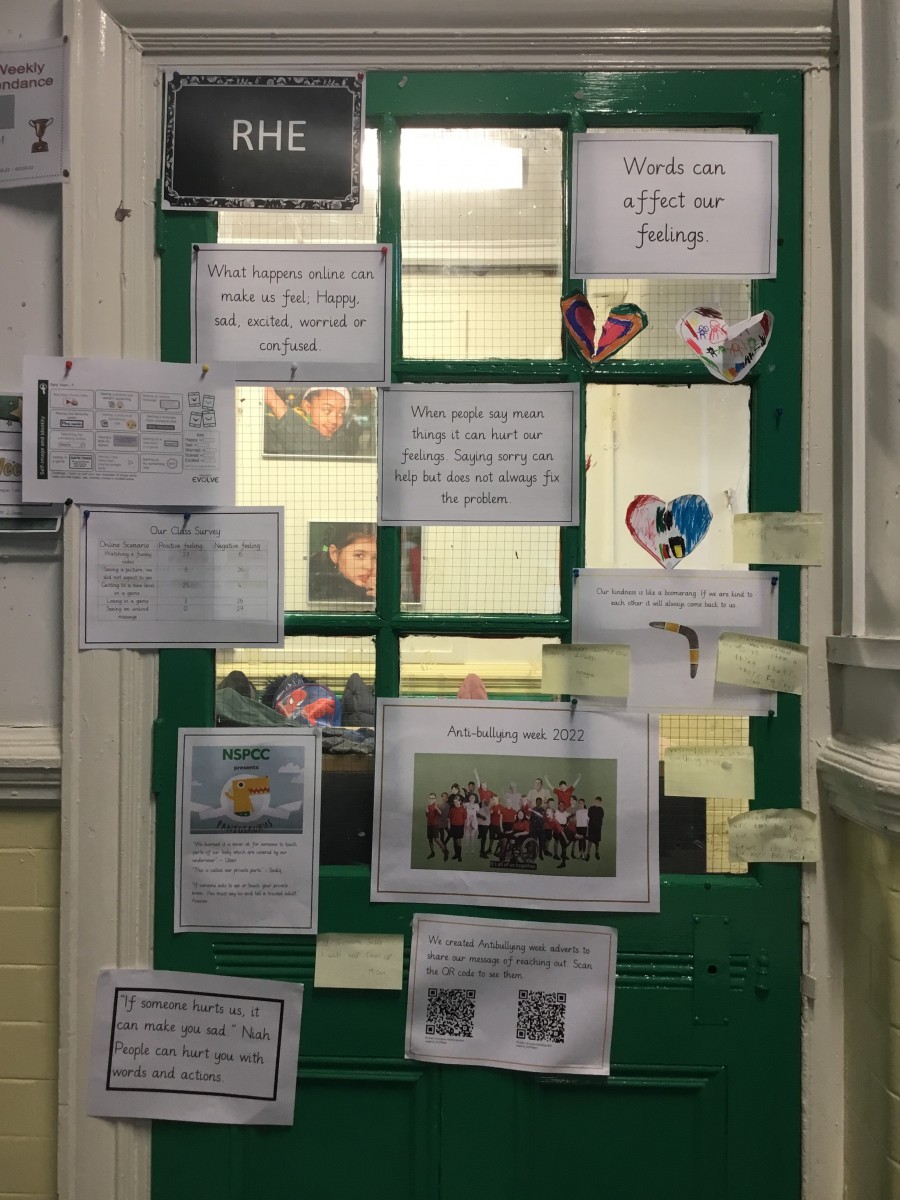 Year 3
Year 3 have been learning about safety and risks in RHE. We have looked at judging how risky situations can be and placed them on a risk continuum. We looked at how we keep ourselves healthy and safe both at home and in school.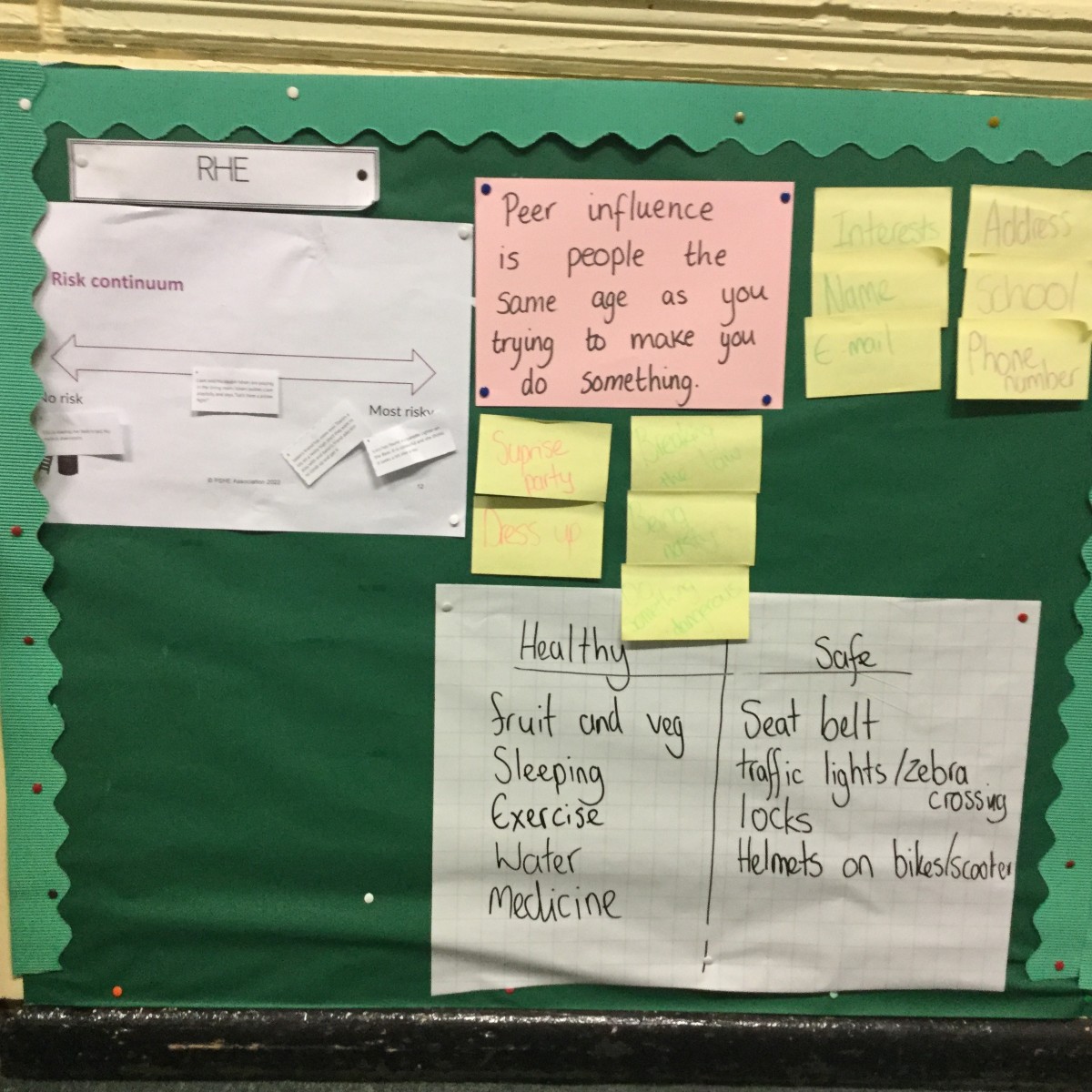 Year 4
This half term, year 4 have been looking at what skills strengths and interests they have. They have examined what identity is and how it differs online versus offline. The children have discussed ways they can raise their own and others' self-esteem and identified their personal positive attributes.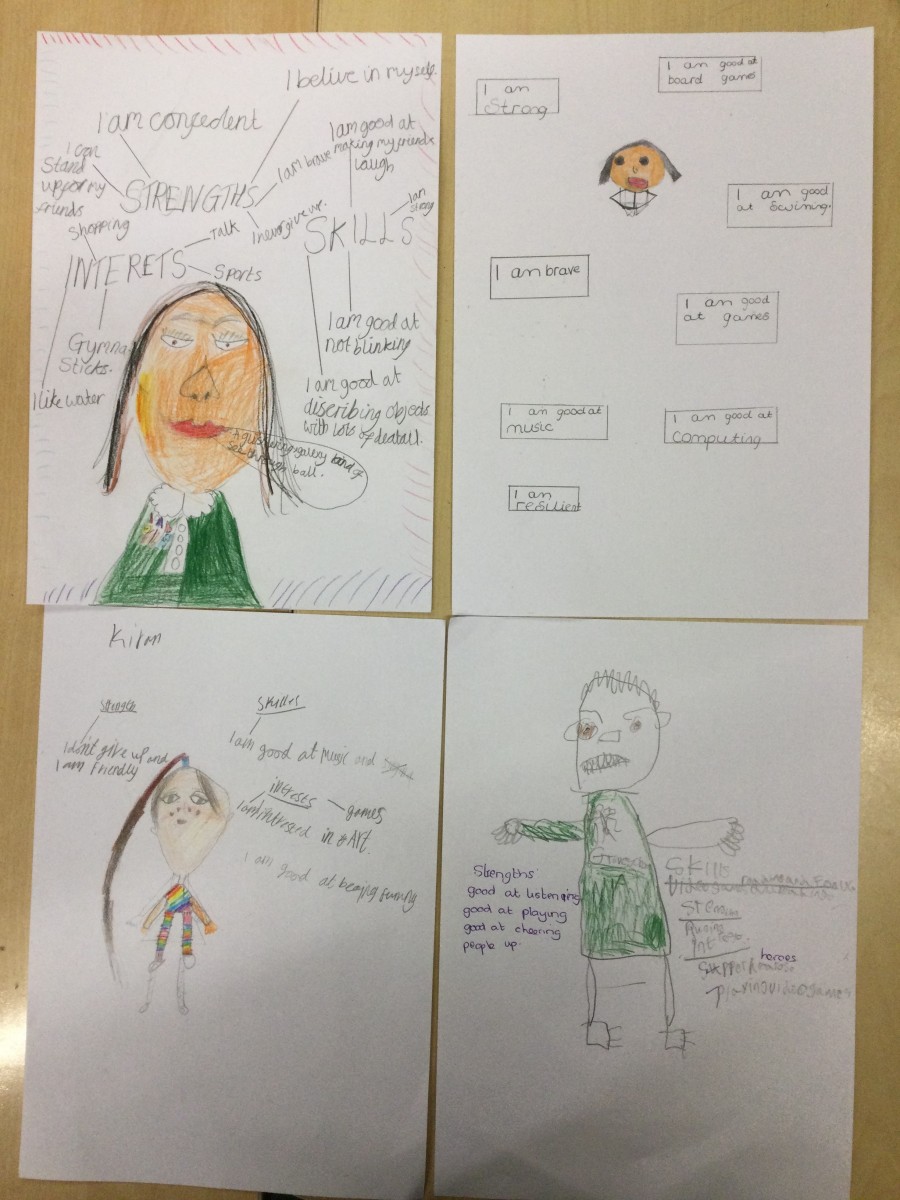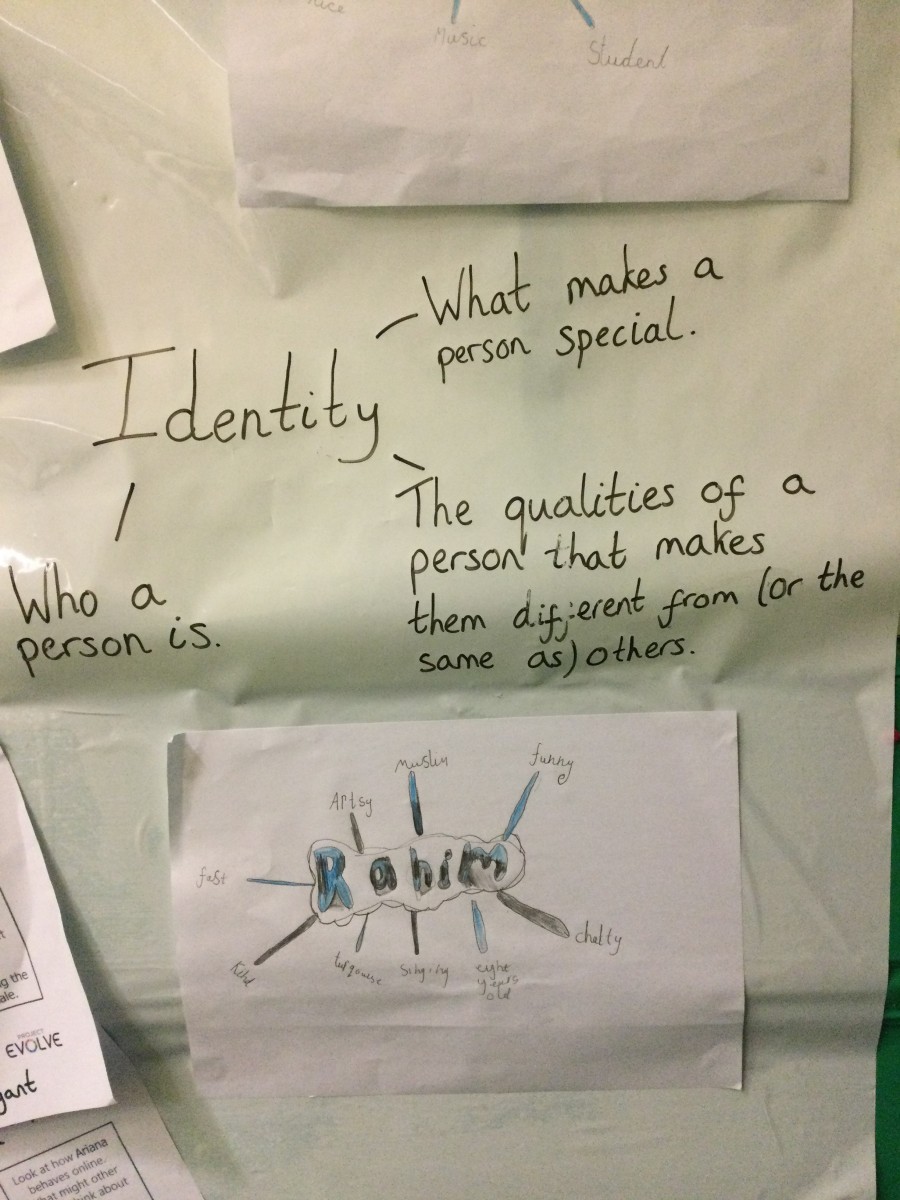 Year 5
The children really enjoyed their learning in year 5 this half term looking at the different jobs, avenues to get into jobs and how much they get paid.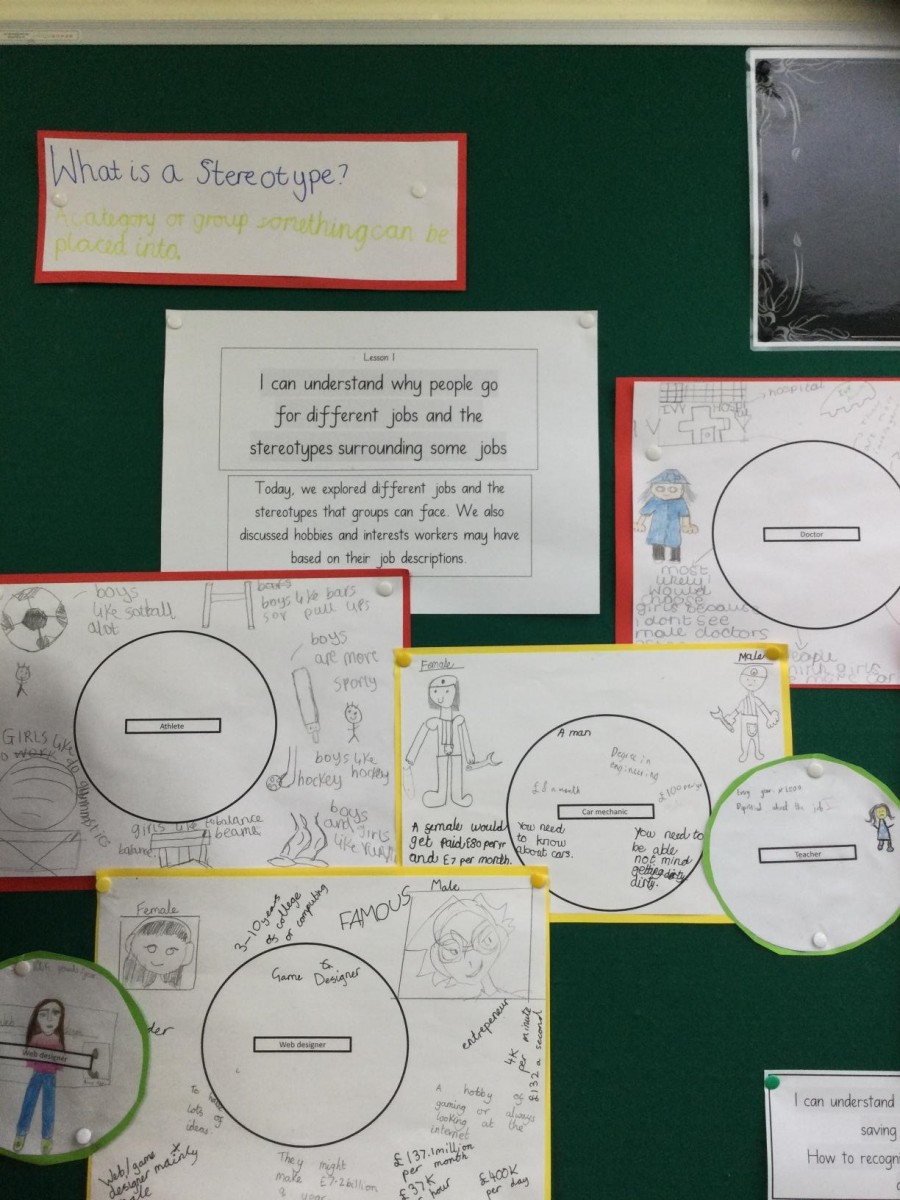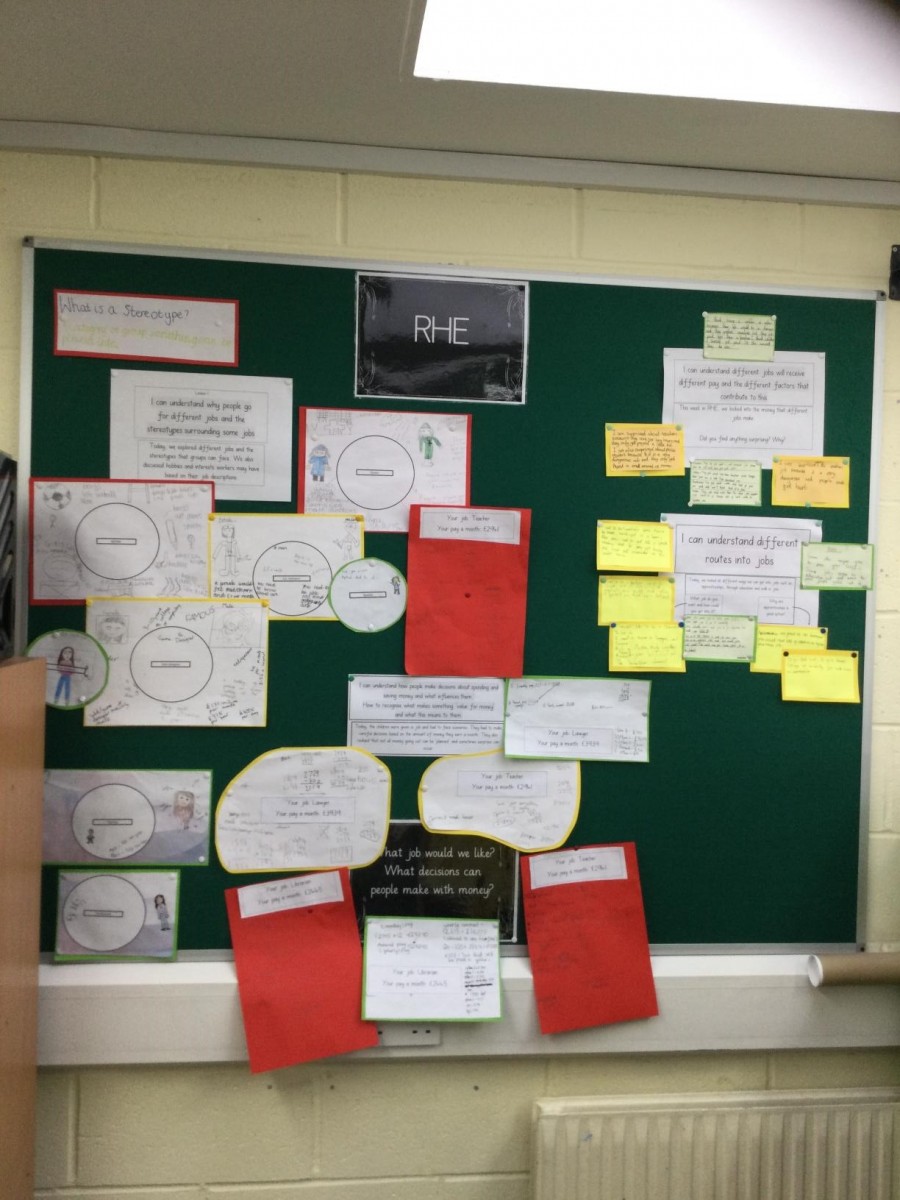 Year 6
In year 6 this half term they have been focussing on how to manage a digital balance online. The children considered their digital routine and how this could be changed. They discussed what peer pressure online meant and how to show respect online and in school.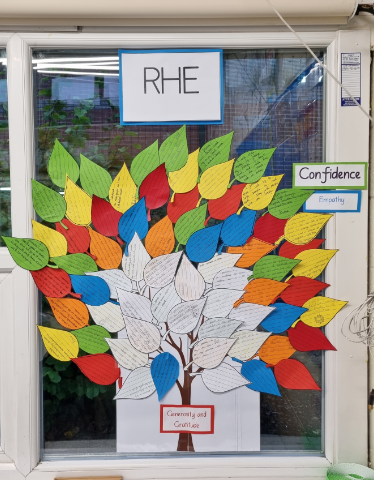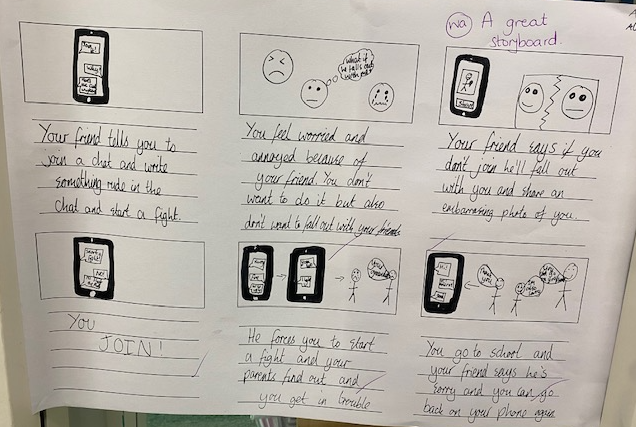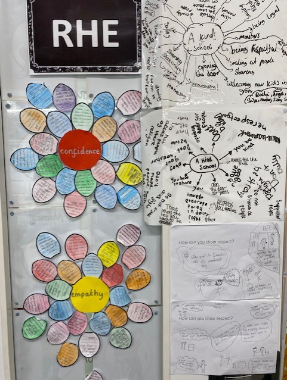 Autumn
Nursery
Nursery children have been making new friends and sharing the equipment. They have also been helping the teachers and one another around the classroom.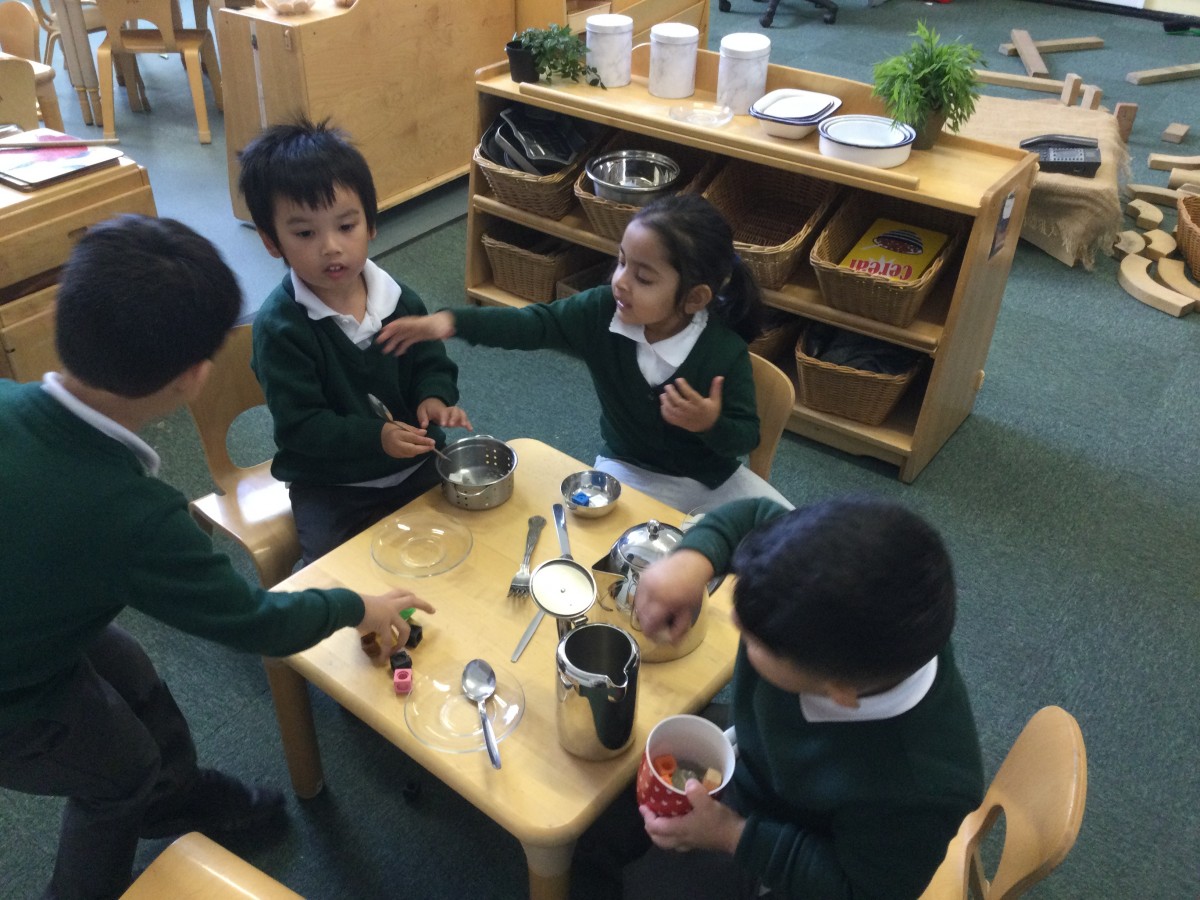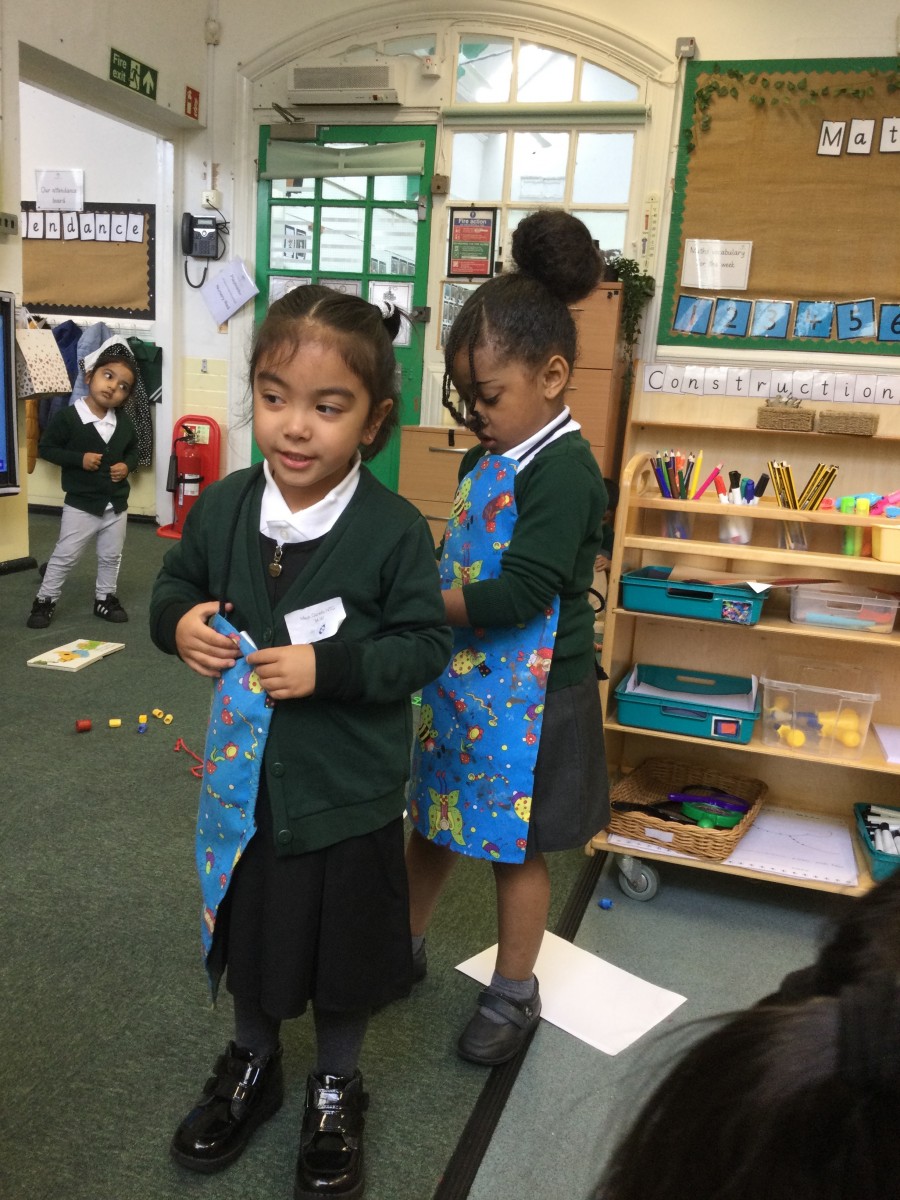 Reception
Children in Reception worked together as a team to make a birthday table for their class teddy George. They shared resources, such as tape, boxes, sharing ideas, communicating and listening to one another.
The children have also worked collaboratively in the deconstructed role play area to build a car using different materials. They shared the resources and worked as a team to build it.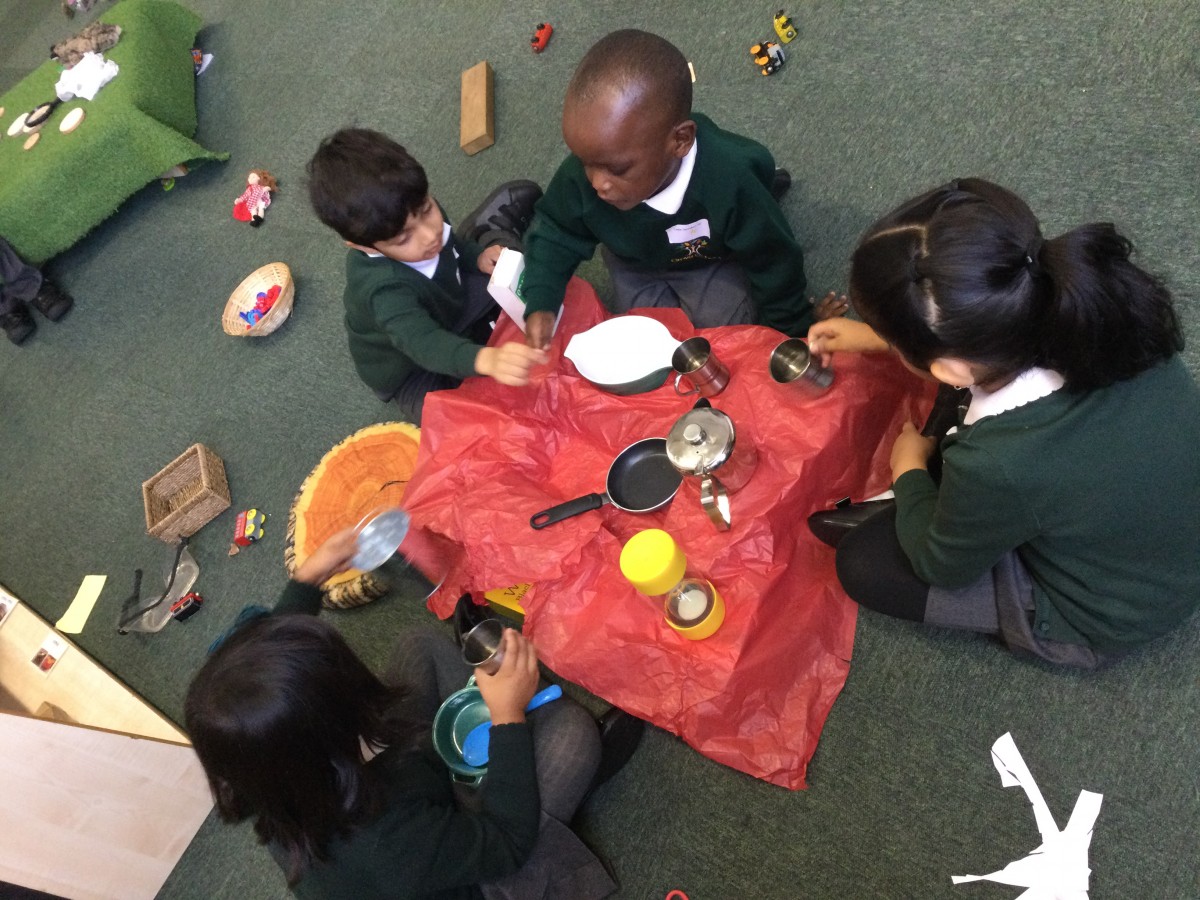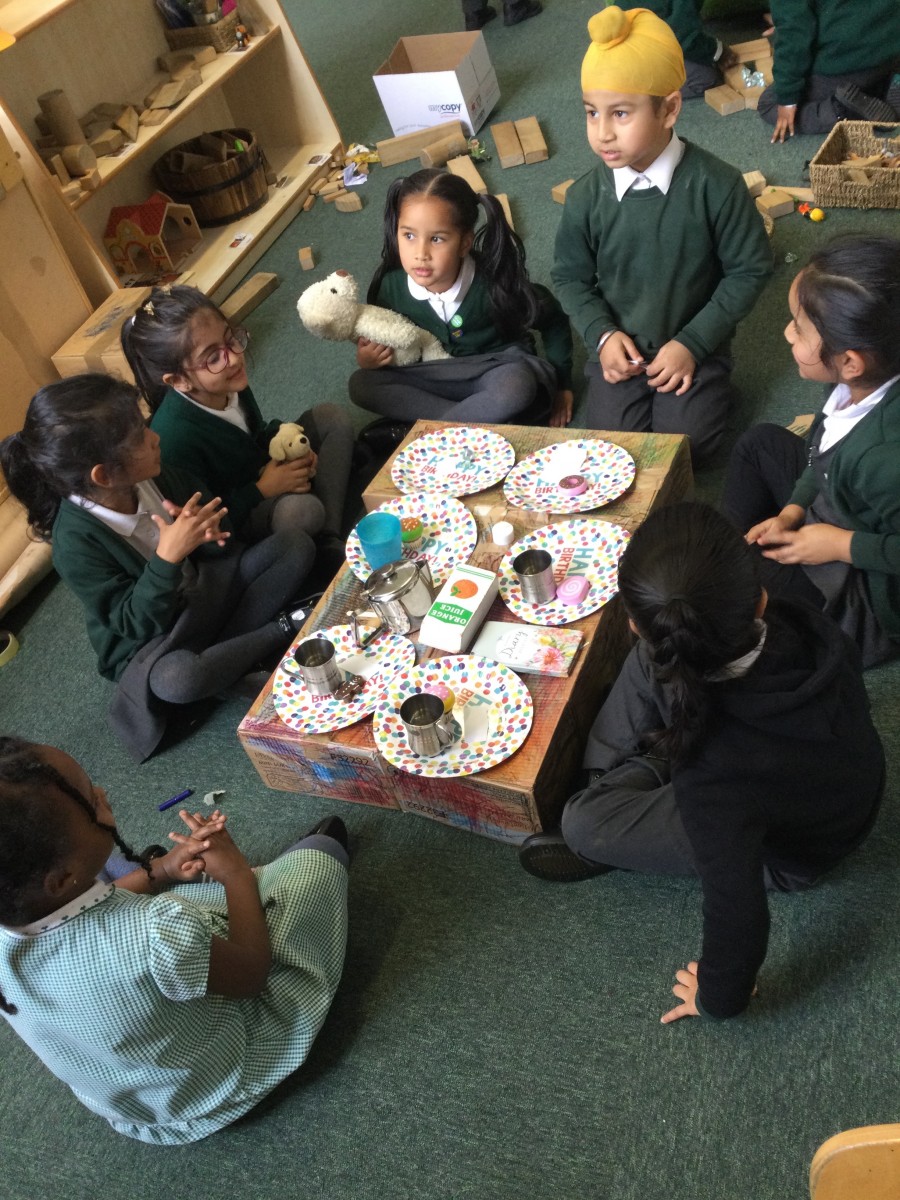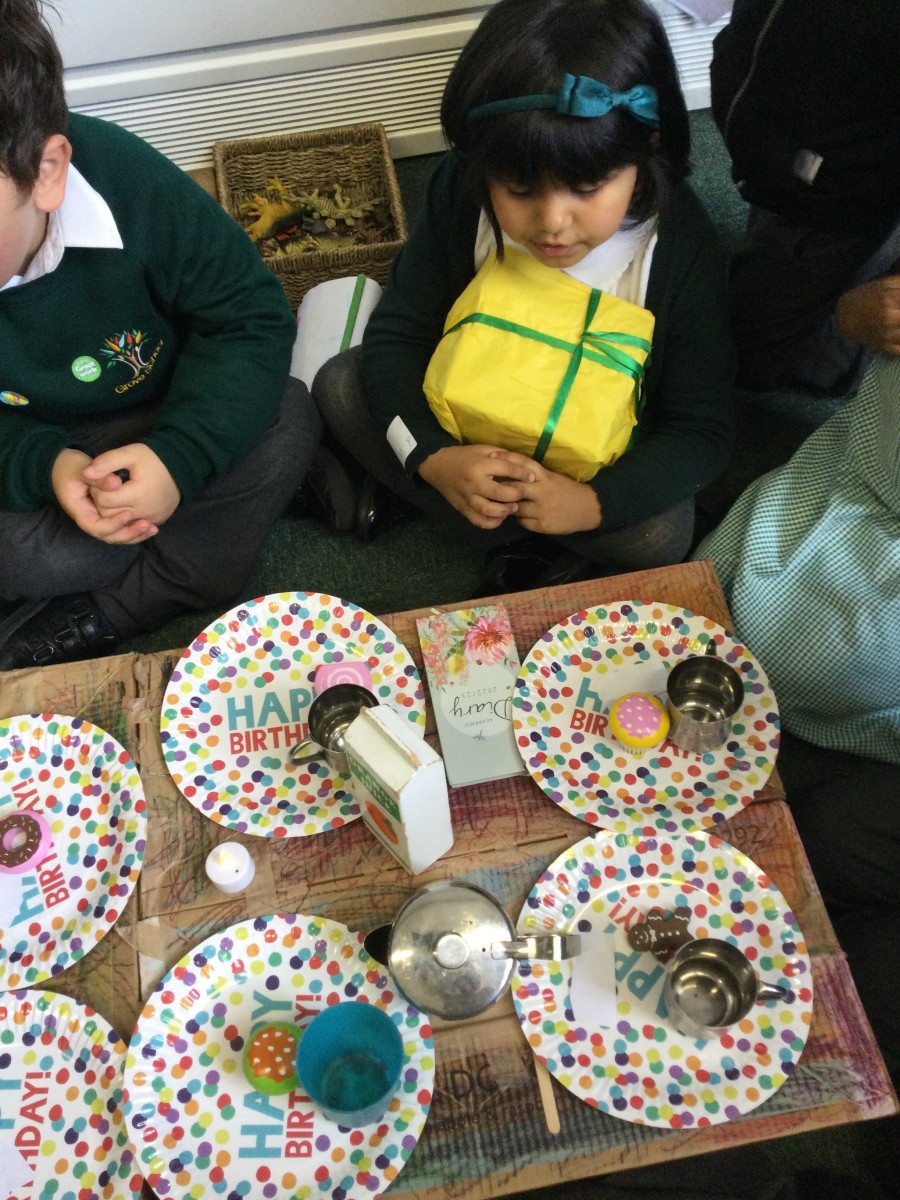 Reception worked as a class to sort foods into healthy and unhealthy. They spoke about what makes the different foods healthy and unhealthy:
"Chocolate is full of sugar."
"Healthy food gives us muscles."
"Candy doesn't make you strong. It's junk food."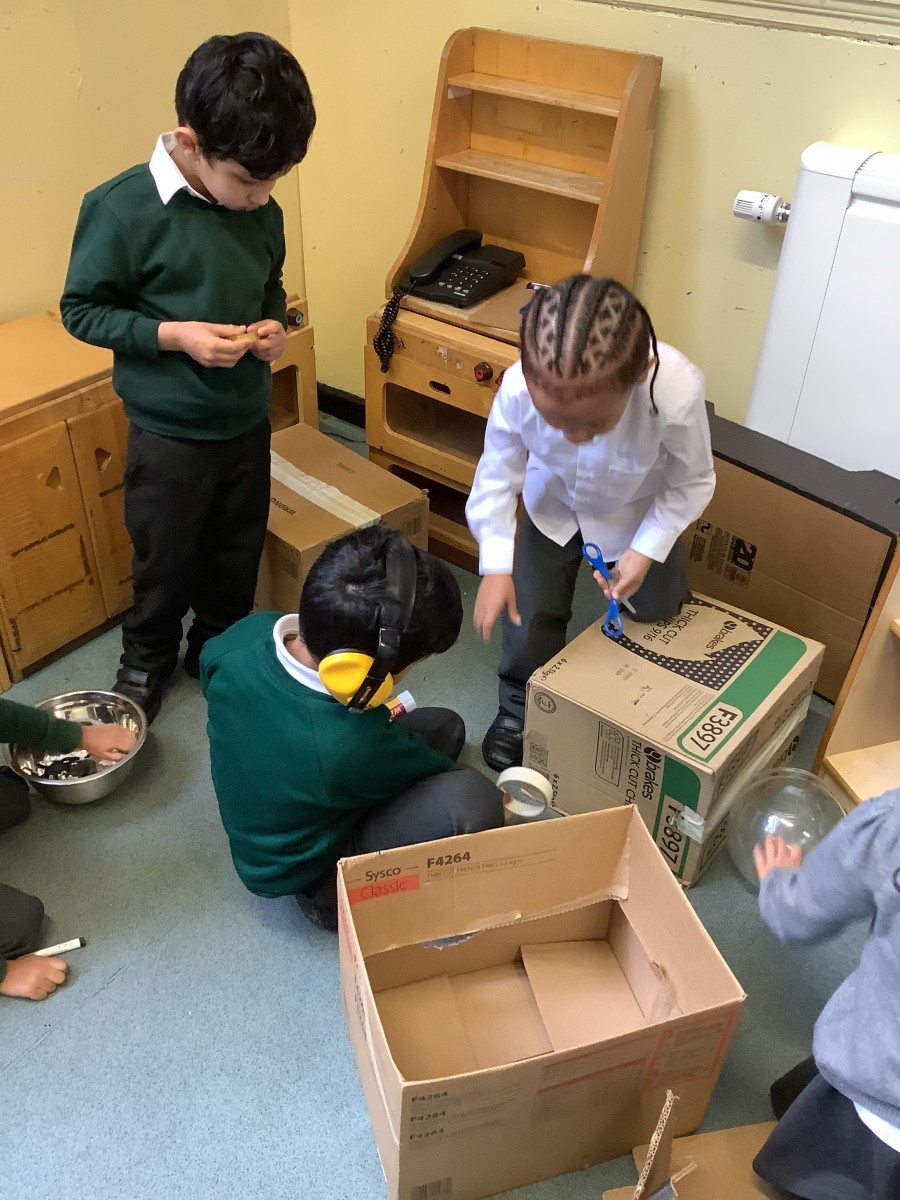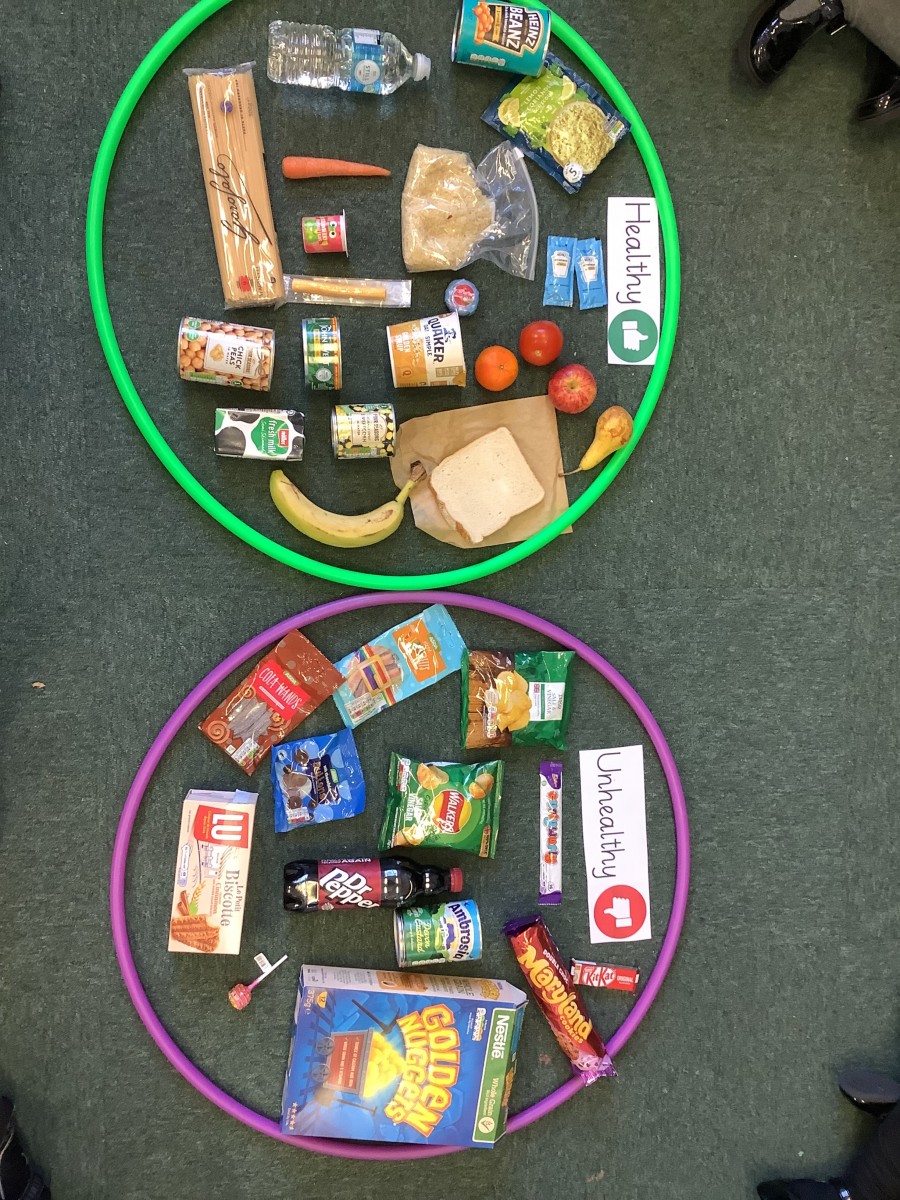 Year 1
This half term Year 1 have been learning about who is special to them. They have learned about their families and discovered that families can be similar or they can be differernt:
"I got two brothers."
"Some of them are girls."
"My house is gigantic."
Year 1 have also been learning about how to safely use a device online.
The children talked confidently about being with someone else when they use devices:
"I talk to my mum on the phone."
"My sister and dad are with me."
"My brother is with me."
The children also could say why they should be supervised:
"It could be a stranger."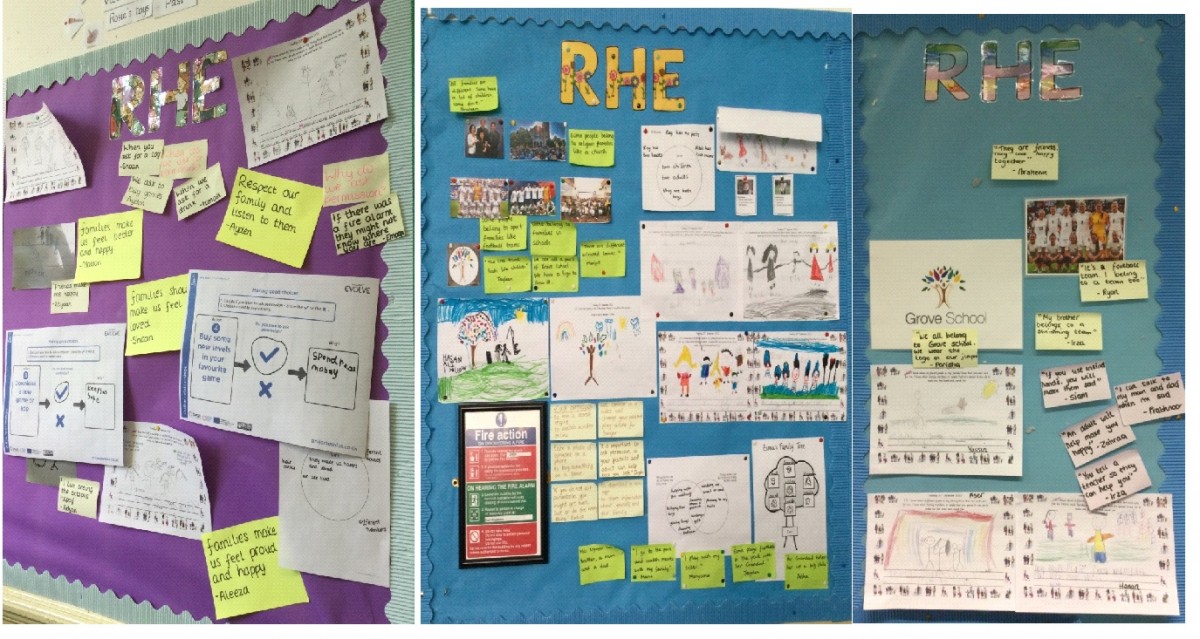 Year 2
In Year 2 this half term they have been learning about what makes a good friend. In addition to this they have learned about being lonely and what it means to them:
"Feeling sad."
"Nobody plays with me."
"Someone comes near me then goes away."
"Friends ignore me."
"I play by myself."
When talking about what they could do about it the children responded positively:
"Ask if you are ok."
"I cheer them up and share my toys"
"I'll help them in class."
"I make them laugh."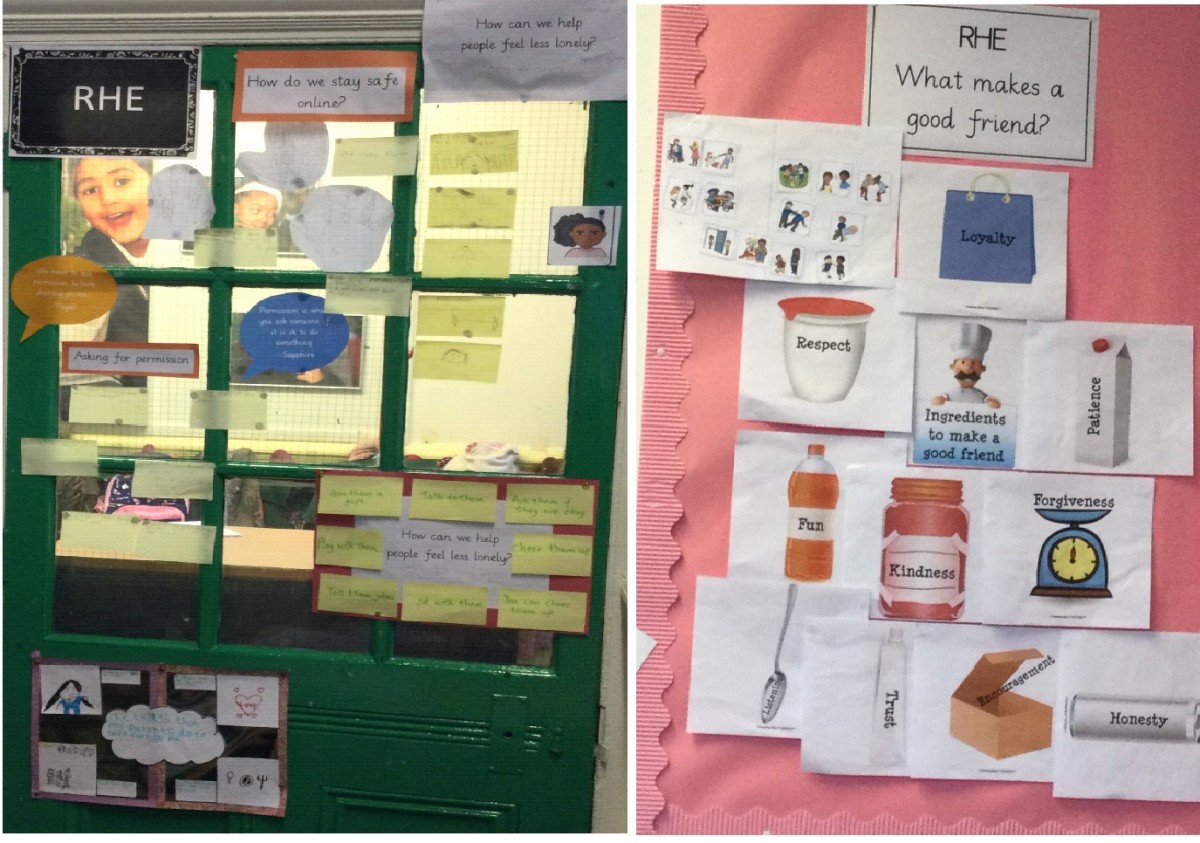 Year 3
Year 3 have been learning how to be a good friend and how to recognise if others are feeling lonely or excluded and strategies to include them.
The children could all recall how it feels to be lonely and what they could do about it. A child said that his friends would say:
"I'll tell the teacher and she'll fix this."
It was really positive to hear the children talking so confidently about who they could talk to in and out of school.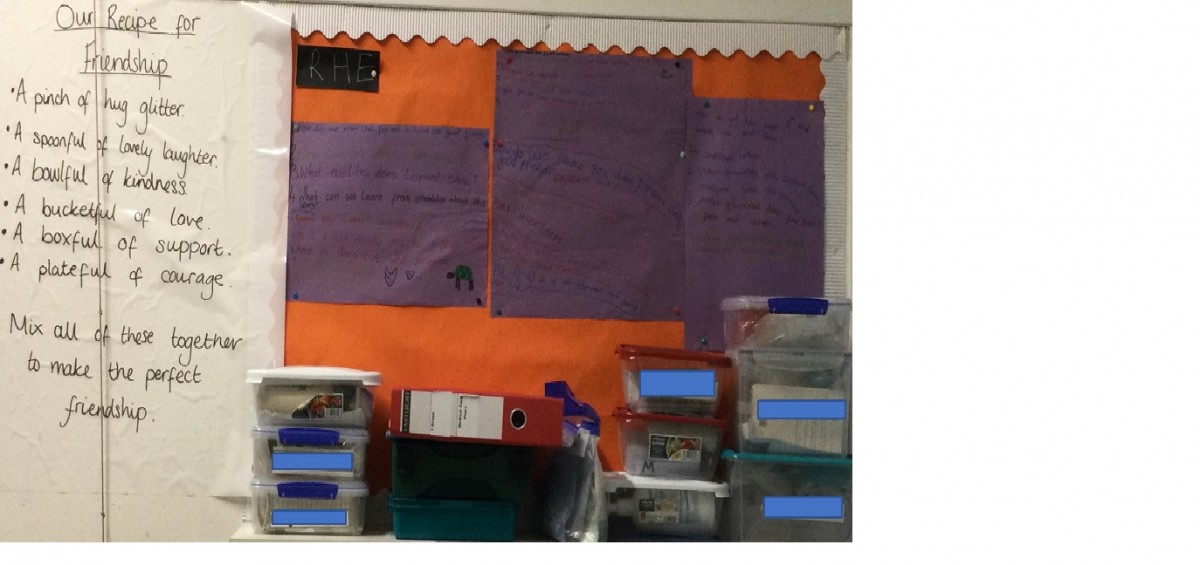 Year 4
Year 4 have learned how to treat others with respect this half term. The children have a very good understanding of what respect is and what it looks like in and out of school:
"It is how to be polite."
"You shouldn't exclude people."
"You should be kind and use manners."
"It is to be helpful to others."
"People could ask for help instead of copying."
"It should be shown at home, in public, in the playground."
"You should be extra careful on a device and don't use it too much."
"Ask parents if its okay to go on a device in case there are users who say inappropriate things."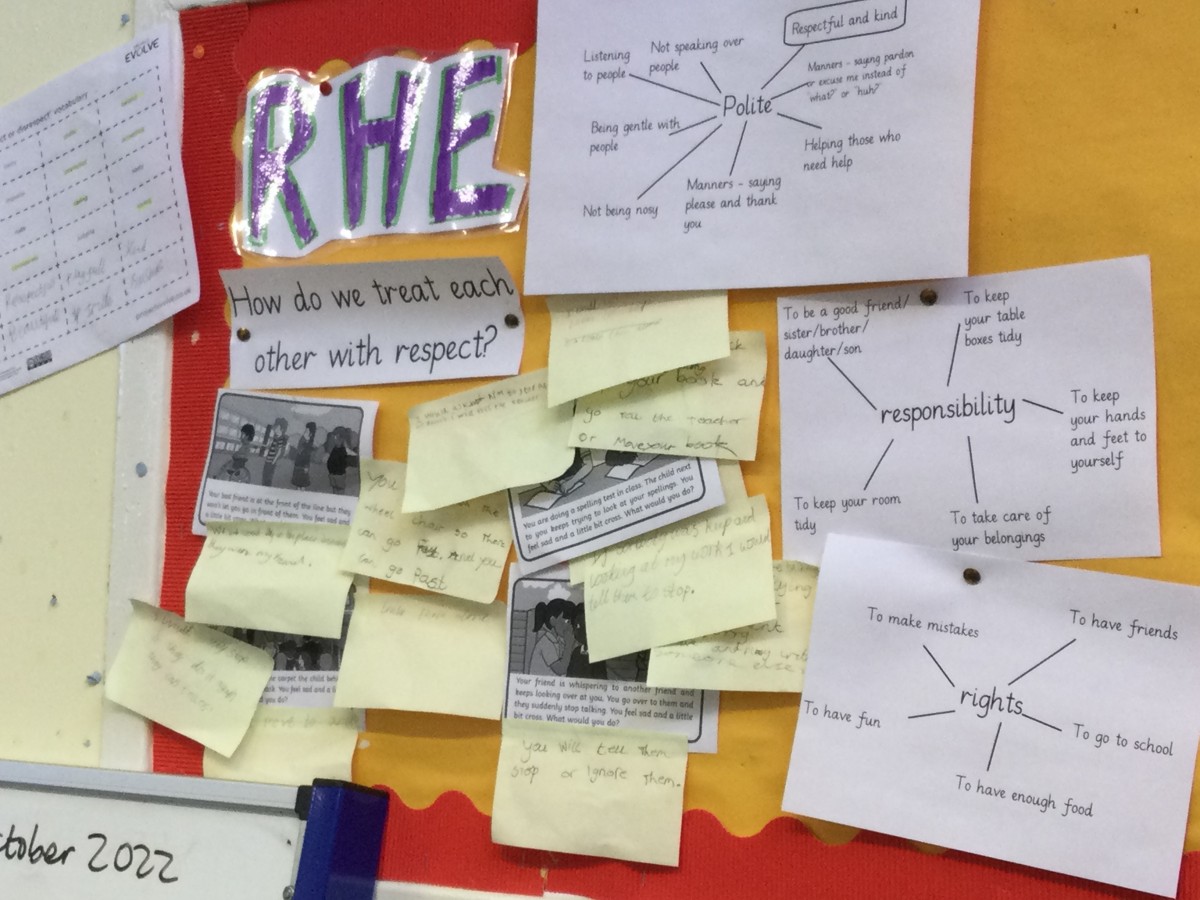 Year 5
This half term Year 5 have been exploring how friends can communicate safely. The children spoke confidently about the differences between face-to-face friendships and online friendships; they explored the impact of having solely online friends on their mental health:
"If someone is being rude online you can report it to your parents or a trusted adult."
"You need to ask an adult if you get an anonymous person asking to message you or play with you."
"You shouldn't share your personal information like bank account details or your address."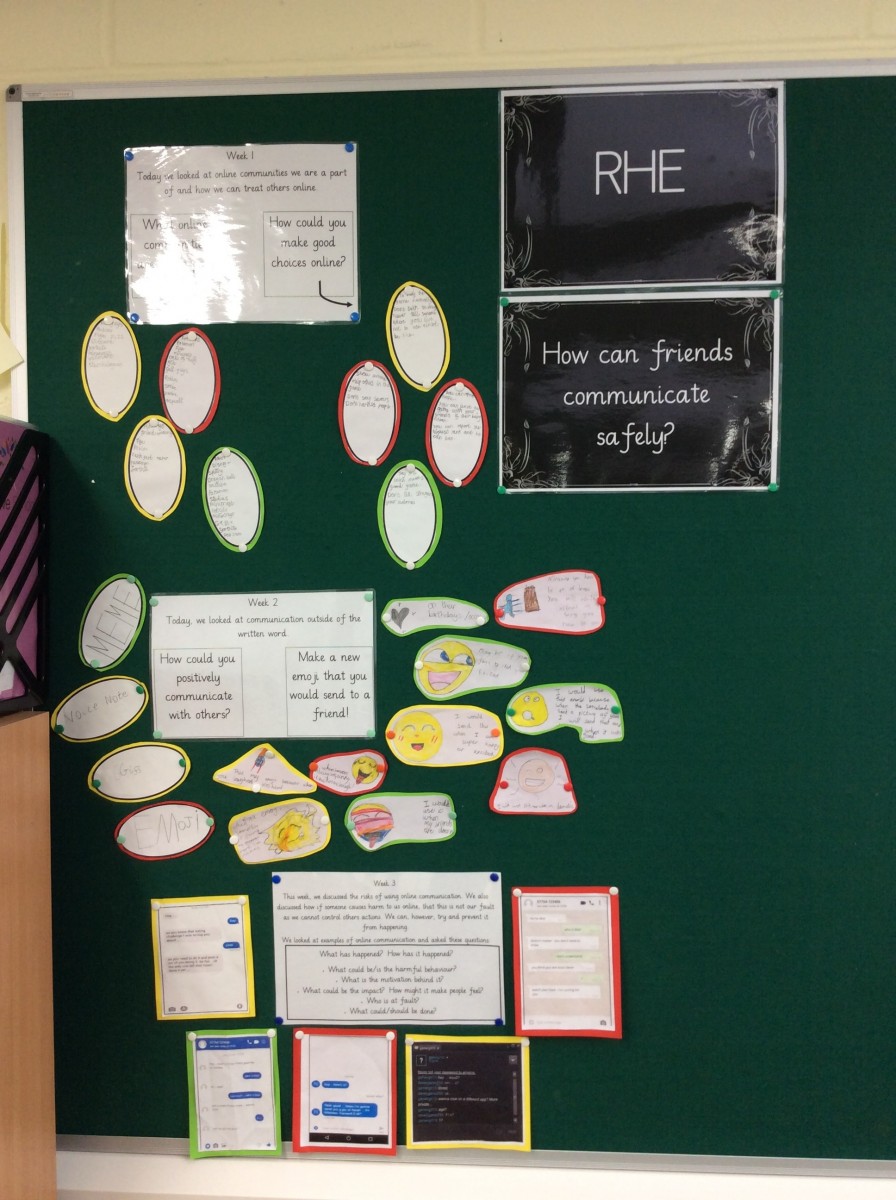 Year 6
Children in Year 6 used the MVP programme to name all of the virtues covered in RHE. They named and explained the virtues of: empathy, generosity, gratitude, kindness and gratitude.
"I expressed empathy towards my friend who left Grove School. I always message her and send her emojis and GIFs to make her feel better because I know she misses us."