Anti-Bullying Week 2022
Anti bullying week took place on the 14th to 18th of November 2022.

This year's Anti-Bullying Week theme is 'Reach out!'
Togetherness is more important today than it has ever been before. Showing each other support during tough times is something we all appreciate and value. This is why we are celebrating those people who we can reach out to when things become difficult. In school this week, all children will be thinking about who they can reach out to if they experience bullying.
Nursery
Nursery children have enjoyed the story of the Topsy and Tim and have learned that they should always tell someone if they are being hurt.
Tanvir said, "Tell the teacher and your mum."
Reception
The children have made happiness potions and thought about how to be kind. They have talked about who to talk to if others make us sad.
"We make children happy and we are kind!"
"We share and make each other yellow- happy like the colour monster."
Year 1
"We have made odd socks to celebrate our differences for anti-bullying week." Avaani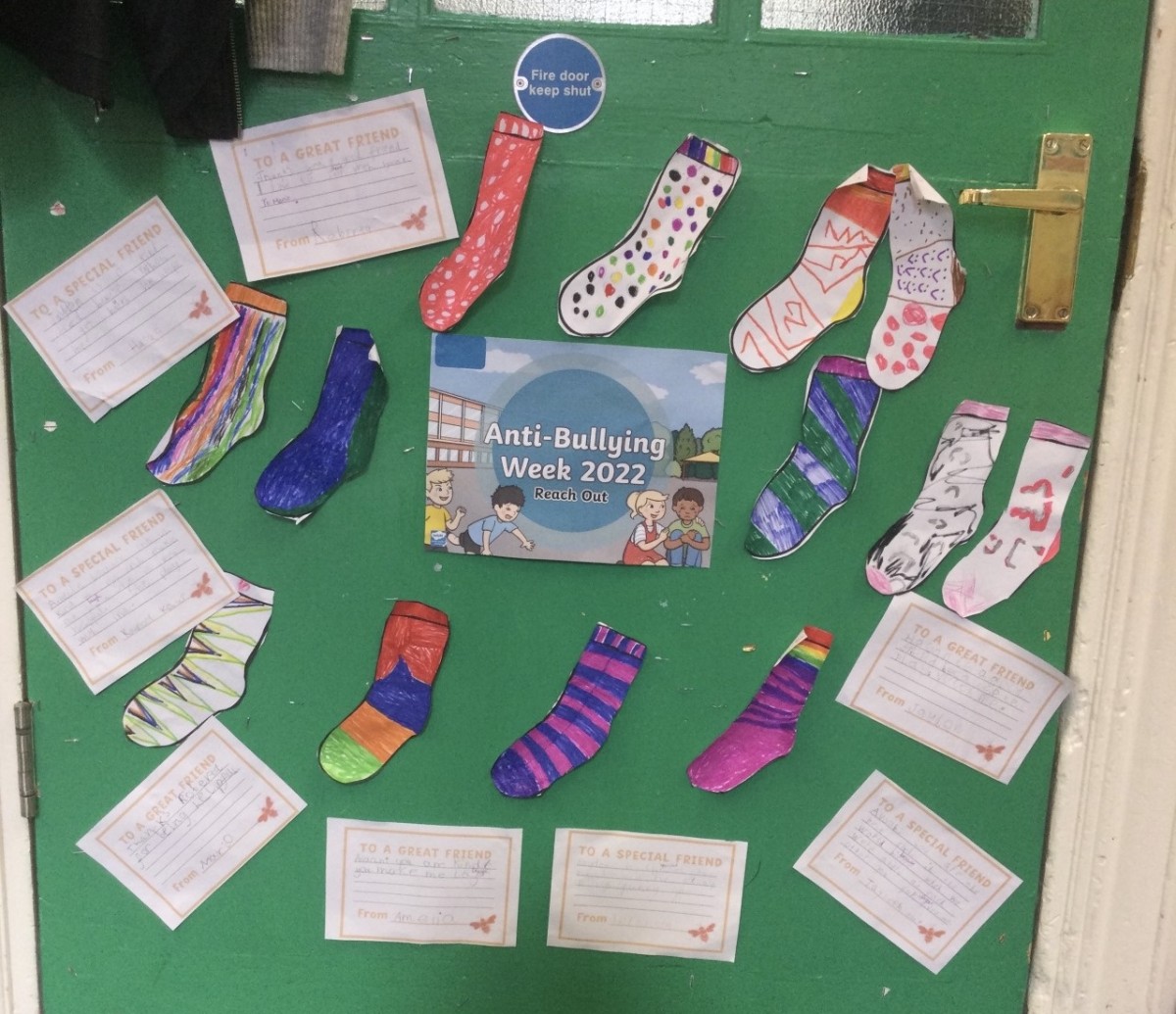 Year 2
This week, year 2 have been researching antibullying adverts and learning about what bullying is. We then looked at how we can reach out to a trusted adult. Using this information we created, directed and filmed our own anti bullying adverts.
"It is important to reach out because if someone is being teased you need to reach out. You reach out by telling a trusted adult to help another child. My trusted adults are my mom, dad and my teachers." Felix
Year 5
For anti bullying week this year, the children in Year 5 have been completing daily challenges linking the theme of "reach out"
"Everyone has deon something out of their comfort zone" Zayan
Year 6
Children in Year 6 have completed five daily challenges linking this year's Anti-Bullying Week theme, Reach Out! These have helped children see that there are so many people who we can reach out to if we need some help. Children have also thought about their mental health and how they can help themselves and others have 'Happy Heads'.
"I know how my actions can show someone that I am there for them when they need some support, advice or just a friend to be by their side." Boubacar