Anti-Bullying Week 2019

This week Grove School will be holding our annual 'Anti-Bullying Week', which is acknowledged at this time every year as a key focus across the country. Anti-Bullying Week shines a spotlight on bullying and encourages children to take action against bullying throughout the year.
The theme for this year's Anti-Bullying Week is 'Change Starts With Us'.
Small change. Big difference.
Whether it is verbal, physical, online or in-person, bullying has a significant impact on a child's life well in to adulthood. By making small, simple changes, we can break this cycle and create a safe environment for everyone. Because together, we can challenge bullying. Change starts with a conversation. It starts with checking in. It starts with work together.
Change starts here.
Change starts now.
Change starts with us.
This year the goal is to inform schools and settings, children and young people, parents and carers to know that it takes a collective responsibility to stop bullying. We are excited for this campaign as we want to create empowering, positive messages addressing the fact that when it comes to bullying CHANGE STARTS WITH US!
There are a number of activities that will be taking place throughout the week including:
Friendship bracelet making, special circle times, acting out scenarios, interactive videos, designing and starring in vlogs.
Nursery
This week the children in nursery have thought about Anti-Bullying and how we are all different and all special. We have celebrated our differences by making odd socks for our friends and by wearing odd socks when we came to nursery!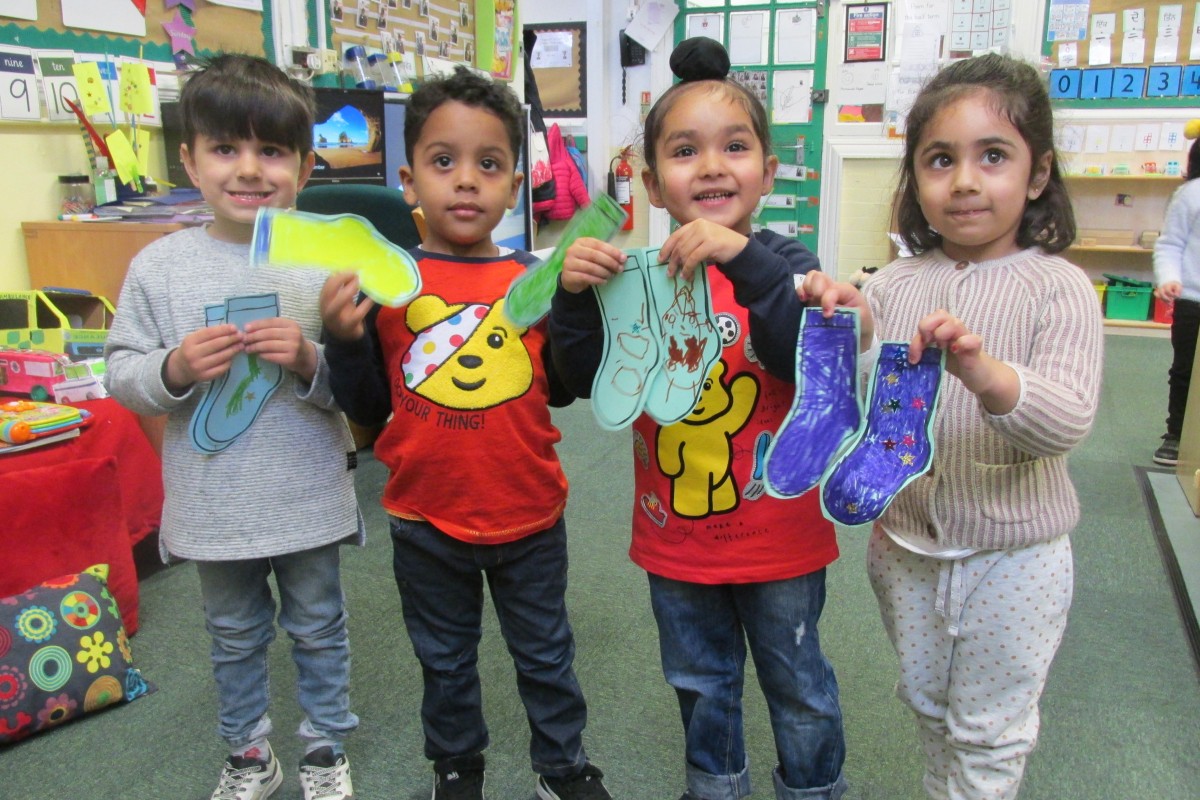 Reception
For Anti-bullying week, Reception have been thinking about how to be a kind friend. We have been smiling at our friends and giving compliments, we made frienship bracelets and on Friendship Friday, we even made friendship biscuits for our friends. We wrote thank you messages for our friends.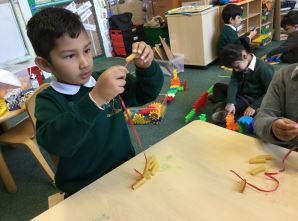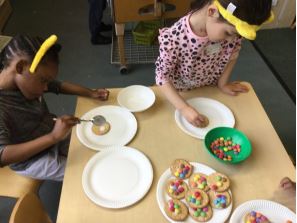 Year 1
Year 1 have been thinking about how unkind words can affect the way a person feels about themselves. We did an activity where we had a beautiful paper heart, but every time we heard an unkind word the beautiful heart was squashed in our hands. Eventually the heart was so squashed and wrinkled that it could no longer be smoothed out, showing that there are long term affects when people are unkind to others.
We have also been drawing around our hands and writing kind, positive words on them. We are all different and we should all be treated equally and fairly by all people. Year 1 are determined to say no to bullying!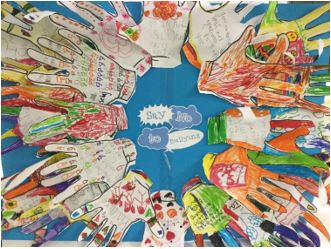 Year 2
This week in Year 2 we have been focusing on how we can make a change to help stop bullying at Grove. We have all written pledges to explain how we are going to continue to be a good friend and we made sure they linked to the Grove expectations.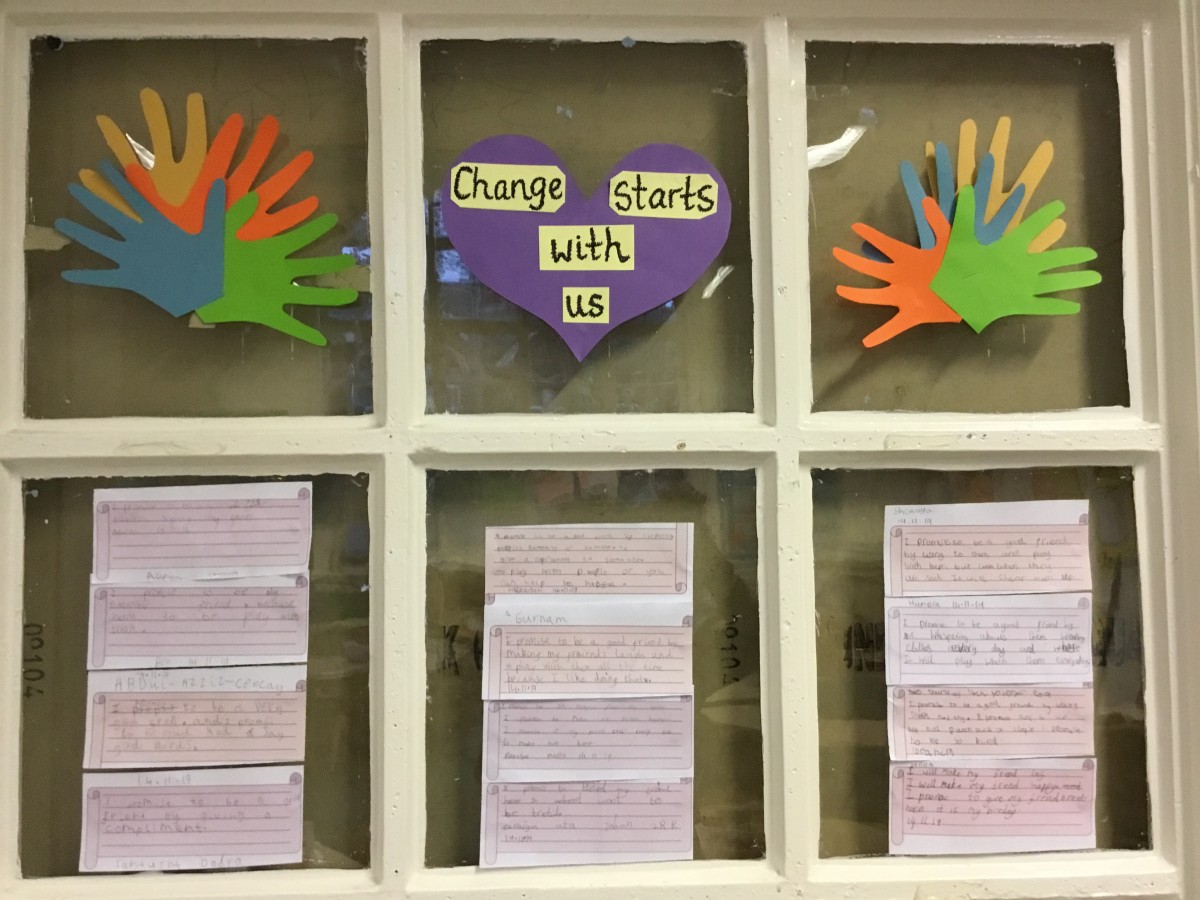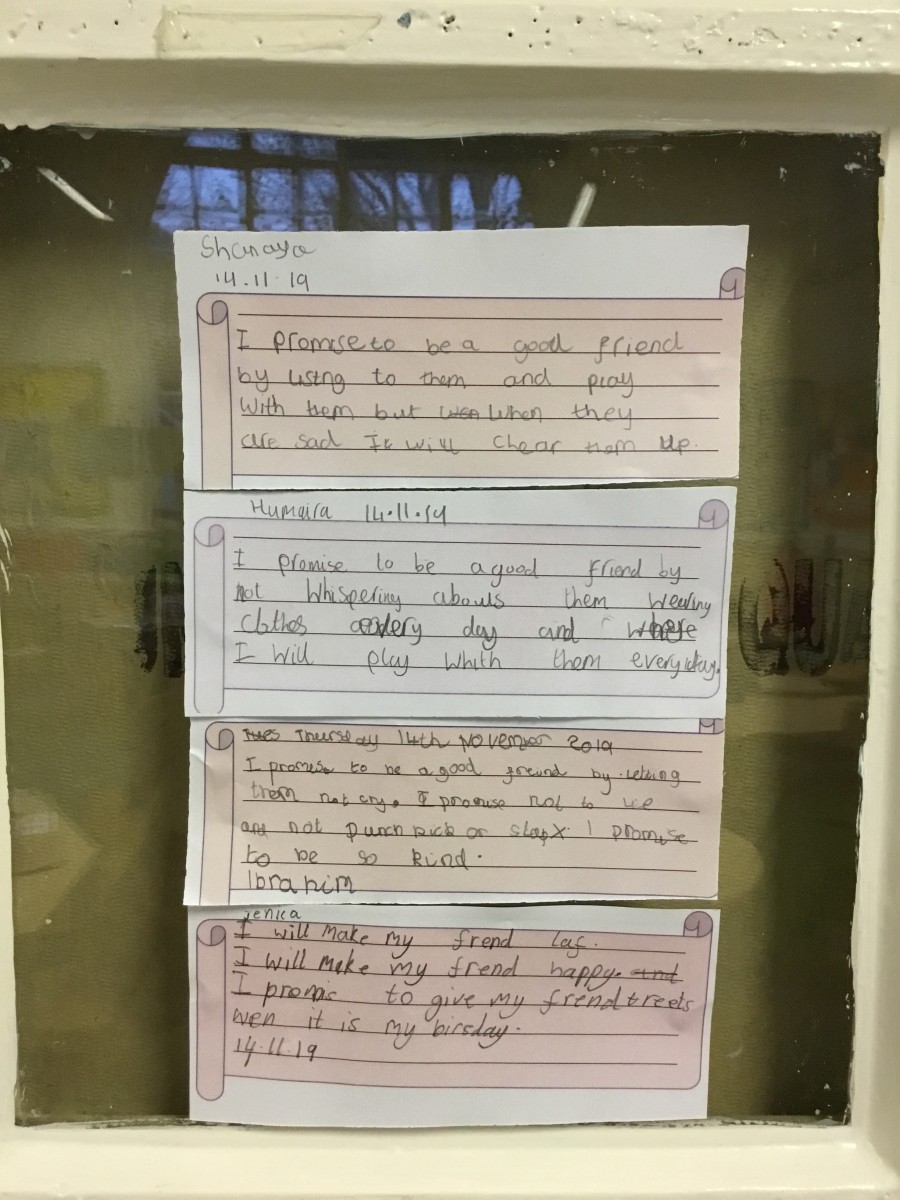 Year 3
Year 3 made antibullying pledges. The children then read their pledges to the class.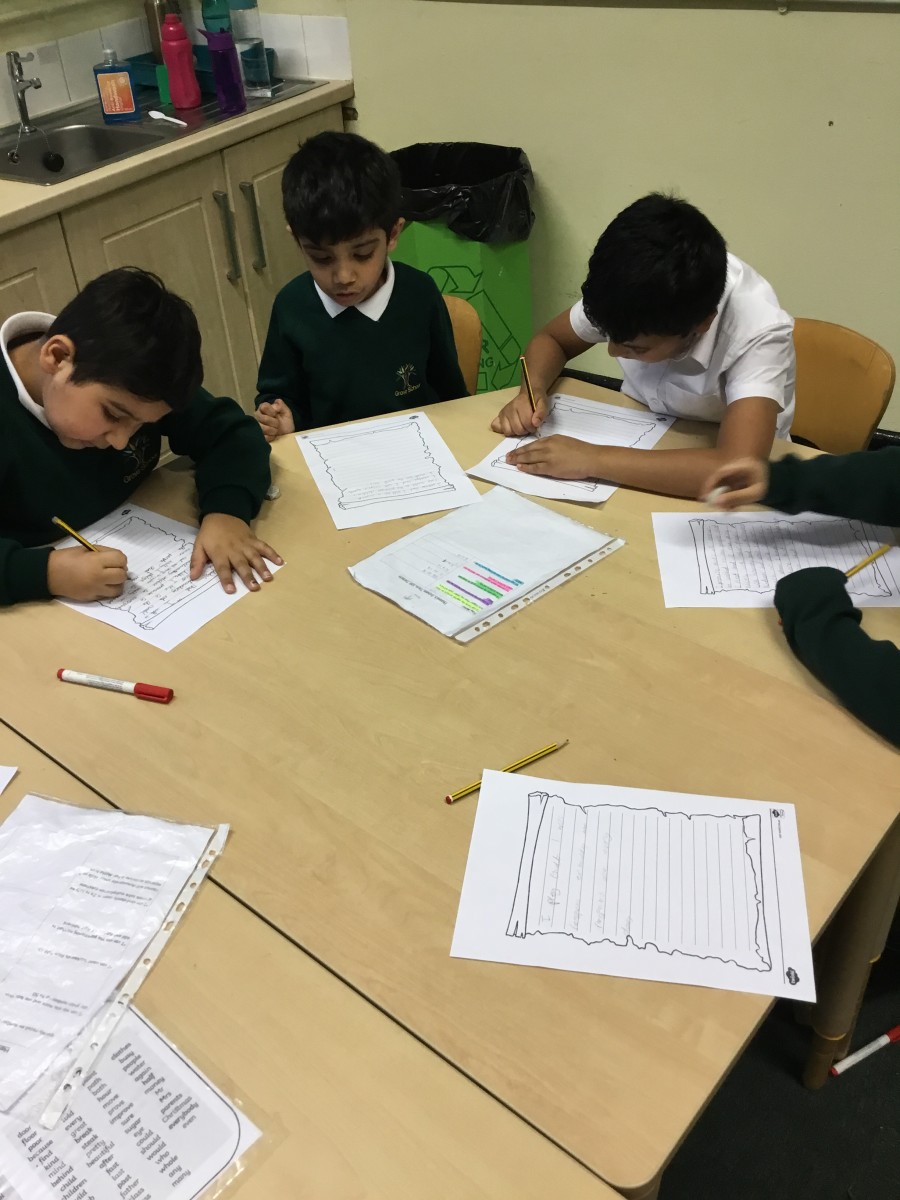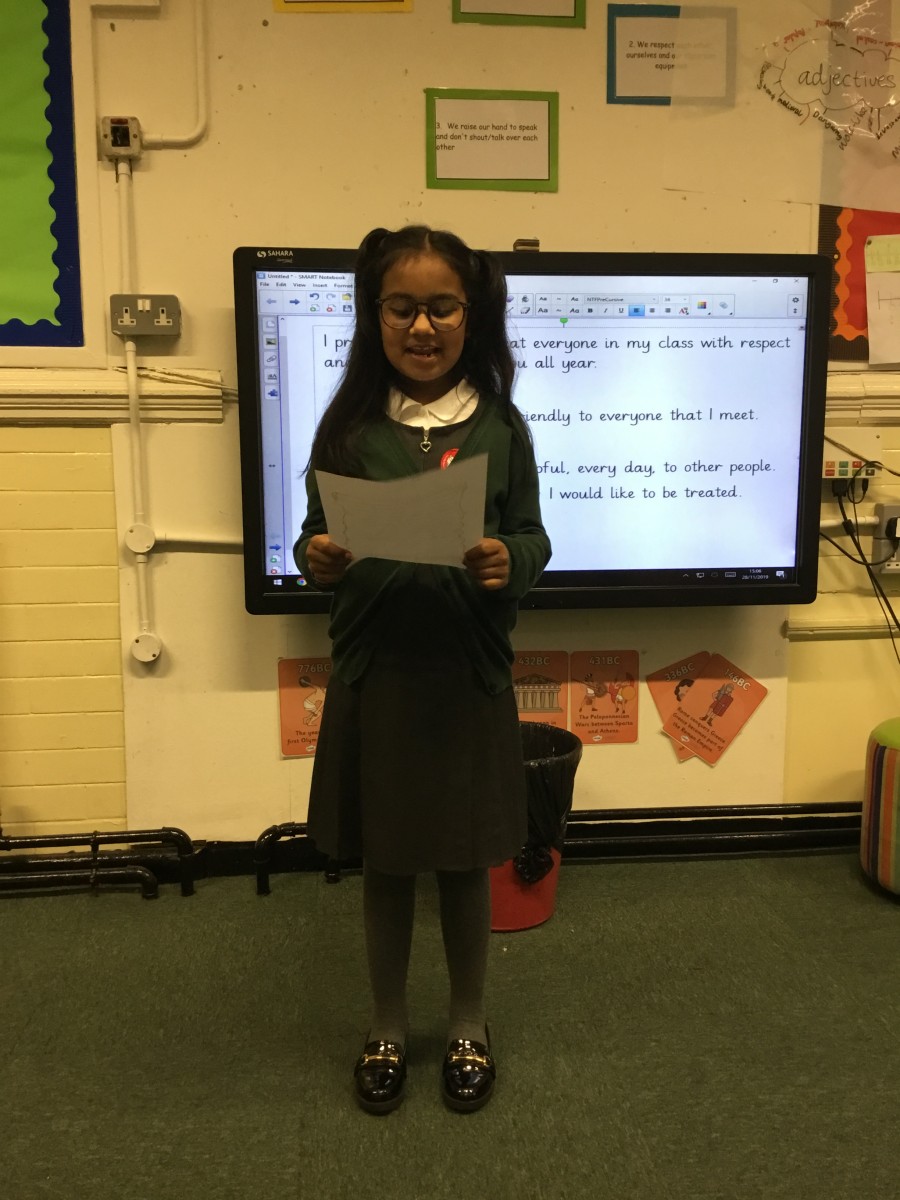 Year 4
Year 4 have been looking at what we should do if we feel as though we are being bullied or are concerned that someone else is being bullied. We started by looking at the 4 factors that show us that somebody is being bullied and then used this to think about what we can do to stop this. The children were really reflective about the Grove Expectations and what they can do to help. The children then used this to make a Vlog of their advice, as well as a display to help children to remember what they can do.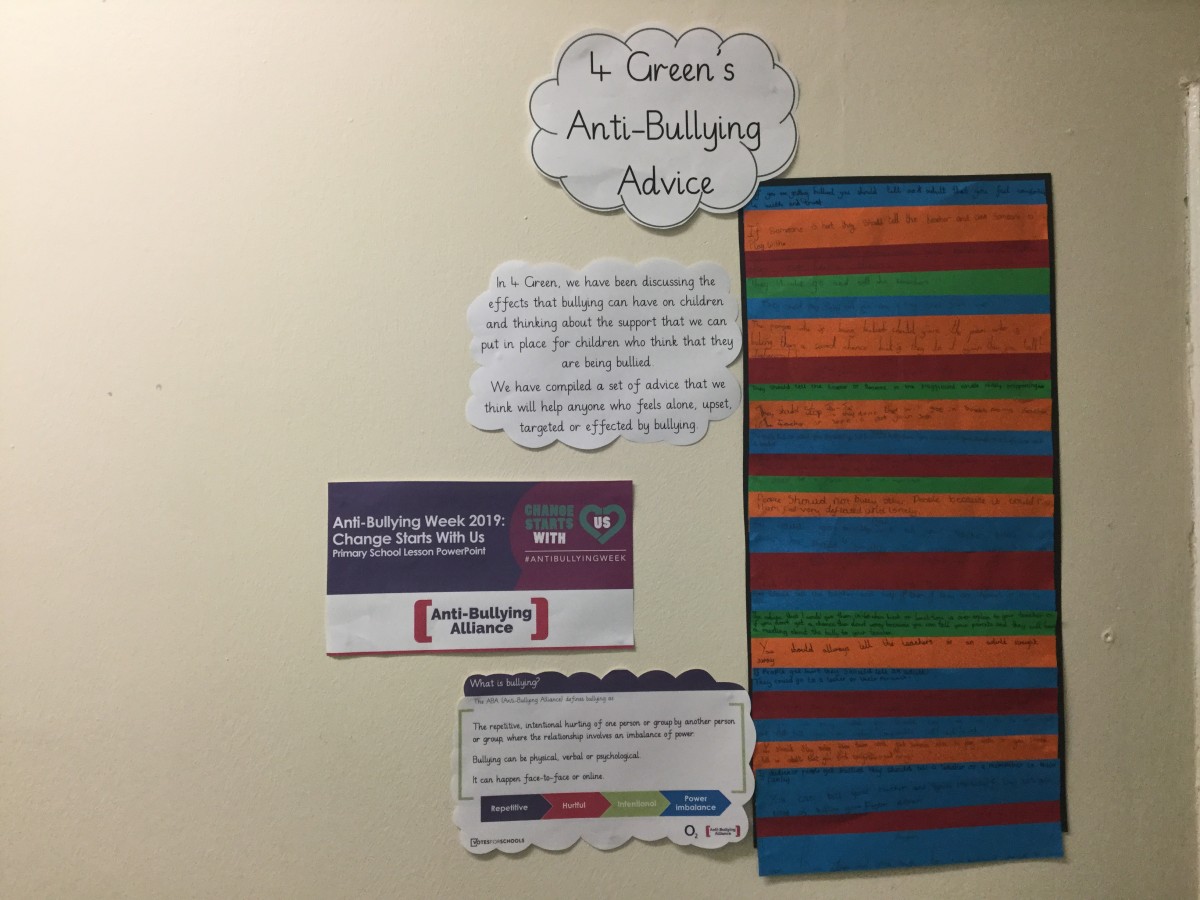 Year 6
For Anti Bullying Week year 6 watched an interactive video where the pupils had to make choices about what they would do in different situations. 6 Green came to the unanimous concensus that telling a teacher was the very best outcome to get the problem resolved.
6 Green made pledges as to how the change would start with them.