Home Learning Highlights
The children in Year 6 have been working extremely hard to produce some excellent pieces of work.
Carnival masks as part of our local history project about Handsworth.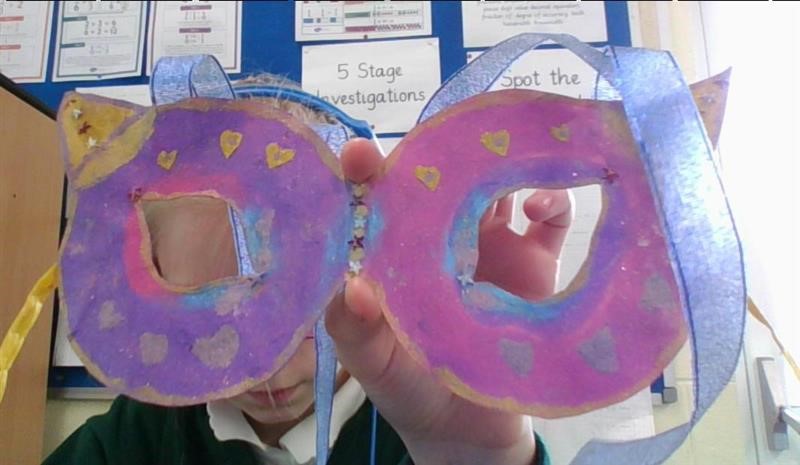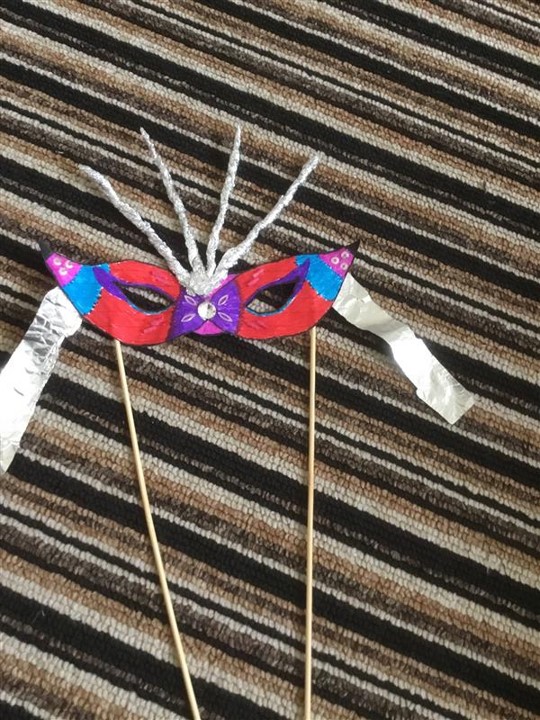 Portal stories - Spring1 week 5
Excerpt from Areesha's work...
Centopia. A place of peace and serenity. Or has it always been? This was a question that Emily Gizaborg had thought of on a regular, boring day in her regular, boring school in her regular, boring world. She hated it. Emily hated it so much that when the teacher was taking attendance, she did not stand up. Instead, she fidgeted with the mirrors, that reflected the blinding sunlight and her grass green eyes. Her bright eyes were contrast to her dark chocolate- coloured hair, which was done in the world's worst ponytail. Emily's hair shaped her slim face, making it 2 times slimmer. To match her hair, she wore a simple, black t-shirt, as the dresses that the orphanage gave out were two times smaller than her size, even though the dresses were right for her age, and also, she preferred a shirt over a dress any day. Her light blue jeans that she bought just the day were already wrinkled, as she had ran around so much, that by the time she sat back down, the full moon was already glistening in the mysterious but beautiful blue sky.
Emily took no notice of the teacher's droning voice and felt her pockets for something to fiddle with. Suddenly, she felt something cold in her warm pocket and when she touched it, it felt as if it was a part of her like a lung or a liver. She could feel a metal chain with a small ring somewhere on it. Emily knew it was a necklace. Then, for some reason, it suddenly seemed as if she knew what to do. Emily snatched the necklace from her pocket, ignored the teacher's yells to come back and stomped up the stone steps to the forbidden wing of the school. She looked around the room in disappointment. It was just a storage room. It was just as boring as her school. As her world. Emily could not stand it anymore. She put the necklace on her neck, and a milisecond later... WHOOSH!!!
Excerpt from Rochelle's portal story...
One day, Lucia arose from her 10 hour slumber and started her day as usual. She brushed her teeth, got dressed in her favourite detective cap, a pale grey t-shirt, a baby blue skirt with plaid overalls and merrily hopped downstairs for breakfast. It was a delicious fried eggs, beans and toast accompanied by fried sausage. Lucia scoffed down the magnificent meal that laid in her sight. Then, she took out her journal and pen. No secrets could hide from Lucia.
She started with her mother's bedroom. She knew she would discover something of interest in there. When she snuck in, something caught her eye... a pendant. When she opened it she found a key. She knew she had to unlock the opportunities behind the basement door. She knew this for how rusty the key was. She bolted downstairs and pushed it into the basement door as her hand began shake in excitement, her face was drenched in sweat. Lucia's heart pounded and then jumped as her father's gruff voice yelled, "WHAT ARE YOU DOING, STOP RIGHT NOW!"
She leaped into the basement and slammed the door. All of a sudden she heard a growl, she ran and ripped open the curtains, she gulped when she saw a bubbling pile of ink on the floor. It grumbled and groaned like a creaky door. As soon as she turned around, however, she gasped when she saw a swirling, misty portal that lay where the basement door once was. Lucia's curiosity got he better of her and she hopped inside. There she was confronted with two buttons. Revive your brother or save your dearest cat Meowkins. Without thinking she slammed the first button and stepped out the portal. It closed. She ran out of the basement and saw her brother stood there, in the middle of the living room. She ran up to him crying and said, "You're back."
Here are some examples of poems that the children whote, inspired by the poem, 'The Magic Box,' by Kit Wright.
Well done Rochelle for this amazing composition:
I opened the magic door and saw...
A world of weirdness to explore,
With carpets in the sky,
And clouds being hung up to dry.
Beyond this magic door,I could swim in the floor
And walk through a closed door.
With cows sitting on glass,
and lions grazing on grass.
Beyond this magic door, I could run in the air,
And use sand to make hair.
With birds with no wings,
While a monkey sings.
Beyond this magic door, I could swim in something I drew,
And make a pot of witches' brew.
Beyond this magic door, I could...
Well done Areesha for this Magic door poem...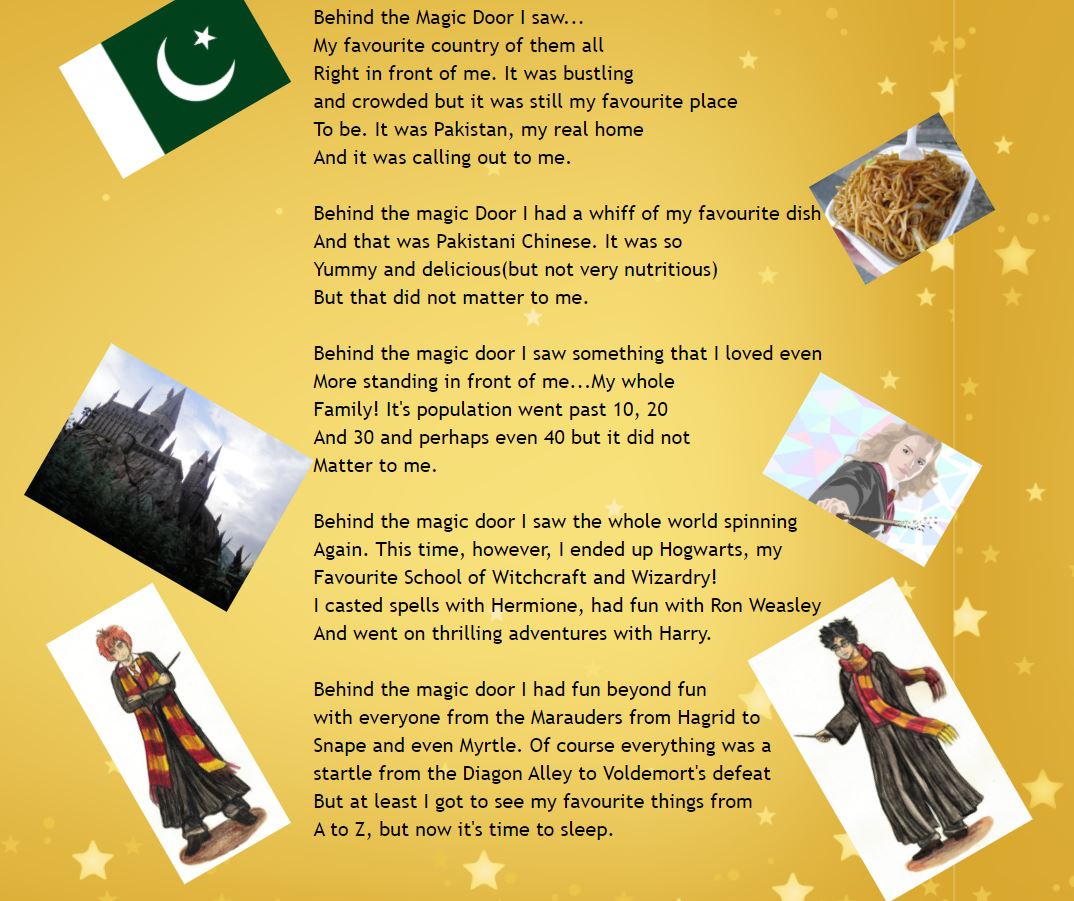 Well Done to Noor, Eshaal, Tahmid, Sali, Areeba and Hrithik for sharing their wonderful ideas.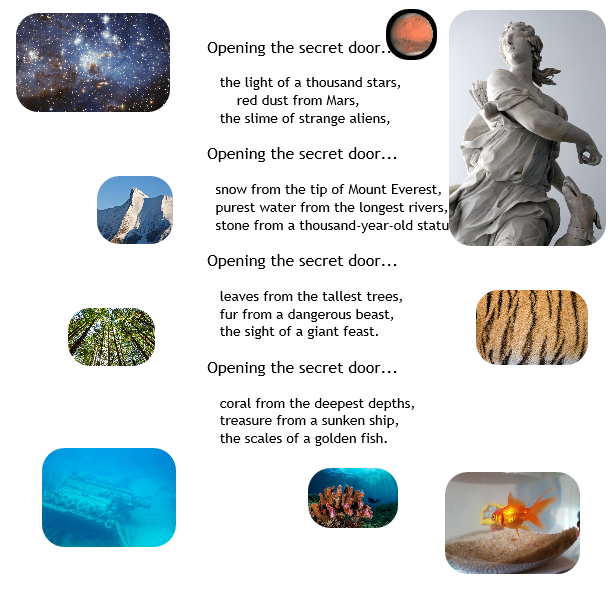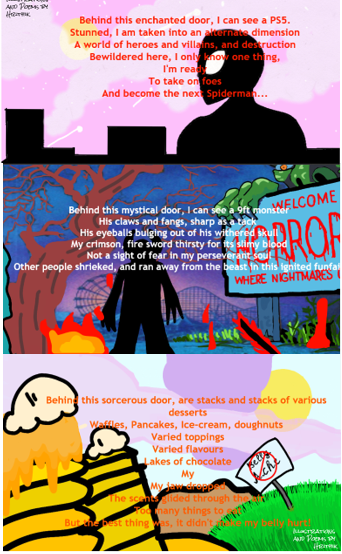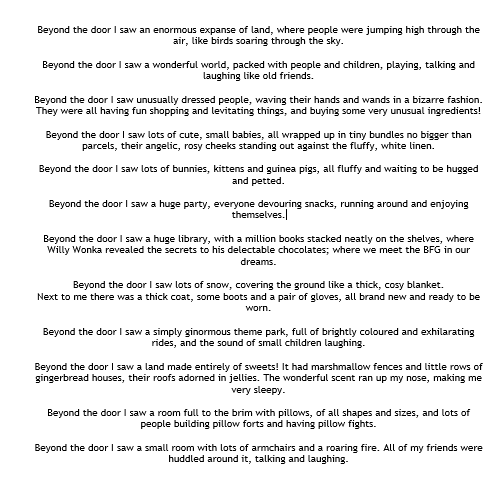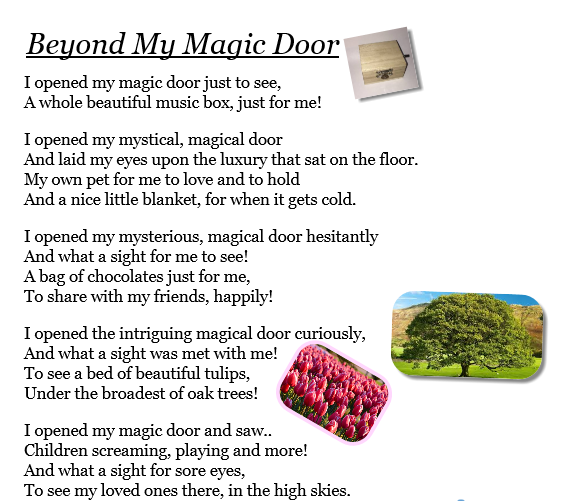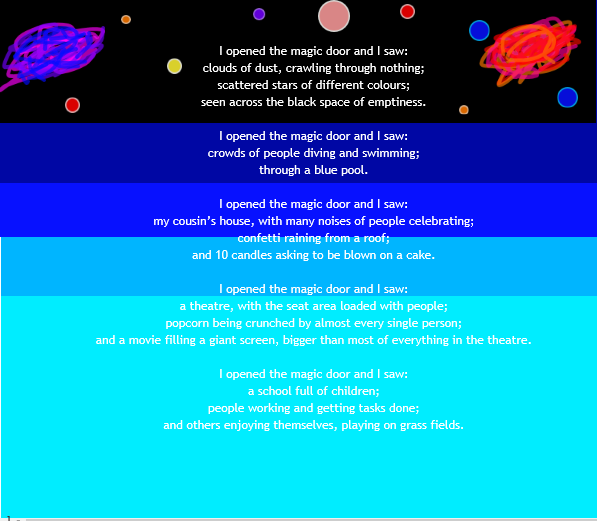 Letter to parents 26.11.20
Knife Crime support for parents and children at Grove School
Dear parents,

I am writing to update you on the informative knife crime workshop which took place yesterday for all pupils in year 6.
The workshop was run by PC Talabani, who based at Thornhill Road police station. The focus of the session was safety, support networks, emotion in crime, and understanding rights and wrongs.
PC Talabani talked to Grove children about 'joint enterprise.' Pupils were helped to understand that people are equally liable if they have the knowledge that someone else is carrying a knife and did not take the opportunity to tell a trusted adult. They also learnt that protection is not a reasonable excuse to use in law for carrying a knife.
Please take the time to talk to your children about keeping safe and knowing what to do if they know someone is carrying a knife.
Here are some helpful sites to guide you through talking to your child at home:
http://www.knifecrimes.org/000904_KNIFE_A5_LEAFLET.pdf A guide from the Home Office on how to talk to your child about knives.
https://parentinfo.org/article/if-your-child-is-in-a-gang Home Office advice on knives and what to do if you are worried about your child being in a gang.
https://www.childline.org.uk/info-advice/bullying-abuse-safety/crime-law/gun-knife-crime/ Useful information about knife crime.
At school we will continue to support the children to understand the importance of staying safe and helping to keep others safe.
If you would like to talk to me further about this matter or you have any concerns about safety please email me: e.mills@grove.bham.sch.uk

Yours sincerely,
Miss E Mills
Deputy Headteacher

Dawson Road, Handsworth, Birmingham, B21 9HB
Tel: 0121 464 4669 Fax: 0121 464 0508 Email: enquiry@grove.bham.sch.uk