Year 6
Work whilst learning at home
Below is an excellent example of writing, based on Shakespeare. This pupil has written the beginning of the Chapter 5 of King Lear (which the children are reading on Bug Club).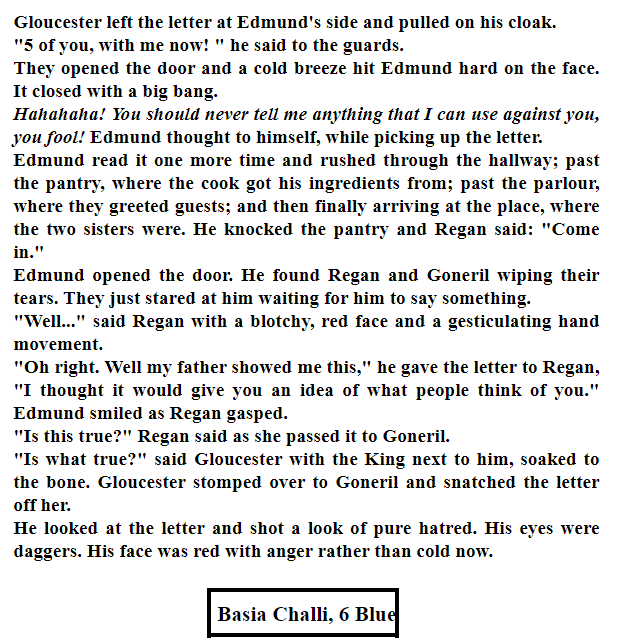 In Science the children have been creating a nature guidebook for their local area. Below is a brilliant example from Angad.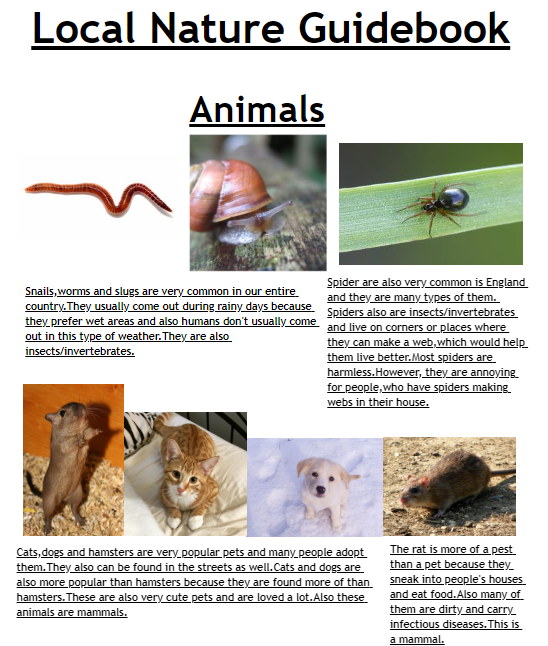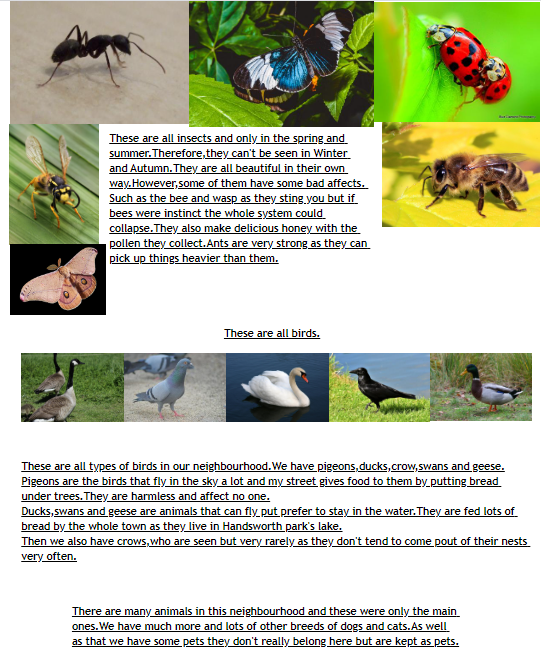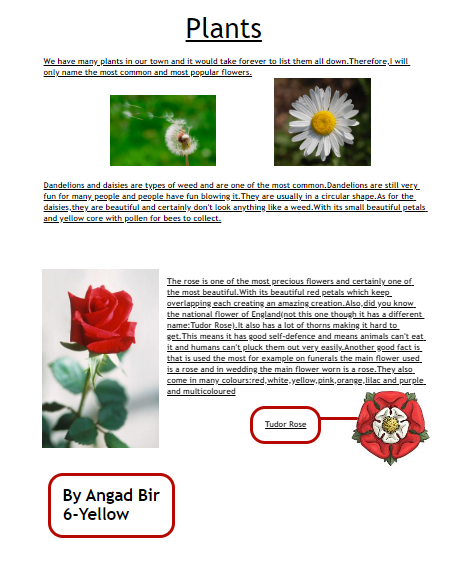 This week the children have begun reading Shakespeare's King Lear. Here are reflections from three of the characters at the end of Chapter 1:
King Lear
Dear diary,
Today was the day that my youngest, favourite daughter was going to get married. However, I now feel as if she does not deserve to be my daughter and have two generous sisters: she has disappointed me and does not love me as much as I used to love her. Today, I split the Kingdom in half and gave each half to Goneril and Regan. They care for me more than anything but Cordelia loves me the same as she likes other things which is not enough to be part of my family. Foolishly, I thought that Cordelia would get the best part of the Kingdom; what she got is worse than getting the smallest amount. She got nothing! Goneril and Regan's answers were brilliant! I didn't think they'd like me that much after saying that Cordelia is my favourite; I thought that they would be jealous and angry with me. I felt heart-broken and enraged when Cordelia gave me her appalling answer. Cordelia should be banished like Kent and my two loyal daughters should be treated as if they are the best people in the world.
Goneril
Dear diary,
Today was the best day of my life! Cordelia is no longer father's favourite daughter and I have half of the kingdom to myself! Now that father's not King, I will flatter him even more to get all of his things from being King and Regan won't know. I am so clever! Father gave us such an easy task! I knew straight away that I would get the best part of his Kingdom. As I have my own land, I will have servants to do everything and I will not let anyone else step into my area, especially not Cordelia. She deserves to be hated: she was always the favourite and the best but that will be me. I will take over the country, making everyone do what I say and if they don't, they will be executed and the first person to die will be Cordelia. Father will be so proud!
Cordelia
Dear diary,
When I first found out that father was splitting his power, I thought that he was being very kind to us but I was confused: how was he going to make sure that we all get an equal amount. From what he said after, I said what I said because I wanted him to know how selfish my two sisters were. From his reaction, I felt extremely sad. Not because he didn't like me: he fell for the flattery of my two sisters and had given all his power to waste. When the King of France proposed to me, I felt very happy because he spoke the truth and he showed that he cared for me and didn't want to marry me for money. I am very worried about father because he will be giving Goneril and Regan all his precious things and his reputation could get ruined: my sisters could do something bad while being in charge.
Below are examples of wanted posters for Edgar.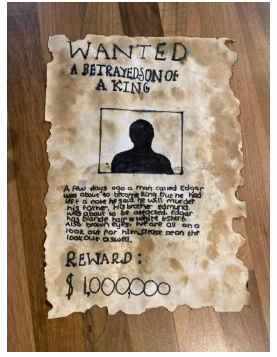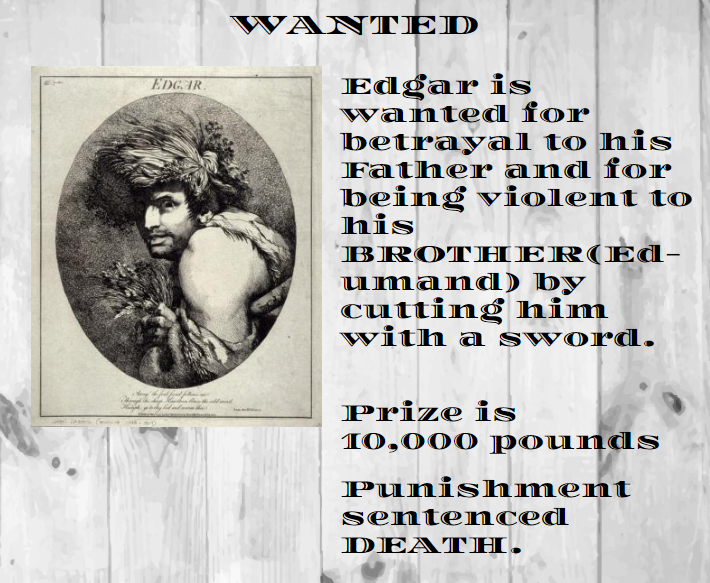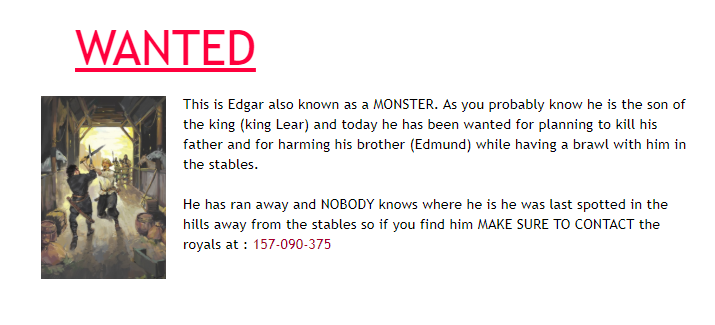 The children have been pop artists this week.
Have a look at this amazing art by pupils where they have merged the styles of Litchenstein and Warhol.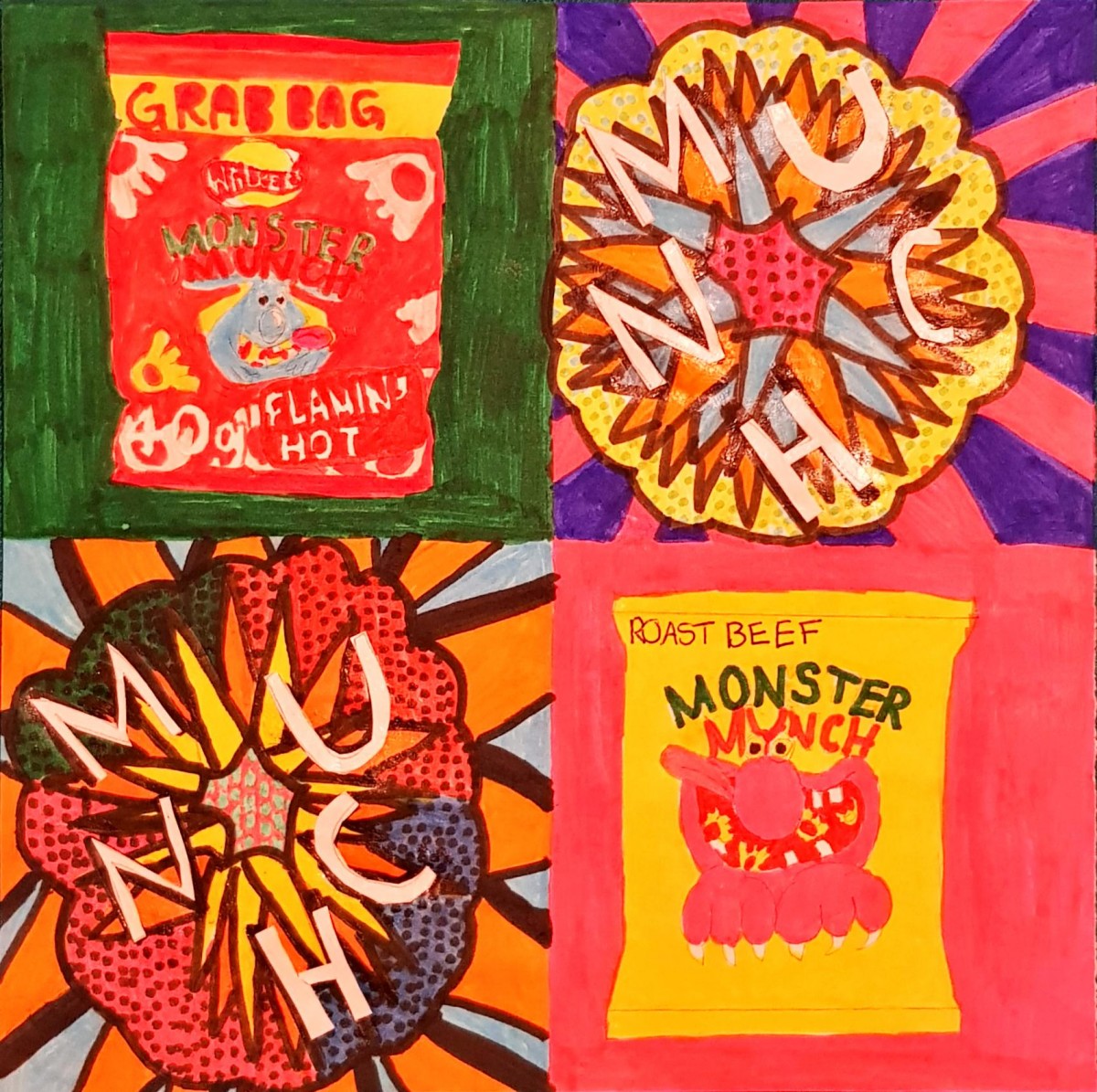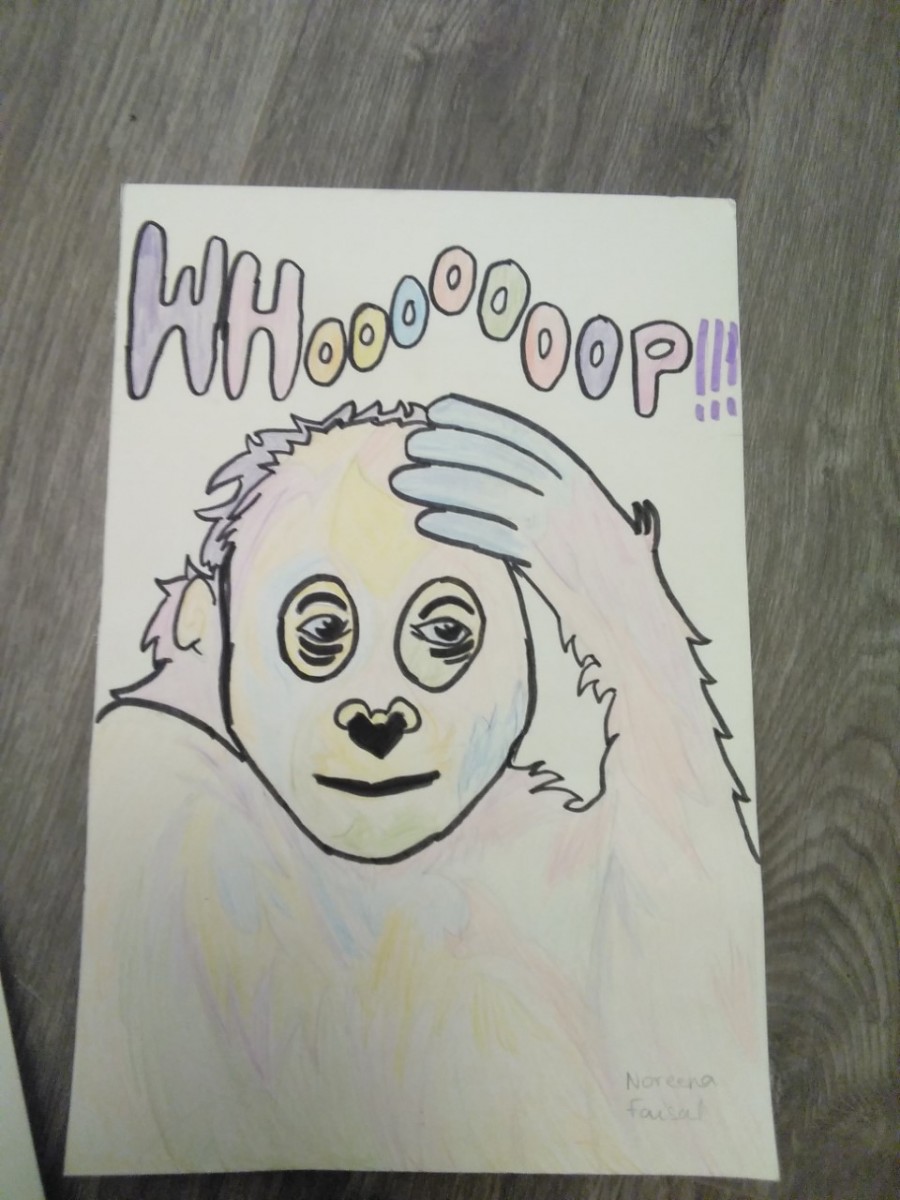 Faiz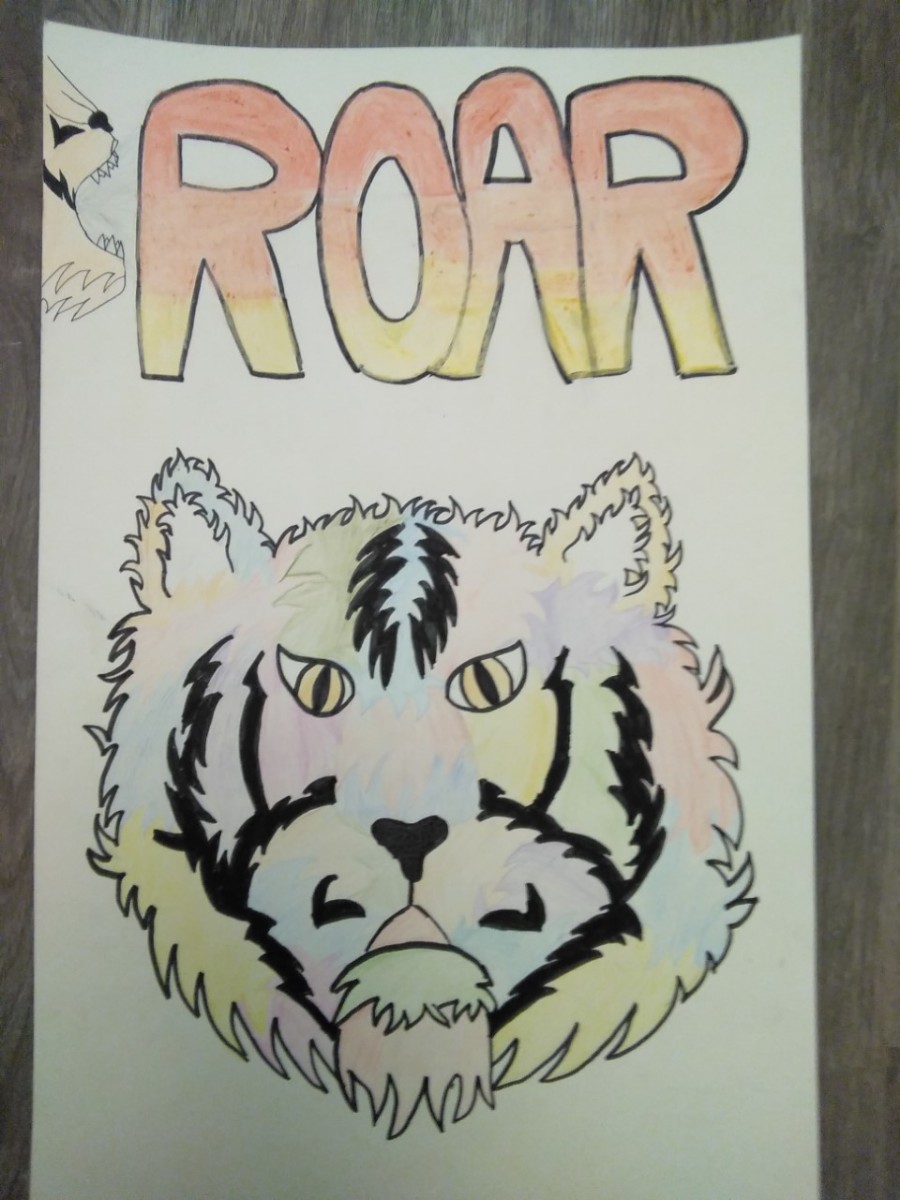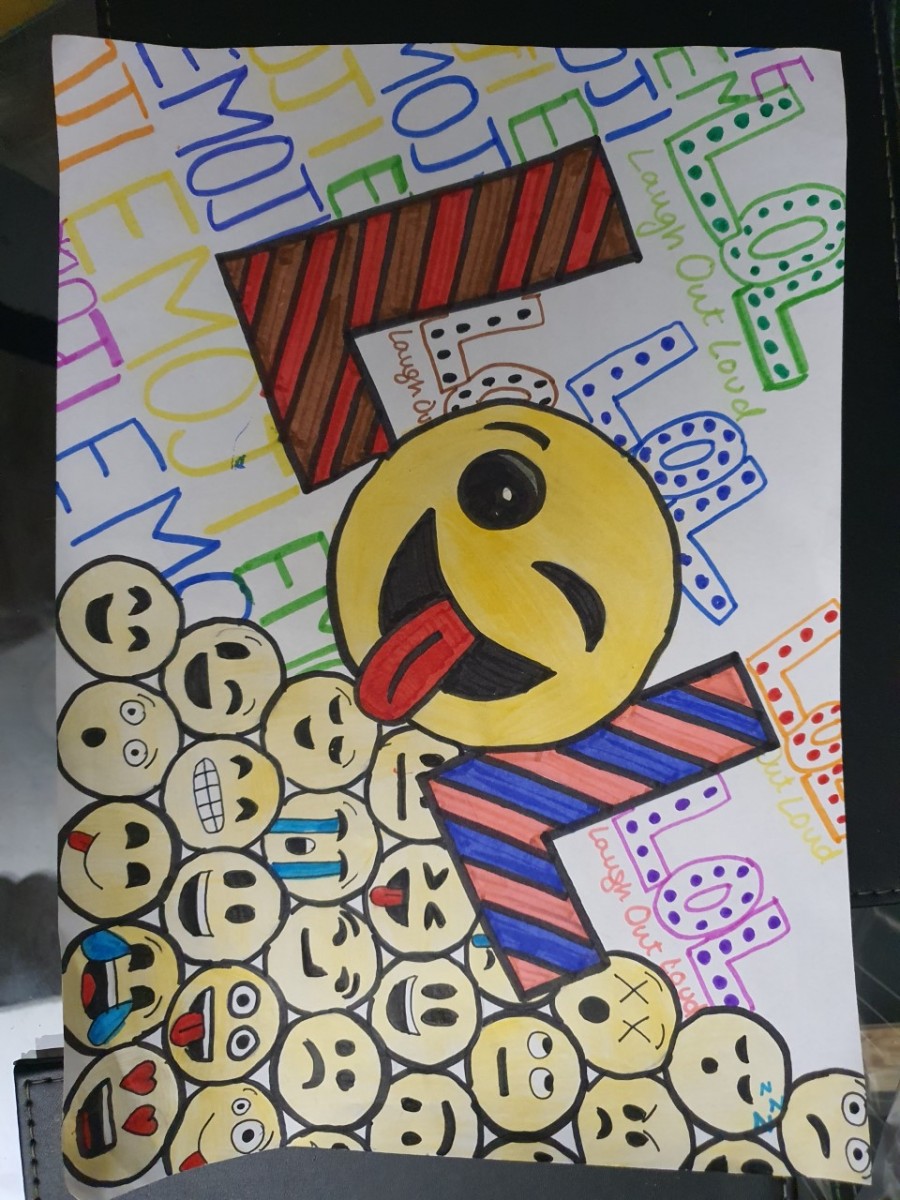 Taybah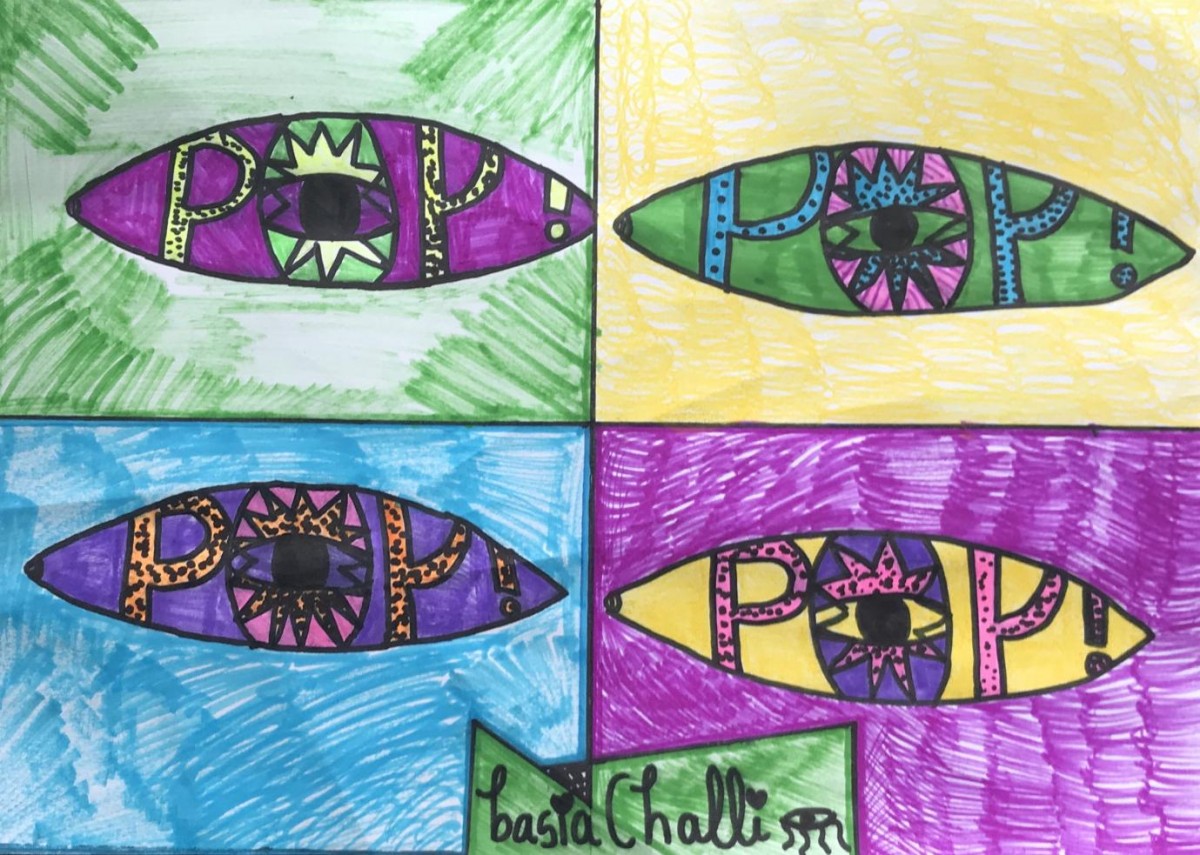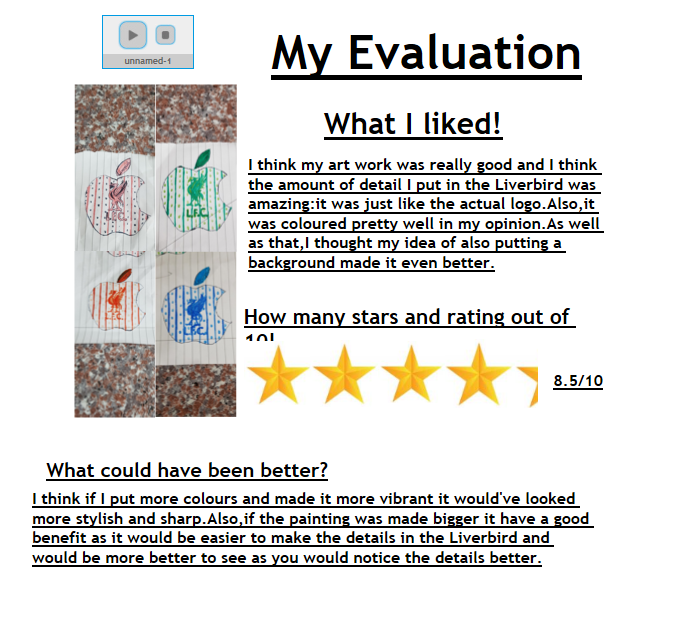 Angad
Below are some of the pupils memories of Grove: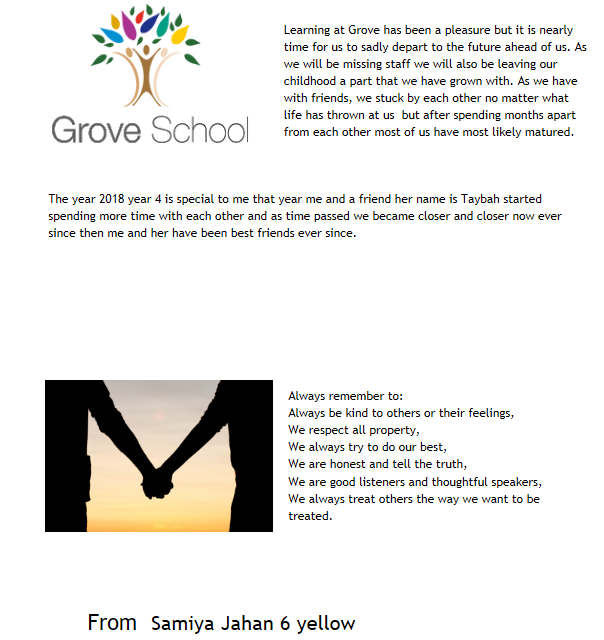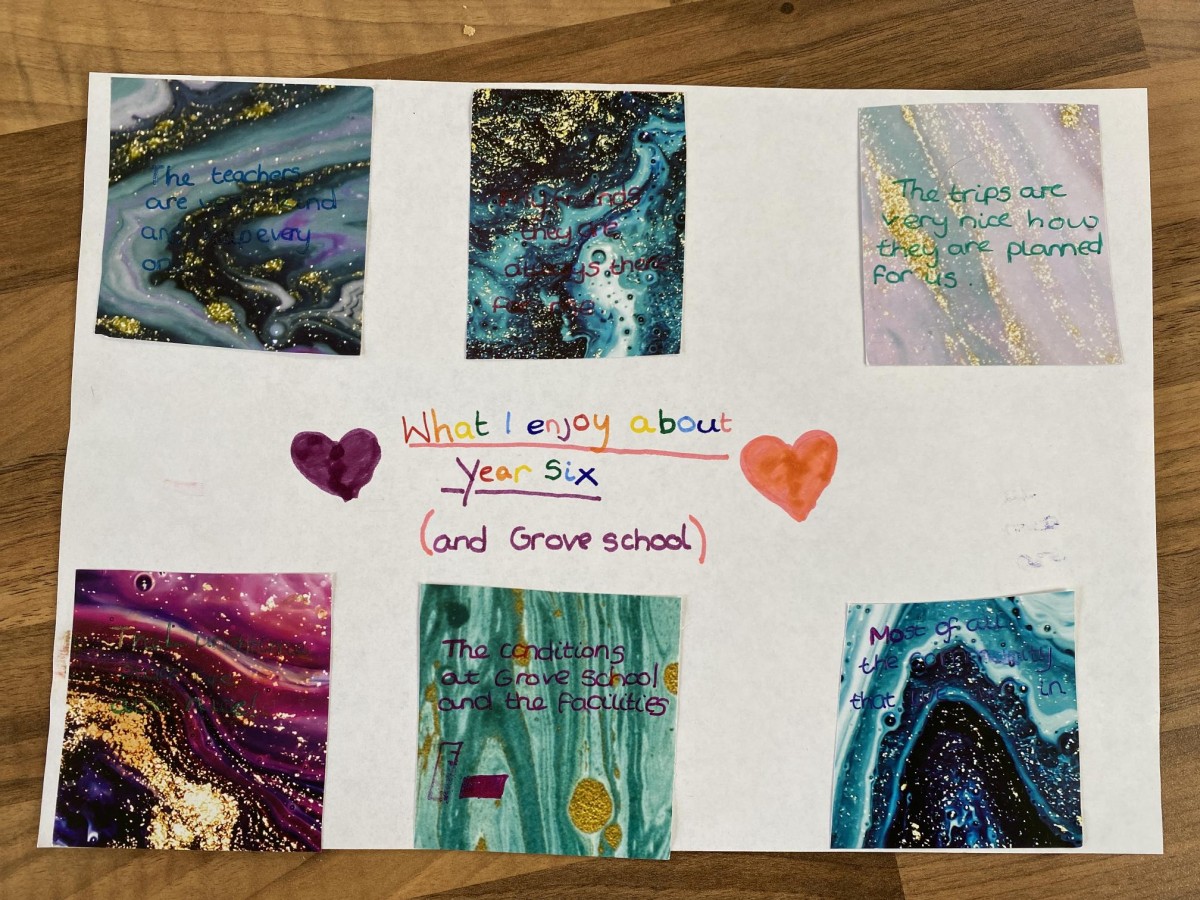 Sumayah
The children have just finished Chapter 3 of the Ickabog. Here is one child's perception of King Fred: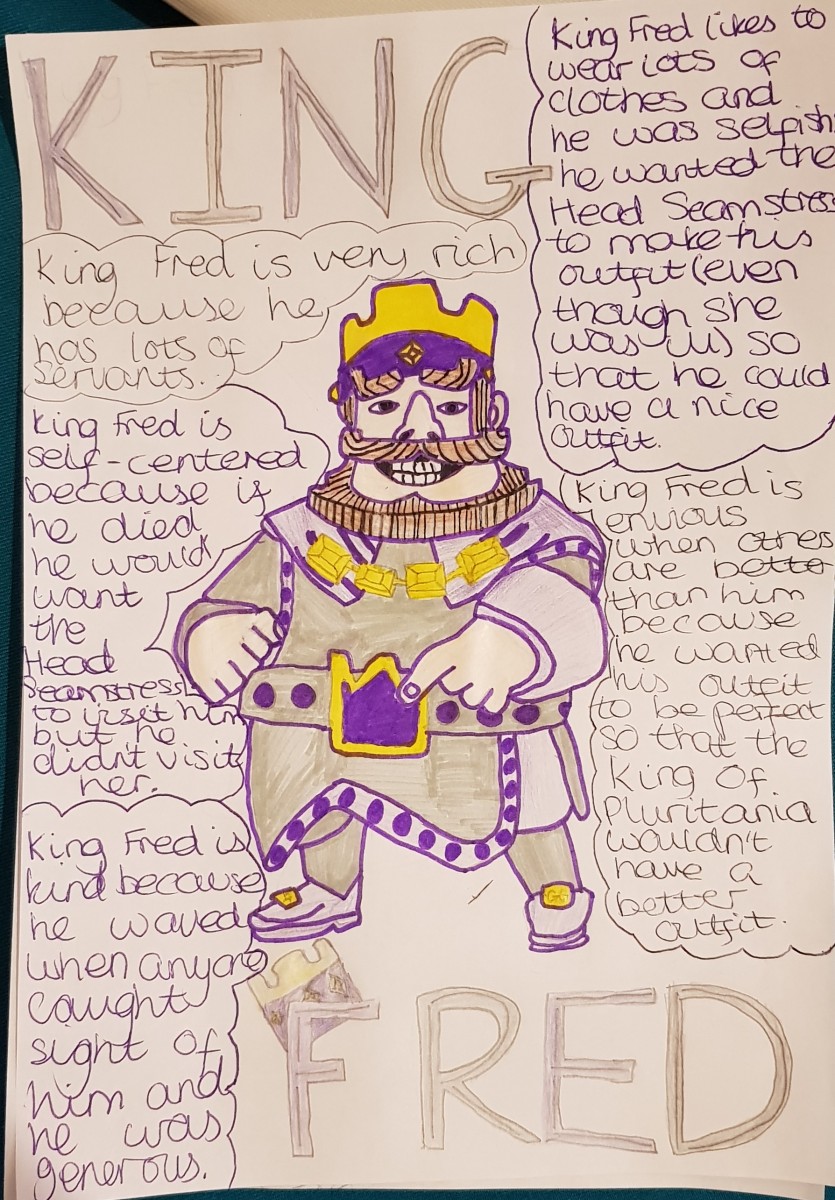 Here is some of 6 Green's online safety work:
The children have been continuing to learn about classification, looking in depth at the 'Father of Taxonomy', Carl Linneaus. This child has classified a range of organisms into their kingdom brilliantly.
6 Red have continued to create some fantastic Pop Art. Here are two amazing pieces based on Liechtenstein's work.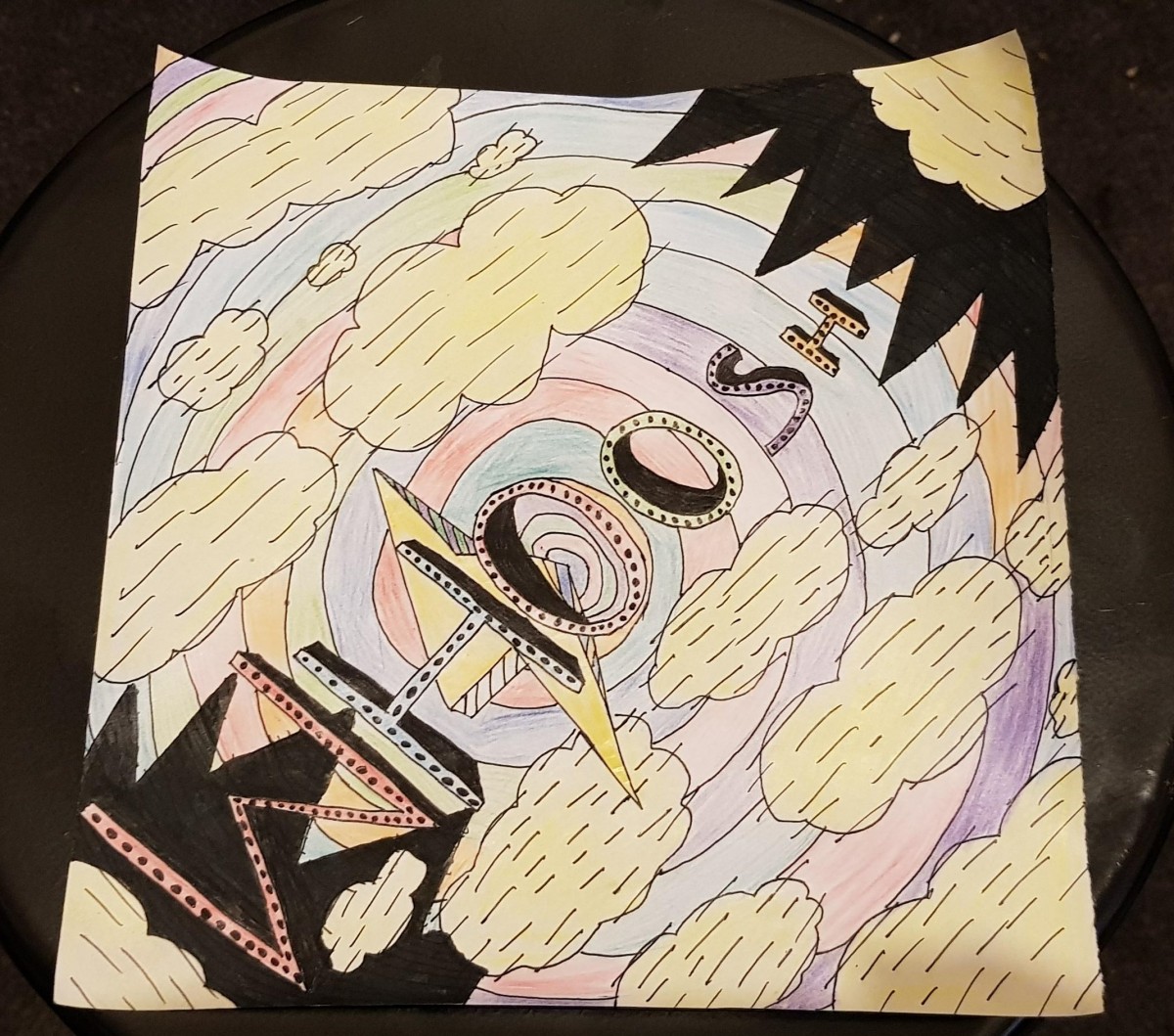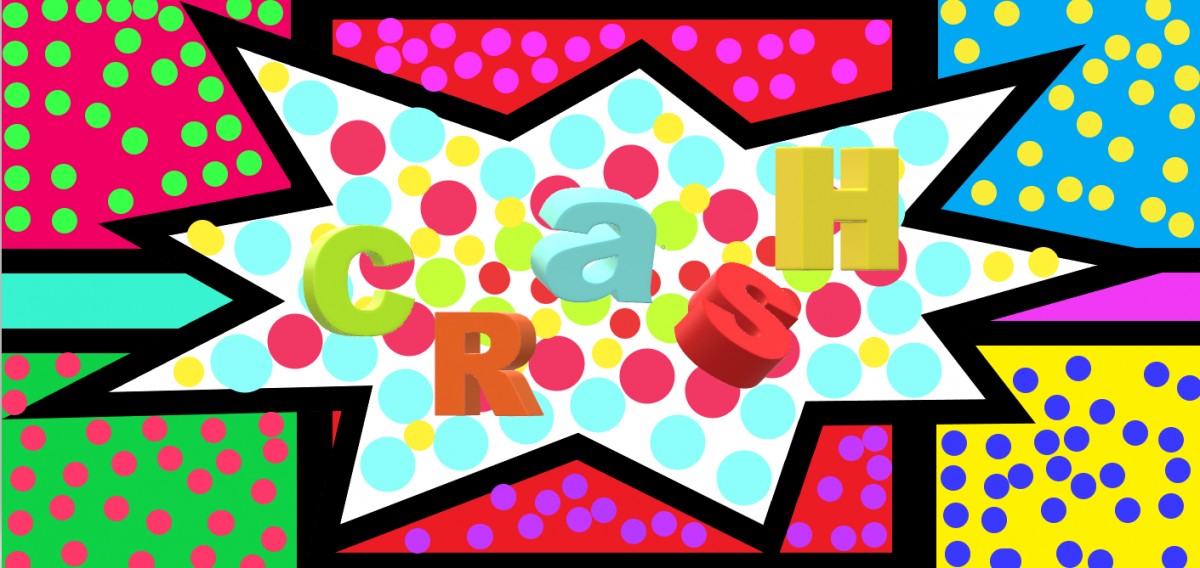 The children have begun reading the new J. K. Rowling story, The Ickabog. One child used the description in the first chapter to draw this stylish map. Fantastic!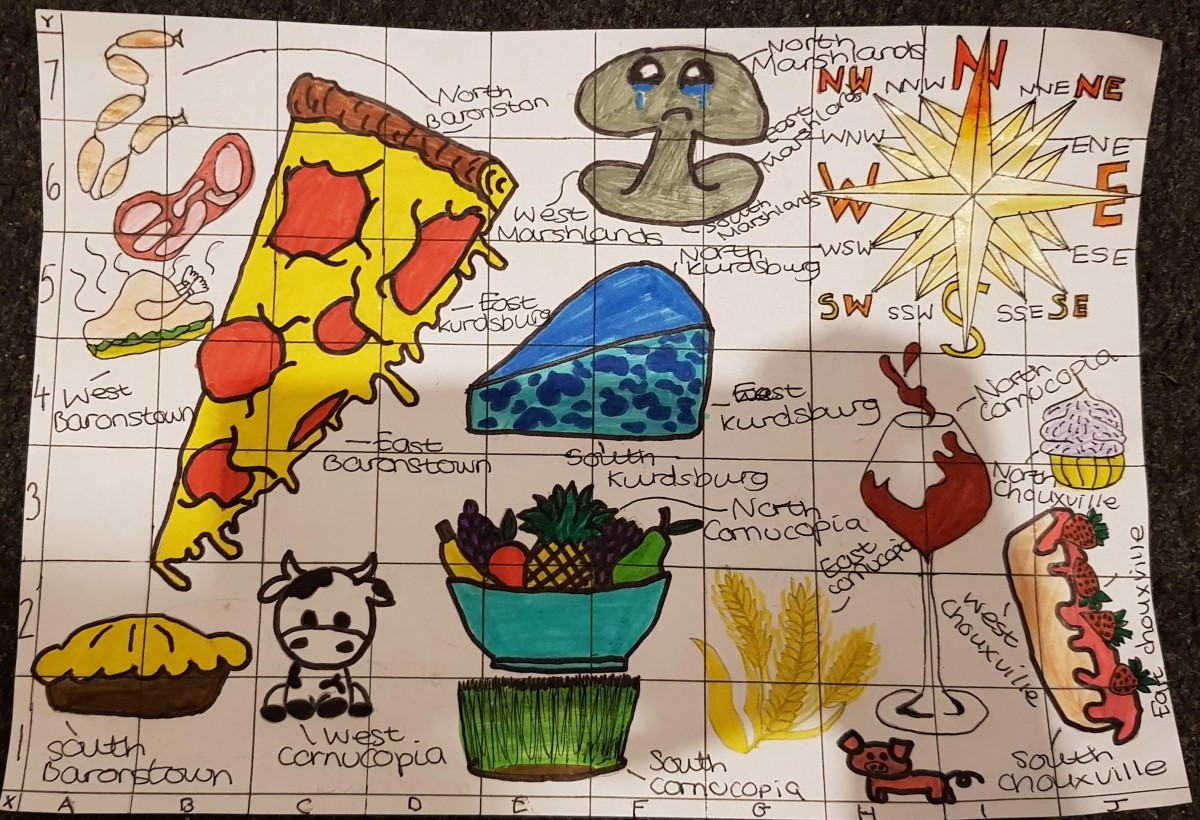 The children have been learning about Edward Jenner's discovery of the smallpox vaccine in Science. Here is one child's amazing research:
Oumou has begun to write her own twisted tale based on Beauty and the Beast. Here is the start of her story:
The children in year 6 have written thier poems inspired by 'Junk, a Tale of Jasper O' Leary'. Here are some examples: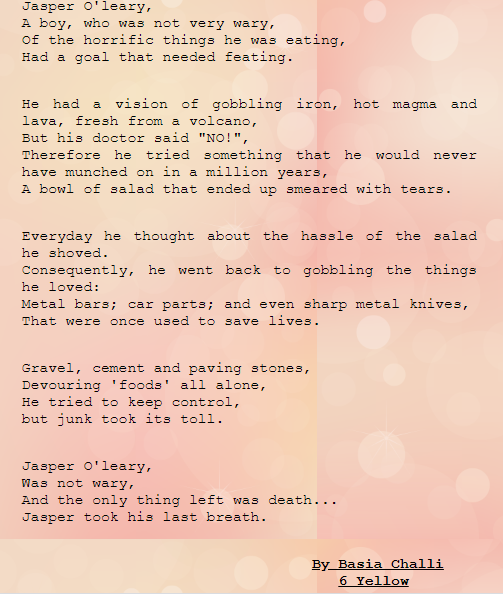 As part of our Geography topic, the children used the DigiMap softwafe to find out the 6 figure grid references for London landmarks. They then researched these in more detail. Here is Anoop's research on the Shard:
Harpreet has completed her holiday project to an amazing standard. Here is her cartoon strip summarising the story of Hamlet and the puppets she made of the characters for when she acted it out. Well done Harpreet!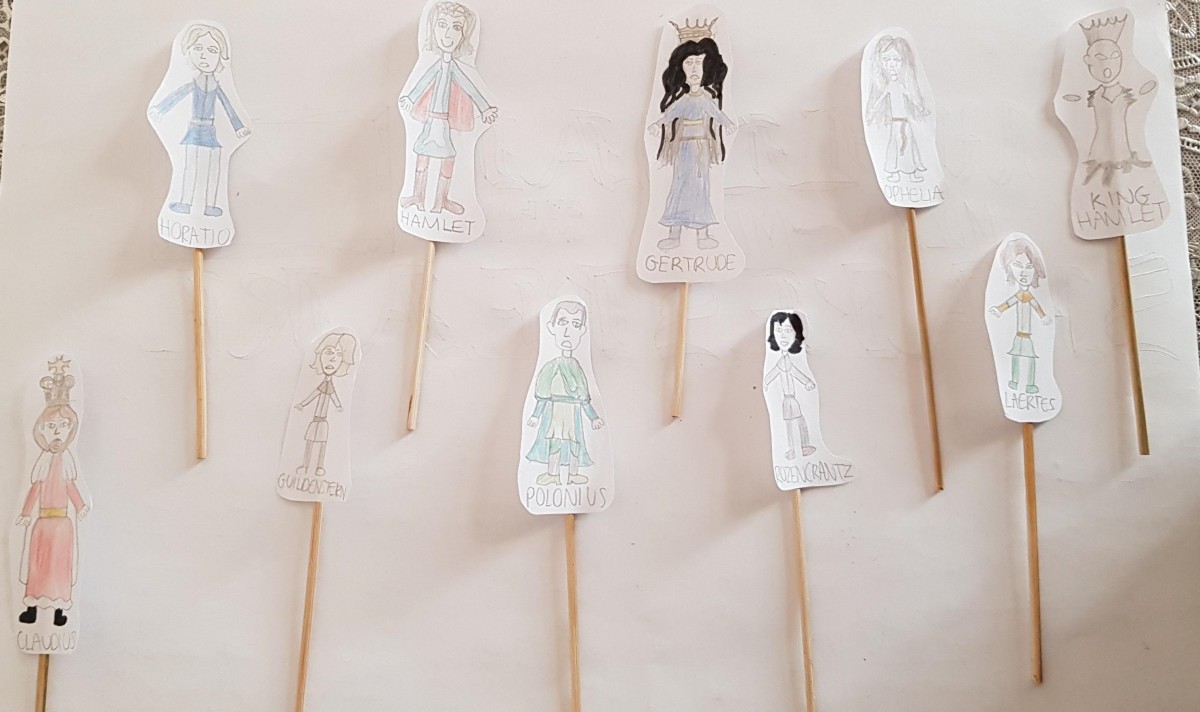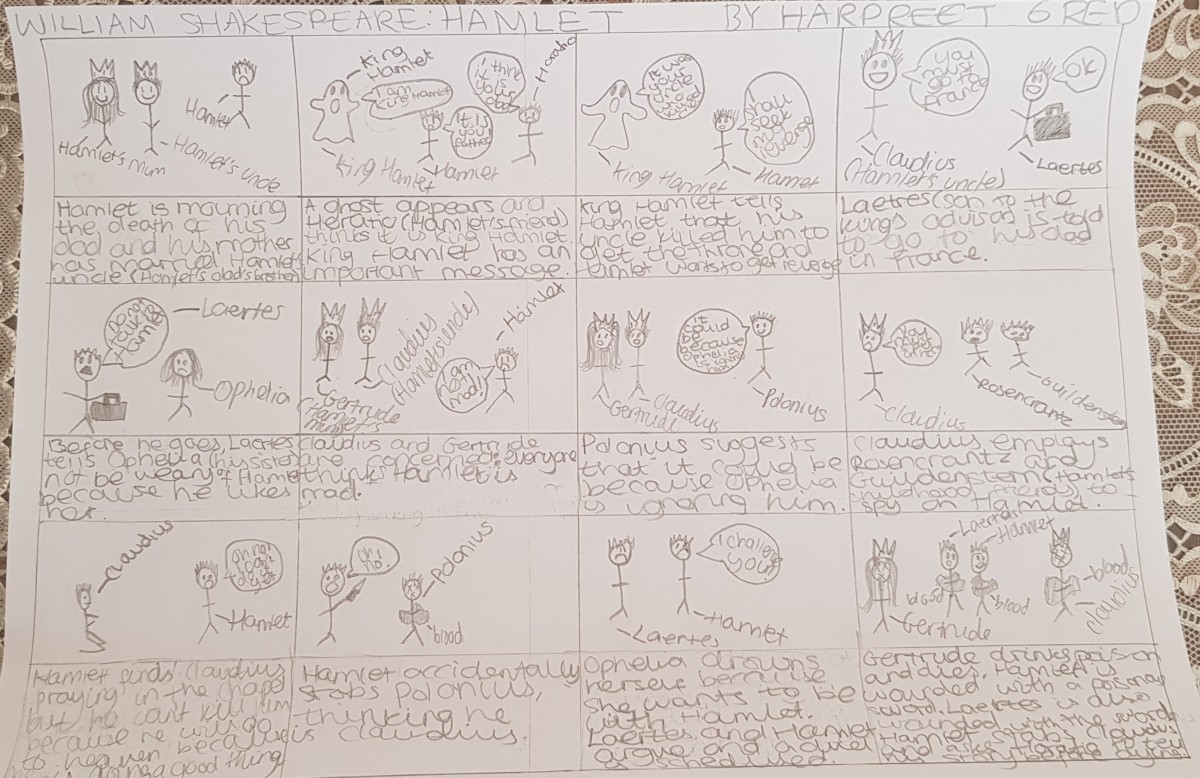 Sana has written this brilliant biography of William Shakespeare for her holiday project:
Here are some Shakespeare holiday projects by pupils in 6 Yellow. The children have been working hard!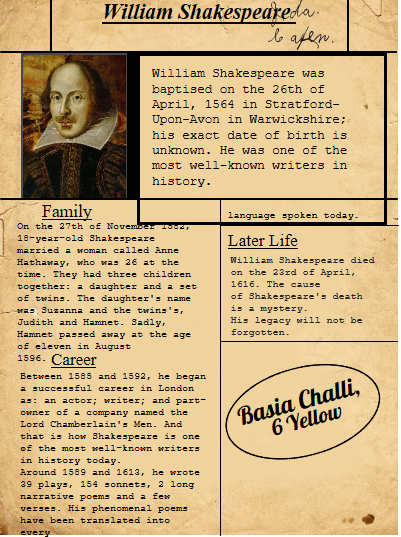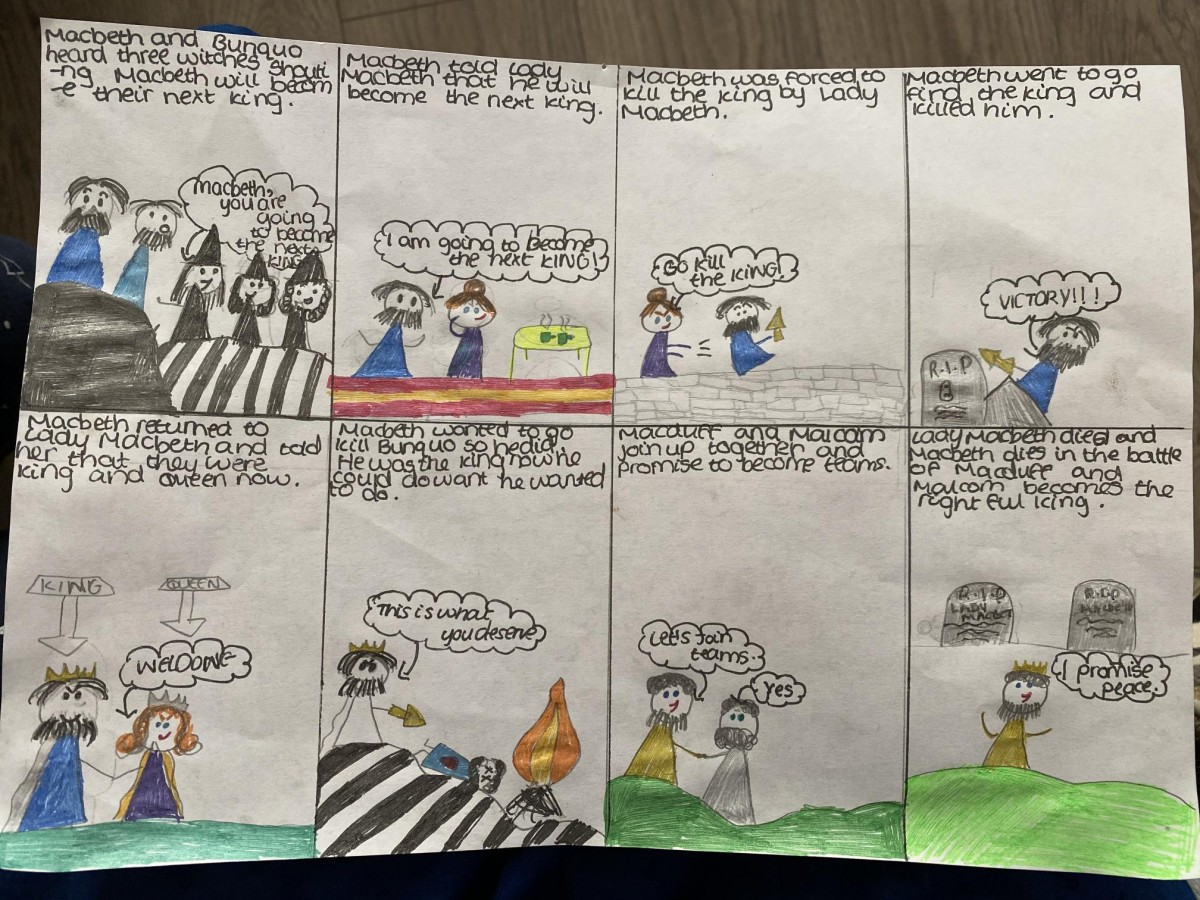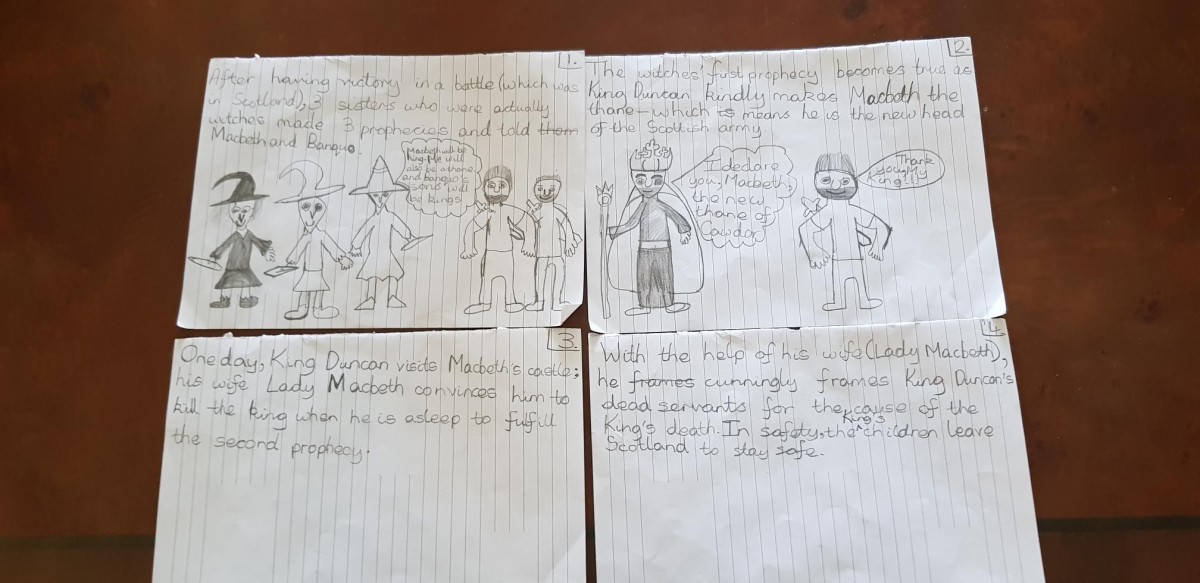 This week the children in Year 6 have been learning about the River Thames and its uses. Here is a fantastic poster created by one child:
As part of their Science topic this term, the children have been learning about different microorganisms. Here are some notes that one child compiled:
Look at the beautiful poem about destruction in nature that Anoop has written: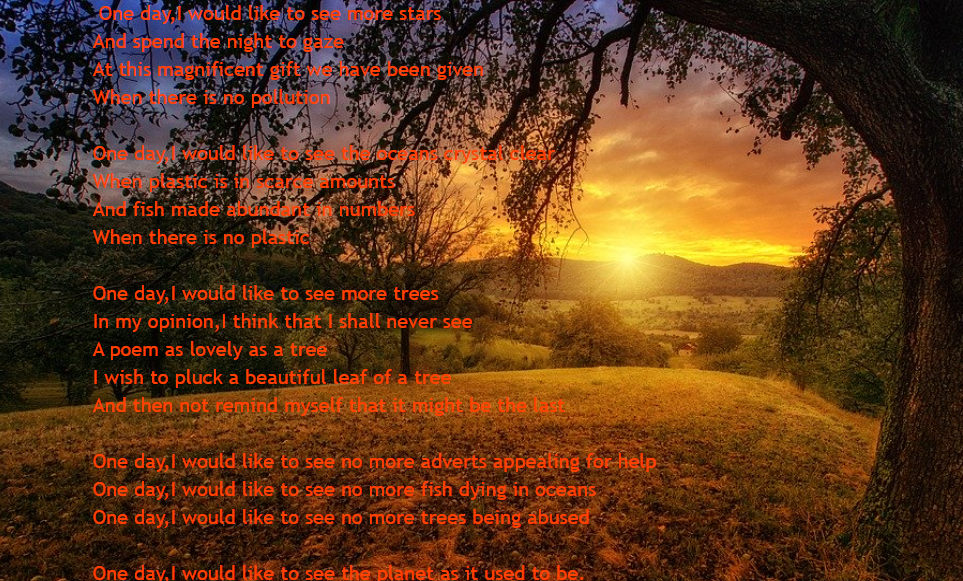 Here is a poem from K'Yaana in 6 Green
Here are some very thughtful poems from pupils in 6 Yellow: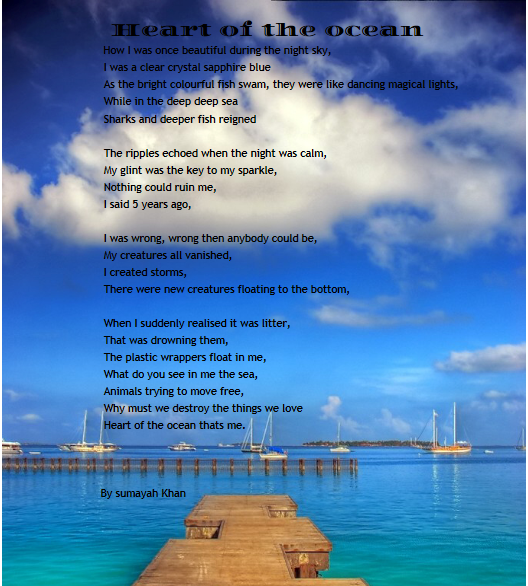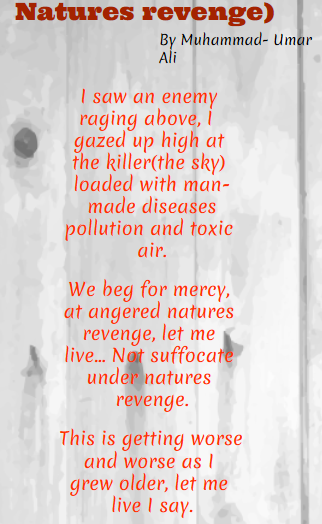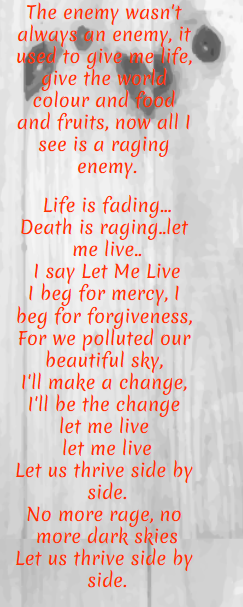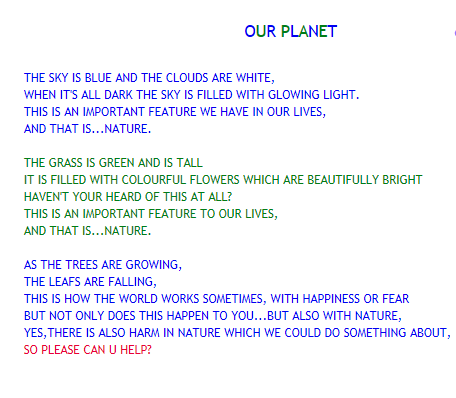 By Tahiya
Nitika in 6 green has created this piece of Pop Art. Do you recognise the logo?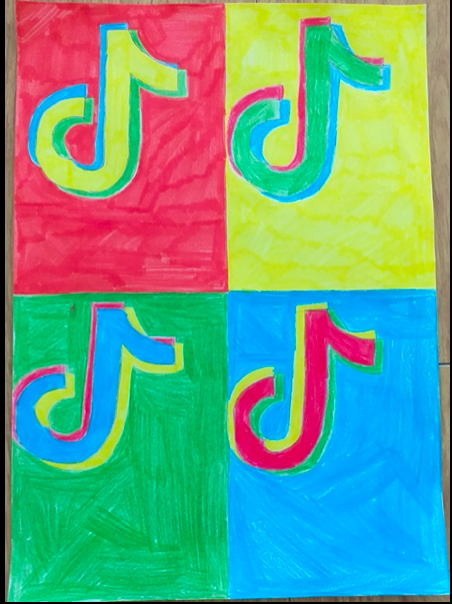 Look at this fantastic piece of Pop Art Anoop in 6 Red has created: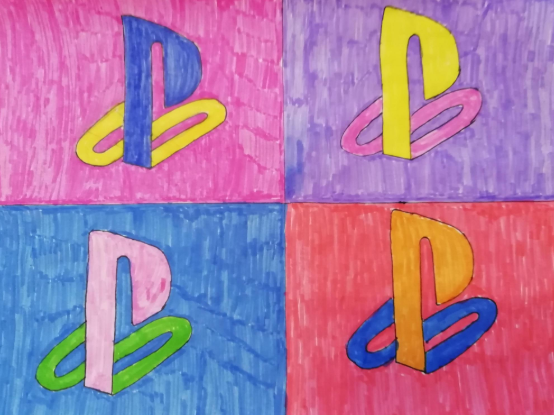 Here is Harpreet's amazing artwork: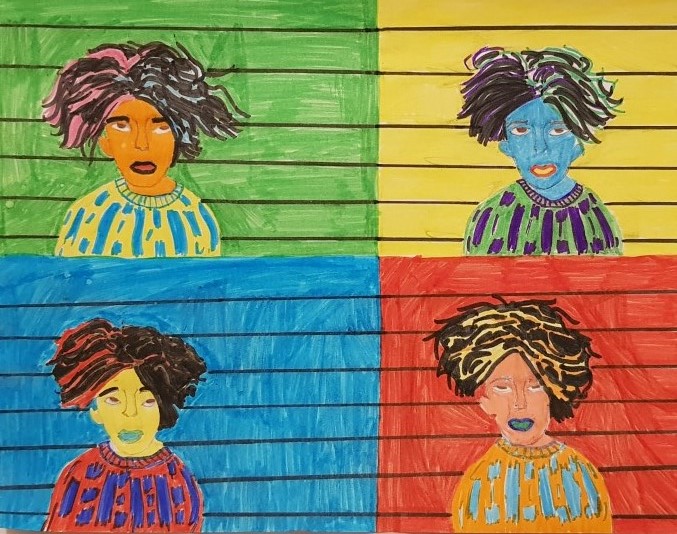 Here is Basia's amazing pop art: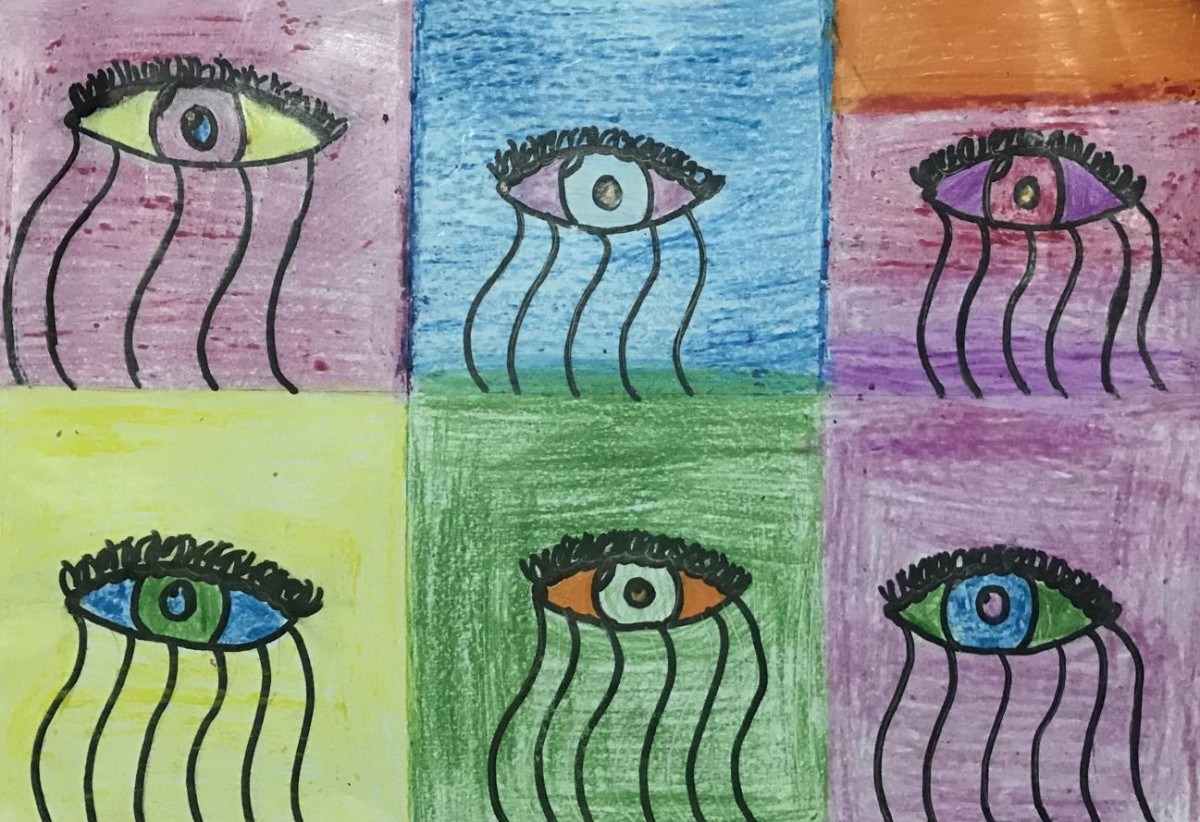 Take a look at Sumayah's Pop art inspired artwork: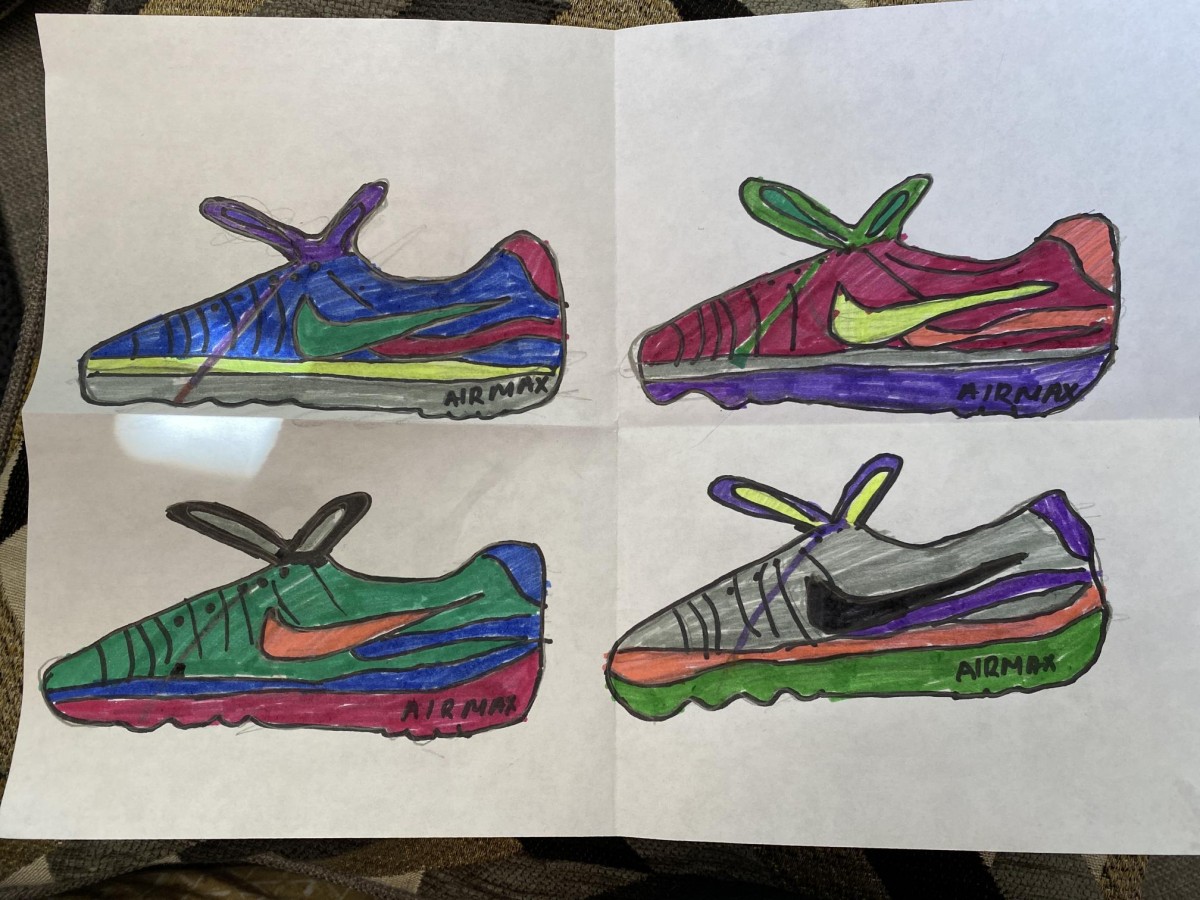 Taybah in 6 Yellow has been inspired by the upcoming celebration of Eid: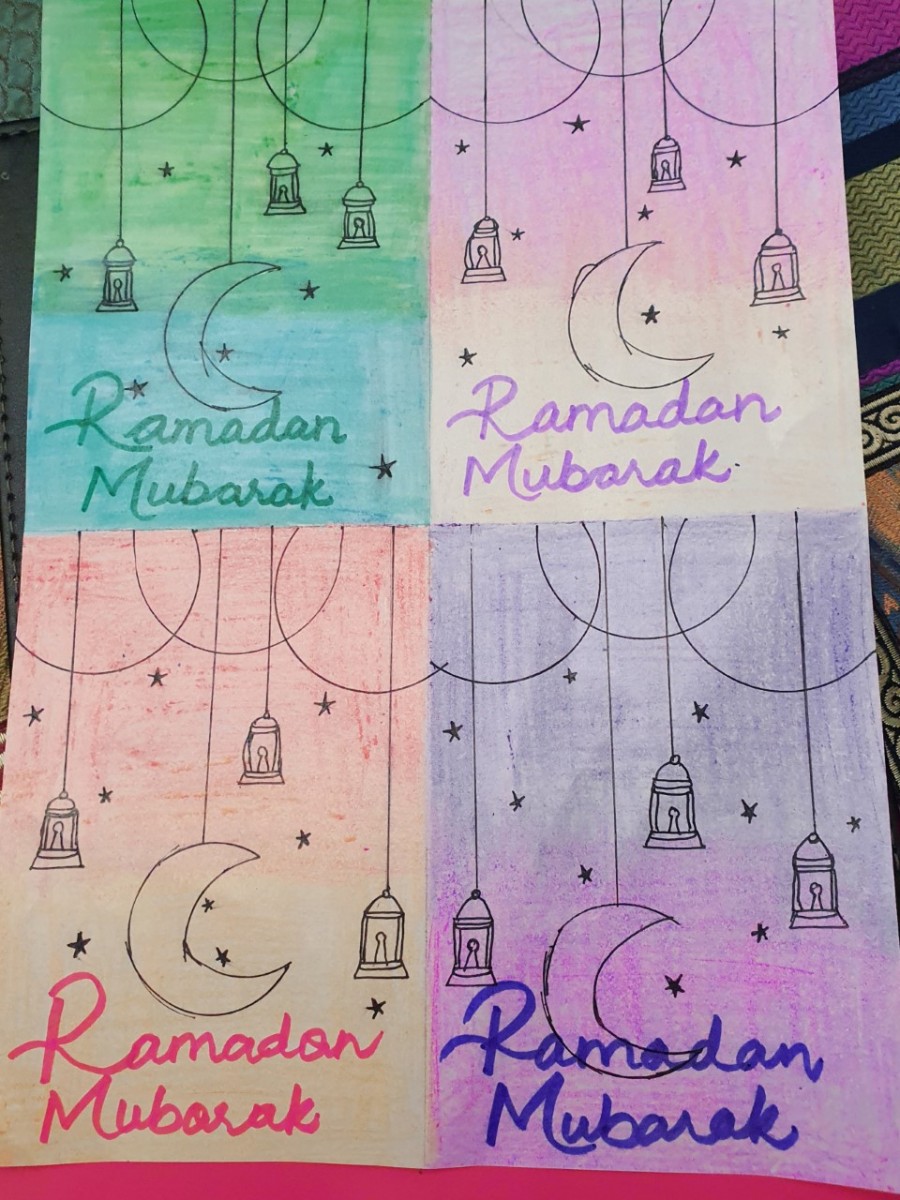 The children in Year 6 have been enjoying reading 'the Reptile Room'.. Here is one child's prediction about what will happen at the end of Chapter 7:
The children in Year 6 have been writing biographies of Florence Nightingale or Mary Seacole. Here is one excellent example:
Here are some brilliant examples of biographies from 6 Yellow: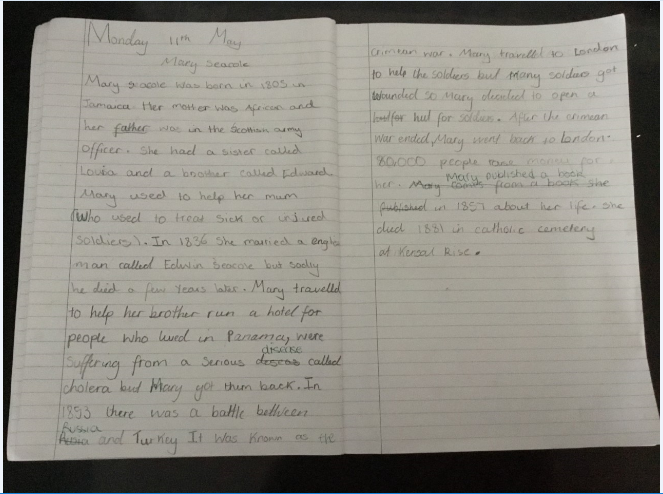 By Zainab Kazmi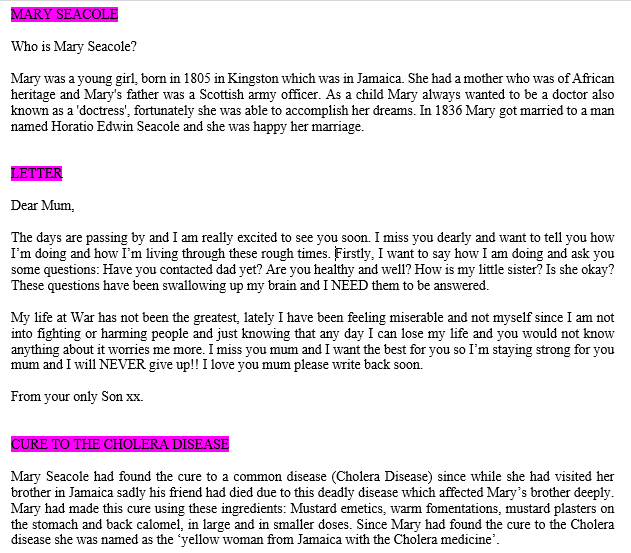 By Tahiya Miah
As part of our VE day celebrations, some children designed a poster saying 'peace' in lots of different languages. This one looks fantastic: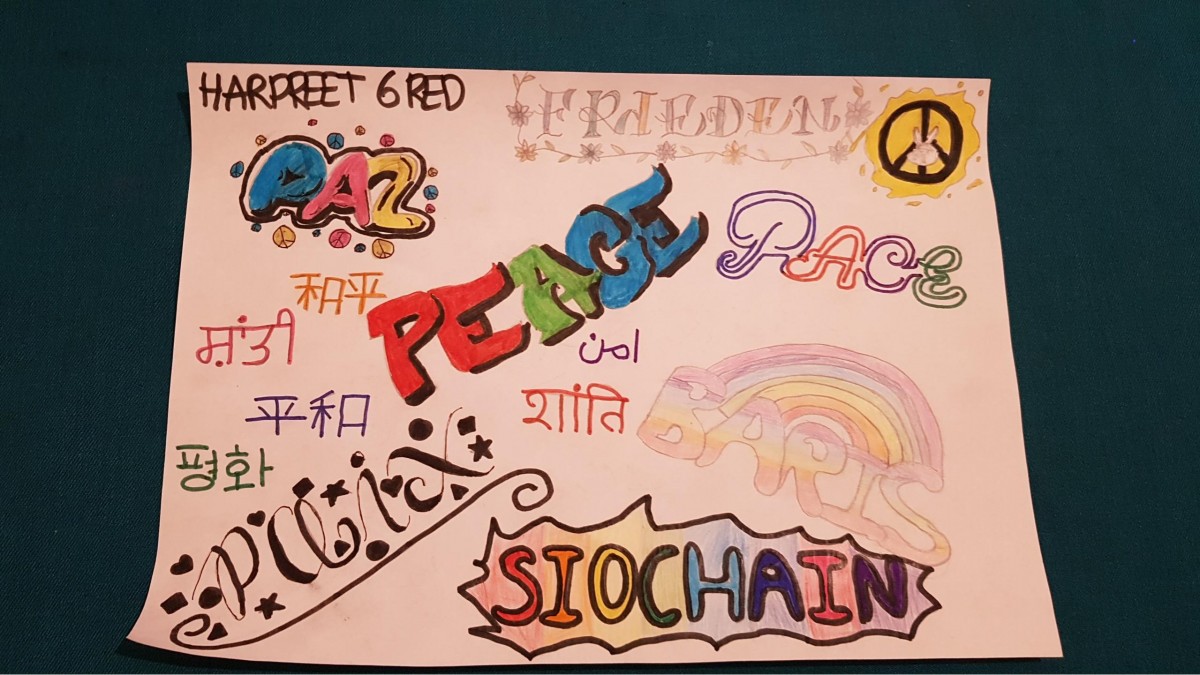 In music this week children have been listening to a piece of music by the composer, Edward Greig. Here is a factfile created by Basia about Edward.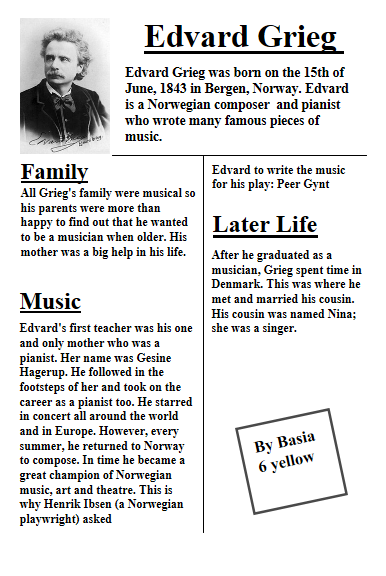 We have just begun reading the 'the Reptile Room', the second book in the 'Series of Unfortunate Events'. Angad from 6 Yellow has made these predictions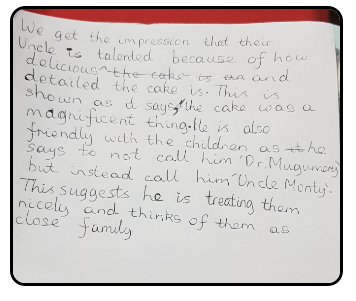 Everyone has been working so hard in their Maths this week:
Basia from 6 Yellow has written a brilliant letter sharing the experience of a solider in war.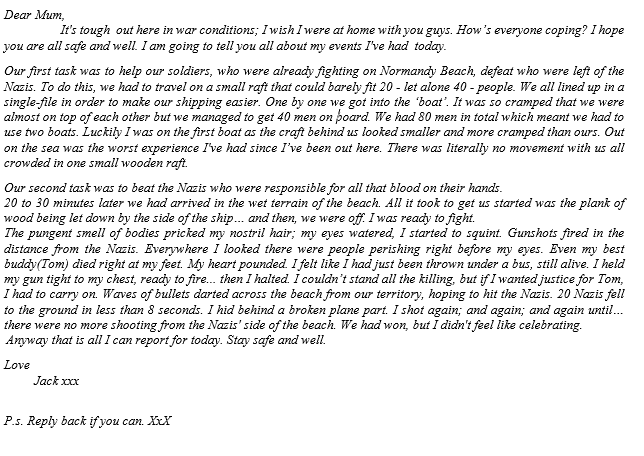 Aisha from 6 Green has improved her ride design.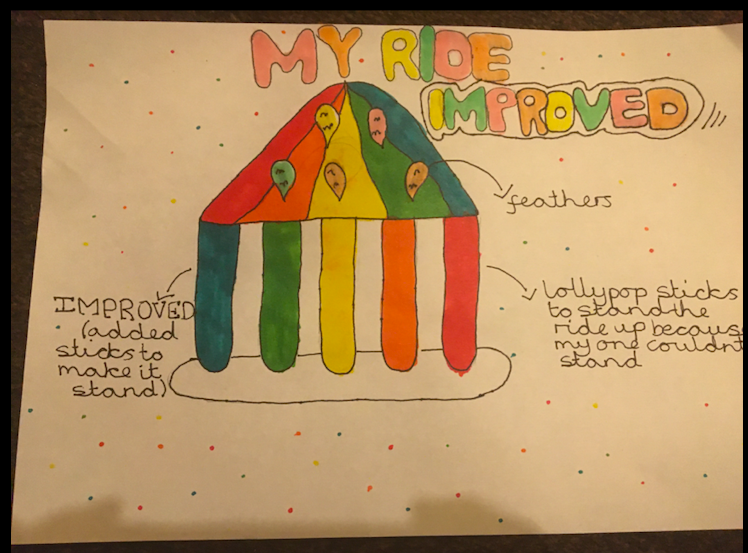 Look at the fantastic Maths we have been doing this week!
This is a fantastic report about bees, completed by one of our year 6 pupils before she designed her bug hotel.
Here are some more examples of Bug Hotels from pupils in 6 Yellow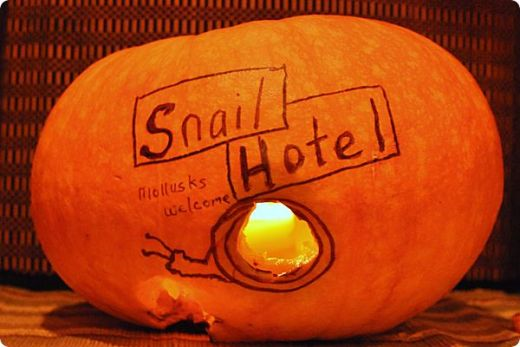 By Muhammad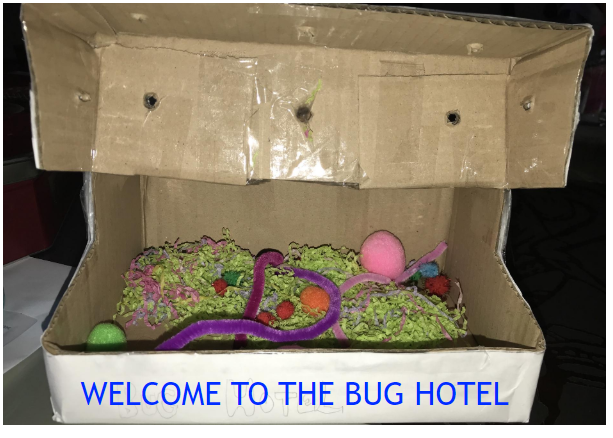 By Basia
Here is K'Yaana's maths invesigation.
These pupils have been rewriting the story 'Alma' from the perspective of one of the other dolls in the shop. They have done brilliantly!
Here are some fantastic poem celebrating the NHS, as part of our NHS appreciation week:
An egg inspired by nature by Faith.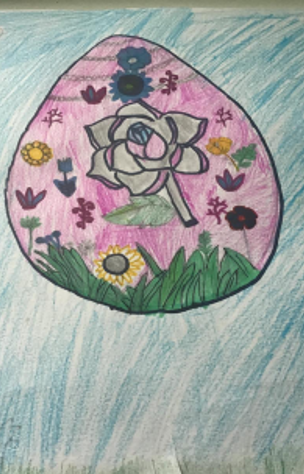 Have you attempted one of our Easter Challenges yet? This child has just completed the cooking challenge- why not see if you can follow his instructions to make a delicious treat too?
The children in 6 Purple have been designing their own characters for Mario Kart. Have a look at this new character Rizwan has created.
This week, the children have been rewriting 'the Tale of Three Brothers' from Harry Potter from Death's perspective. This child has captured Death's character beautifully:
The children read the 'Mad Hatter's Tea Party' chapter in Alice in Wonderland yesterday, and were then challenged to imagine that Alice returned to the party the next day. They had to think carefully about how the characters interacted and what they were likely to talk about. This pupil has captured it brilliantly.
The pupils in year 6 have found out about an influential mathematician and scientist called Katherine Johnson. Read all about her in this excellent example here.
Last week the children in Year 6 were completing diary entries based on the amazing world of Pandora (from the film Avatar). Here are some excellent examples:
Our Science topic this term is light. Whilst the children were learning about how the eye works, we looked at different optical illusions. This week the children were challenged to create their own. This child created a fantastic 'floating A':
Well done Humaira on your optical illusion. It really jumps out of the page!
The children in Year 6 are working really hard at home to complete the tasks set by their teacher. Here are some brilliant posters about how different animals see:
Spring 2
The children began their light topic today. They learnt about how light travels in a straight line and completed ray diagrams. Finally they made their own periscope and then wrote about how light travels through this device.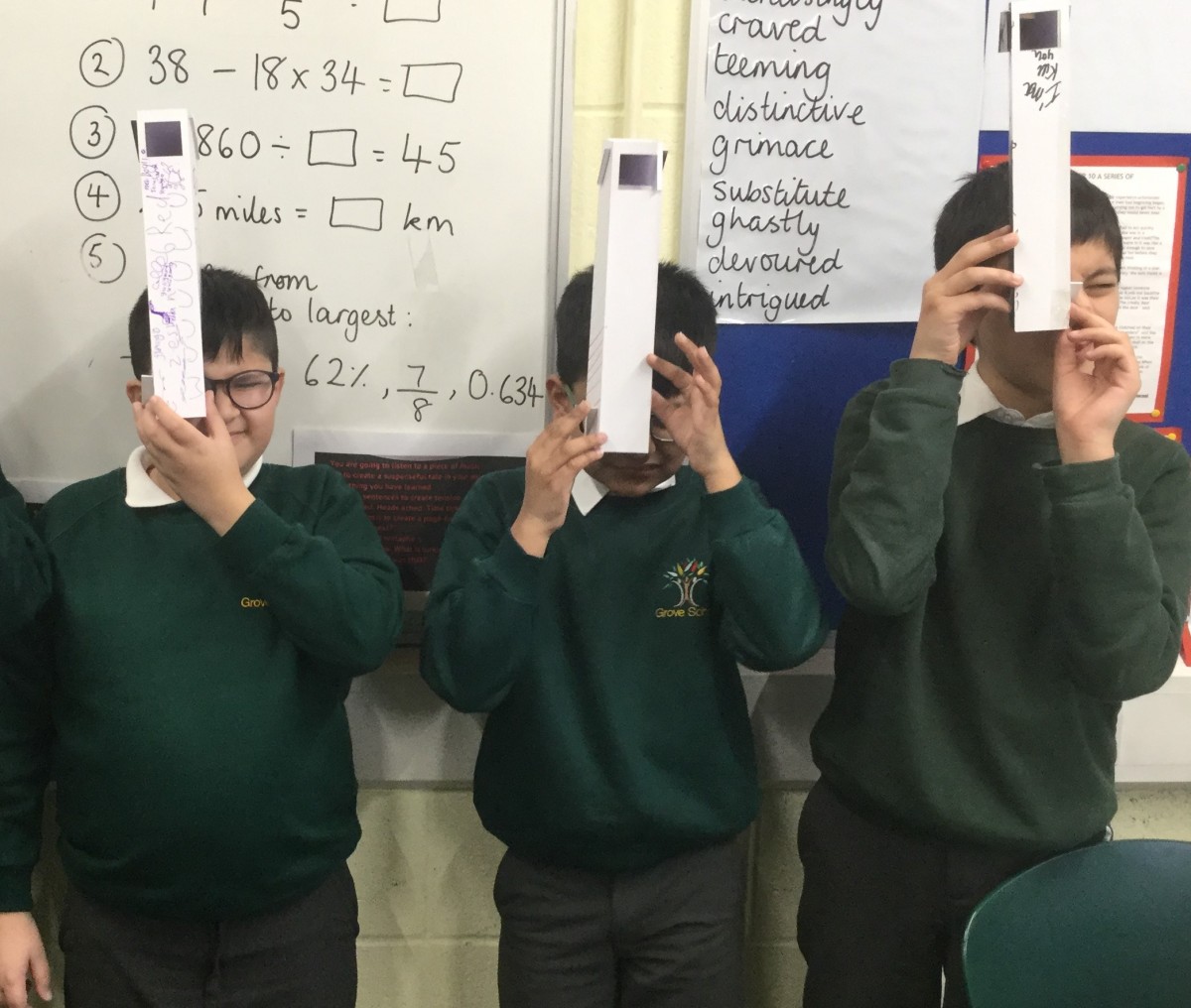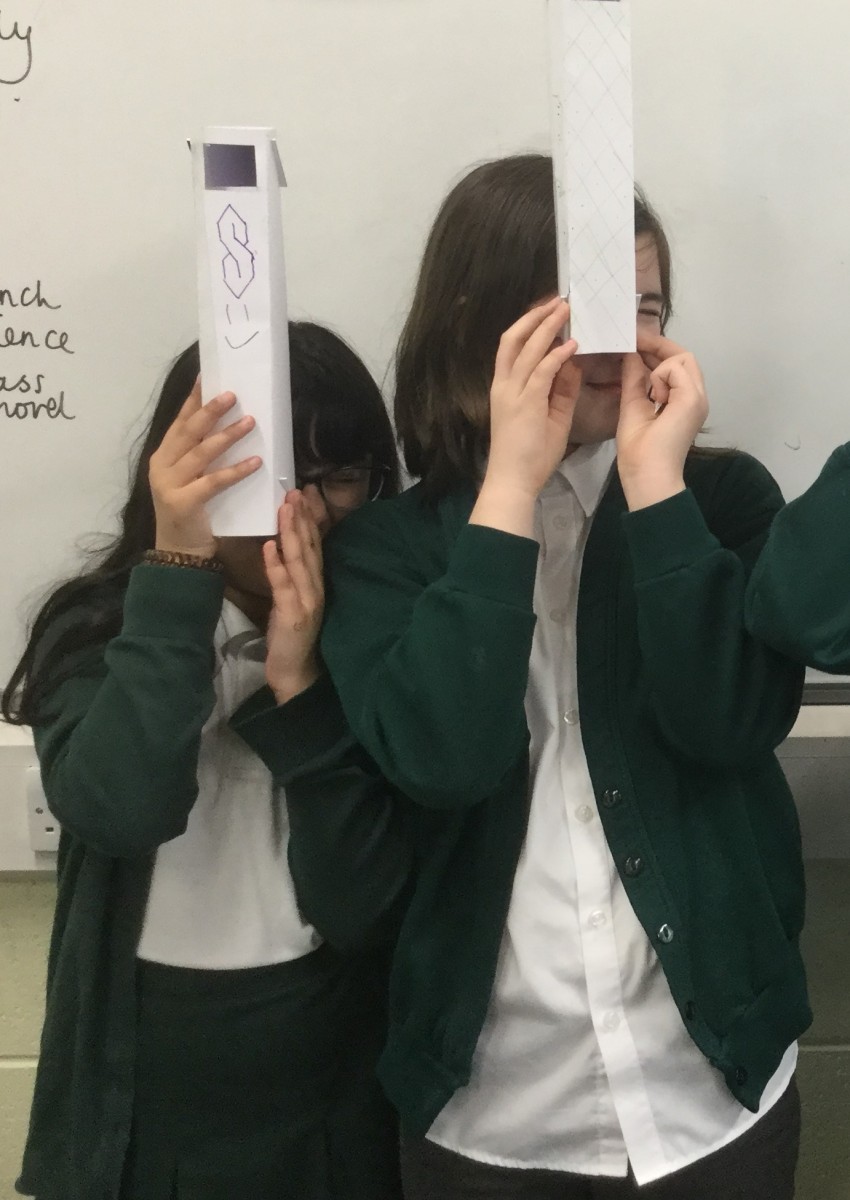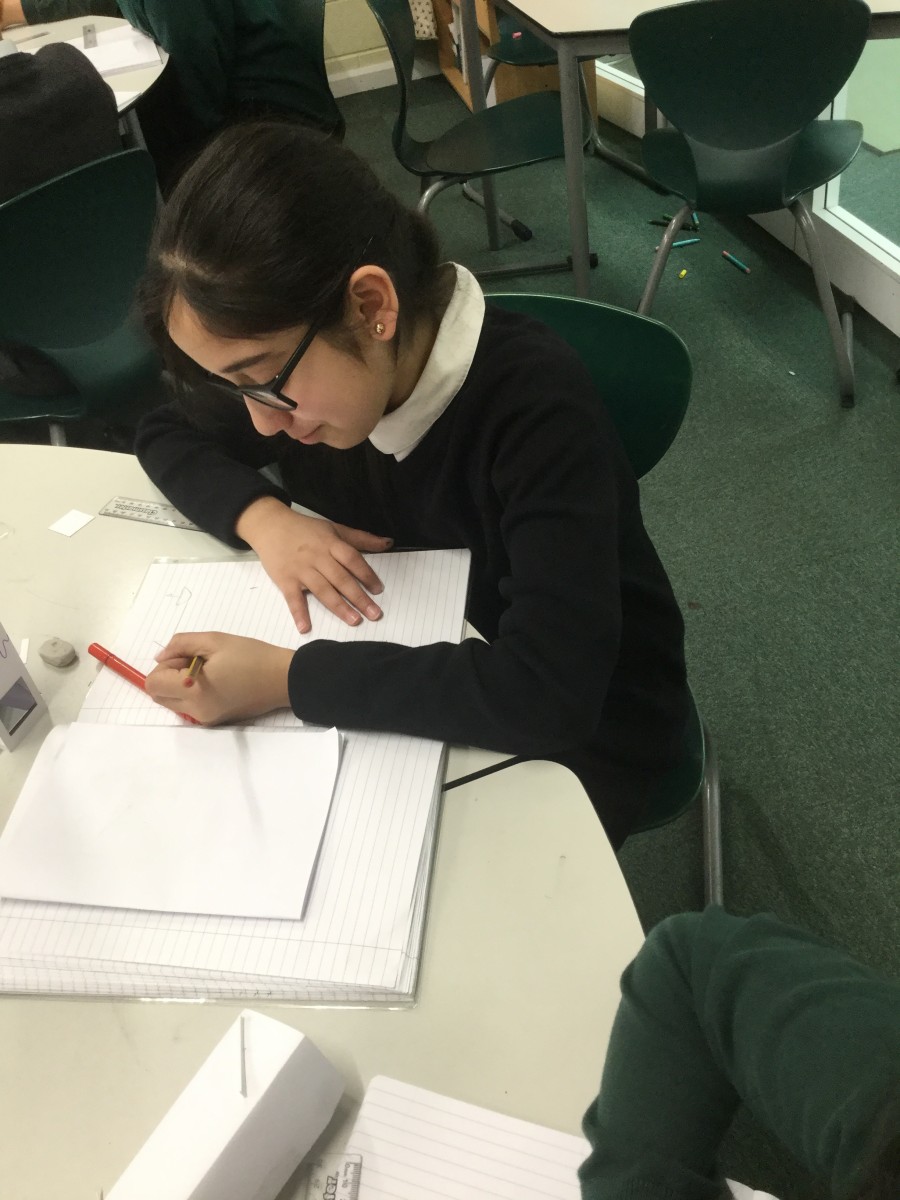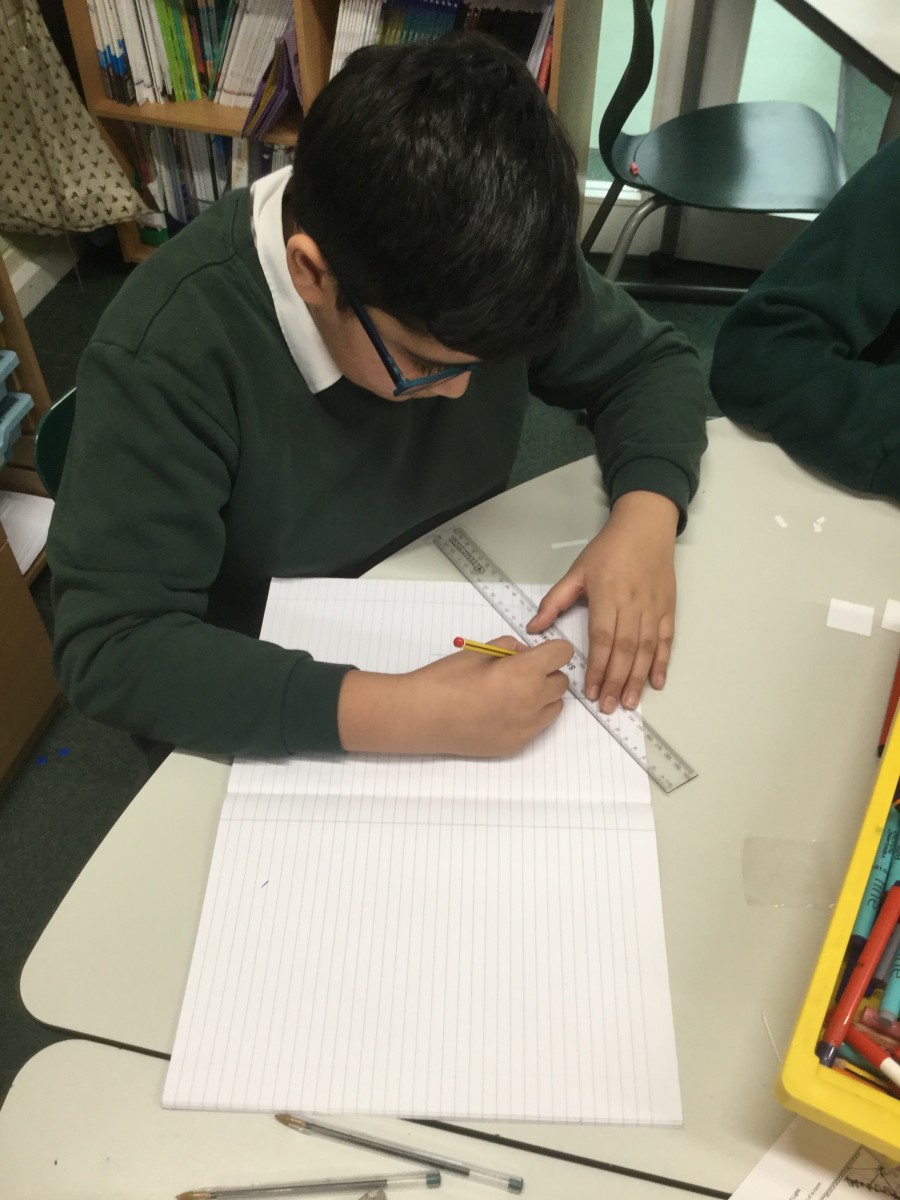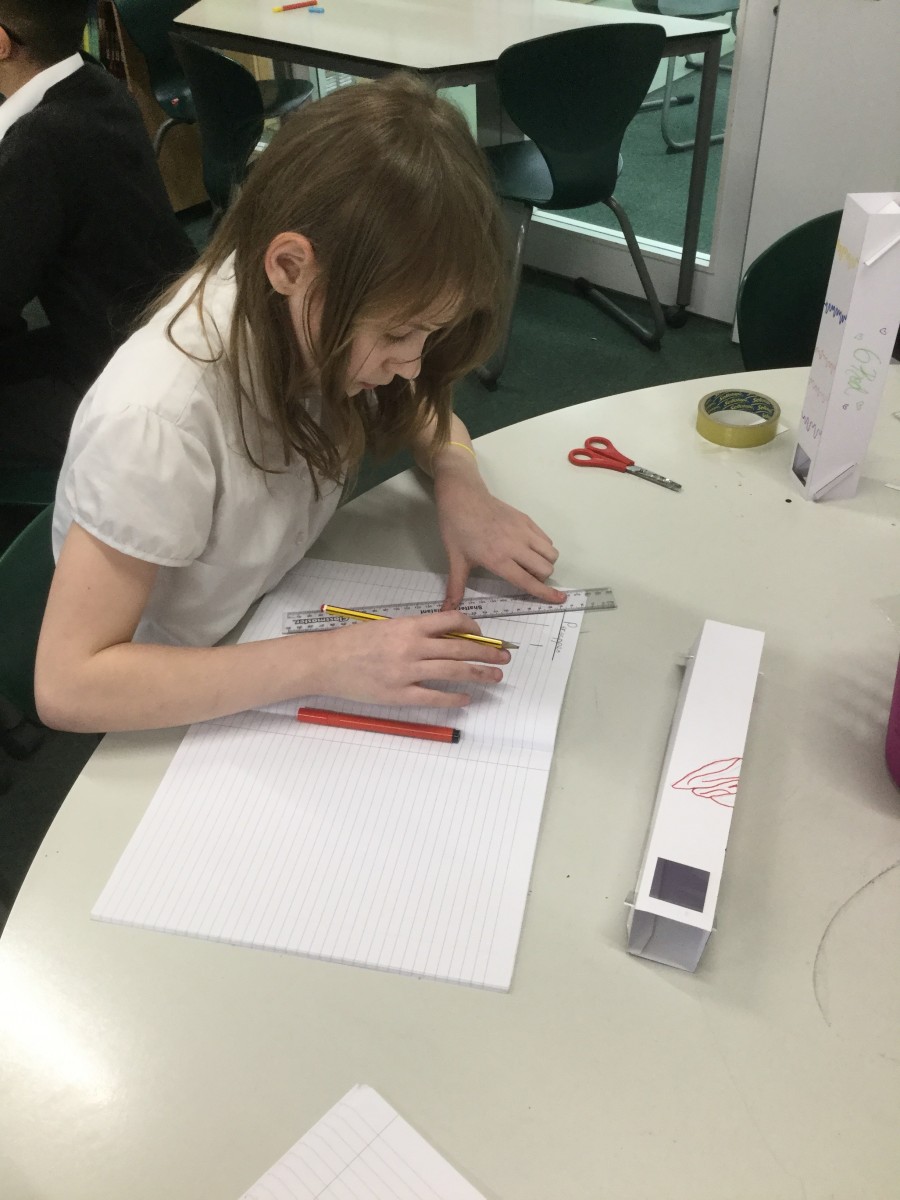 Spring 1
Here is the work 6 green have completed as part of or 'Hooray for Handsworth' history topic. The have enjoyed using prmary sources to create a timeline of Soho House from 1757 to 2020.

The children have been developing their skills as historians this term, diligently searching through primary and secondary sources to answer their own questions. This child has looked at a print of the Soho Manufactory and used it to draw conclusions about how Matthew Boulton wished to be perceived (as it was he who commissioned the print).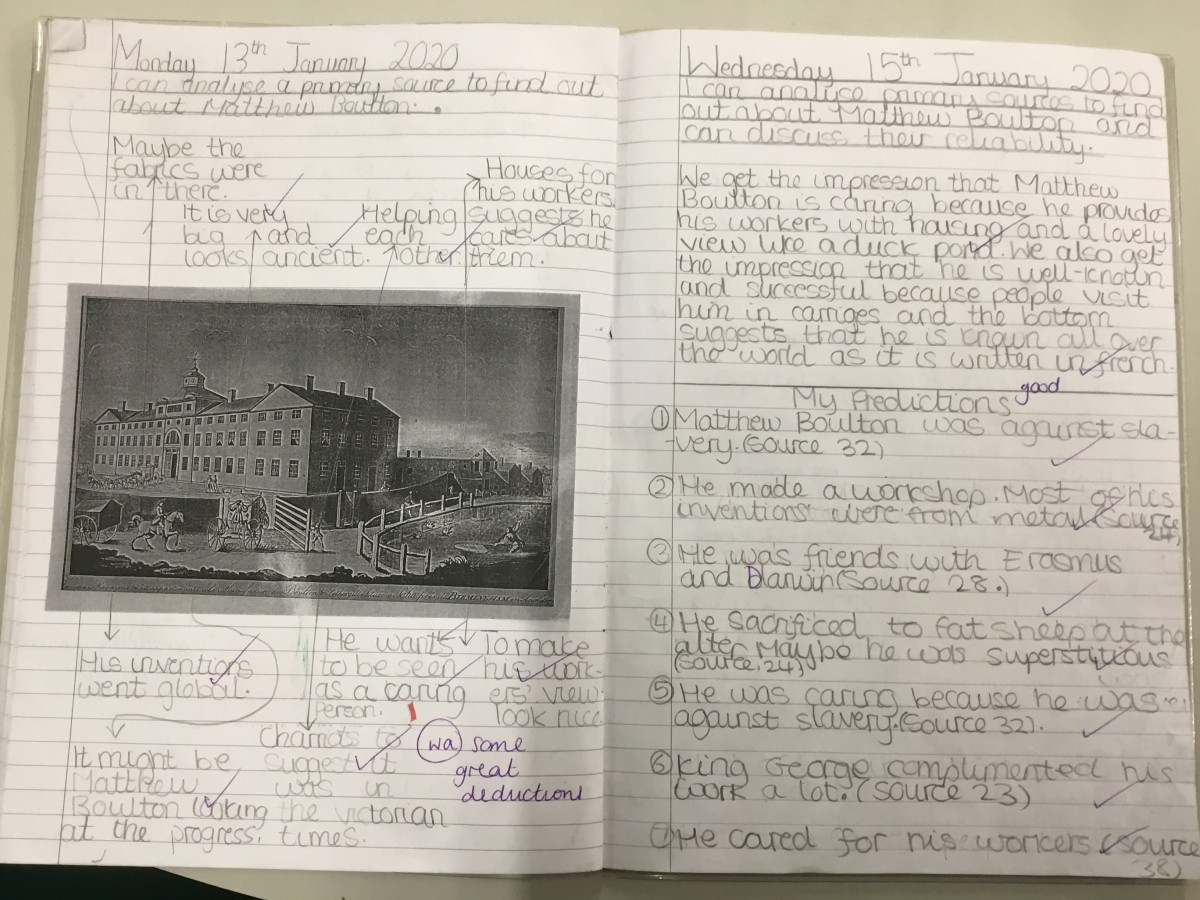 As part of our Handsworth topic, the children have been learning about the history of reggae. They posed their own questions to answer during their research and then used this to desgin an album cover which they felt portrayed the important messages in reggae music. Here are two examples of their fantastic work: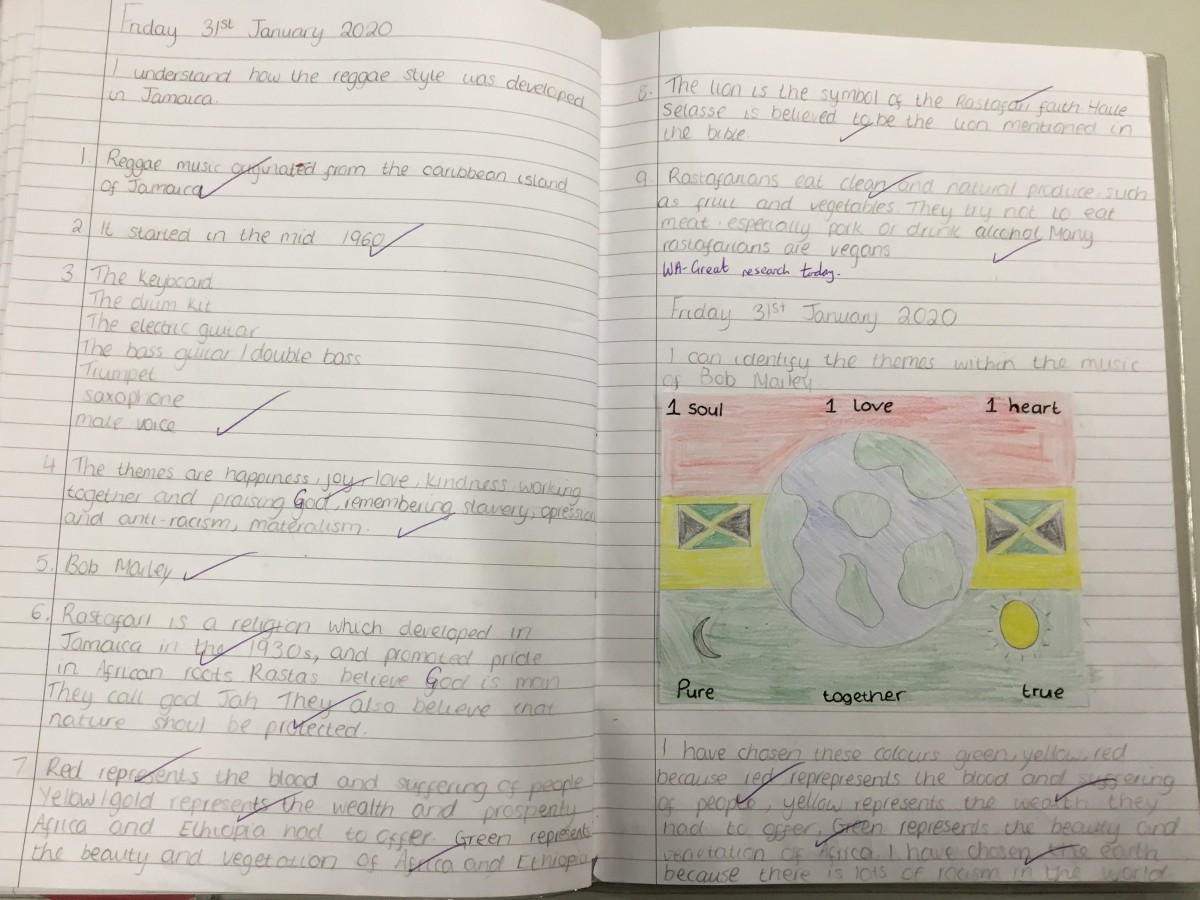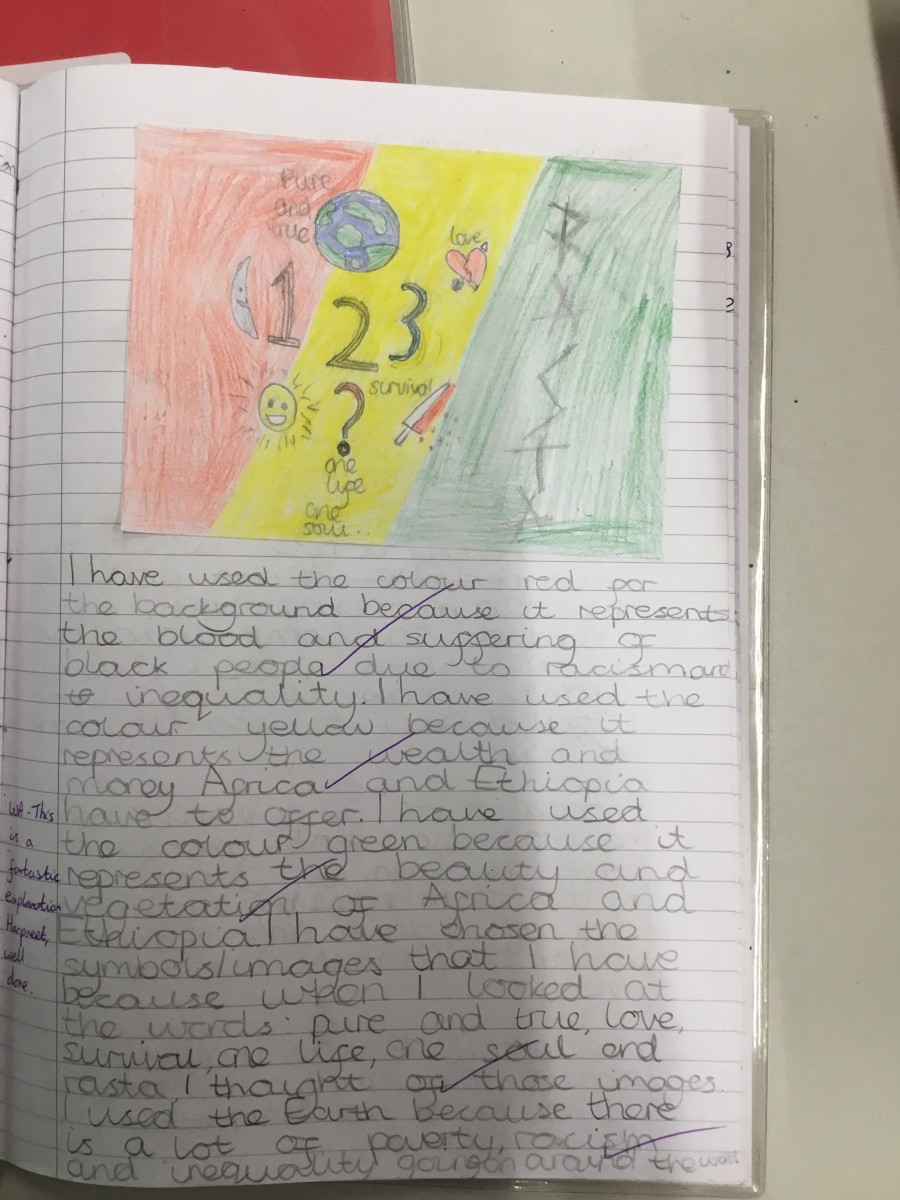 This term our Science topic has been electricity. The children now confidently use symbols in circuit diagrams and can explain how you can make a bulb become brighter or dimmer in a circuit. They can also confidently talk about why some circuits will work, and why some will not: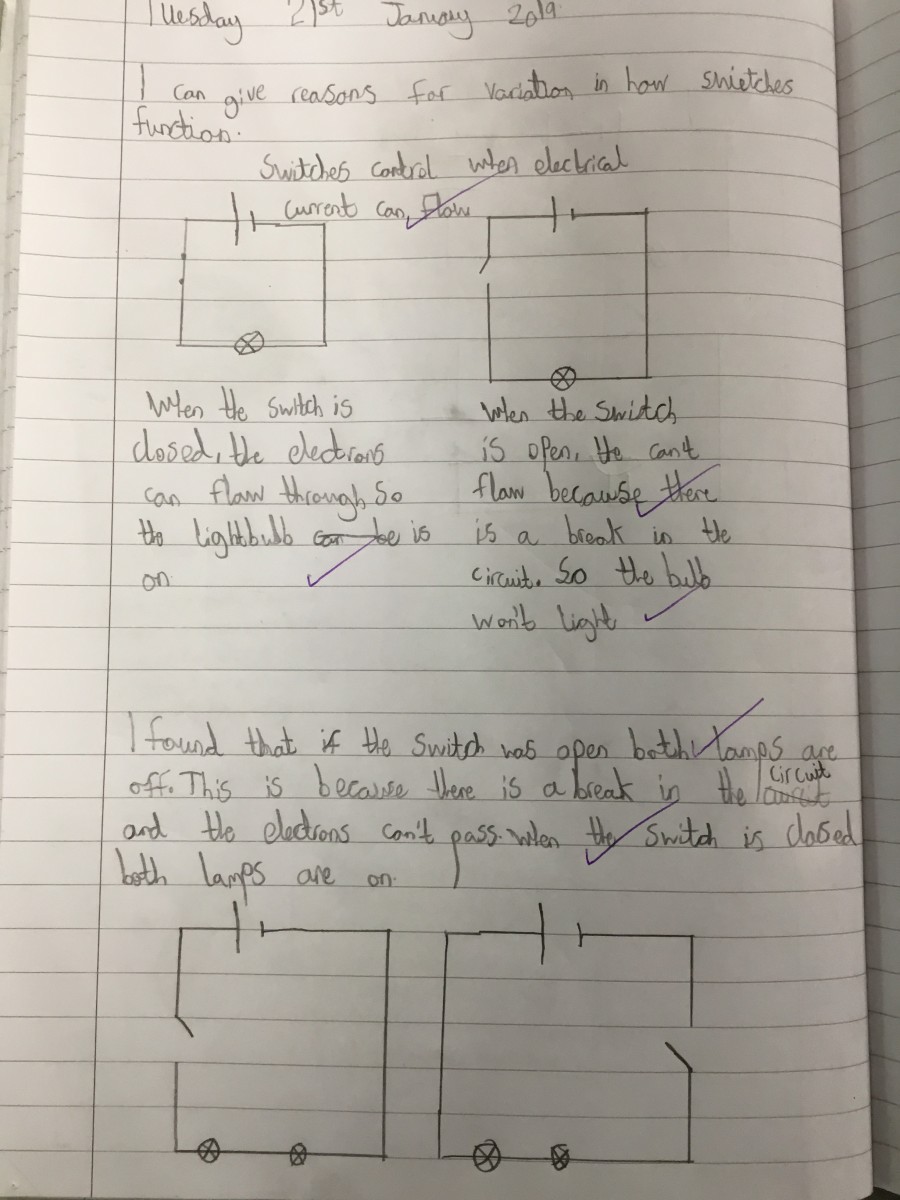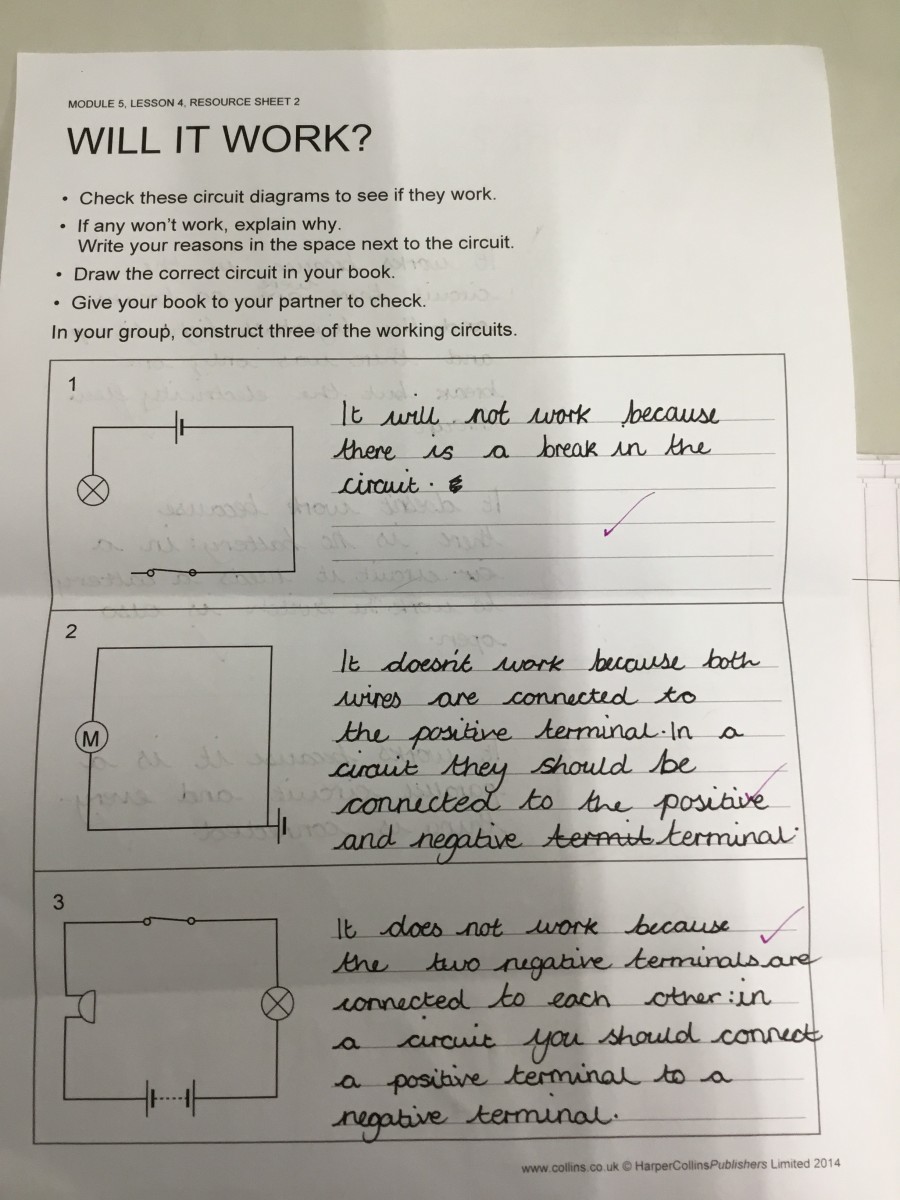 To start the term year 6 embarked on a design and technology project. The design brief was to make a prototype of a ride that would be enjoyed by younger children. Here are some photographs of the pupils in 6 green making the rides and some pictures of our finished prototypes.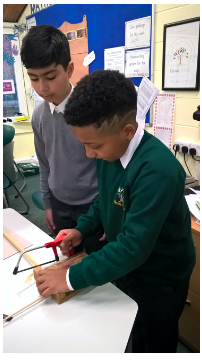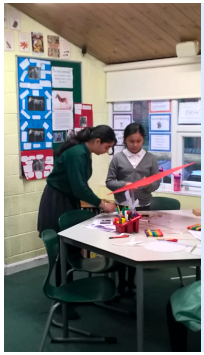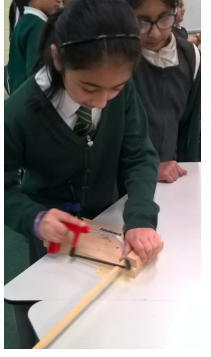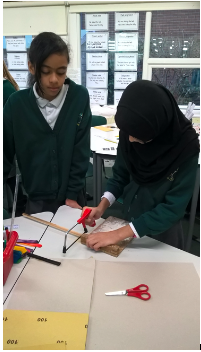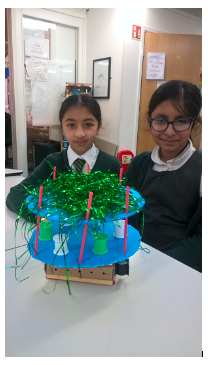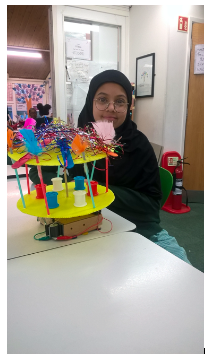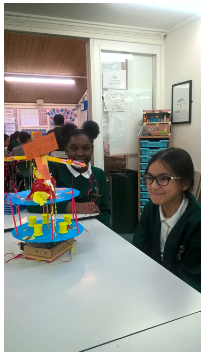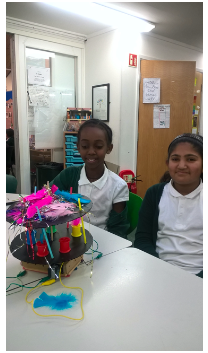 On Tuesday 17th December we held the official opening of our sports hall. Governors, neighbours and parents were all invited to see our brand new sports hall. Each year group produced a display showcasing their amazing curriculum work and students from each year group were on hand to talk about their work and answer any questions. Here are some photos of the year 6 display.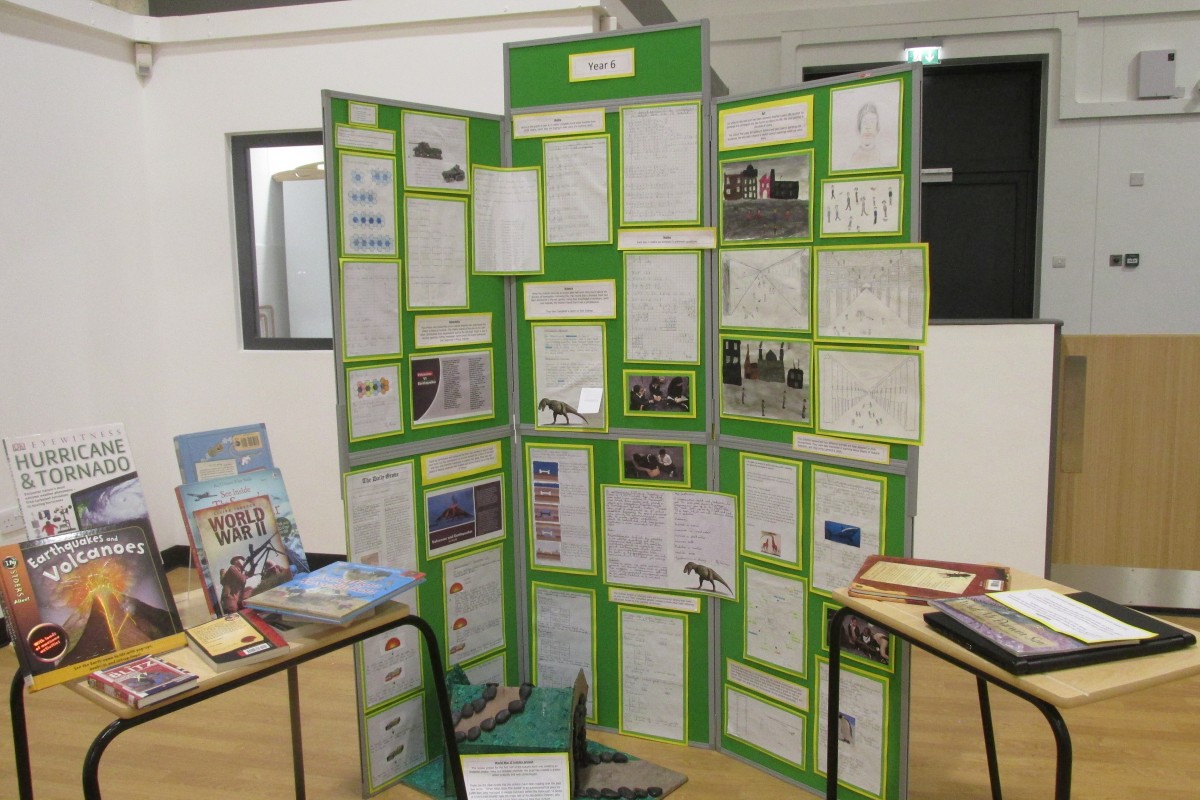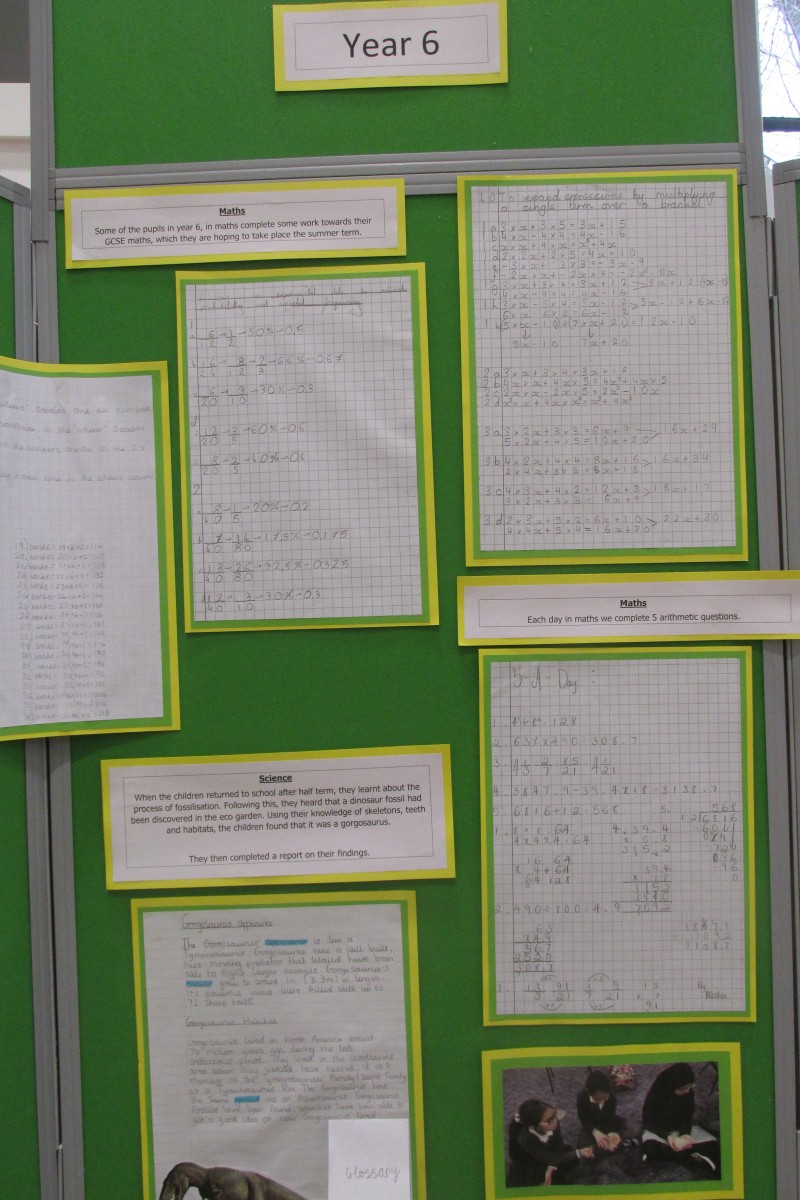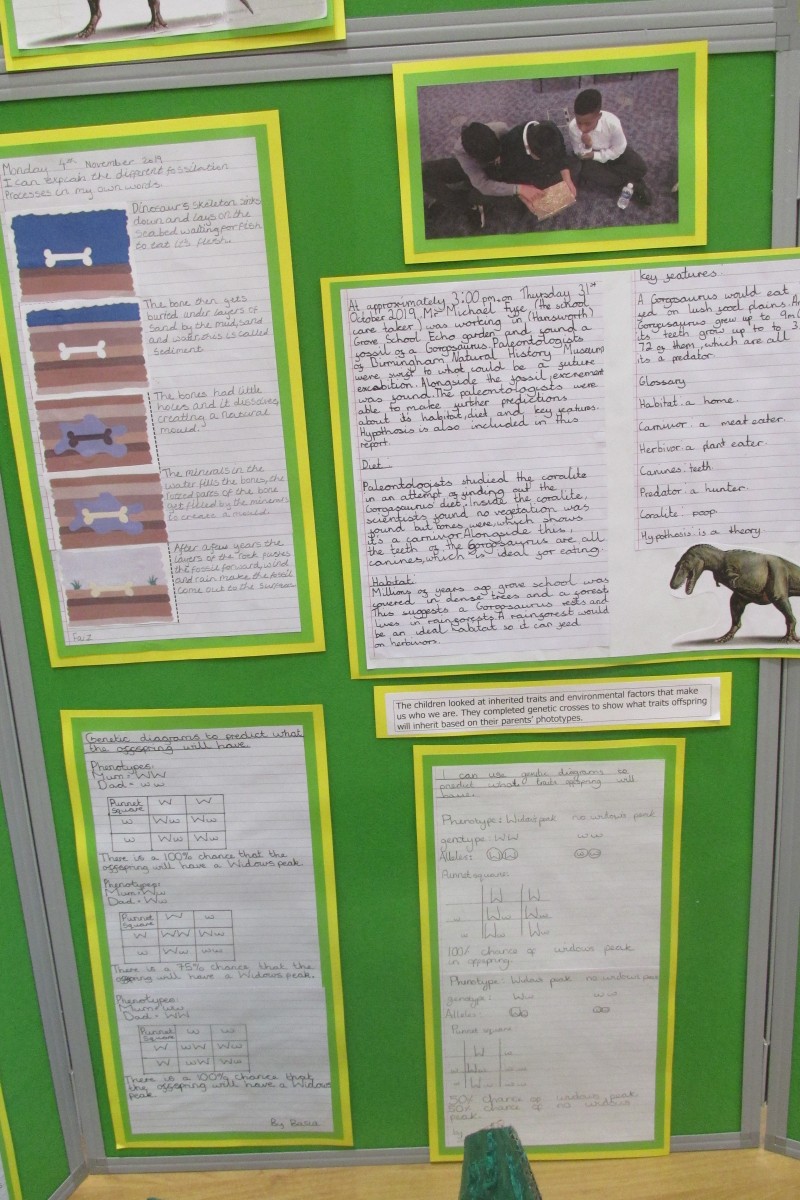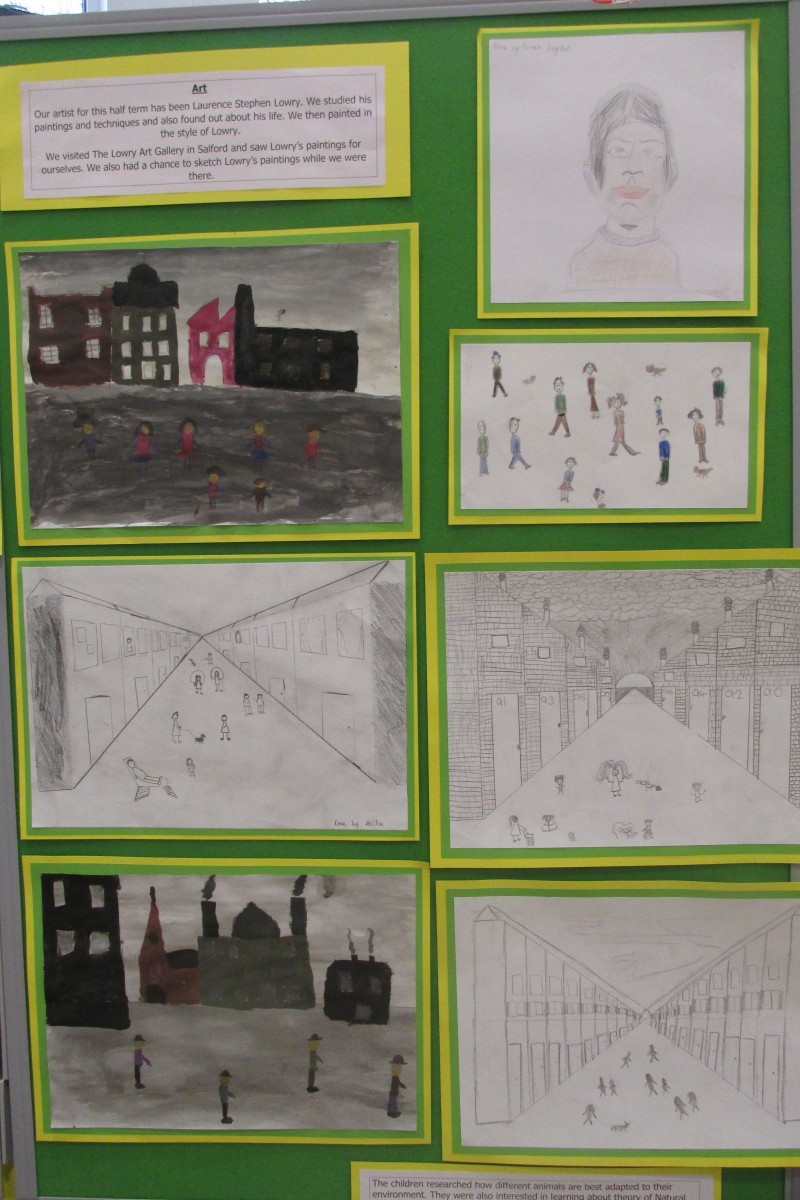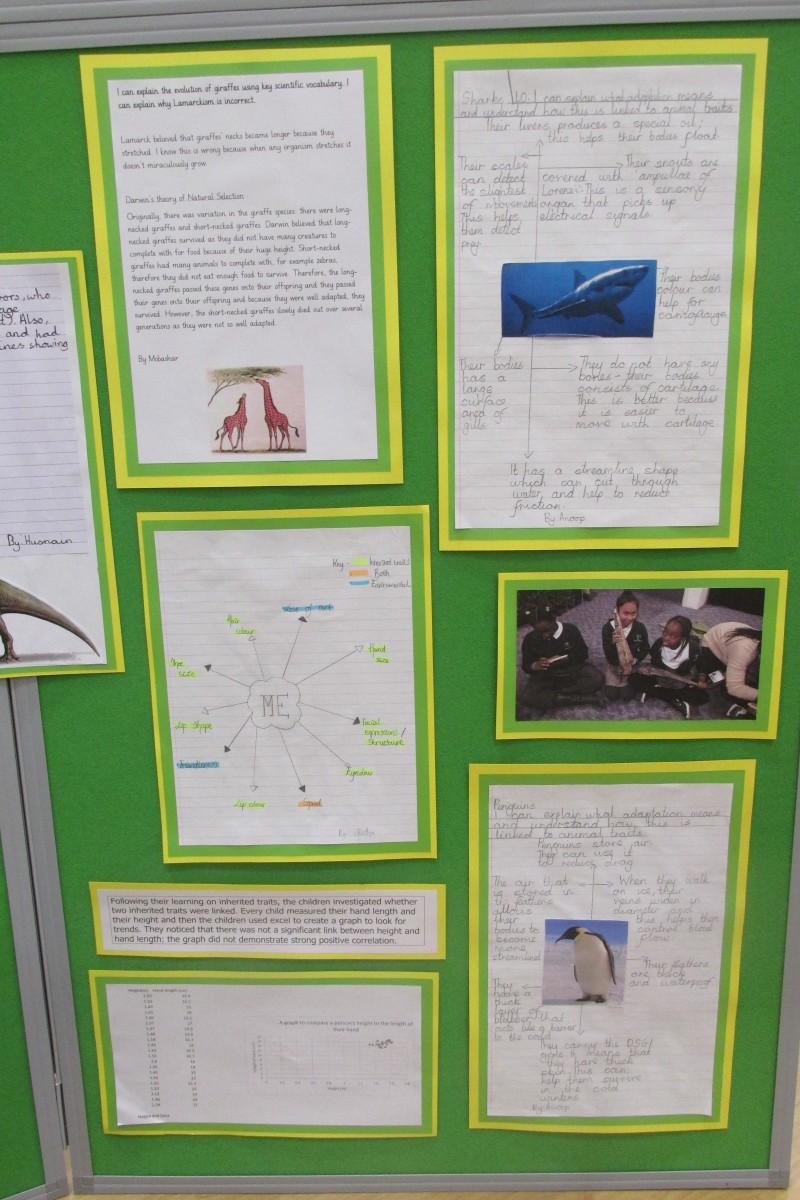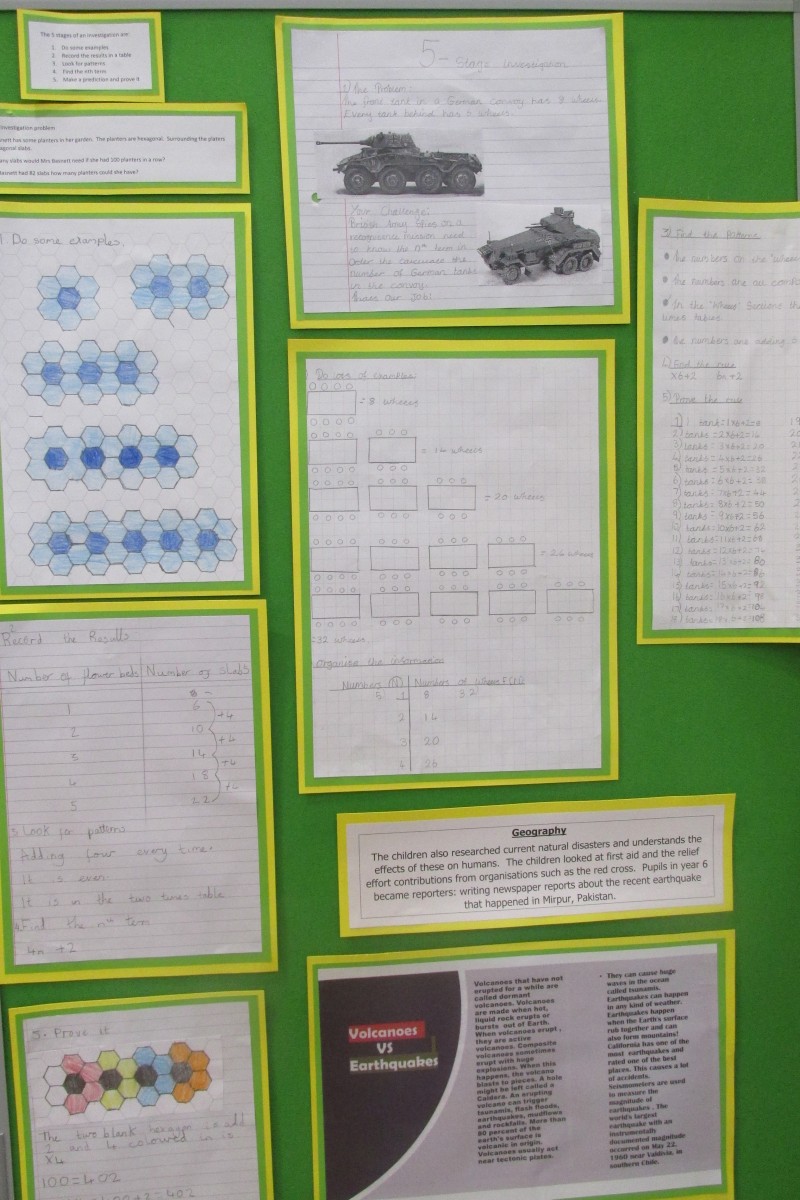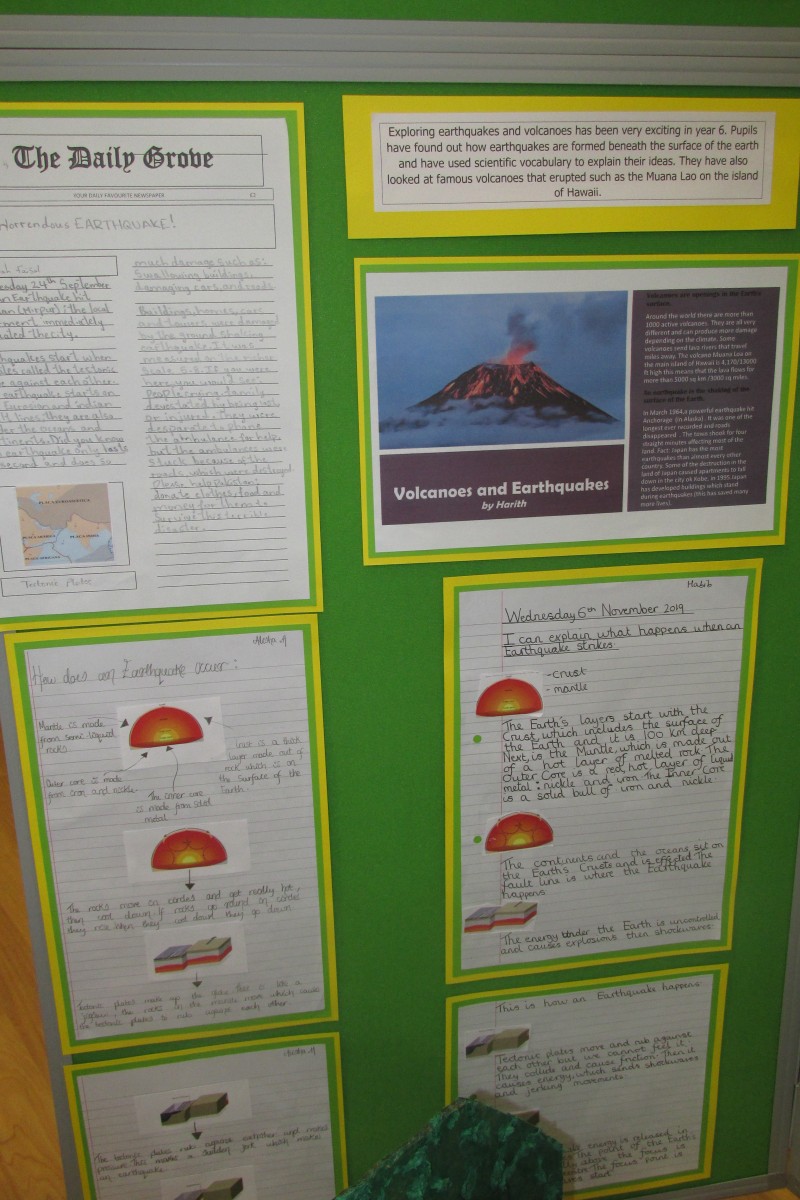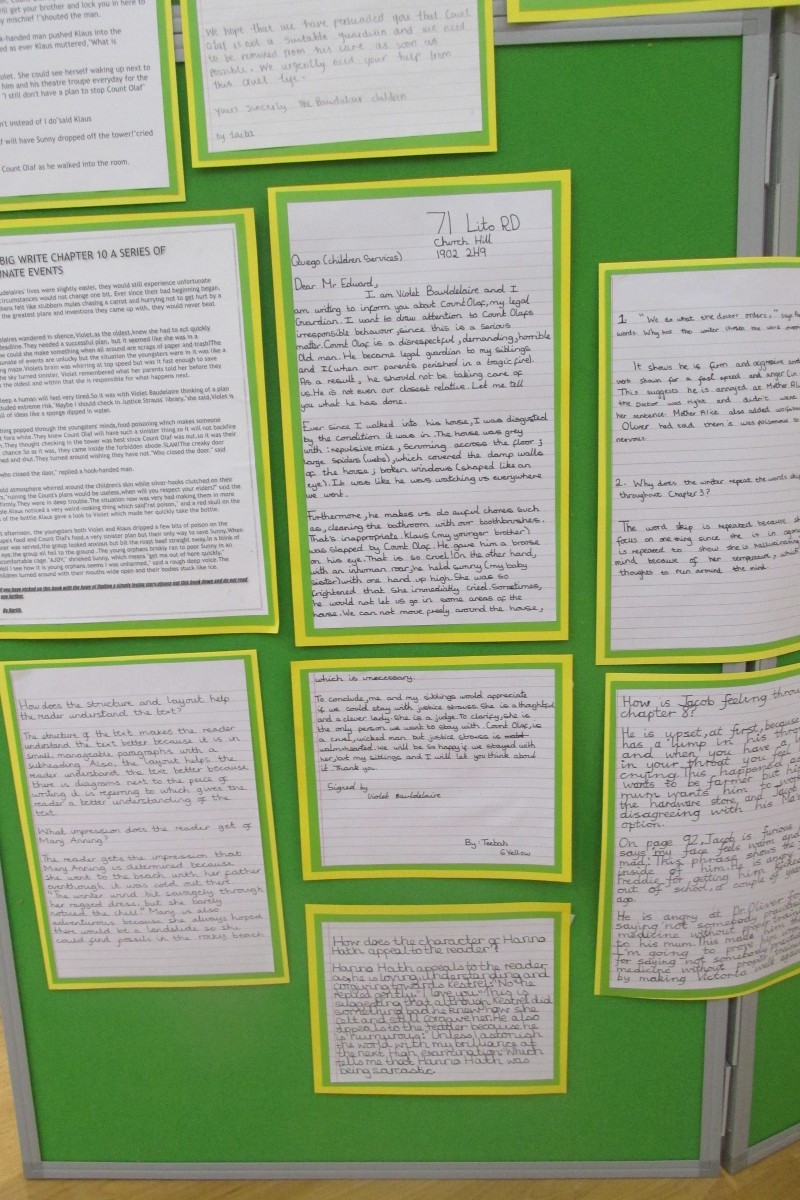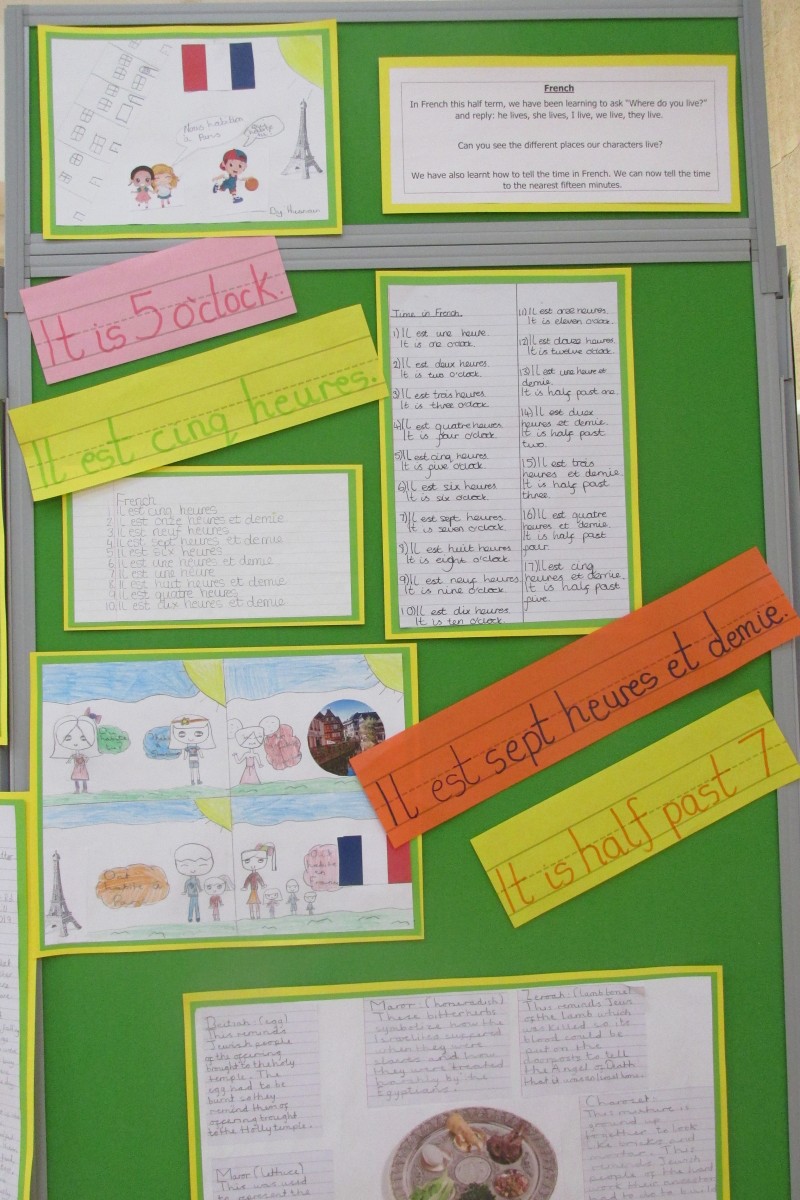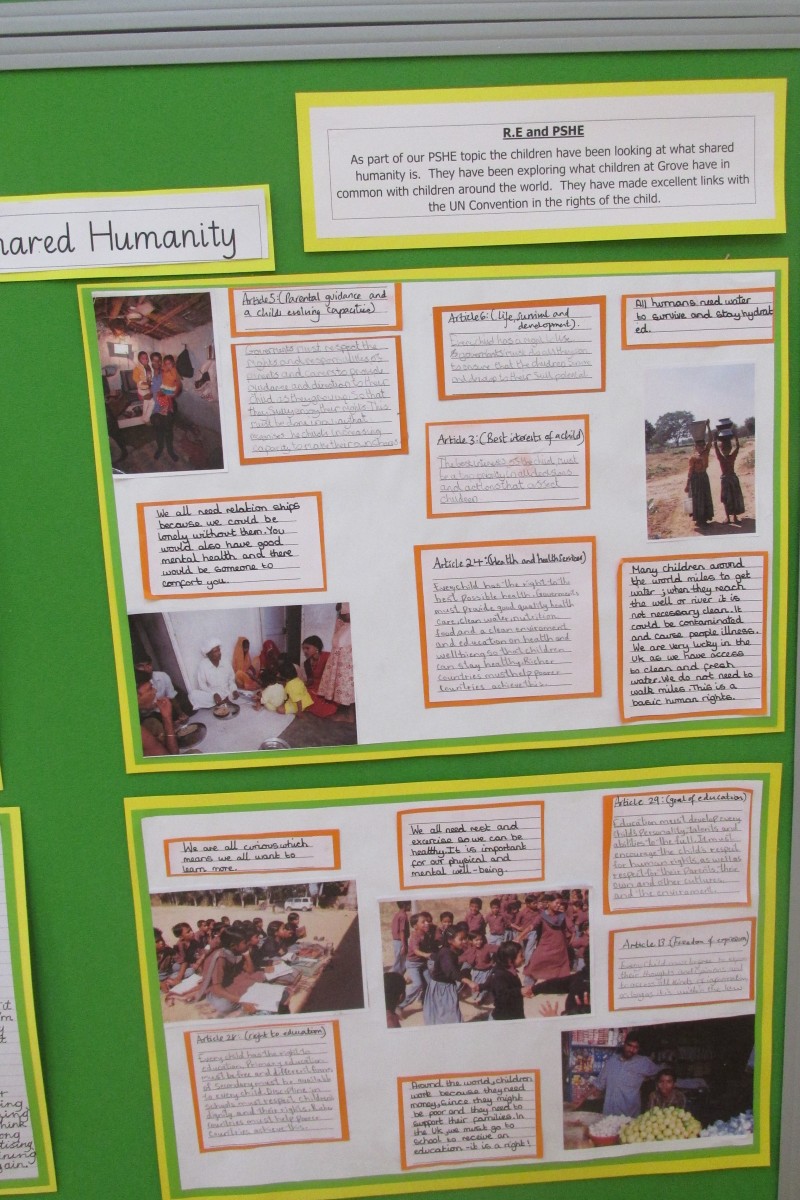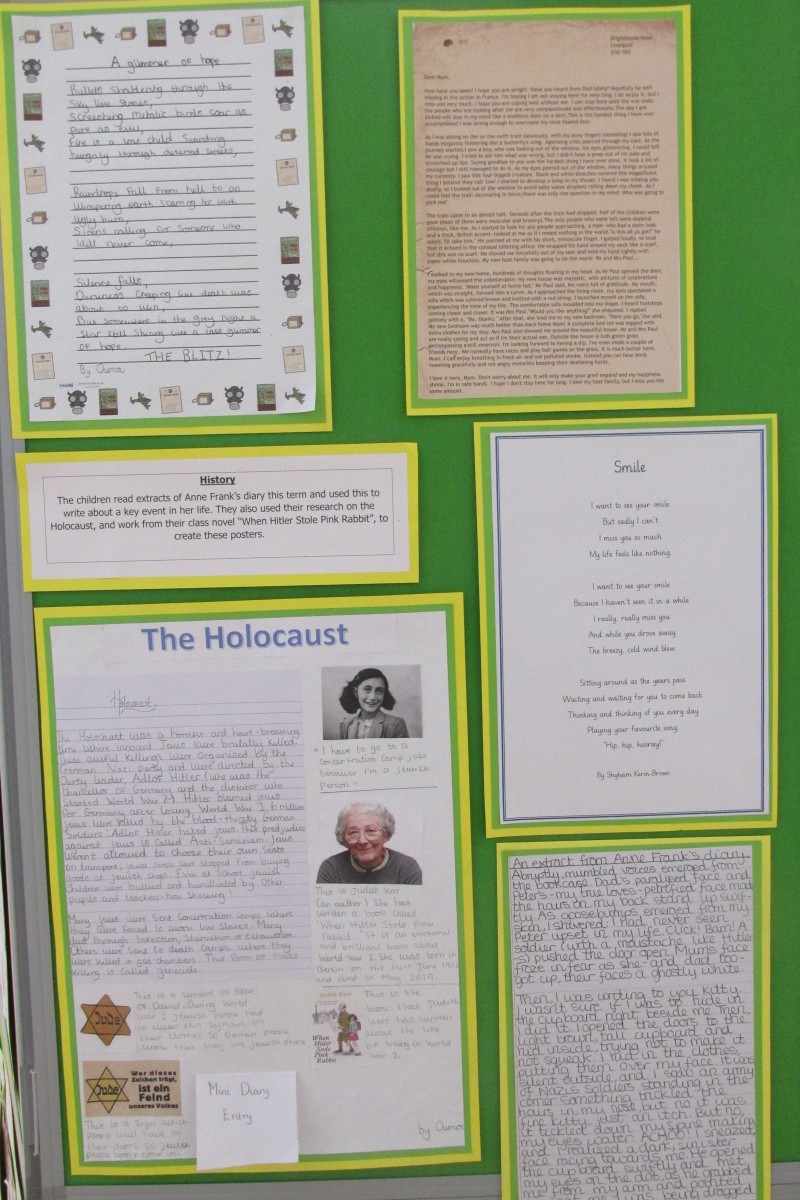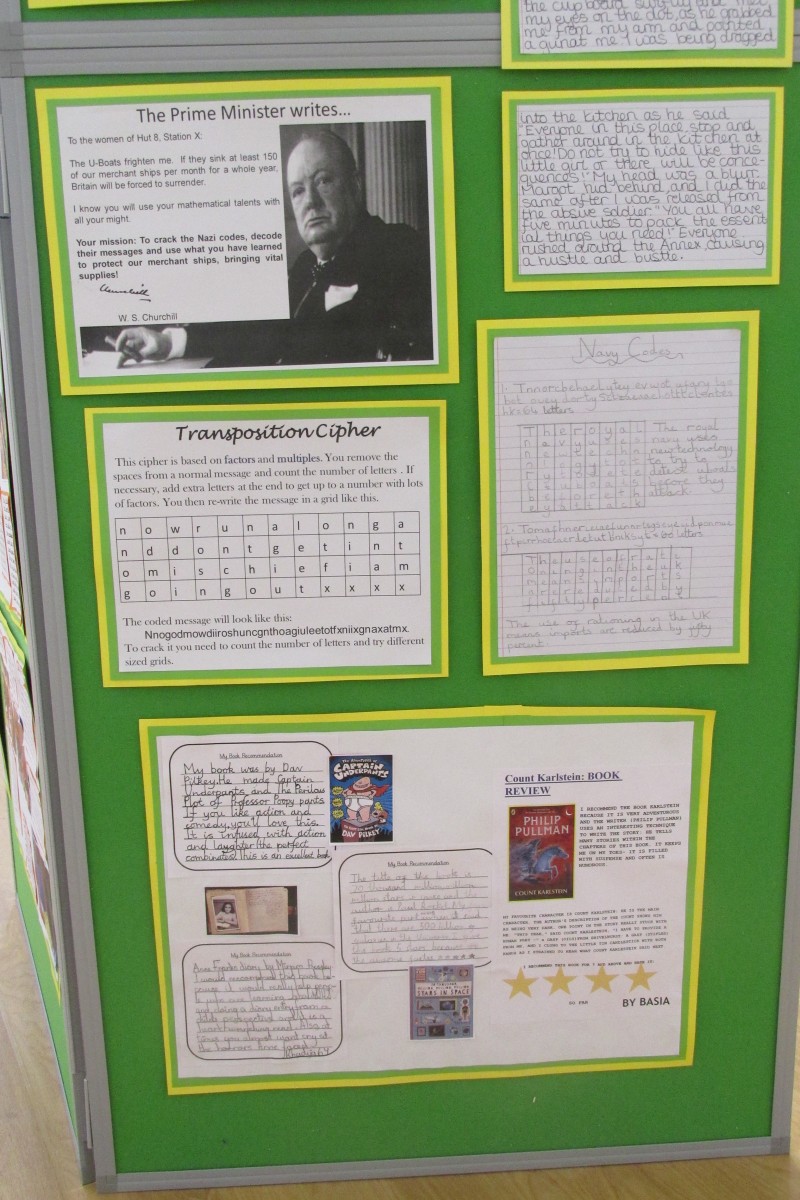 For Anti Bullying Week year 6 watched and interactive video where the pupils had to make choices about what they would do in different situations. 6 Green came to the unanimous concensus that telling a teacher was the very best outcome to get the problem resolved.
6 Green made pledges as to how the change would start with them.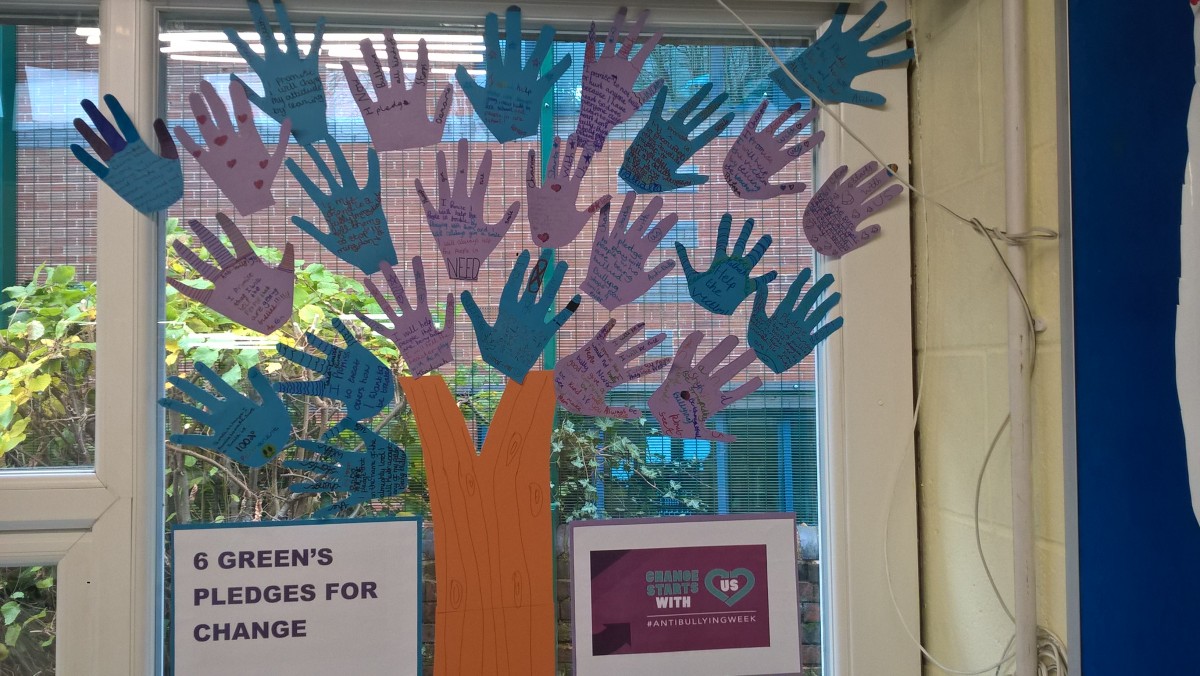 In computing we have been using Scratch to programme a guide to Anne Frank's Annex.
Have a go at the ones shared here.


In Maths, pupils in Year 6 Yellow have been working hard on identifying the place value of digits to 1 000 000.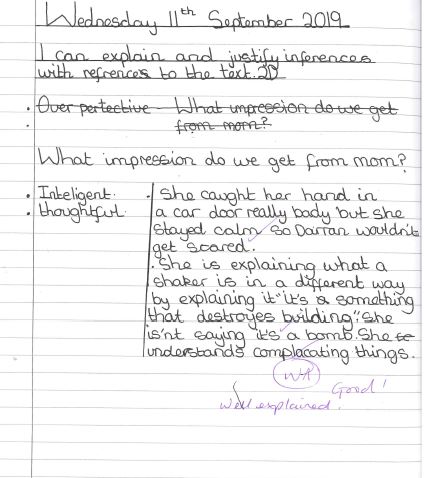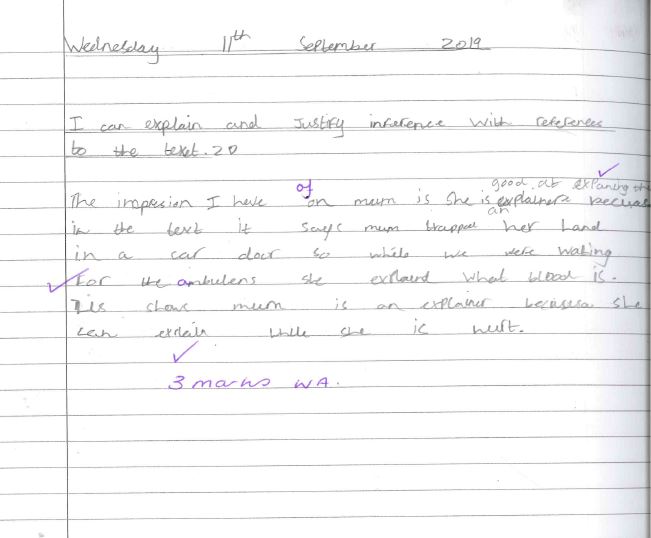 During guided reading sessions, the pupils have been working on answering 3 mark impression questions. Focusing on identifying suitable adjectives to describe the impression and then using the text to support the idea using evidence. Keep up the good work Year 6!
Year 6
Year 6 took part in a drama session about what it would be like to be an evacuee during World War 2. They created still images. Here are some examples from 6 Green and 6 Purple. You can really see the emotion in their faces. The title of the image will help you to see what is happening.

Unpacking at Mr Clayton's.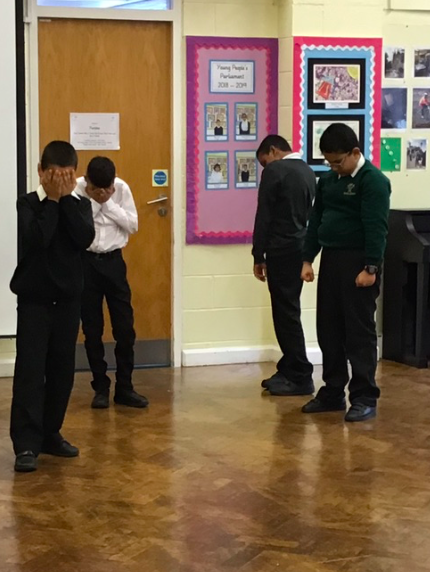 Waiting in the hall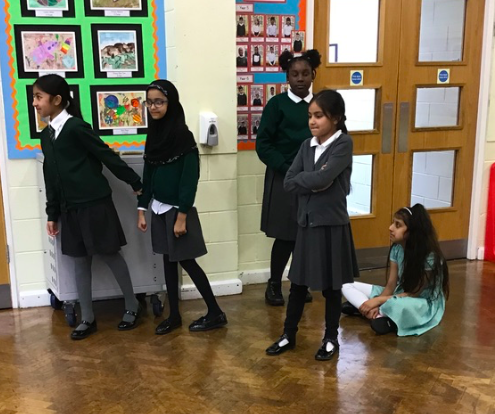 Dad forgive me for letting Annie go.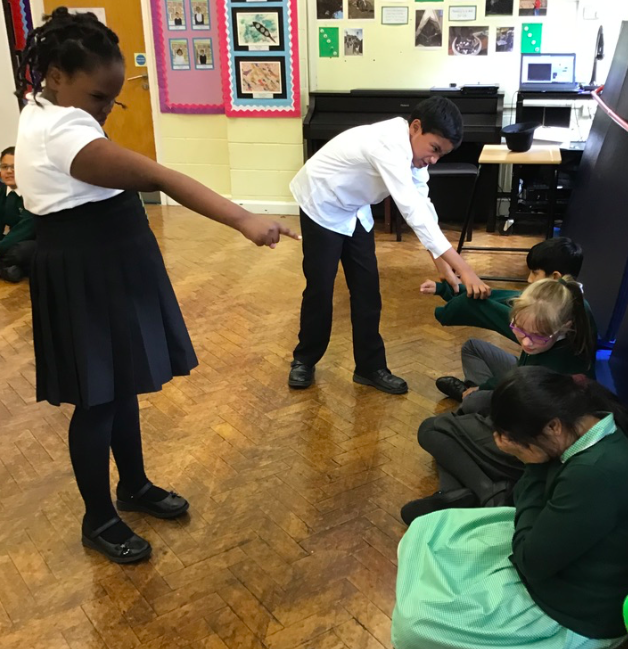 The first selection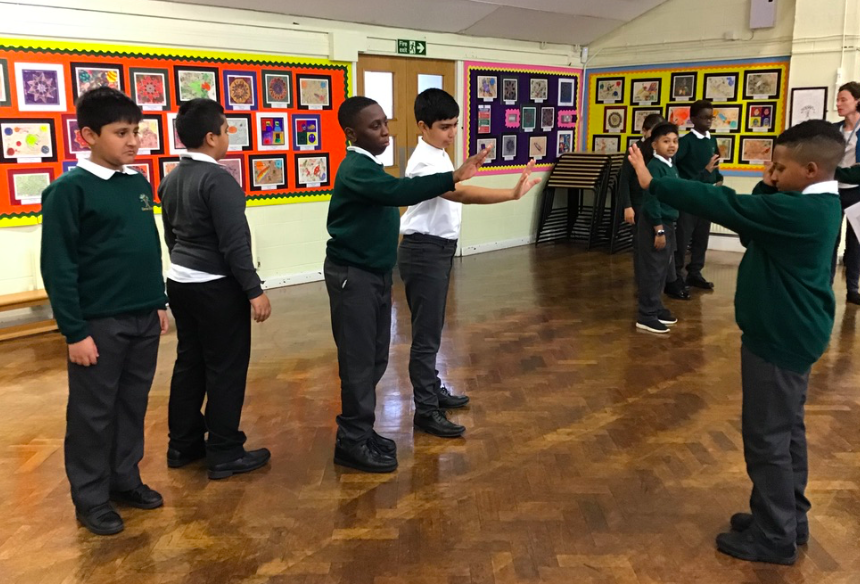 No time to say goodbye
Click on the Earth to see Jay's Godzilla dance.
Year 6 have completed a 5 stage investigation about German tanks in WW2.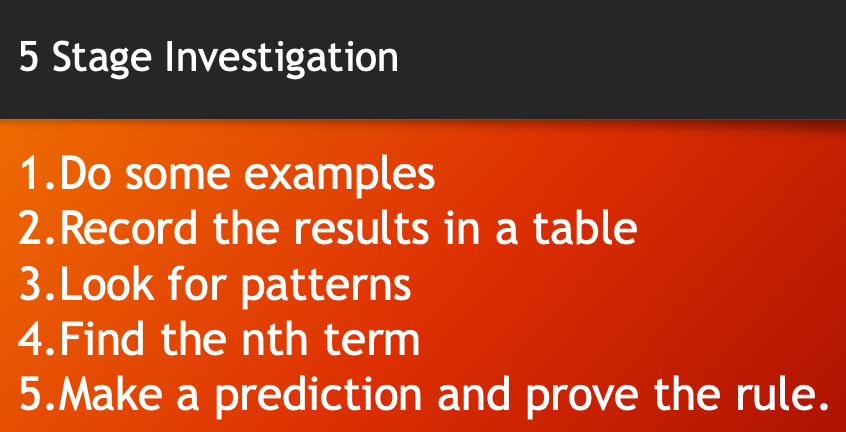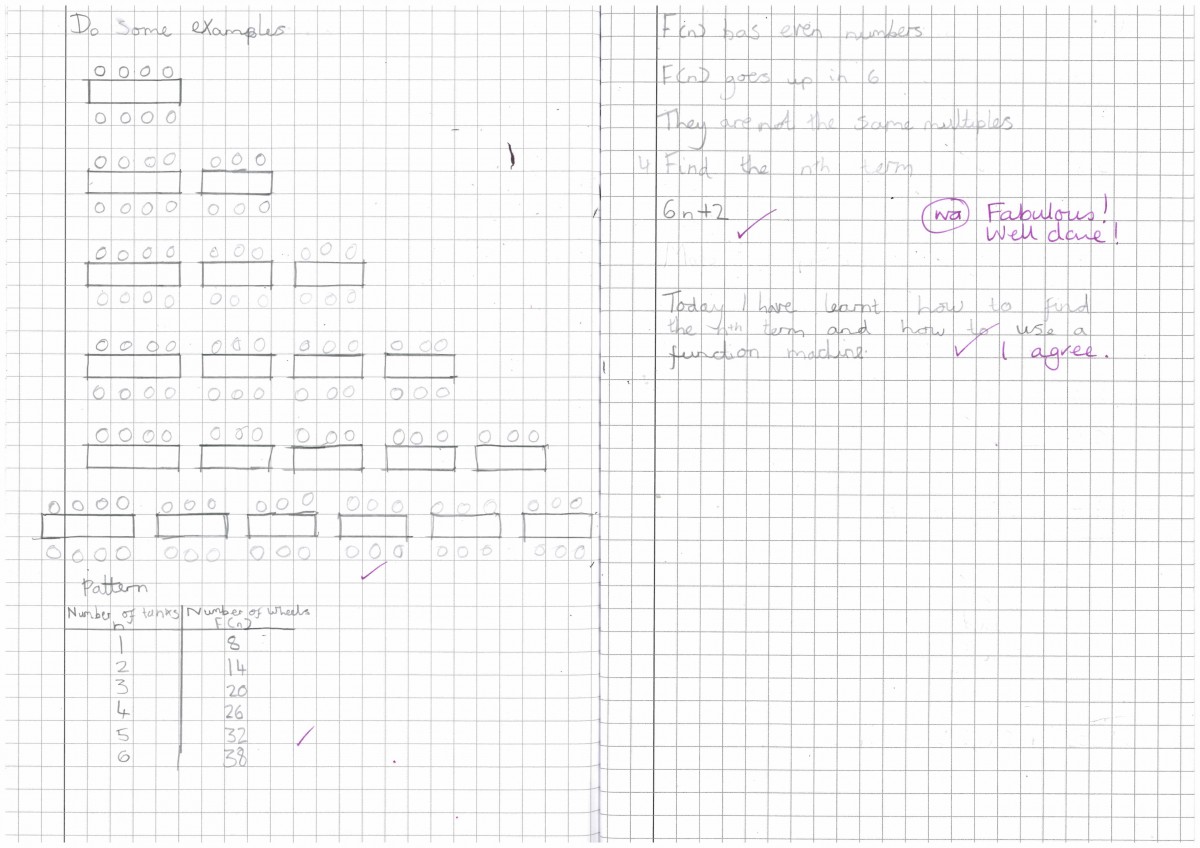 Following a fantastic drama session (see photos above) the children in year 6 wrote a letter home as an evacuee. This is a fantastic piece of writing from 6 Red: