Welcome to Grove School! This page is designed to give you key information about reception, along with photos of life in reception at Grove School.
Letter to parents regarding Reception admissions September 2021
Reception Induction Powerpoint
Please click the link below to view the Reception Induction Booklet for key information about reception at Grove School.
Grove school Induction Booklet
Our aim is to ensure your child is excited about starting school. Please share the following images with your child and talk about the activities that they would like to try when they start school.
We have lots of fun in reception at Grove School.
In our award-winning outdoor area, we enjoy...
Role-playing petrol pumps on the trikes and scooters.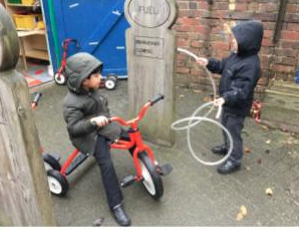 Digging in our outdoor beach area for treasure.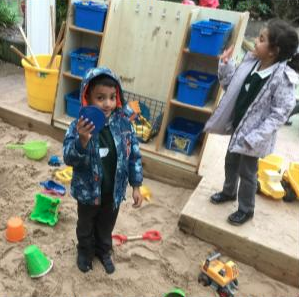 Designing and constructing really big models.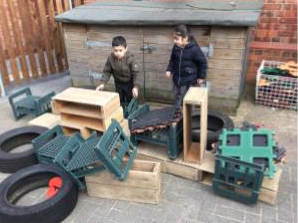 Wearing our outdoor waterproof suits to keep us dry when exploring messy play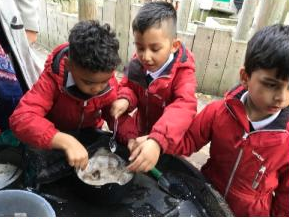 Role-playing with our friends.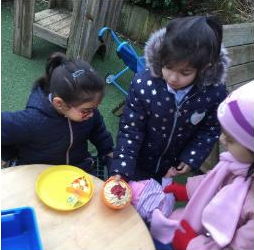 Mud painting in forest school is lots of fun!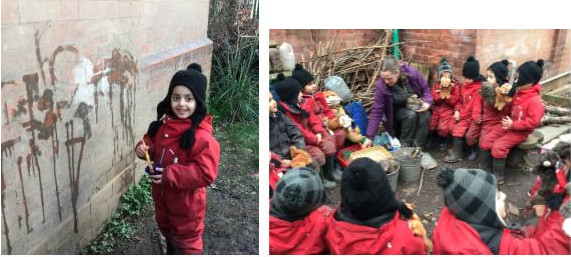 We have lots of toys to play with in our classrooms. Do you like to play with dinosaurs, cars, animals or dolls? We also like to explore real life objects to find out more about them.
We like to be independent. Here we are making fruit salad.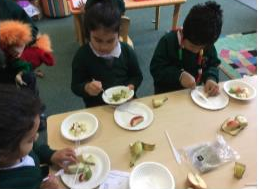 We share favourite books and use puppets to retell stories.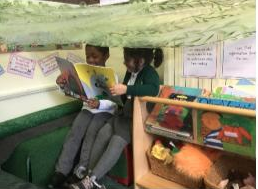 We are creative and think of our own ideas to draw, paint and make models.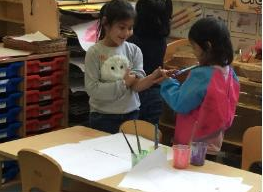 We use play dough and numicon to count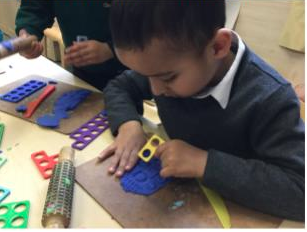 We make predictions and test our ideas while getting wet in the water tray.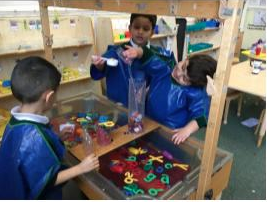 We show a can-do attitude when solving a problem such as making potions.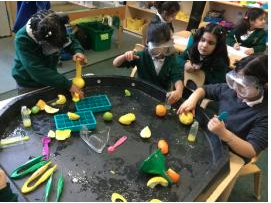 This is our fantastic new Sports Hall where take part in physical activity and have a weekly assembly.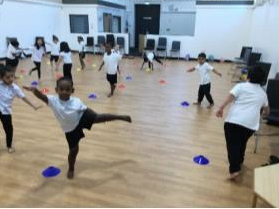 Our wonderful story telling room is used to bring alive stories in a peaceful environment where everyone can join in! The books and props change frequently to match our class topics.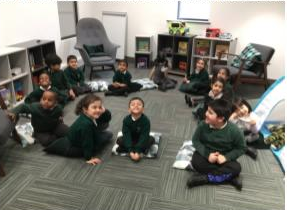 We have lots of fun on our school trip such as visiting Father Christmas on the Severn Valley Railway steam train.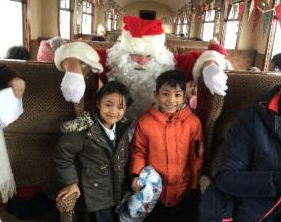 Every term we have interesting visitors to work with us such as...
A fairy-tale theatre production...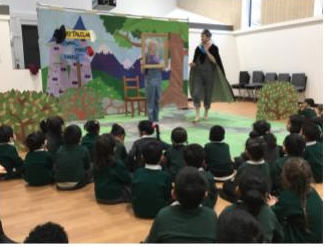 Mo the Animal Man introduced us to some of his animal friends and we learnt how to look after them.
Birmingham University Teddy Bear Hospital taught us about healthy living.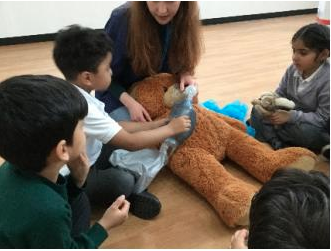 The Lego people encouraged us to design, build and be creative. We made a mini-Handsworth.

Getting ready for reception
Starting reception can be a big step for young children. Here are some things you can practise at home that will help to prepare your child for this exciting time.
· Putting your coat on and doing up the zip by yourself.
· Going to the toilet by yourself and washing your hands.
· Using a knife and fork to eat your dinner.
· Using a tissue to wipe your nose.
· Reading your name.
· Beginning to write your name
· Holding your pencil correctly
· Sharing and taking turns
· Listening and following instructions.
· Using more complex sentences to link thoughts e.g. using and, because.
· Understanding 'how' and 'why' questions.
· Being willing to 'have a go' and initiate activities.
Please keep checking this page for any updates, and to help prepare your child for starting reception.