Anti-Bullying Week 2021
Anti bullying week is taking place from 15th to 19th of November 2021.

Kindness is more important today than it has ever been. The isolation of the last year has underlined how little acts of consideration can break down barriers and brighten the lives of the people around us. This is one of the reasons, that 'One Kind Word' has been chosen as the theme of Anti-Bullying Week.

We would like all the children to wear odd socks to school on Monday 15th November. There is a serious message behind the fun: let's pull on odd socks to show we're ALL unique and different, and let's be kind to each other and respect each other's individuality.

We are going to be involved in lots of fun activities next week all about anti bullying. Keep a look out on the website for photographs.
It starts with one kind word, it starts today.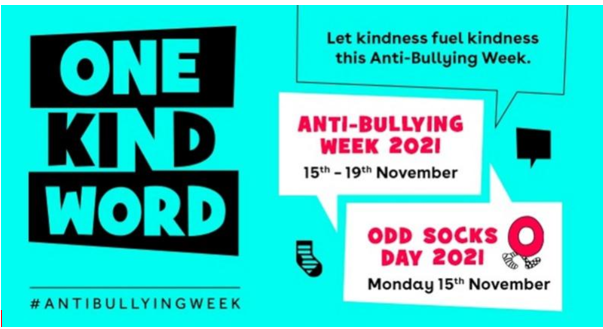 Please click here to see our odd sock day photographs