Nursery
Summer 2019
Graduation
We enjoyed celebrating our nursery graduation. Lots of our parents came to see us sing our favourite songs and receive our certificates. Our teachers and parents are very proud of us. Now we are looking forward to lots of fun learning in reception.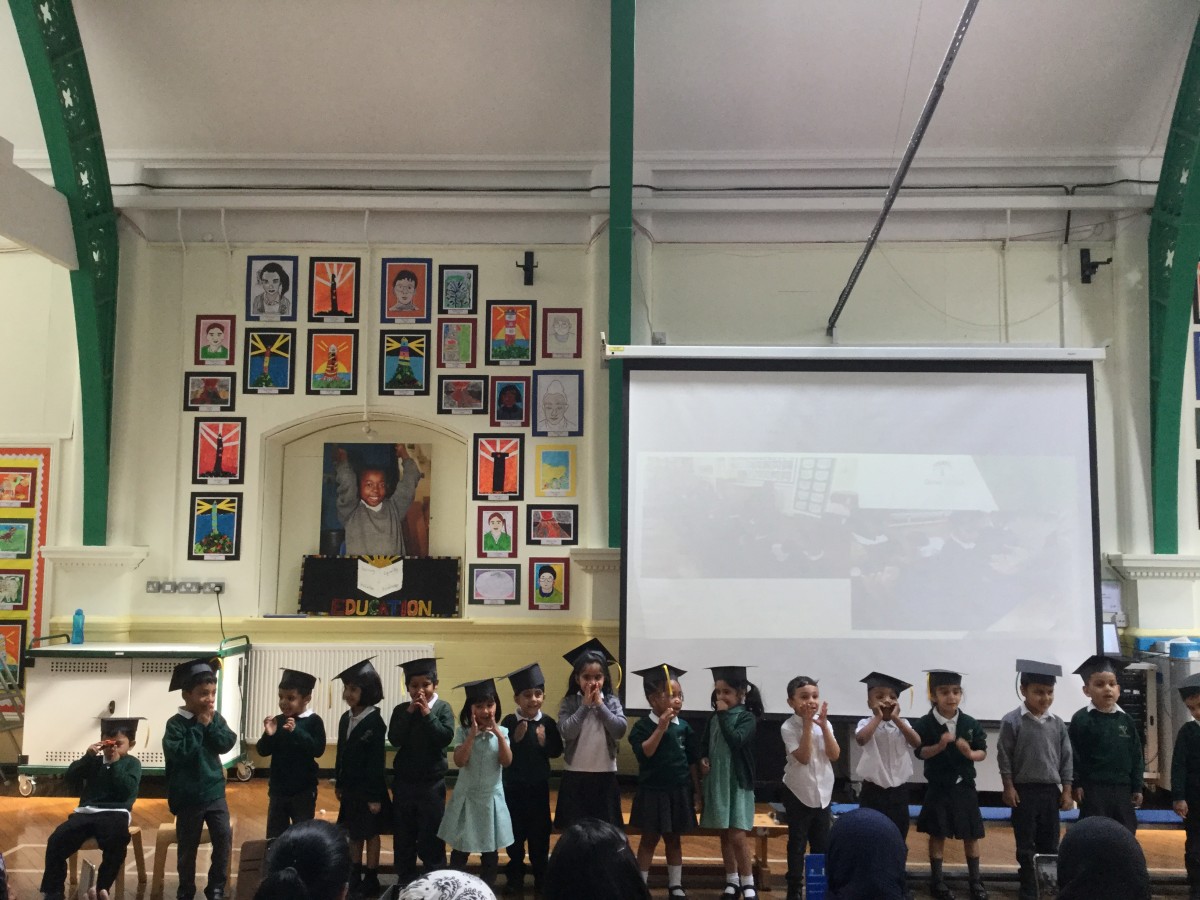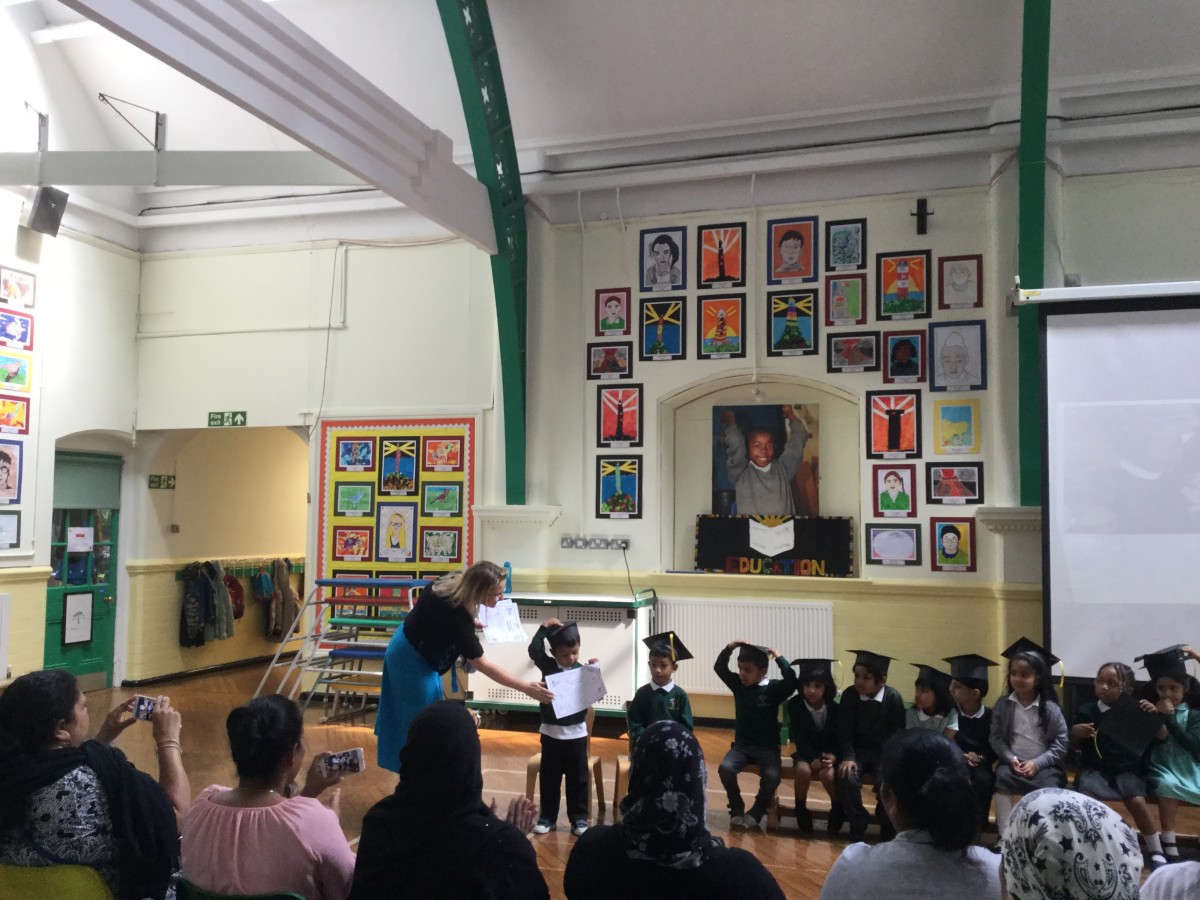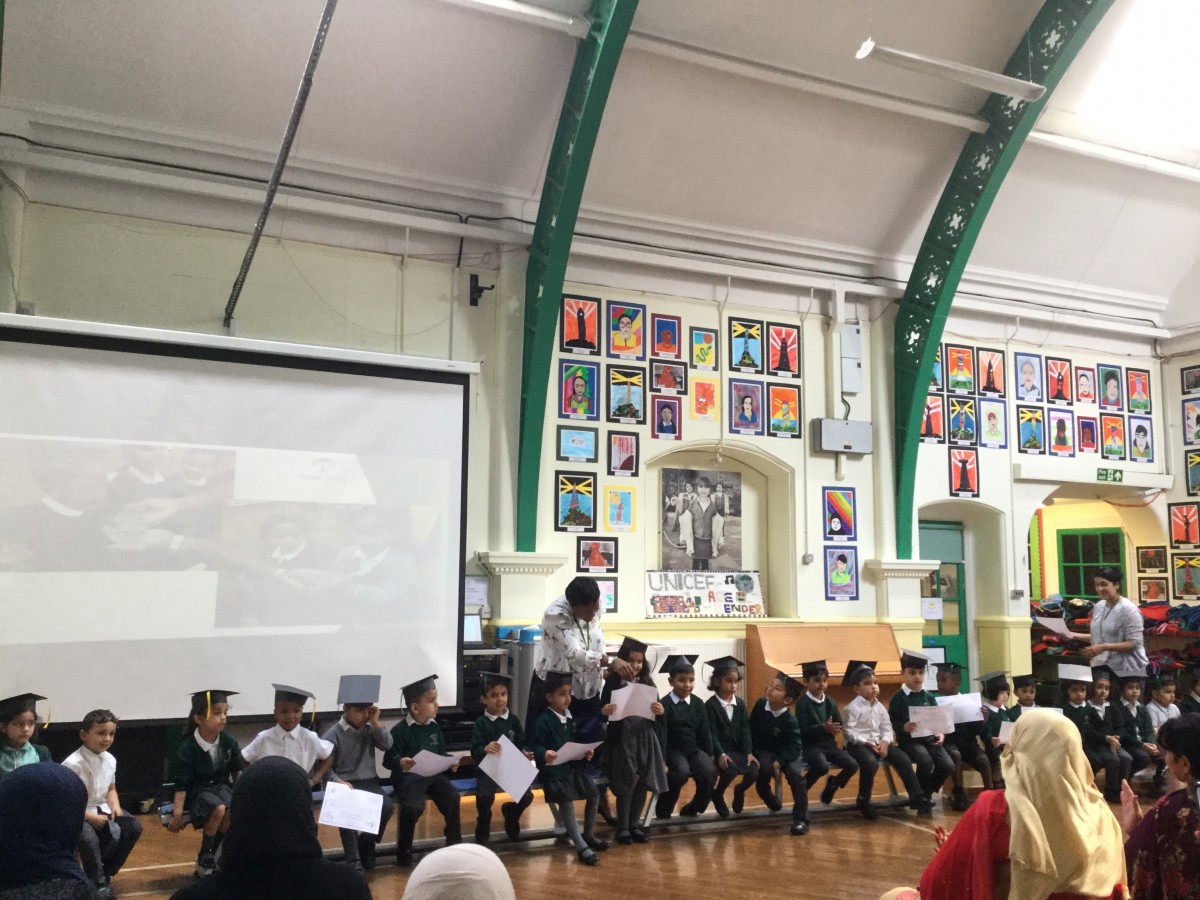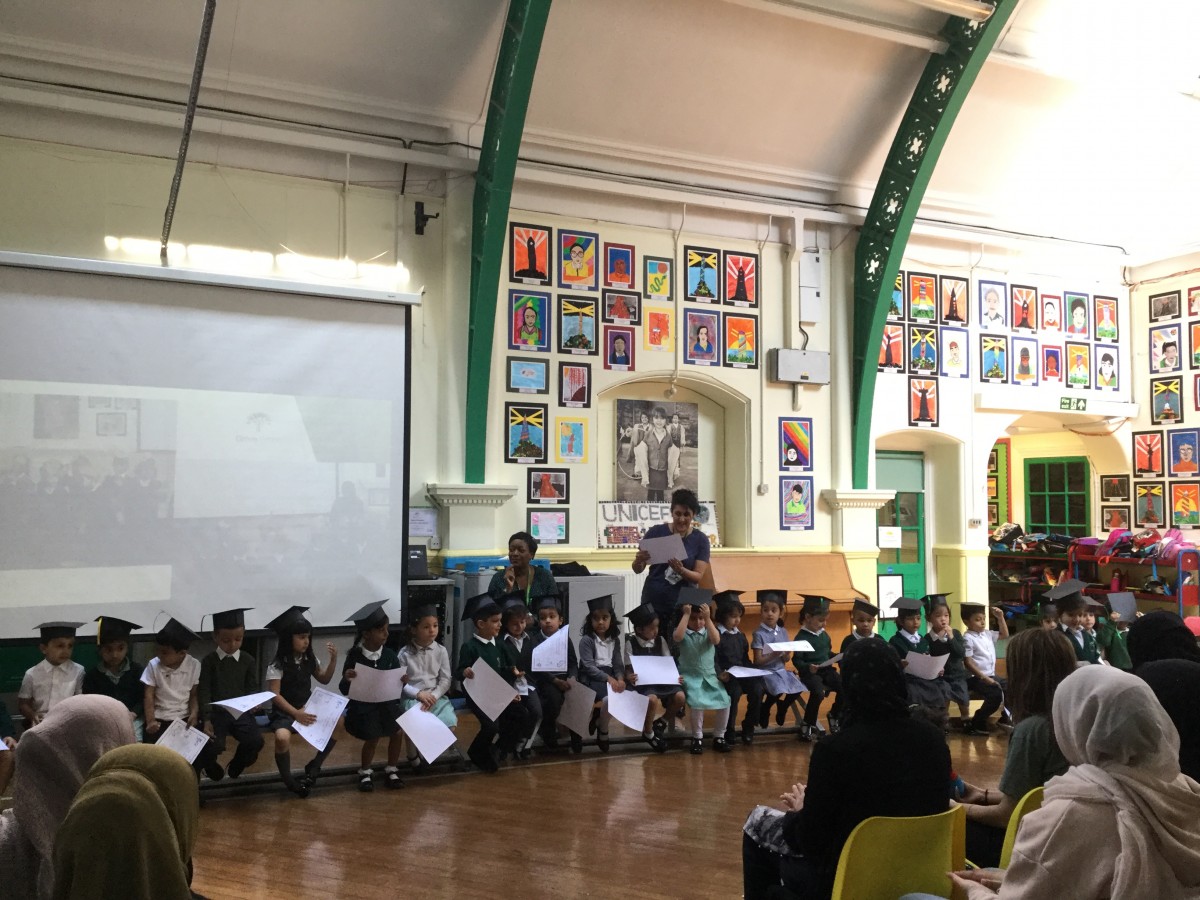 Pirate Picnic
We had lots of fun at our Pirate Picnic! We made cheese and cucumber sandwiches in our classrooms and took them outside to eat with our friends. We also had a biscuit and some fruit. We took our telescopes with us and wore our pirate hats and eye patches. It was very exciting!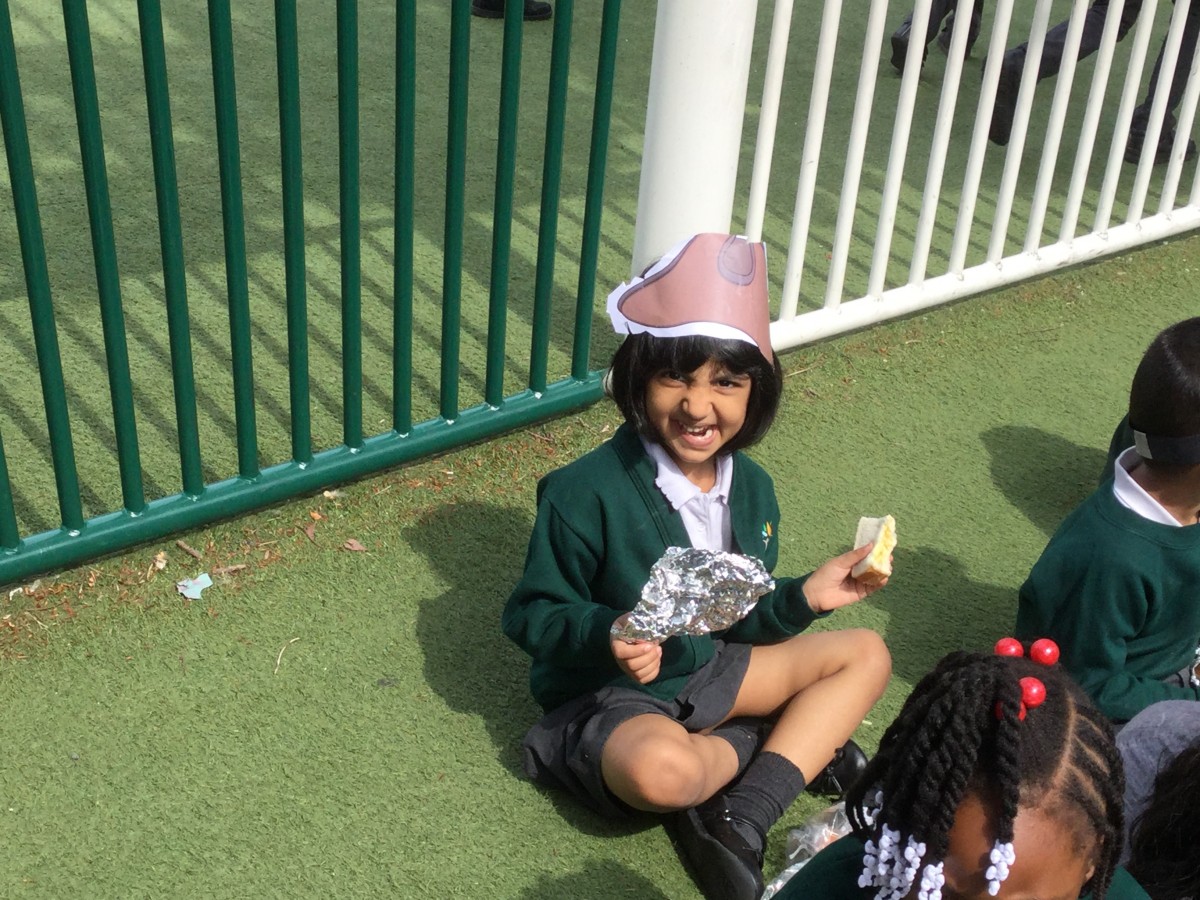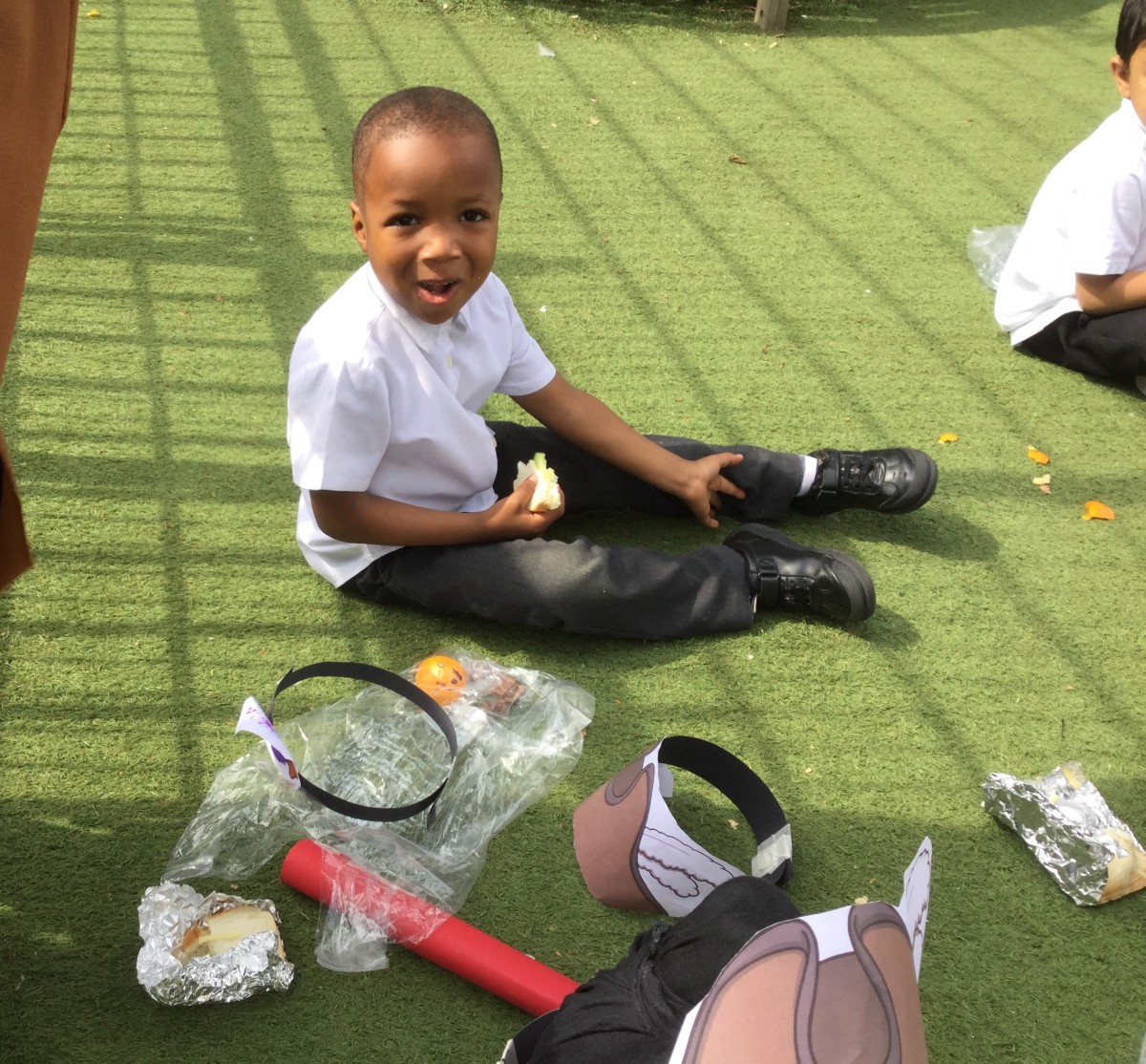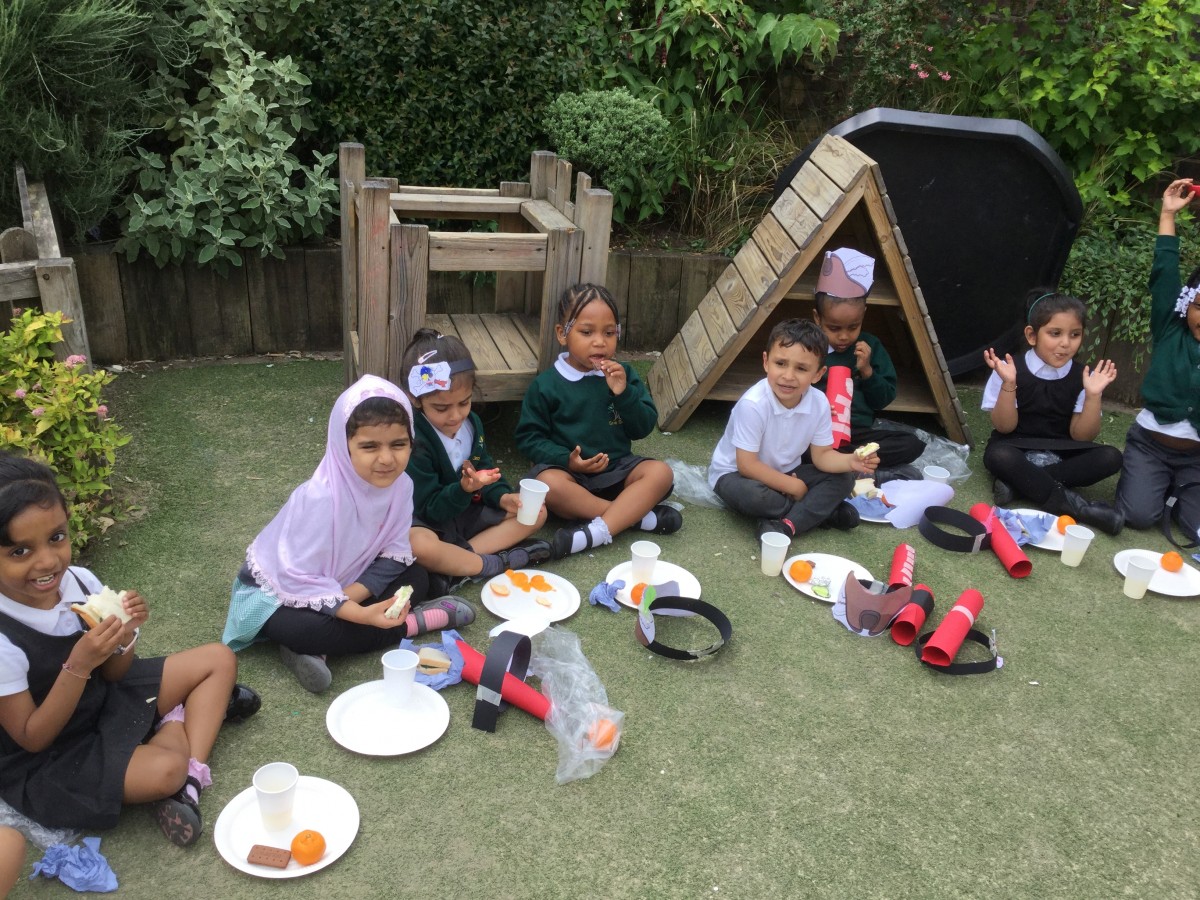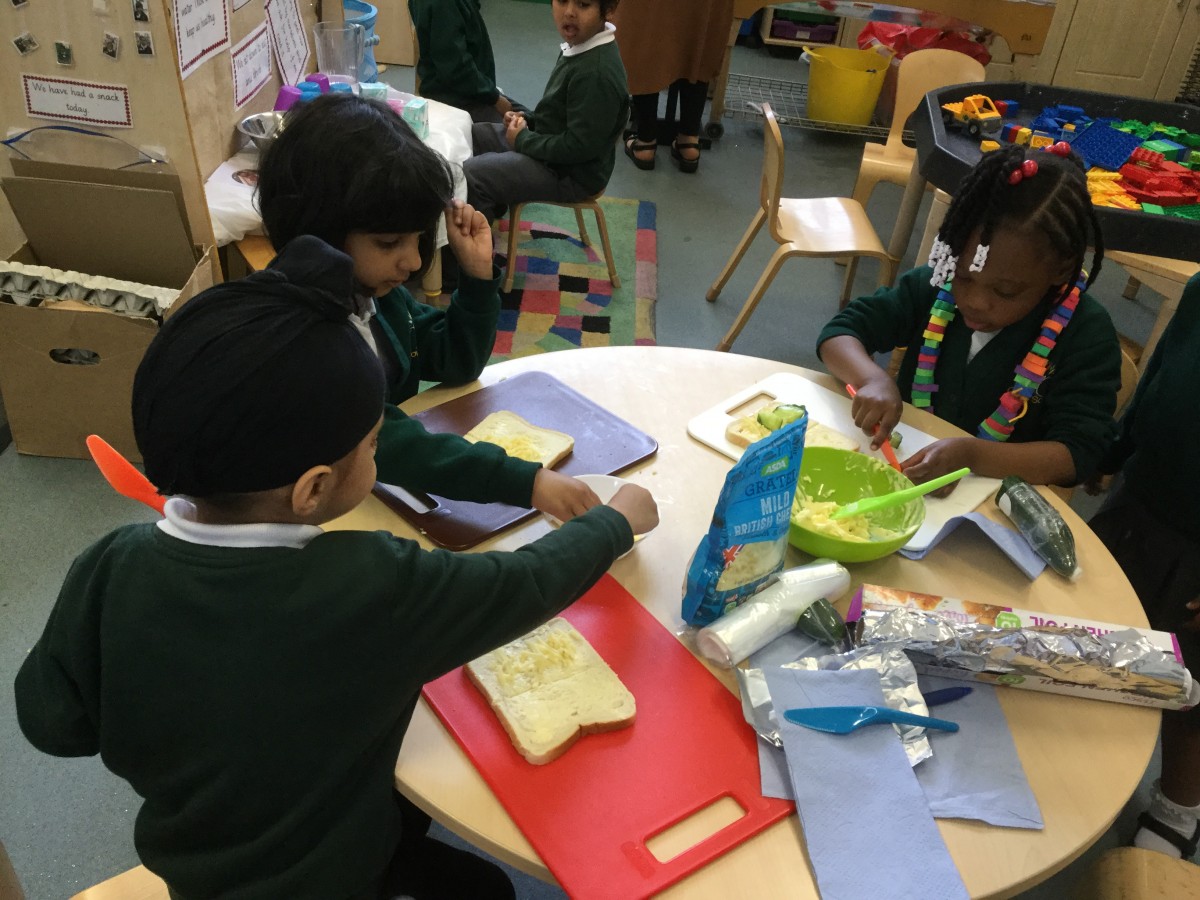 Sports Day
We had great fun on Sports Day and took part i n lots of different races. We all tried our best and we were very good sports!
Forest School
We have enjoyed searching for bugs in forest school every week. We have been able to look closely at their features and compare them to other bugs we have found.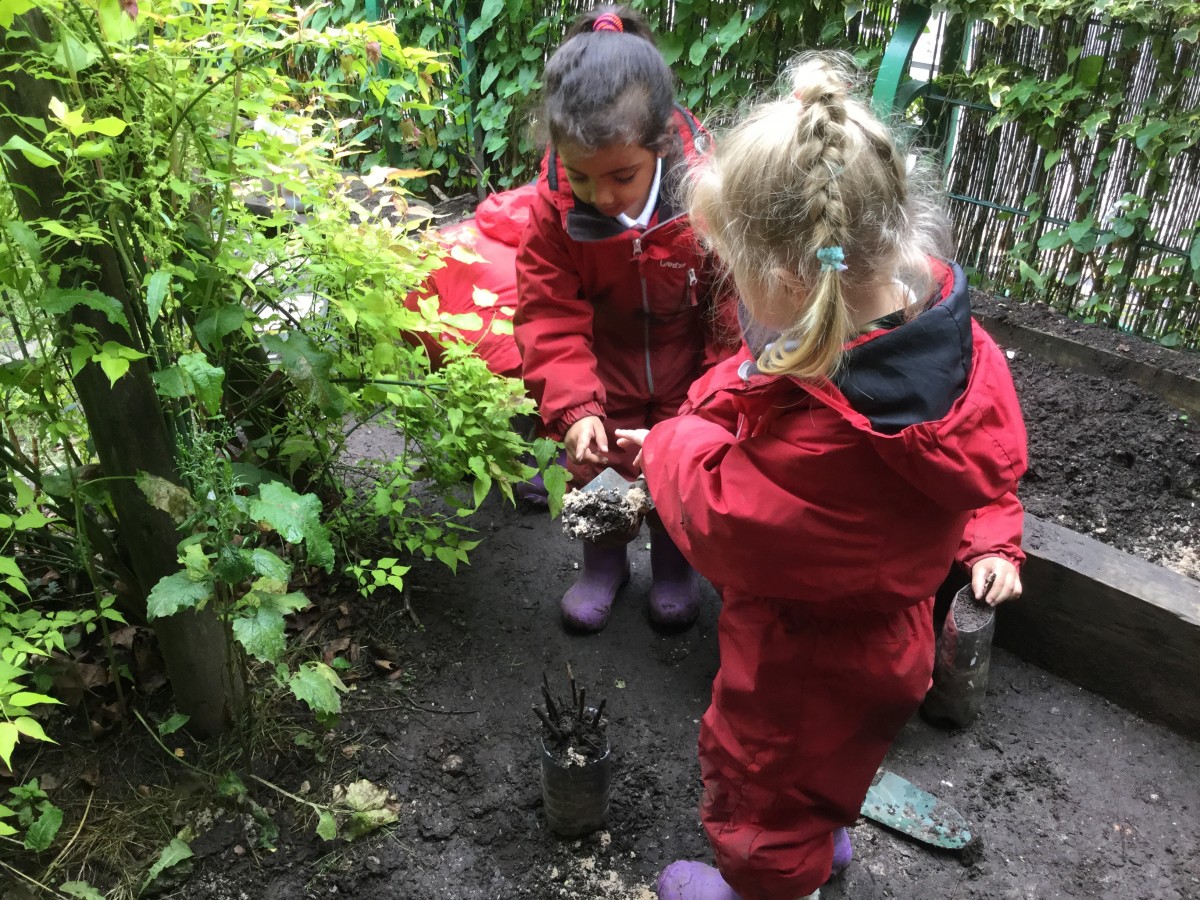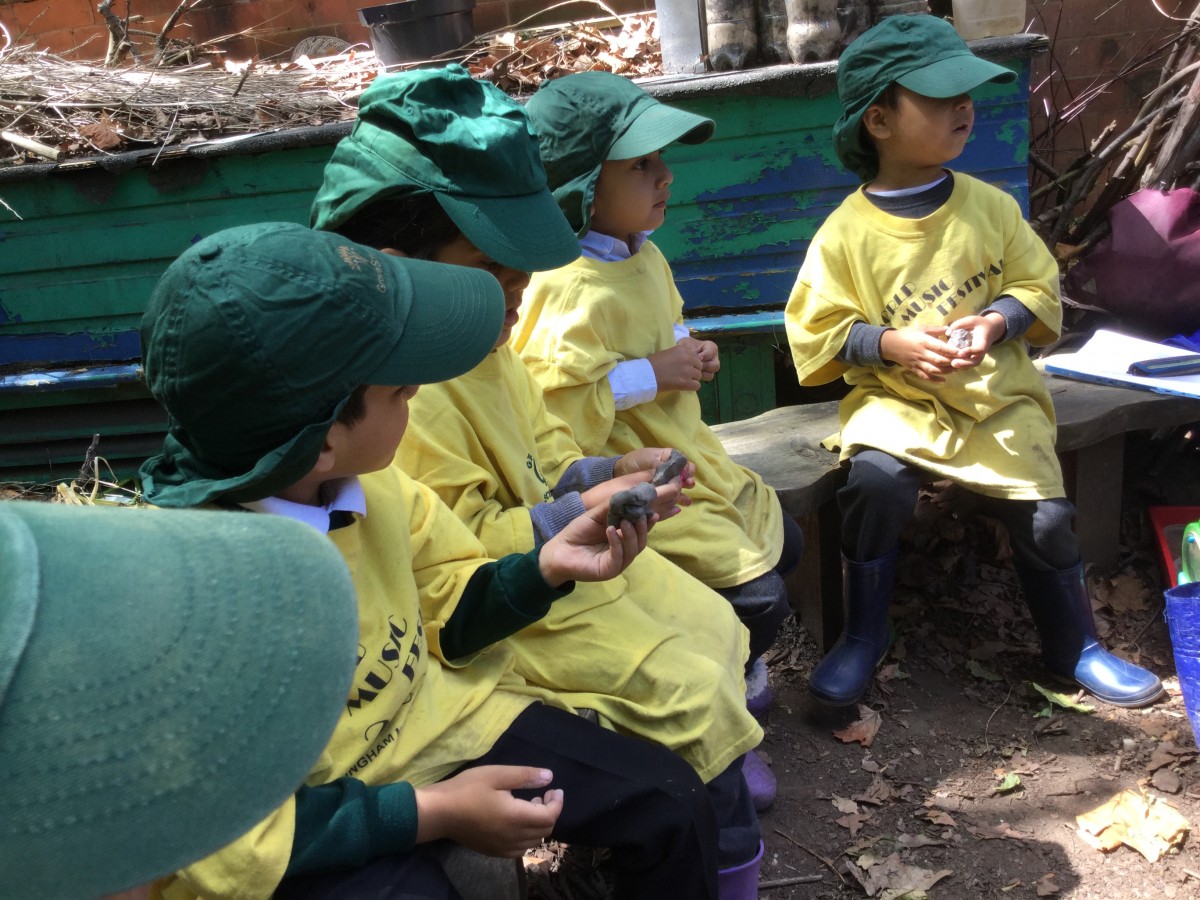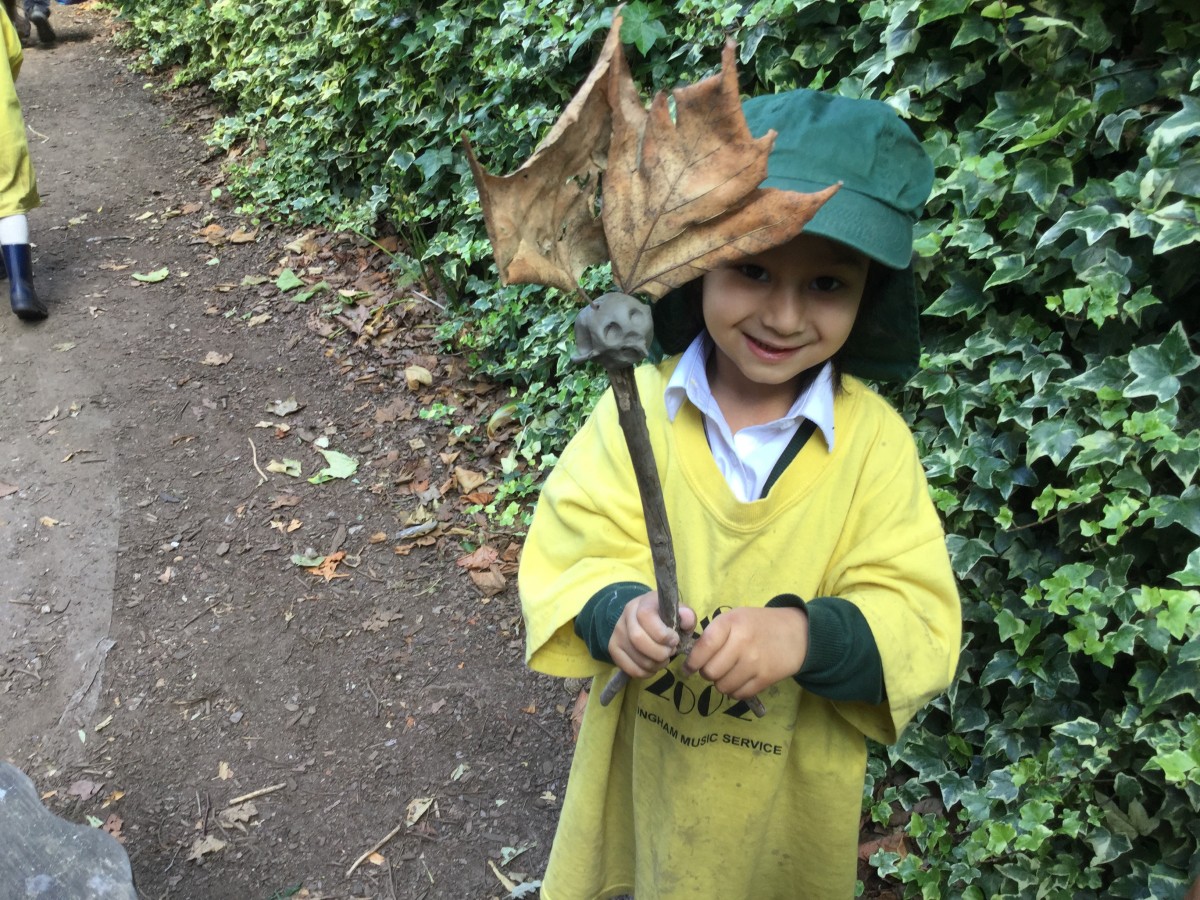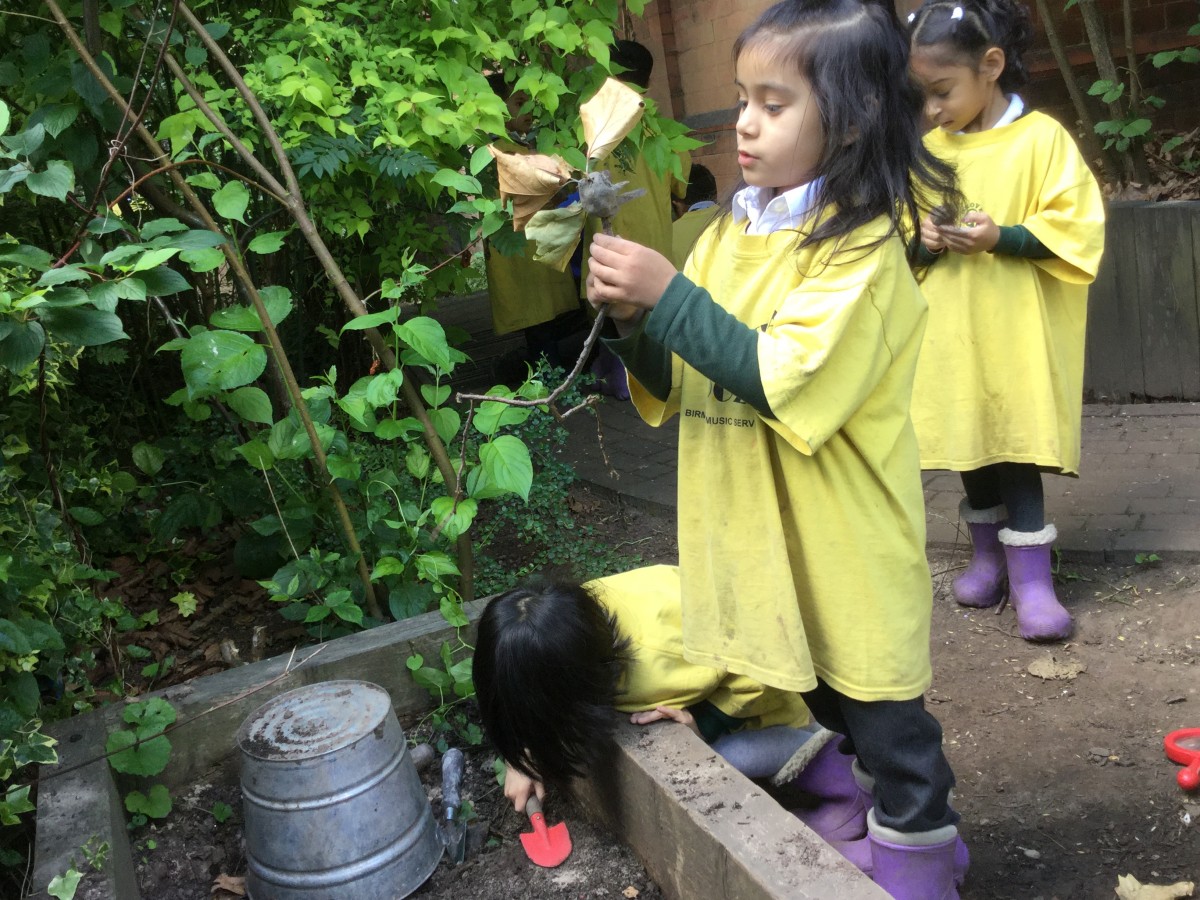 We have created wonderful pieces of art whilst outside too.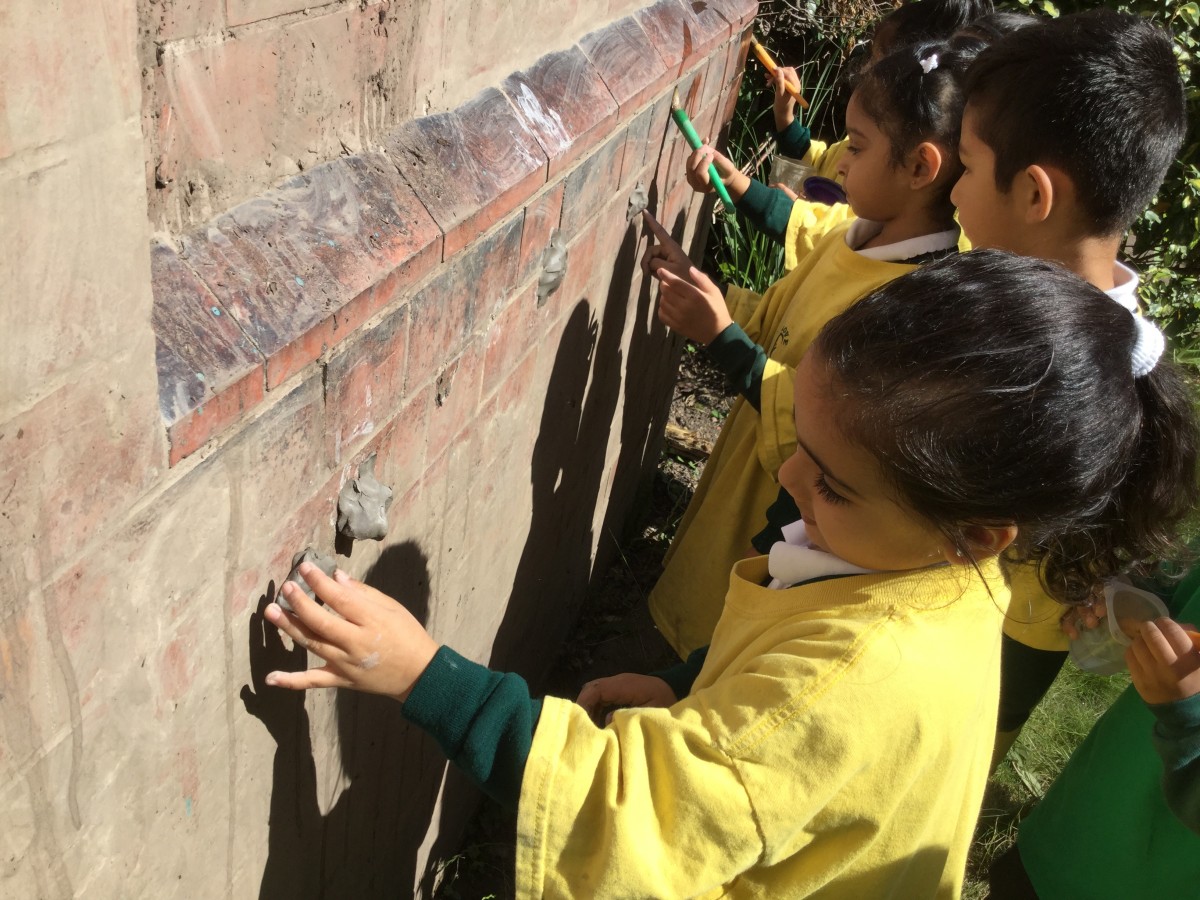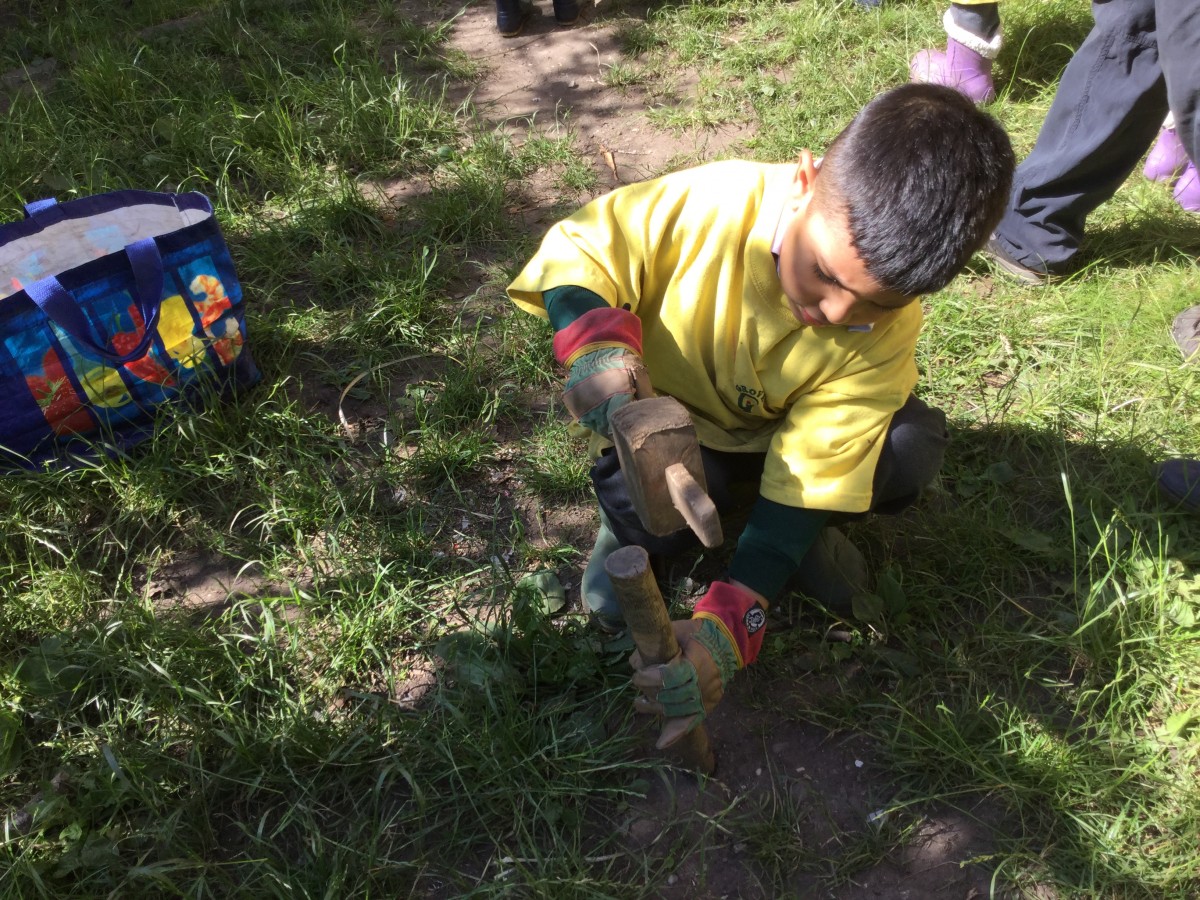 We used a mallet and safely hammered stakes into the ground.
Today we found a dinosaur egg in our nursery! The children were very excited and can't wait for it to hatch!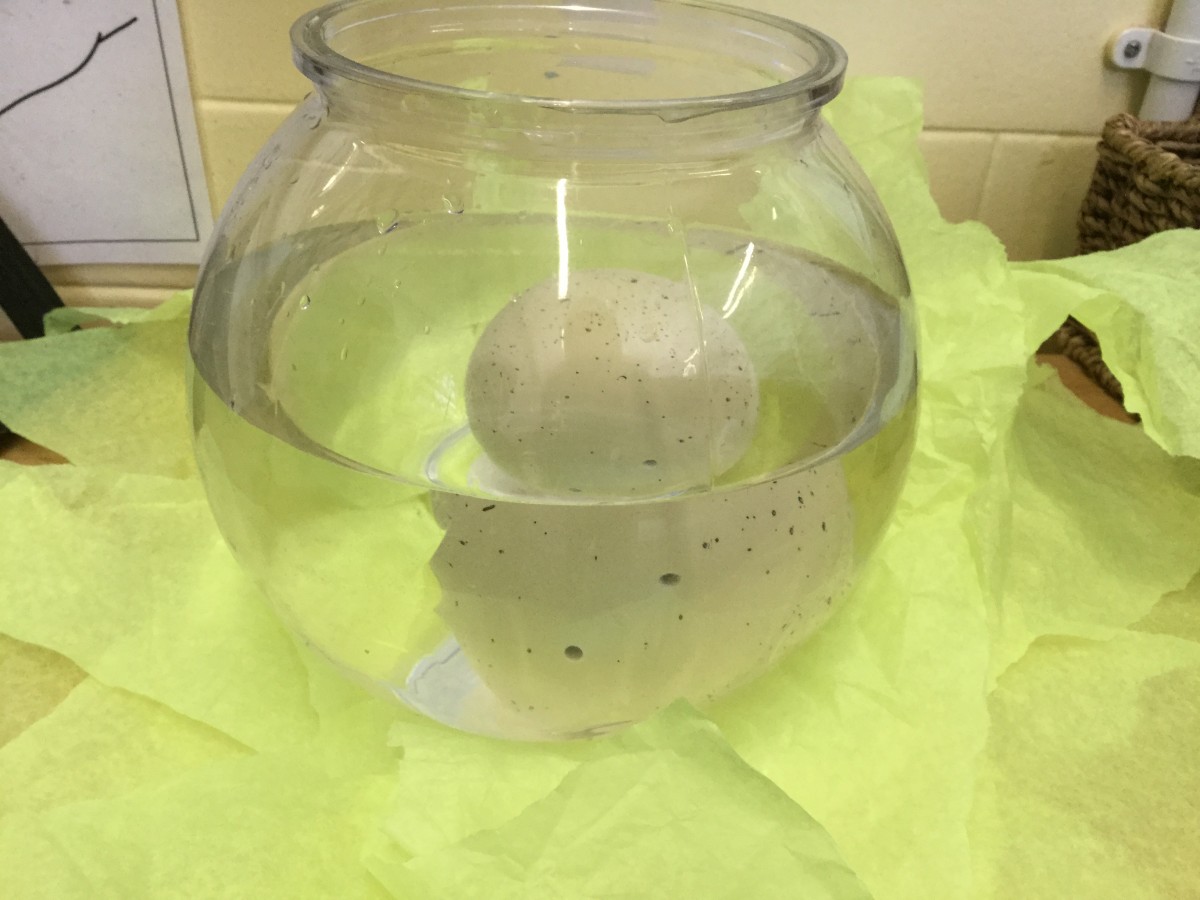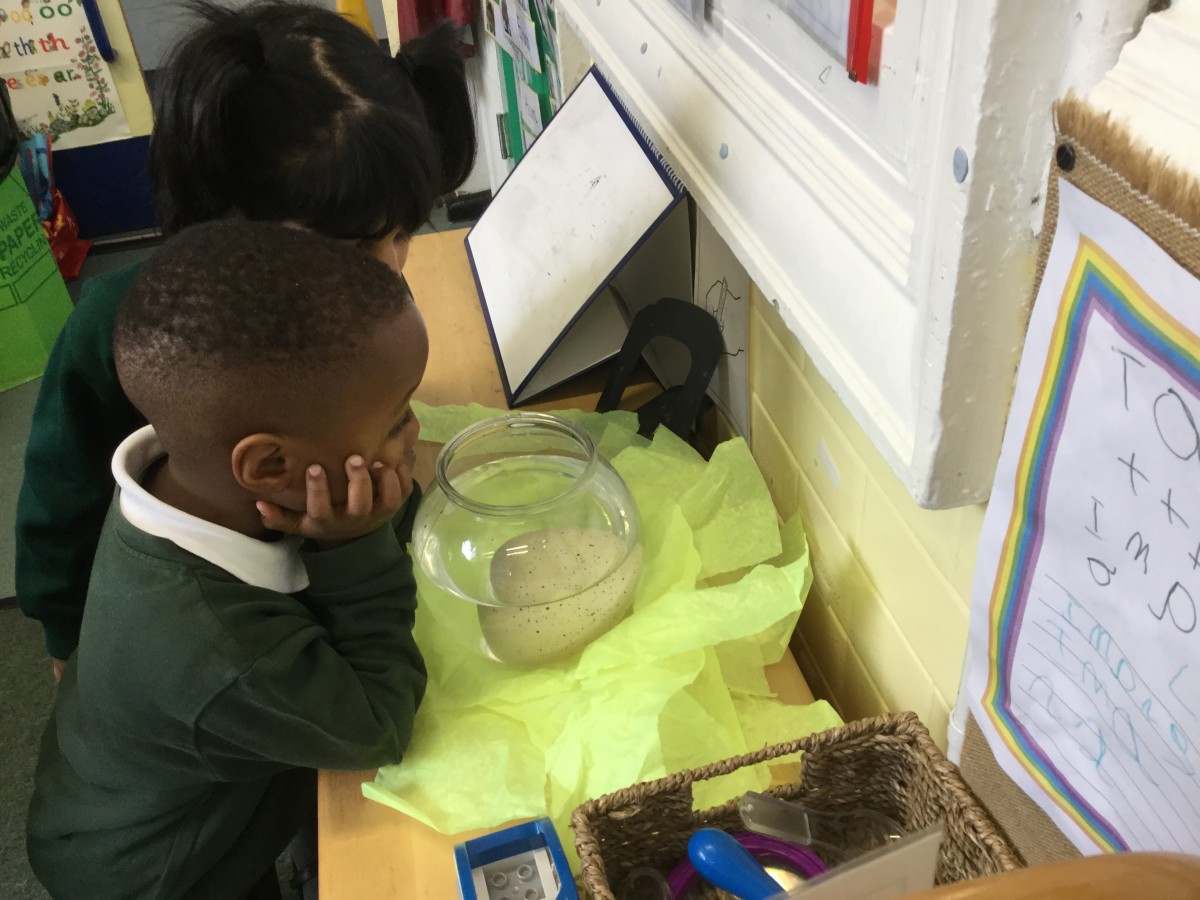 The children have enjoyed painting dinosaurs and have painted some beautiful pictures.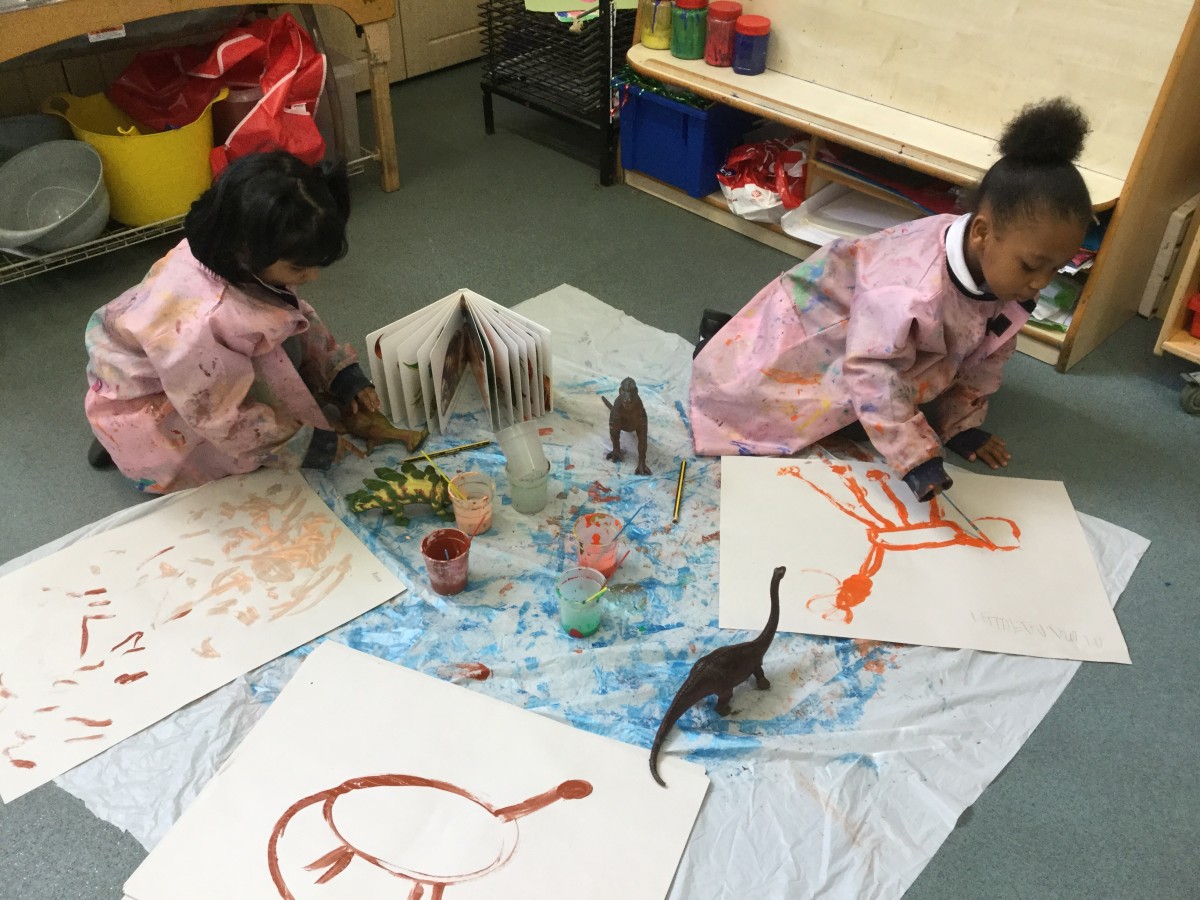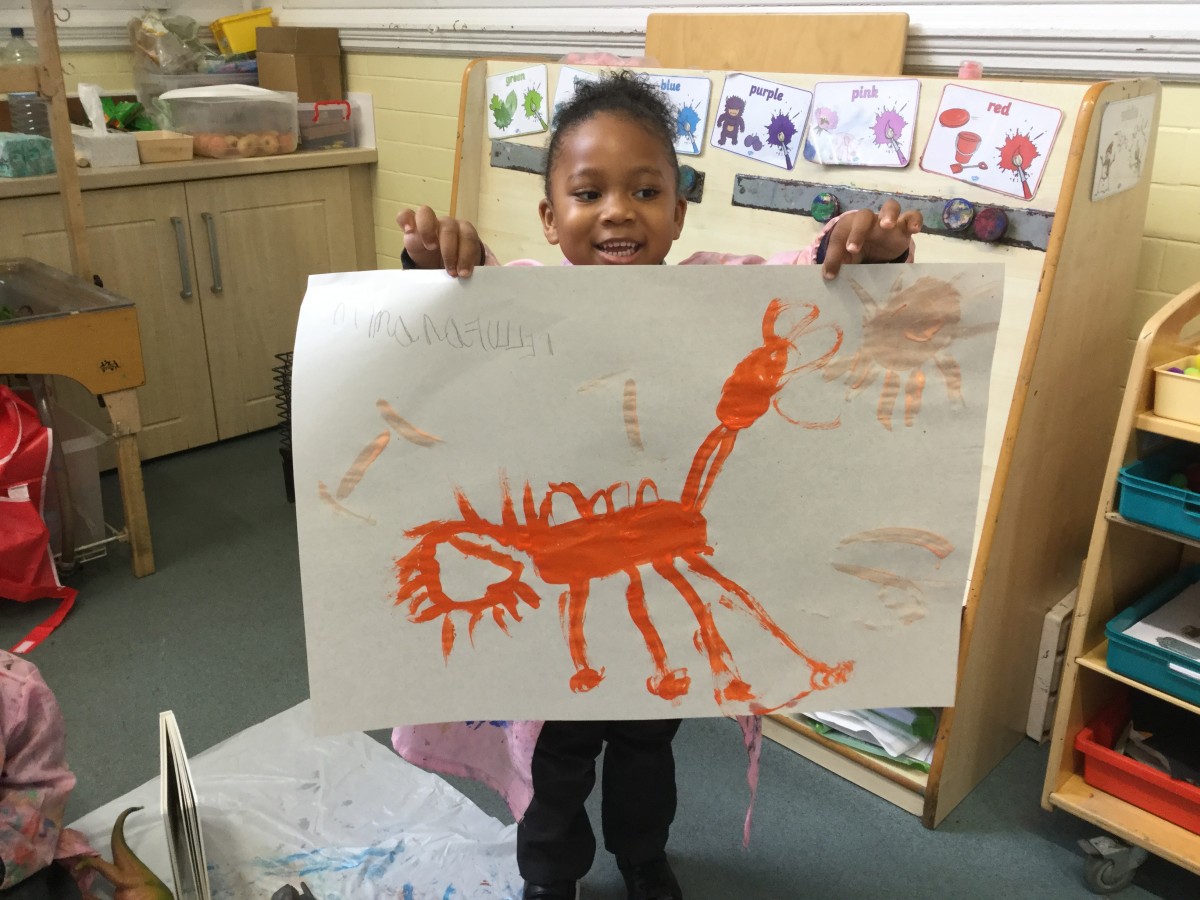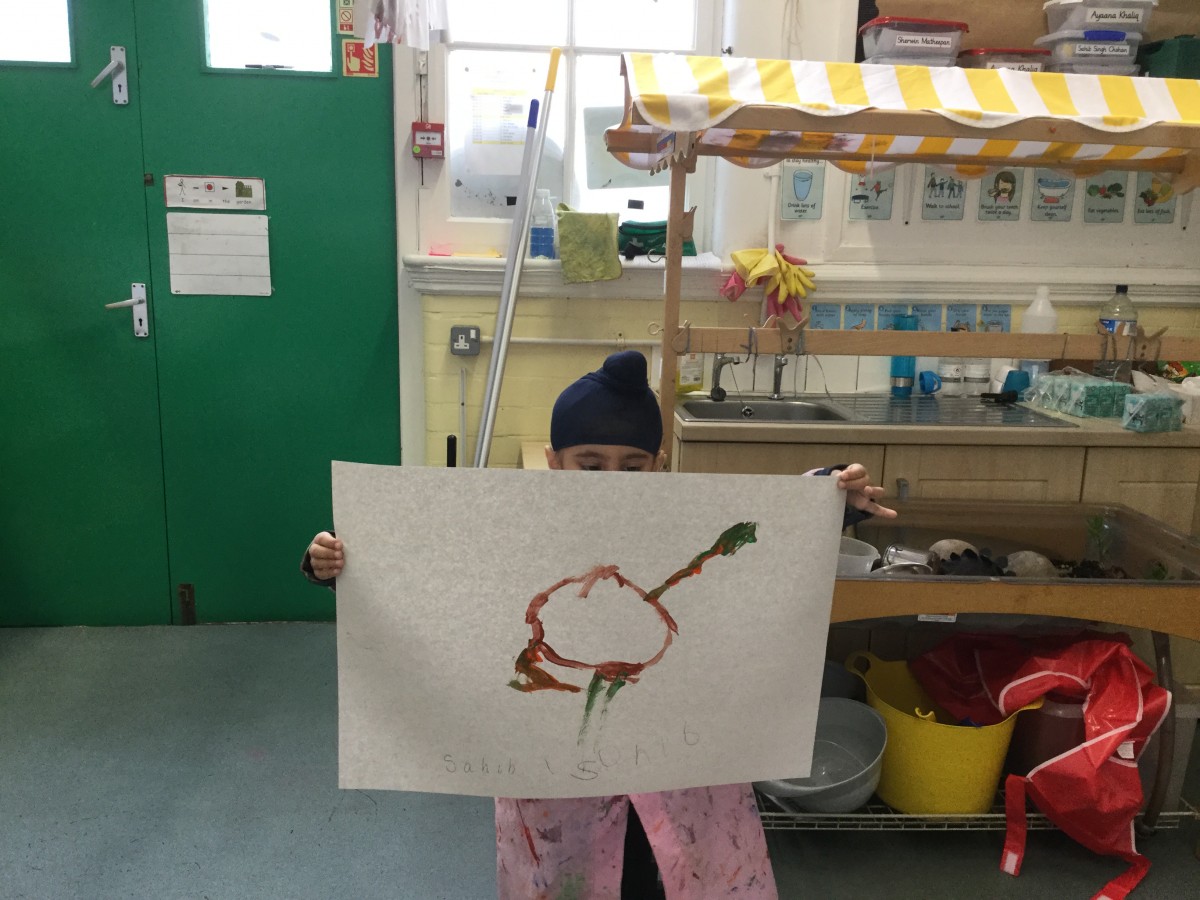 Ash End Farm
The nursery children have had a lovely day at Ash End Farm. They enjoyed feeding the goats and sheep, and giving the lambs and kids a bottle of milk. The children sang 'happy hatchday' to the youngest chick on the farm and had a lovely time playing in the play area. They were so tired, some of them fell asleep on the way home!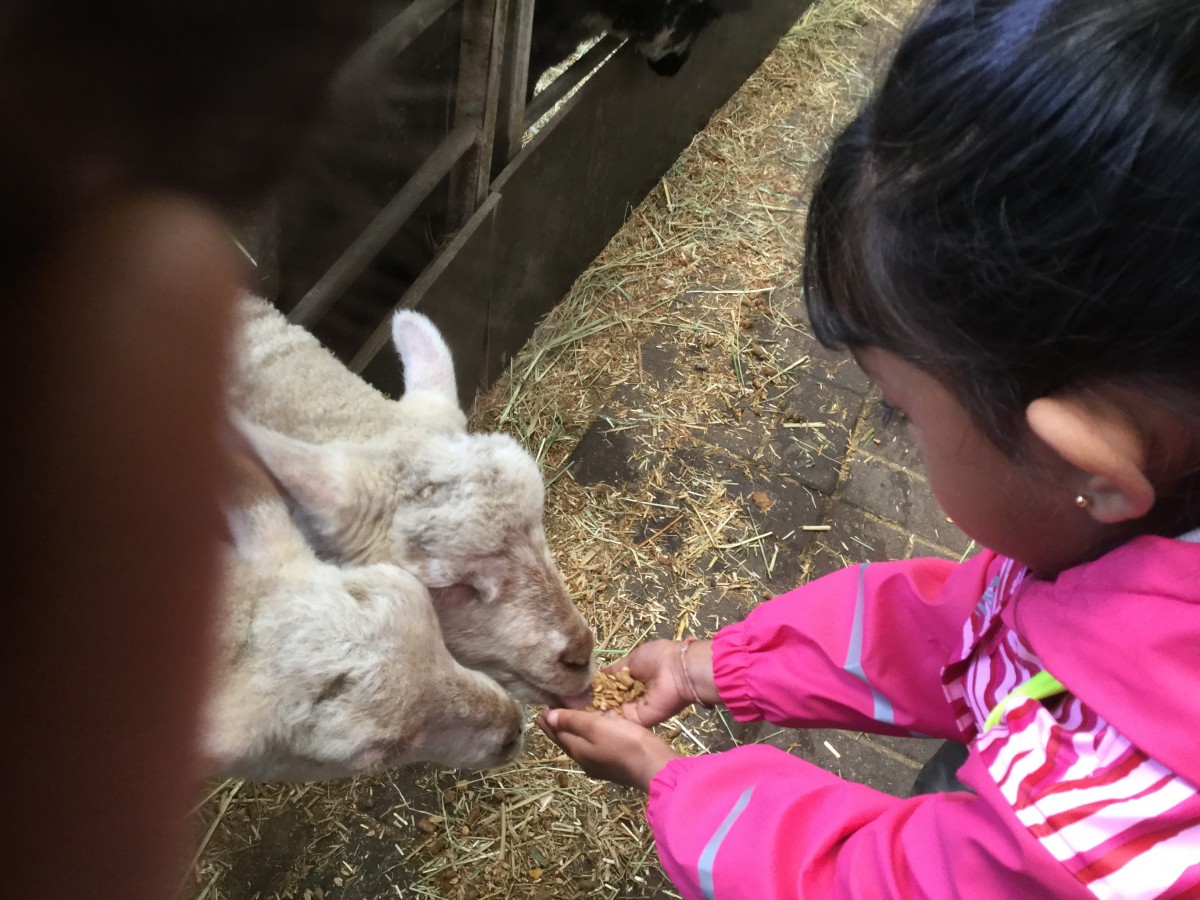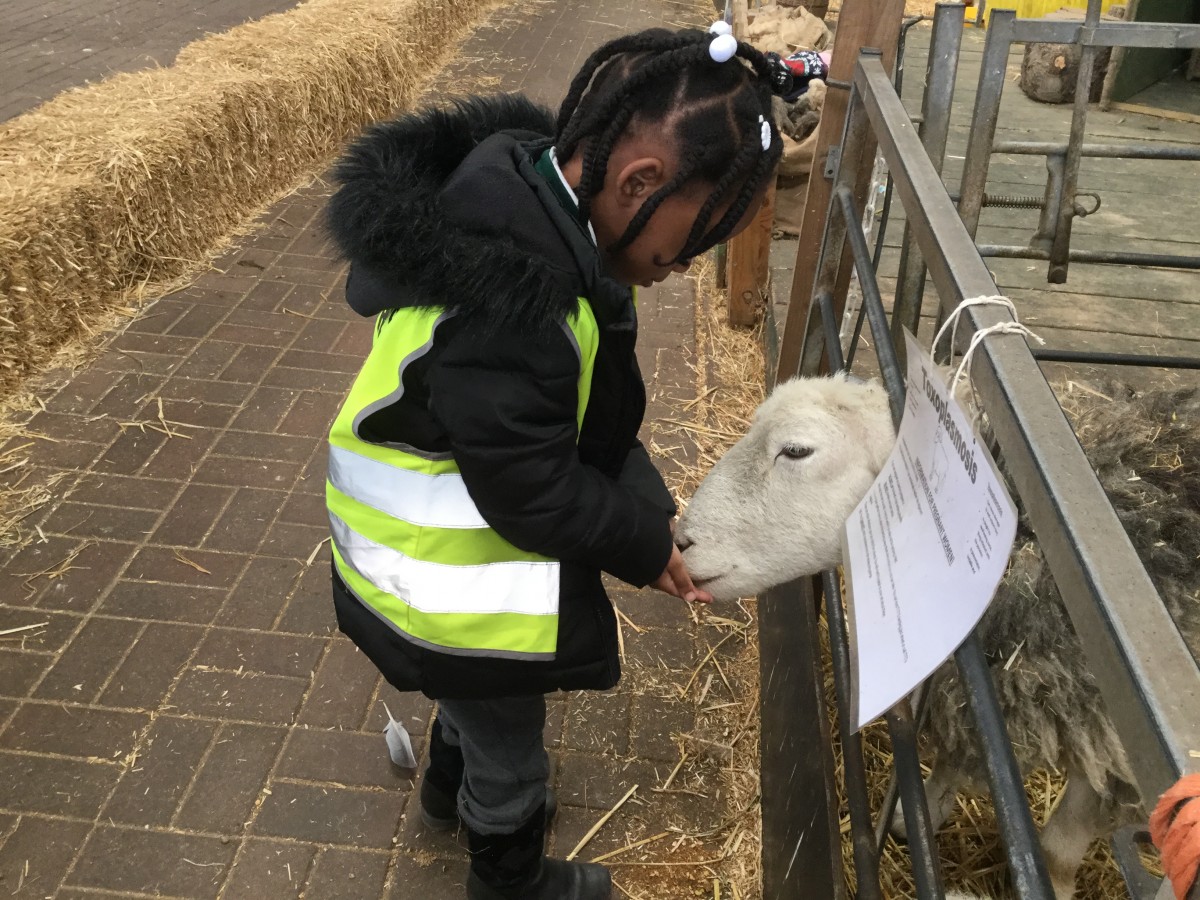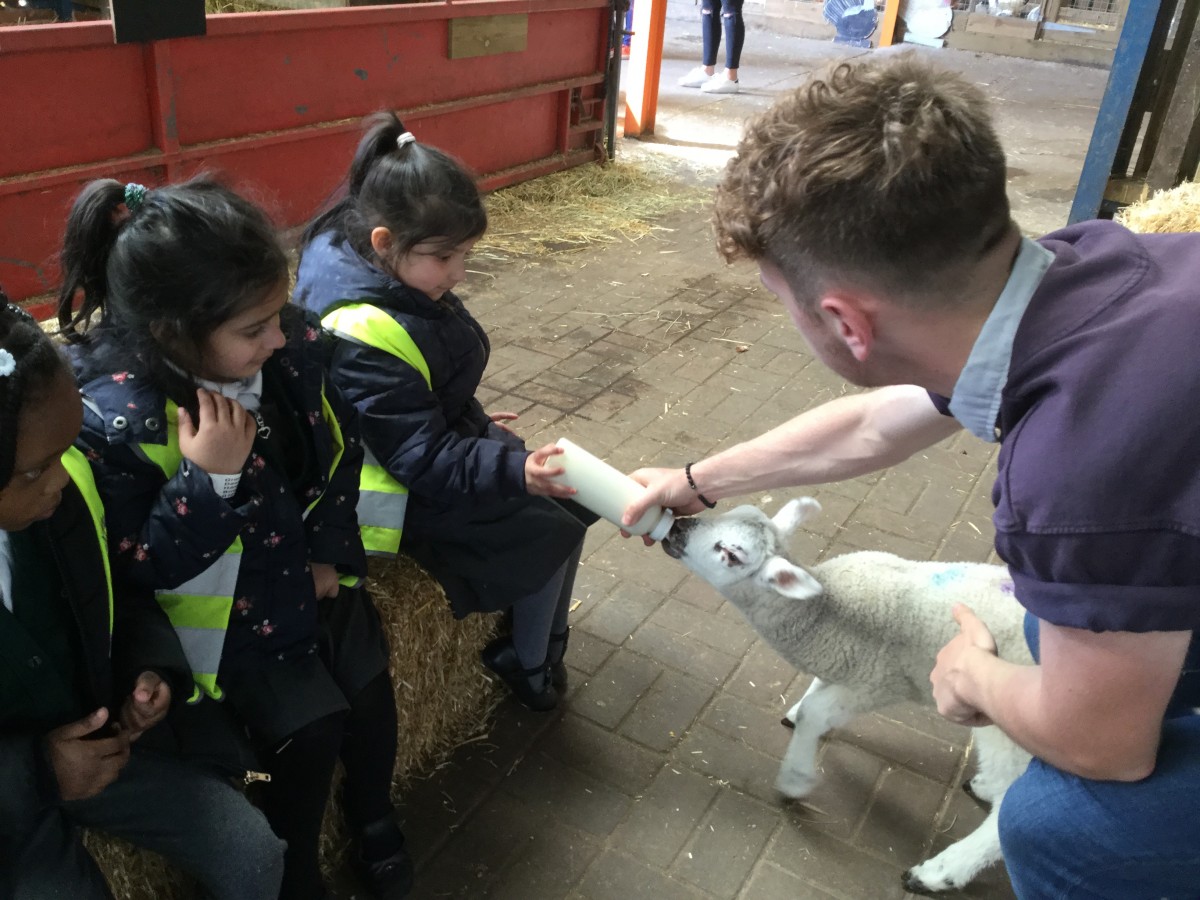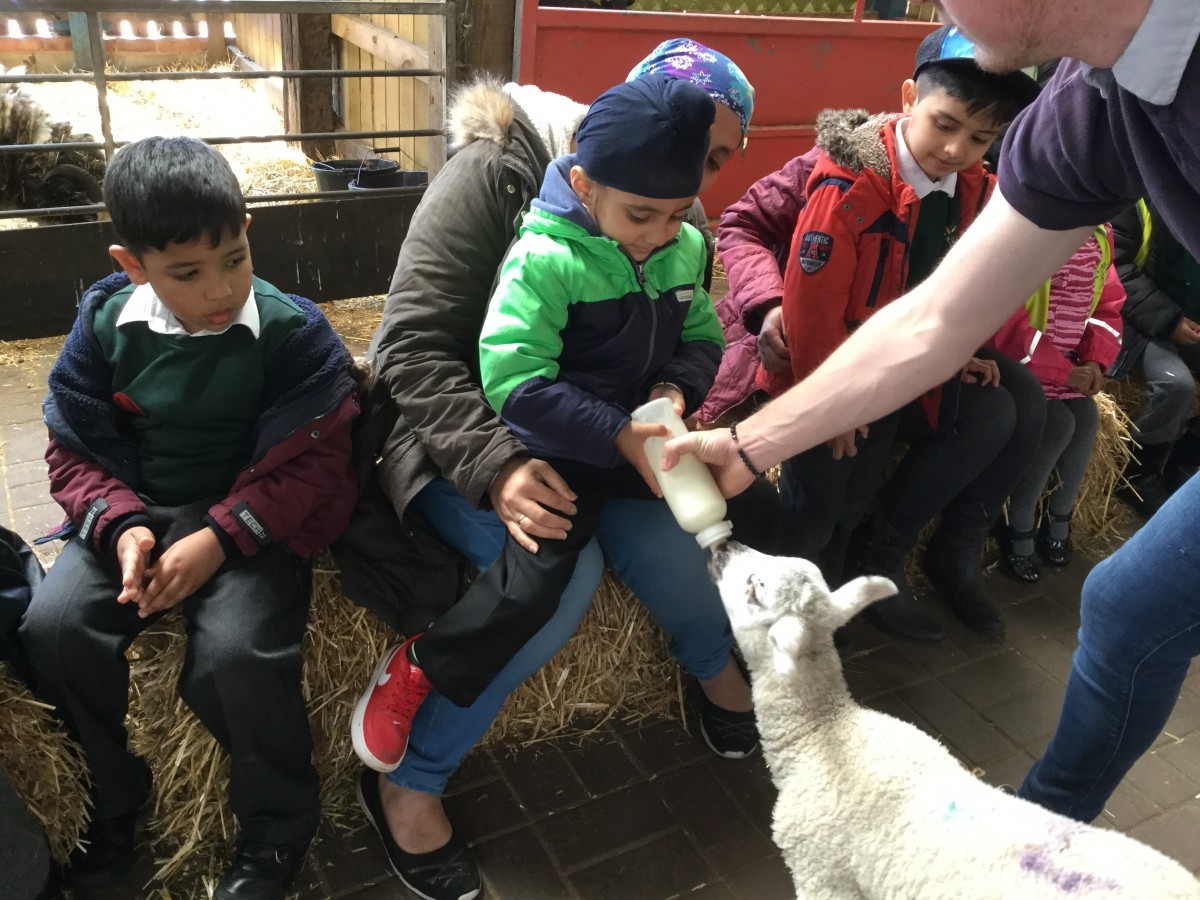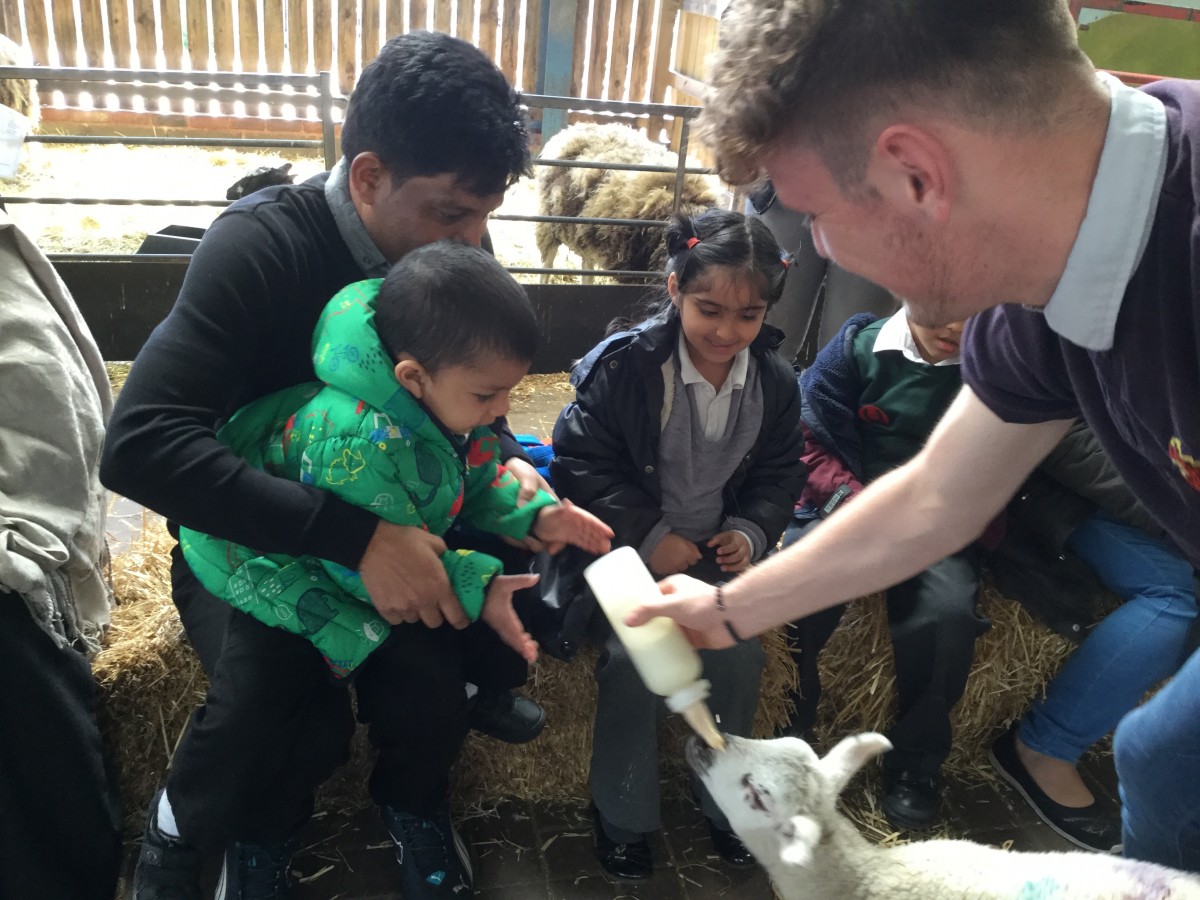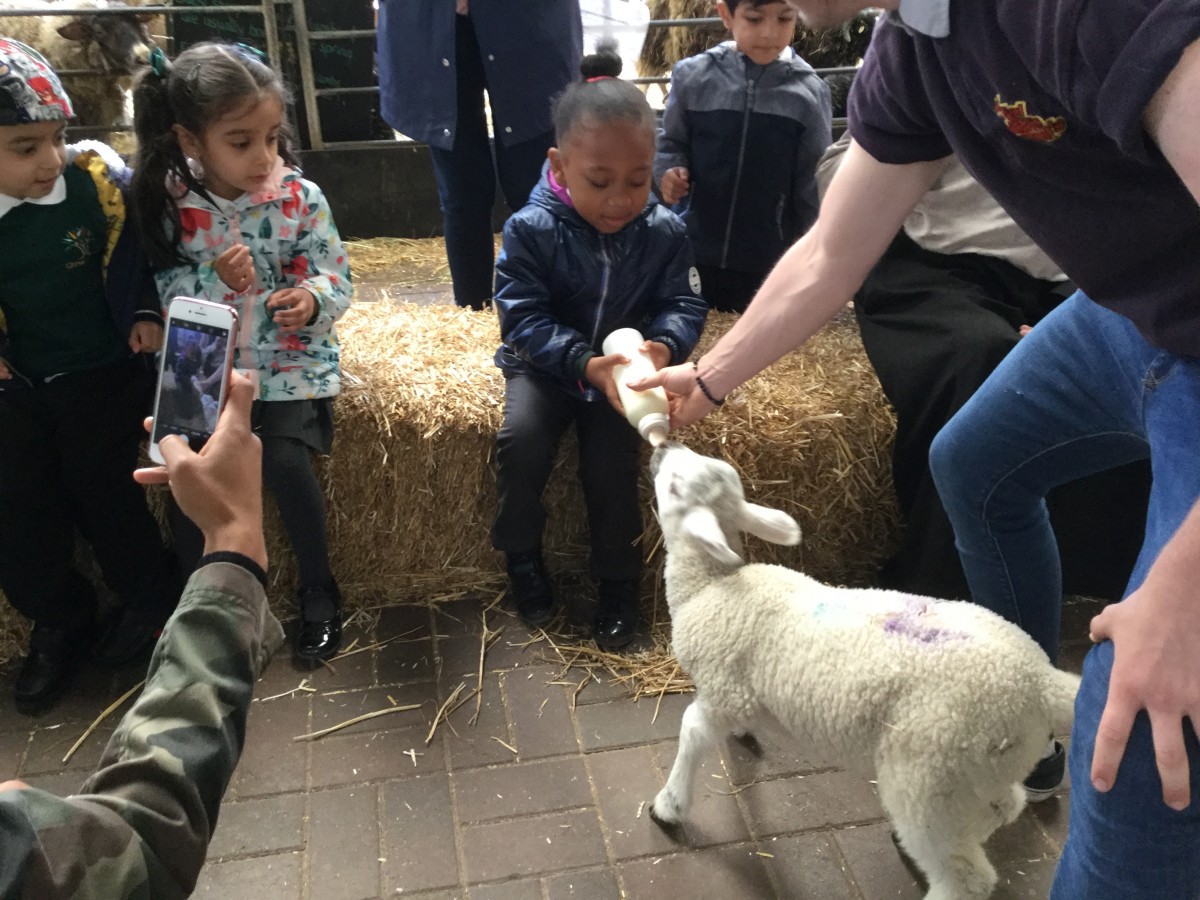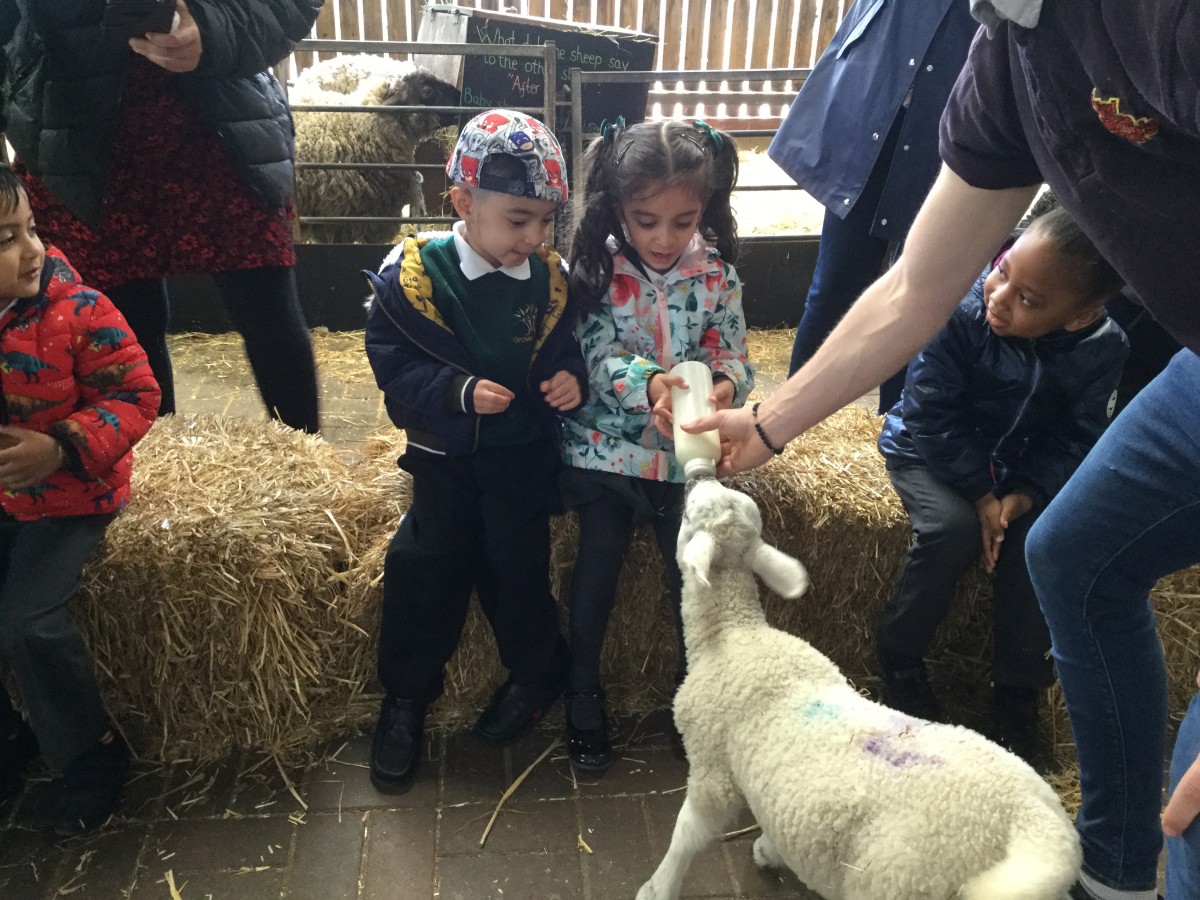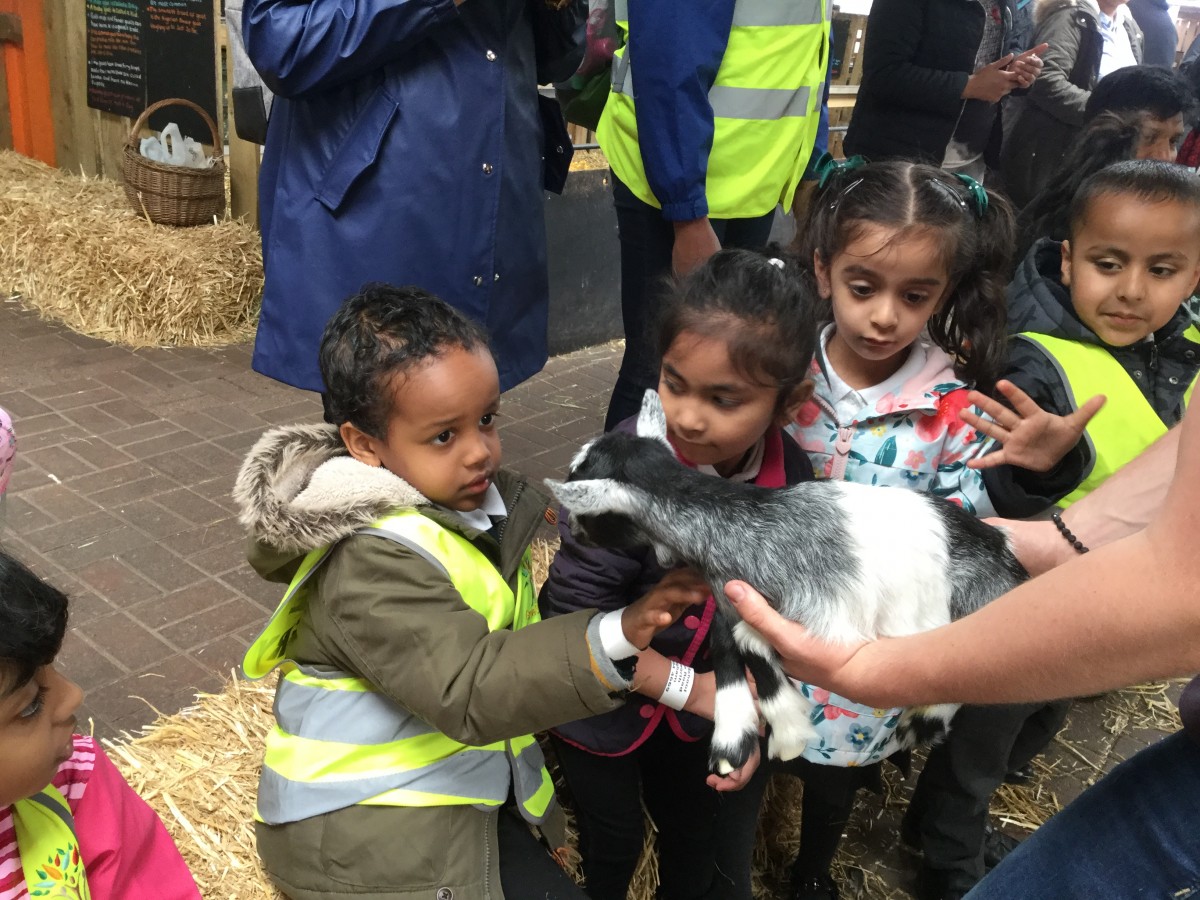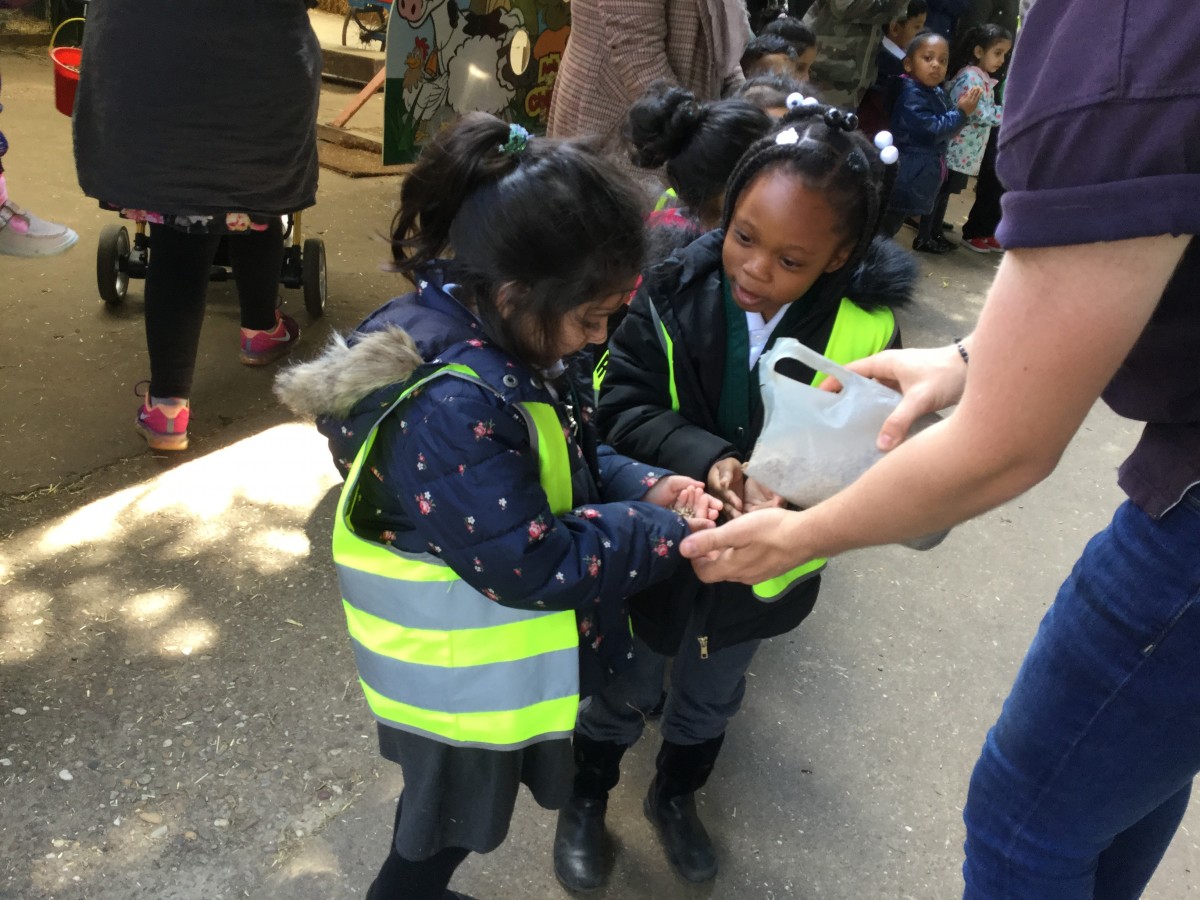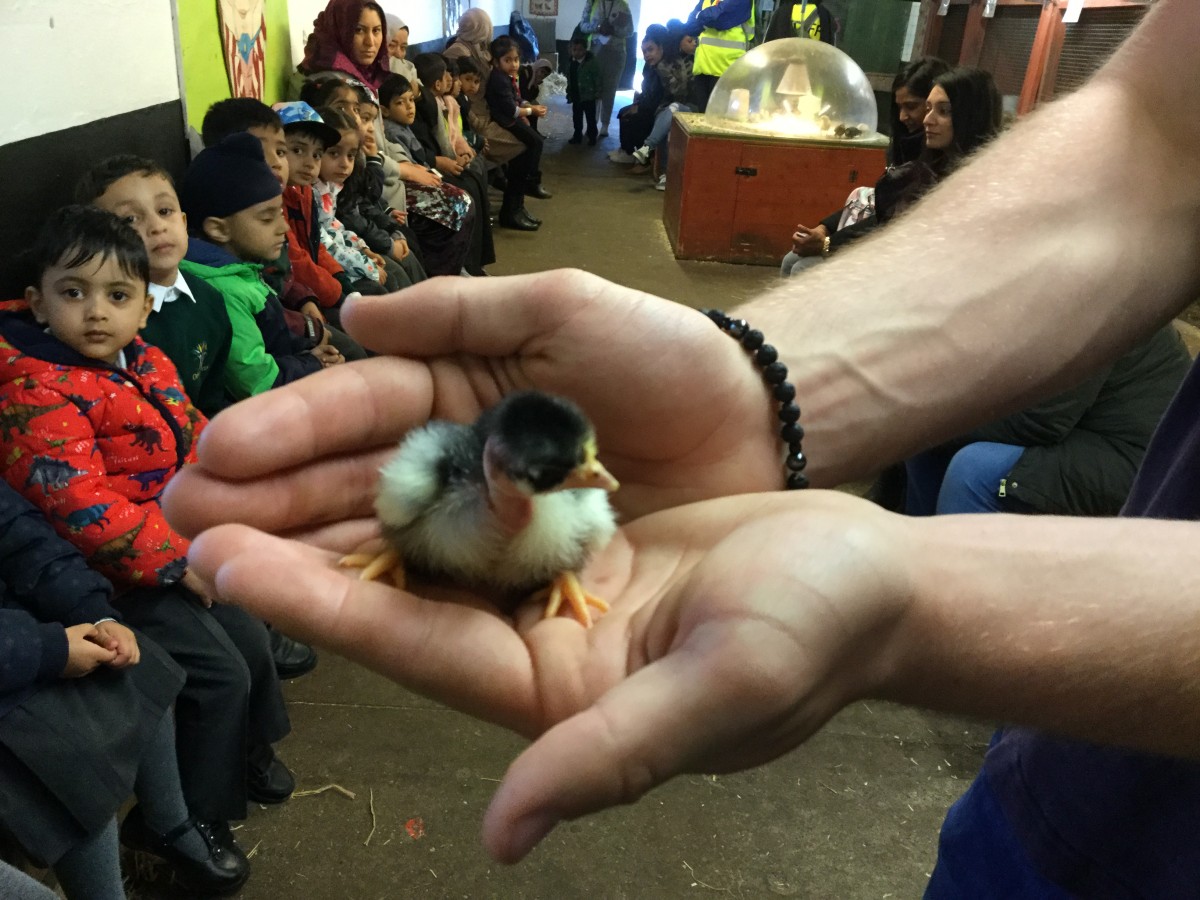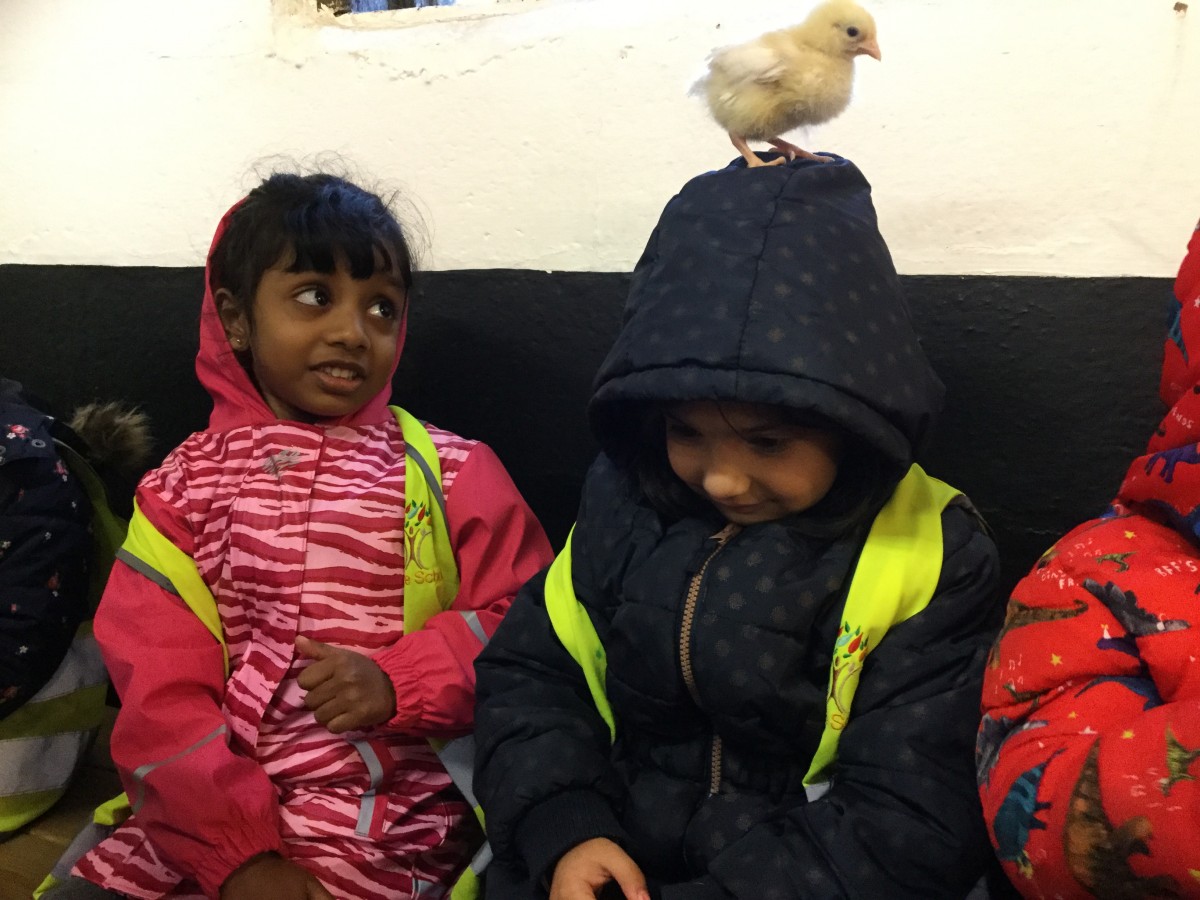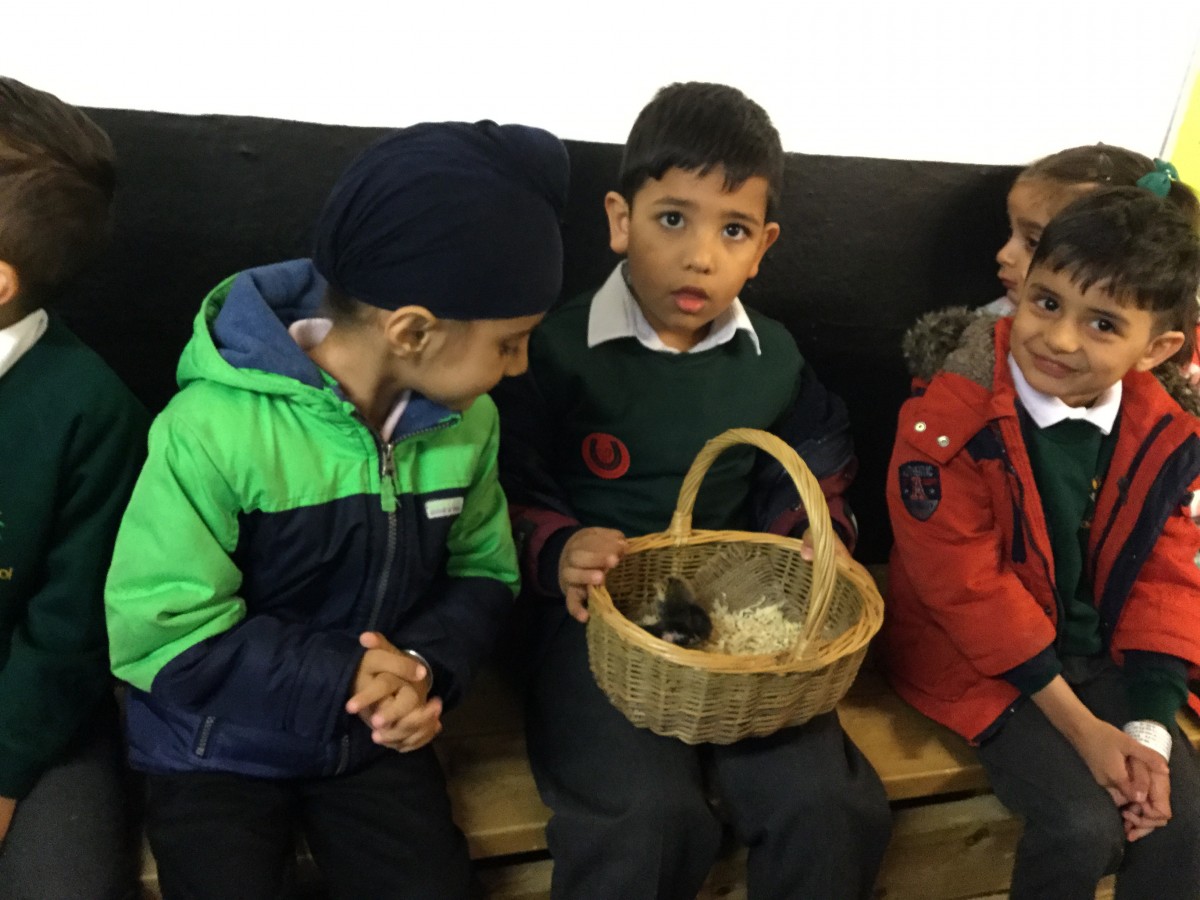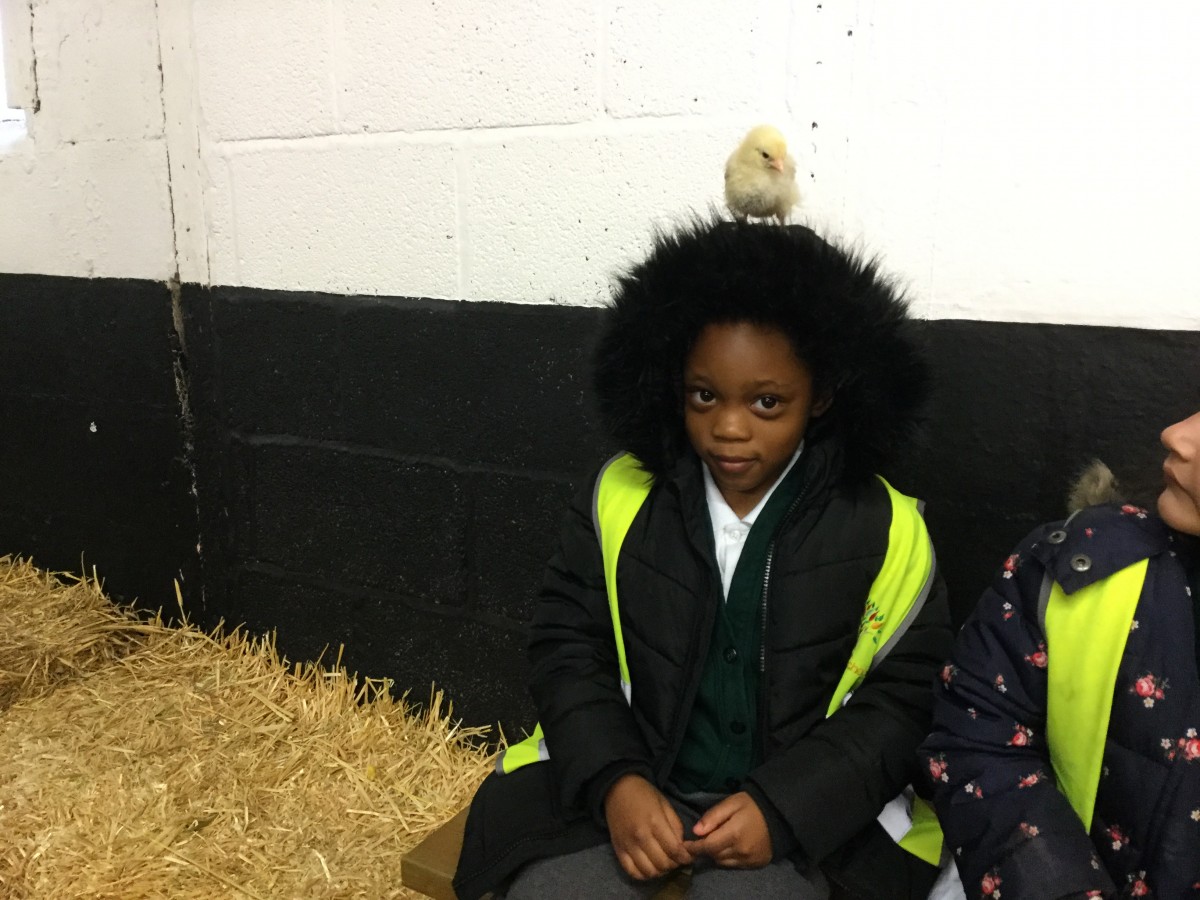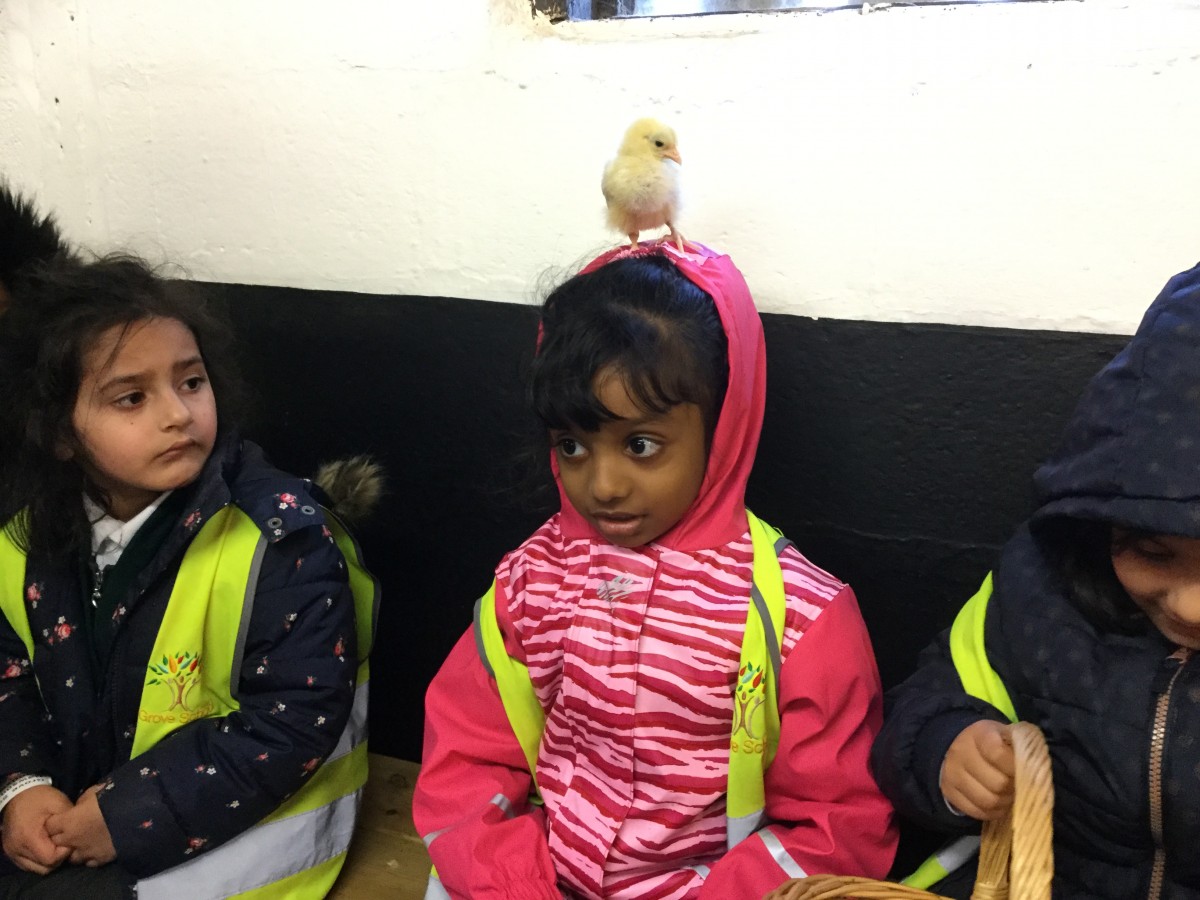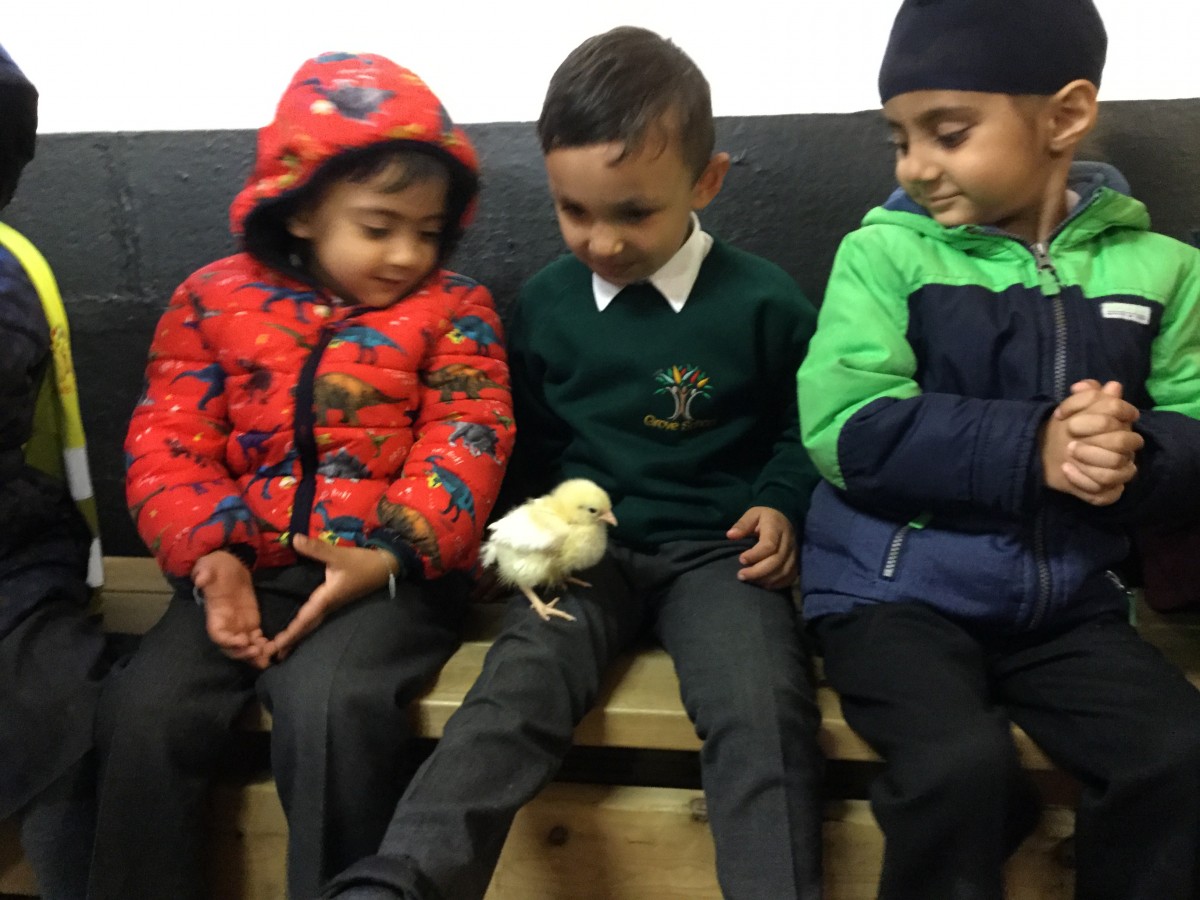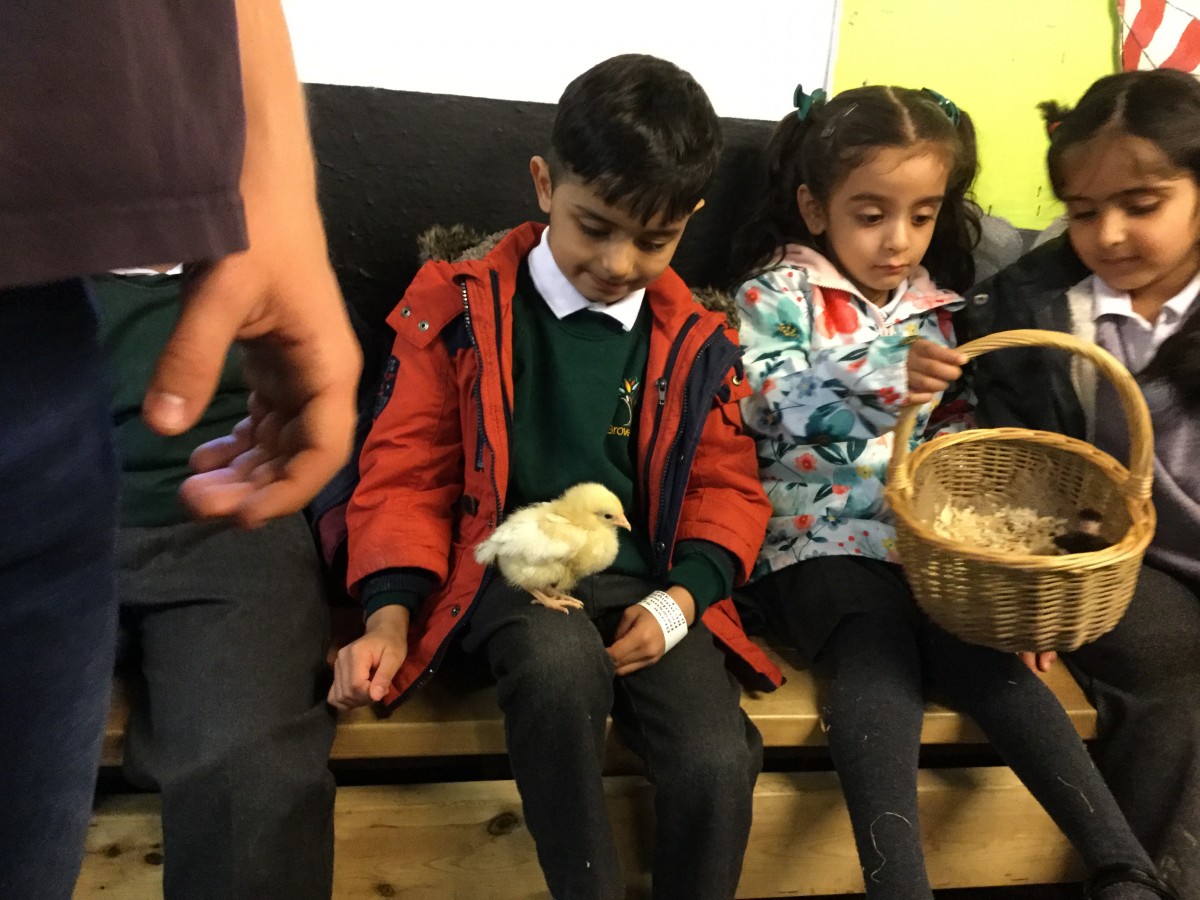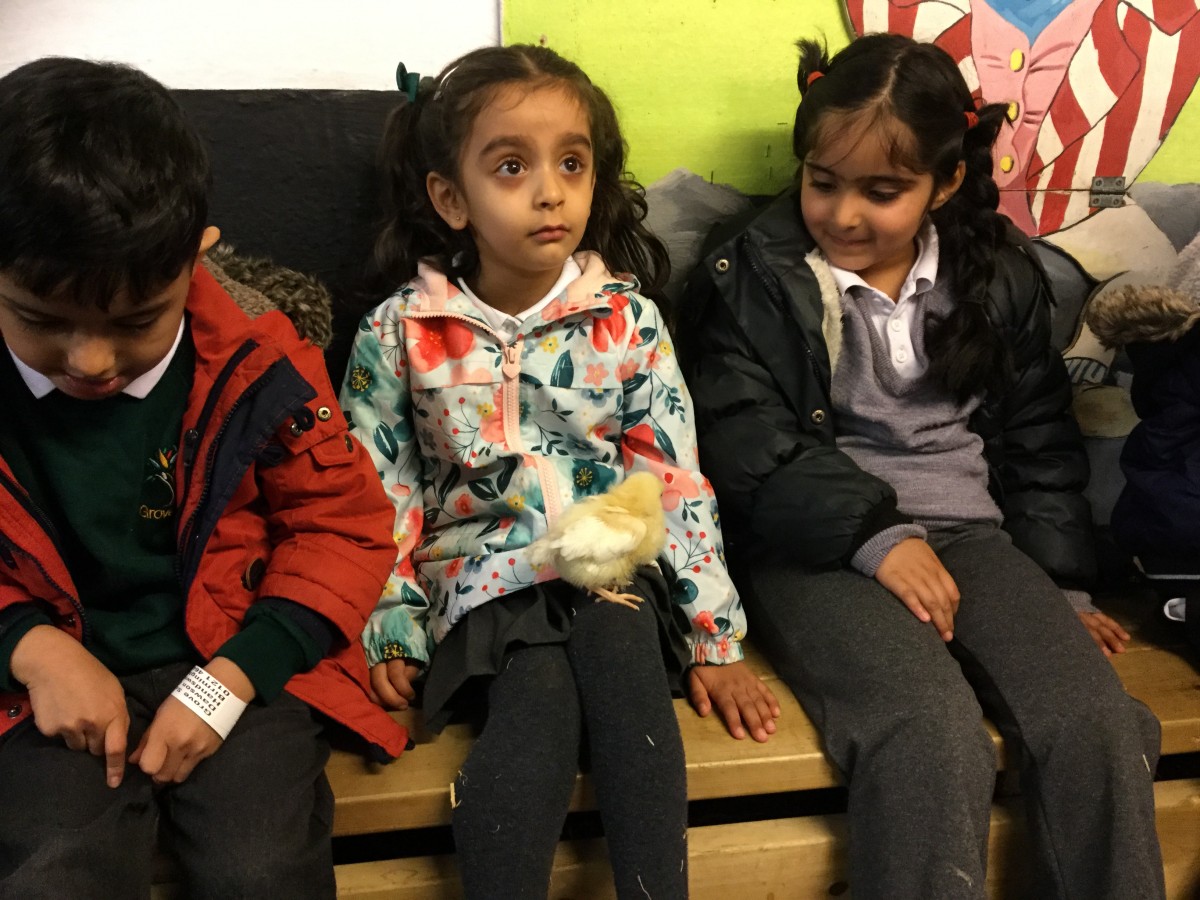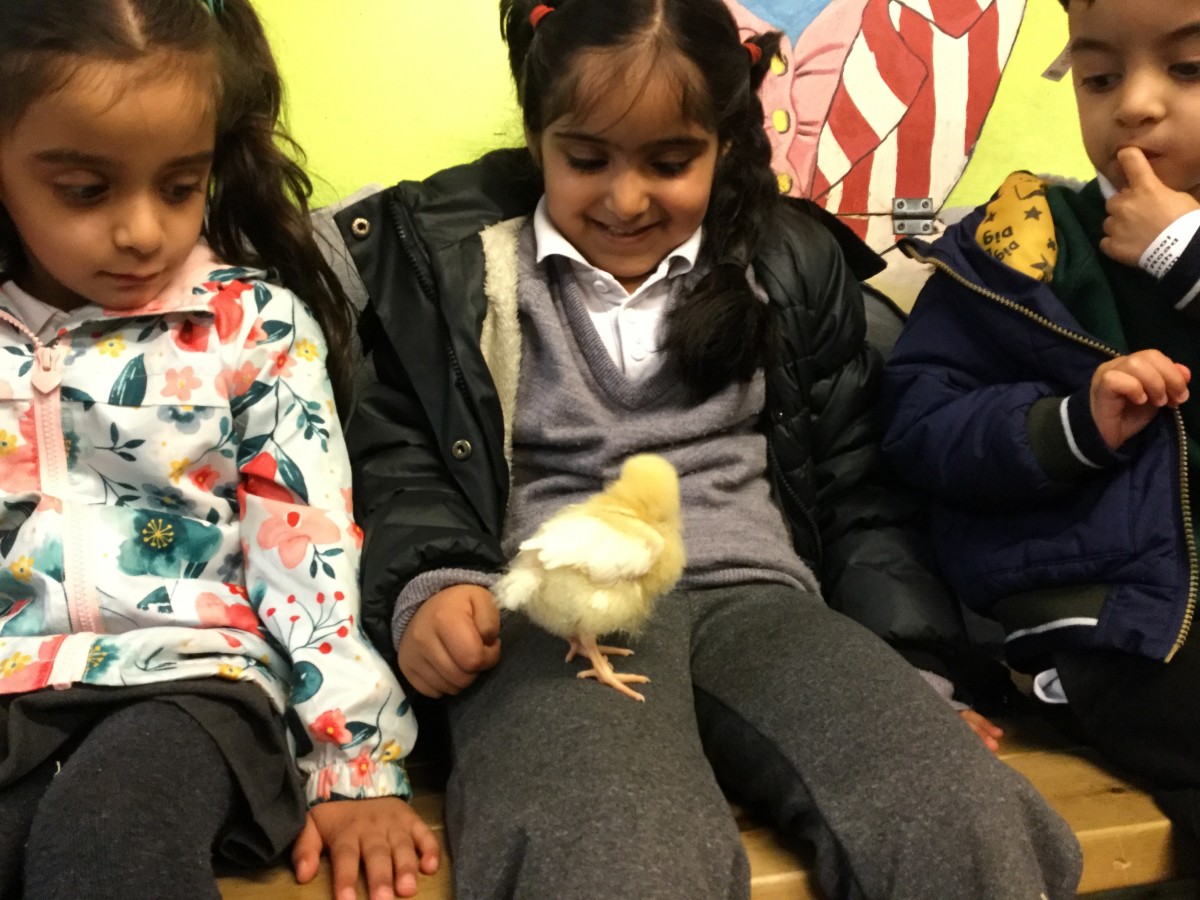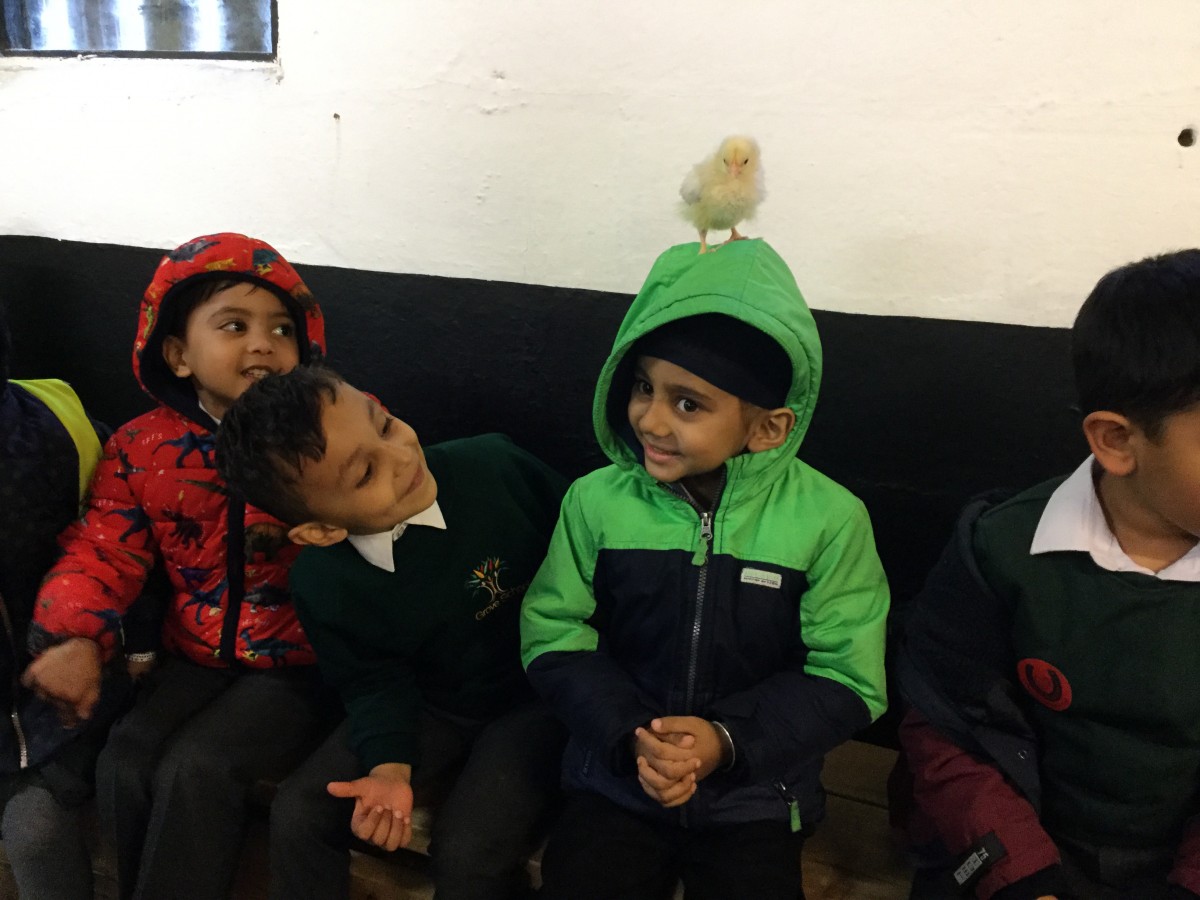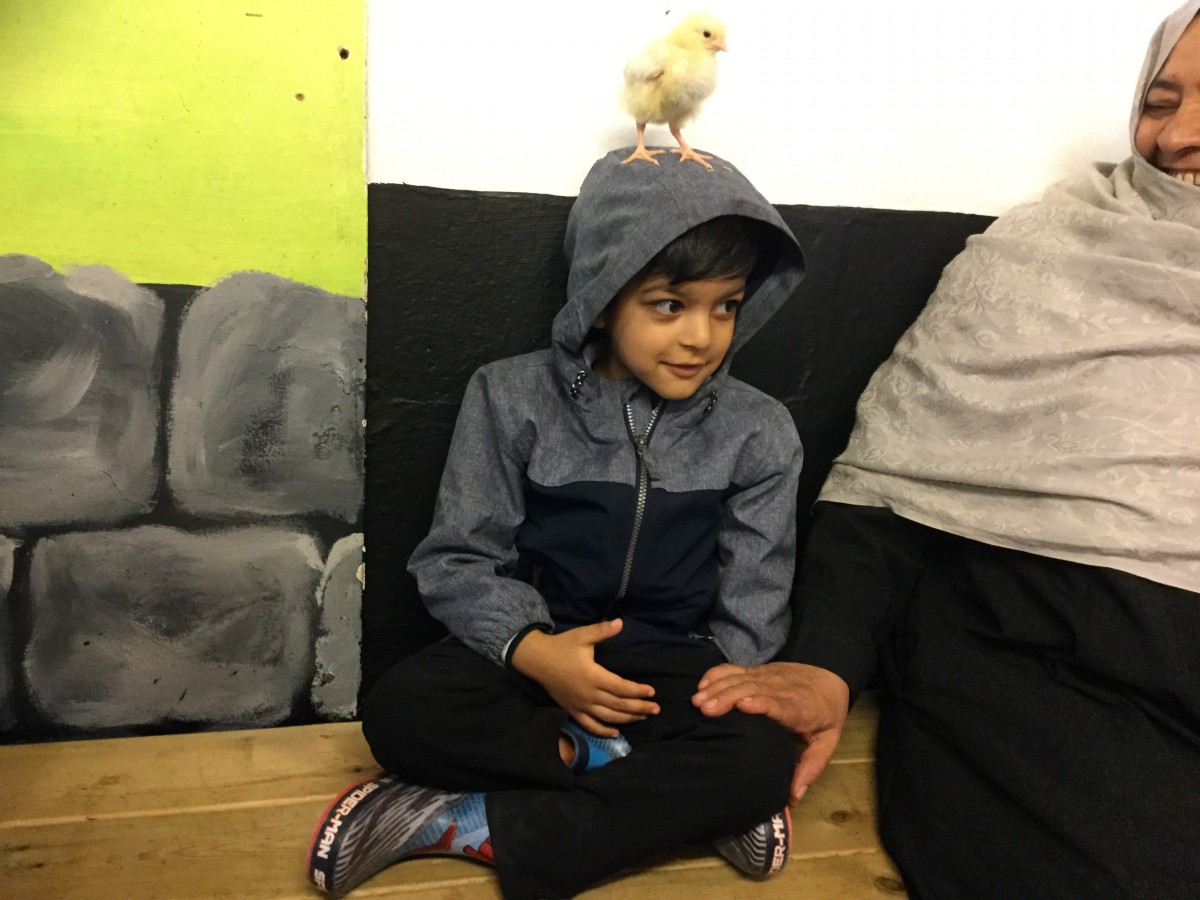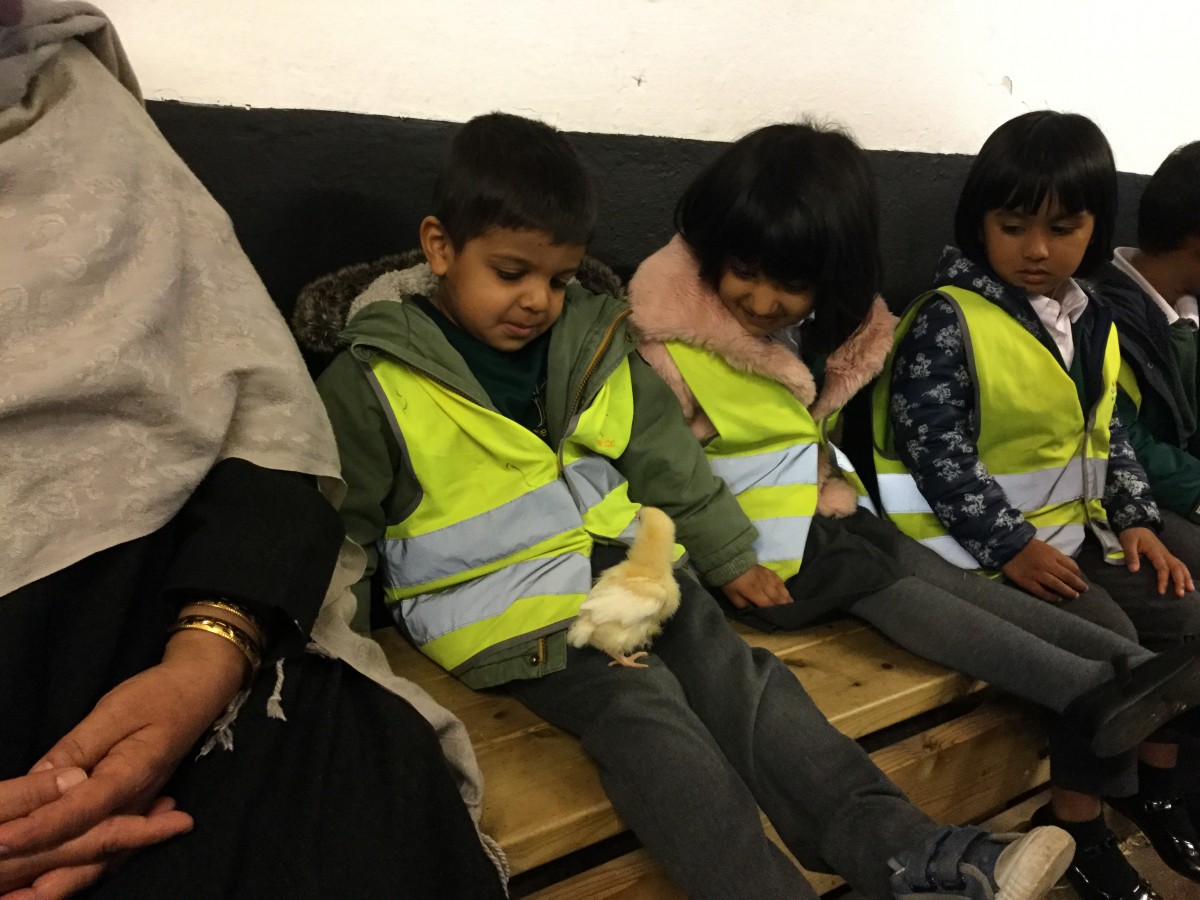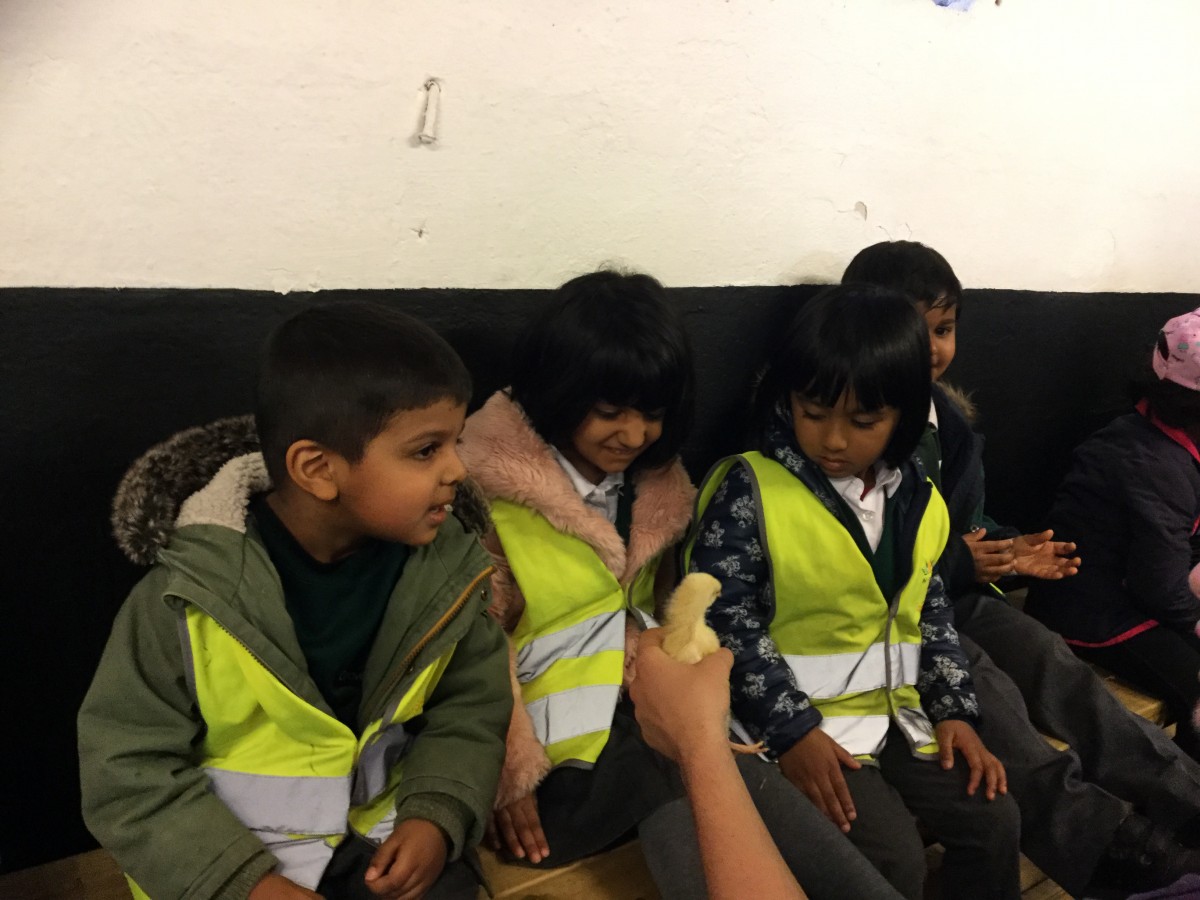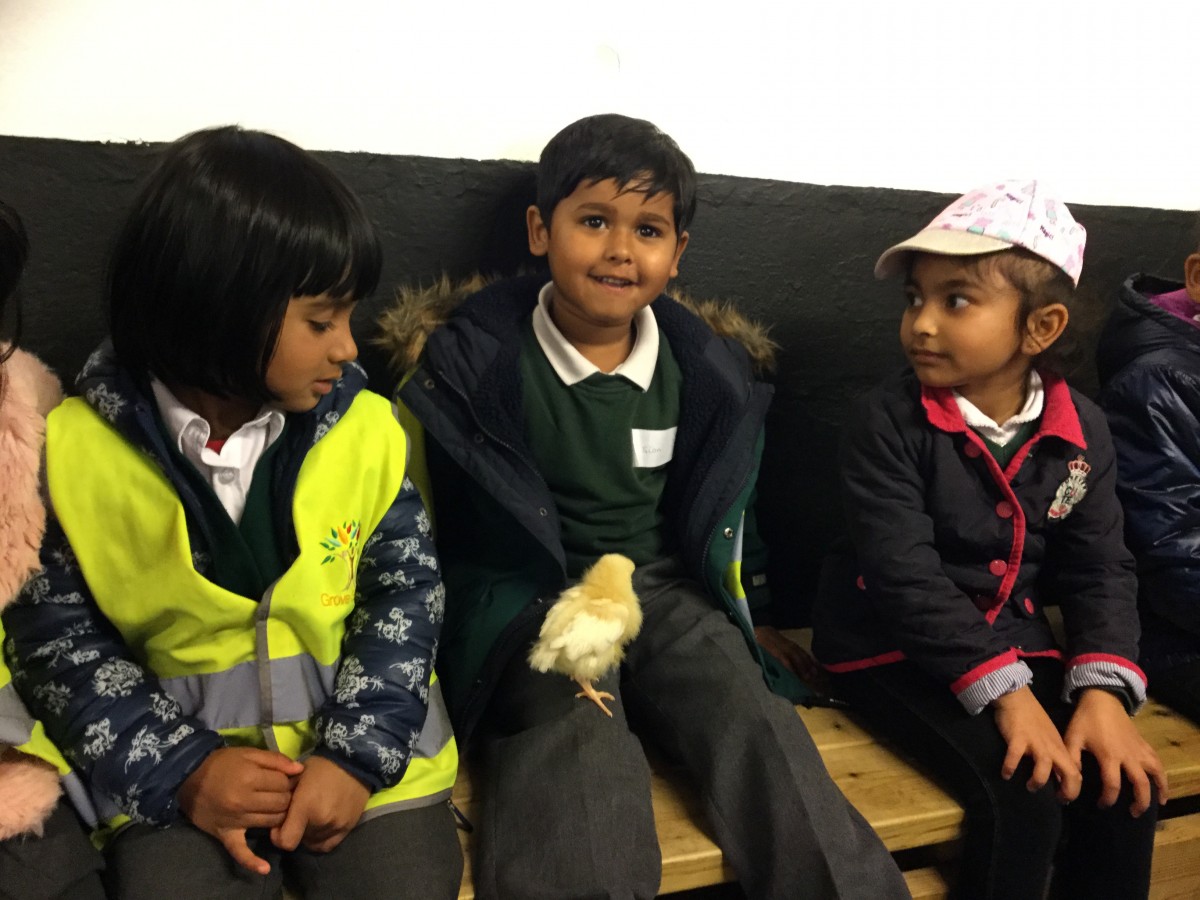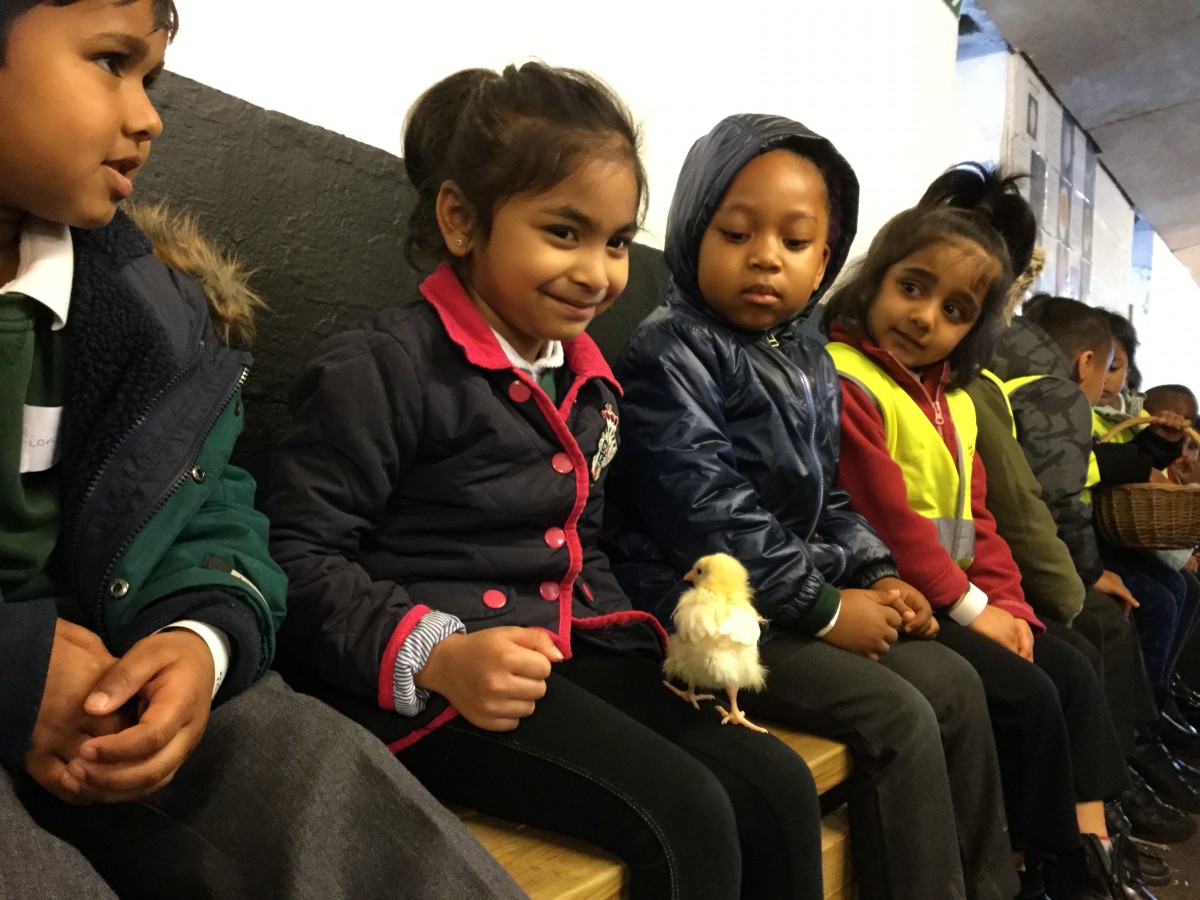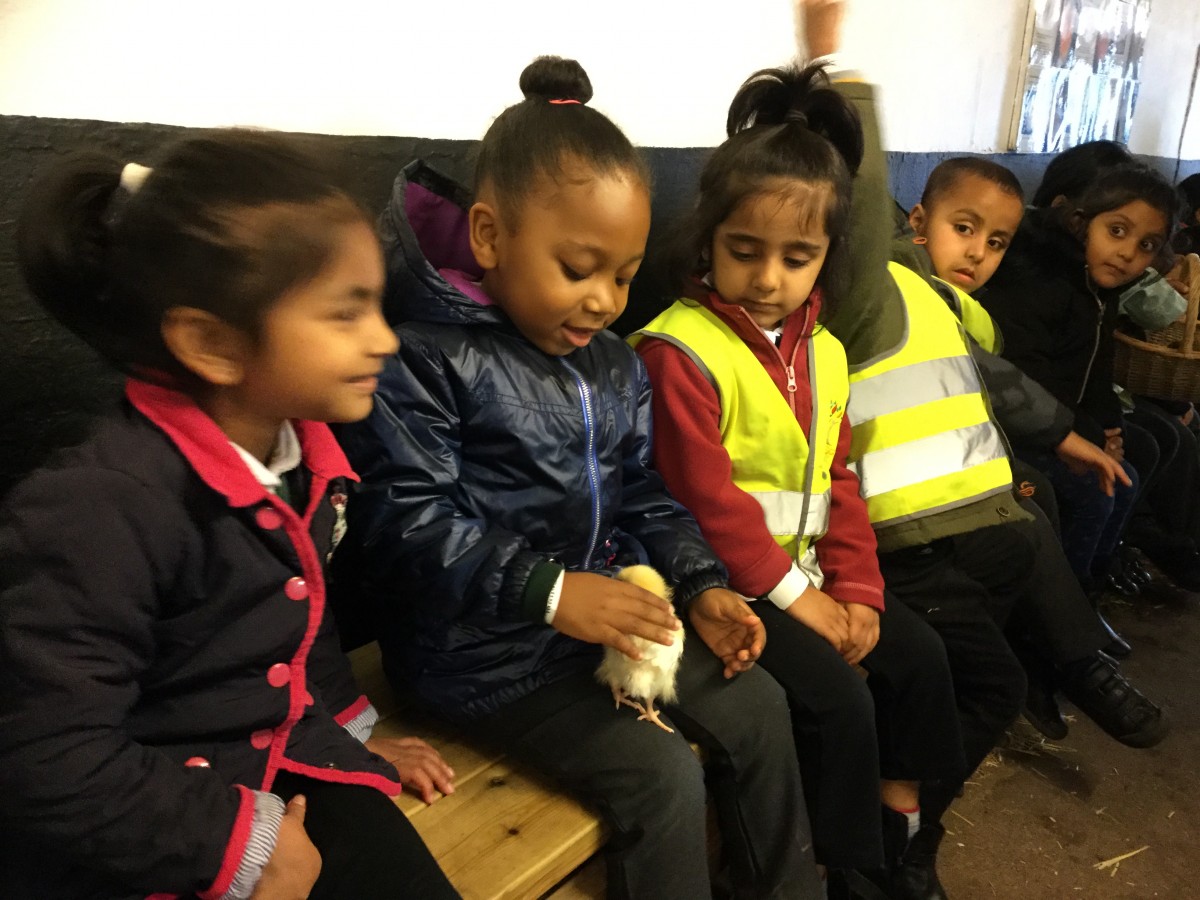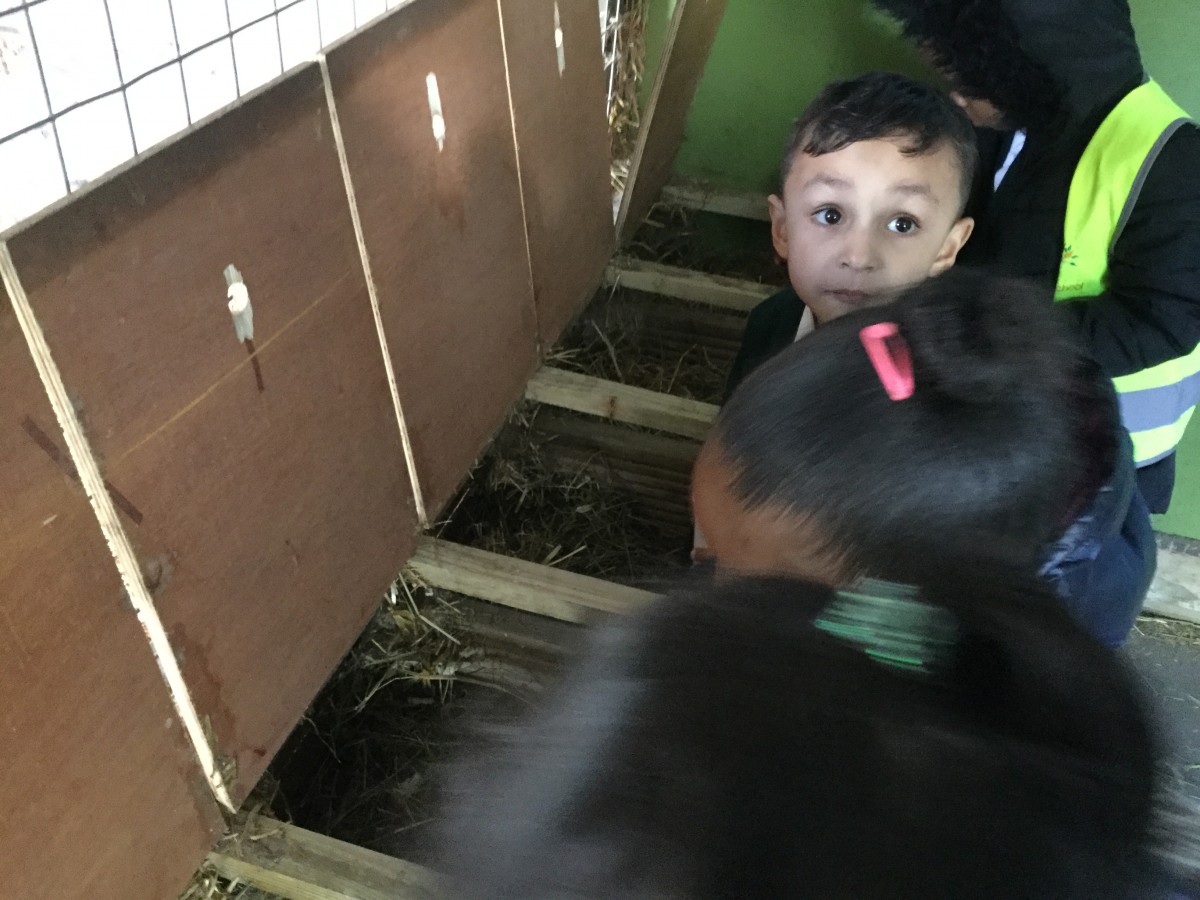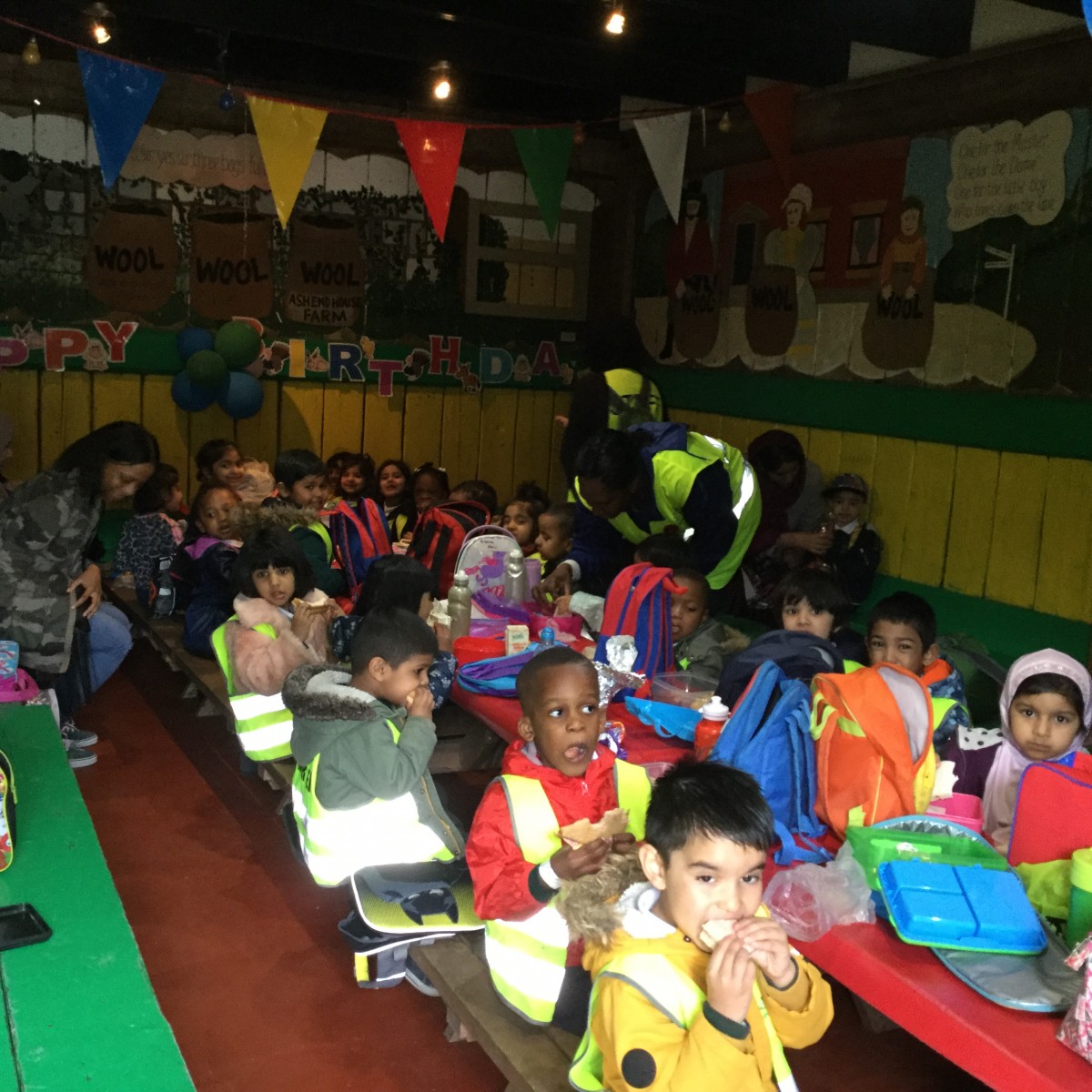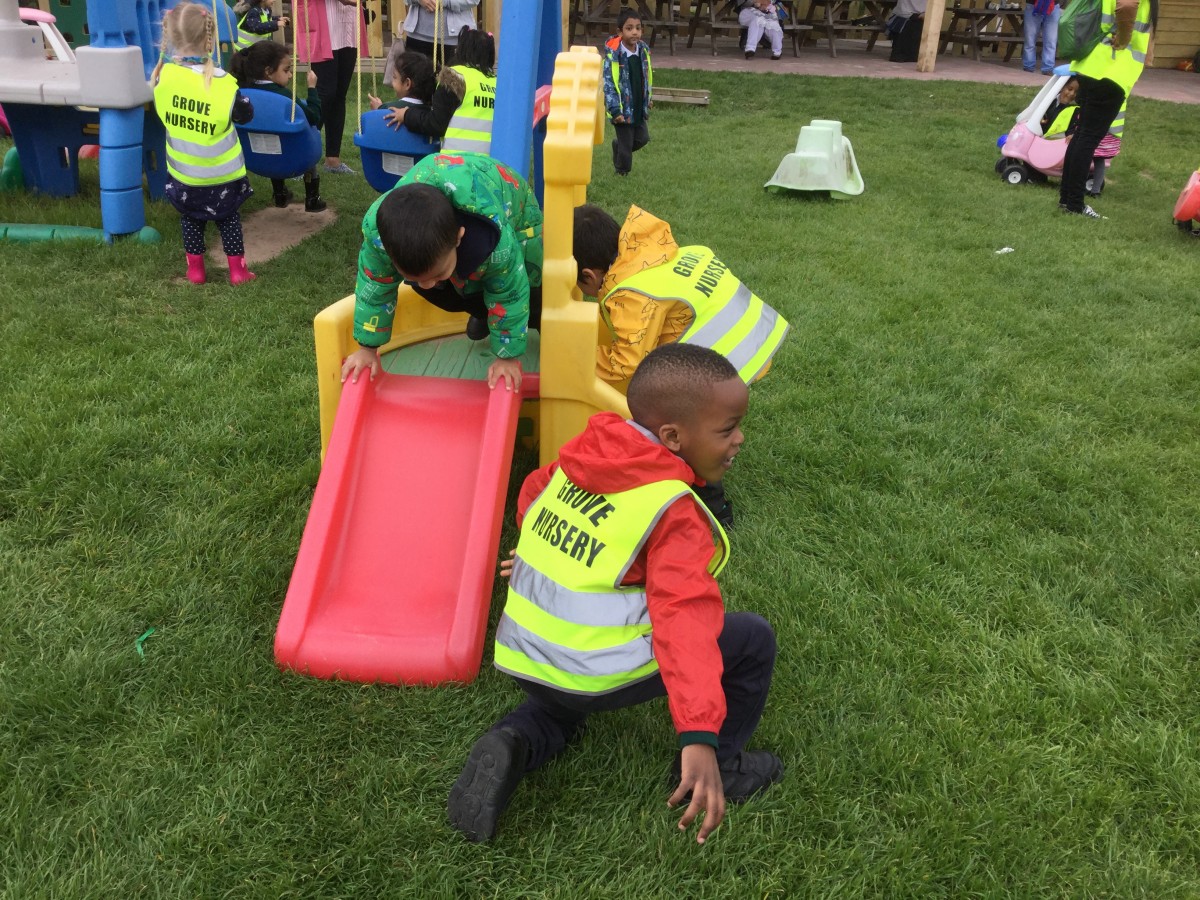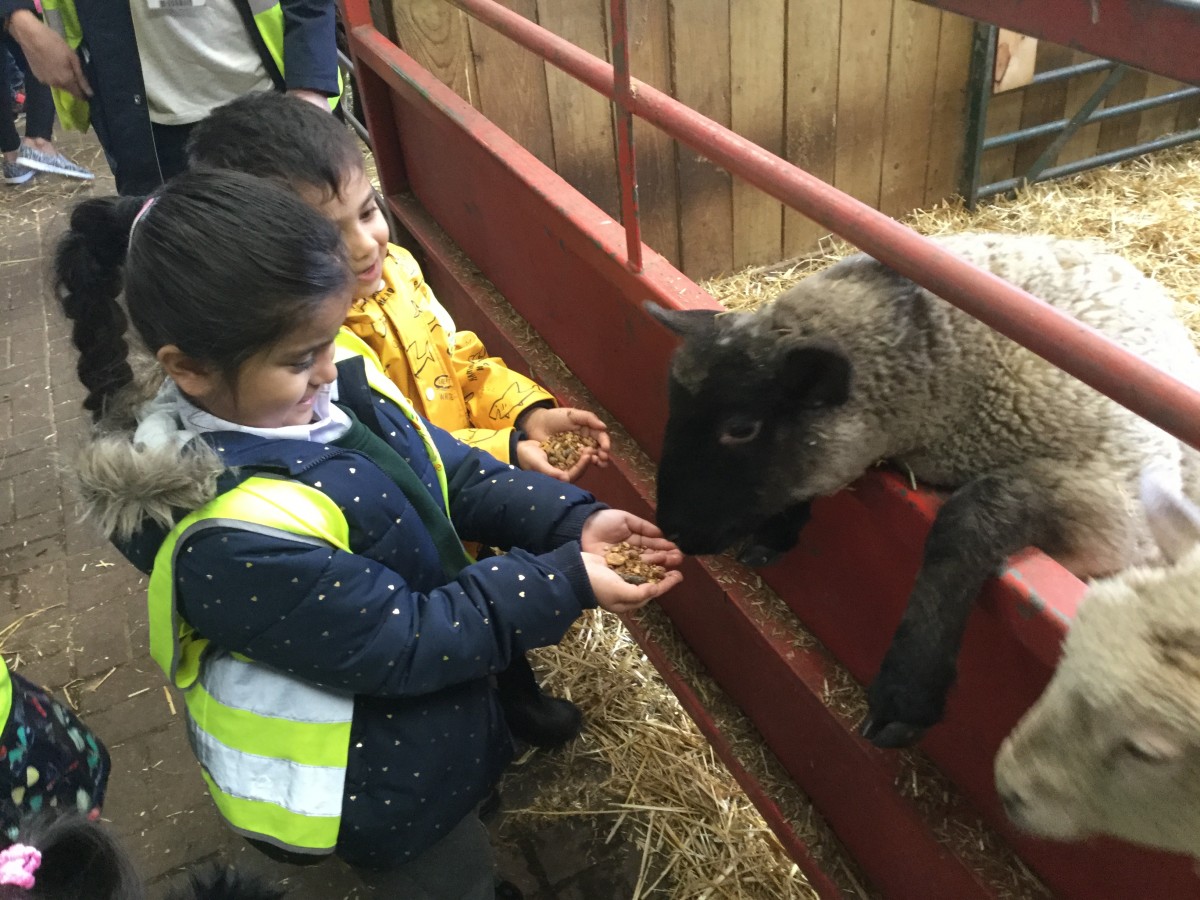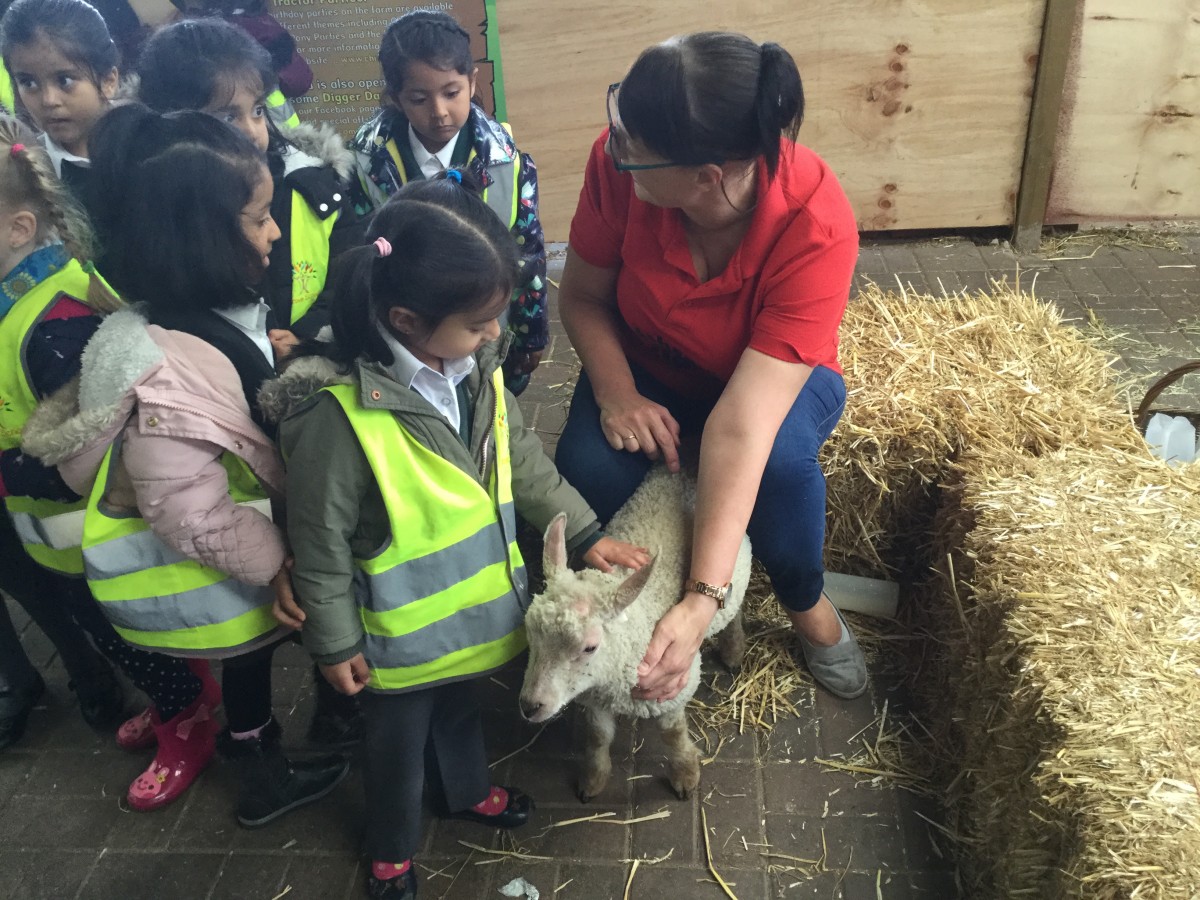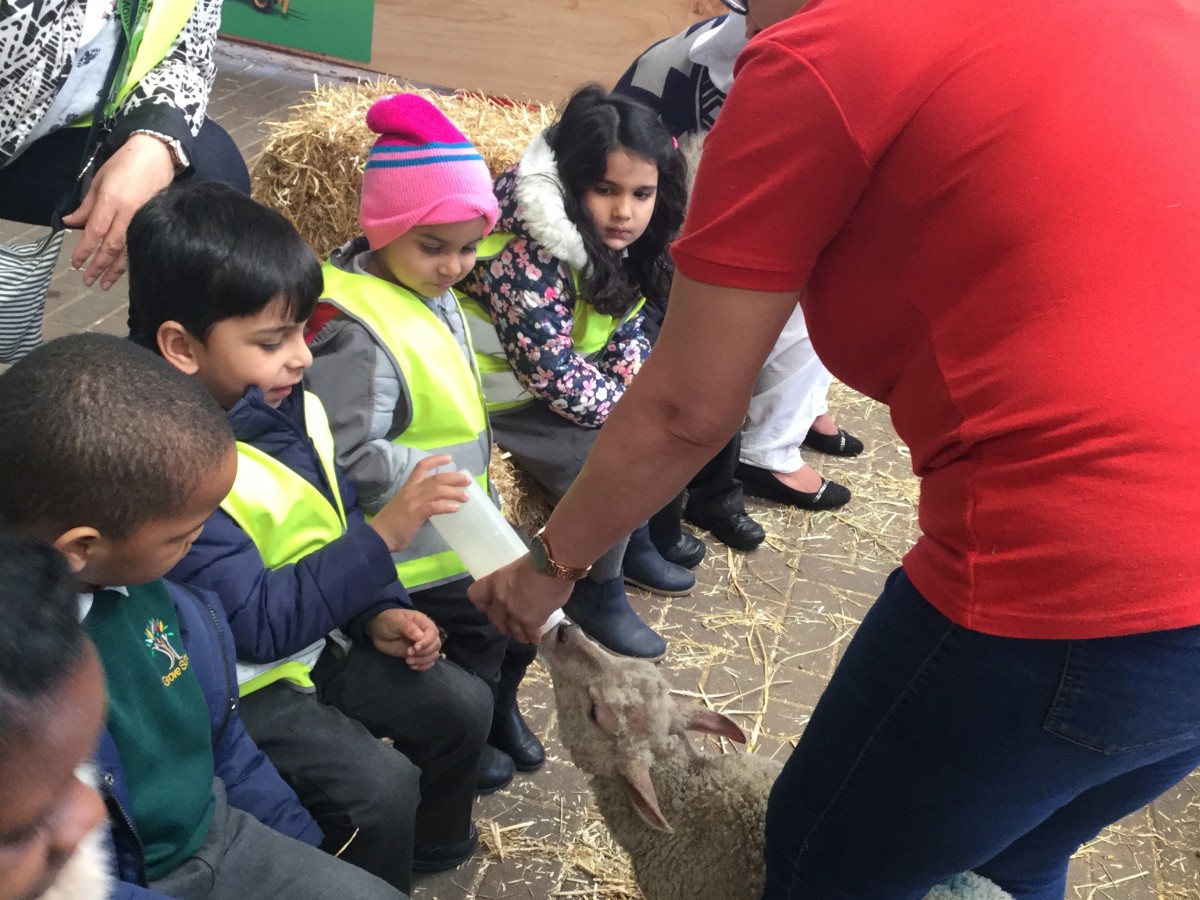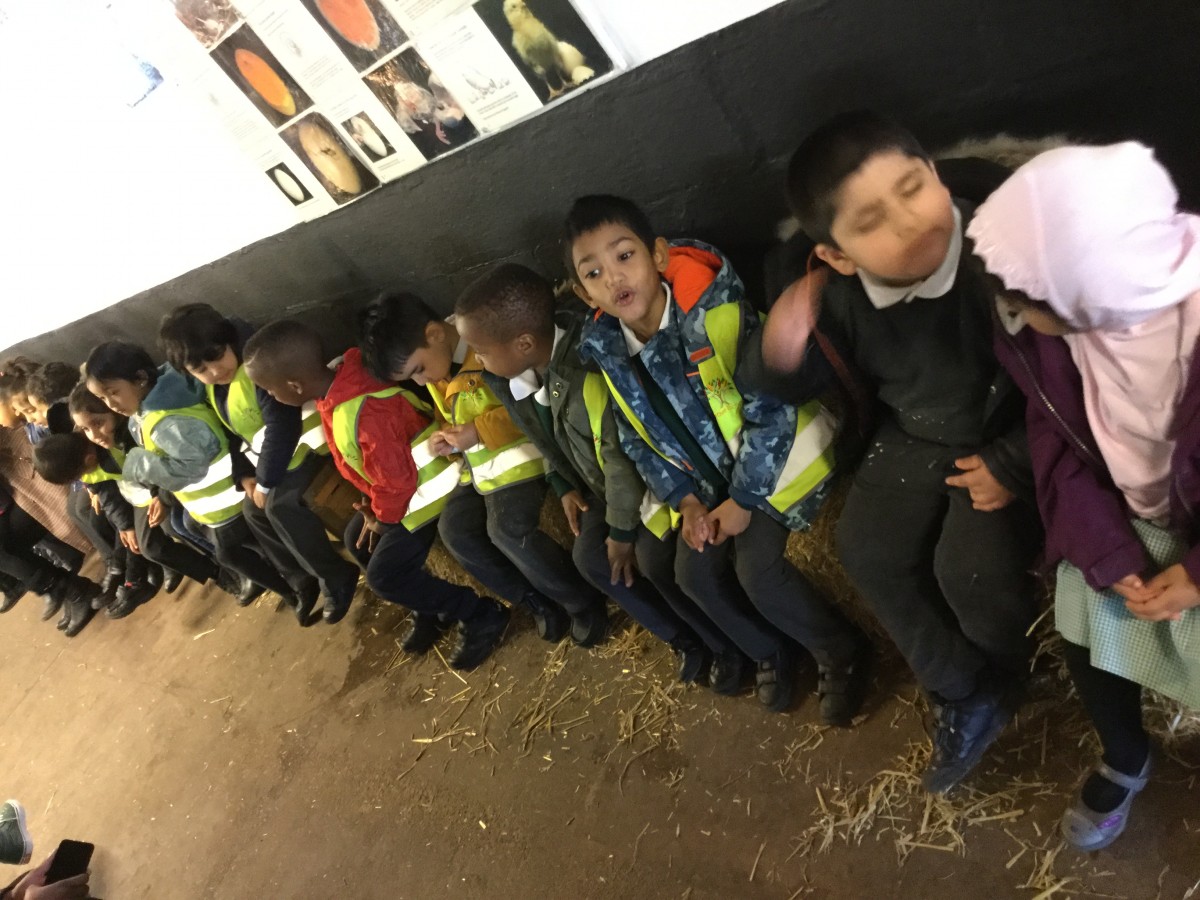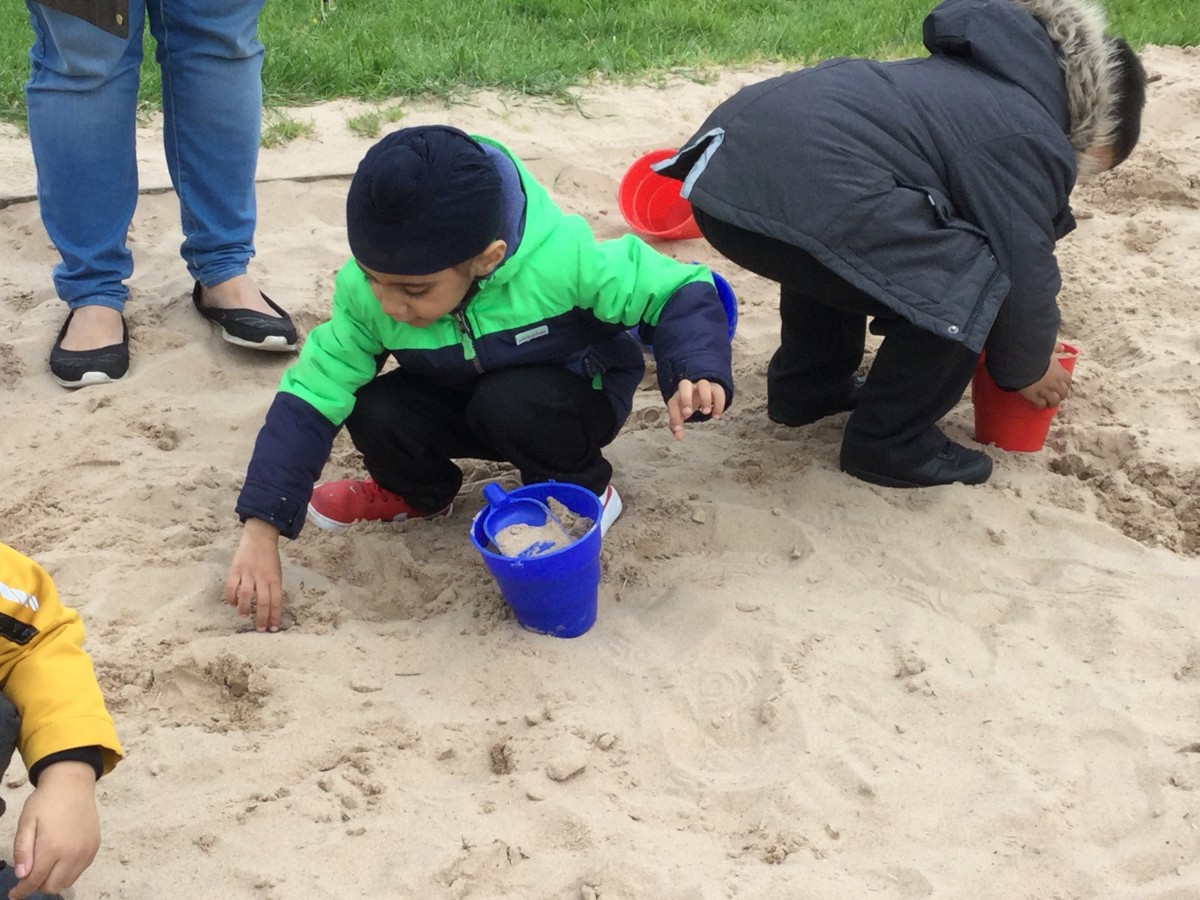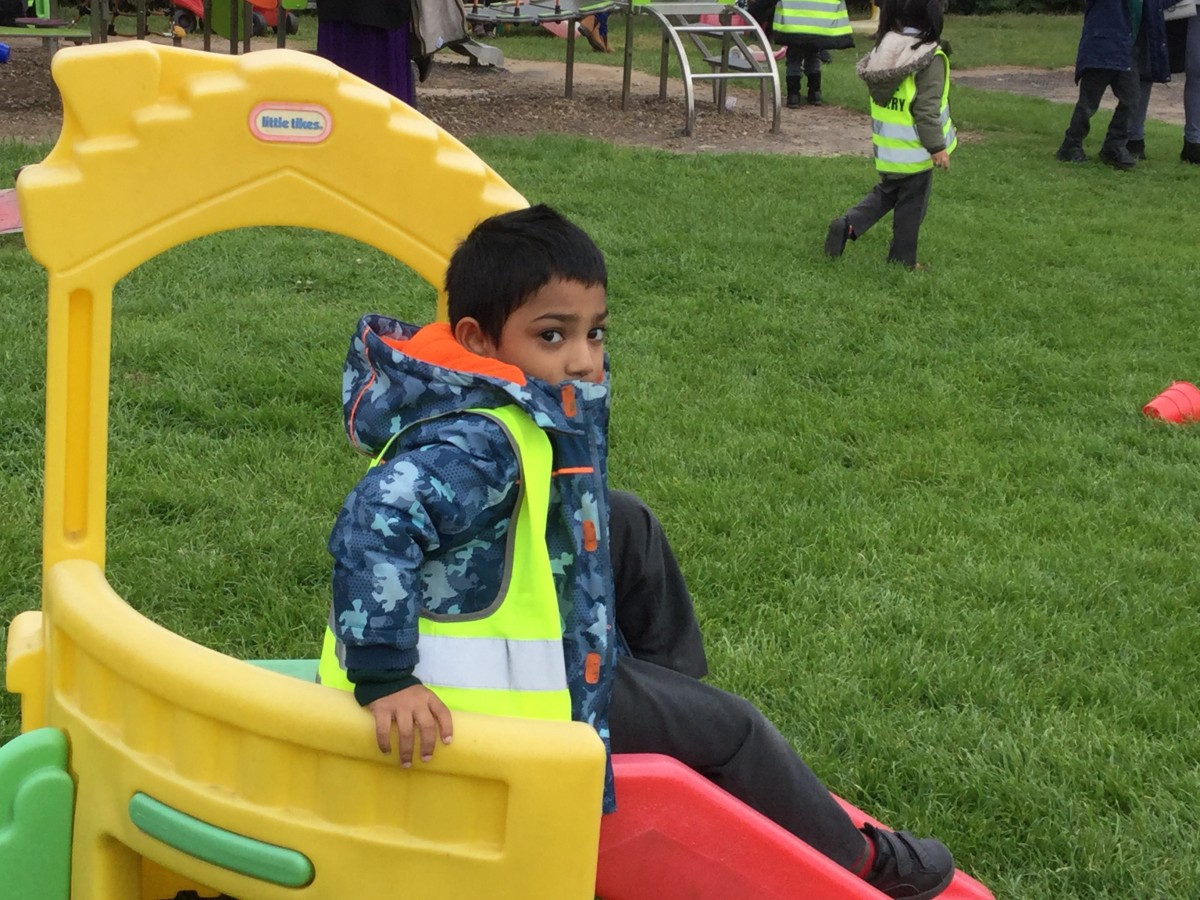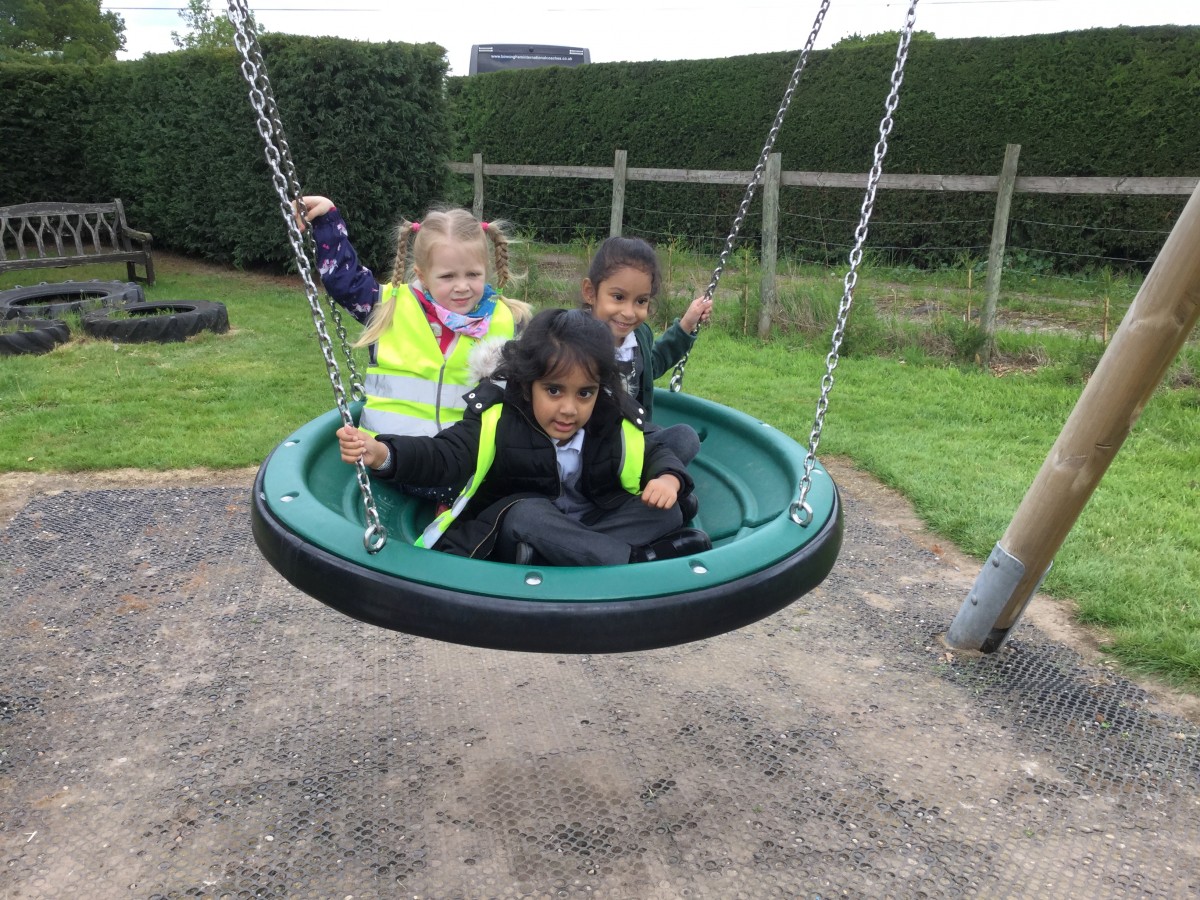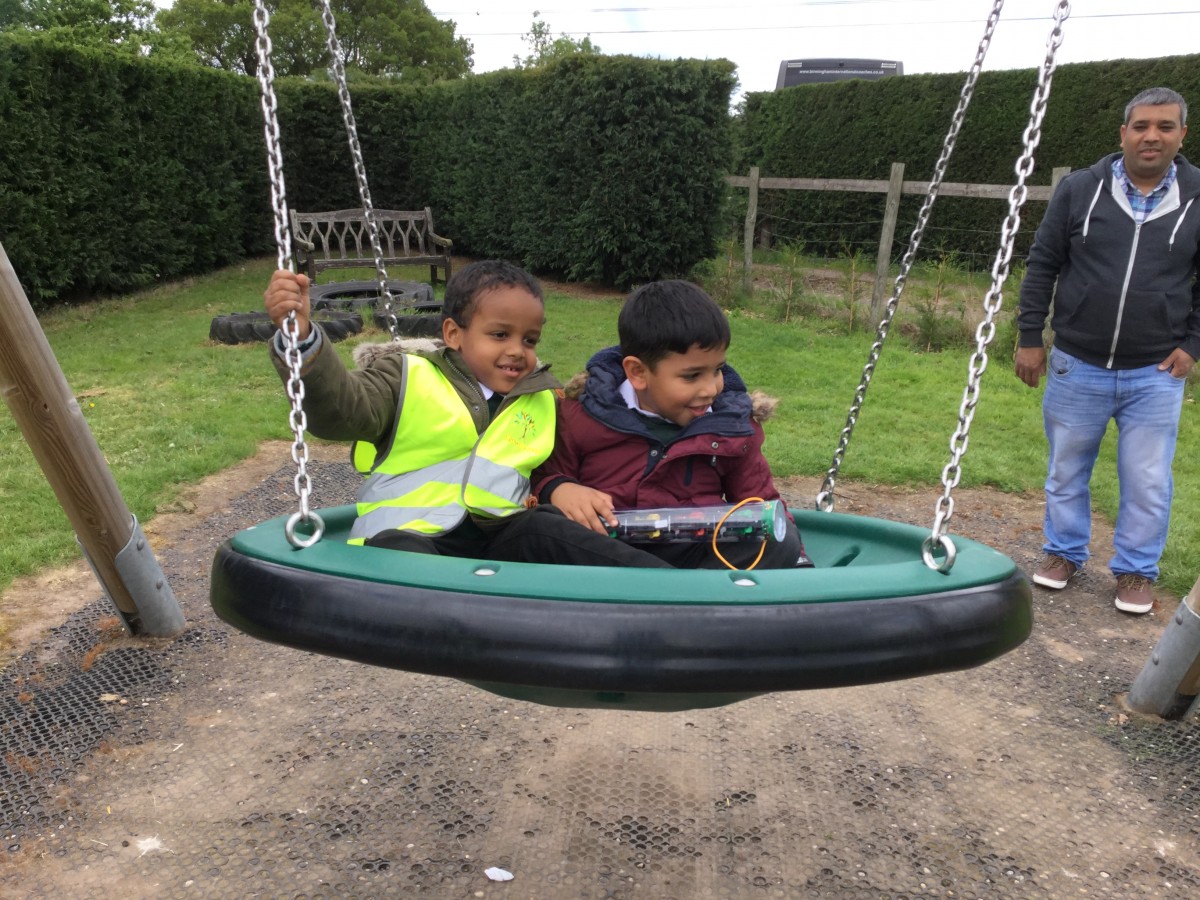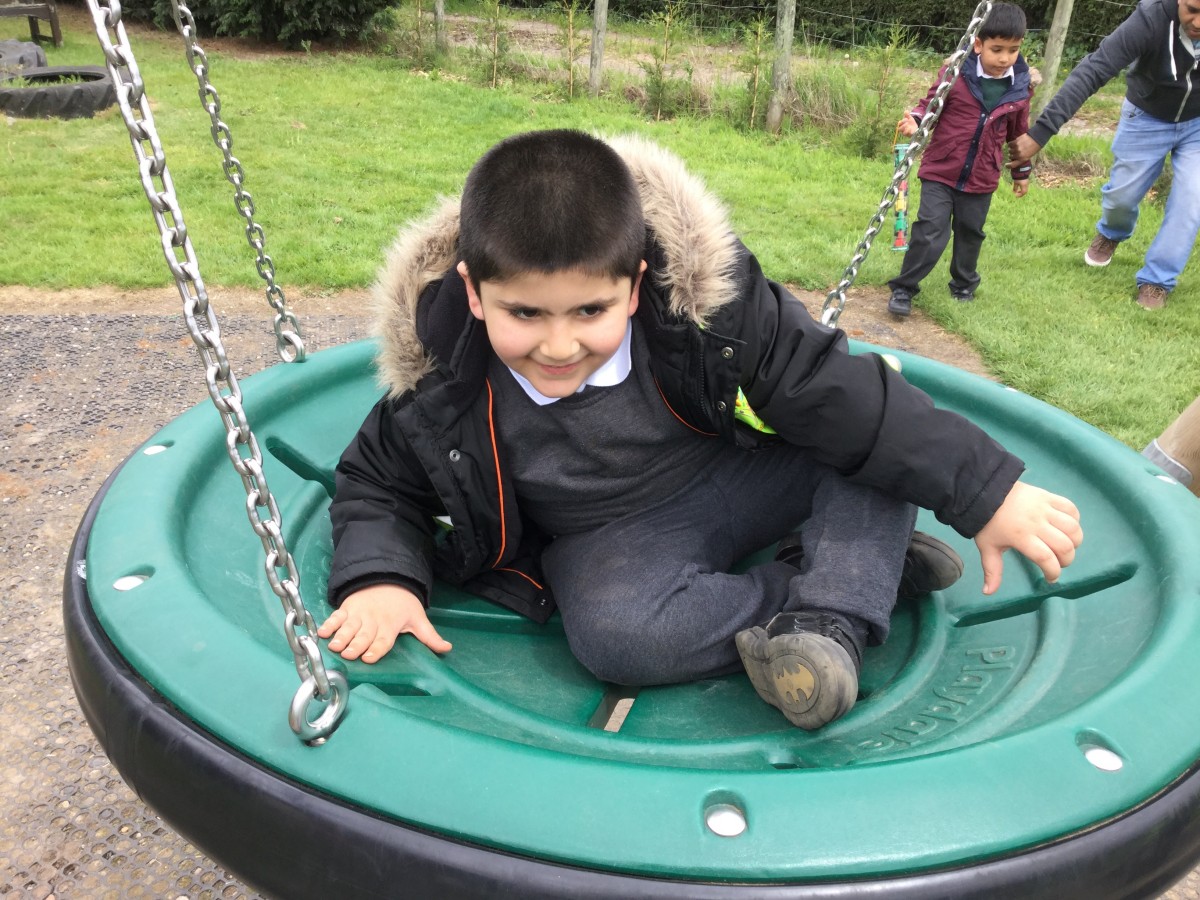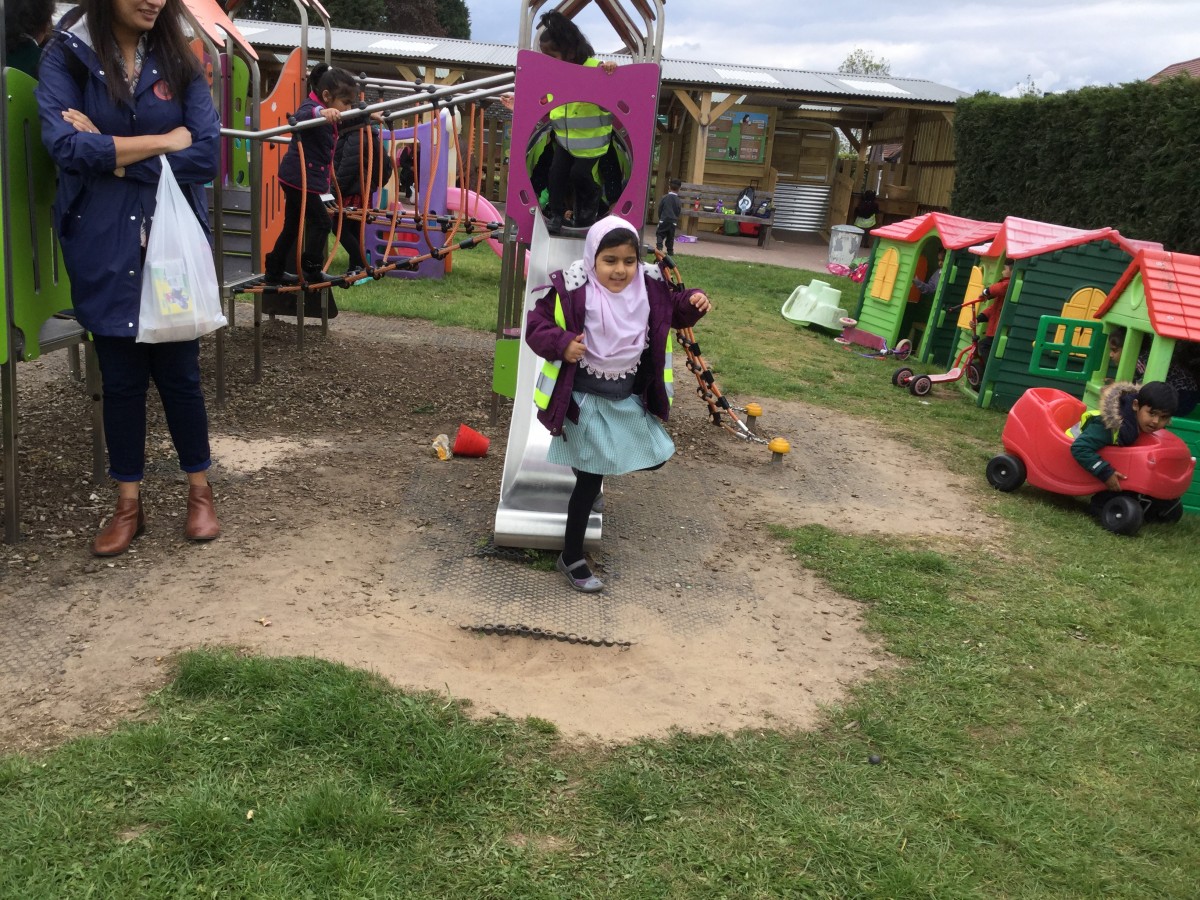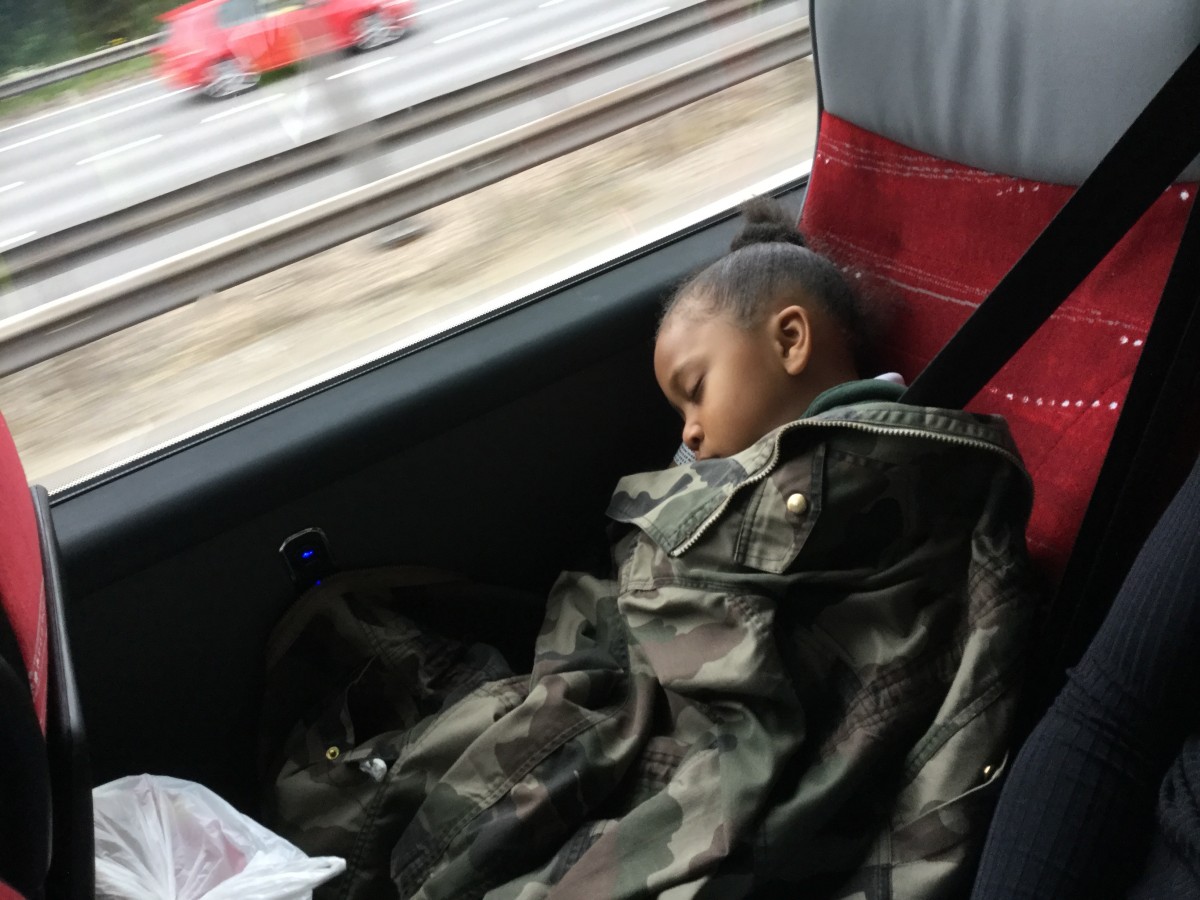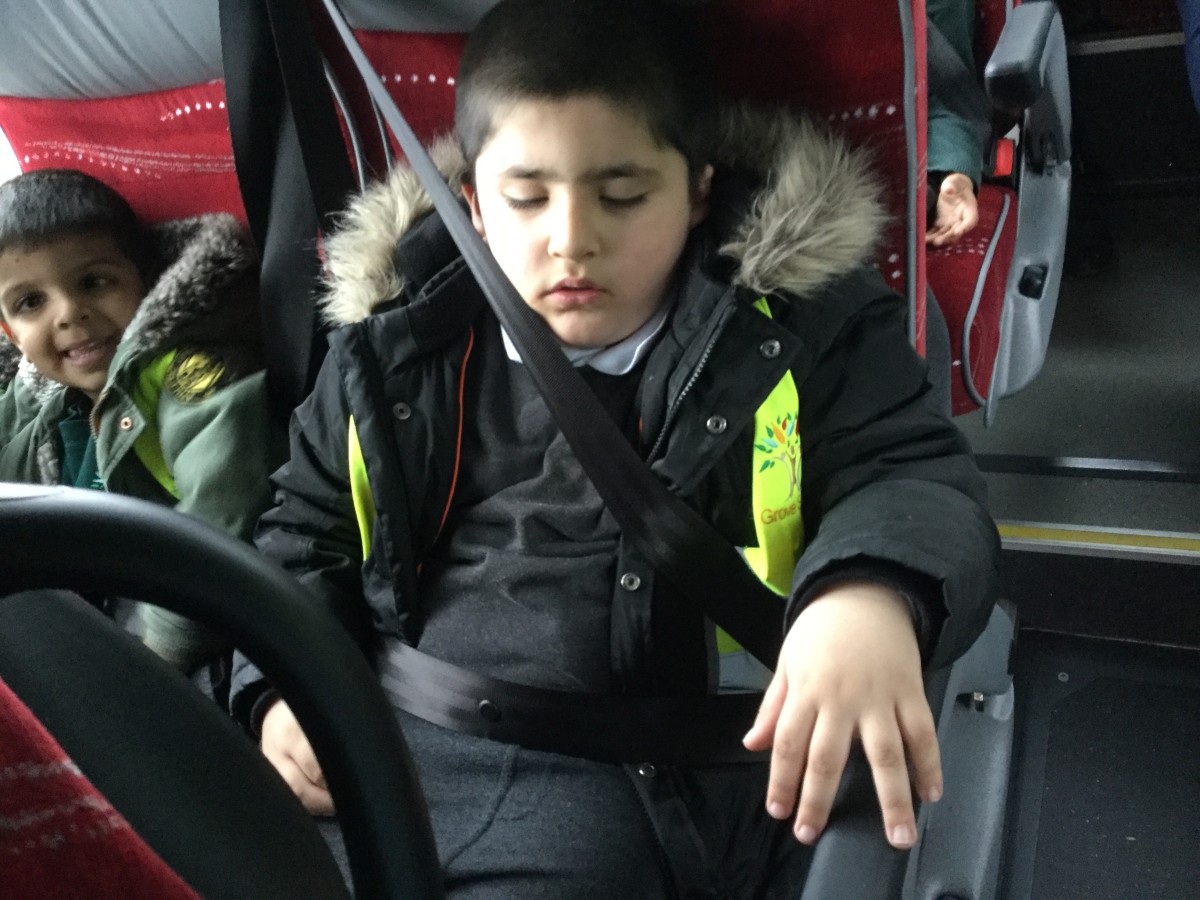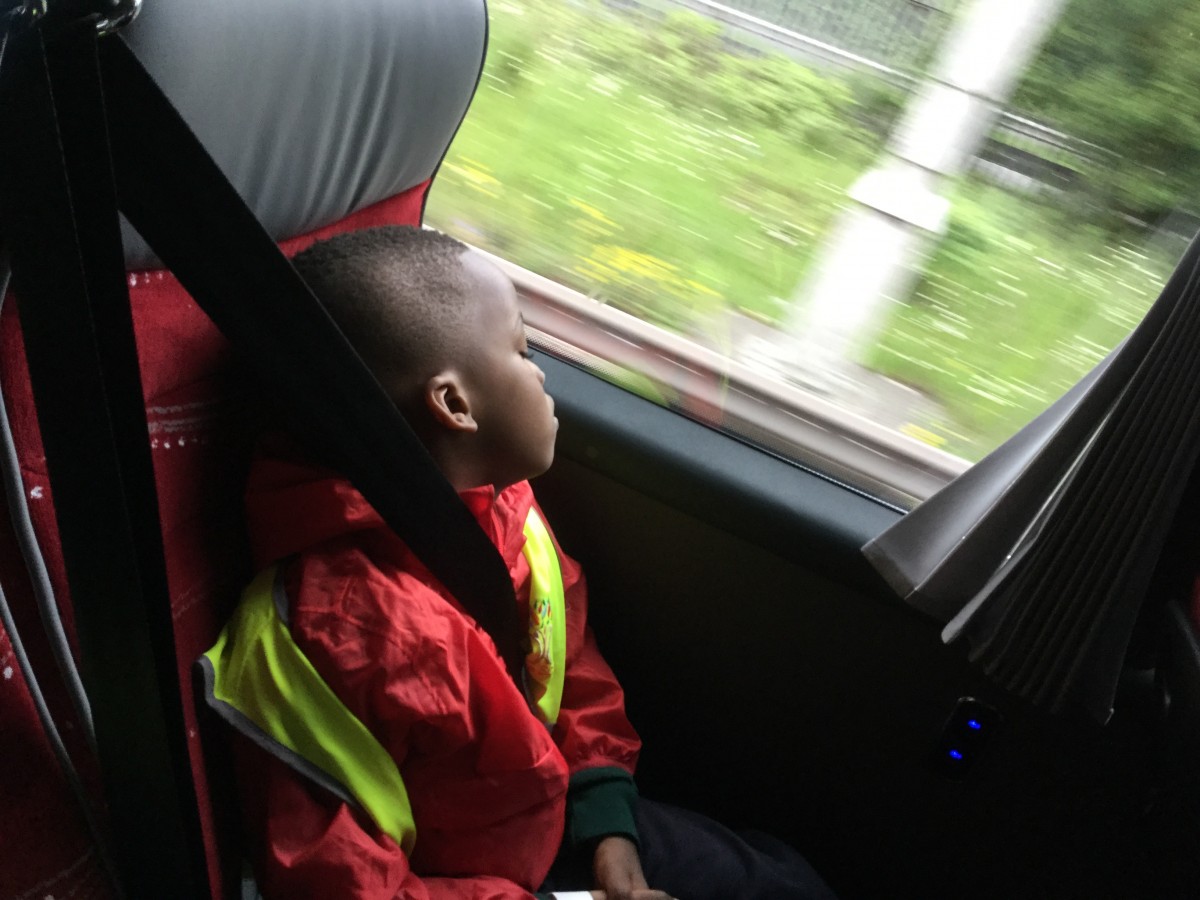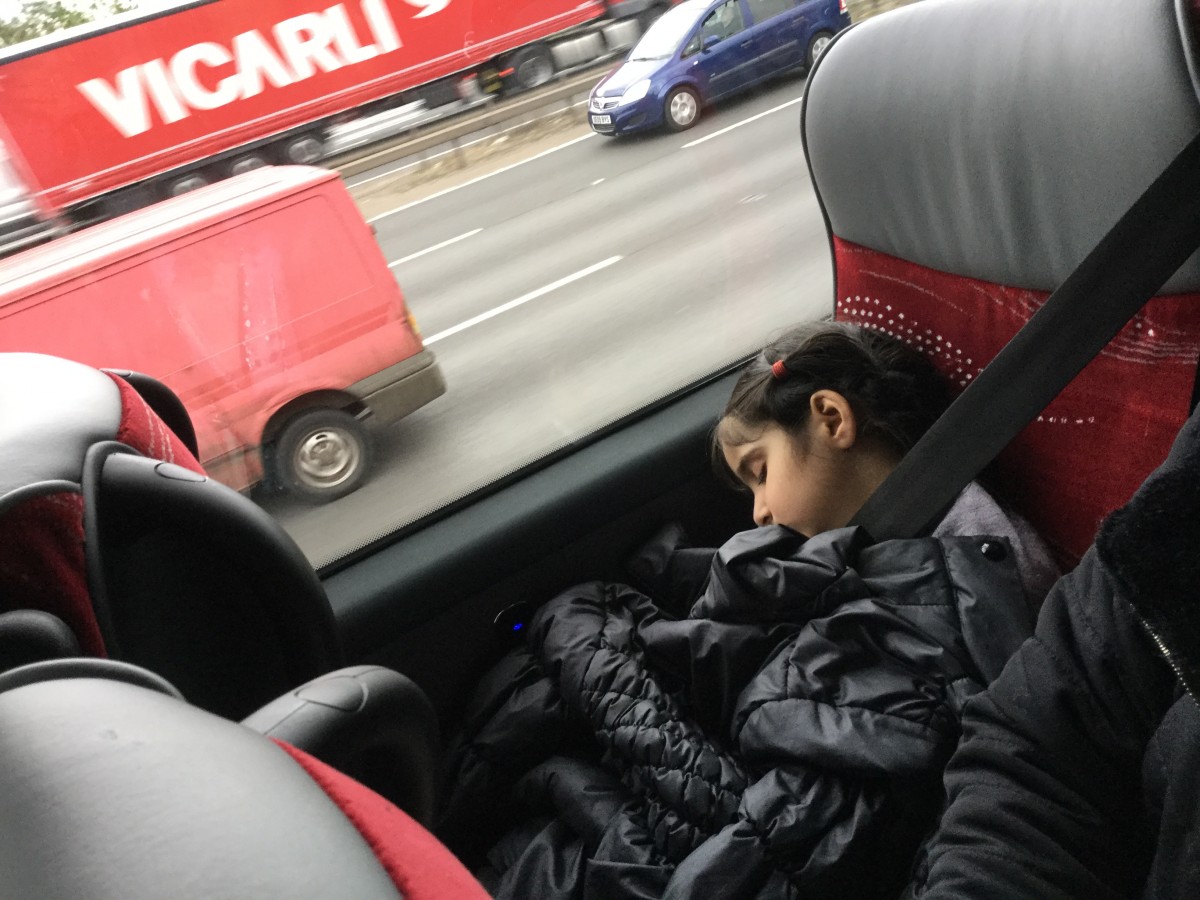 Technology in Nursery
We are just so good at using the interactive whiteboard. Look at this amazing picture of Peppa Pig and her family!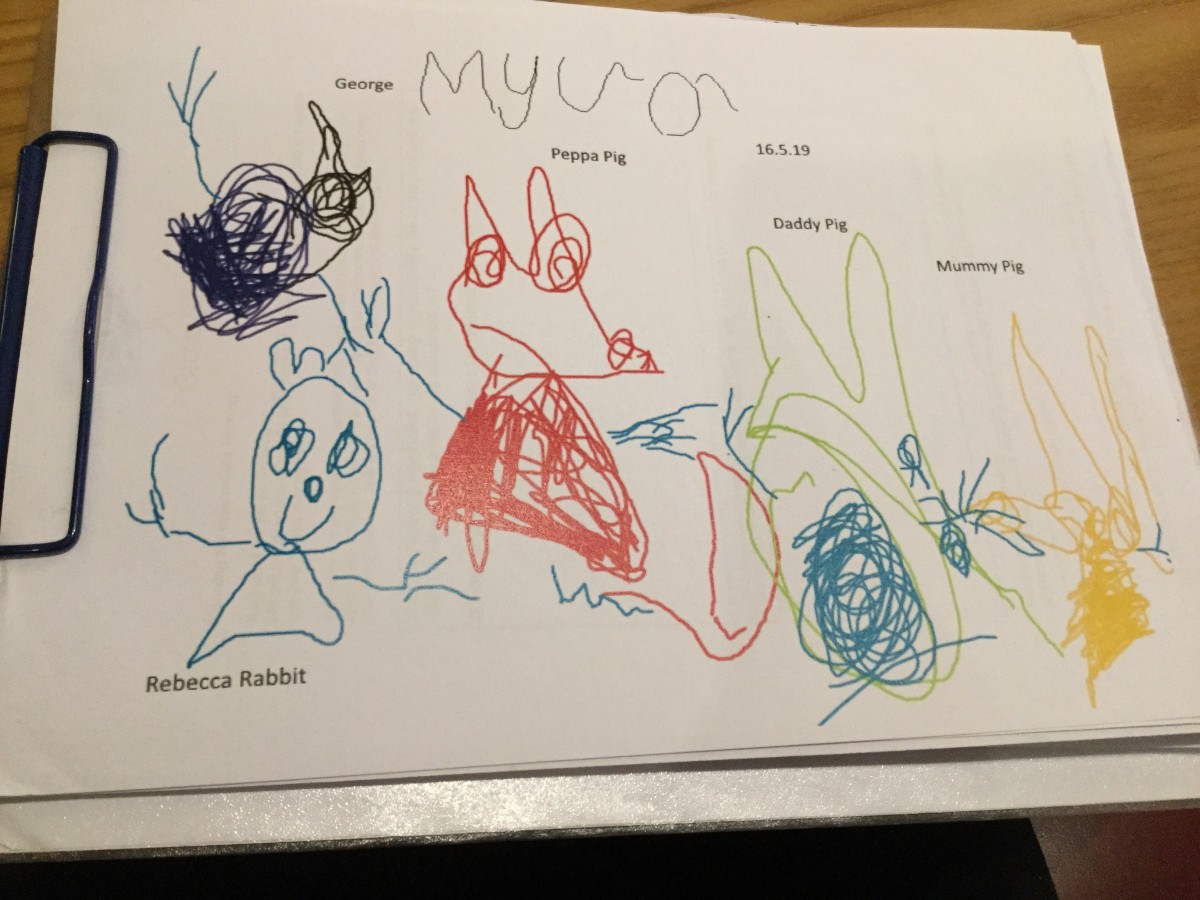 Write Dance
Friday is 'Write Dance' day in nursery! The children enjoy waving their streamers and moving their arms in different ways. Not only is this great fun, but it also helps the children to develop the muscular control they need to become super writers!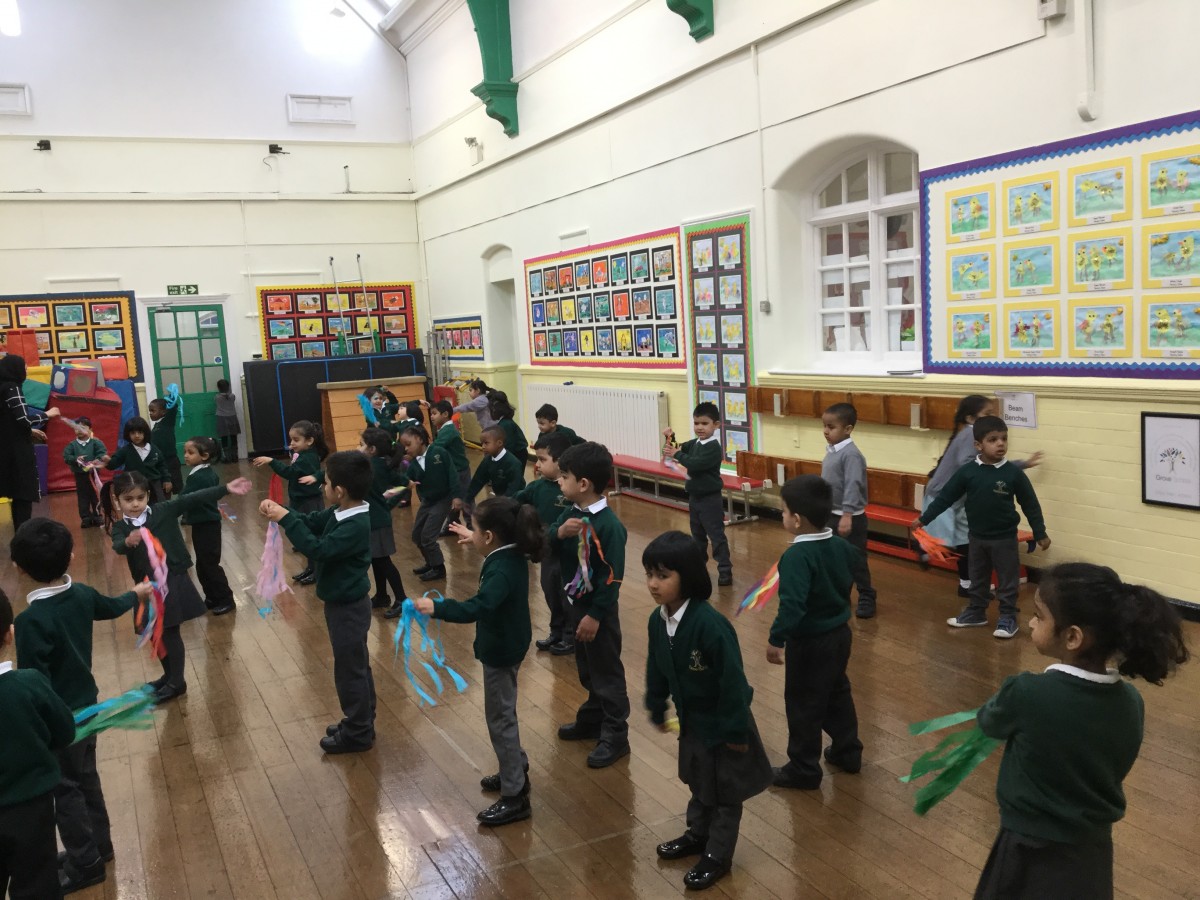 Froglets
The children have really enjoyed watching our tadpoles growing into tiny froglets. When the froglets are ready, the children take them to upper school and release them into our pond. Then they wave goodbye and watch them swim off into the pond.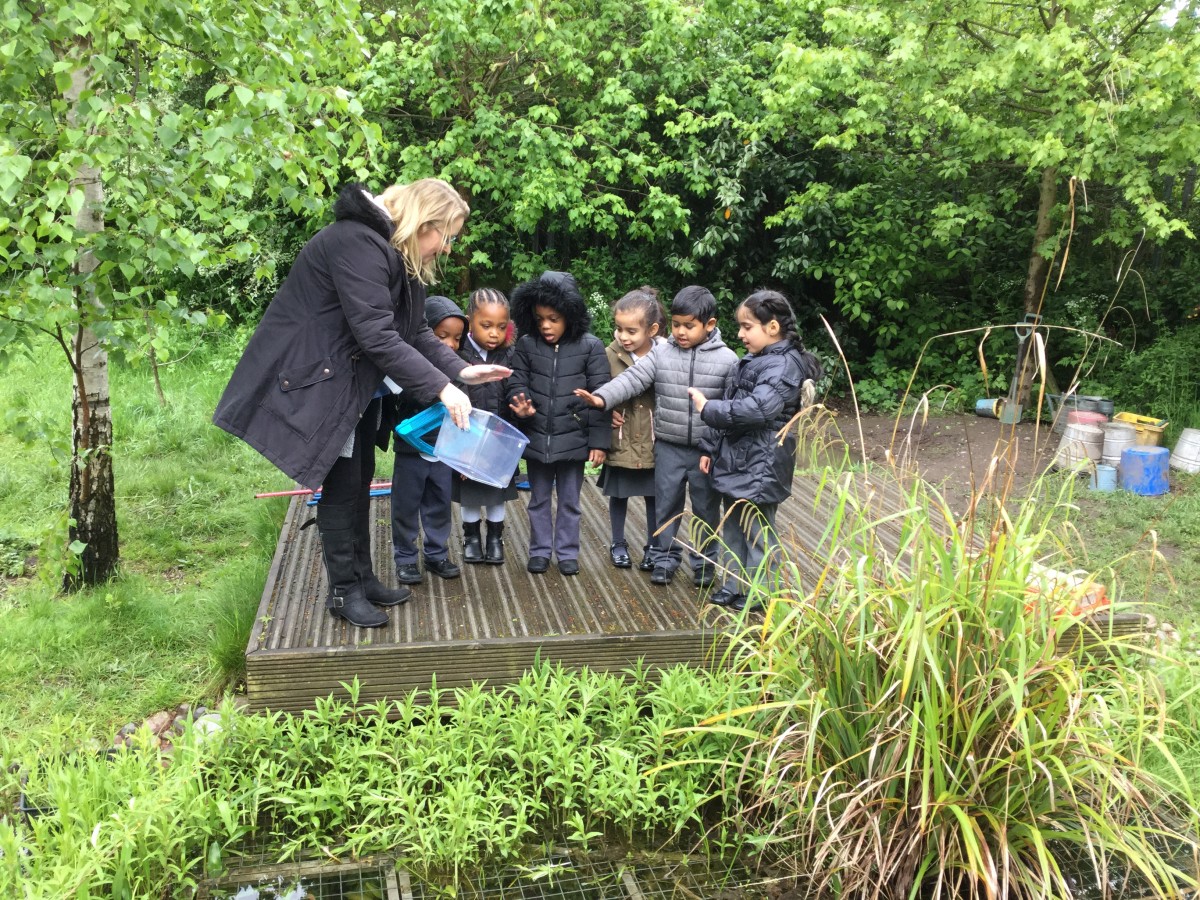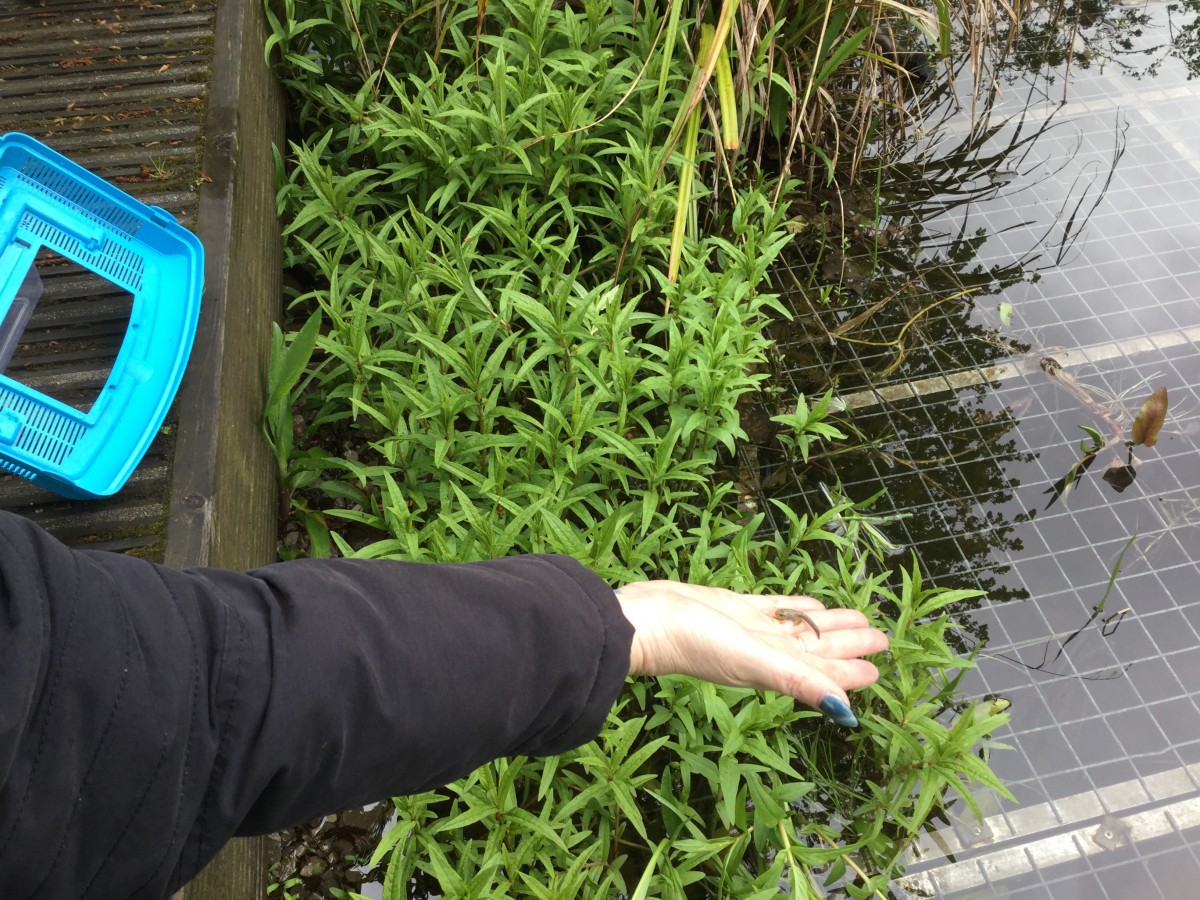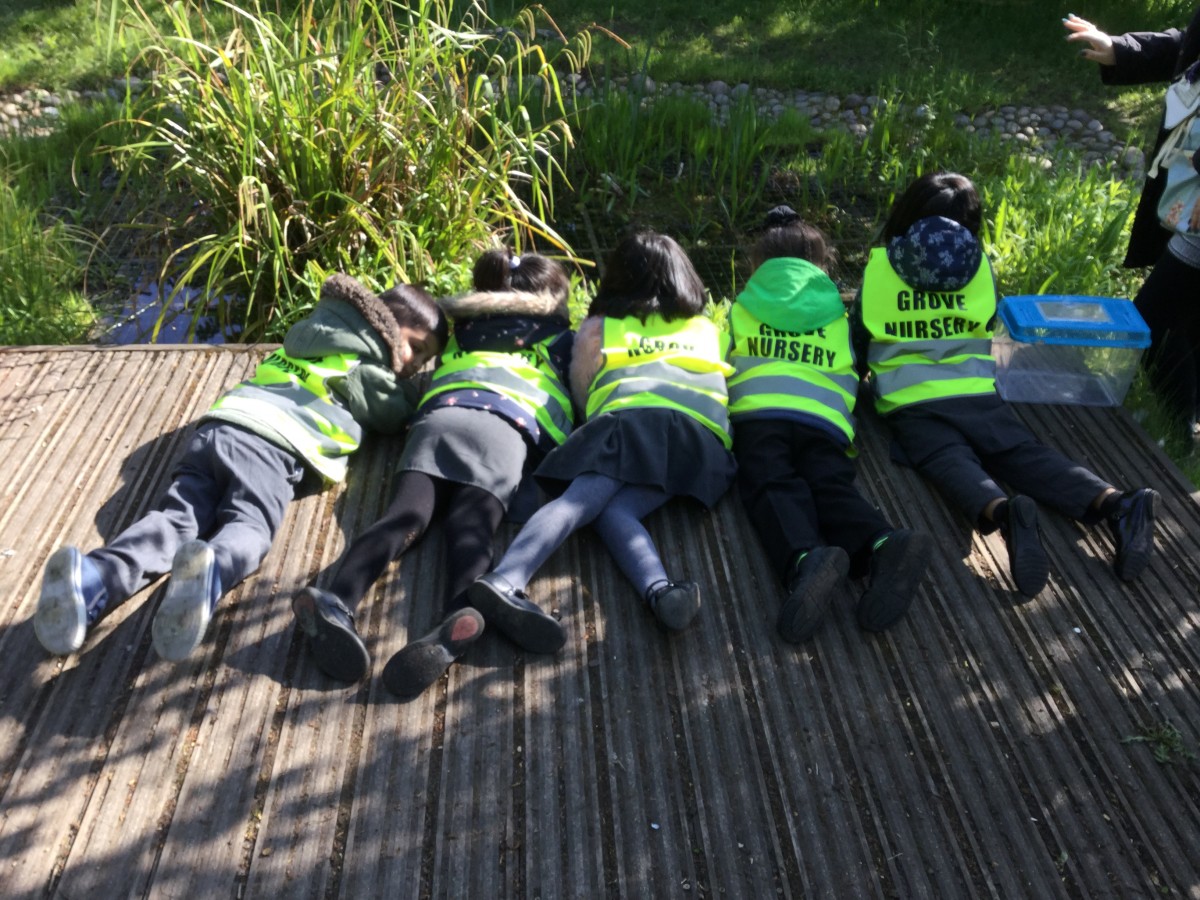 Forest School
Some of the nursery children have visited Grove Forest School. They had lots of fun looking for minibeasts, digging in the mud and painting with muddy water. The children listened carefully to the Forest School Rules and really enjoyed a drink and a biscuit at the end of the session.
All nursery children will have the chance to visit Forest School in the summer term.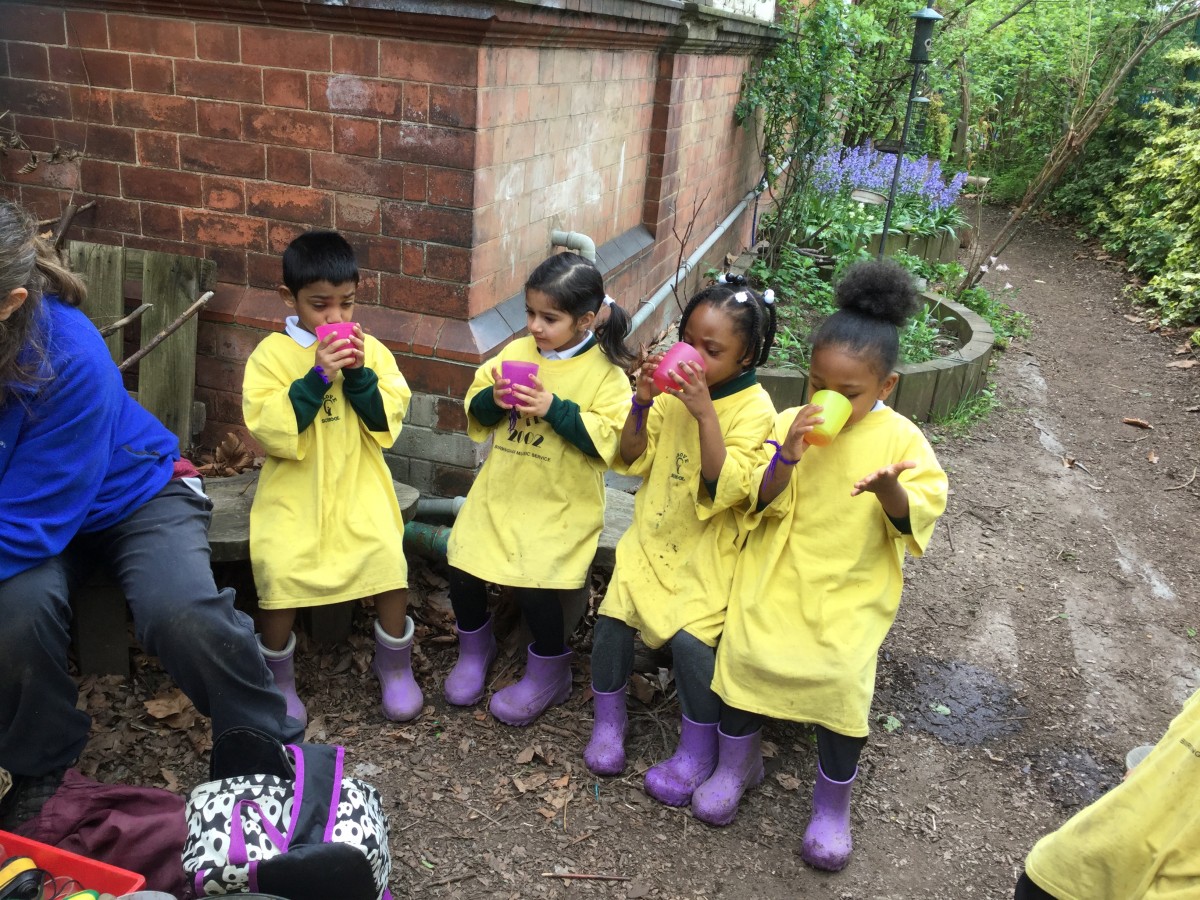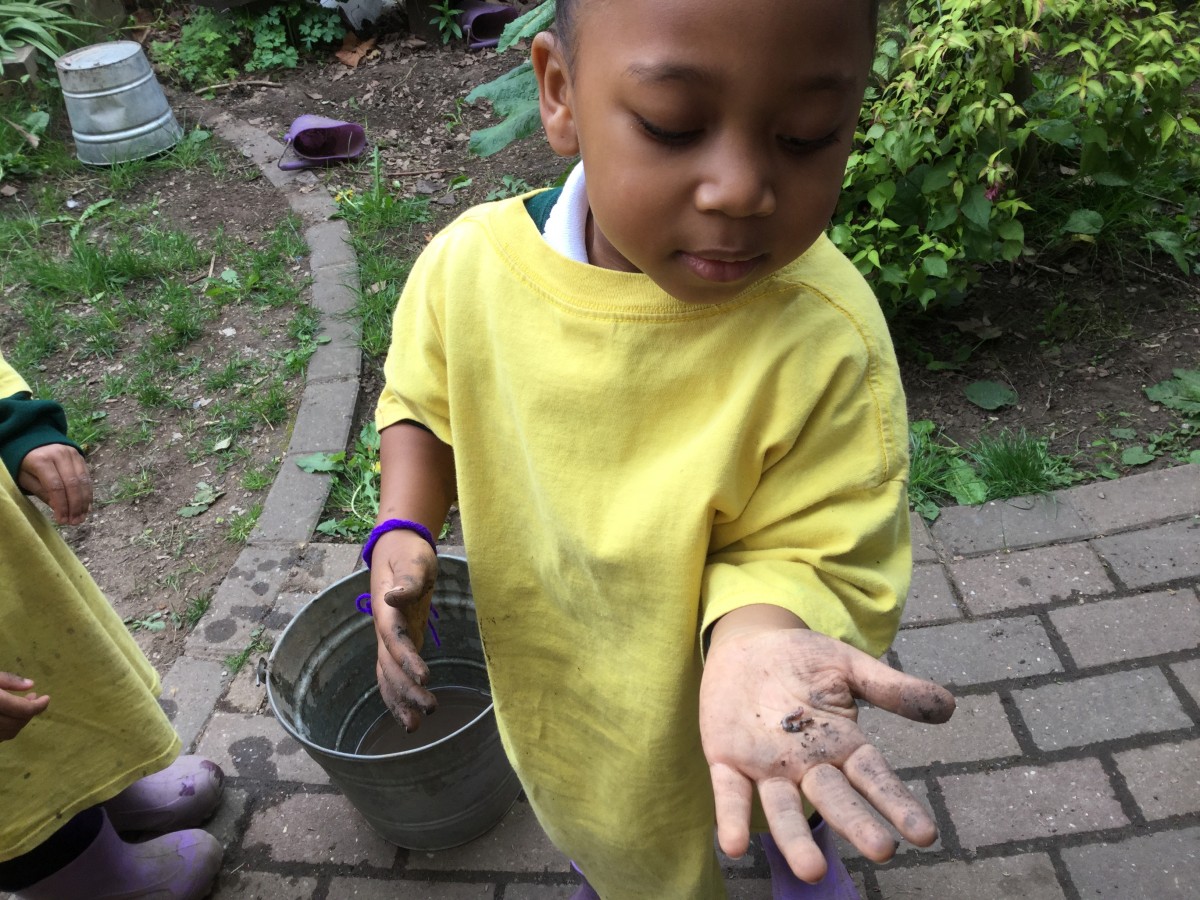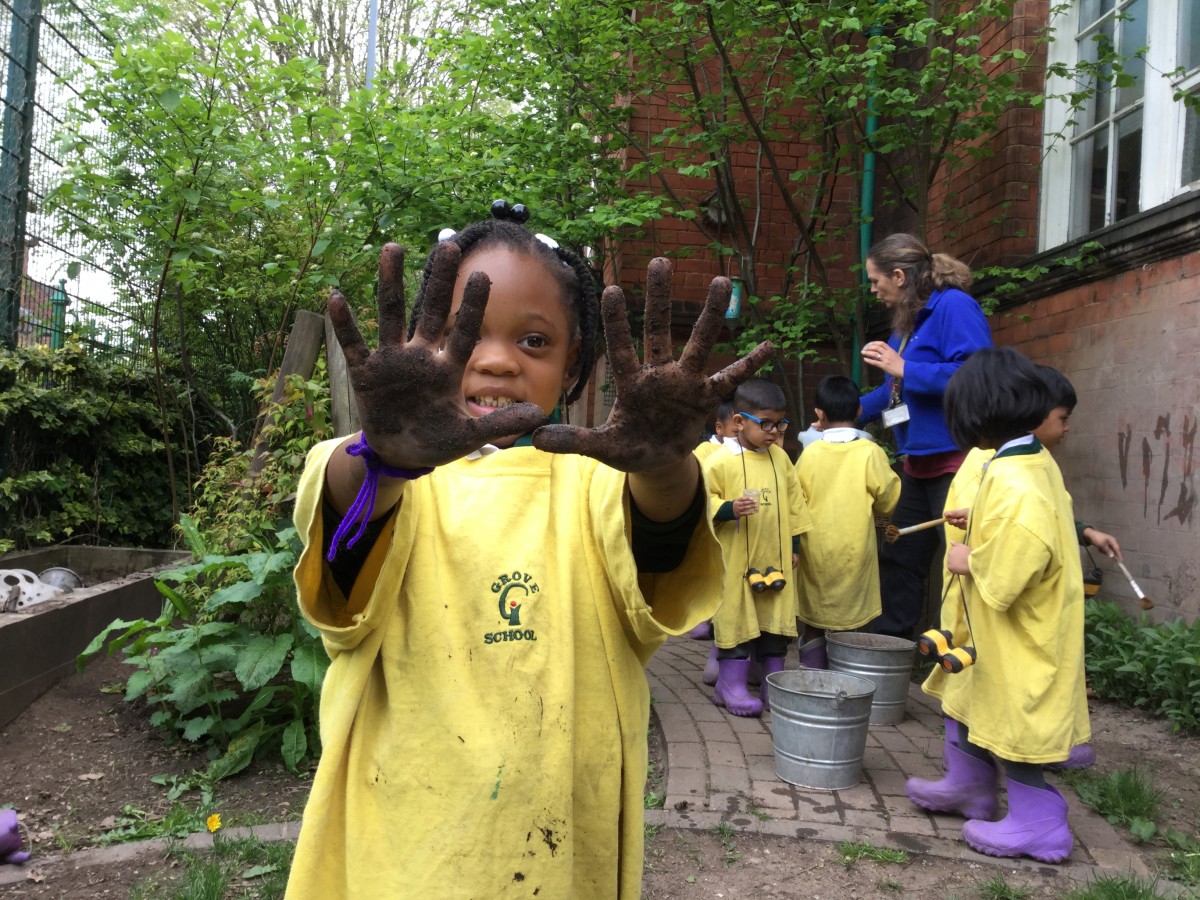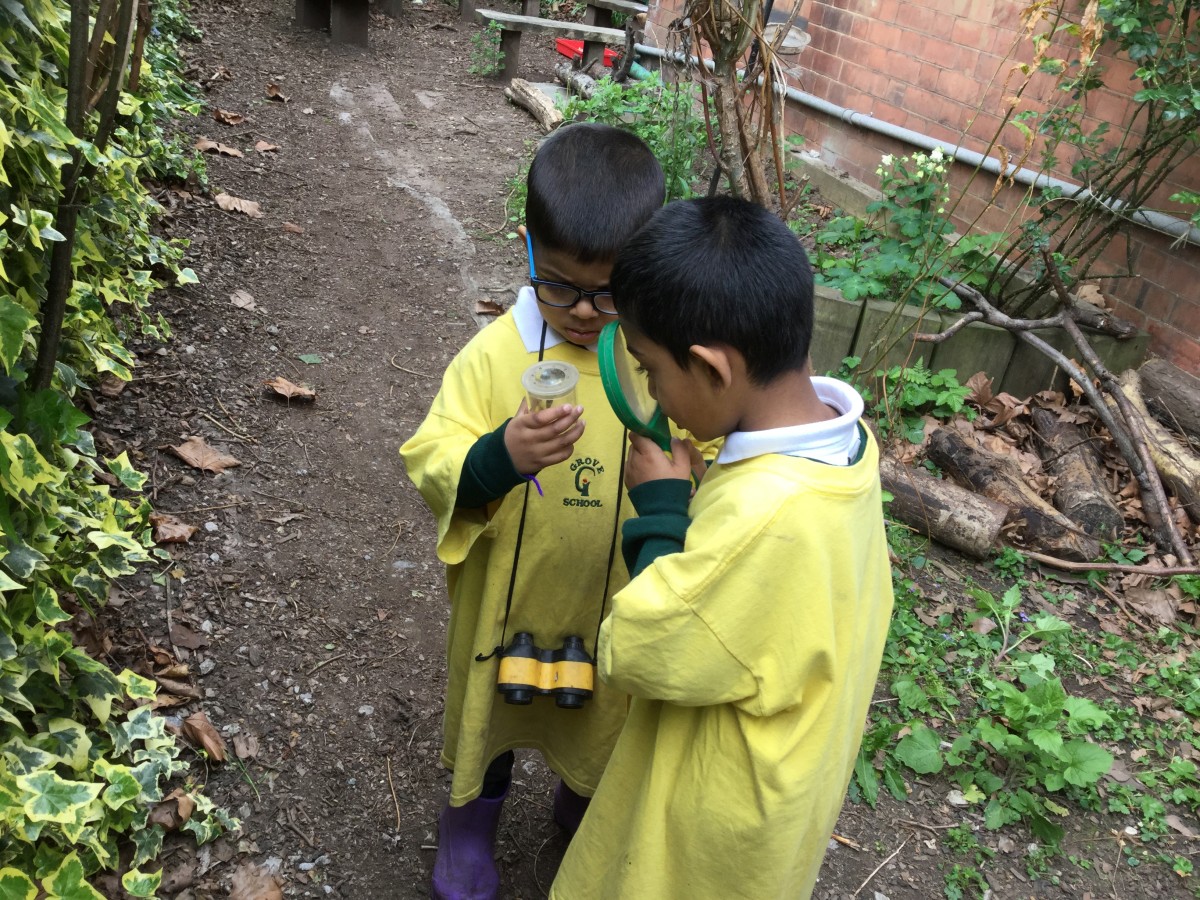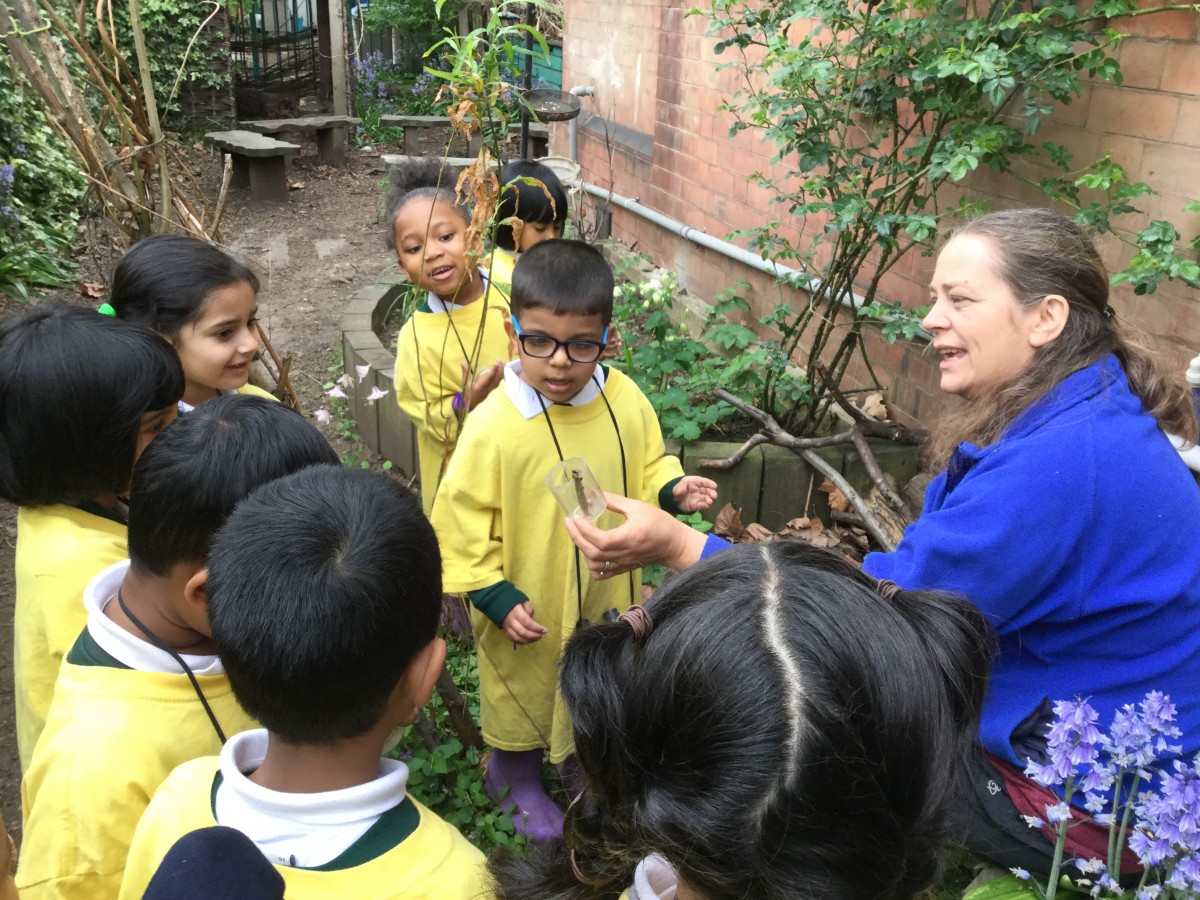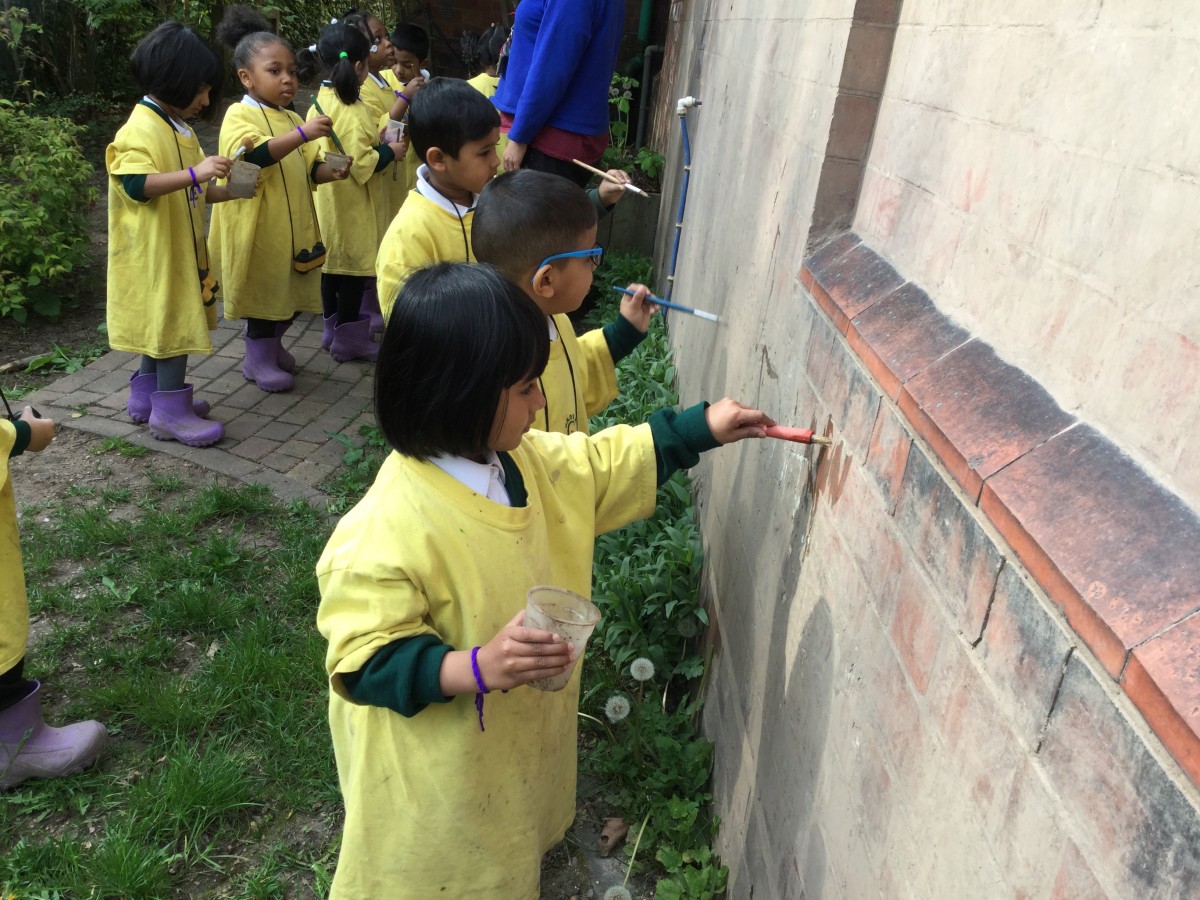 Spring 2019
Tadpoles
Nursery children are very excited to have real tadpoles in our classrooms. We can look at them every day and soon they will turn into frogs. When they are frogs, we will take them to our pond and let them go.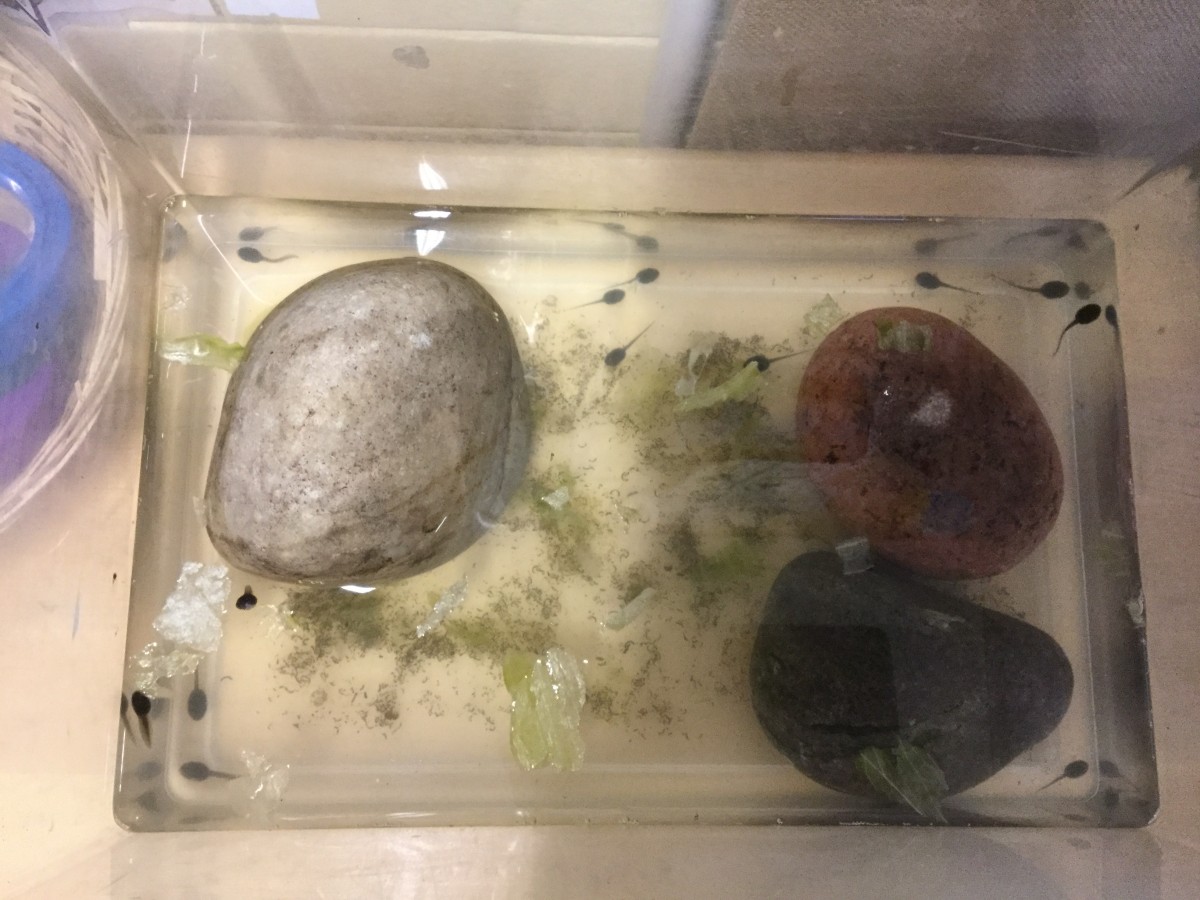 Road Safety Week
The children talked about how to cross the road safely. When we cross the road we always:
Hold a grown-up's hand.
Walk, don't run.
Stop, look, listen, think.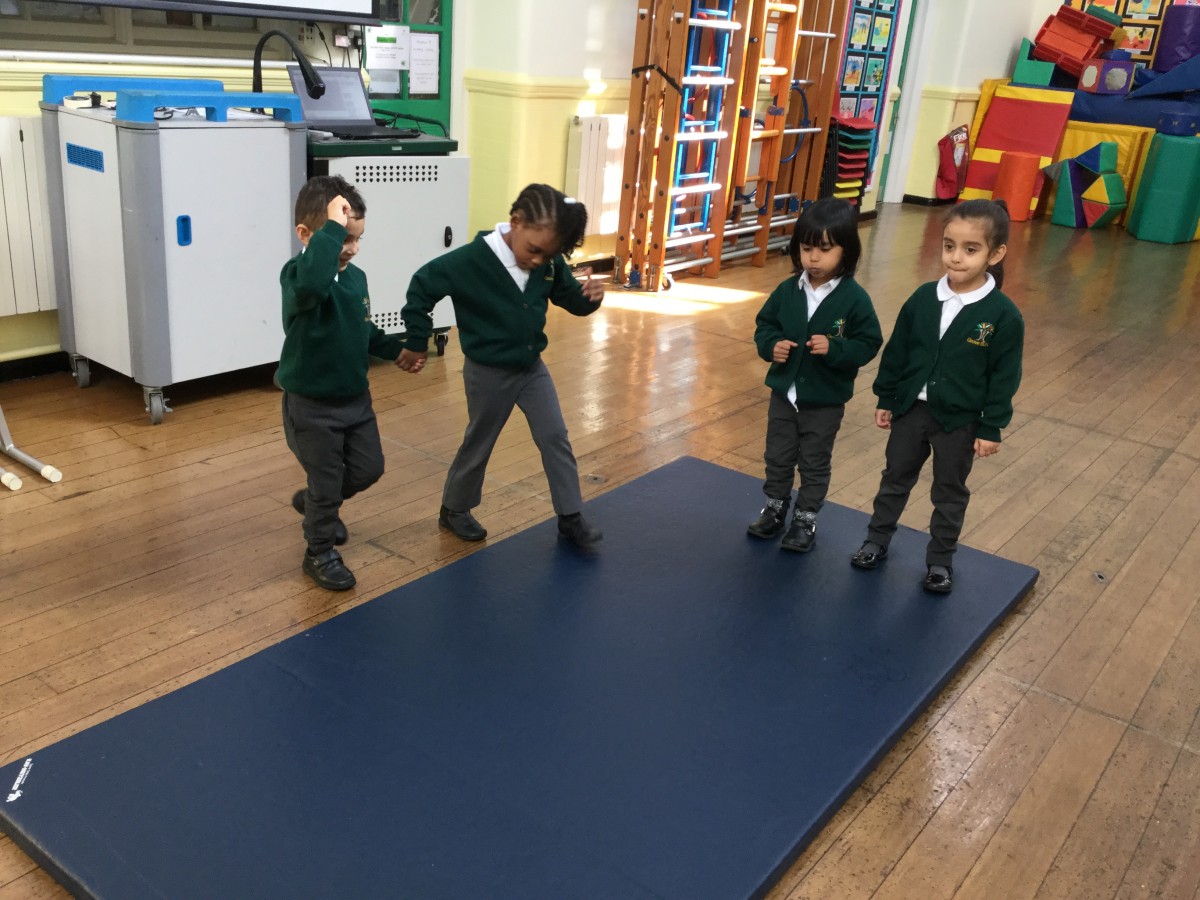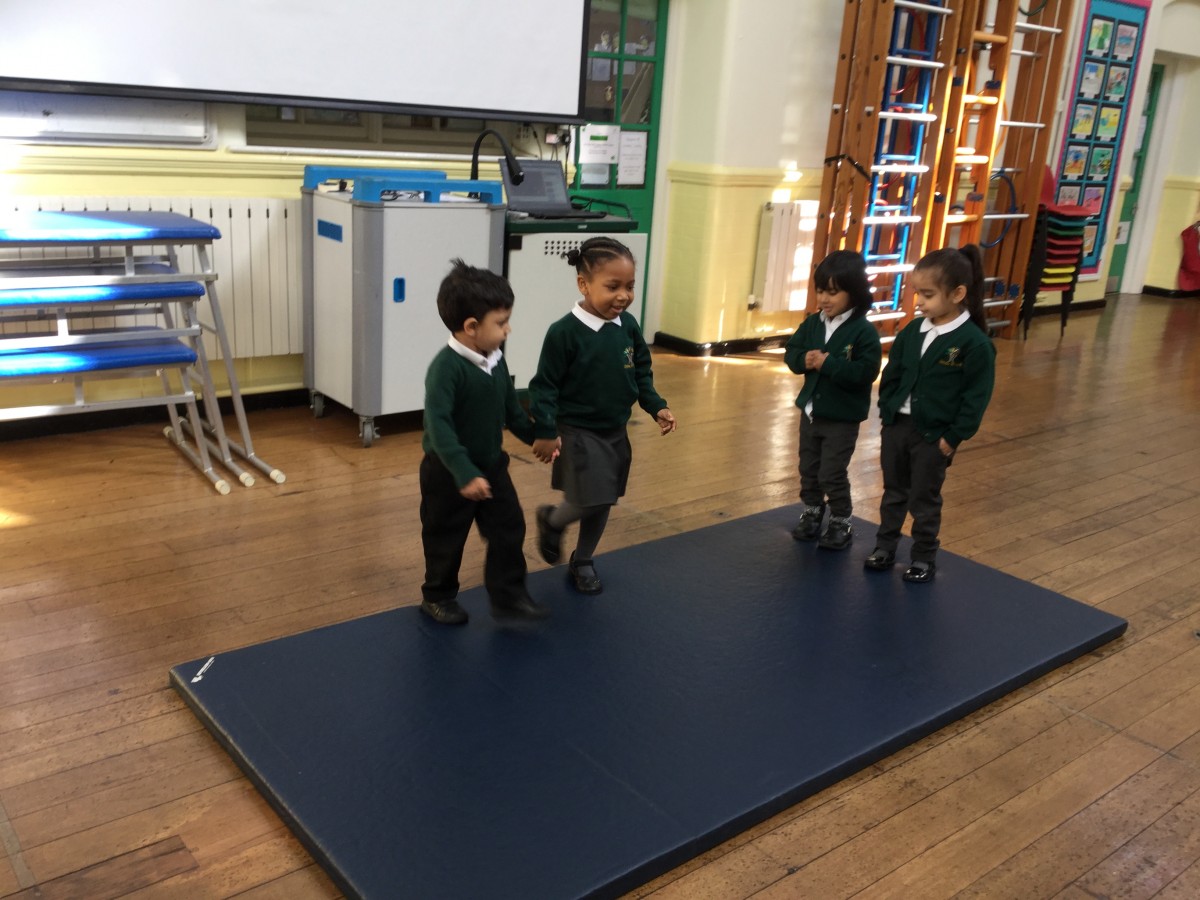 World Book Week
The children came to school dressed up as their favourite story characters. We had some fantastic costumes! We enjoyed reading lots of stories from home and school and were very good at finding Wally!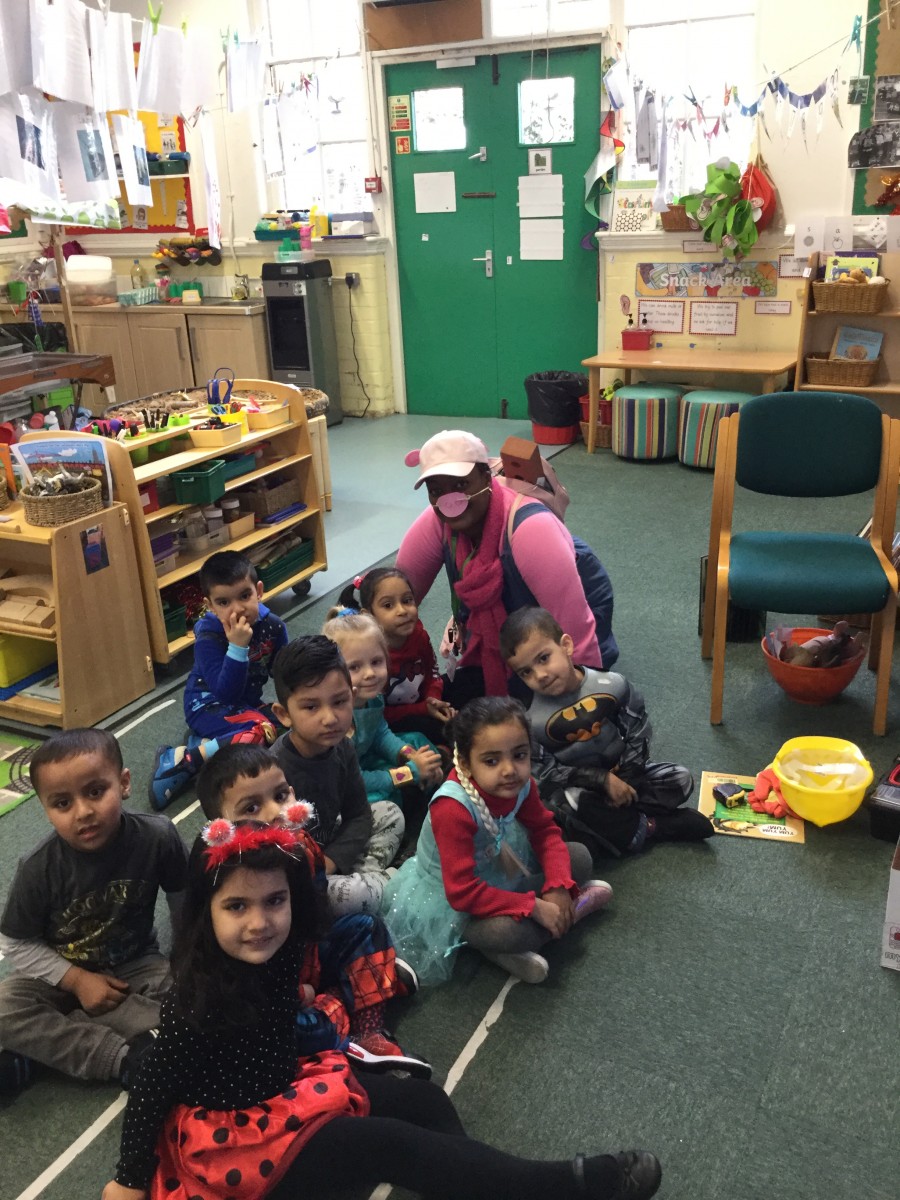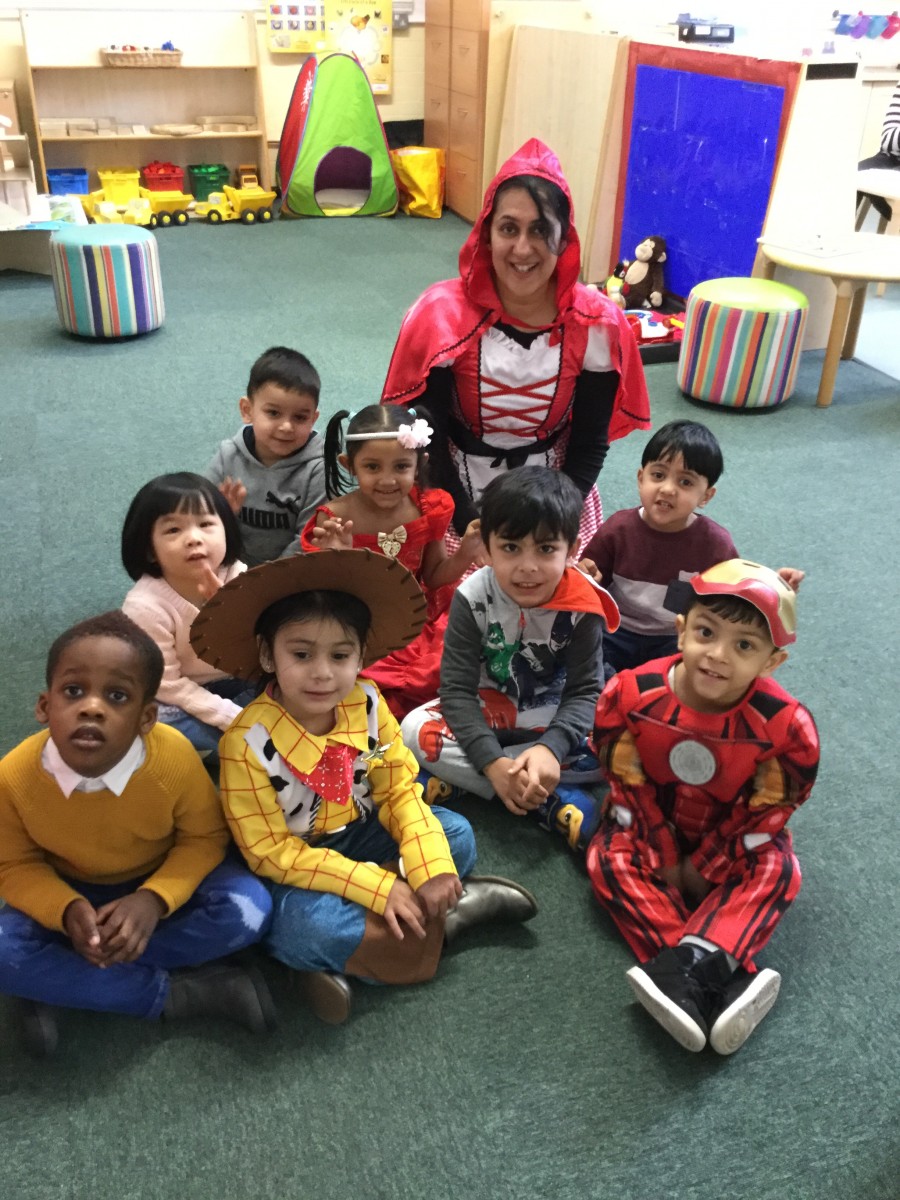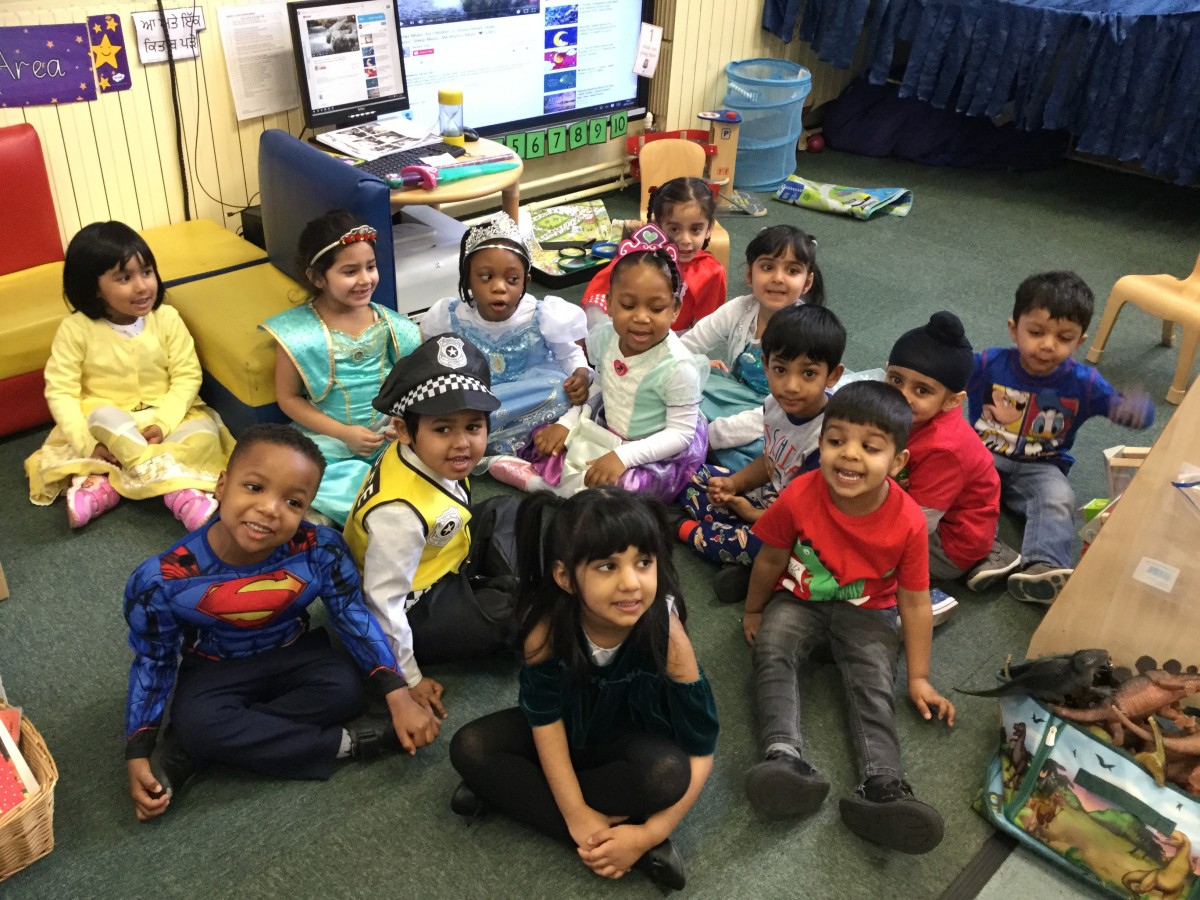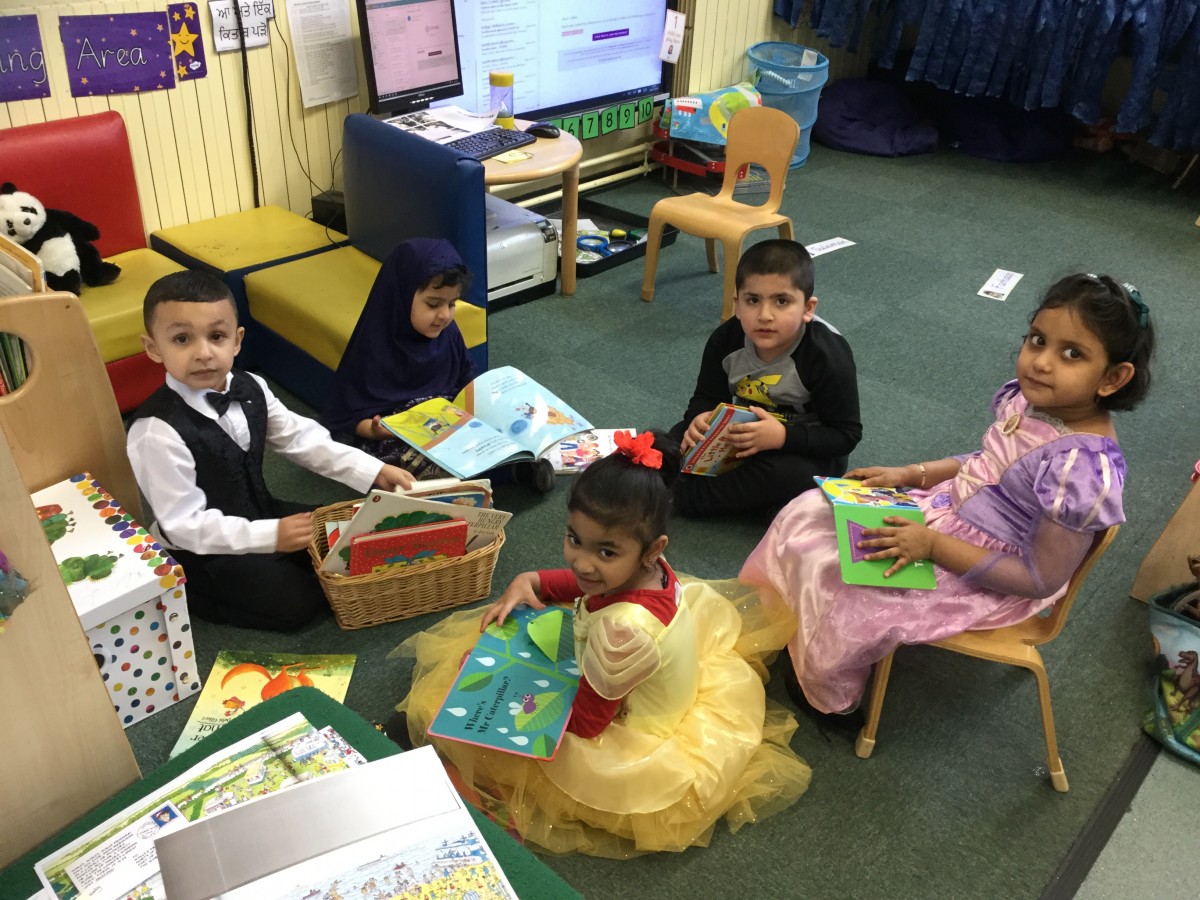 We had a special 'Read Before You Sleep' event as part of World Book Week. The children came back to school in the evening wearing their pyjamas. They read lots of lovely stories with their parents and enjoyed some milkshake and biscuits.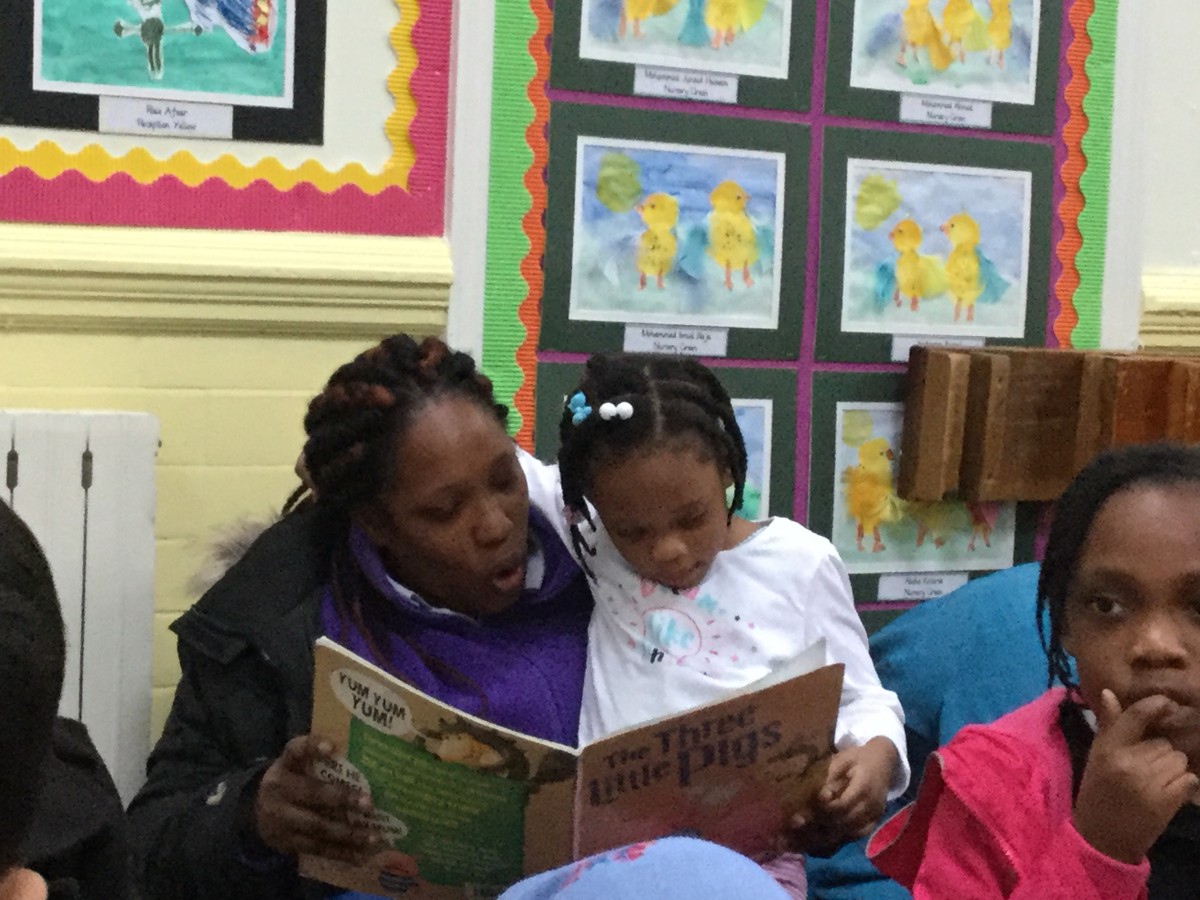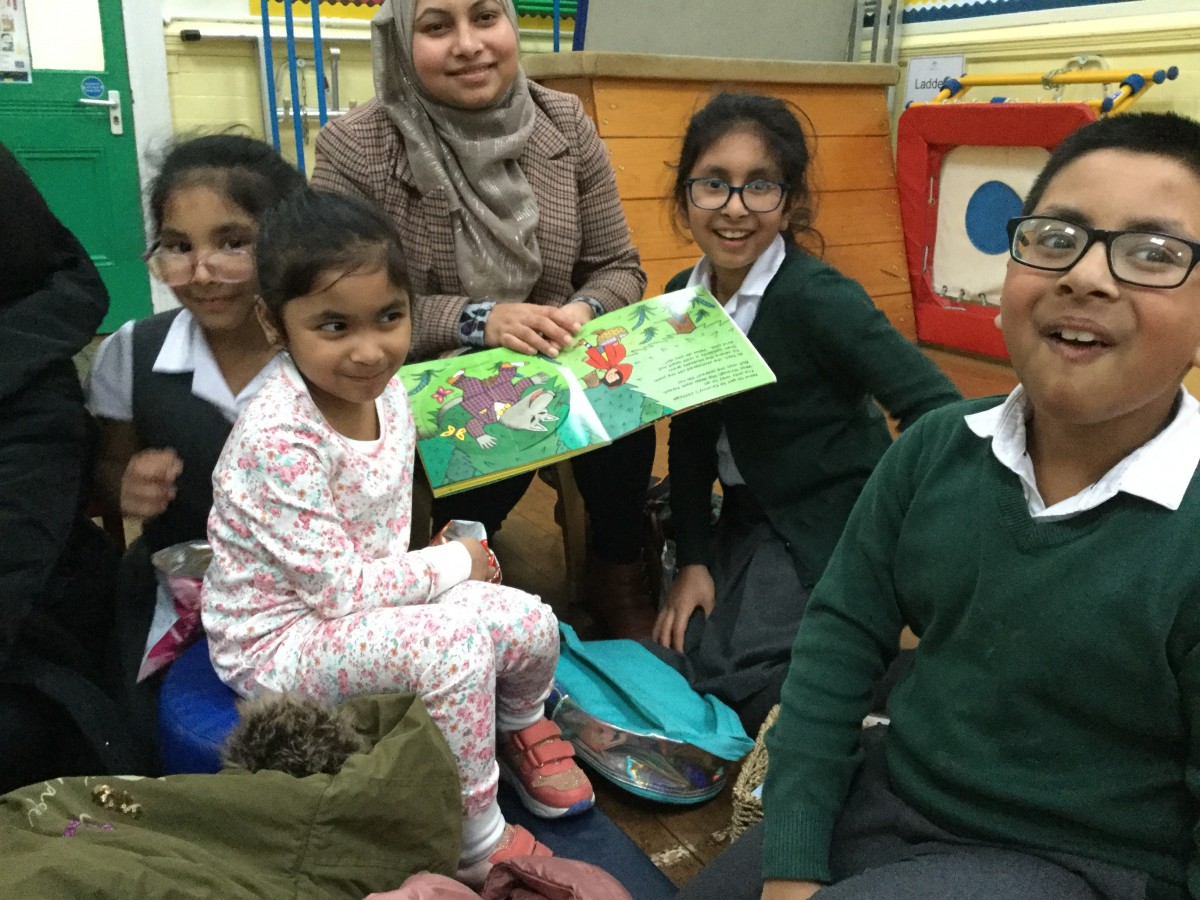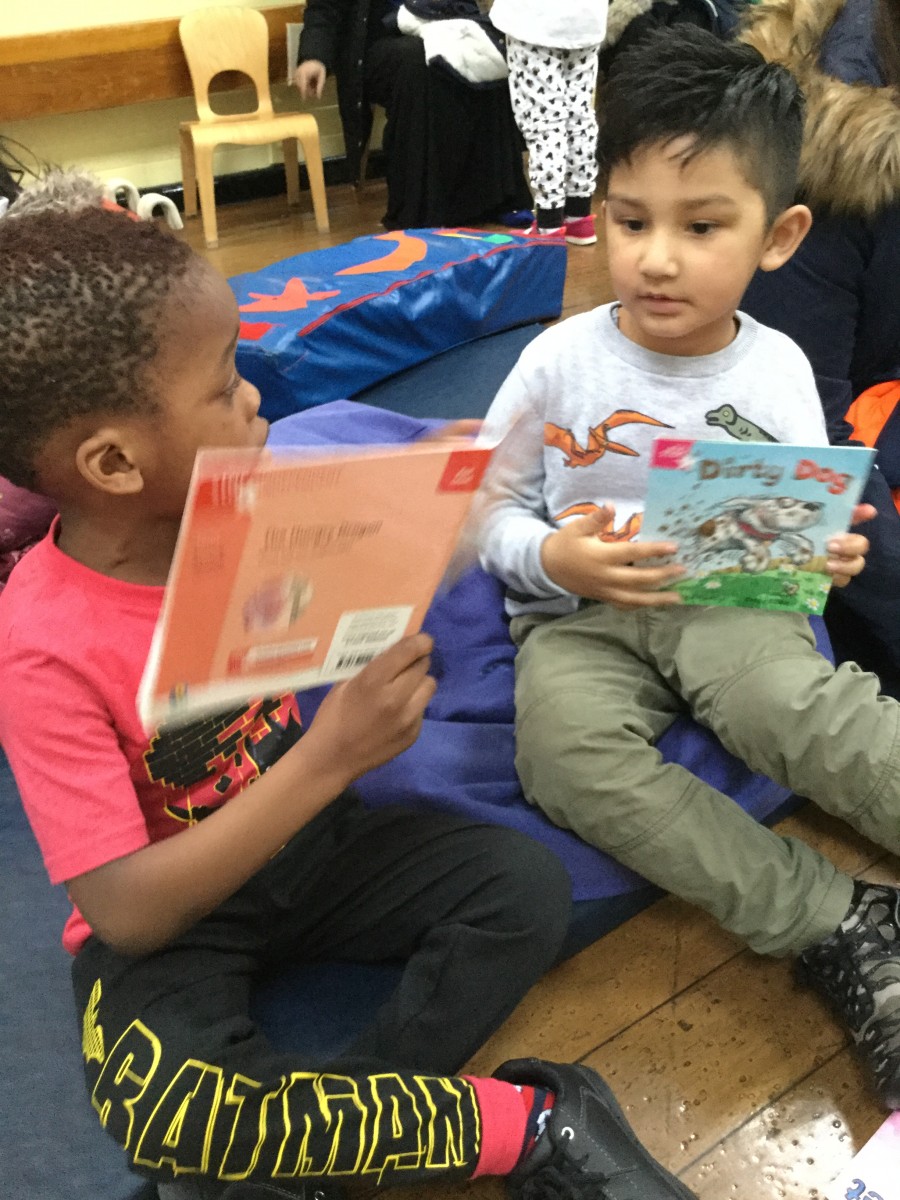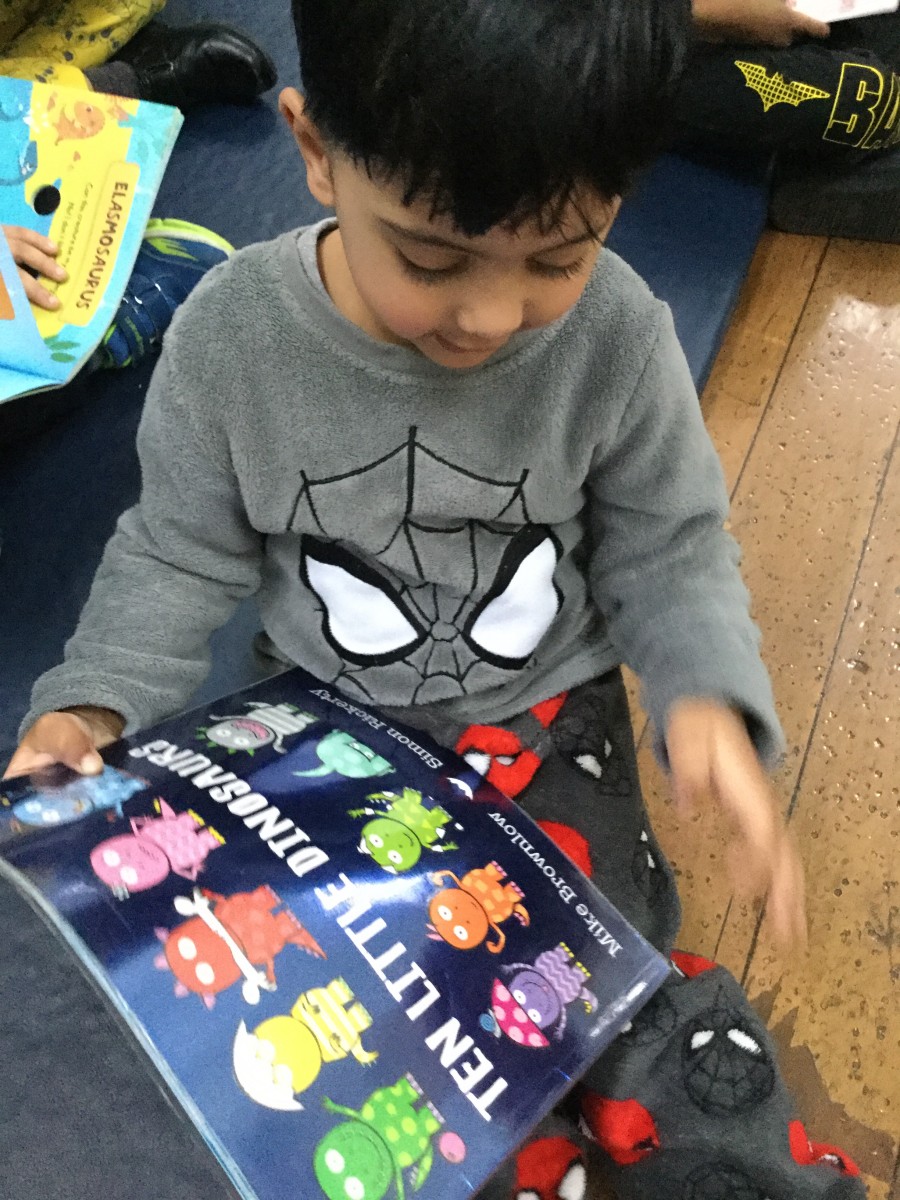 We had lots of fun at our Phonics Workshop. The children enjoyed showing their parents how we learn phonics and played lots of phonic games. Thank you to all the parents that attended.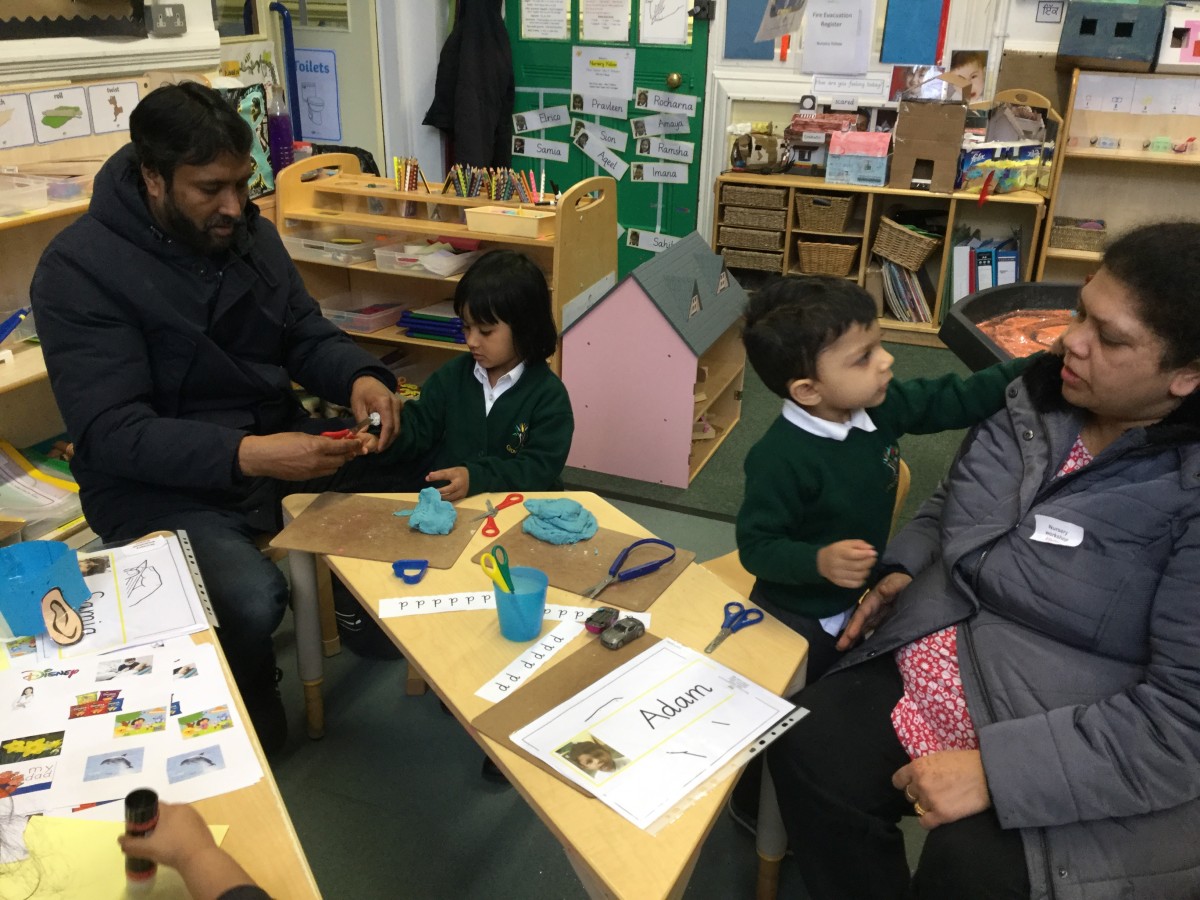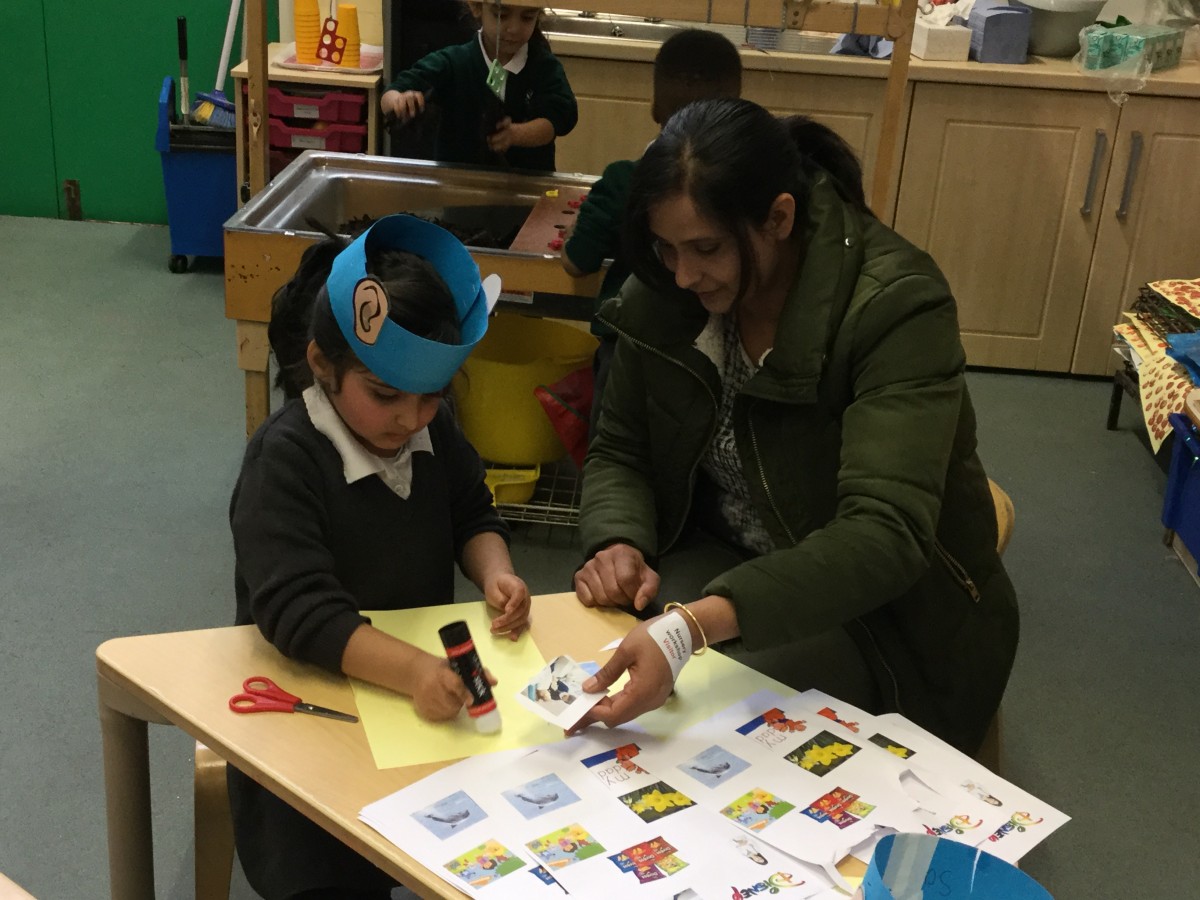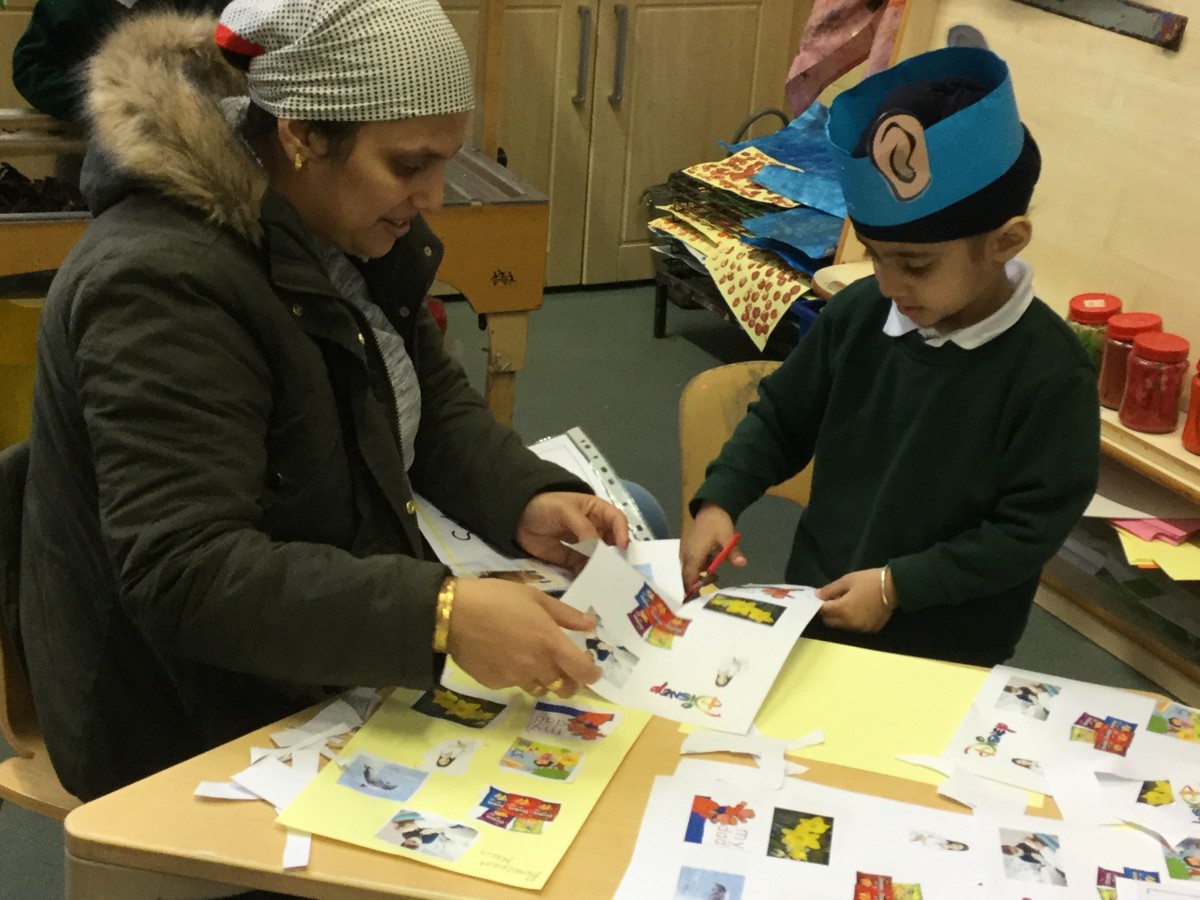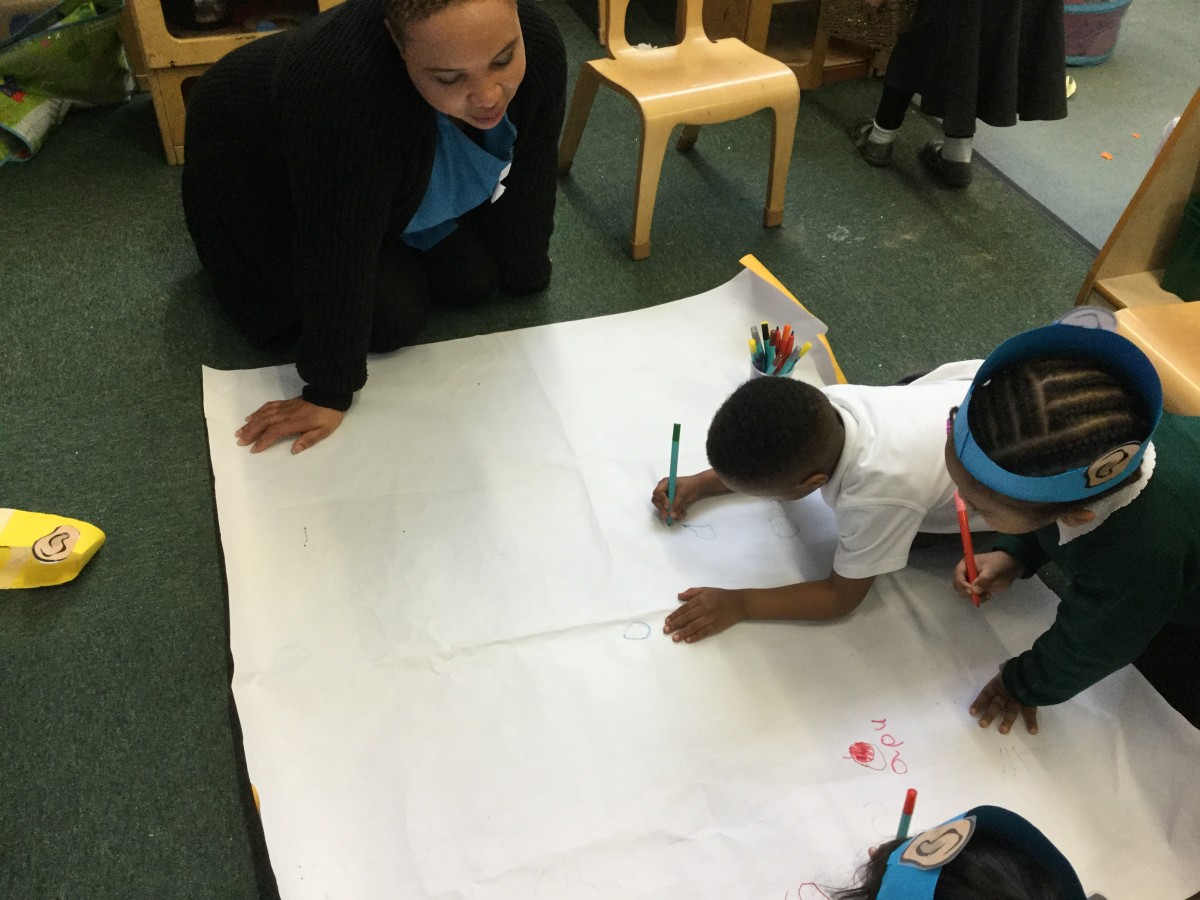 We have been learning about traditional stories. We have read The Gingerbread Man, Goldilocks and The Three Bears, The Three Billy Goats Gruff and The Little Red Hen.
The Hobgoblin Theatre Company perform the story of Goldilocks for us. Back in class we were keen to act out the story using puppets and masks.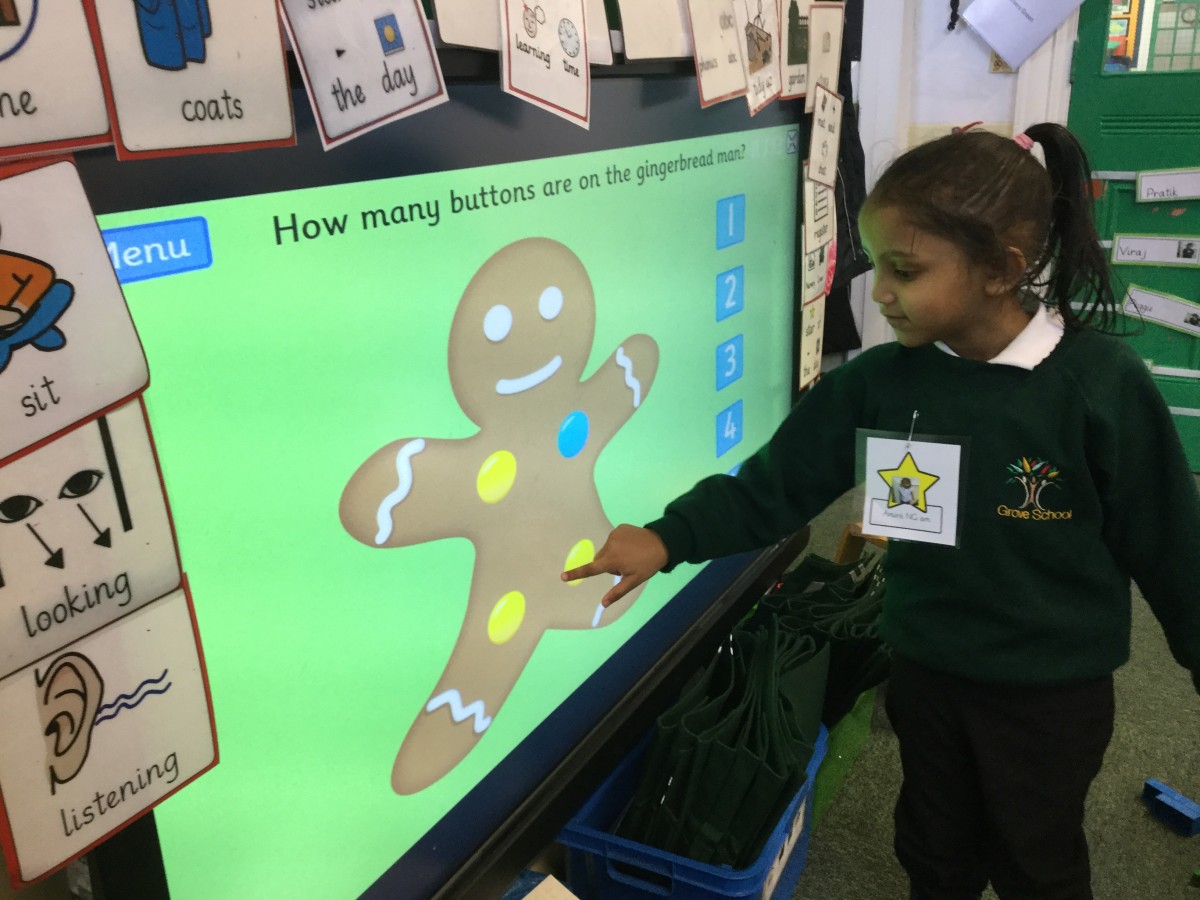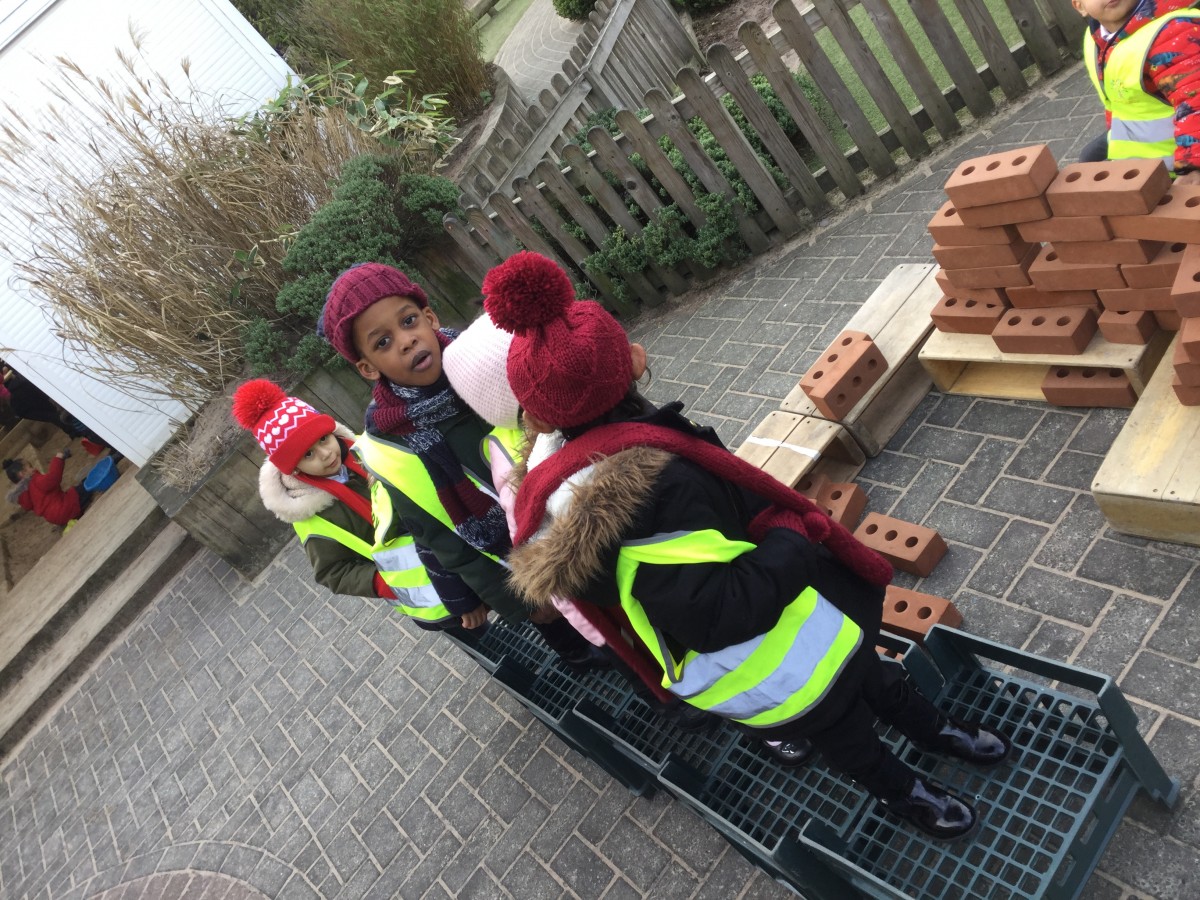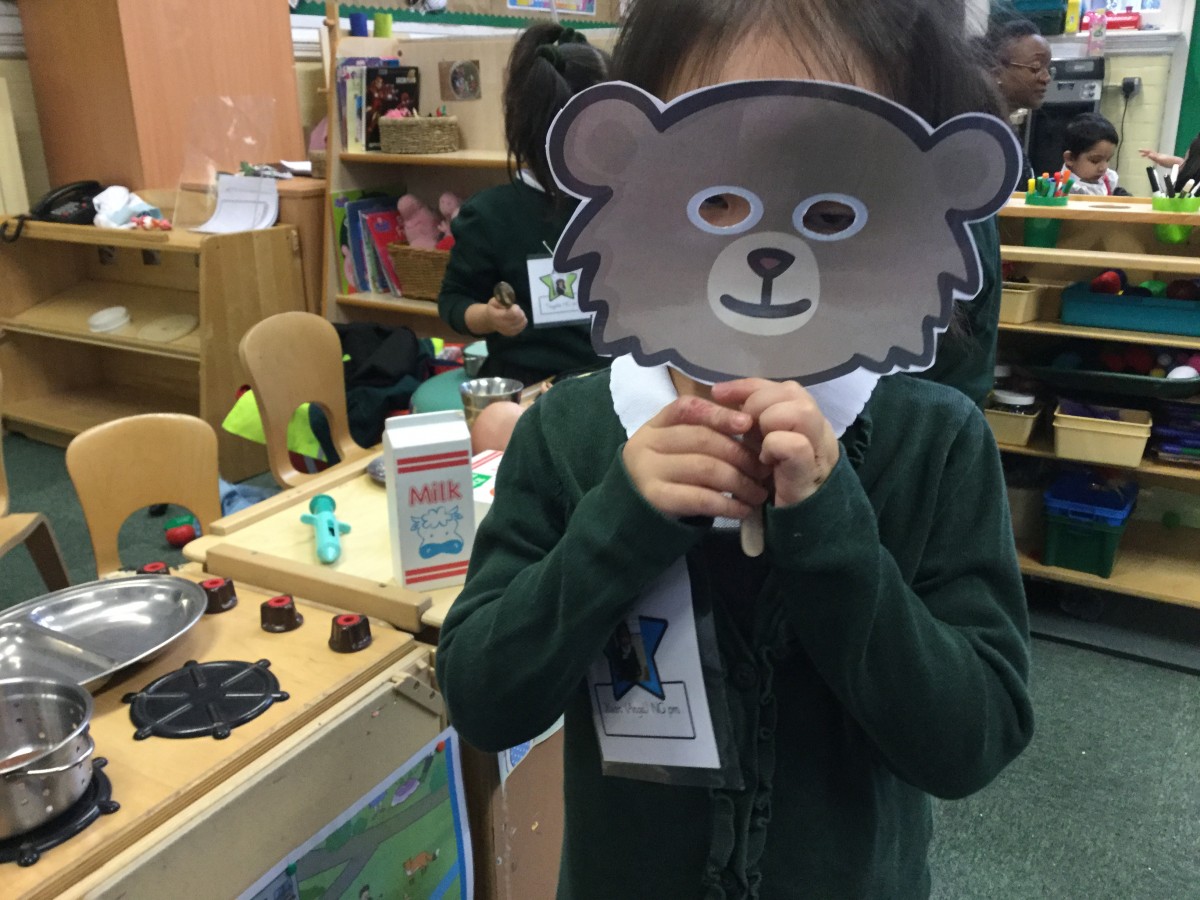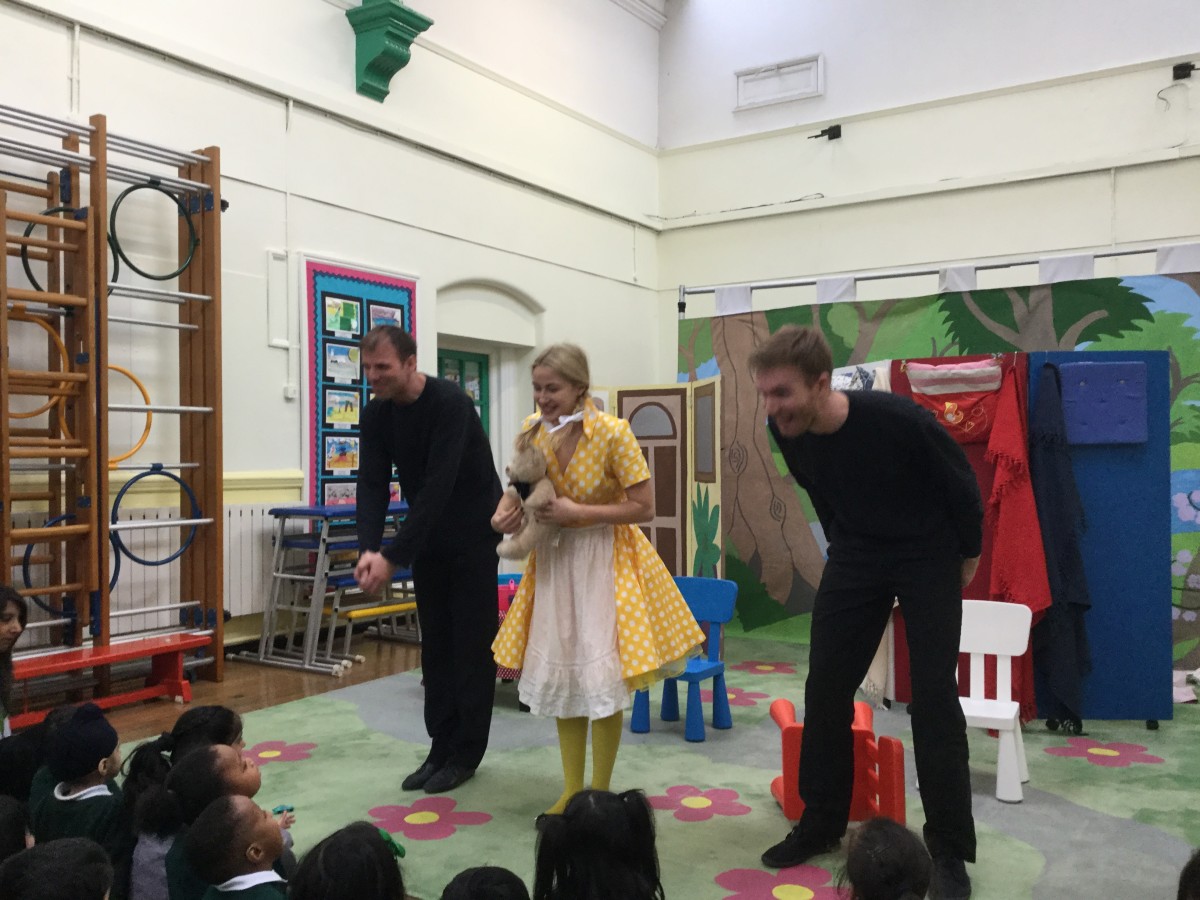 The living eggs arrived in nursery and the children were fascinated to observe the changes. We learnt about taking care of living creature's including feeding, cleaning and caring for them. We enjoyed watching the chicks grow and look forward to visiting them at the farm later in the term.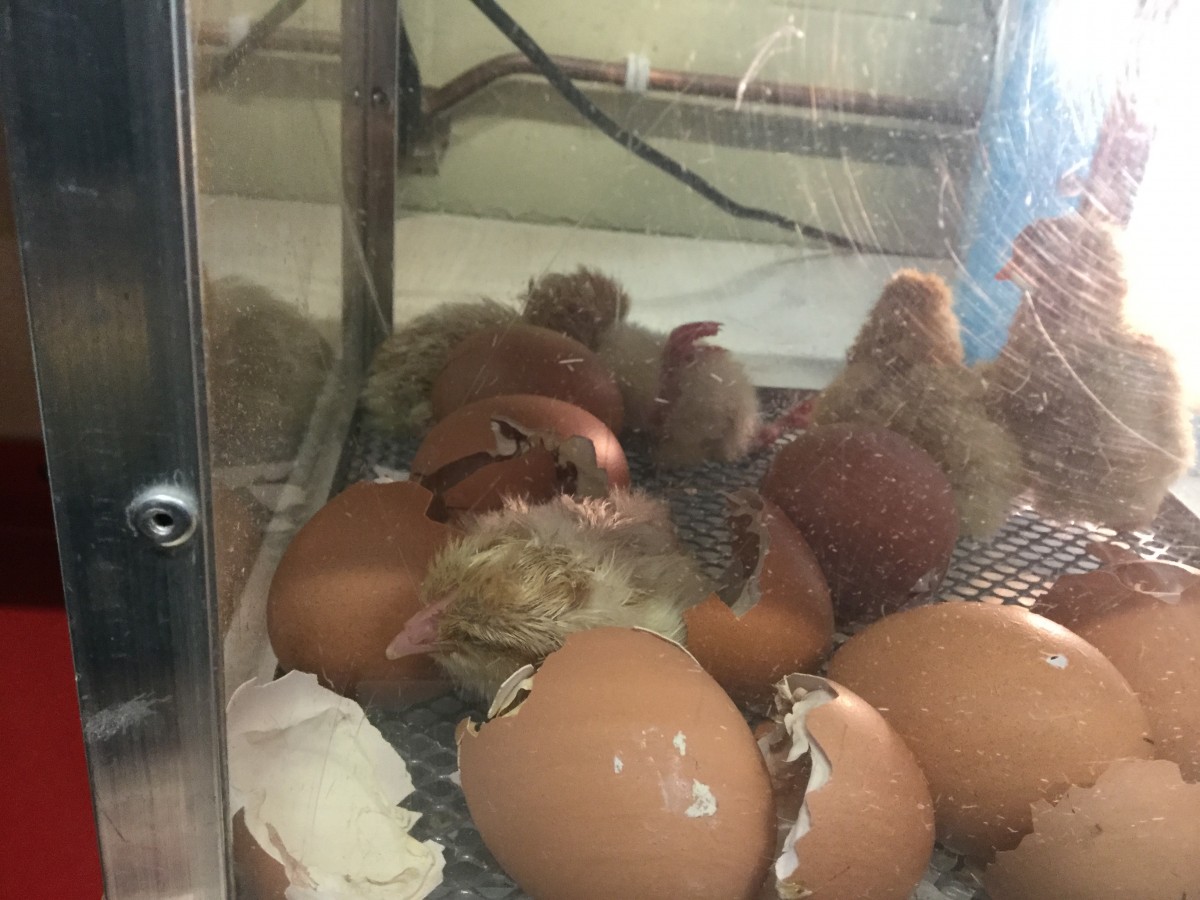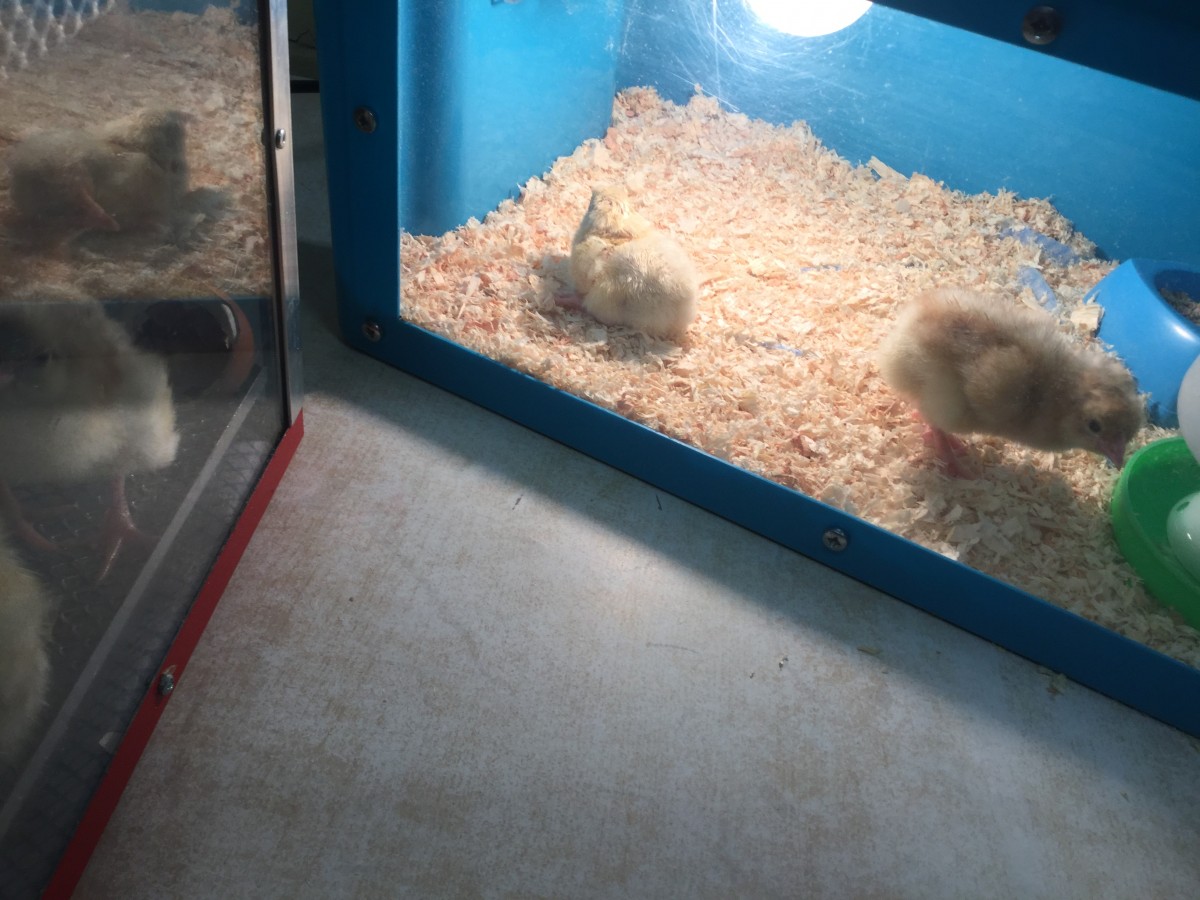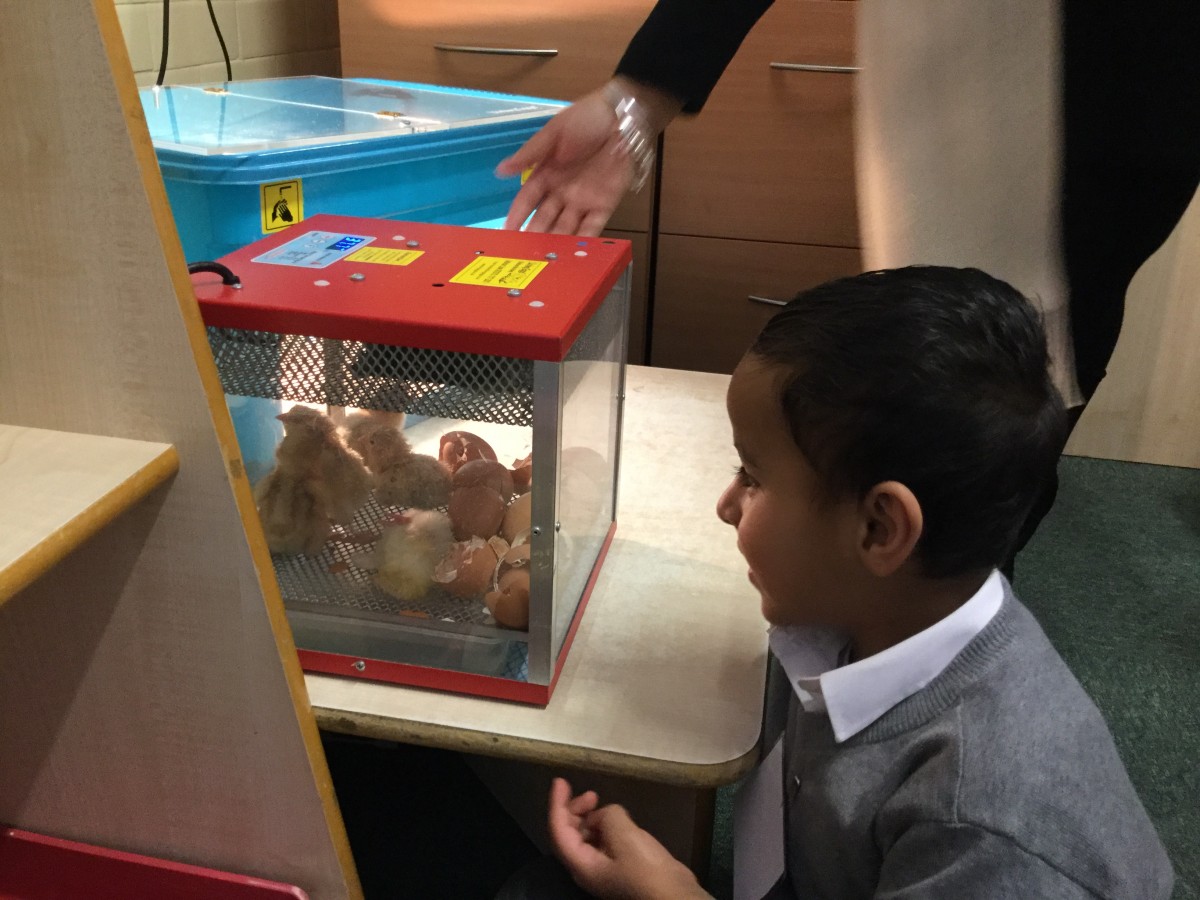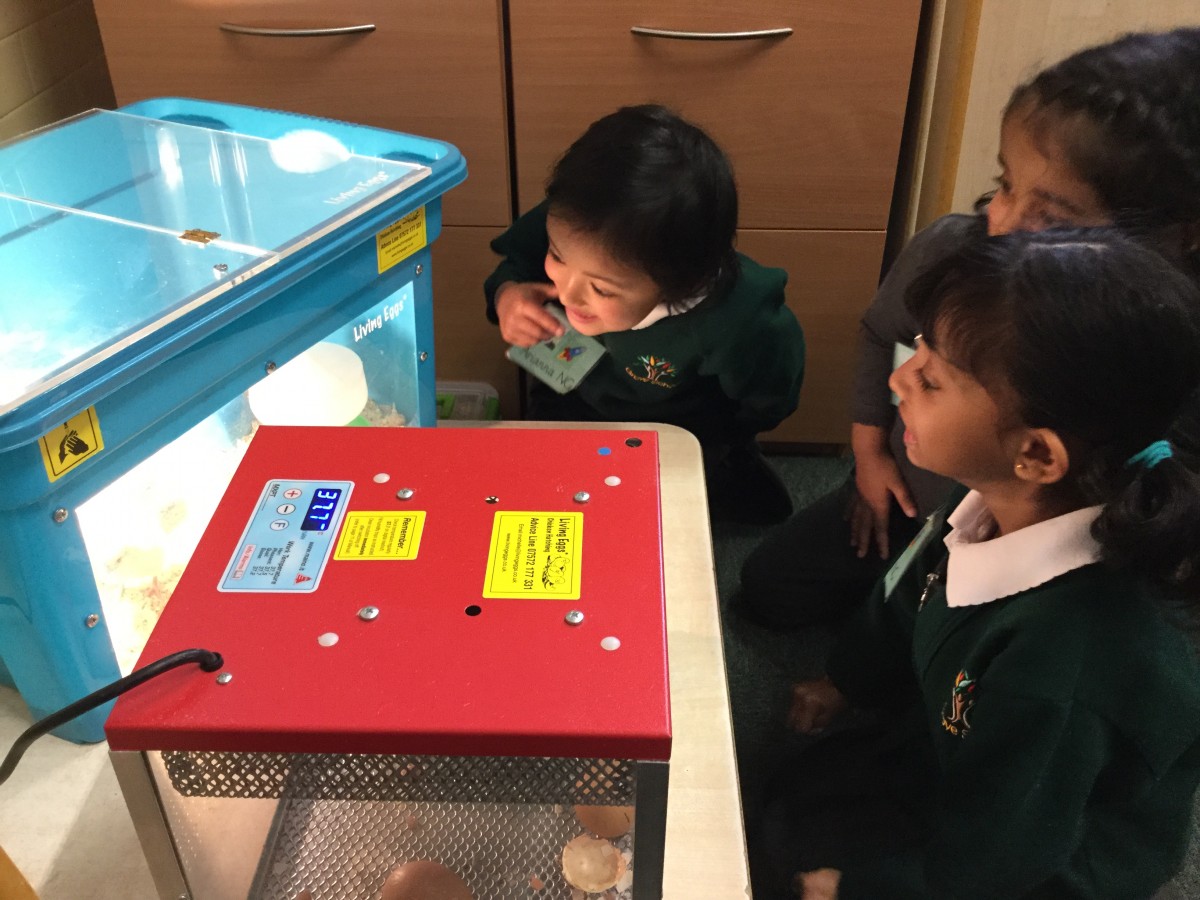 We are very pleased that so many children have received their attendance certificates. Attendance is so important to us at Grove School, we like to celebrate this achievement.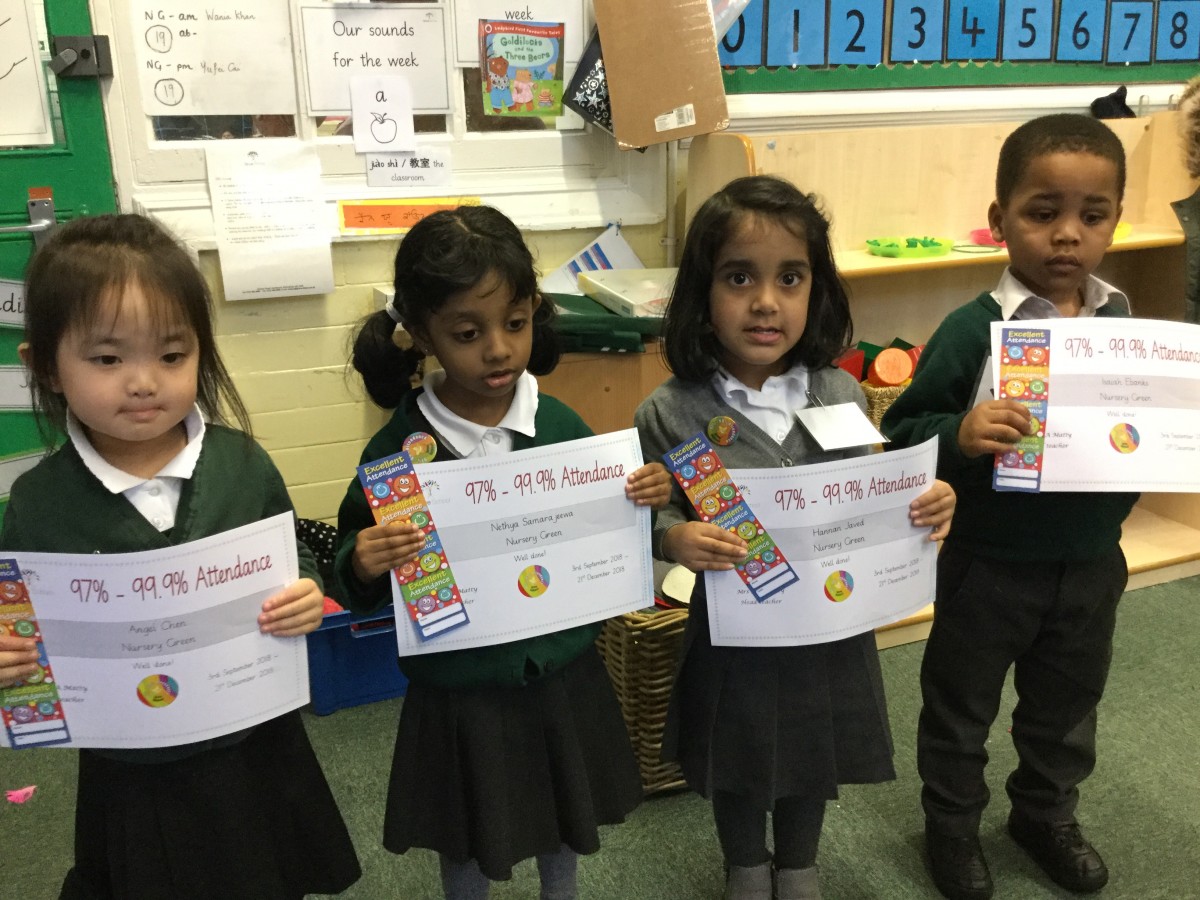 Autumn 2018
Today the children have talked about what it means to be a kind friend and have made friendship bracelets to give to their friends. The children enjoyed showing each other their odd socks to celebrate 'Friendship Week'.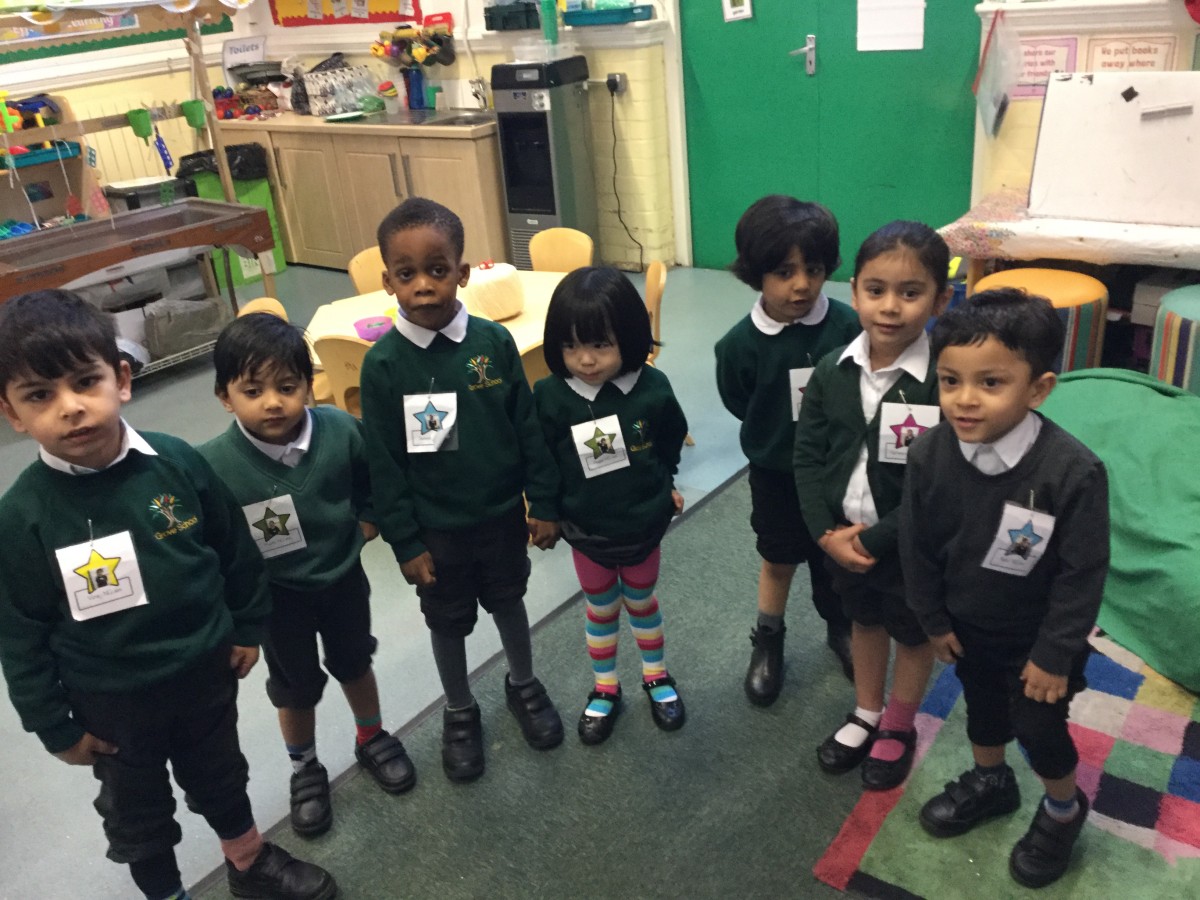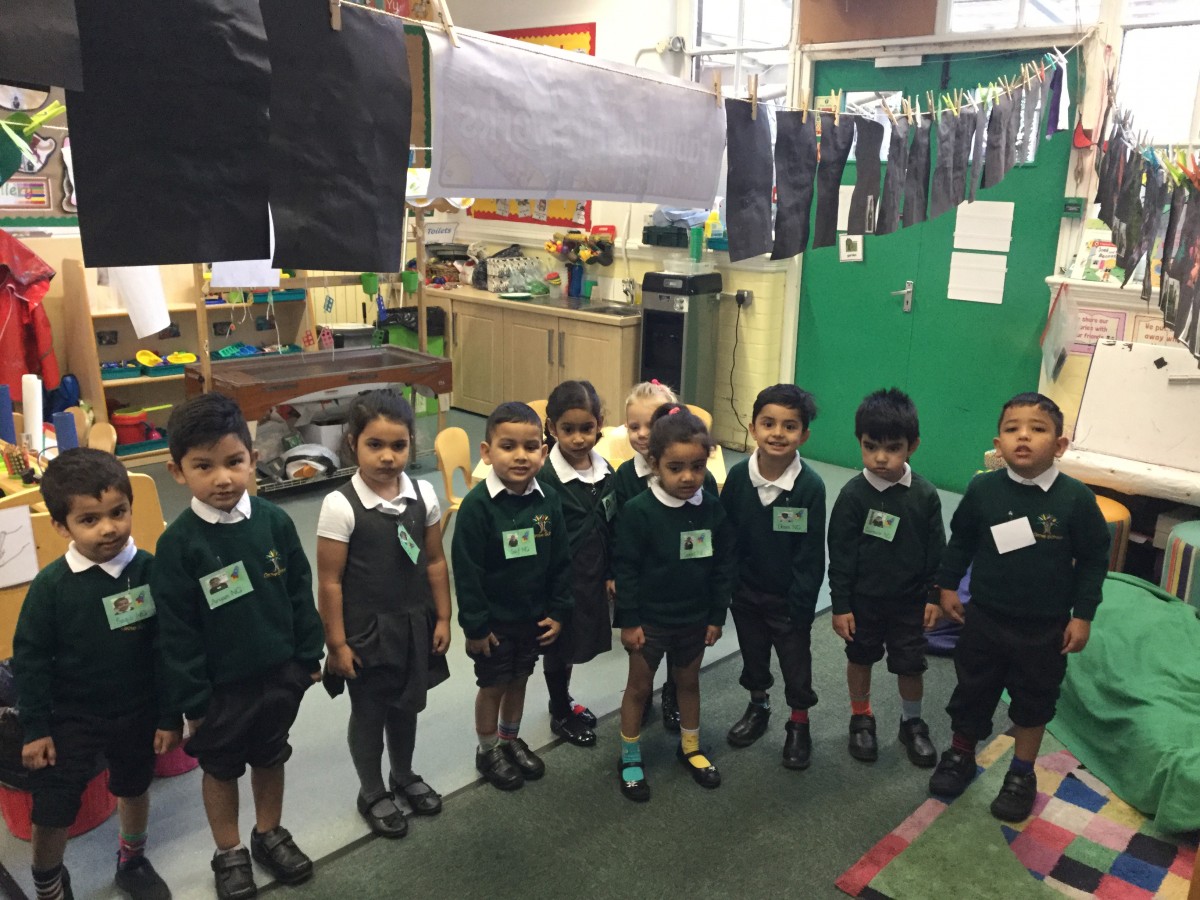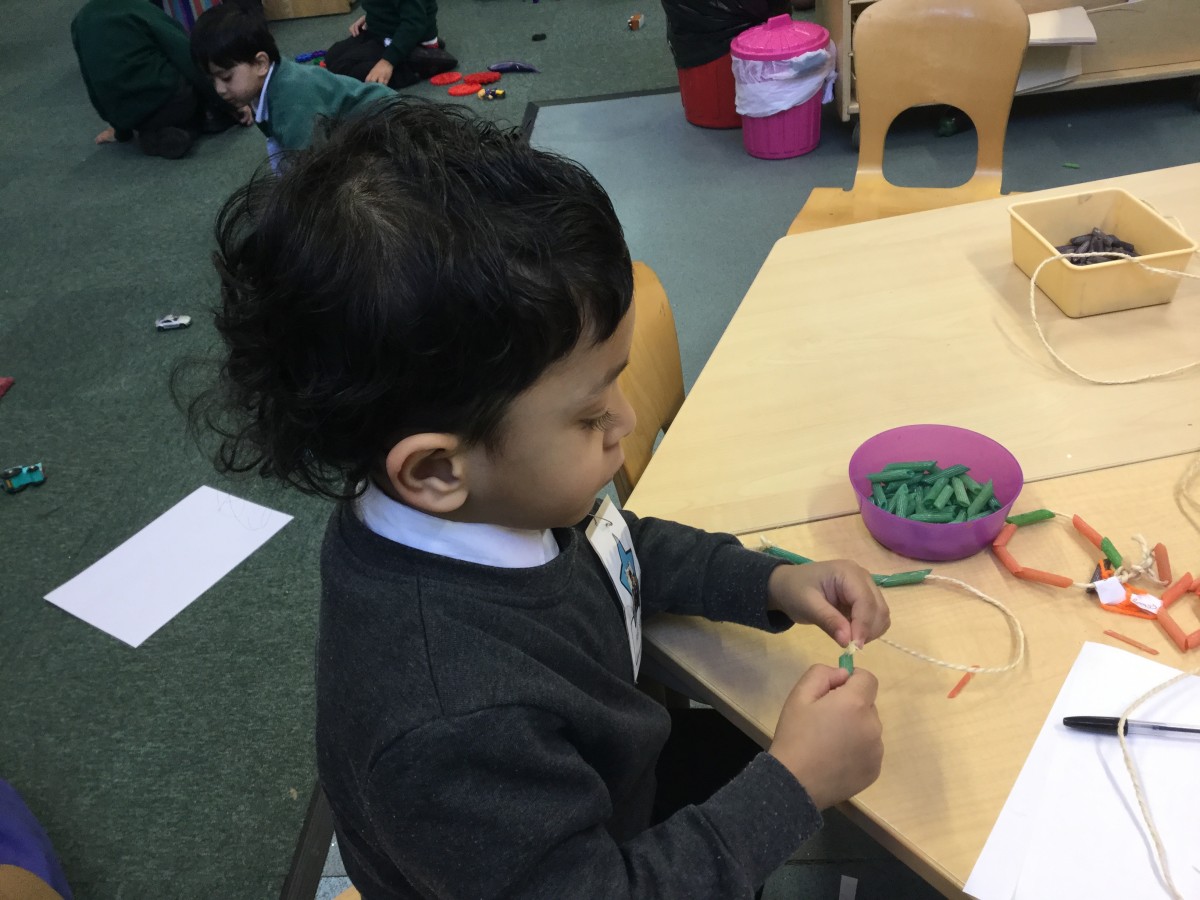 October 2018
The children have had lots of fun exploring pumpkins! First they hammered golf tees into the pumpkins using their careful fingers. After that they opened up the pumpkins and enjoyed scooping out the sticky seeds. They counted the seeds carefully and looked closely at the inside of the pumpkins using a magnifying glass.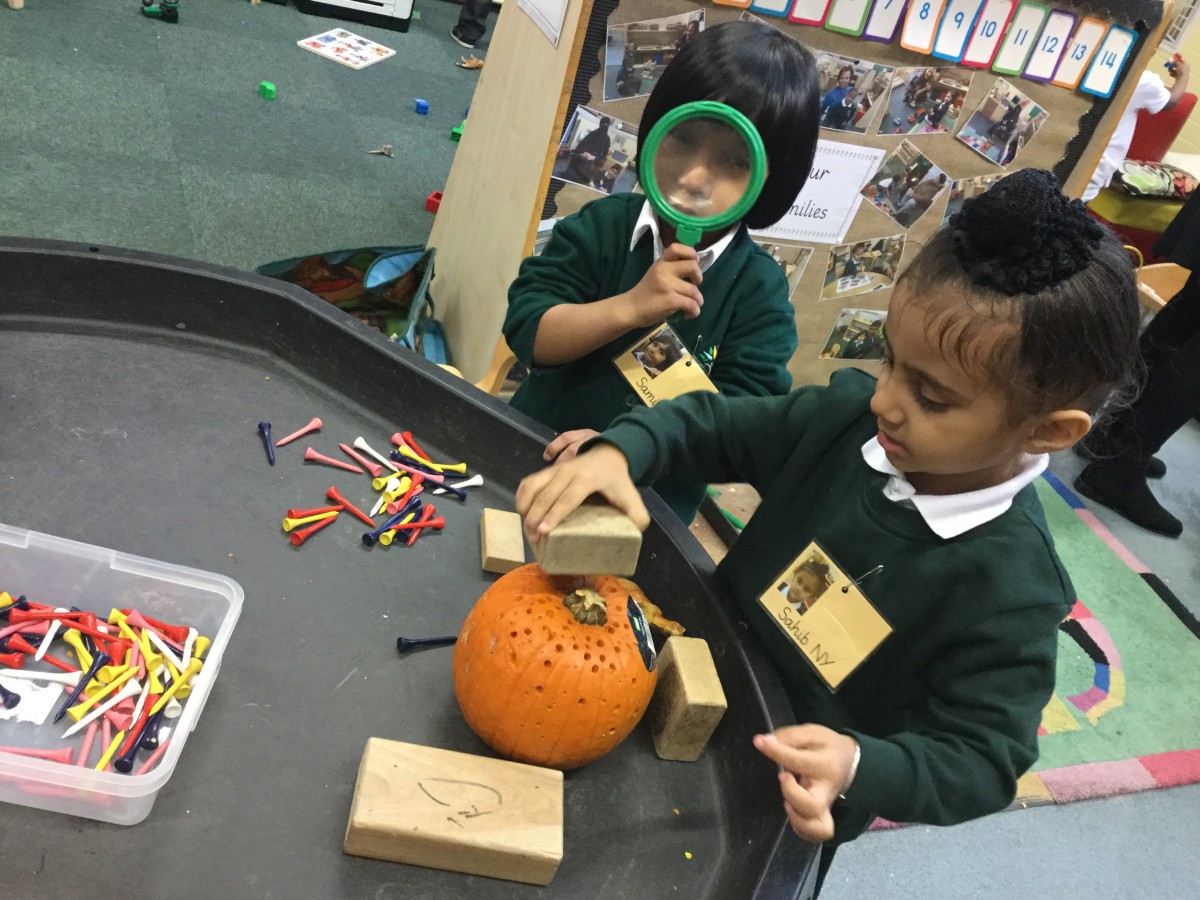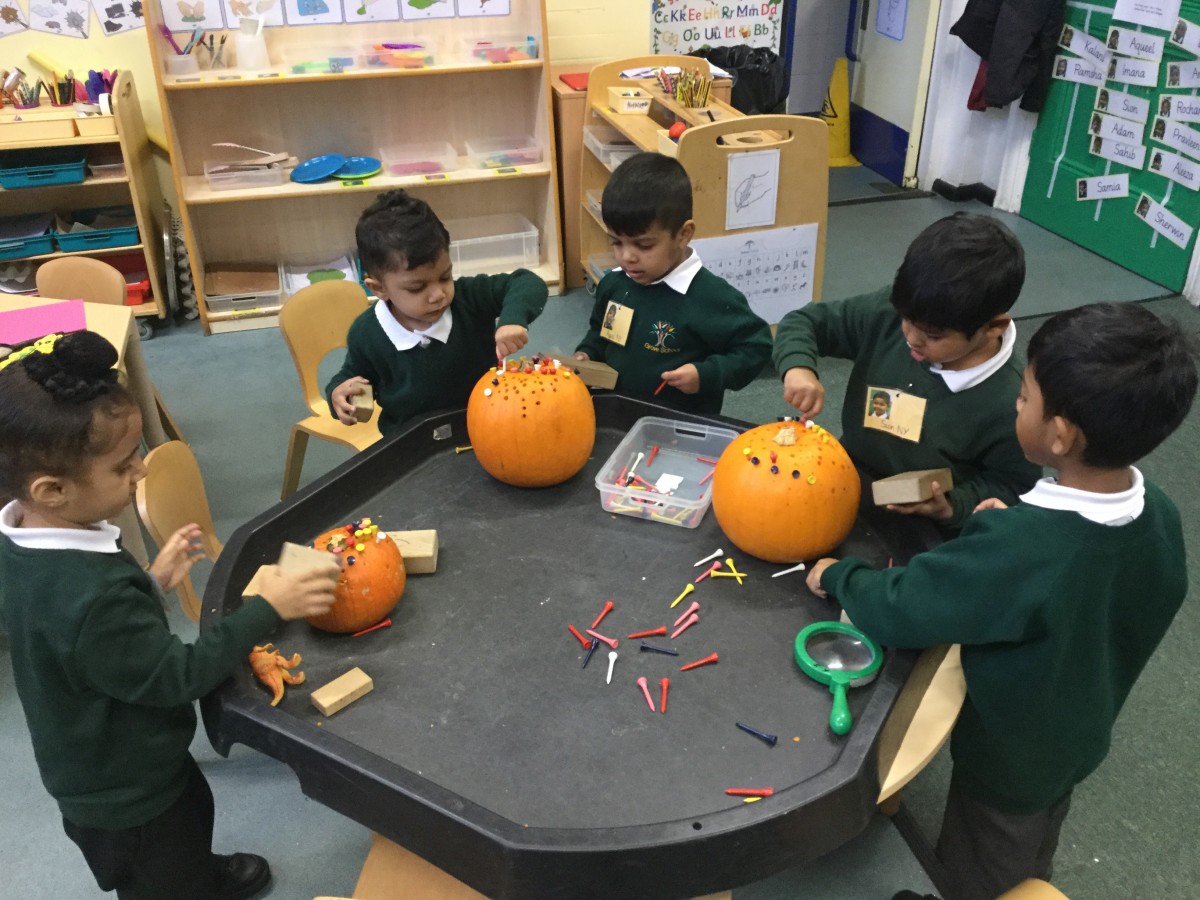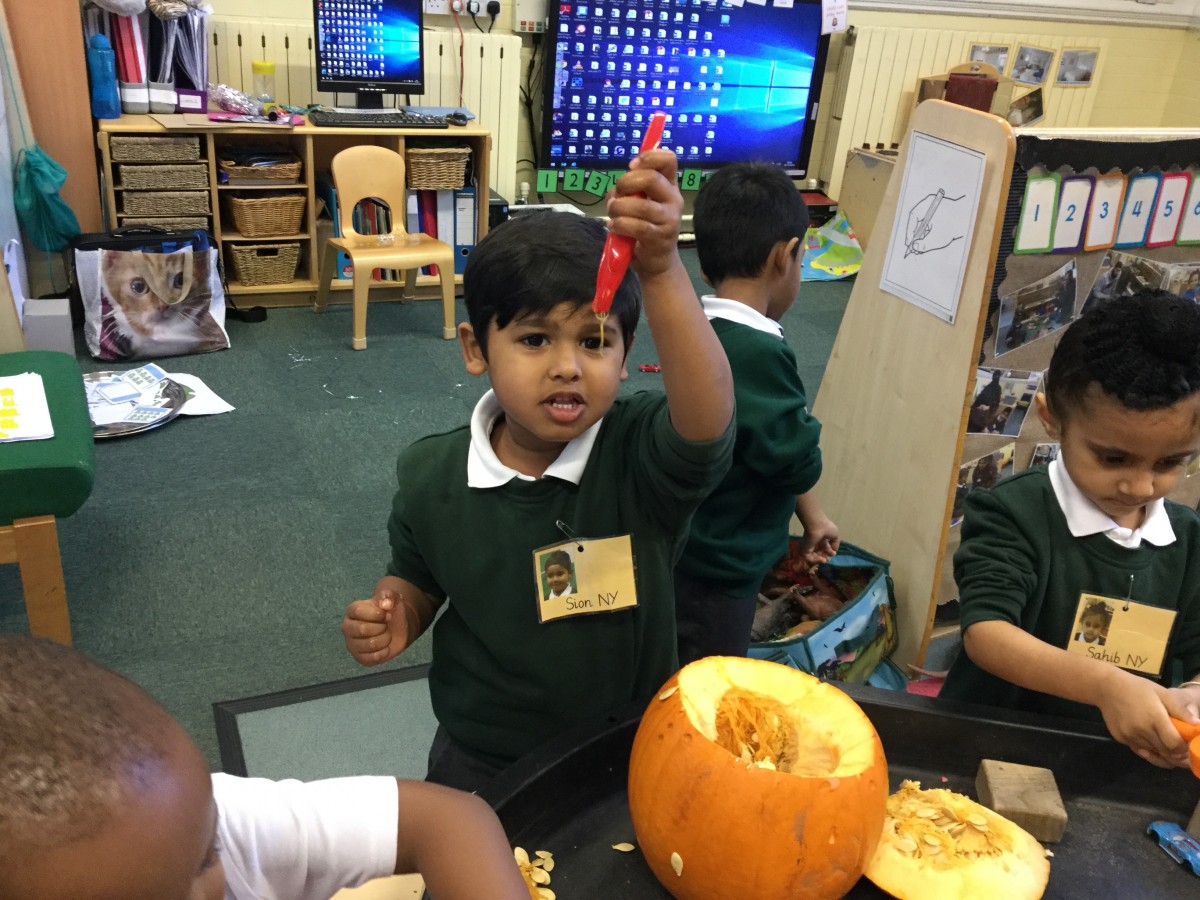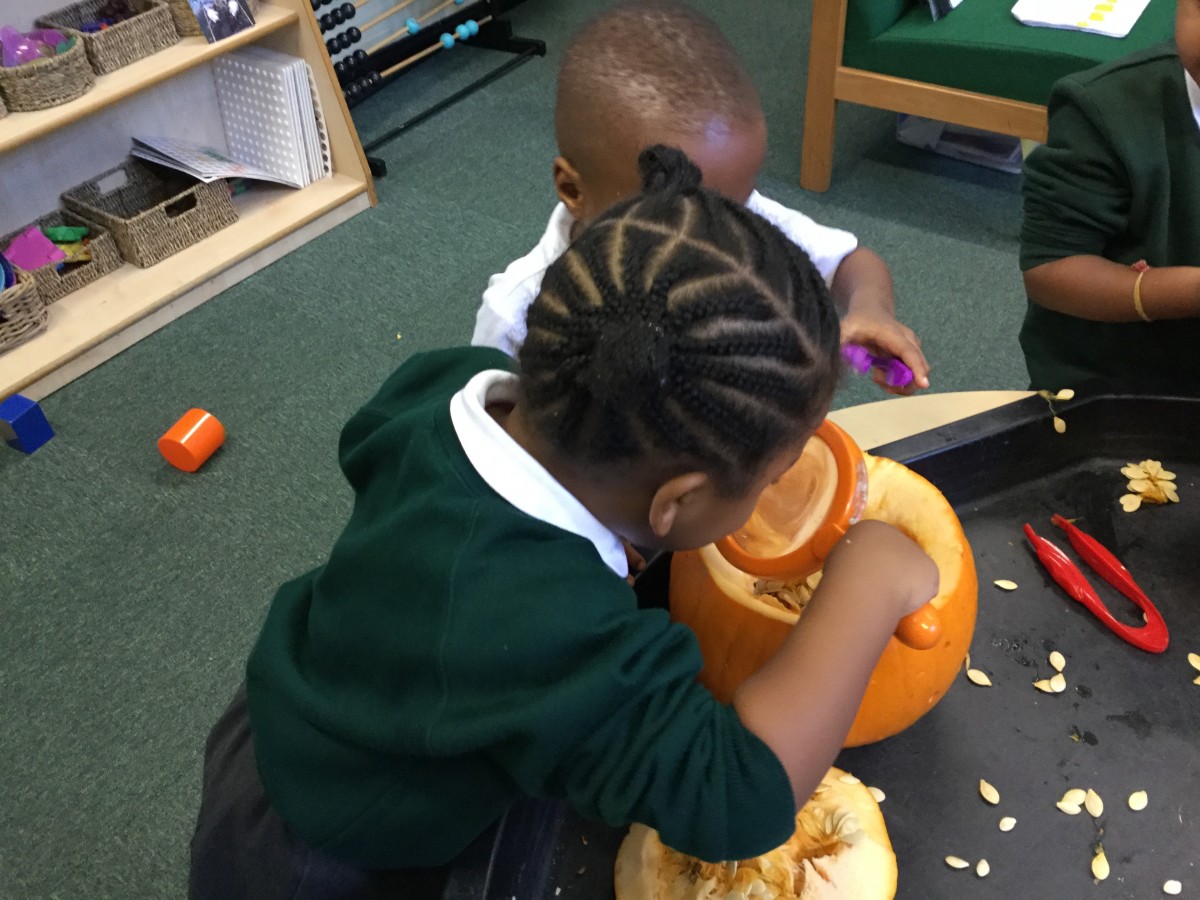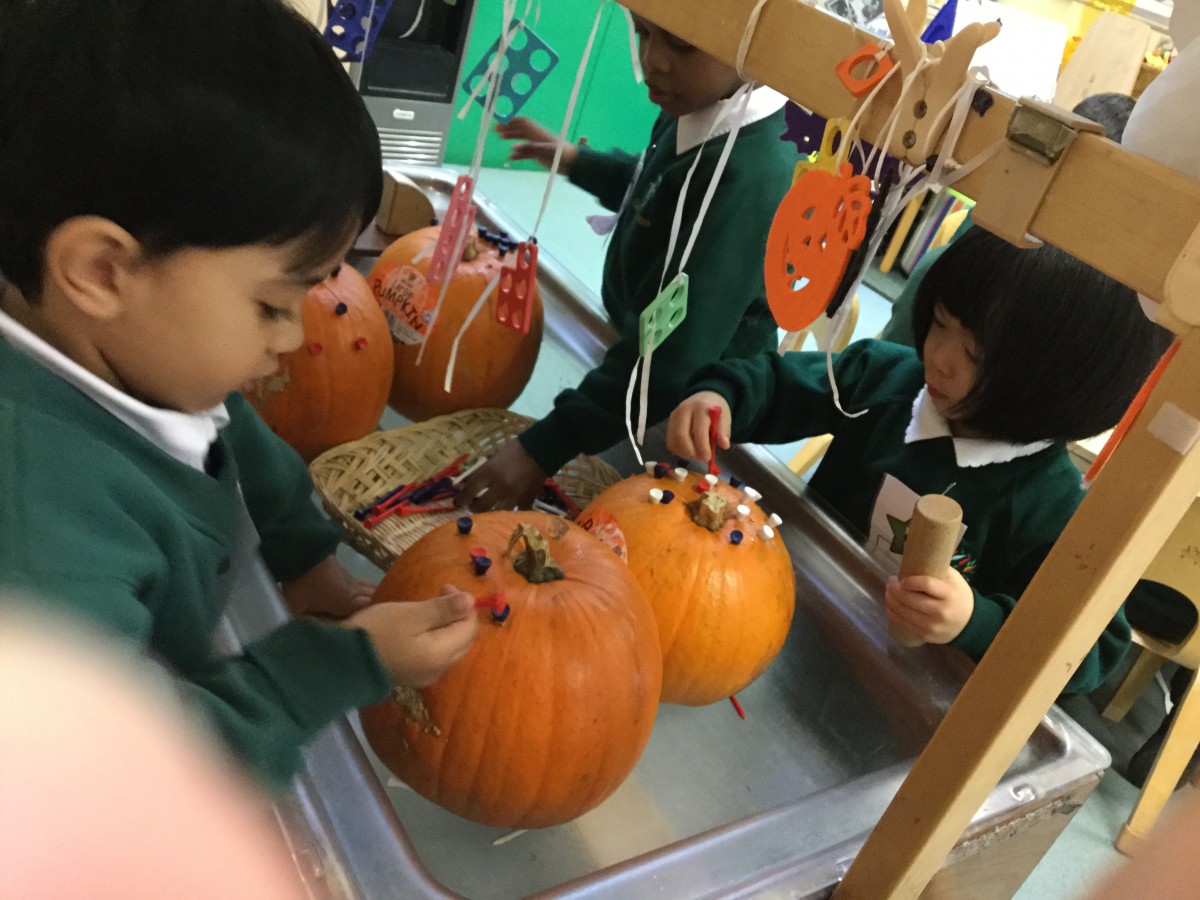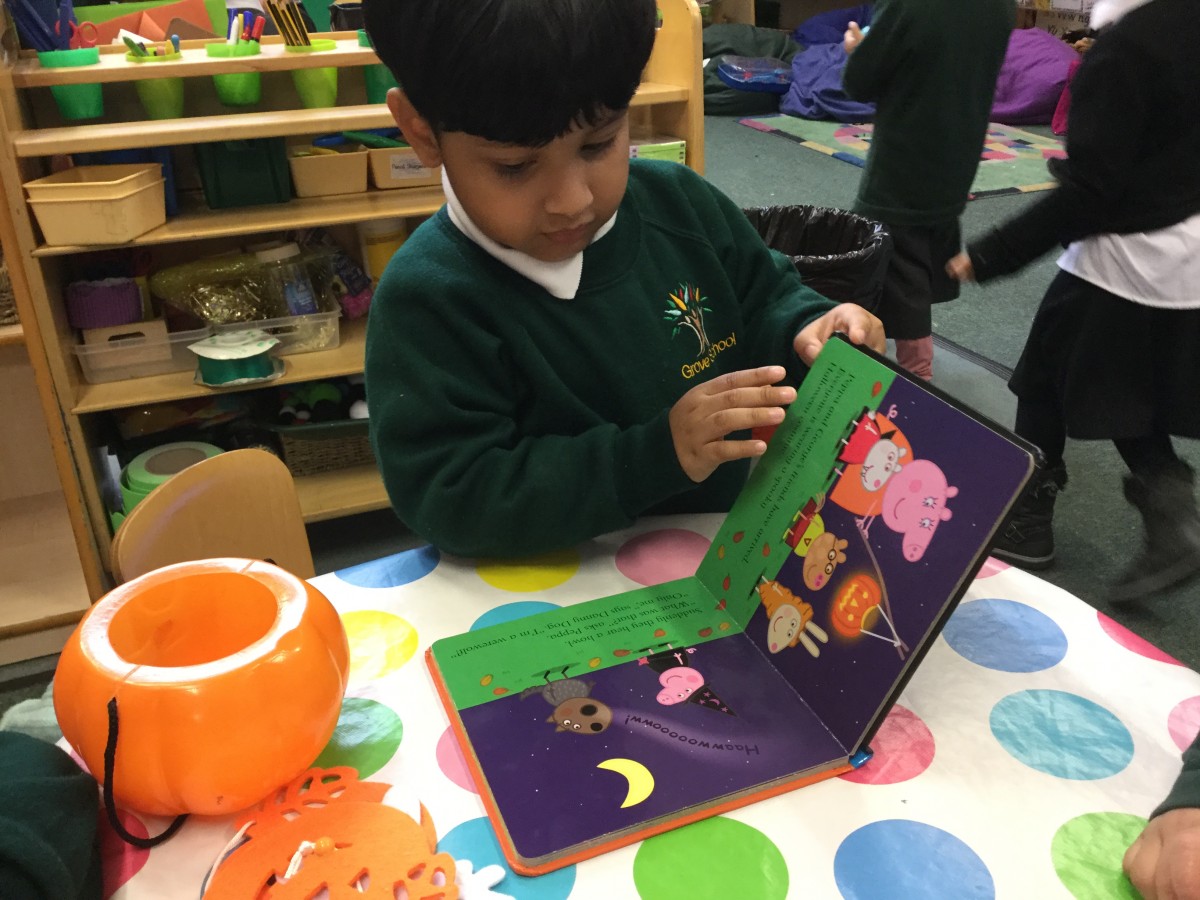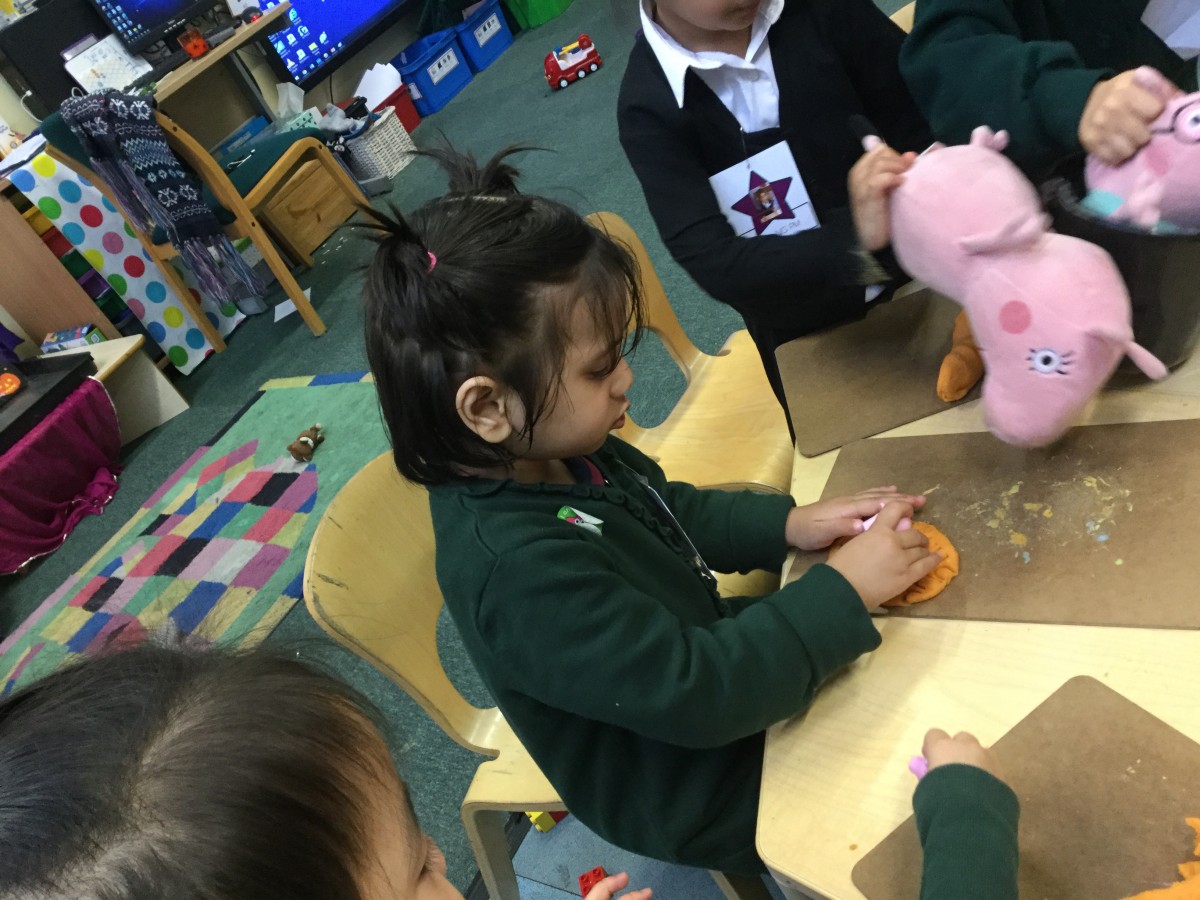 Mo from Animals in Hands came to visit the nursery children. He brought lots of animals for the children to meet. The children were very excited and were able to look at and touch some very interesting animals!
The children enjoyed handling Tango the snake.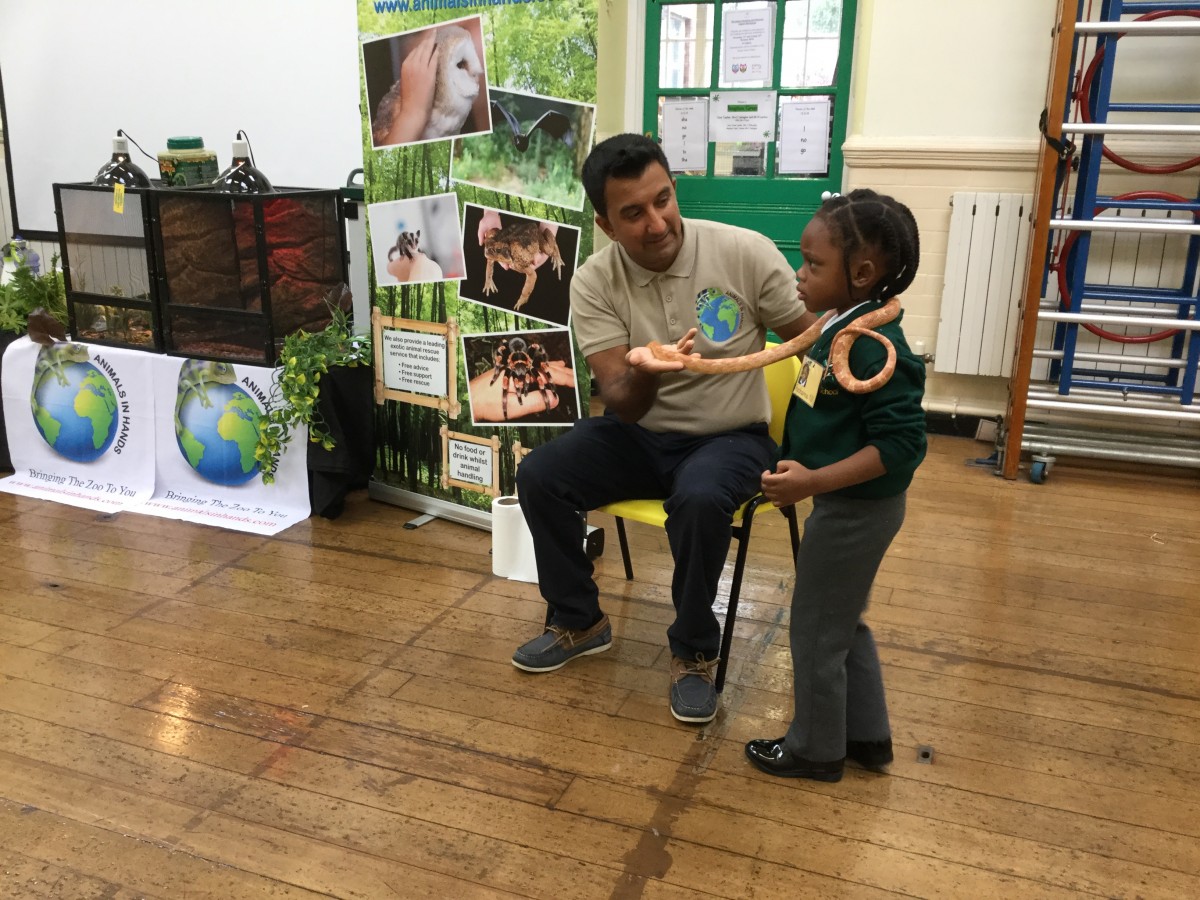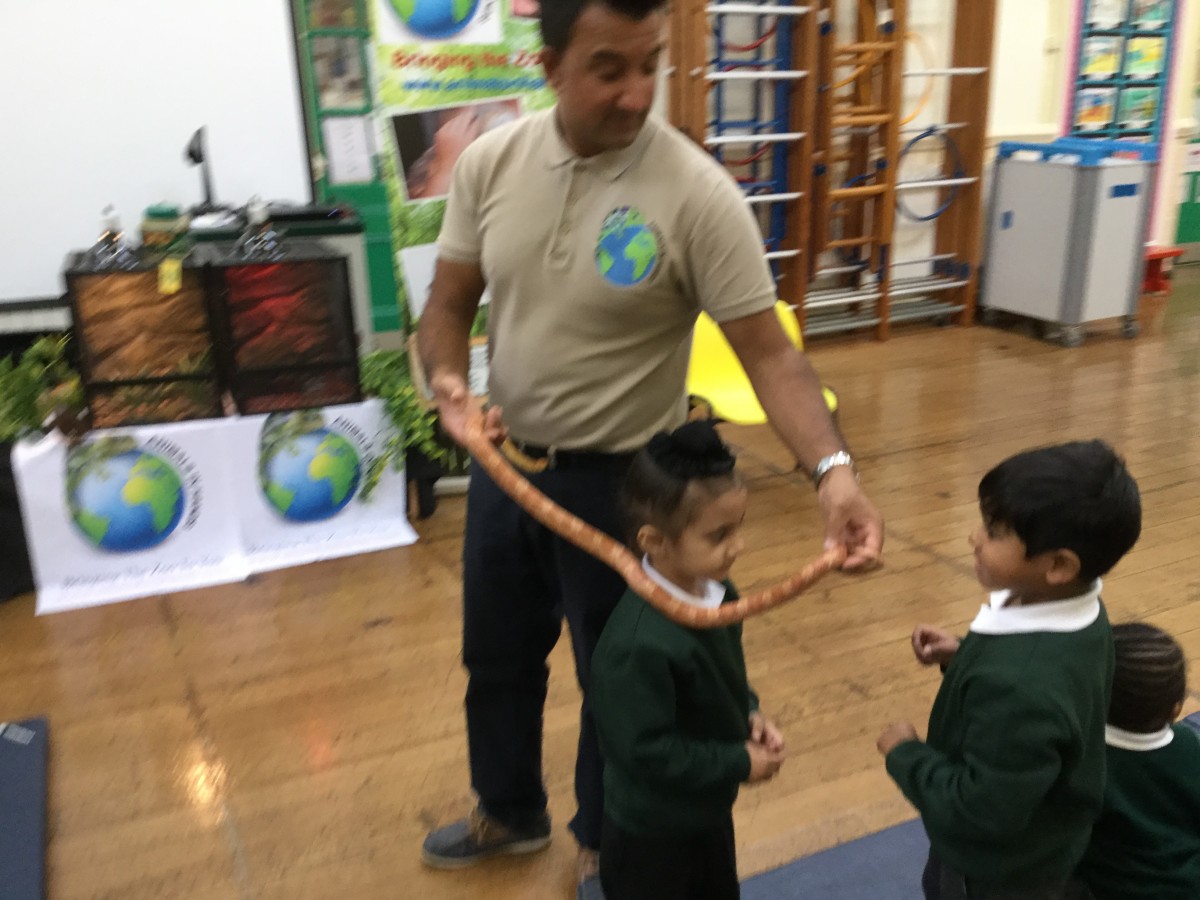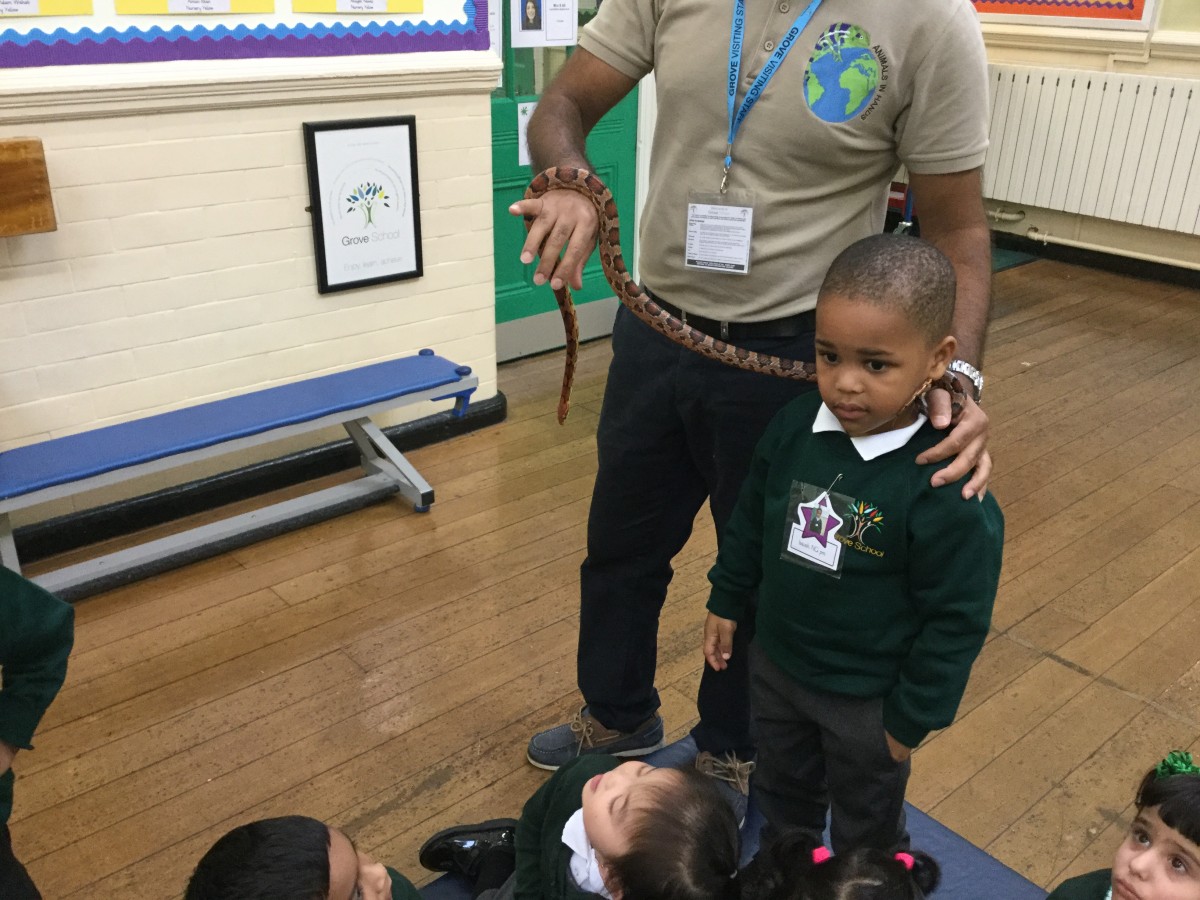 Then they met Snowflake the chicken.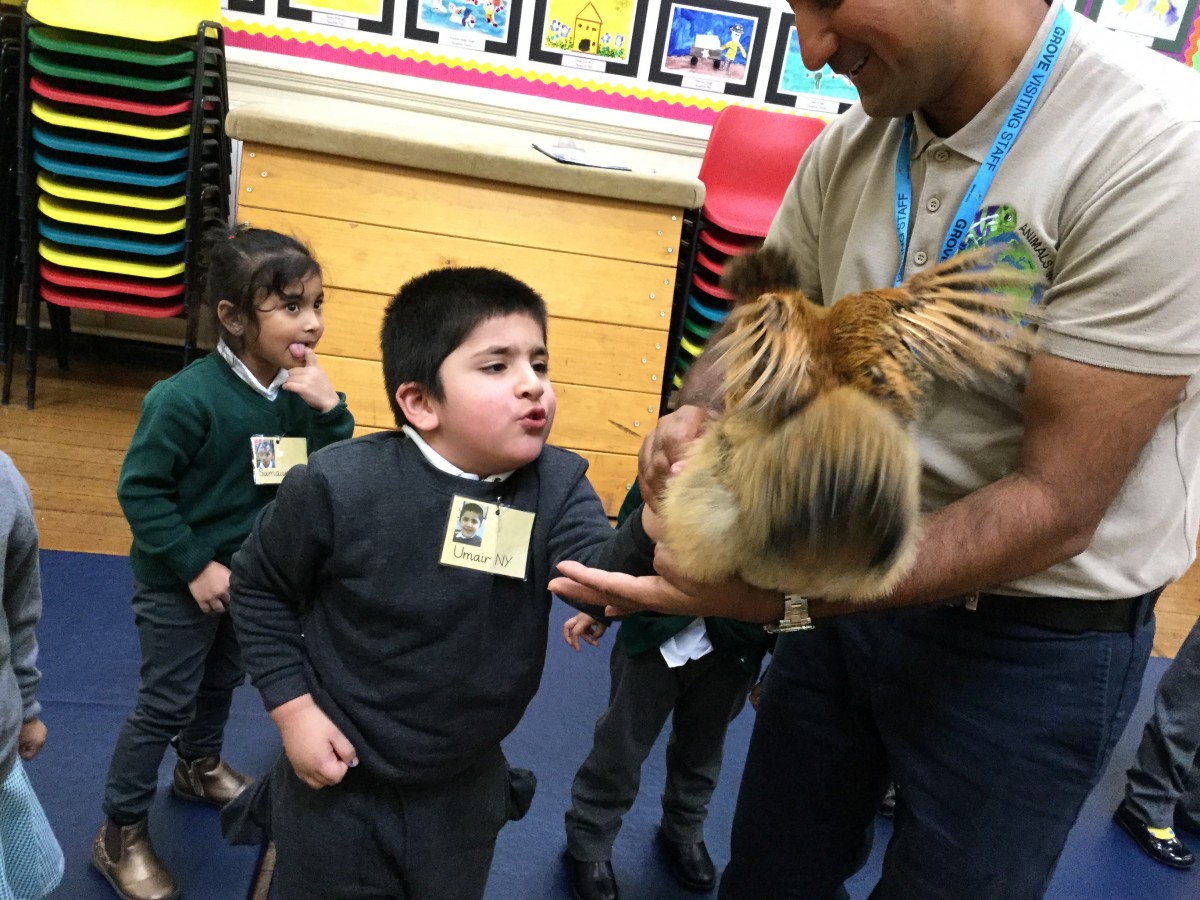 Halima the gecko had a very big tail!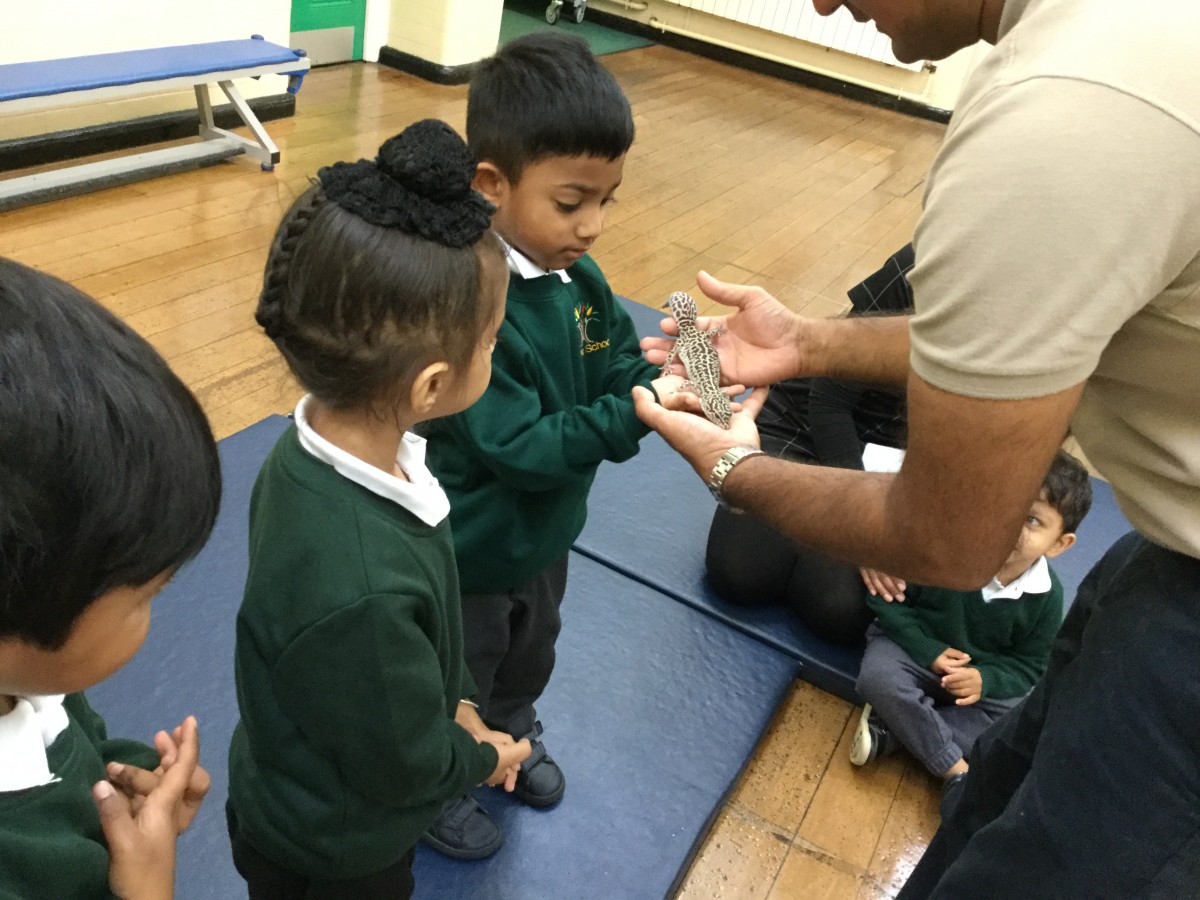 Peter Rabbit was very soft and fluffy!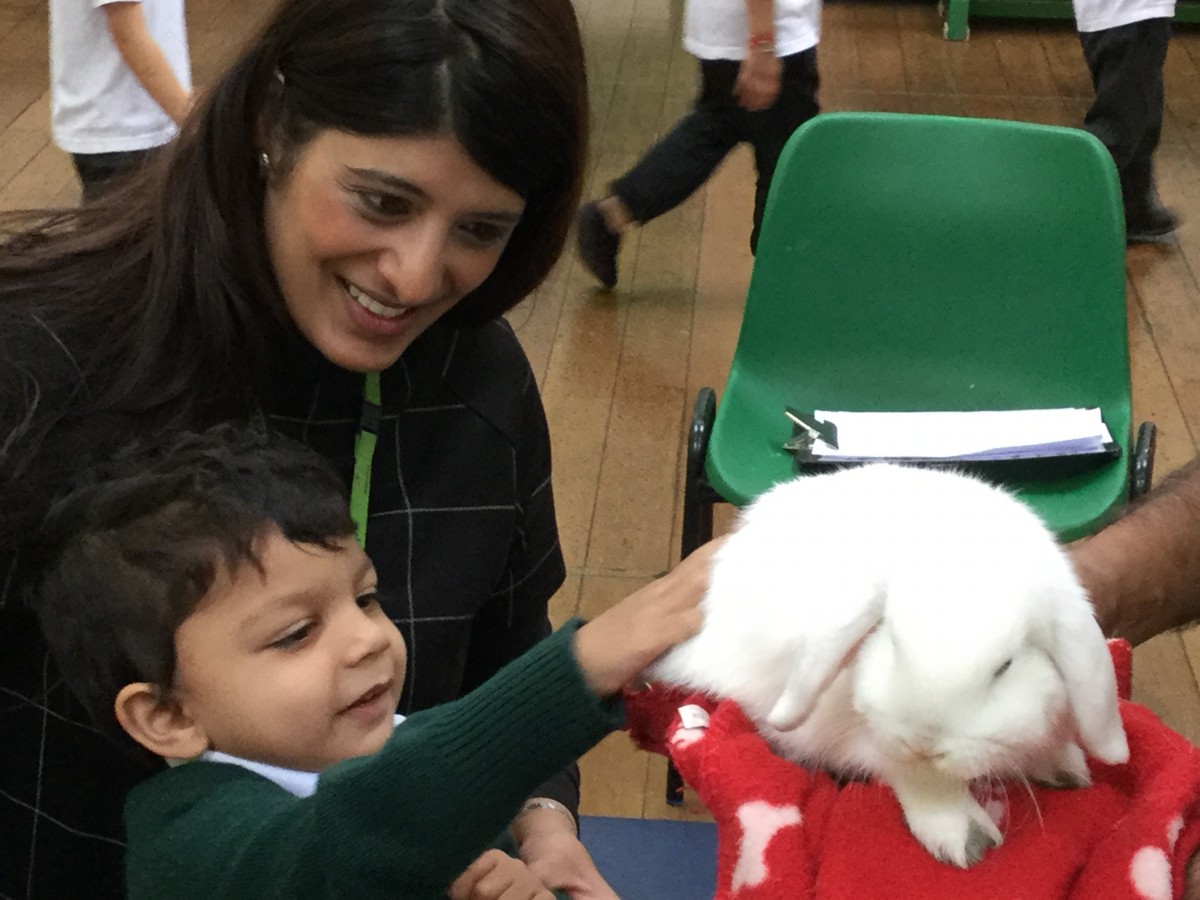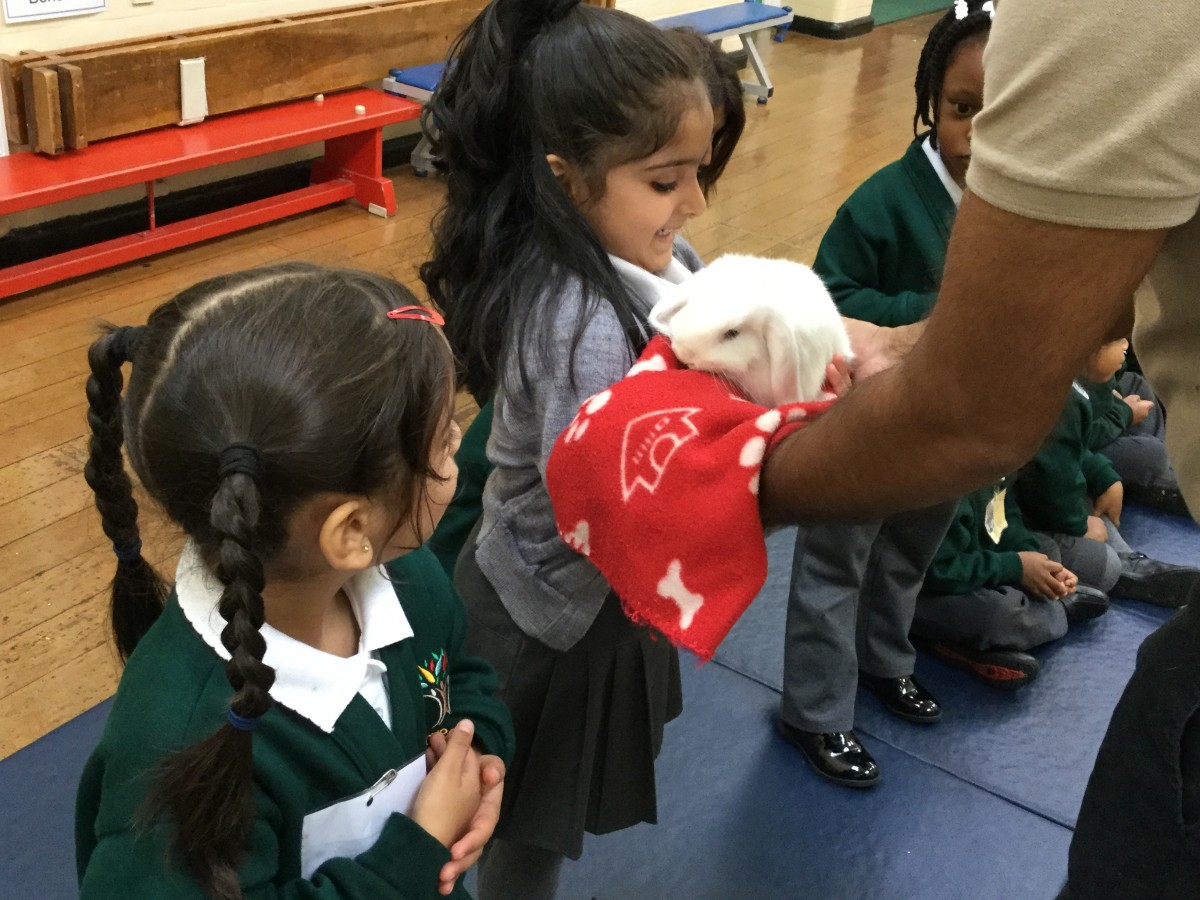 Sophie the cockroach felt very tickly!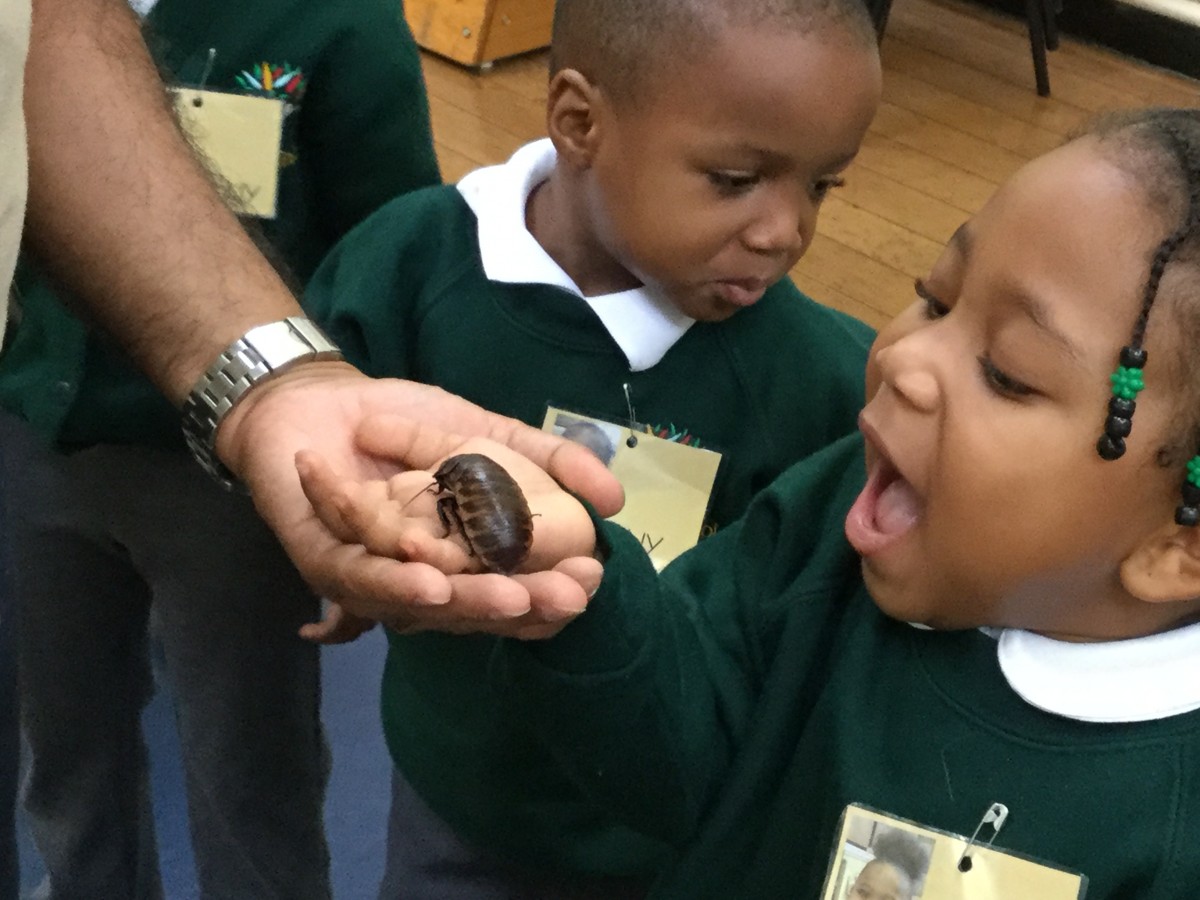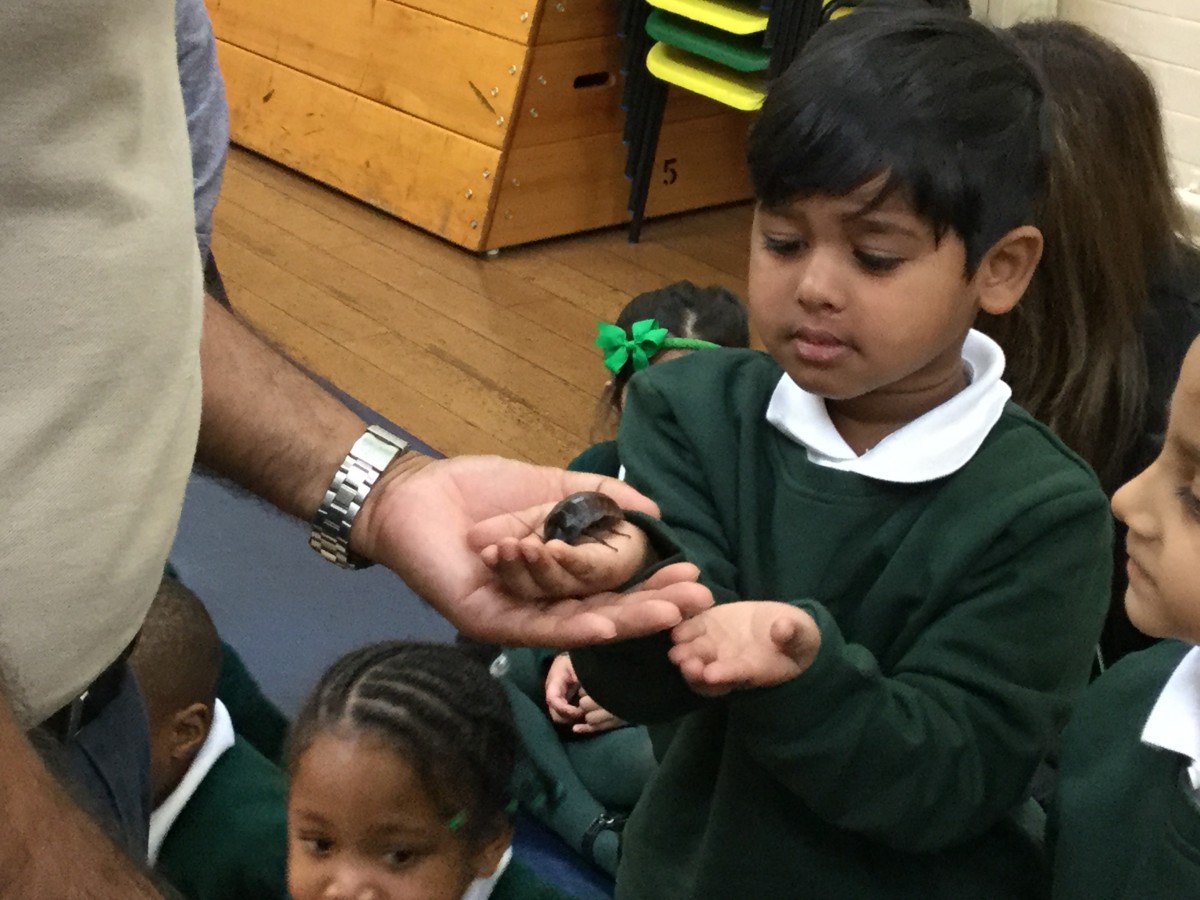 Ibrahim the tortoise was 25 years old and moved very slowly!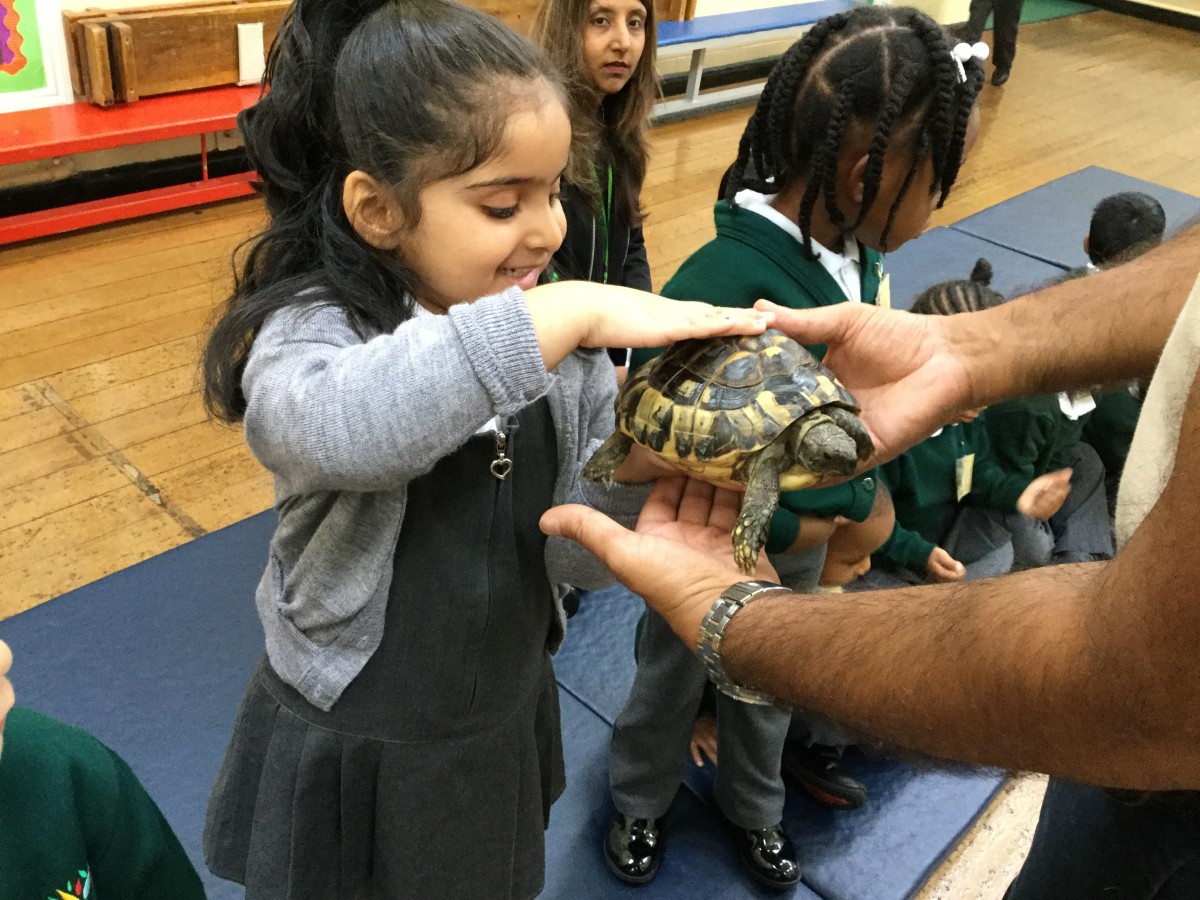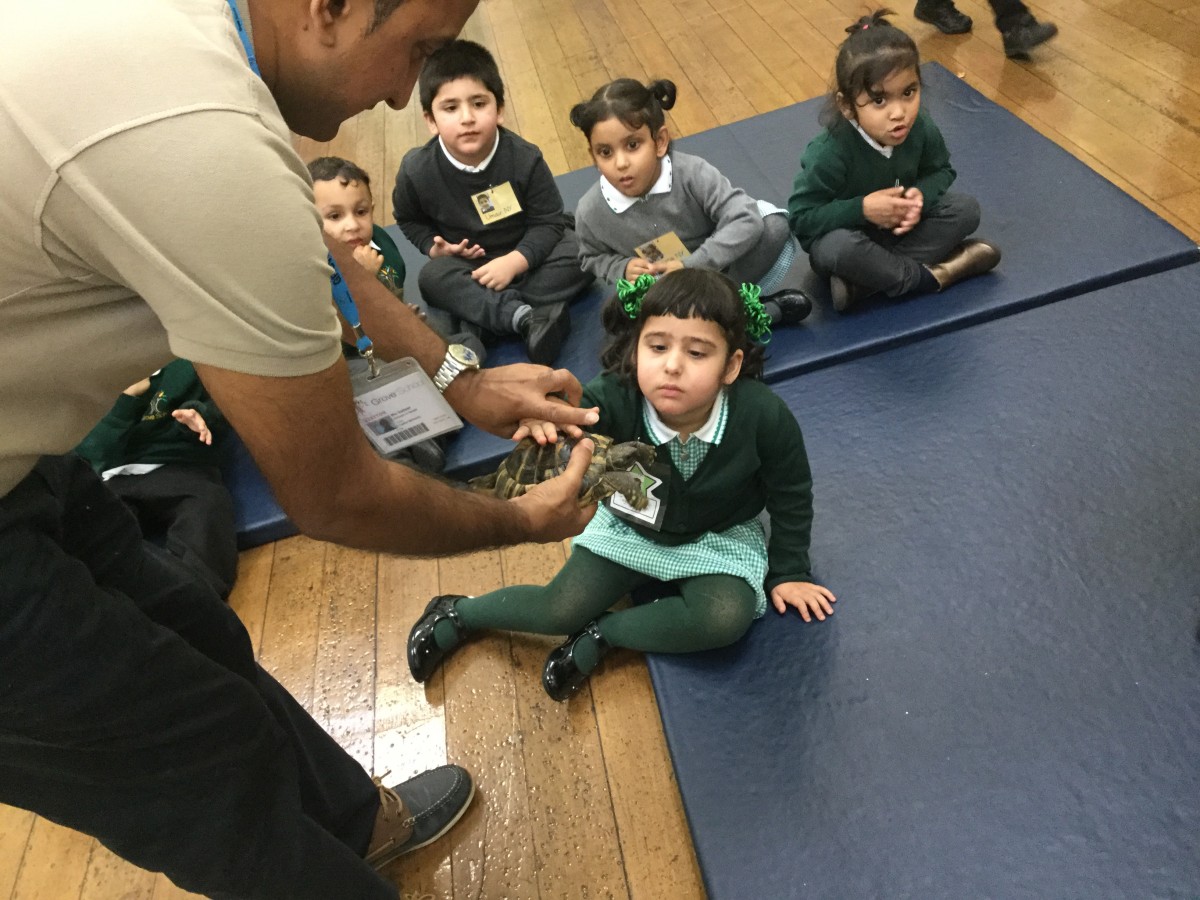 The children were very brave when they met Rachel the tarantula. She liked sitting on the children's jumpers and even sat on some children's heads!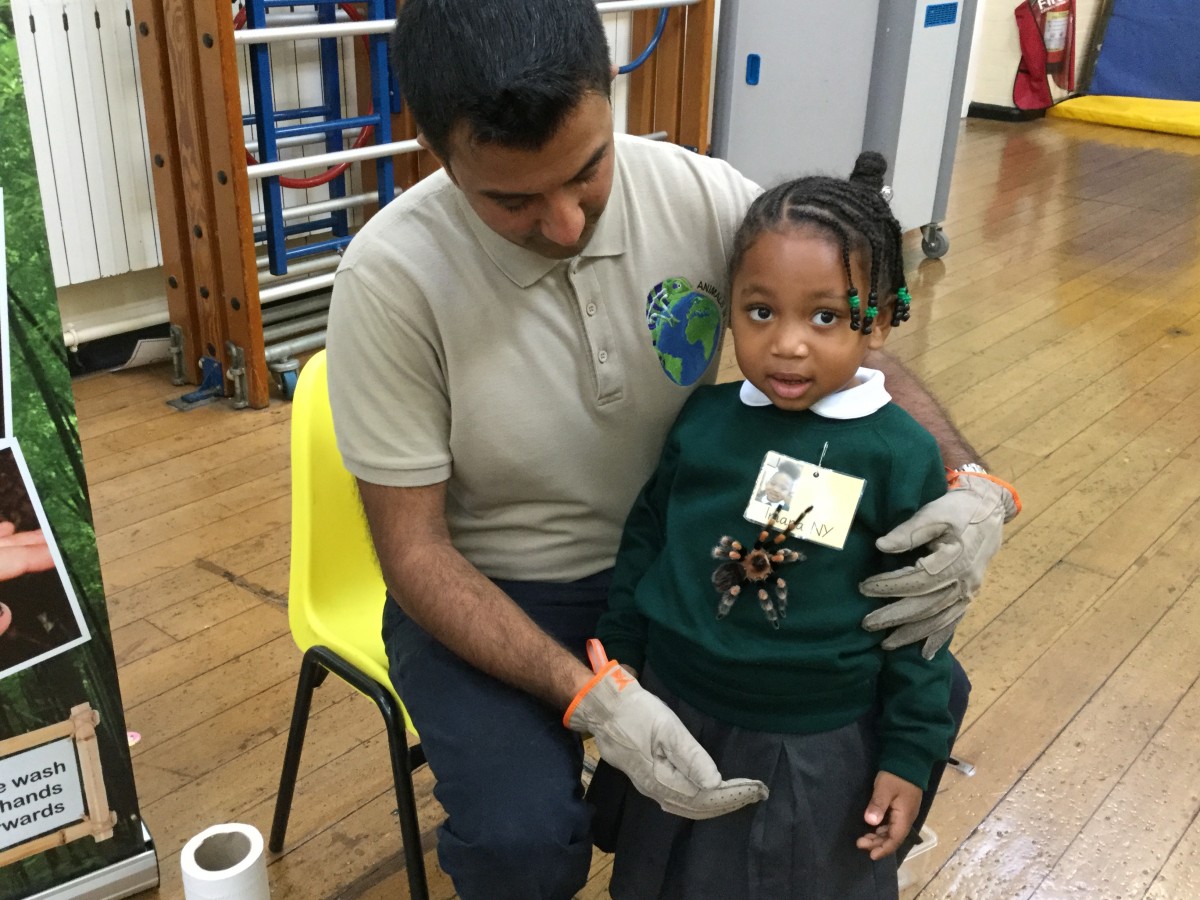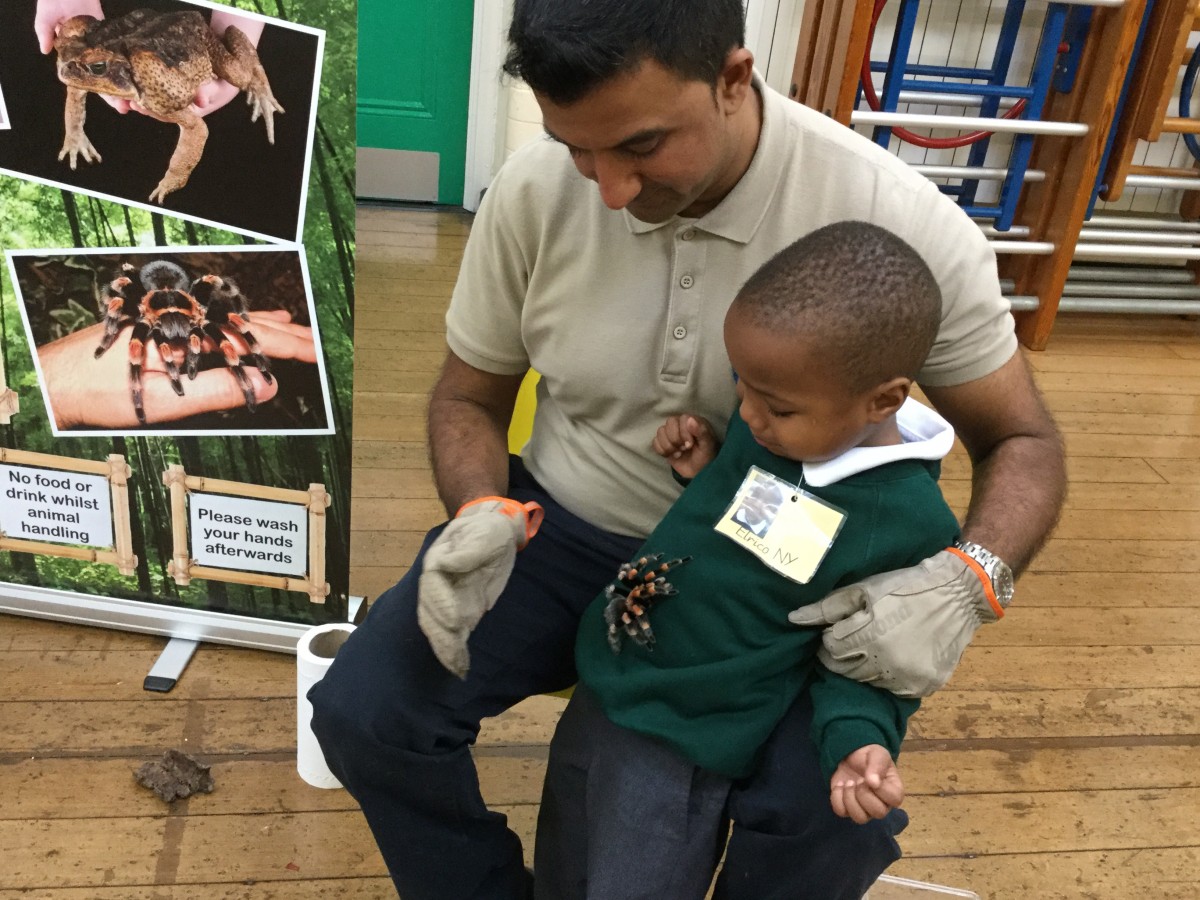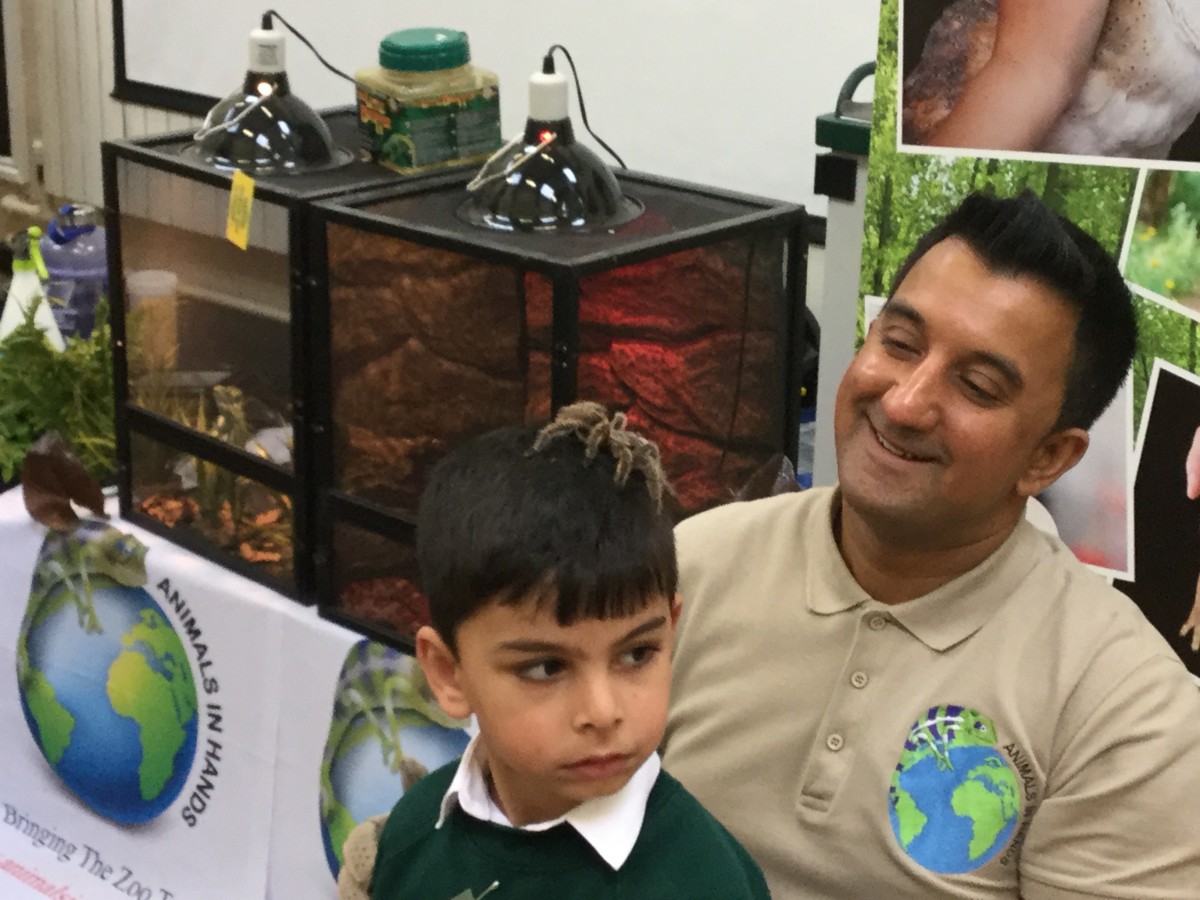 September 2018
The nursery children have settled into their new classes and are beginning to explore and make friends.
They have been learning to say goodbye to their parents with a smile and have been talking about our Grove Expectations.
Our expectations are:
We are kind and don't hurt others or their feelings
We respect all property
We always try to do our best
We are honest and tell the truth
We are good listeners and thoughtful speakers
We always treat others as we would want to be treated
The children have been reading lots of stories. We have enjoyed talking about the stories they have heard.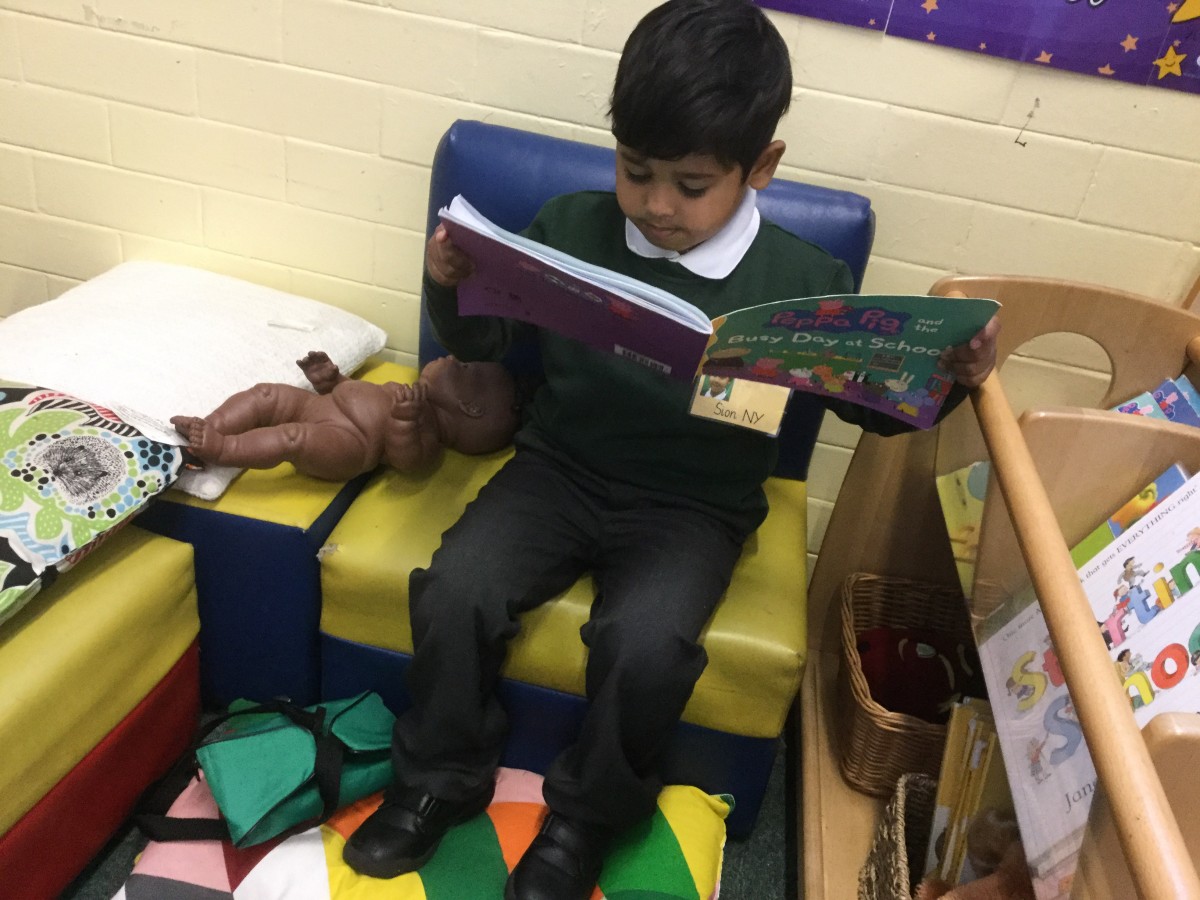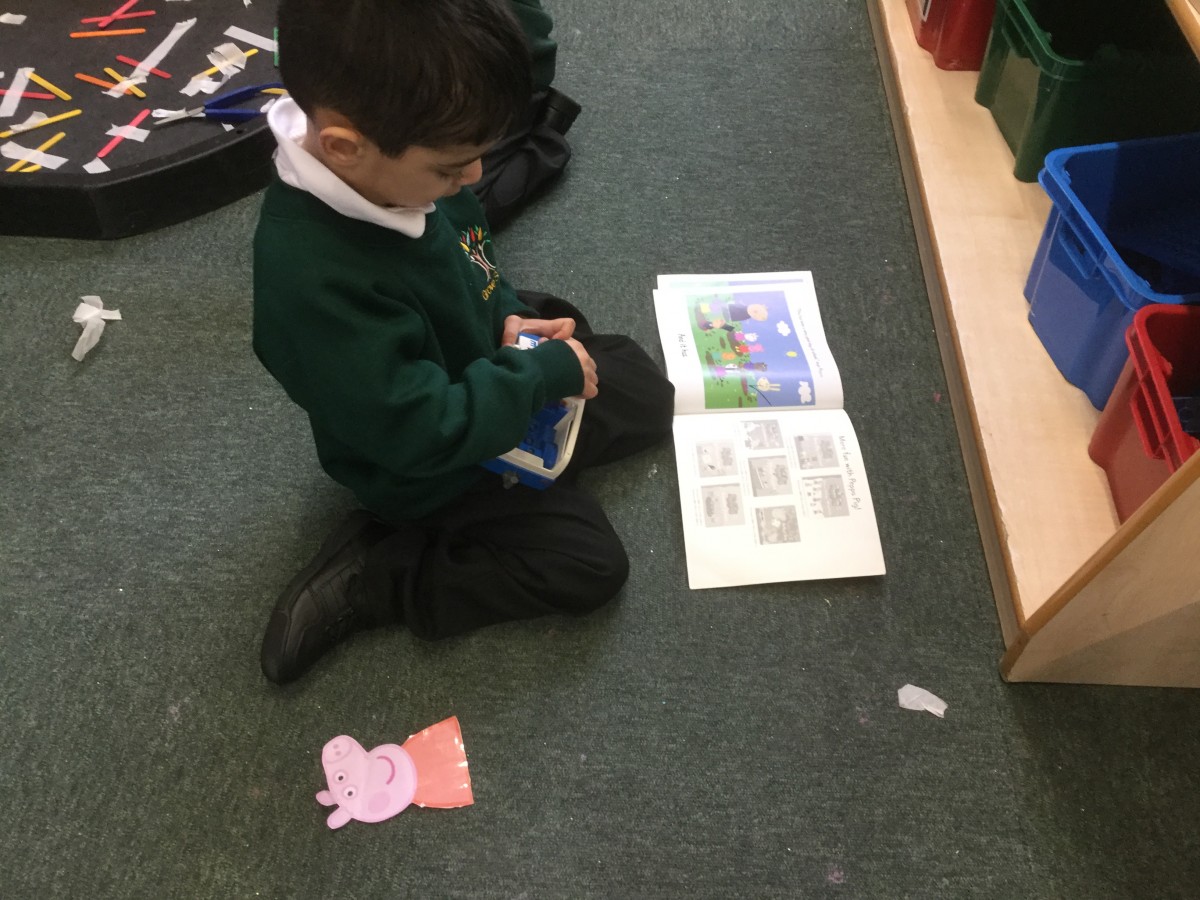 The children have had great fun making cakes with playdough and singing happy birthday to their friends.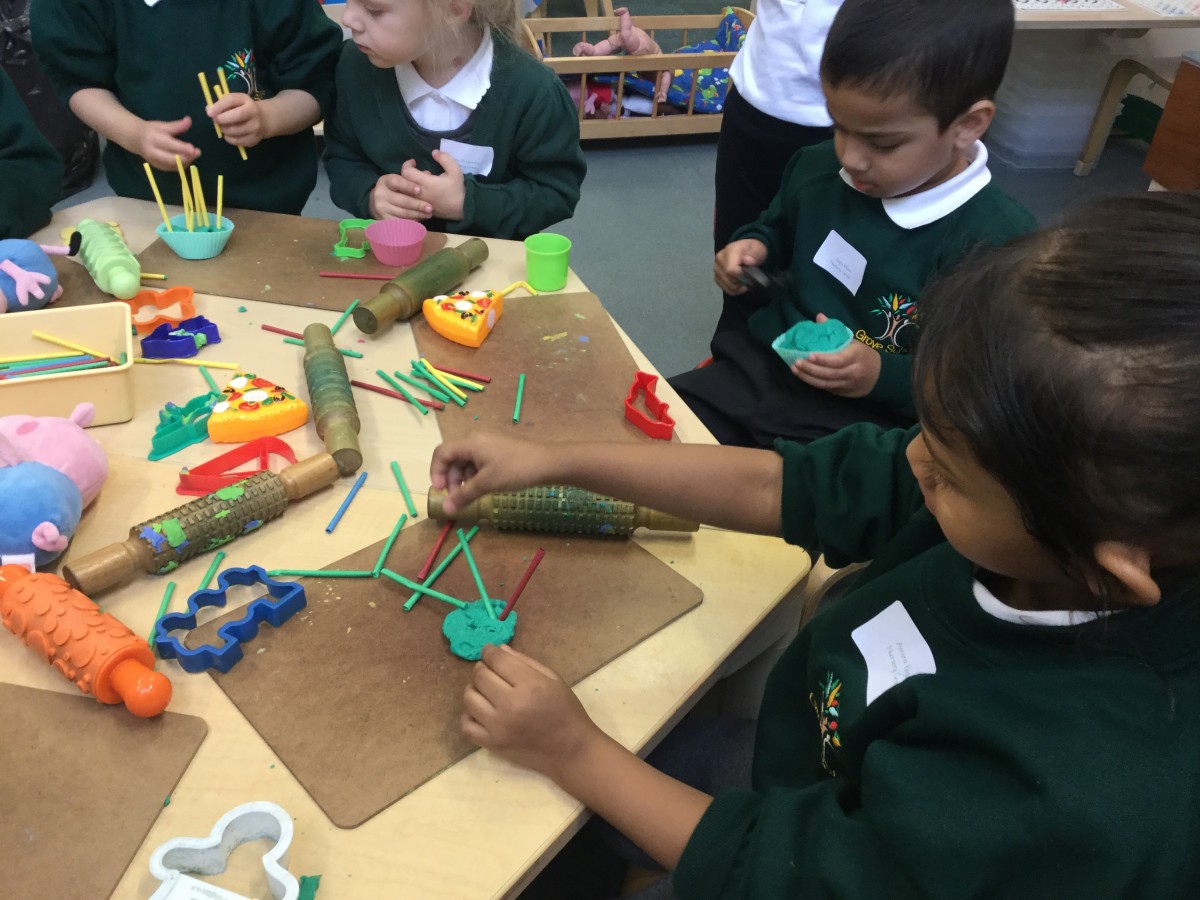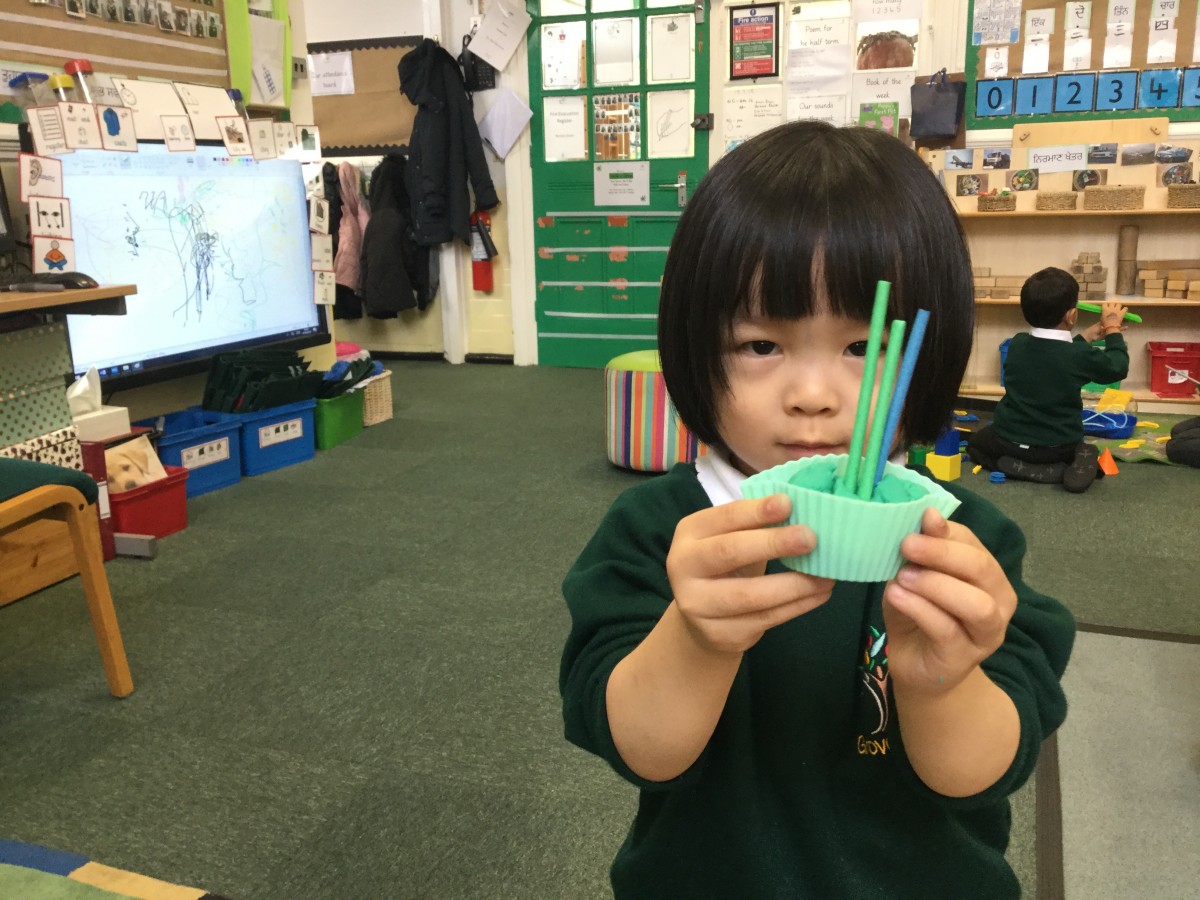 They have been practising their super drawing and writing skills.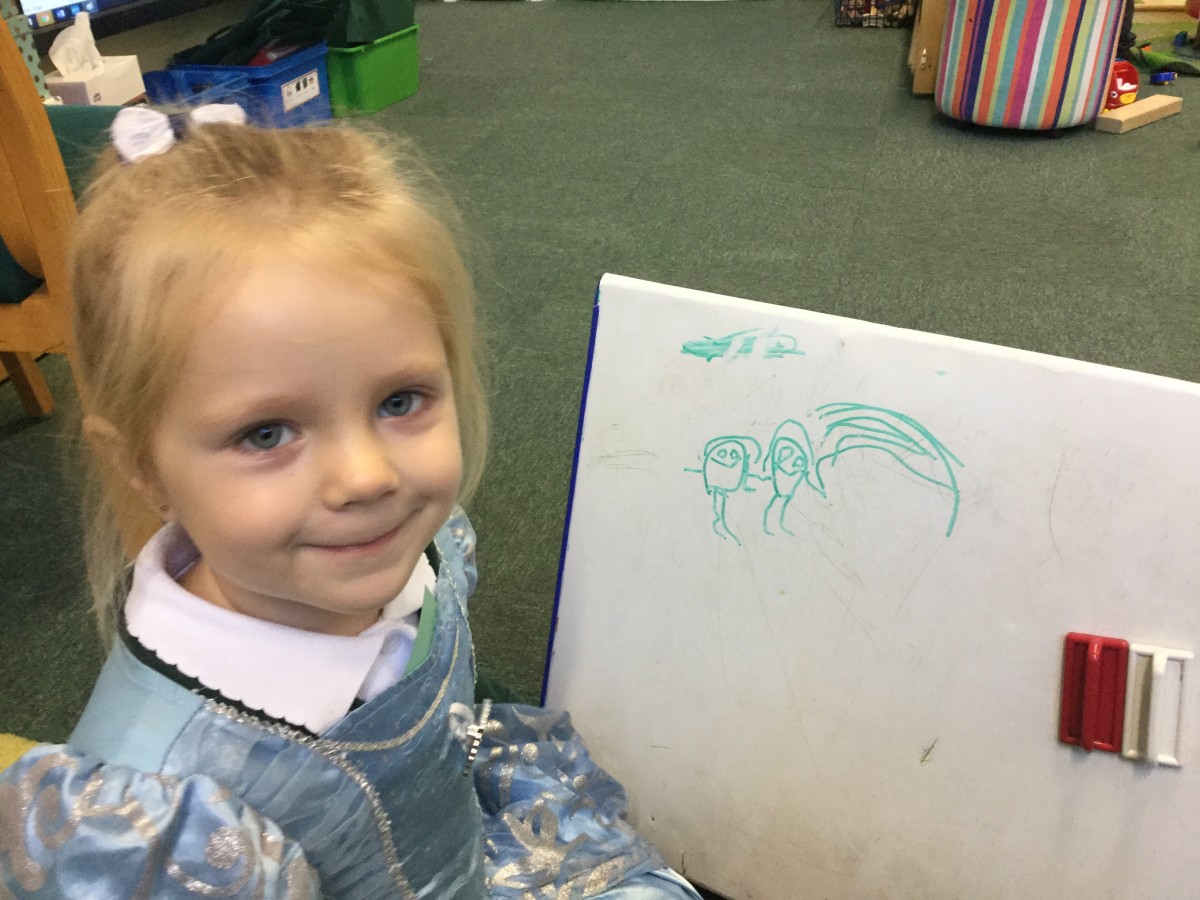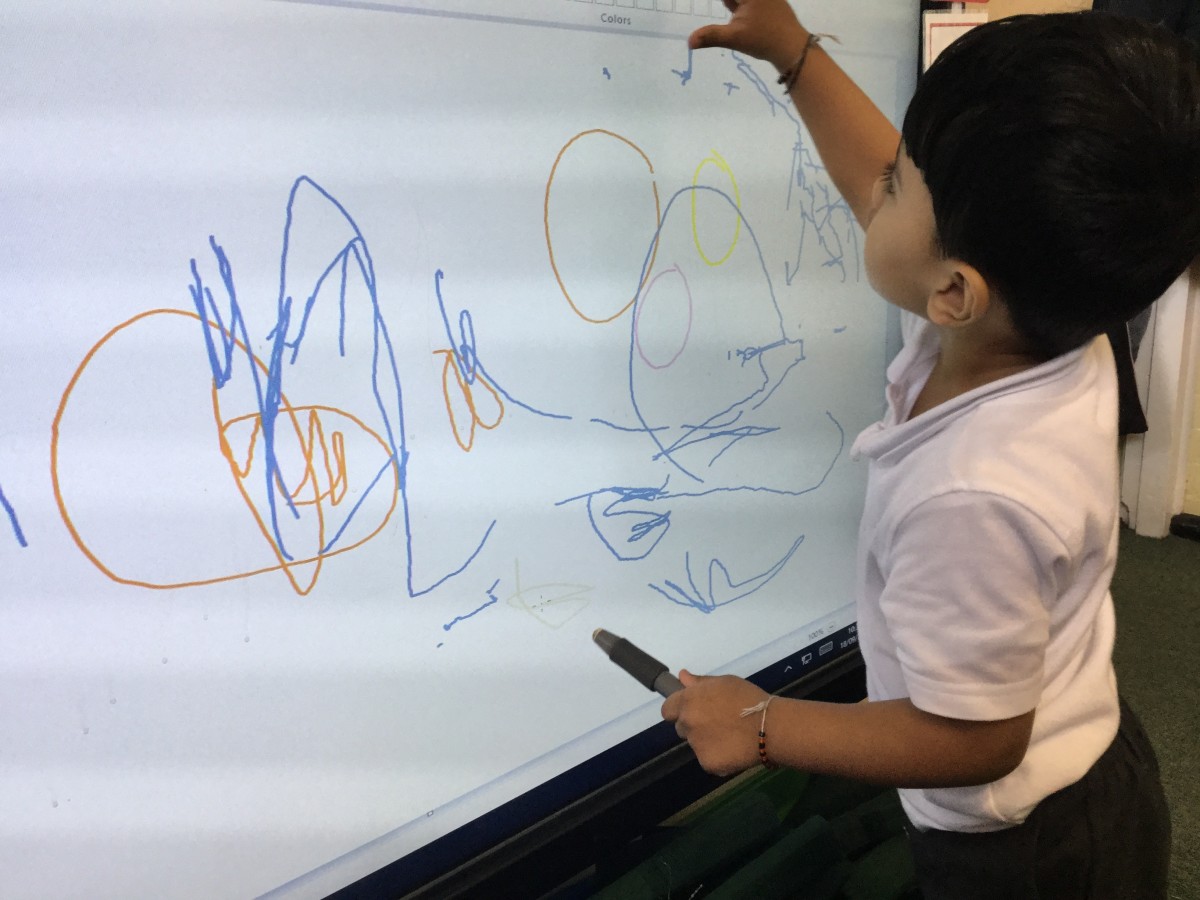 The children have had lots of fun exploring the sand and water.